Supercharged Toyota Tacoma Pre Runner with Total Chaos Long Travel Kit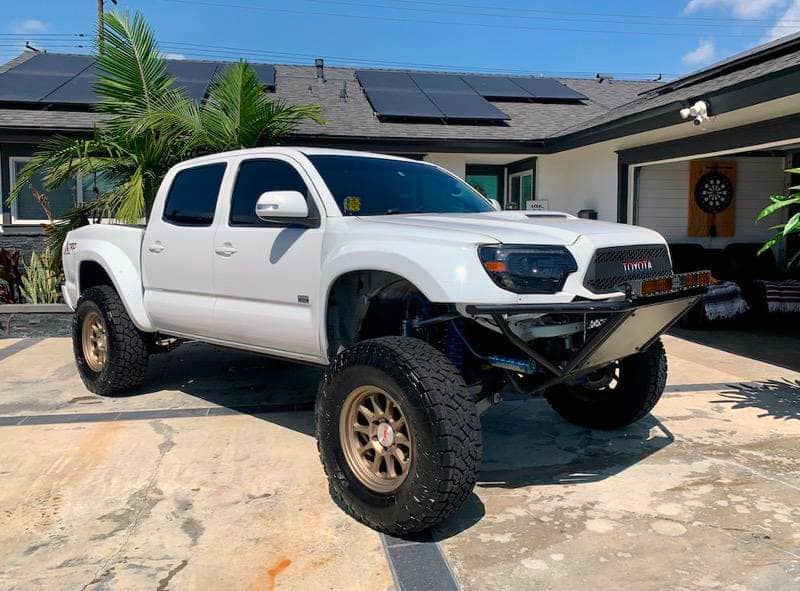 The 2015 Toyota Tacoma TRD Sport has earned a reputation as a highly capable and customizable midsize truck. But this particular Tacoma takes customization to the next level. With a host of upgrades focused on high-speed desert running, this Tacoma has been transformed into a Baja-style prerunner designed to devour rough terrain at speed.
From a built and supercharged V6 engine to long-travel suspension and rugged exterior upgrades, no expense has been spared in building this ultimate prerunner Tacoma. Read on to learn more about what makes this truck such a beast in the desert dunes.
Key Facts:
2015 Toyota Tacoma TRD Sport with 84k miles
Magnuson MP122 supercharger system with TVS1900 rotor pack, 2.85″ pulley and 7psi boost pressure pushing the 4.0L V6 to over 400HP
Volant cold air intake with built-in air filter
Doug Thorley long-tube headers and Y-pipe
Black Widow dual exhaust with muffler delete
Total Chaos upper control arms and long travel coilover kit (3.5″ travel)
Camburg alloy race spindles and hubs
King 2.5″ x 8″ external reservoir coilover shocks
DMZ Fab spring-under long travel rear suspension (over 20″ travel)
King 2.5" x 16" bypass shocks rear
17" Method Race Wheels with 35" Toyo Open Country tires
Custom fiberglass fenders, bedsides, grille
WARN Zeon Platinum winch on custom front bumper
40″ LED light bar, pod lights and rock lights
Pro Eagle jack and full size spare
4.56 ring and pinion gears, Detroit TruTrac limited slip differential
Tacoma Prerunner Build Overview
Engine & Performance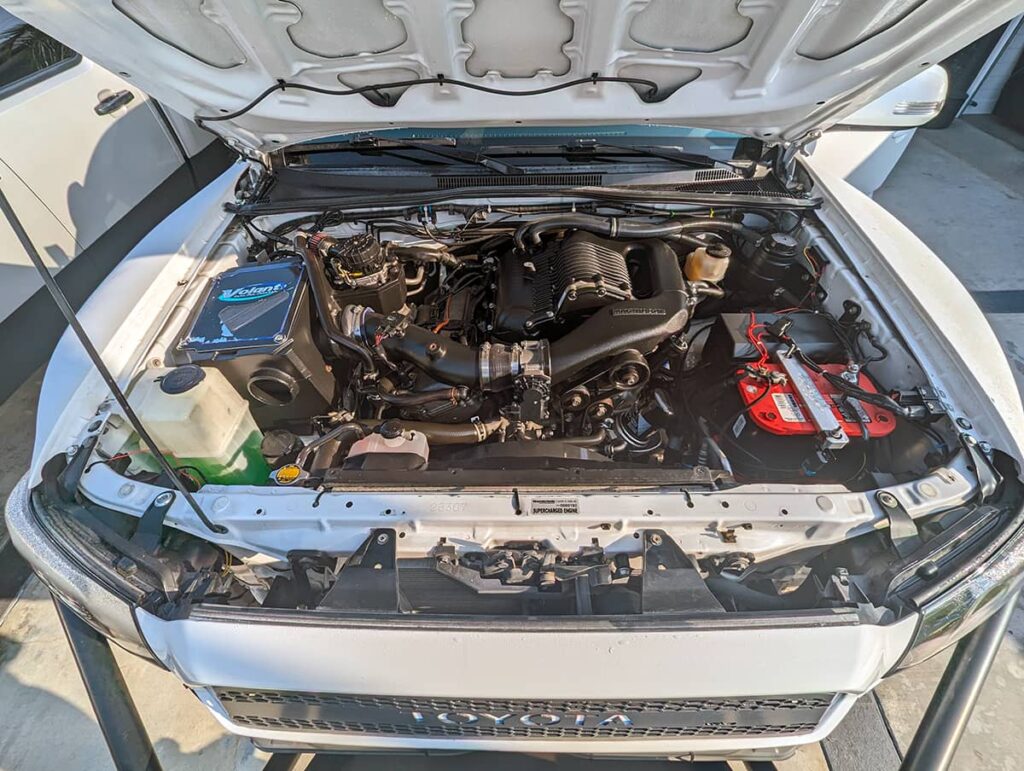 The crown jewel of this build is the Magnuson MP122 supercharger system specially tuned for the 4.0L Toyota V6. The TVS1900 rotor pack supplies 7 psi of boost through a 2.85″ pulley, resulting in over 400 horsepower output. This transforms the Tacoma into a high-speed desert sled.
Supporting modifications include a Volant cold air intake with conical air filter, Doug Thorley long tube headers and Y-pipe leading to a Black Widow exhaust system with muffler delete. The headers, reduced backpressure, and cold air intake help maximize power delivery from the supercharged engine.
With this combination, throttle response is instantaneous and power delivery is smooth and linear for traversing rough terrain with ease. Reliability is excellent thanks to the TVS rotor pack and Magnuson's tuning expertise.
Suspension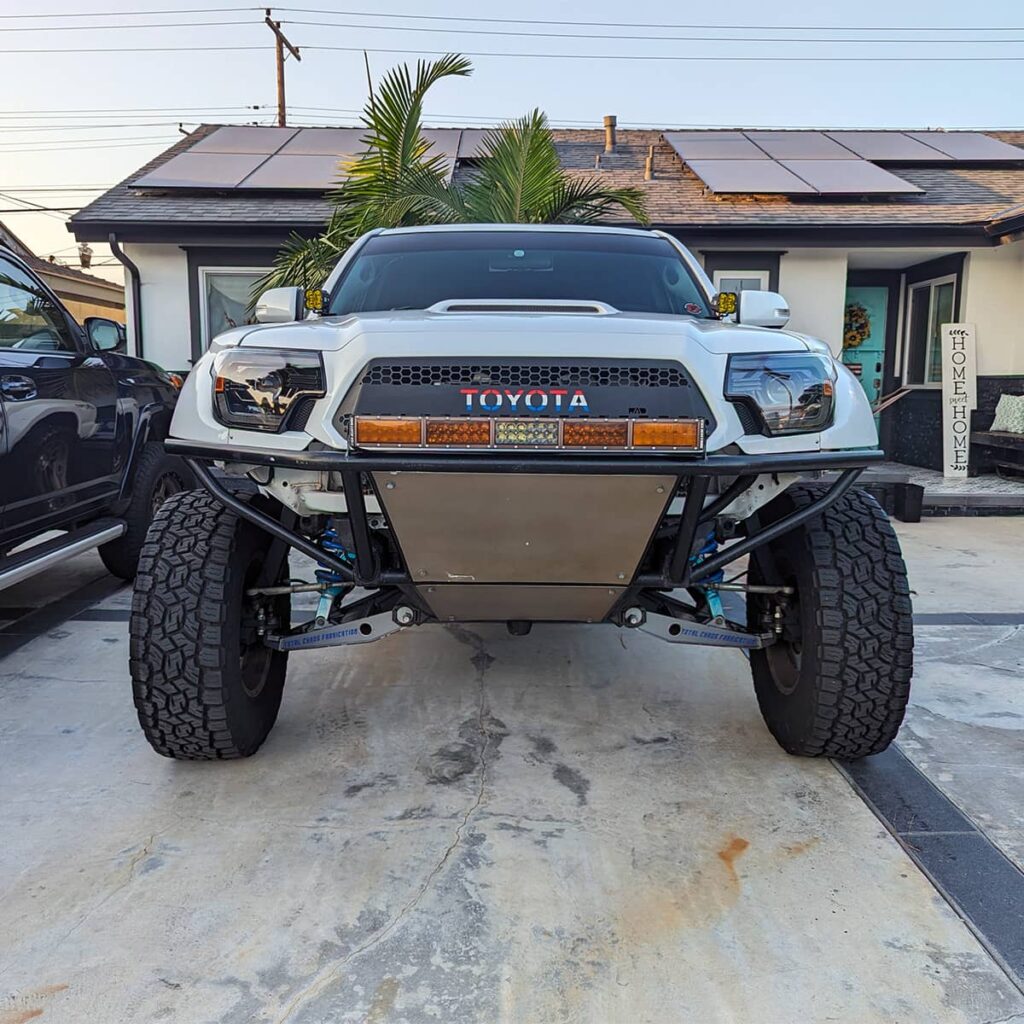 The suspension on this Tacoma is built specifically for high speed desert running. Up front is a Total Chaos long travel kit with upper control arms providing over 3.5″ of wheel travel. Camburg billet alloy hub assemblies replace the factory hubs.
King 2.5″ x 8″ external reservoir coilover shocks with compression adjusters are tuned for both bump absorption and bottom-out resistance when landing jumps. Out back is a DMZ Fab spring-under long travel suspension system yielding over 20″ of rear wheel travel. This allows the Tacoma to float over brutal whoop sections and desert holes.
Massive 2.5" x 16" King bypass shocks support the rear end and tame harsh bottom outs. The result is a plush yet stable ride quality ready for the toughest terrain.
Exterior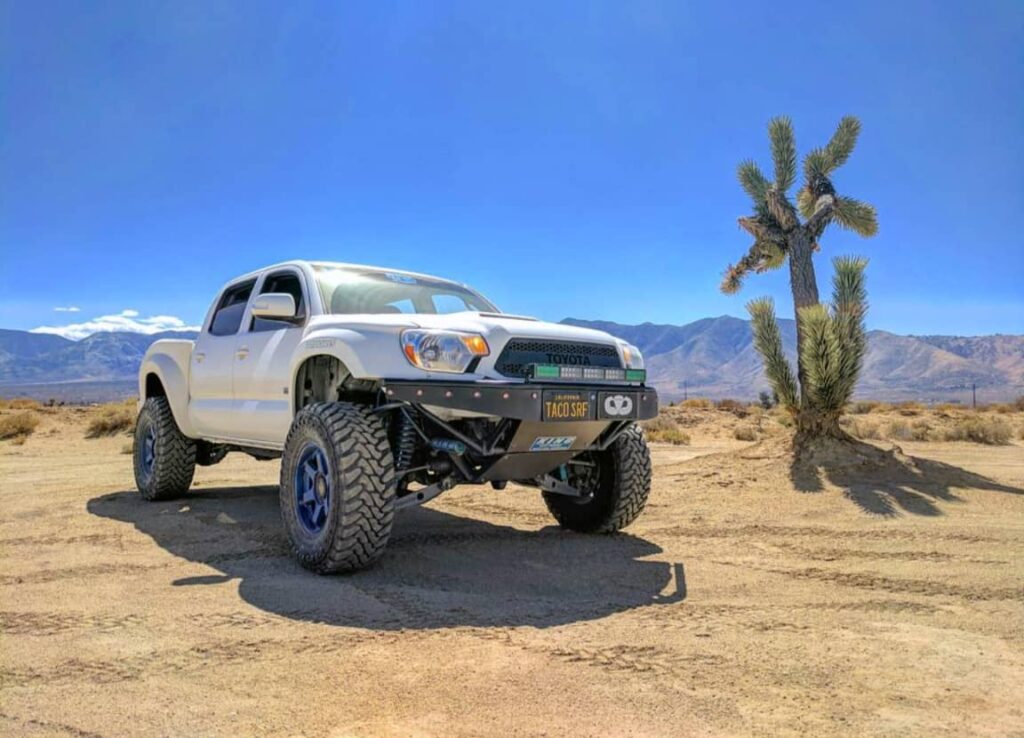 The exterior features a tough prerunner look. Custom fiberglass fenders by Advanced Fiberglass improve clearance for the massive 35″ Toyo Open Country tires mounted on Method Race wheels.
Up front is a custom steel bumper with integrated WARN ZEON Platinum winch, LED flood lights and recovery points. The bumper improves approach angle while providing protection and enabling self-recovery.
Out back, matching fiberglass bed sides give an aggressive, race-inspired appearance. Scanner LED rock lights illuminate the underside at night. Rigid Industries LED pod lights are mounted for supplemental lighting.
A 40″ LED light bar above the cab improves visibility when racing into the darkness. The menacing blacked-out look complements the truck's performance potential.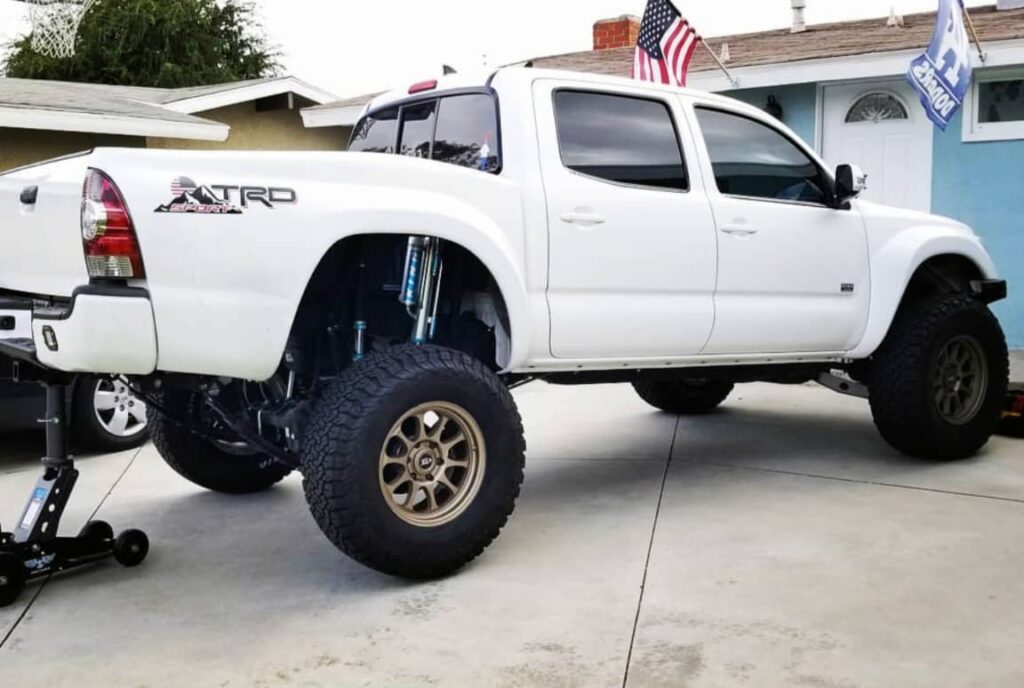 Specs:
SUPERCHARGED 2015 Toyota Tacoma TRD Sport
Drivetrain
Mileage
Engine
Magnuson Supercharged 4.0L V6 w/ 2.85 pulley at 7 psi.
Volant CAI
URD 170 degree thermostat
Walbro fuel pump w/ external fuel filter
Doug Thorley y-pipe
Black widow cat back muffler
Suspension
Front
Total chaos 3.5″ long travel
Camburg 4″ race spindles
King 2.5 x 8 coilovers
King 2.5 x 8 triple bypasses
Rear
DMZ fab spring under long travel kit
DMZ fab bed cage
King 2.5 x 16 triple bypasses
King 2.0 bump stops
Wheel specs
17″ VTX wheels
Brand new 35 x 12.5 Toyo open country all terrains
Exterior mods
Advanced fiberglass front fenders
RAD industries custom front grill
Custom front bumper
Advanced fiberglass rear bead sides
GG lighting race series light bar
GG lighting race series pod lights
GG lighting flush mount reverse lights
KC lights third brake light
Alpha Rex LED headlights
Alpha Rex LED taillights
Pro Eagle jack w/ full size spare
Security safe in the bed
Interior mods
Boost gauge
Factory JBL sound system w/ navigation
All other mods
Custom drive shaft w/ slip yoke
Custom carrier bearing
4.56 gear w/ Detroit TruTrac LSD
Price
Location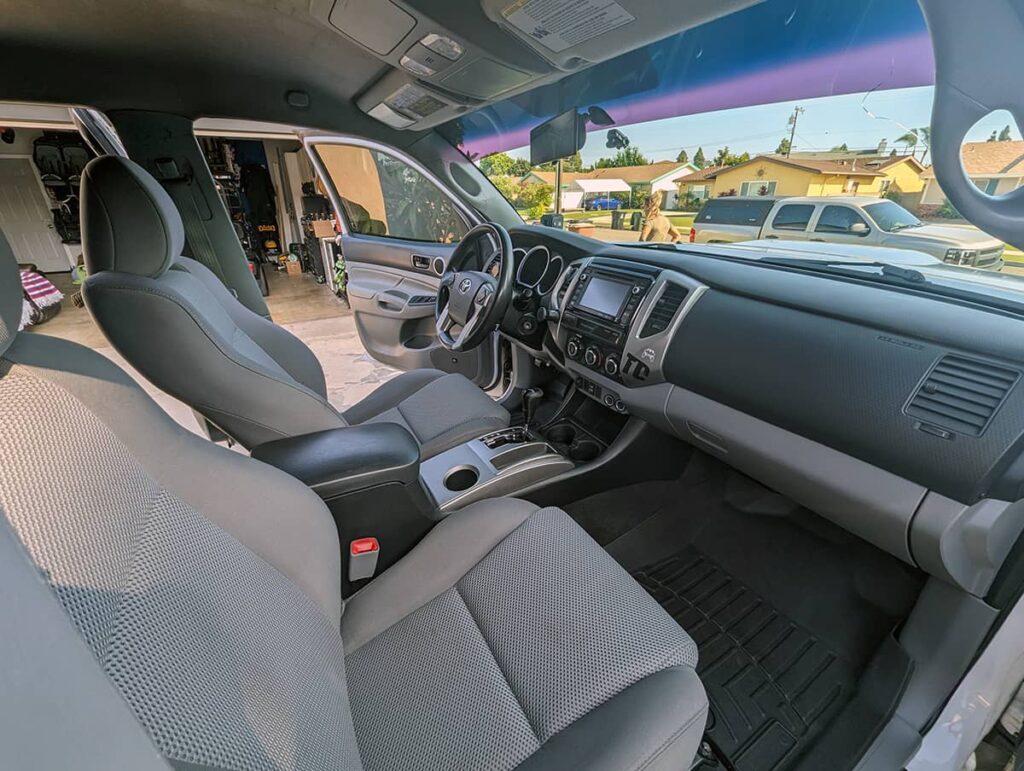 Expert Opinion
As an avid off-road enthusiast, I'm thoroughly impressed by the build quality and performance potential of this Tacoma. The owner invested heavily to create a prerunner optimized for high-speed desert running. Between the built engine, custom suspension and smart upgrades like the 4.56 gears, it has the right ingredients to devour rough terrain.
I appreciate the balance between over-the-top performance and reliability. With 400HP on tap, it has muscle yet retains the bulletproof nature of the Tacoma platform thanks to quality components. For the price, this truck offers prerunner capability far exceeding a stock vehicle. Any true desert racer would love adding this supercharged beast to their garage!
Conclusion
This 2015 Tacoma TRD is a turn-key prerunner ready for dominating the whoops and jumps. With extensive performance upgrades and meticulous attention to detail, it delivers elite capability reminiscent of a Baja trophy truck. For those seeking a race-ready prerunner, this Tacoma checks all the boxes. The truck is for sale and located in Garden Grove, CA and can be contacted through Instagram @wegotajumper. Don't miss your chance to own this off-road monster!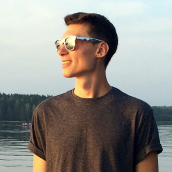 Matt Grabli
Matt brings over a decade of automotive expertise to his role as staff writer and editor at Offroadium.com. With an enduring passion for the off-road vehicles and adventures, he is devoted to creating interesting content that equips 4x4 enthusiasts with the knowledge to improve their rigs.