Attention Grabber 2016 Toyota Tacoma TRD Built For Off-Road Adventures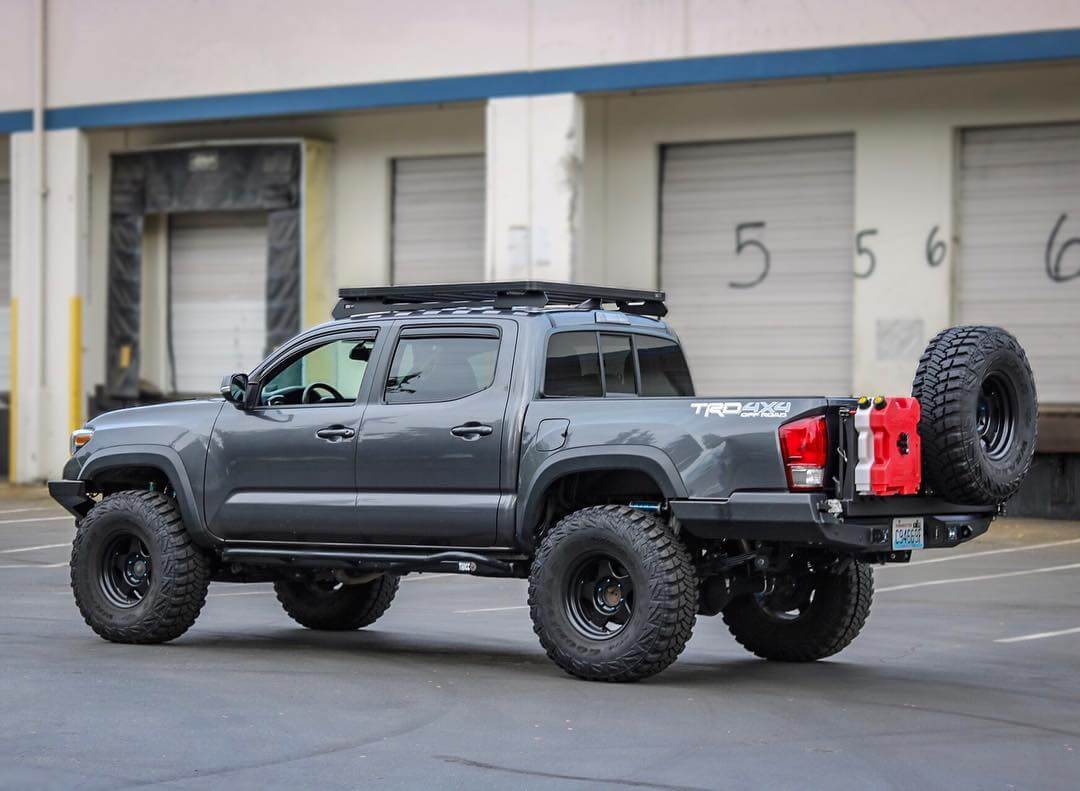 It's hard to disagree with the fact that Toyota Tacoma is one of the most favourite pickup truck platforms for off-reading and overland projects in America. It's no wonder because the late model Tacoma features a perfect blend of the off-road capabilities, reliability, comfort and, of course, design. The aftermarket support for this model is pretty extensive, so it's not hard to get lost in the overwhelming variety of mods and upgrades for this vehicle. We decided to find out what does it really take to build a truly capable Toyota Tacoma for off-road adventures and overland trips.
No matter if you're a Jeep guy, Chevy guy, or whatever make you're loyal to, this stunning dark grey Tacoma will make you wow. Maybe it's the perfectly sized tires and the lift, or that badass tailgate-mounted full-size spare with a red canister, it all creates an image of a well balanced and a carefully thought-after build.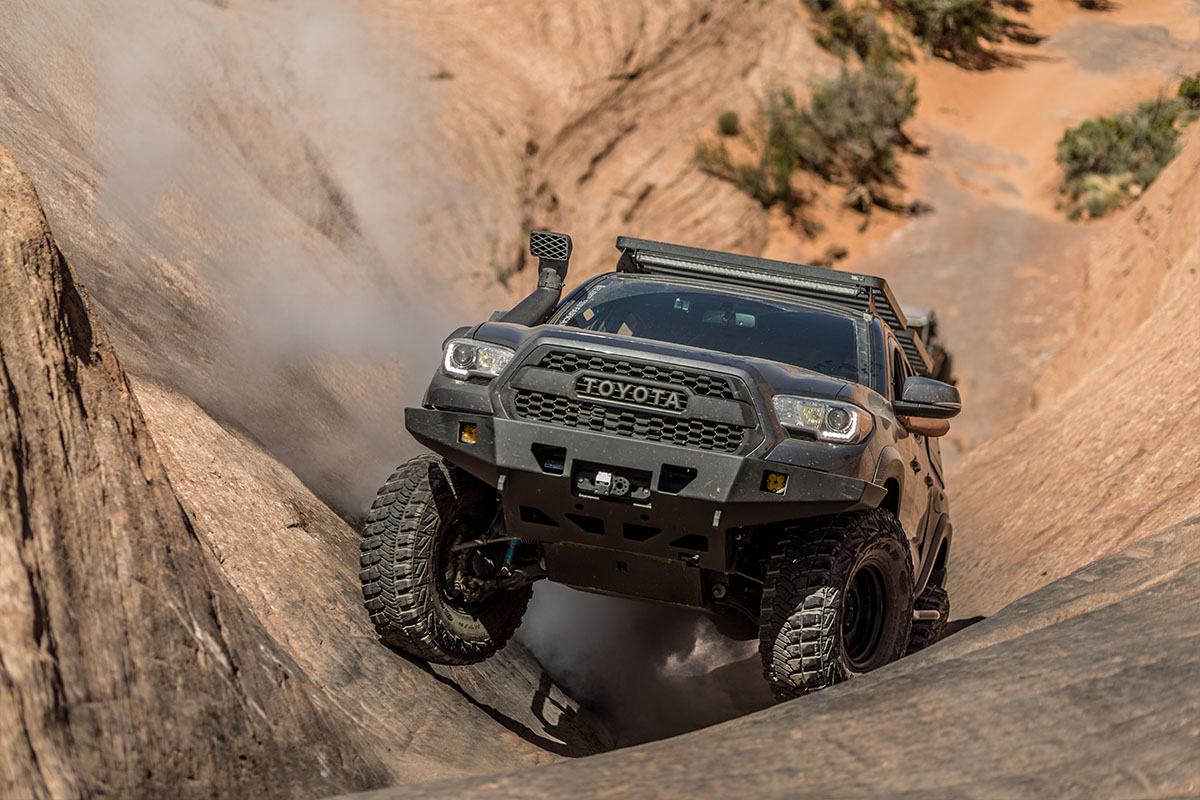 When we contacted Lee, the owner of this truck, we were a little surprised by the fact that it was his first take on a 4×4 project. He's coming from the stance car scene, and his lowered VIP style Lexus LS430 was quite famous within that community, but soon Lee realized that lowered suspension provides certain limits to his lifestyle. After the low beauty was gone he decided that he wants something that could take him just about anywhere, so it didn't take too long until he stopped by the local Toyota dealership and signed his life away for the keys of a brand new Tacoma TRD.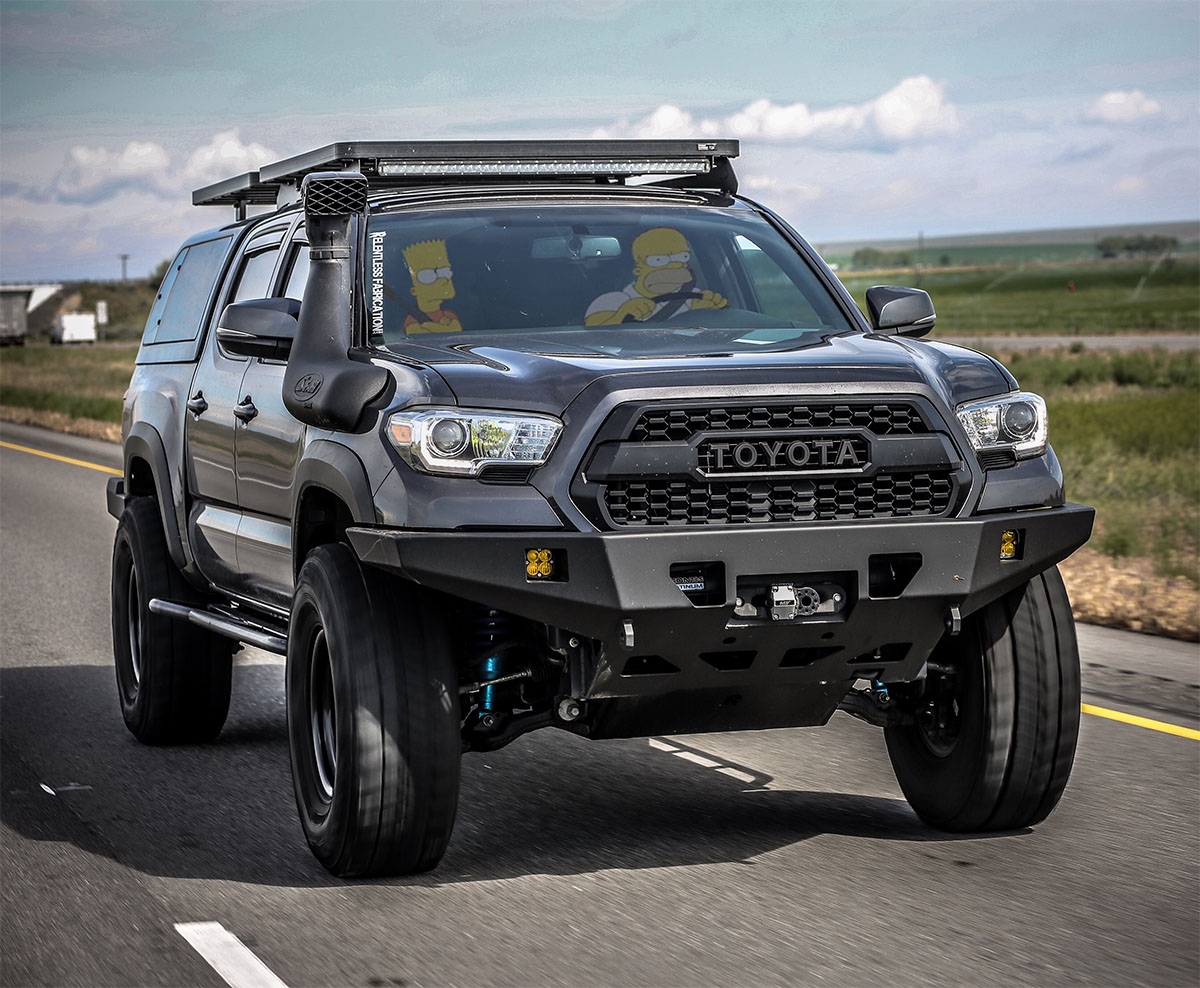 MODIFICATIONS
Taking into consideration Lee's background in the car scene, the chances for his Taco to remain stock were close to zero, and the modification process has begun. Of course, it involved a complete suspension overhaul, and this is where things get really interesting. The front shocks are 2.5″ Kings with 700 springs and Total Chaos upper control arms. On the back, it's got King 2.5 shocks with OME HD Dakar leaf pack and Relentless Fabrication U-bolt flip kit.
Wheels
Thanks to the extra space in the wheel wells provided by the suspension lift, Lee outfitted his Tacoma truck with beefy 35″ off-road wheels. The rims are Stealth Custom Series F5 in 16×8" size with 3.50" backspacing (no spacers) wrapped in 315/75R16 Goodyear Wrangler MTR tires that allow him to get an optimal grip on the trails and air down when necessary.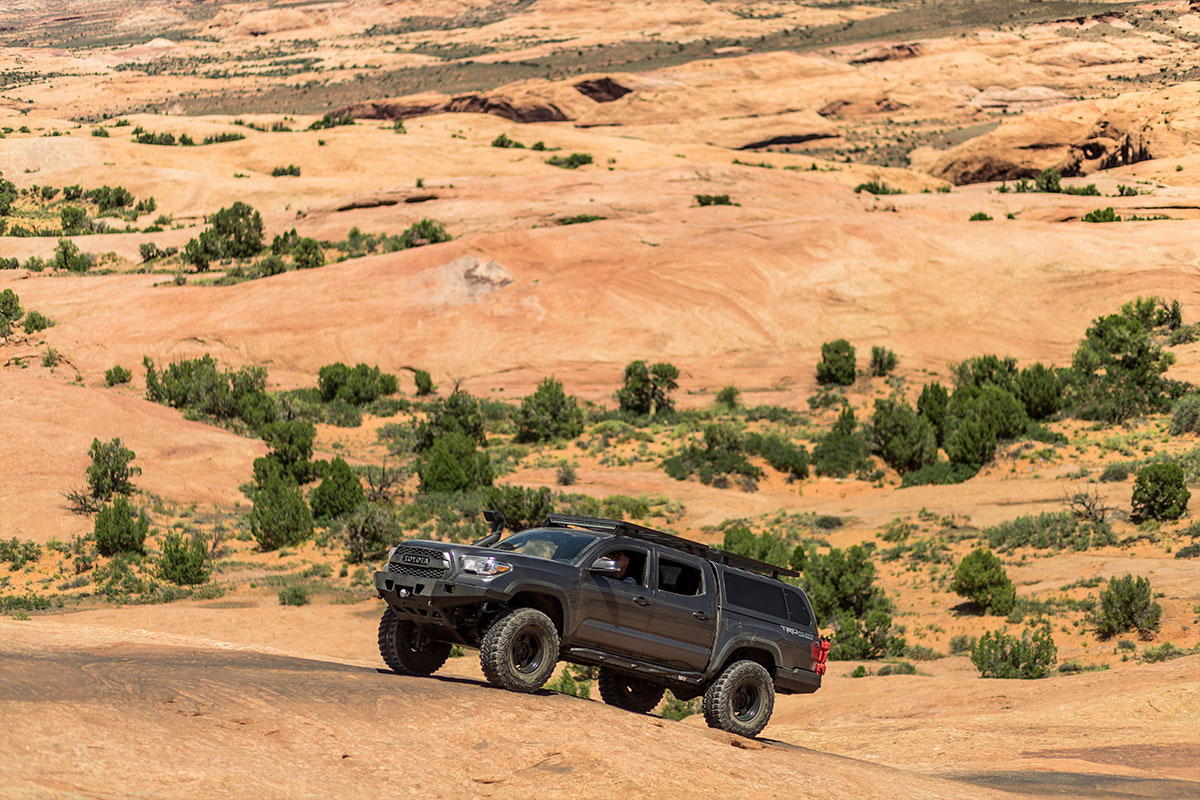 ARMOR AND GEAR
Other modifications feature a SnugTop super sport camper shell, Relentless Fabrication body armor all around, including the front bumper, guards and rear bumper with a badass swing-away full-size spare tire carrier. Warn Zeon 10s platinum winch is mounted in the front bumper for recovery purposes. Front Runner Outfitters roof rack is proudly sitting atop of the truck along with ARB snorkel. The truck is also equipped with ARB twin air compressor with 1-gallon tank and a fridge slide by Frontrunner Outfitters.
QUESTIONS AND ANSWERS
What inspired you and why did you choose this truck for your project?
– Nothing really inspired me. I just got a truck and started throwing parts at it.
What do you love about your truck?
– I love the capabilities and the head-turning factor.
What are your favorite spots for off-roading?
– MOAB Utah.
Who would you like to mention or thank for the help on your project?
– Relentless Fabrication
SPEC LIST
Lift – 2.5″ Front – King 2.5 with 700 springs and Total Chaos UCA; Rear – King 2.5 shocks with OME HD Dakar leaf pack
Relentlessfabrication U-bolt flip kit
Stealth Custom Series F5 rims sized 16×8 with 3.50″ Backspacing
GoodYear Wrangler MTR Off-road Tires (35×12.5R16)
Shell – SnugTop Super Sport
Armor – Relentlessfabrication
Roof rack – Front Runner Outfitters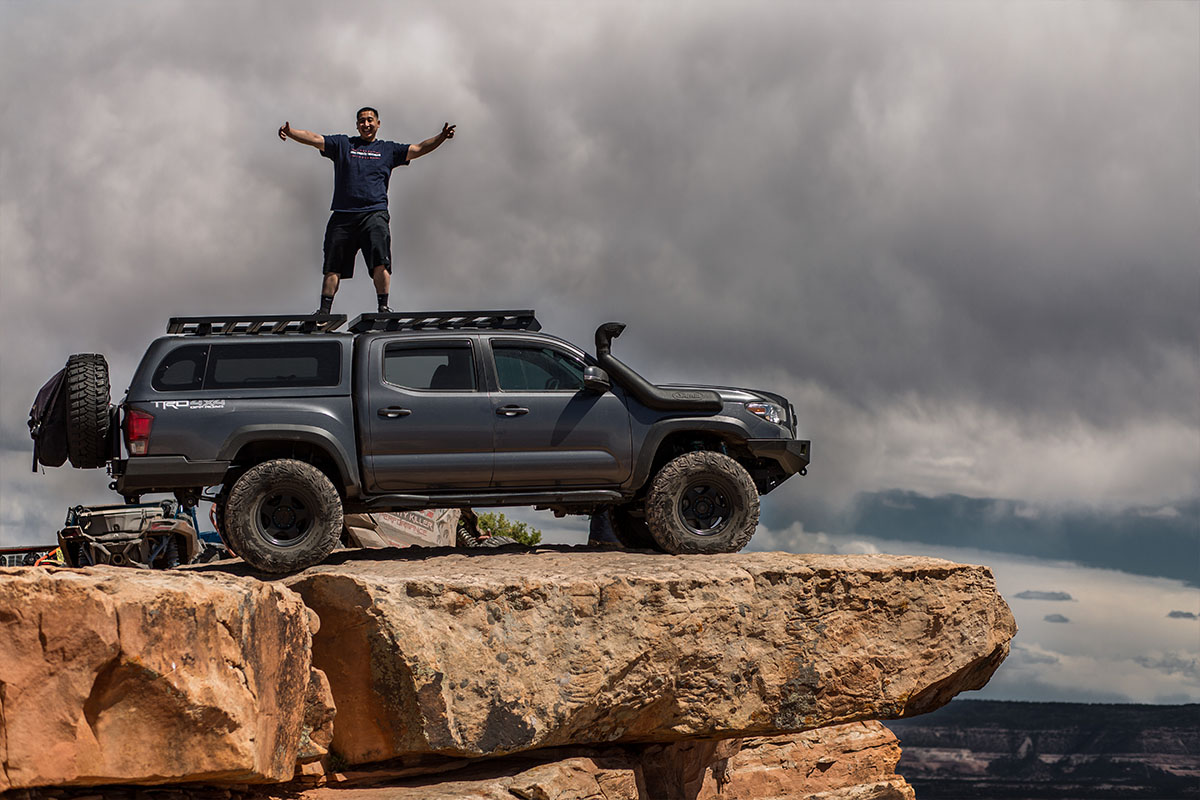 Related Parts & Mods
– Inspired by this Toyota build and looking to prepare your own Tacoma for off-road adventures? Our team has put together a list of products and accessories available online that may help you to achieve similar results:
Wheels
Snorkel
Recovery
Roof Rack
Storage
Lights
*Before ordering any part or accessory, it is recommended that you verify its fitment with a qualified professional and/or seller. We are not responsible for fitment or other issues that may arise from using the products featured on our website.
Stay tuned for more project reviews on Offroadium.com – Follow us on social media, and share this write-up if you enjoyed reading it!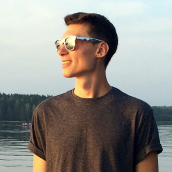 Matt Grabli
Matt brings over a decade of automotive expertise to his role as staff writer and editor at Offroadium.com. With an enduring passion for the off-road vehicles and adventures, he is devoted to creating interesting content that equips 4x4 enthusiasts with the knowledge to improve their rigs.