Life is Too Short to not Drive a Sick Jeep – Lifted Cherokee XJ on 33s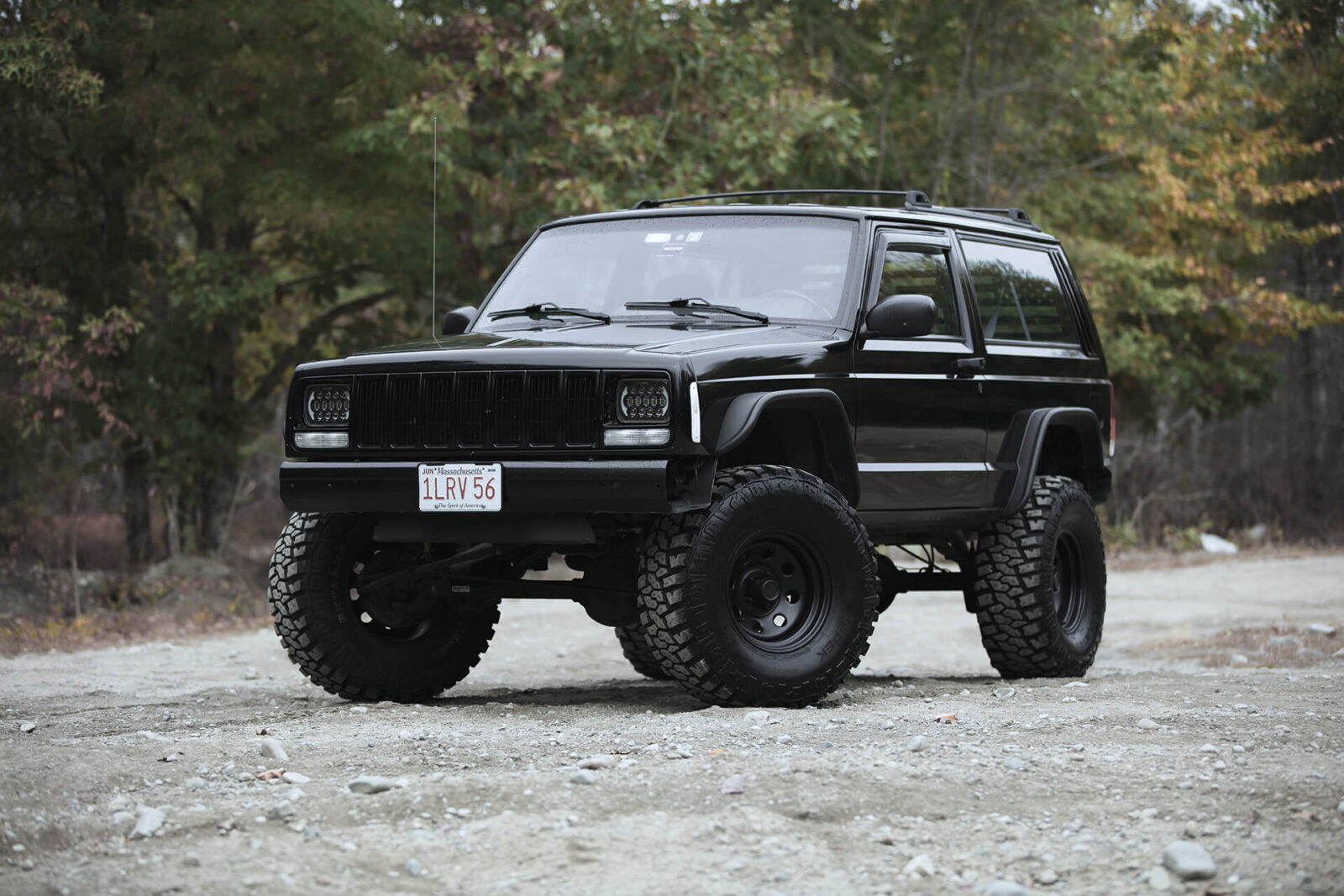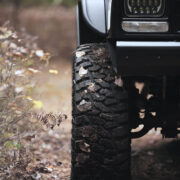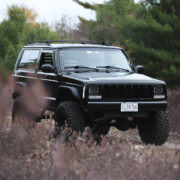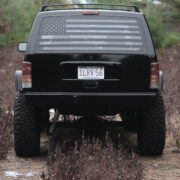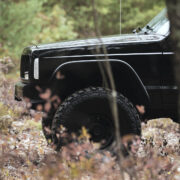 View Gallery
Life is Too Short to not Drive a Sick Jeep – Lifted Cherokee XJ on 33s
When Jeep introduced the second-generation Cherokee in 1984 with its innovative unibody design, it sparked the true revolution in the SUV market segment. It was relatively affordable, reliable, rugged, but comfortable enough on the road to replace traditional passenger cars in many households. The cost of ownership is very low and even today, decades later, we still see a lot of XJs cruising around our highways and roads less traveled. The Cherokee is compact, efficient, has a very utilitarian design, and is capable of dominating rough terrain.
We spoke with Jeff Lampron from Fall River, MA, a life-long Jeep fan and the owner of a beautiful 1999 Cherokee. He was lucky enough to become the second owner of one of the latest XJs rolled out of the Jeep assembly line before they were discontinued with just under 122k miles on the clock.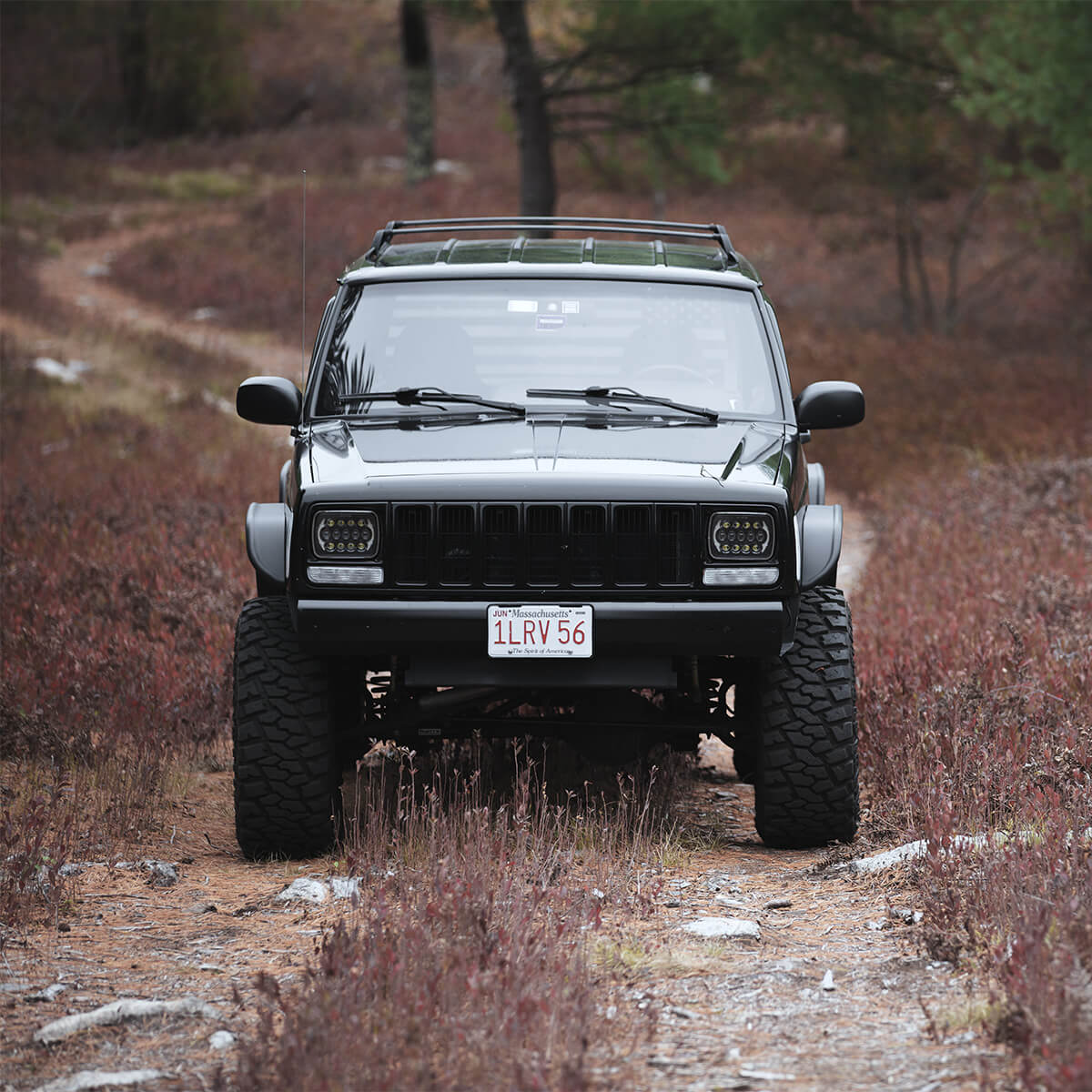 However, the harsh climate of Maine took its toll, and Jeff had a tremendous amount of work to do to get rid of all signs of deterioration. Now he has a clean-looking lifted workhorse with a perfect stance that can take him to any point on the map at a moment's notice, where he can fully enjoy his passion for nature photography.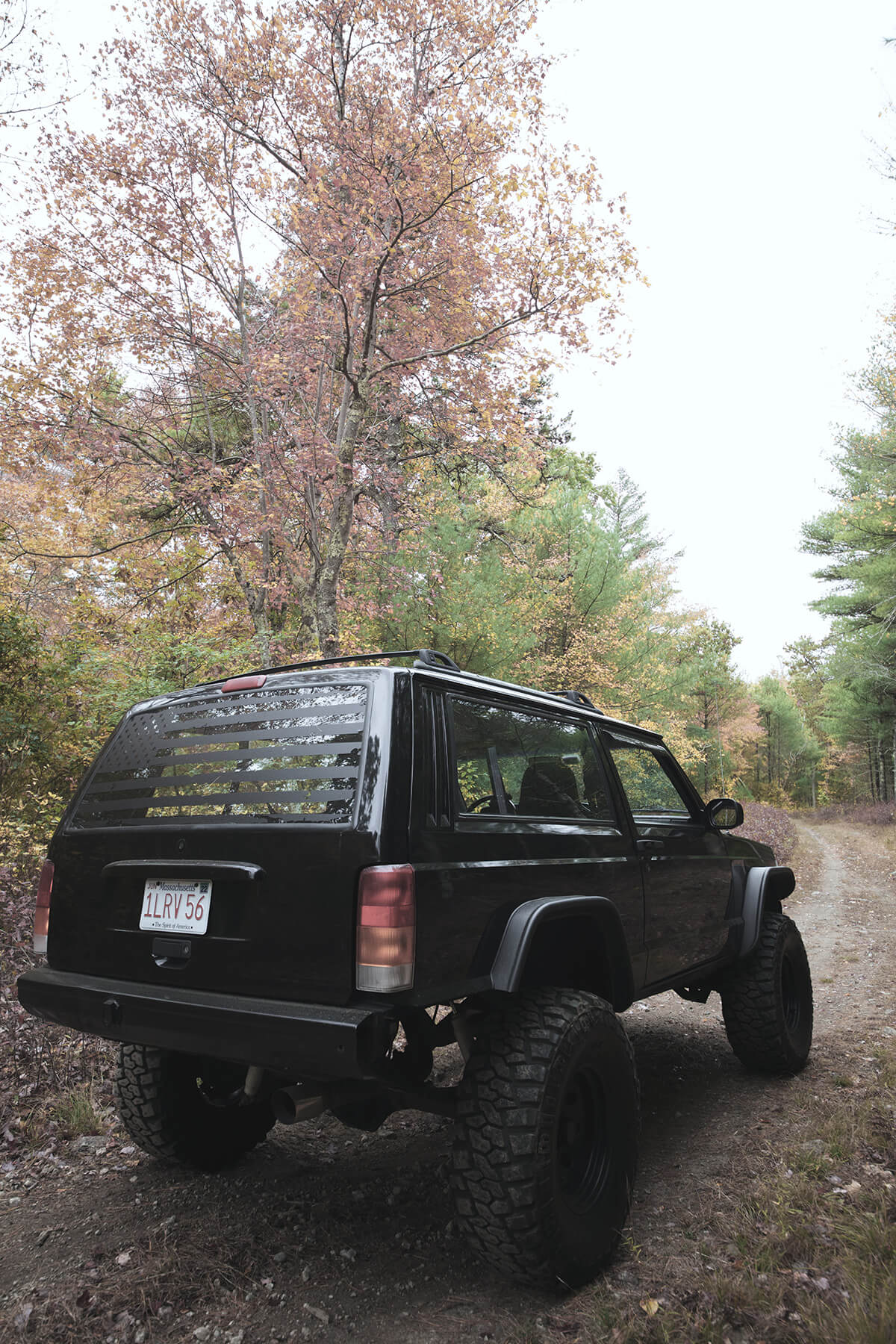 How did you become interested in off-roading?
– I grew up on dirt bikes and snowmobiles and have loved anything with a motor for as long as I can remember. The area I lived in had more miles of dirt road and trails than pavement.
"I grew up on dirt bikes and snowmobiles and have loved anything with a motor"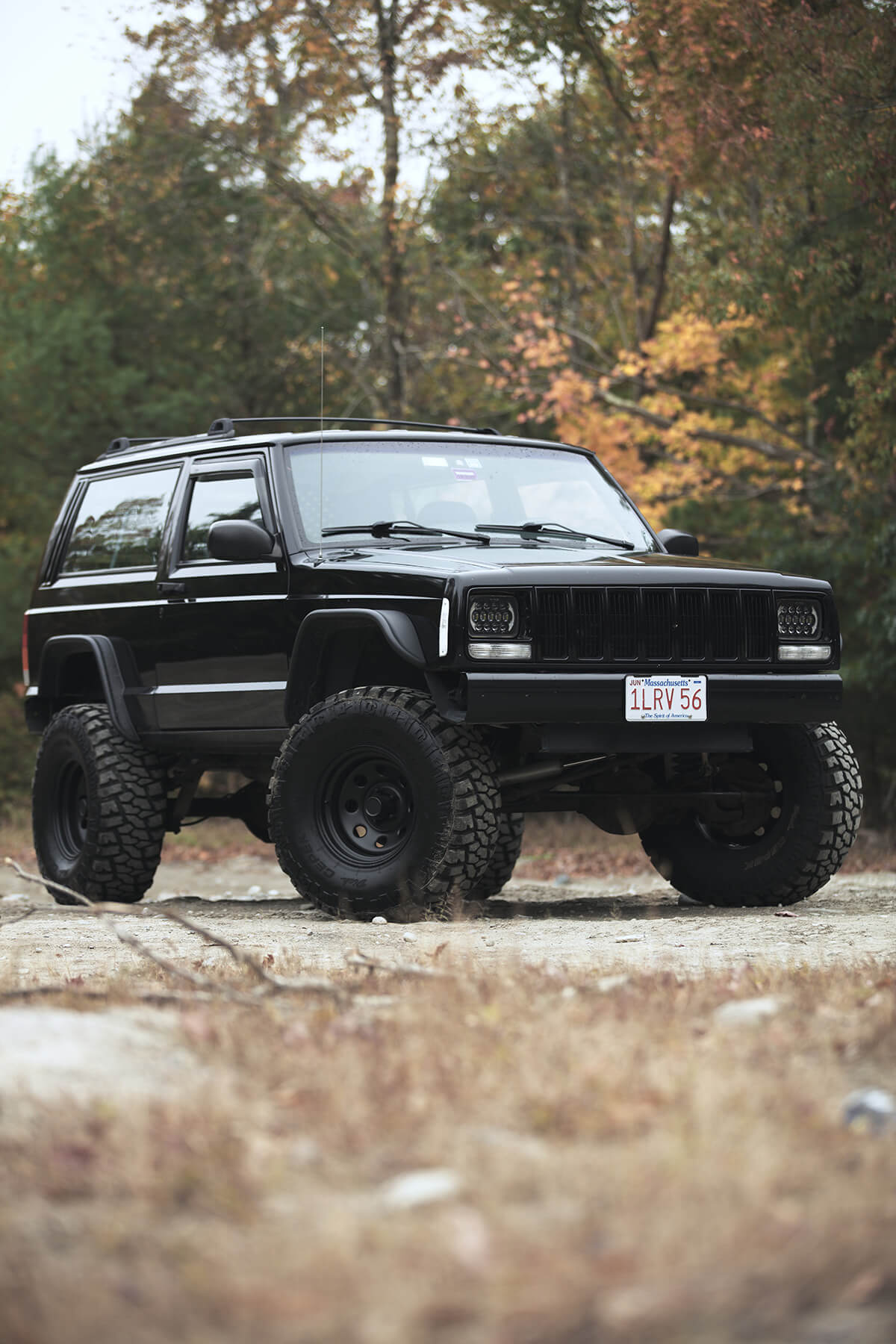 Why did you choose this particular model for your project?
– I've been wanting another 2 door Cherokee since I sold my last one about 9 years ago. I love the way they look, repairs and parts are cheap and easy to come by and there's a huge amount of aftermarket available. In my opinion, the 2 door XJ is one of the best 4×4's ever made. It's perfectly proportioned, powerful, and reliable.
What inspired you to choose this modification style?
– I don't do anything crazy off road, but I wanted my Jeep to look good and handle well on road and not have to worry about getting stuck anywhere taking it off road.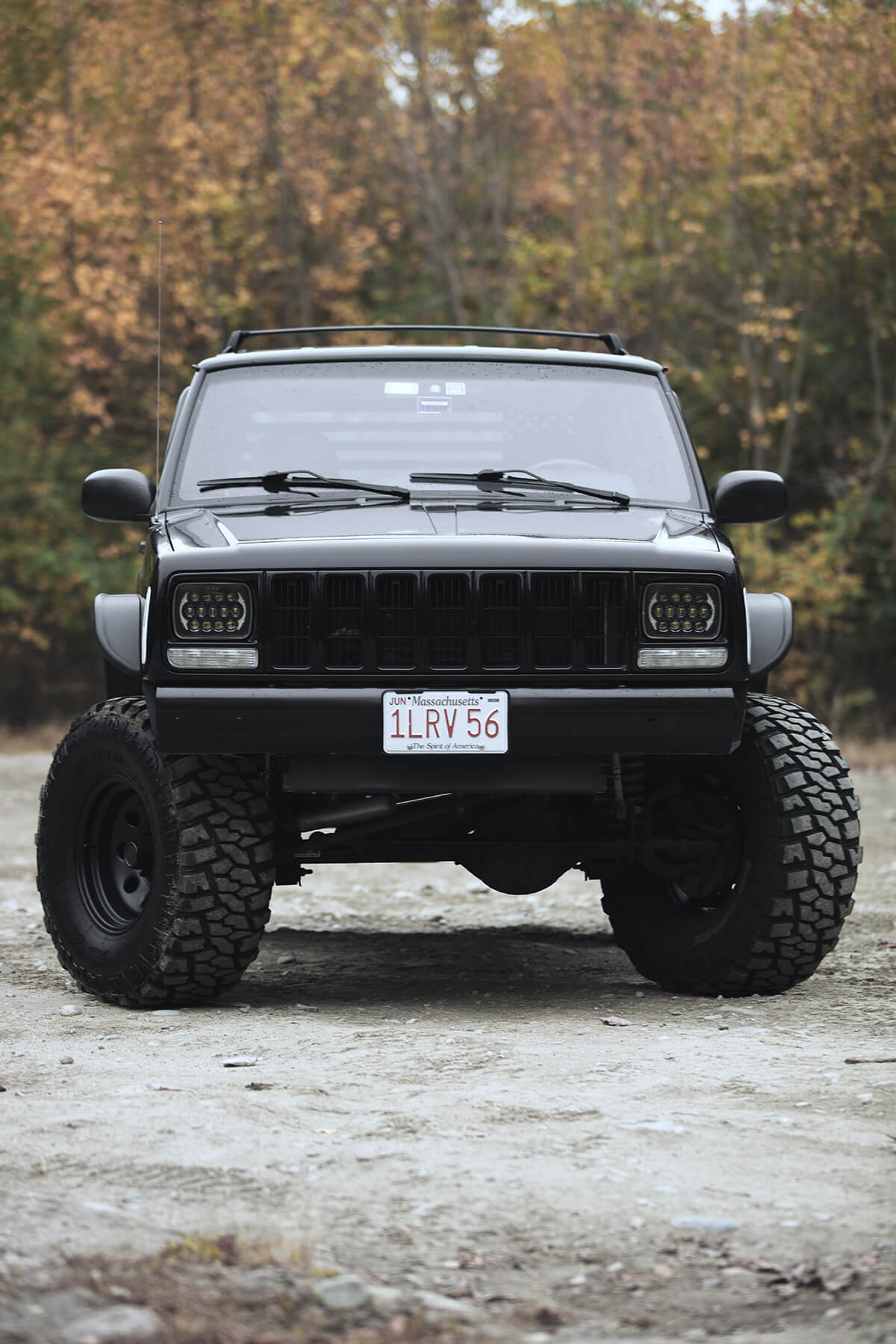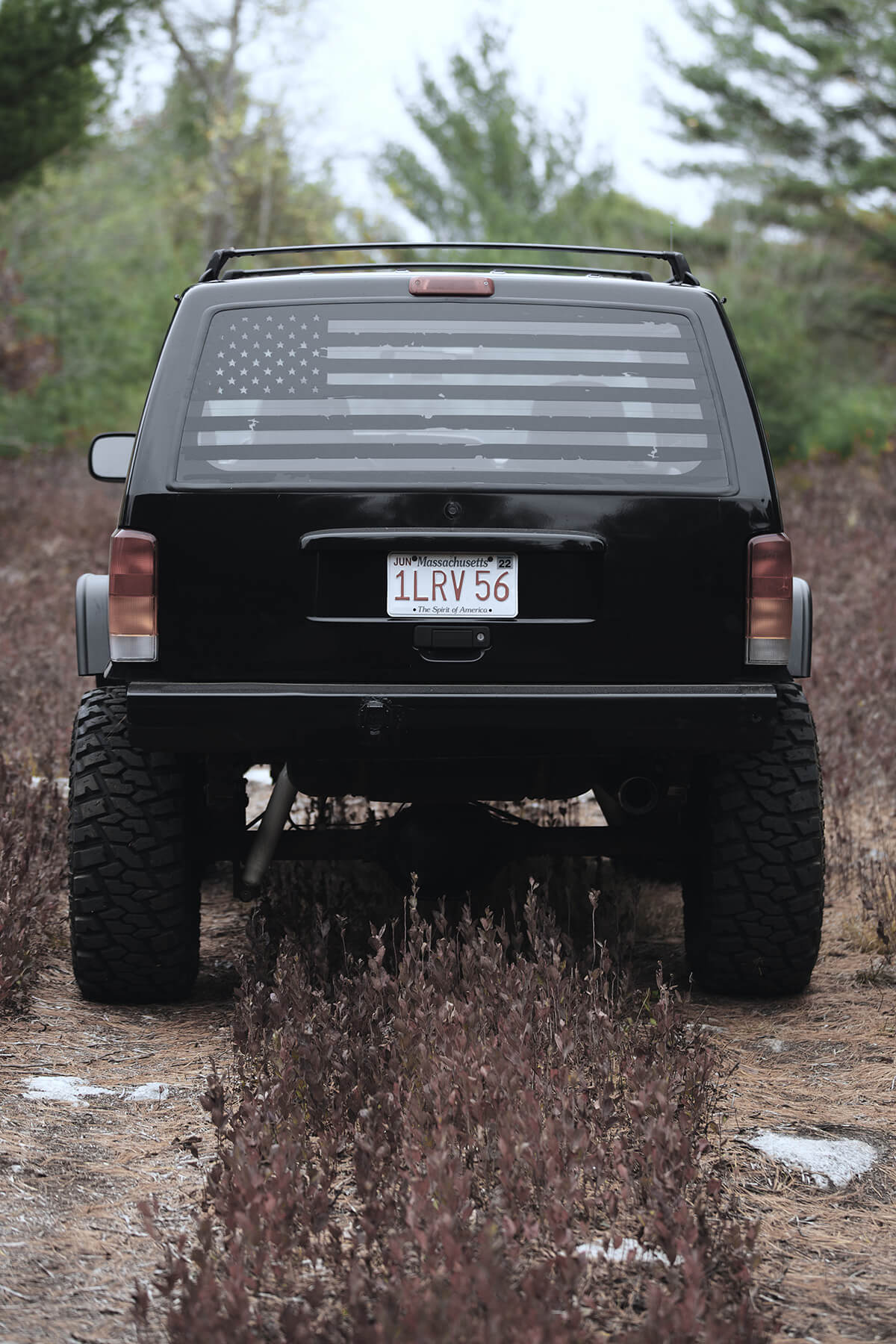 What challenges did you face while putting it together?
– The biggest challenge by far has been rust. My rear frame rail on the drivers side was basically gone, passenger side wasn't much better, but I had all new steel welded in and frame stiffeners welded over that. The rear bumper section still has a giant hole, but that will be repaired next. Lower quarter panels were rotted, and rust has started on my rockers and doors. It was a Maine Jeep it's whole life and it shows!
What do you love about your vehicle?
– I love everything about it! This has been a project in my head for almost a decade and I'm finally able to start putting my dream XJ together. I bought it in June of 2019, and I'm happy with its progress so far.
Is it your daily or a weekend ride?
– Daily! It will hopefully be retired into a second vehicle as soon as the Probe GT is ready.
Do you take it off-road? If so, where and how often?
– Once every couple of weeks I go out on a dirt road not far from my apartment. It's a fun little spot, nothing crazy, but just a little puddle jumping and being out in the woods for a couple of hours with my camera is all I want. I am looking forward to exploring some other areas over the next year. New to this area but there's a great Jeep community here.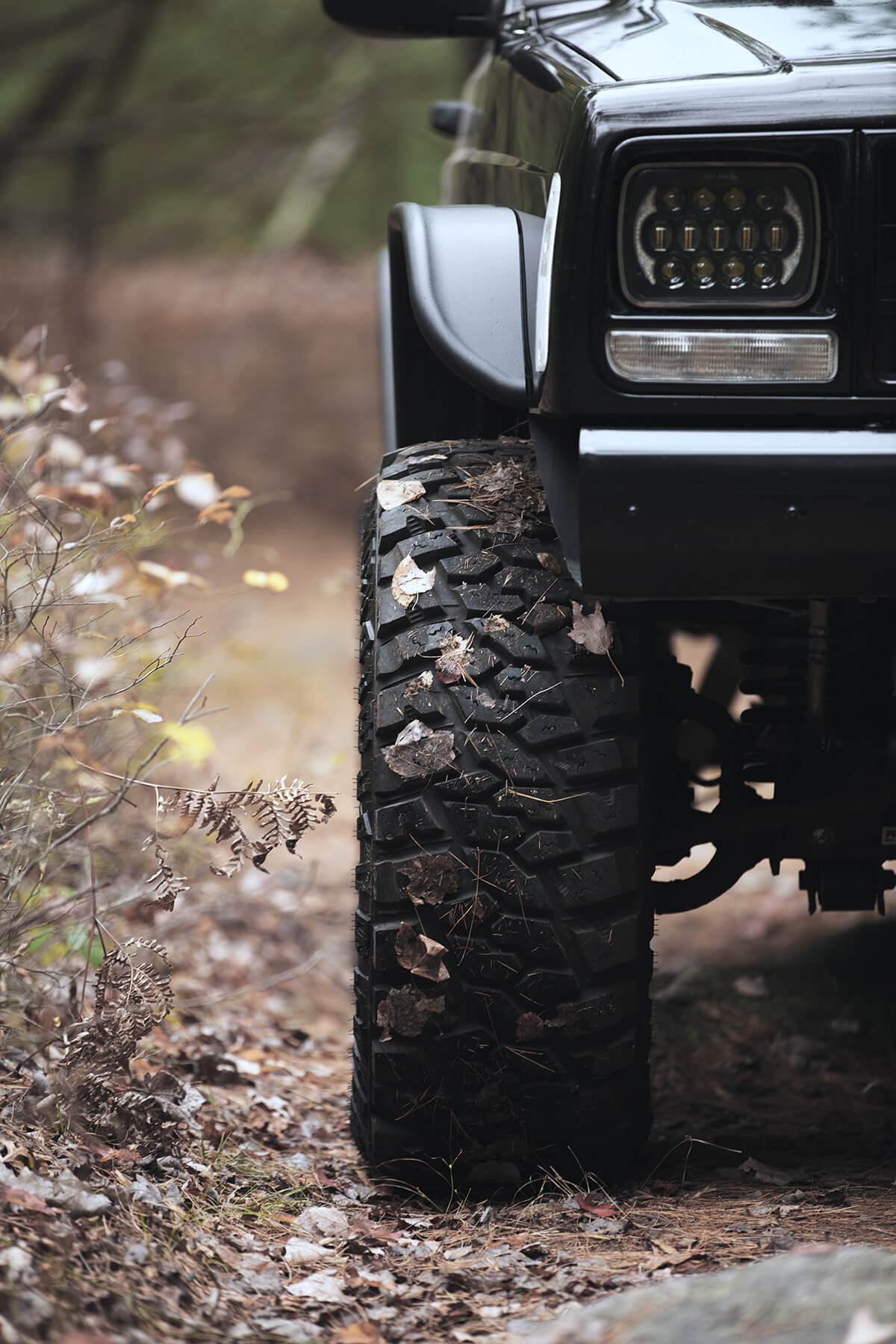 SPECS – 1999 Jeep Cherokee
Engine
– 4.0 liter inline 6, only mod is a Banks Monster cat-back exhaust.
Lift height and suspension
– 4.5" lift with all Rusty's parts
– Coils
– Leaf springs
– Shocks
– Adjustable track bar
– Adjustable control arms
– 1.25" transfer case drop
Wheels
– 15×8 Pro Comp 7069 rims with 4.75" backspacing, -19 offset
– 33×12.5" Dick Cepek Extreme Country tires
Exterior mods
– Audexen headlights
– Clear blinker and marker lenses
– Bushwacker flat flares
– Rear quarter panel cut and fold
– Ares Fabrication rear frame stiffeners
Interior
– Alpine UTE-73BT head unit
– Polk DB522 and DB652 speakers
– Weathertech floor mats front and rear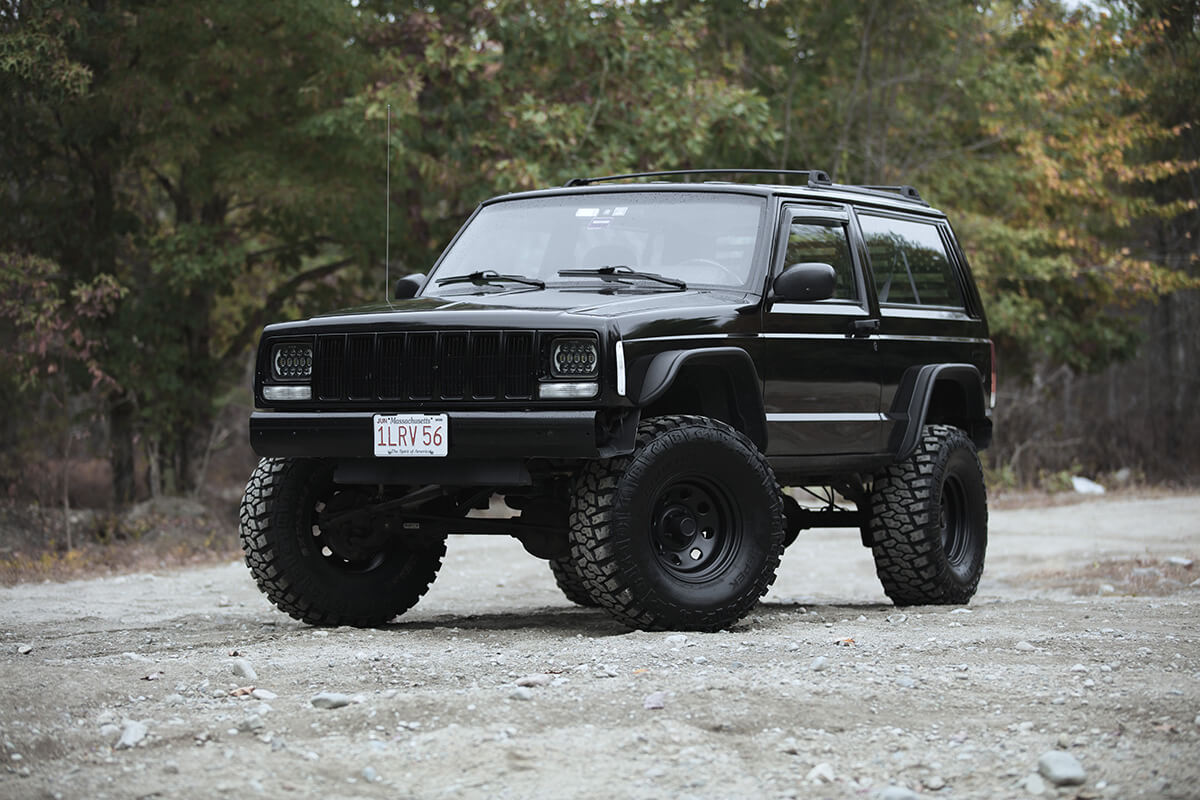 What are your future plans about this vehicle?
– I have a JCR front bumper that's going on soon, and eventually a rear one too. Tint taillights, powder coat wheels, SYE, driveshaft, gears, HD steering, front and middle section frame stiffeners, rock sliders, and do a full paint job. I've always wanted a white one, so I think I'm going to do it in white bedliner. I also would love to do a full tan interior swap with leather seats. My plan originally was to be on 35's, and it will be eventually but there's a lot to do before that.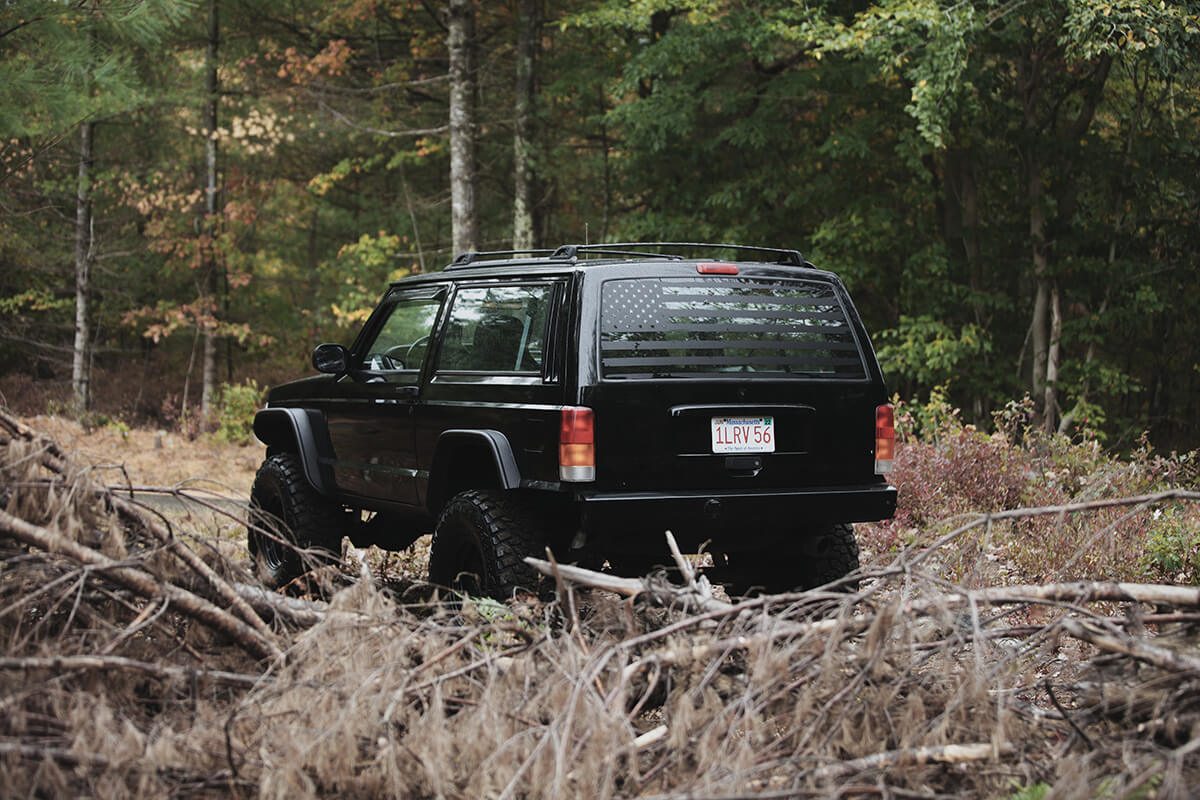 – I love everything about owning my Jeep. This is my 3rd XJ and I owned a TJ for a short time as well, and driving one gives you a feeling like nothing else on the road (or off). It rides rough, it squeaks, it rattles, it's loud, and I love every bit of it. It has all the qualities of a horrible vehicle on paper, but that slightly worn out drivers seat feels like a second home. This is the beginning of a long term project that has been stirring in my head for almost a decade already, and being able to finally see that vision come to life is amazing. Riding around with my girlfriend in the passenger seat, weekends spent underneath it with my brother (sorry, bro ), or chatting with random other people on the trail or at meets are memories I'll never forget. Life is too short to not drive a sick Jeep
Watch the progress and find out more about this Jeep Cherokee project by visiting the Instagram profile of the owner: @jlampron22!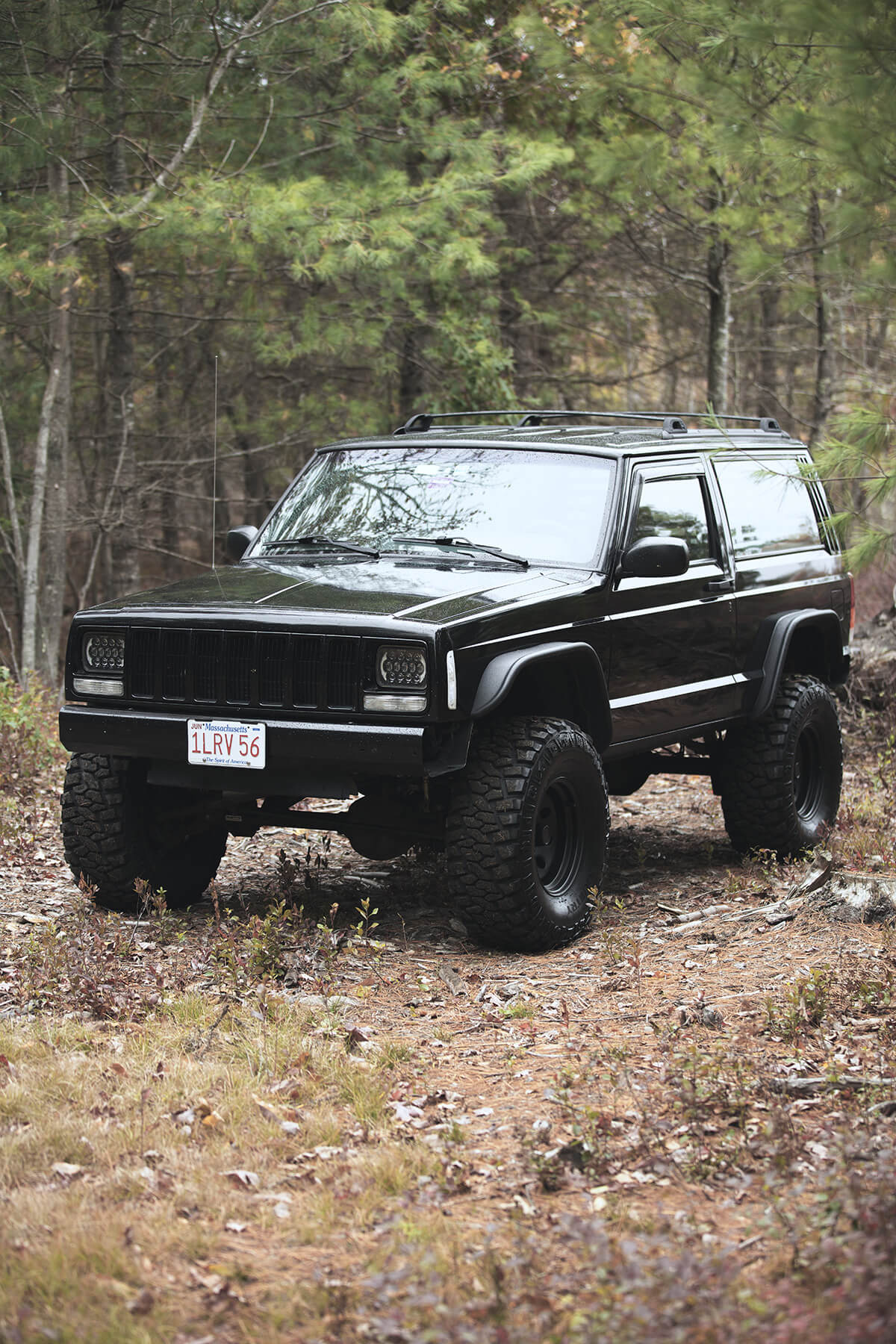 Related Parts & Mods
– Inspired by this Jeep Cherokee build and looking to prepare your own 4×4 for off-road adventures? Some parts used on this vehicle were sourced from custom shops or custom made, but our team has put together a list of products and accessories available online that may help you to achieve similar results:
Lights
Lift Kit
Wheels
Body Armor
*Before ordering any part or accessory, it is recommended that you verify its fitment with a qualified professional and/or seller. We are not responsible for fitment or other issues that may arise from using the products featured on our website.
Stay tuned for more project reviews on Offroadium.com – Follow us on social media, and share this write up if you enjoyed reading it!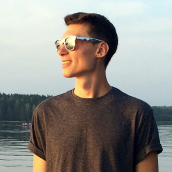 Matt Grabli
Matt brings over a decade of automotive expertise to his role as staff writer and editor at Offroadium.com. With an enduring passion for the off-road vehicles and adventures, he is devoted to creating interesting content that equips 4x4 enthusiasts with the knowledge to improve their rigs.