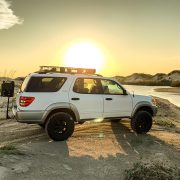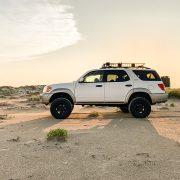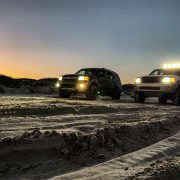 View Gallery
What could you do to modify the vehicle that is already perfect for off-roading? You just lift it, get a set of great all-terrain tires, a roof rack for recovery gear, and bright auxiliary lights for nighttime trips and be ready to seek new adventures away from the pavement.
That's exactly what Paulo from Corpus Christi, Texas, did to his 2003 Toyota Sequoia. The 6-8 inch lift is achieved with a set of front monotube B8 5100 shocks by Bilstein and a combination of Old Man Emu ARB 60020 Nitrocharger Sport Shocks and ARB 2862 Coil Springs at the rear. The rig is running on matte black 17" BBS Wheels paired with 34 inch Nitto Trail Grappler tires (285/75R17).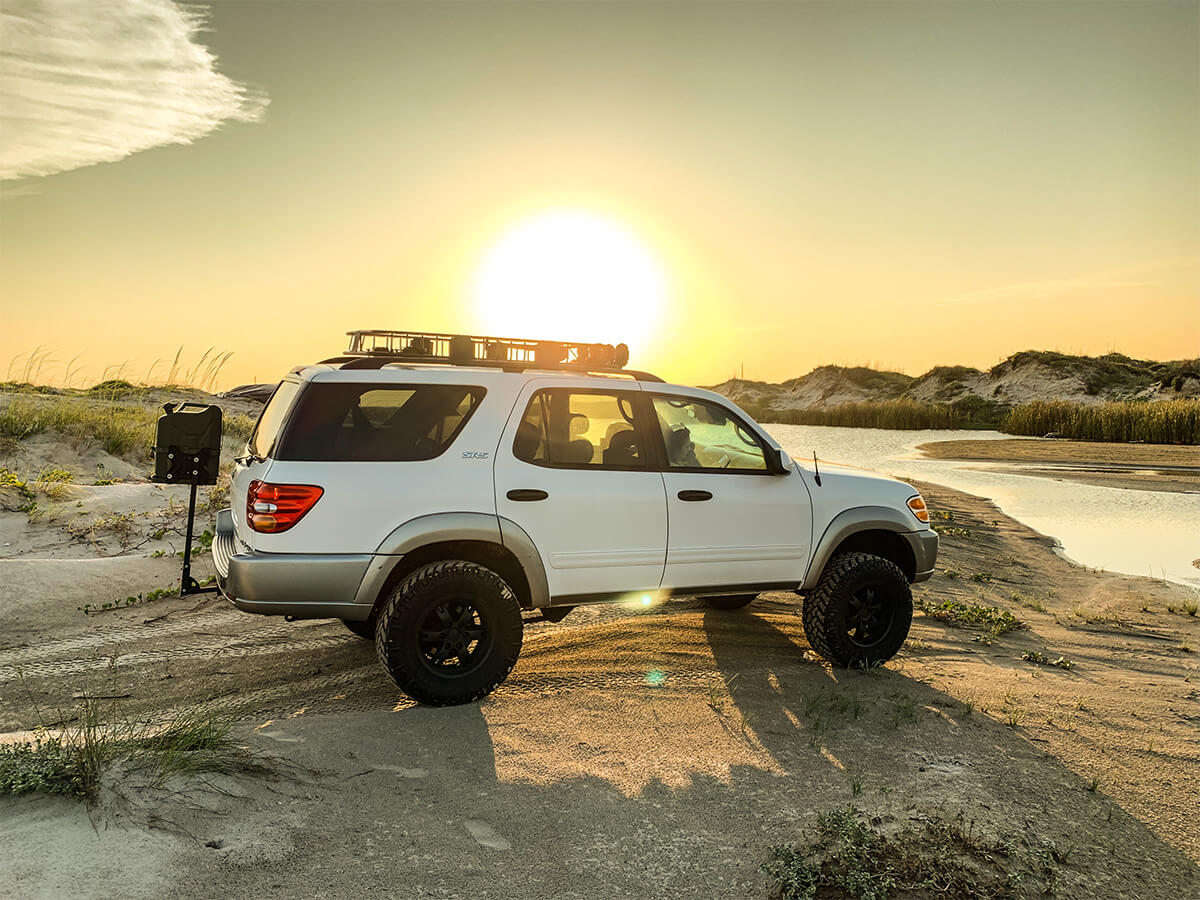 This model, introduced to the market in 2000 and based on the Tundra pickup truck platform, became the largest SUV in the Toyota lineup. It was created to compete with the Ford Expedition in the full-size SUV market segment. The Sequoia managed to cut the sizable chunk of that pie previously held by Ford, Chevy, and GMC thanks to a smooth and silent 4.7-liter V8 engine, roomy, comfortable, and versatile interior with seats for 8 people, great ground clearance, and surprisingly good handling. For Paulo, the Sequoia was the best possible choice for weekend rides at the sandy shore. All Toyotas are known for their reliability, so when going off the beaten path, you can be sure to have fun with your friends and family and return home safely.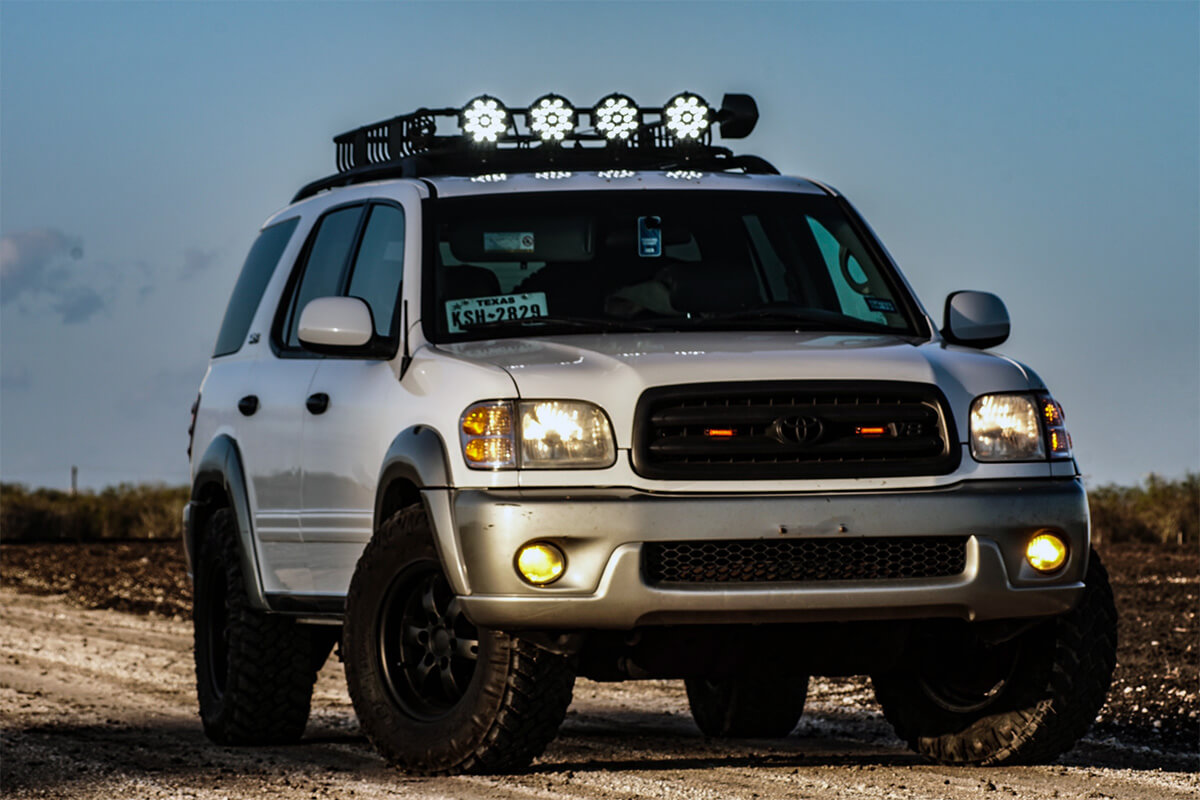 The overall lift height equals to 6-8 inches and it was achieved with a help of Bilstein 5100 shocks on the front, ARB Old Man EMU 60020L Nitro Charger rear shocks, and ARB OME 2862 rear coil springs.
Tell us a few words about your truck, and how did you become interested in off-roading?
– Coastal Living, for you to enjoy the lifestyle here, you gotta have a 4WD.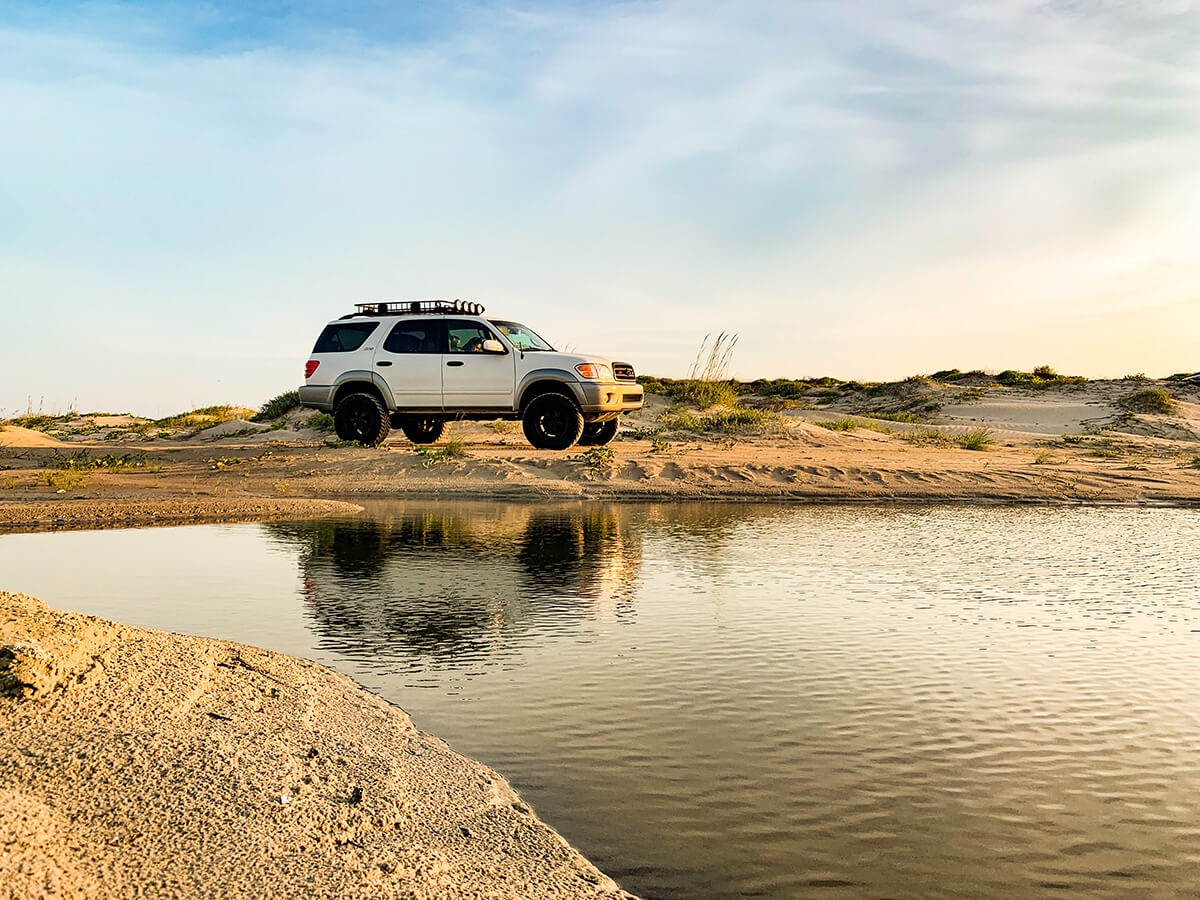 Why did you choose a Toyota Sequoia?
– It gives me the space that I need, and the offroad capability that I'm looking for. It's basically the almighty Land Cruiser. This is my 3rd Sequoia within a year until I found the right one for me.
What I love the most is that it is Toyota. Reliability is my number 1 concern, plus offroad they are the best in my eyes. It used to be my daily but after al the work that put in, it's becoming my weekend ride. I just take it to Padre Island and do some offroading there.\
What are your future plans for this vehicle?
– Probably get it painted and fresh new leather seats to have that new feel to it. But for now, there are so many things ahead of them.
SPECS
– 2003 Toyota Sequoia 4.7L V8
Suspension
– 6-8″
-Bilstein 5100(front)
-ARB Old Man EMU 60020L Nitro Charger shocks and ARB OME 2862 coil springs(Rear)
Wheels
– 17" BBS rims with Nitto Trail Grappler tires sized 285/75R17 (34 inches)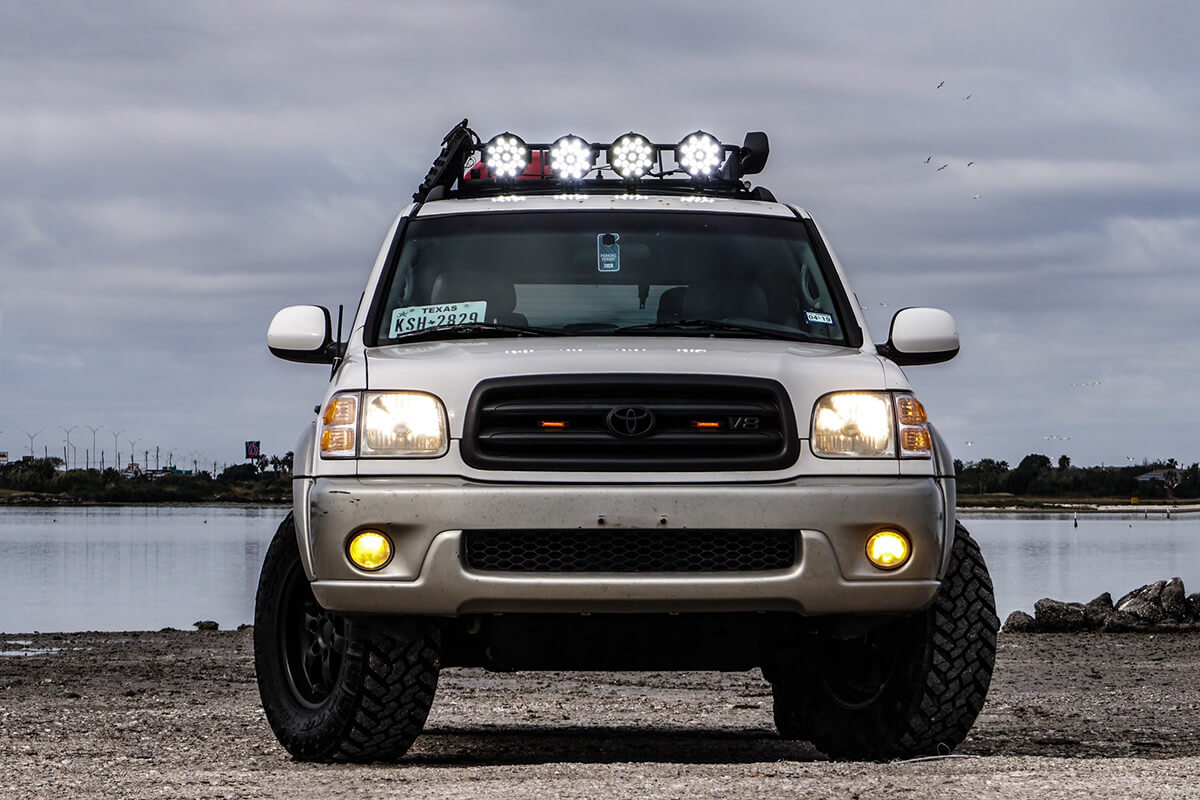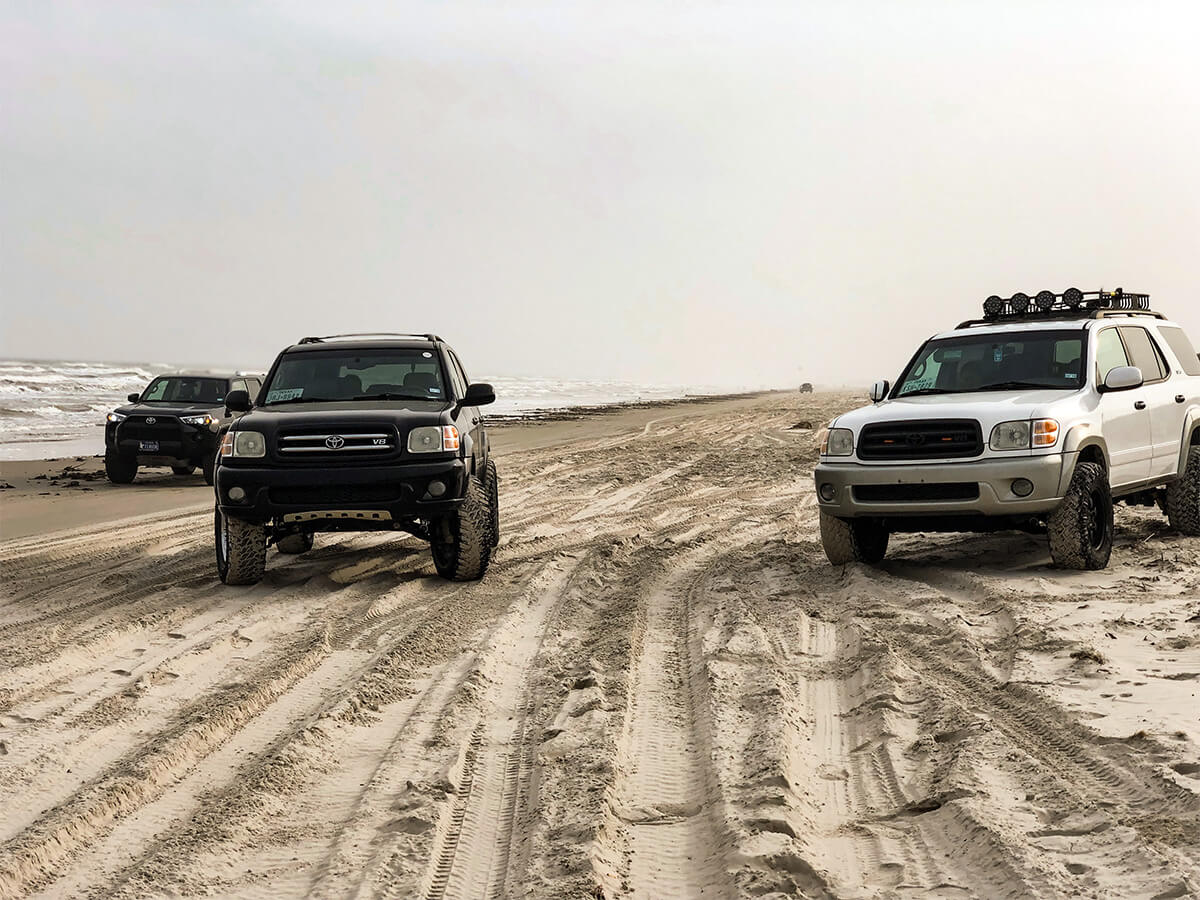 Watch the progress and find out more about this Toyota Sequoia project by visiting the Instagram profile of the owner: @flipz_garage!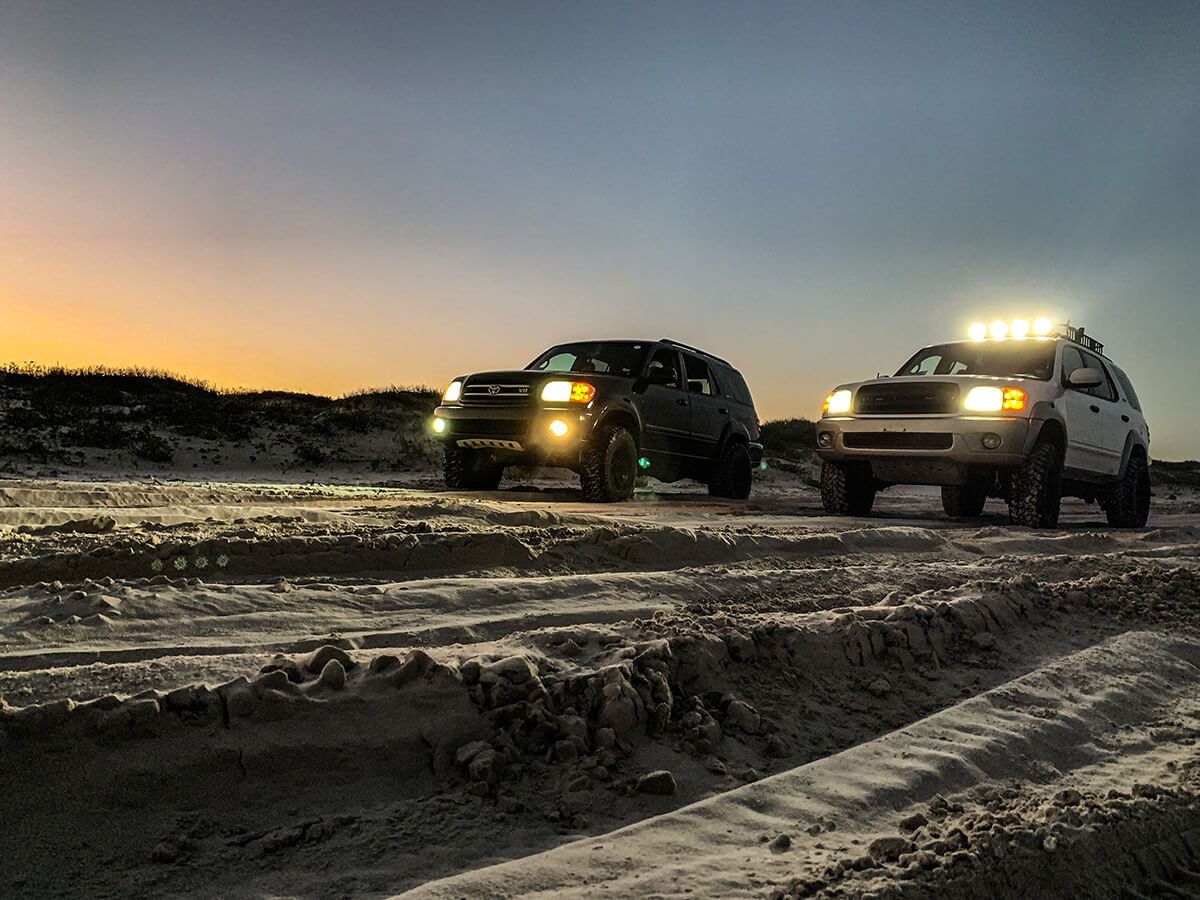 Related Parts & Mods
– Inspired by this Toyota Sequoia build and looking to prepare your own SUV for off-road adventures? Some parts used on this vehicle were sourced from custom shops or custom made, but our team has put together a list of products and accessories available online that may help you to achieve similar results:
Wheels
Suspension
or
Roof Rack
LED Lights
*Before ordering any part or accessory, it is recommended that you verify its fitment with a qualified professional and/or seller. We are not responsible for fitment or other issues that may arise from using the products featured on our website.
Stay tuned for more project reviews on Offroadium.com – Follow us on social media, and share this write up if you enjoyed reading it!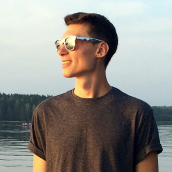 Matt Grabli
Automotive journalist and technical writer at Offroadium.com with more than 10 years of experience in the sphere of aftermarket parts and 4×4 vehicle modifications. Passionate about off-roading, outdoor adventures, and an active lifestyle.