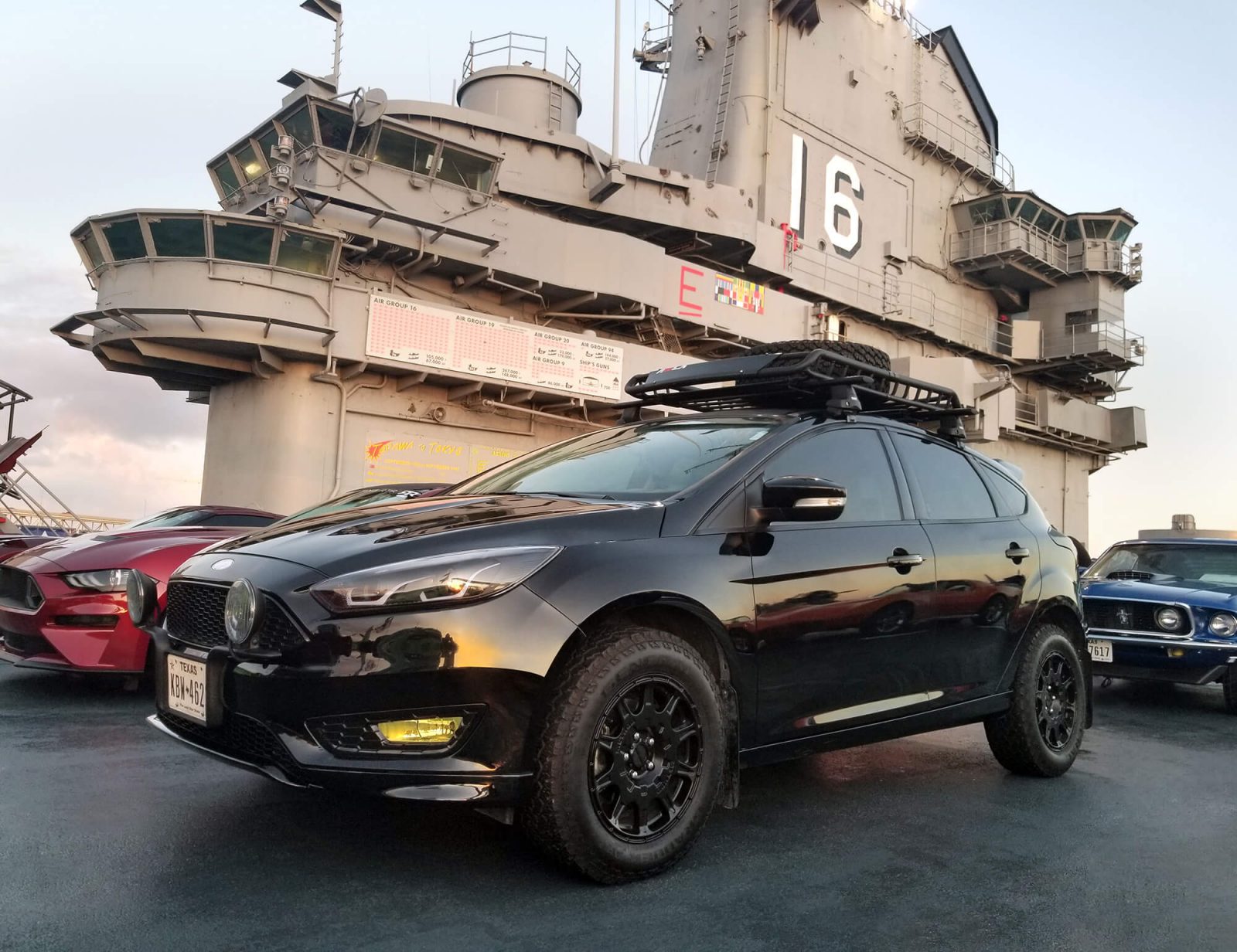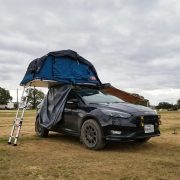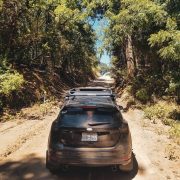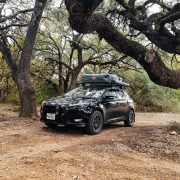 View Gallery
We all used to see big mighty rigs modified for off-roading with enough cargo space and lots of horses under the hood. But what if you like to do something completely different and unexpected and try to transform your daily driver compact car into a lifted off-road beast? We met Stephanie from San Antonio, Texas who decided to pursue her new passion for overland adventures by lifting and upgrading her 2017 Ford Focus.
This particular third-generation model underwent several redesigns and facelifts to incorporate all the best from Ford engineering. The Ford Focus is not a stranger to extreme driving conditions — the car had multiple wins in World Rally Championship. The interior is quiet and comfortable, the fuel mileage is ridiculously high. But what about off-roading?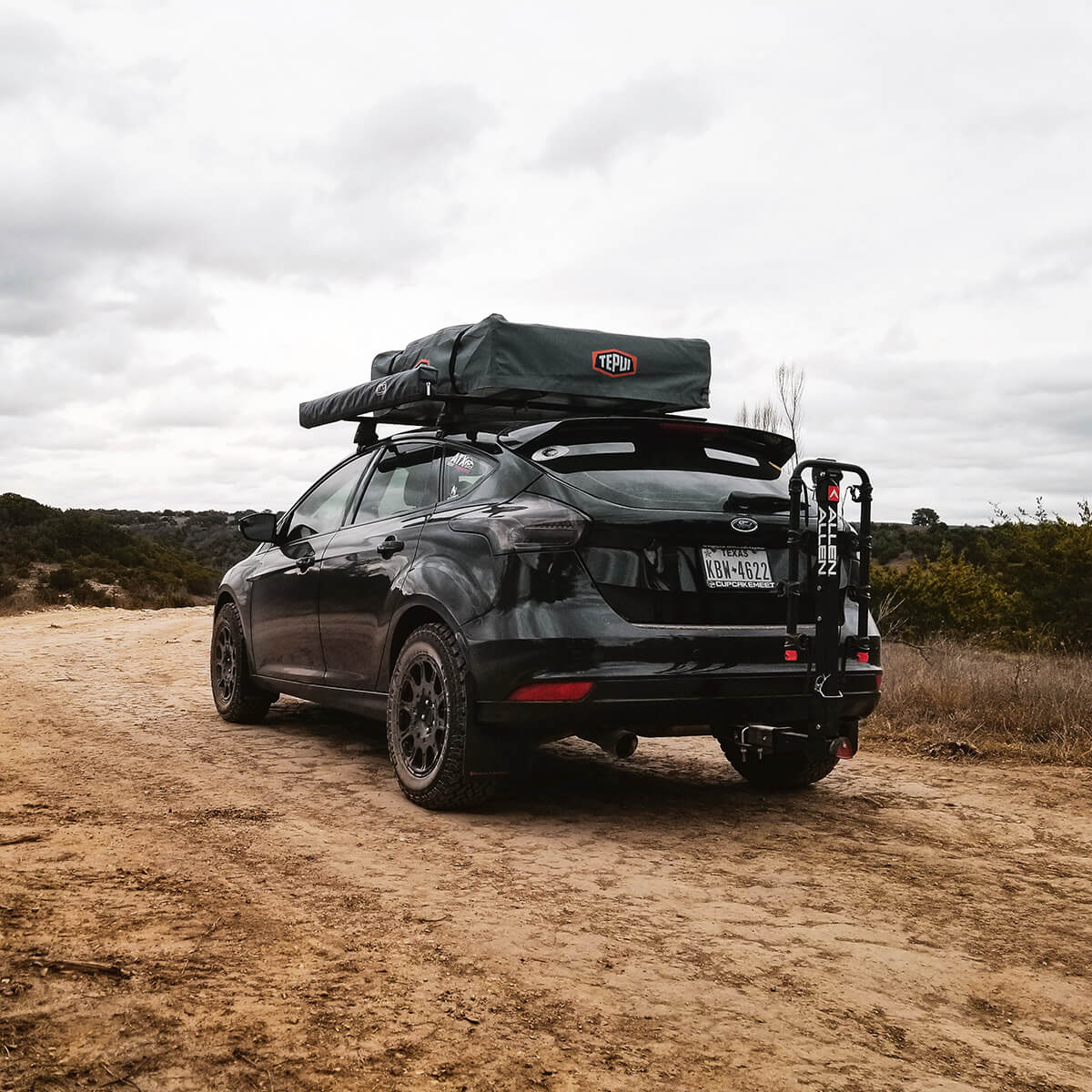 Stephanie proves time and time again that the critics are wrong, that you don't need to own a big rig to survive challenging trails and enjoy the big outdoors. This 2017 Ford Focus Overlander is the living proof that everything is possible if you put your mind to it and are willing to spend some time and your hard-earned cash putting it together.
"you don't need to own a big rig to survive challenging trails and enjoy the big outdoors"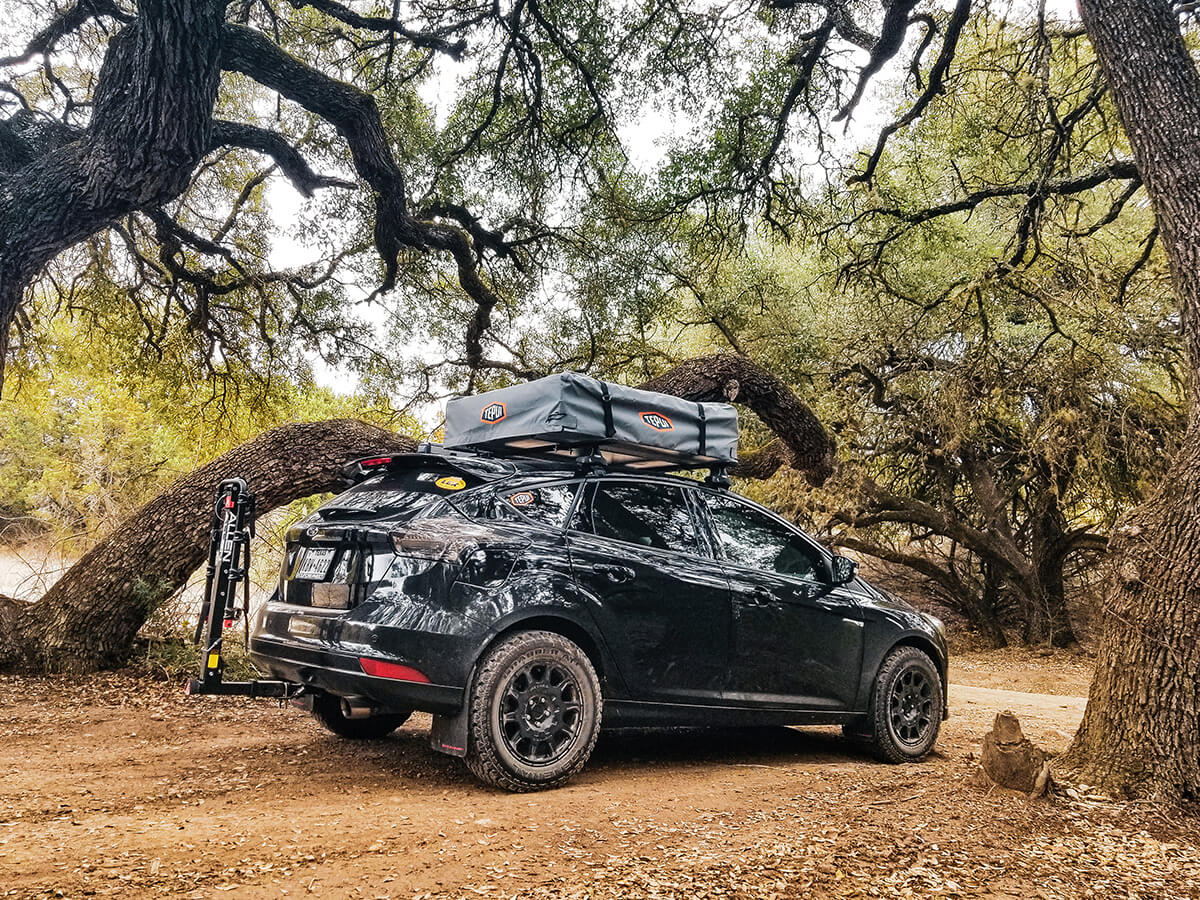 How did you become interested in off-roading?
– I've always loved being outside as a kid. Growing up, I had a 4-wheeler that I rode around on our property. I took a small portion and made myself some trails and a mud pit. I rode it almost everyday for years!
Why did you choose this particular model for your project?
– The car was already purchased before getting into offroading/overlanding. However, instead of buying something more practical. I wanted a challenge. Something different and unique. So I set forward into building the Focus to something that can be driven daily, but also handle some rough terrain on the weekends.
What inspired you to choose this modification style?
– I joined an offroading group shortly after I got the lift done to the car. They showed me some local trails here and there. After a few months of hanging with them, they pointed me to the overlanding group and I instantly became fascinated. I didn't know anything overland at that time. I took the time to learn and looked at my car and thought,"I can make this work!". So I did. I utilized the car to do what I wanted to do and it's been a blast ever since!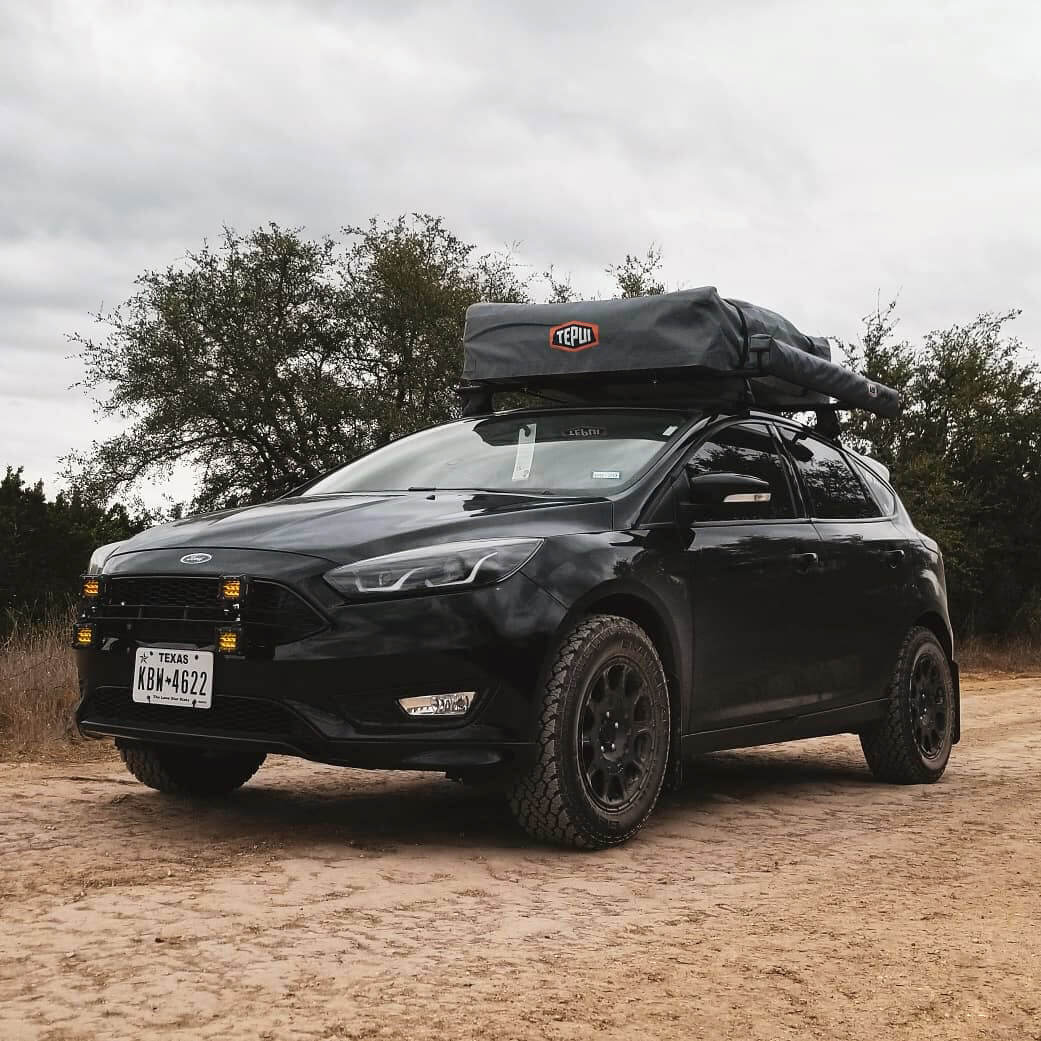 What challenges did you face while putting it together?
– A lot of the pieces on the Focus, was not intended for it. I've had to experiment and modify many parts to make them fit. This whole car is basically a never ending challenge!
What do you love about your vehicle?
– The car is very underestimated. So I love seeing the reactions of people who have seen what it is capable of. Probably one of my favorite things I love about it, is that it's only about 20 bucks to fill up. With 30 mpg, it'll take me almost 400 miles! This car has absolutely surpassed all the expectations I had. I don't regret a thing.
Is it your daily or a weekend ride?
– This car is my daily for now, but later on I'm planning on switching between this and my other project once it's completed. Depending on weather conditions.
Do you take it off road? If so, where and how often?
– Absolutely! It's been on some local trails and to Hidden Falls Adventure Park so far.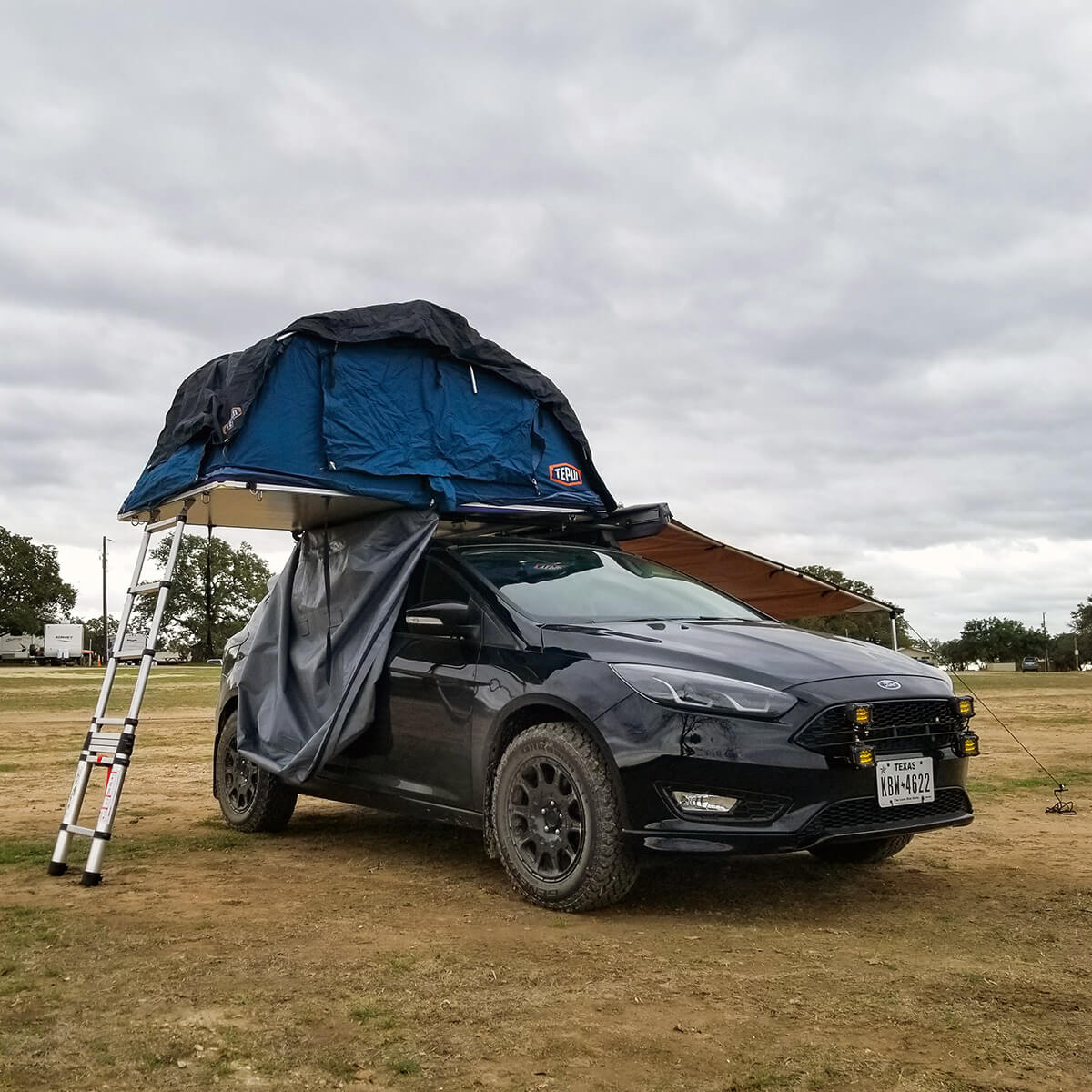 Lifted 2017 Ford Focus – Specs
Engine
– 2.0L NA
Lift height and suspension modifications
I used a 3-inch lift kit that came with a lot of suspension upgrades. It consisted of:
– Spacers
– Front strut assemblies
– Massive front end links
– Front steel control arms
– Springs
– Massive toe arms
– Massive camber arms
– Massive lower control arms
– Suspension limiting straps
Wheel specs
– 215/65R16 General grabbers
– Method 502 Rally Race wheels
– 16×7 with a 5×108 bolt pattern, +30mm offset and 5.20″ backspacing | MR502
Exterior mods
– Rally innovations light plate(Originally for ST)
– Micro-P Light pods
– Tepui Ayer 2 RTT
– 4 foot ARB awning
– Thule Towers and crossbars
– ADF aluminum skidplate
Interior mods
– Weathertech floor mats
– Tesla Radio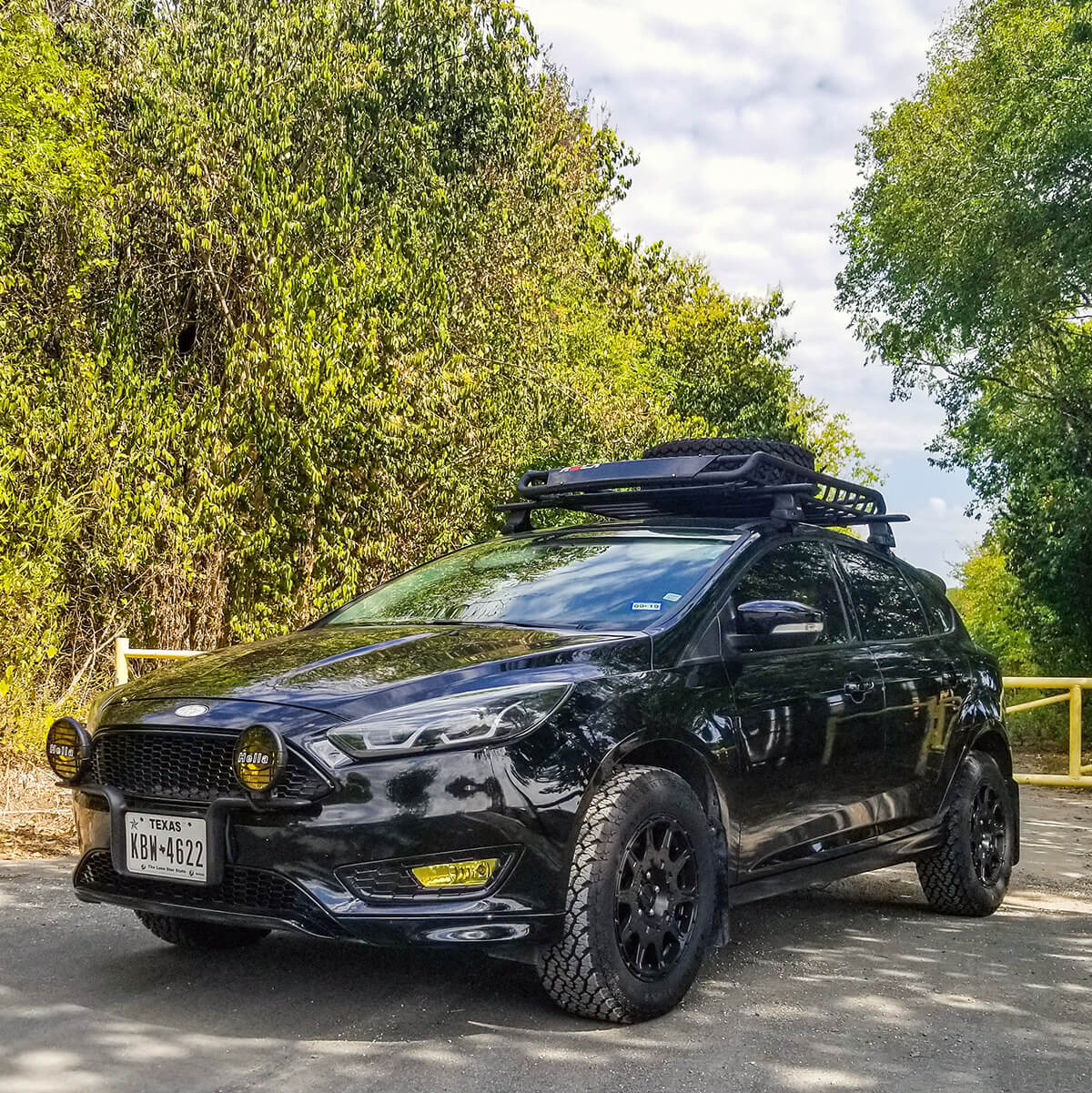 What are your future plans about this vehicle?
– Baja design light pods
– Custom fabricated front and rear bumper
– Cb radio
– Spare tire carrier
– Add more interior storage
– Custom fabricated ladder on the rear hatch
– Rotopax canister mounts
Anything else you would like to share about your vehicle or about the off-roading in general?
– I've learned a lot building this car. Which has honestly inspired me on what I want to do for my next build. You truly can take any car and make it capable of whatever you want. It may take more money, but it's all about what makes you happy.
Watch the progress and find out more about this Ford Focus project by visiting the Instagram profile of the owner: @overland_focus!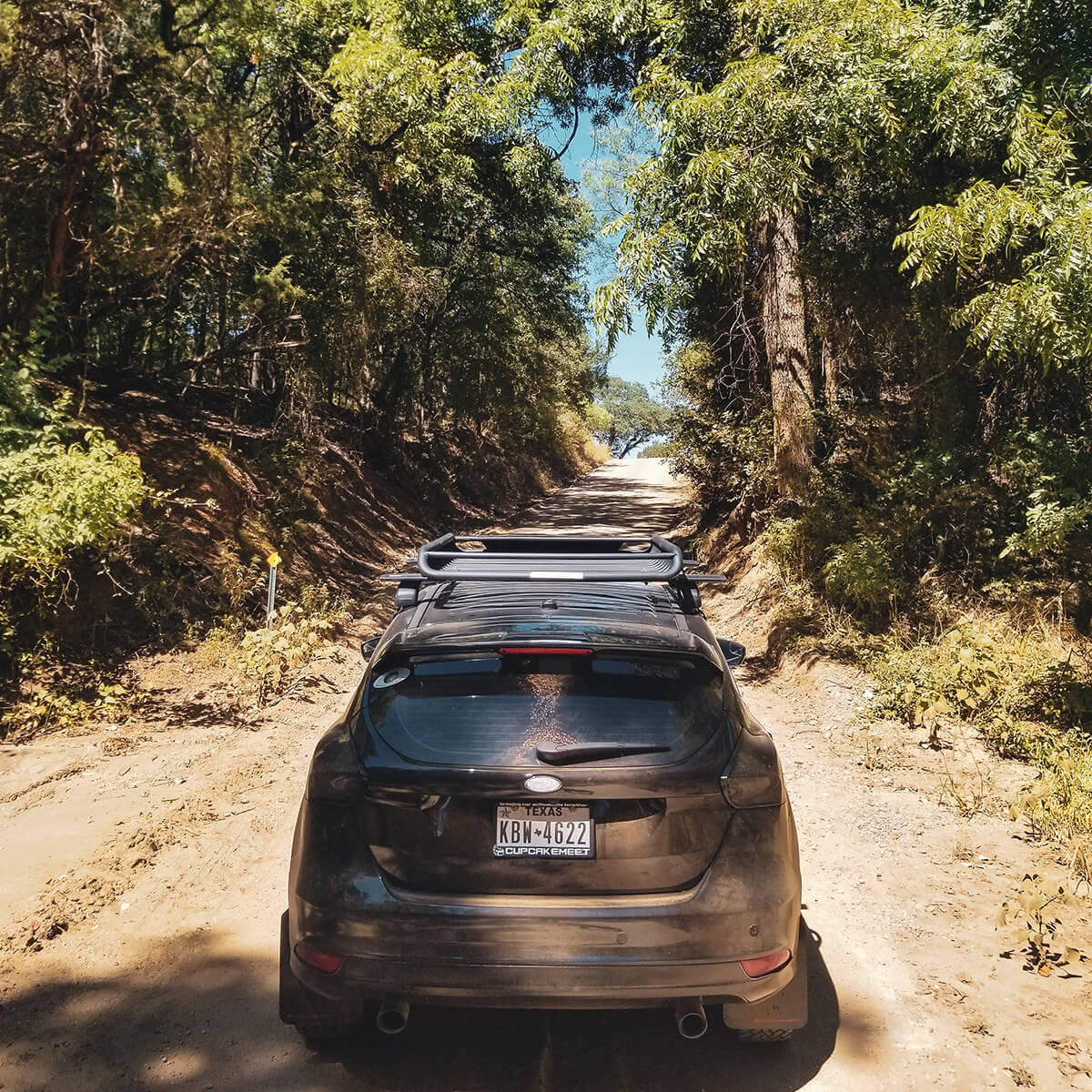 Related Parts & Mods
– Inspired by this Ford Focus build and looking to prepare your own car for off-road adventures? Some parts used on this vehicle were sourced from custom shops or custom made, but our team has put together a list of products and accessories available online that may help you to achieve similar results:
Wheels
Roof Rack
Roof Top Tent
Awning
Lights
*Before ordering any part or accessory, it is recommended that you verify its fitment with a qualified professional and/or seller. We are not responsible for fitment or other issues that may arise from using the products featured on our website.
Stay tuned for more project reviews on Offroadium.com – Follow us on social media, and share this write up if you enjoyed reading it!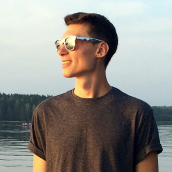 Matt Grabli
Automotive journalist and technical writer at Offroadium.com with more than 10 years of experience in the sphere of aftermarket parts and 4×4 vehicle modifications. Passionate about off-roading, outdoor adventures, and an active lifestyle.