Lifted RAV4 Built to Go Off roading – Overland-Inspired Project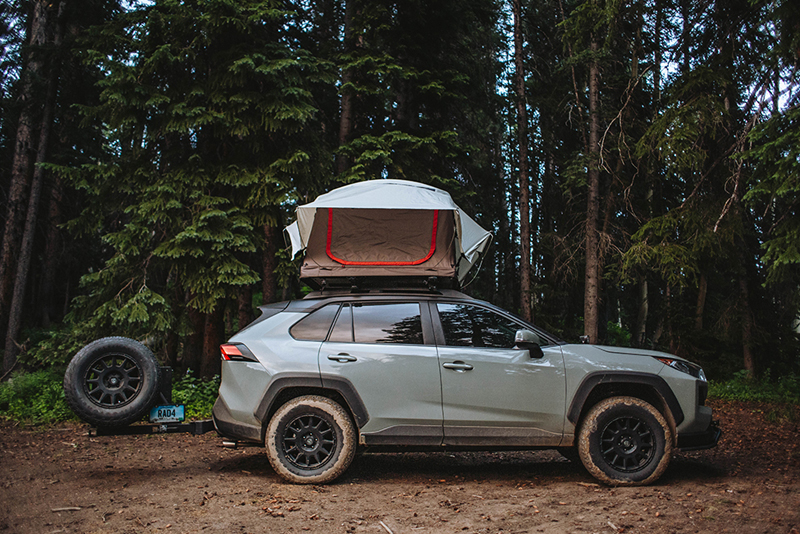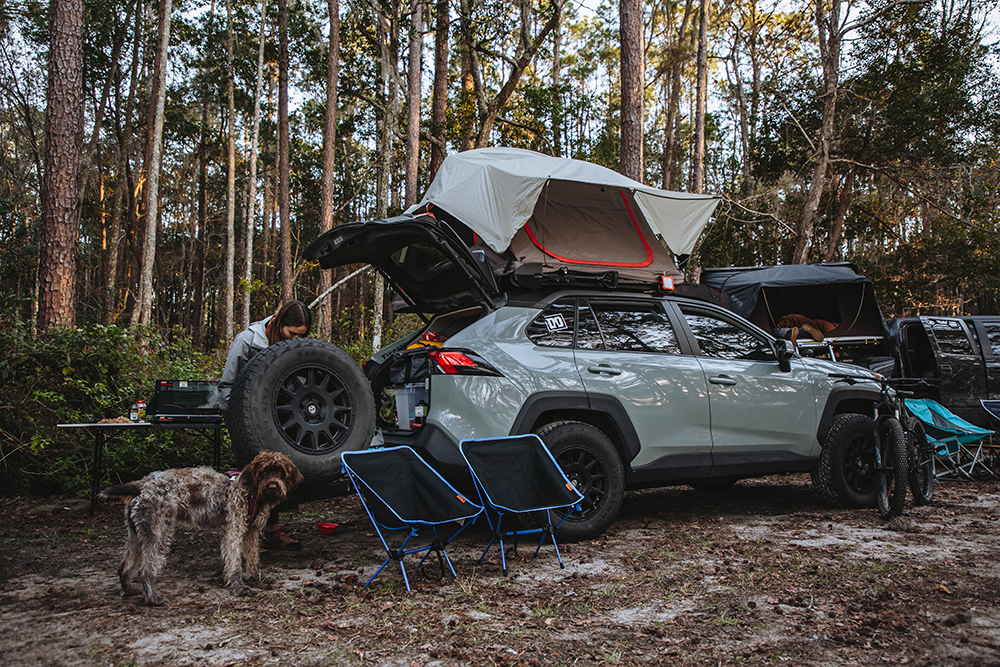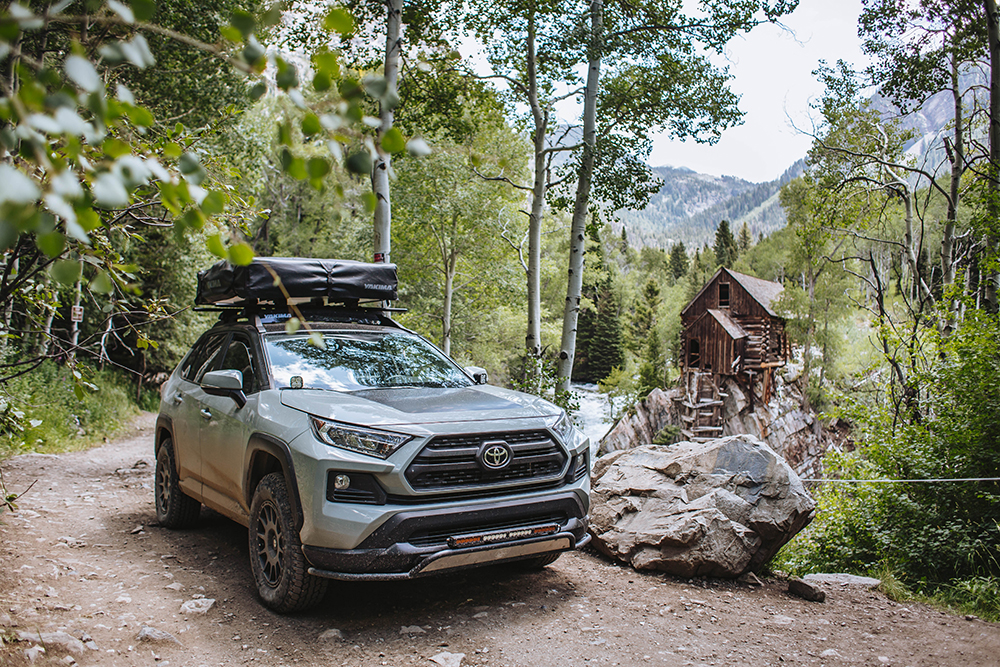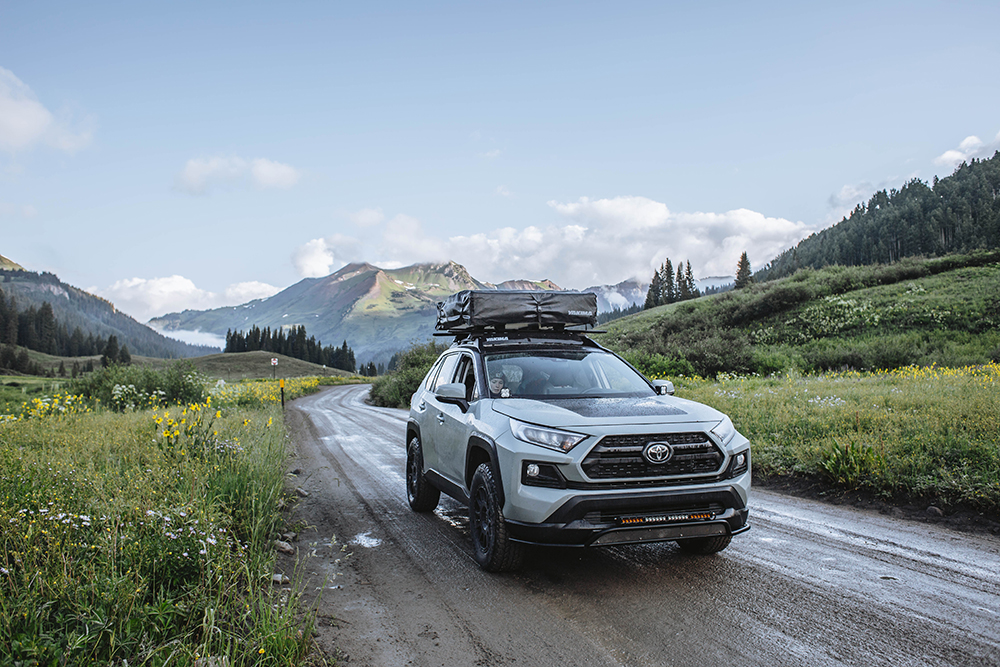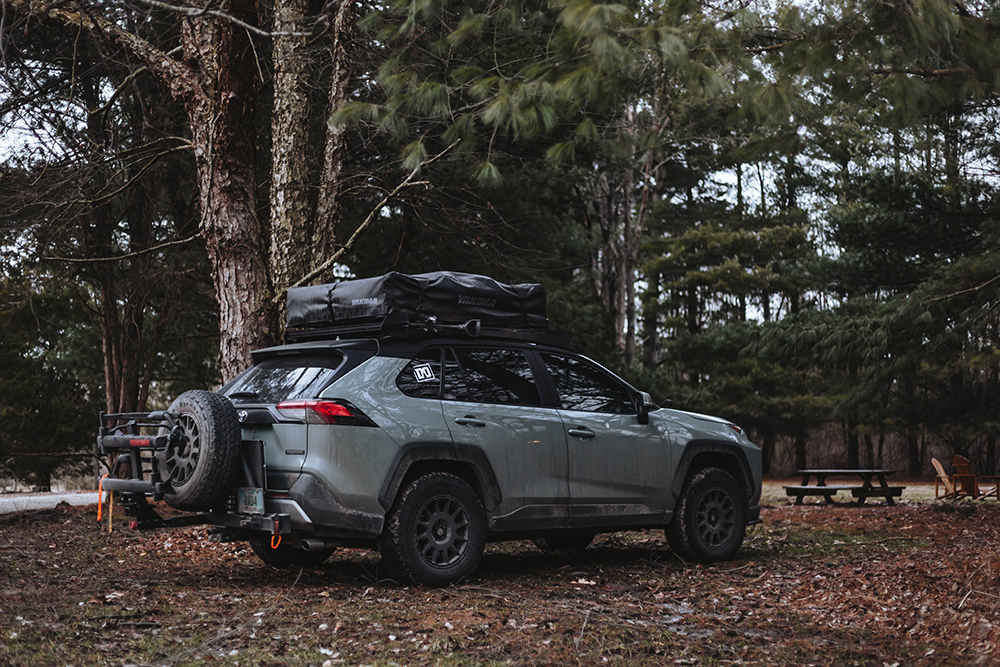 View Gallery
Lifted RAV4 Built to Go Off roading – Overland-Inspired Project
Today's feature post is dedicated to Toyota Rav4, one of the most popular compact crossovers in the USA. It's been a go-to choice for many fans of the active lifestyle who need an efficient and reliable crossover to cope with daily driving routine and camping trips during the weekends.
This rugged-looking lifted Rav4 is owned by Isaac from Denver, CO, and modified for recreational off-roading. Being a lifelong fan of the Toyota off-road vehicles, he immediately noticed the potential in the late model 5th generation Toyota Rav4 and decided to give it a try.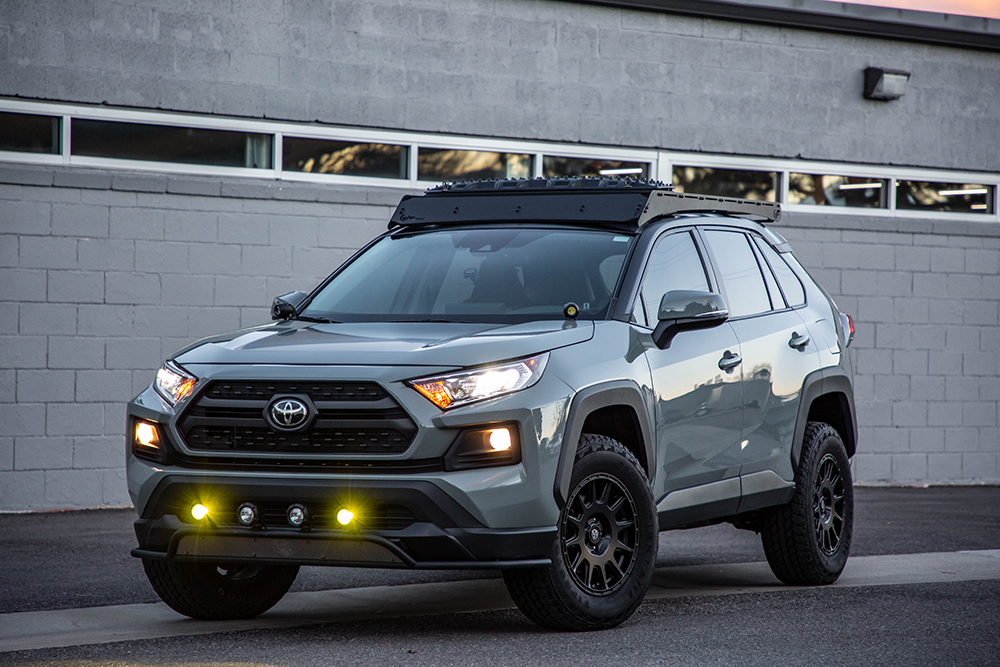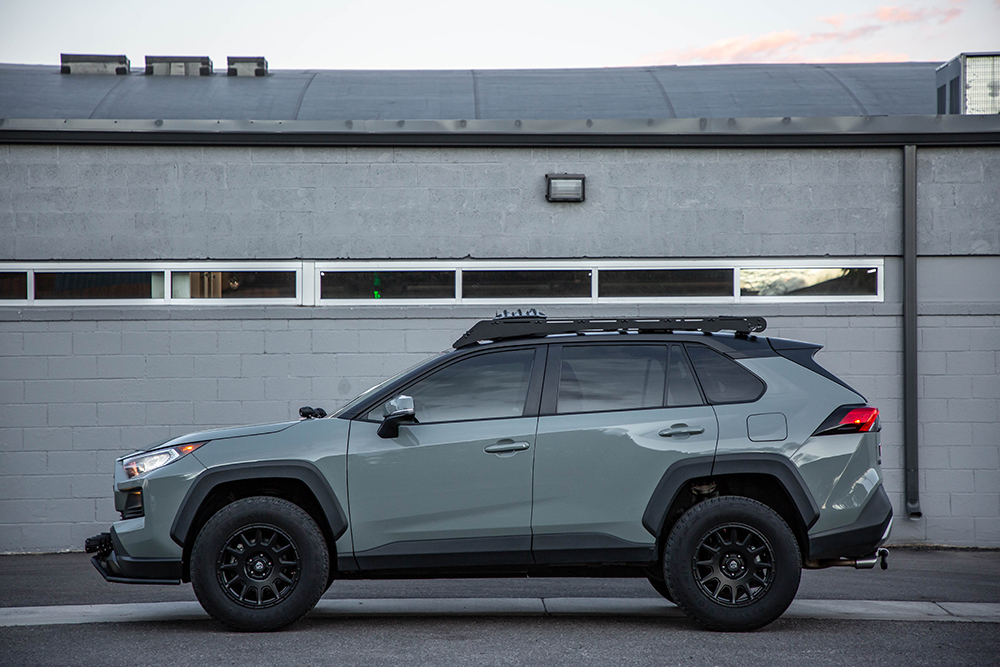 Even though the stock Toyota Rav4 with Adventure package and Multi-Terrain feature is a well-equipped crossover, it needed some modifications to help Isaac and his family to go places they wanted. Except for the lift and bigger wheels, they also needed to make this little rig more convenient in terms of camping and traveling. Little by little, the project has turned into a stunning overland adventure vehicle with a wide list of functional mods. We decided to reach out to Isaac, and ask him a couple of questions about the specs of this lifted Toyota Rav4 Overland project.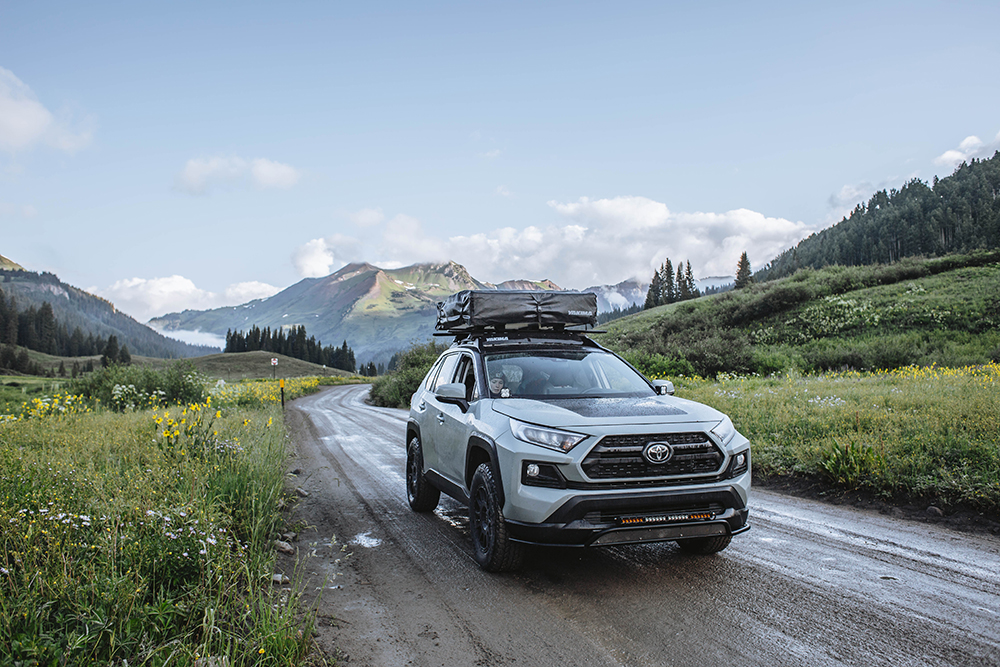 How did you become interested in off-roading?
I was born and raised in a Toyota off-reading family. When I was a kid, my dad would take us on trails locally, on the weekends, and every summer we'd get out to Colorado or the Black Hills to do some rear 4wheeling, usually in his 4Runner or Tacoma! Been hooked ever since.
Why did you choose this particular model for your project?
When Toyota unveiled its new 5th Generation RAV4, which came out in 2019, we knew we had to give it a shot! The "adventure" model, which we have, has a series of multi-terrain options to make 4wheeling in an AWD exceptional. So far, it's been rad.
What inspired you to choose this modification style?
Overland inspired you could say. We needed modifications to help get us places we wanted to go in a Rav4.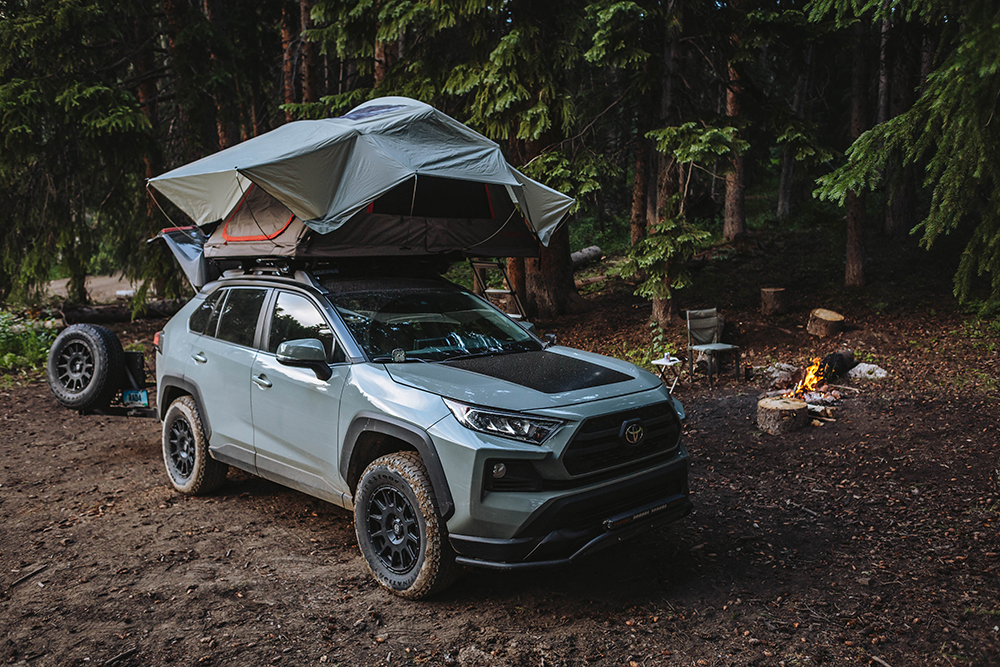 What challenges did you face while putting it together?
Well, the RAV4 is the first choice as a little off-roader for most people! So naturally, there were some challenges as not a lot of aftermarket product was available at first. Gratefully, we helped motivate the market to grow and expand, which it's still doing today!
What do you love about your vehicle?
It's a Toyota, it gets good gas mileage, and it's a fun little rig to drive! We love camping in our Yakima tent and adventuring Colorado in it. Plus, the heated and cooled seats, heated steering wheel, and Apple car play a huge bonus!
Is it your daily or a weekend ride?
My wife's daily!
Do you take it off road? If so, where and how often?
Yes, we try to once a month + during events like RavRally and T4R Experience!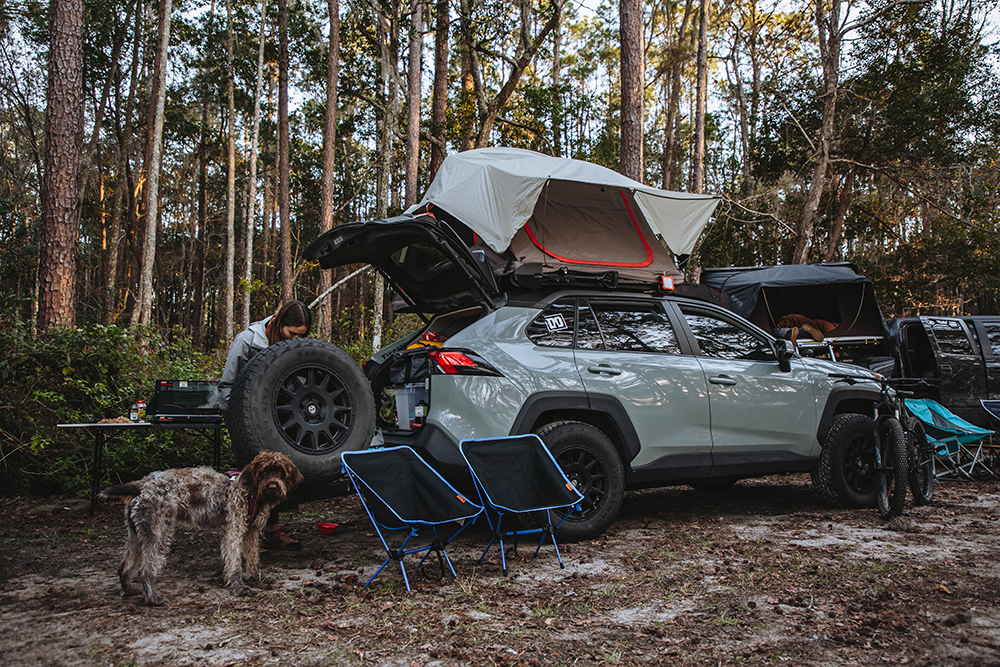 What are your future plans for this vehicle?
Rear hatch ladder, stiffer rear springs, winch, and maybe a few more little things. We want to keep it simple yet effective. But you know, it's a never-ending process! But it's fun.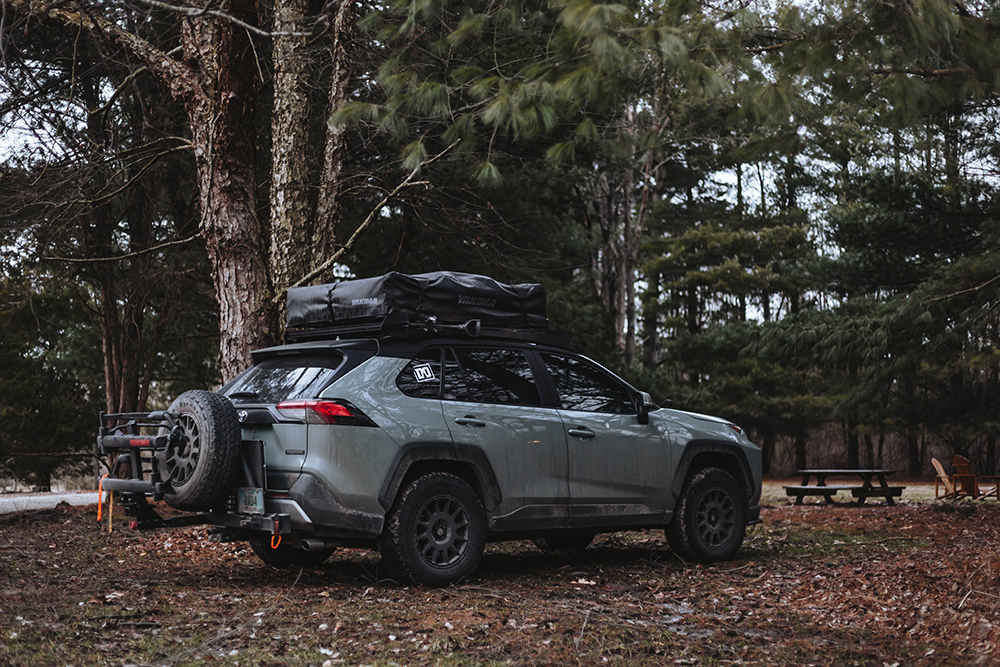 SPECS
Engine specs, modifications
2.5L 4cyl with K&N Air Filter and Dual Battery System
Lift height and suspension modifications
2in lift front & rear from LP Aventure
Wheel specs
LP Aventure LP1 Satin Black Wheels x5 – 17×7.5
Firestone Tires Destination A/T2 x5 – 245/70/17
Exterior mods
Satin Black Roof & Hood Wrap
LP Aventure Full Armor Option including Front Bumper Guard and Aluminum Skid Plates
Prinsu Design Studios Full Lenth Roof Rack
Rigd Supply UltraSwing Tire Carrier
Yakima SlimShady Awning
Yakima Bike Rack
LP Aventure Hood Light Brackets
TorkLift Central Eco Hitch
Element LED Hood Lights x2
Element LED Amber Pods x 4
Dobinsons USA vehicle recovery kit
The Perfect Bungee tie-downs and bungees
MaxTrax Recovery Boards
Factor55 HitchLink 2.0
Stationary Power Inverter
Interior mods
Dometic CFX 35 Fridge/Freezer
Rear Cargo System & Drawer
Interior LED Light replacements
Cup Holder Hero cup holder placements
RAM mounts phone, iPad, video gear mounts
TrekPak interior center council organizer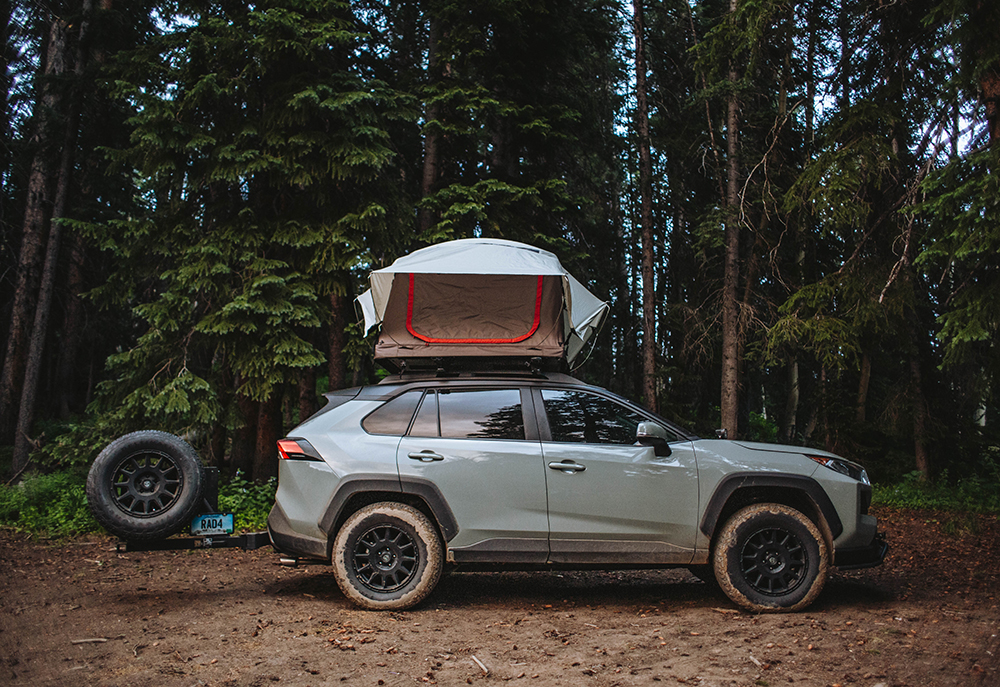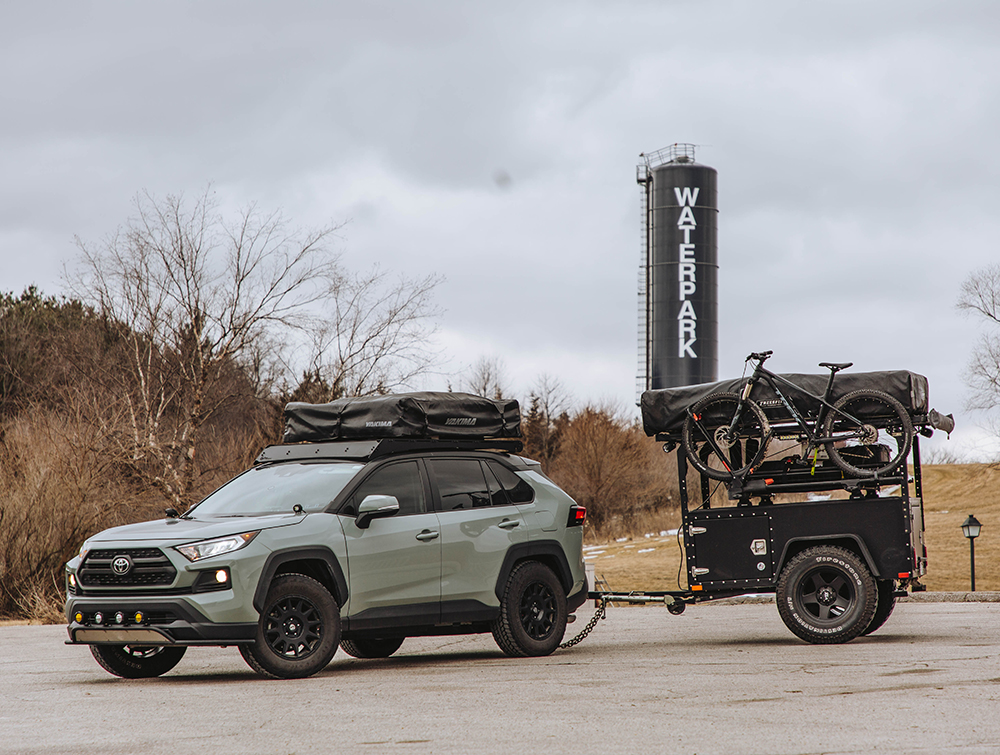 Watch the progress and find out more about this Toyota Rav4 project by visiting the Instagram profile of the owner: @radventure4!
Stay tuned for more project reviews on Offroadium.com – Follow us on social media and share this write up if you enjoyed reading it using the share buttons below!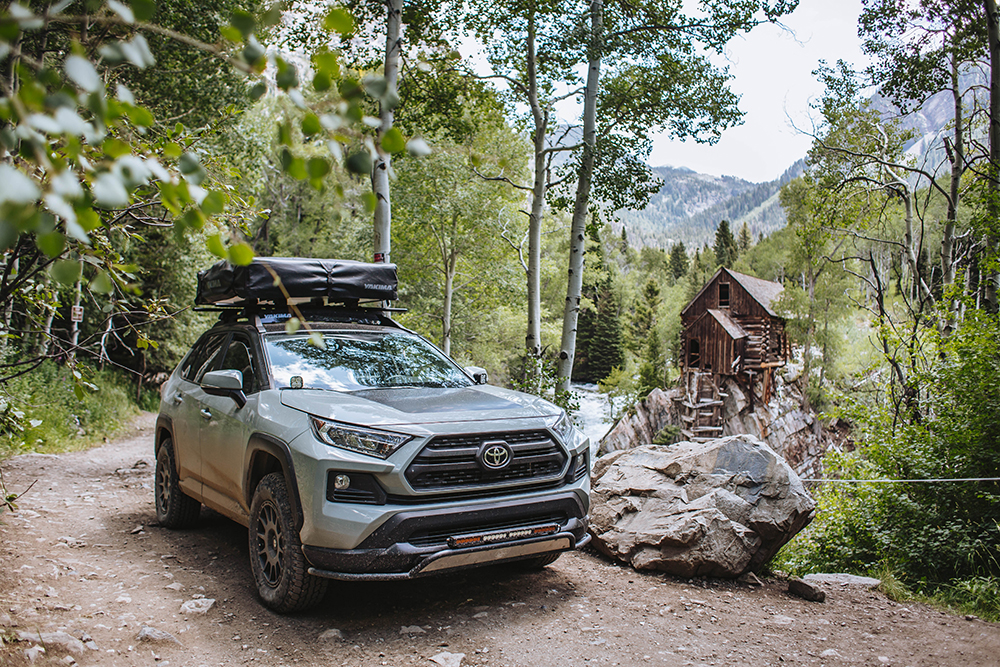 Rav4 Off Roading Capability
The Toyota RAV4 is a versatile and convenient AWD crossover that also has impressive off-roading capabilities, especially if we talk about the TRD version. Powered by a 2.5L motor, the RAV4 TRD is equipped with a Multi Terrain Select AWD feature, red off-road-tuned coil springs with revised damper tuning and new bump stops to provide a smooth ride both on- and off-road. Its torque vectoring system will make sure your tires maintain optimal traction on uneven surfaces like sand, dirt, and snow and the ground clearance of 8.6 inches will help you to avoid getting stuck (especially with larger A/T or M/T tires). Of course, it's not too much compared to the big 4x4s, but this combination of features makes Rav4 a pretty good option for a weekend off roading and exploring local trails.
FAQ
Can you take a rav4 off road?
– Yes, a Rav4 can be taken off-roading. It's equipped with a good all-wheel drive system that will allow you to take on most terrain. However, keep in mind that the Rav4 is still a city SUV and isn't built for heavy duty off-roading. So if you're planning on doing some serious 4x4ing, you might want to consider another vehicle. But for light to moderate off-roading, the Rav4 will do just fine.
Is Toyota Rav4 good for off road?
– There are many people who love to take their Toyota Rav4s off roading. This is because the Rav4 has a great AWD system that helps it handle well in all types of terrain. While you may not be able to take your Rav4 on the most extreme off-road trails, it can definitely handle some milder off-roading. So if you're looking for a little bit of adventure, taking your Rav4 off road is a great option. Just be sure to let your tires down a bit so you have more traction and be careful not to damage the underbody of your vehicle.
Are there off road bumpers for a Toyota Rav4?
– At the moment of writing this answer in 2022, there are no real replacement off road bumpers for the Toyota Rav4 at least in the common understanding. However, there are skid plates, winch mounts and bull bars that can offer some protection when taking the Rav4 off-road. These products will definitely help keep your Rav4 safe, but they won't provide the same level of protection as a true off road bumper. If you're serious about getting into off-roading with your Rav4, then you'll need to custom fabricate a bumper yourself, or have one made specifically for your vehicle. Thank you for reading!
Best year rav4 to go off road?
– If you're looking for a vehicle that can handle off-road excursions, the first-, second- and fifth-generation Toyota RAV4 models are all good choices. All three models come standard with an all-wheel drive (AWD) system, which is essential for tackling rough terrain. Additionally, all three generations offer plenty of ground clearance and ample traction thanks to their rugged construction. Gen 3 and Gen 4 models are good too, but there were some reports on rear differential overheating while extensive wheeling. So if you're looking for a versatile crossover that can handle a variety of terrain types, any of these three RAV4 generations will do the trick.
| | |
| --- | --- |
| 1st Gen XA10 | 1995, 1996, 1997, 1998, 1999, 2000; |
| 2nd Gen XA20 | 2001, 2002, 2003, 2004, 2005 |
| 3rd Gen XA30 | 2006, 2007, 2008, 2009, 2010, 2011, 2012; |
| 4th Gen XA40 | 2013, 2014, 2015, 2016, 2017, 2018; |
| 5th Gen XA50 | 2019, 2020, 2021, 2022 & UP; |
Related Parts & Mods🛒
– Inspired by this Toyota Rav4 build and looking to prepare your own crossover for off-road adventures? Our team has put together a list of parts and accessories that may help you to achieve this goal:
Lift kit
Wheels
Base Gear
*Before ordering any part or accessory, it is recommended that you verify its fitment with a qualified professional and/or seller. We are not responsible for fitment or other issues that may arise from using the products featured on our website.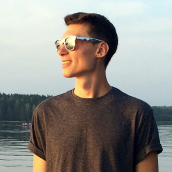 Matt Grabli
Automotive journalist and technical writer at Offroadium.com with more than 10 years of experience in the sphere of aftermarket parts and 4×4 vehicle modifications. Passionate about off-roading, outdoor adventures, and an active lifestyle.