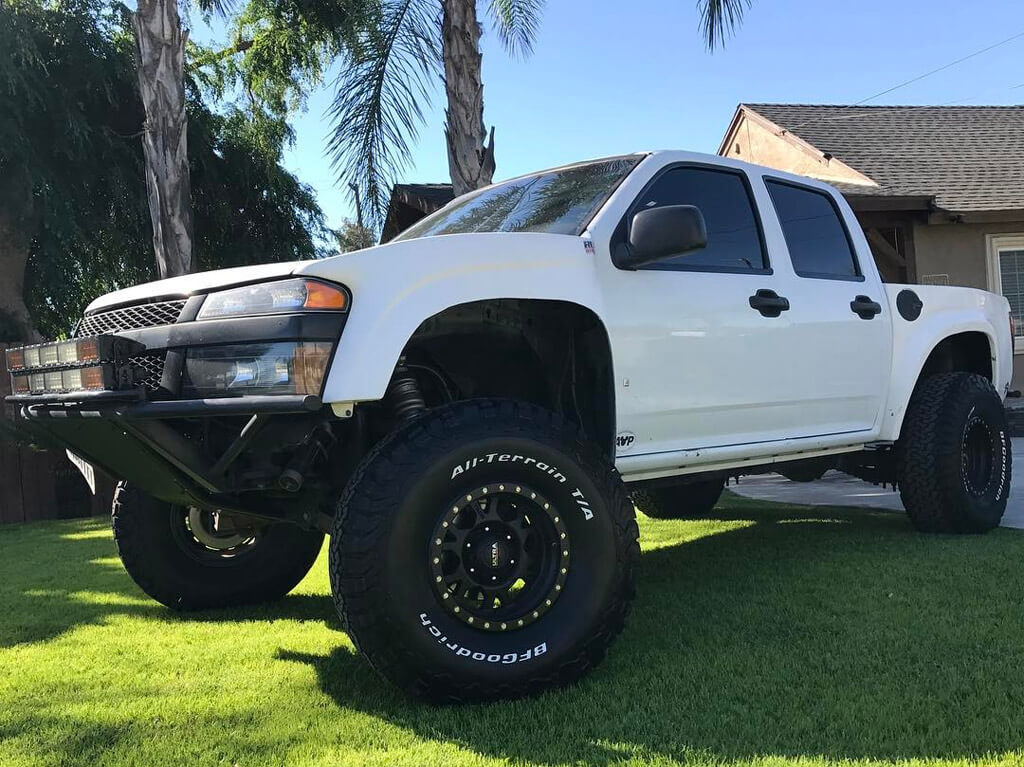 I wouldn't lie, it wasn't easy to find a decent Chevy Colorado Prerunner for our feature post, because the majority of the pre runners that we see today are built on the full-size truck platforms like the F150 and Silverado/Sierra. Of course, there are good reasons for that, like a long wheel-base, powerful stock V8 motors, and a wide range of the aftermarket parts, but smaller size desert trucks like Rangers and Colorados are often picked as a starting ticket for people who want to enter the world of the offroading. They are a little more affordable in terms of the gas mileage and maintenance, and perfectly suited to get yourself familiar with racing. We decided to track a nicely built Colorado whatever it takes and give you a breakdown on the pros and cons of a smaller truck-based prerunner.
We occasionally searched the popular resources and spoke with the guys at the meets, to find a trace of a perfect Colorado-based desert truck and finally, one day, it showed up on my Instagram feed. Wide and low pre-runner stance, huge T/A tires covered with widebody fiberglass fenders, and a long travel custom suspension have immediately attracted my attention. This moment I realized that the truck we were looking for, for such a long time, is right in front of me.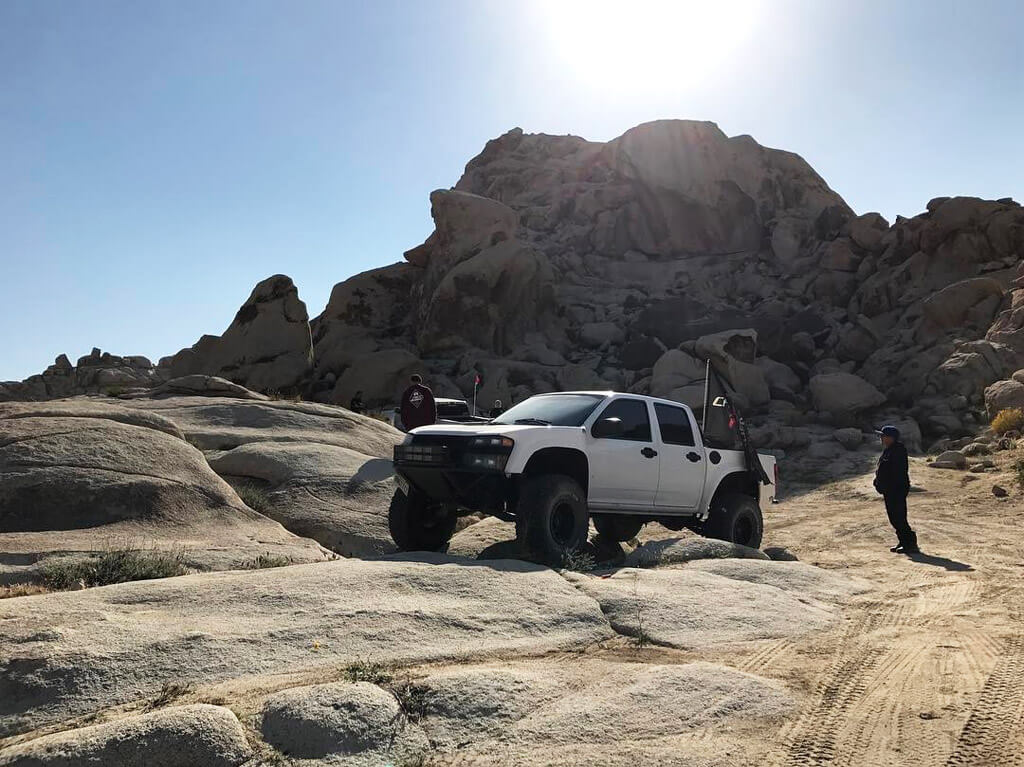 It's not an all-in project built by a racing company with endless budget and resources. This Colorado was built by a DIY enthusiast, a guy with gasoline in his veins and a huge passion for desert racing. His name is Steve Cordova from Pomona, CA and he was kind enough to answer all our questions on his truck and give a full breakdown on the build.
I've always loved offroading since my first time in Glamis sand dunes, – says Steve. I needed a bigger car because I was going to have a kid and decided that a Colorado would be a nice truck in terms of gas mileage and will perfectly satisfy the needs of a growing family, but after some time from a daily driver, it turned into a full-time off-road project.
Engine
It started life as a white 2007 Chevy Colorado 2WD with a crew cab and a straight-5 3.7L DOHC engine. Inline five-cylinder engines are not very common among the automotive manufacturers but this GM LLR (also known as Vortech 3700) provides enough power for this smaller sized truck and gives out about 242 horsepowers and 242 ft.lb of torque which is even more than 236 HP produced by a comparable 4.0L V6 engine that is used on Toyota Tacoma trucks of the same era. The odometer has just clocked on the 128 thousand miles, and despite this number, the engine does not have any problems. Overall it was left untouched, the only few things that were added are the performance cold air intake by K&N and JET throttle body spacer to get a better airflow on a full range of RPM.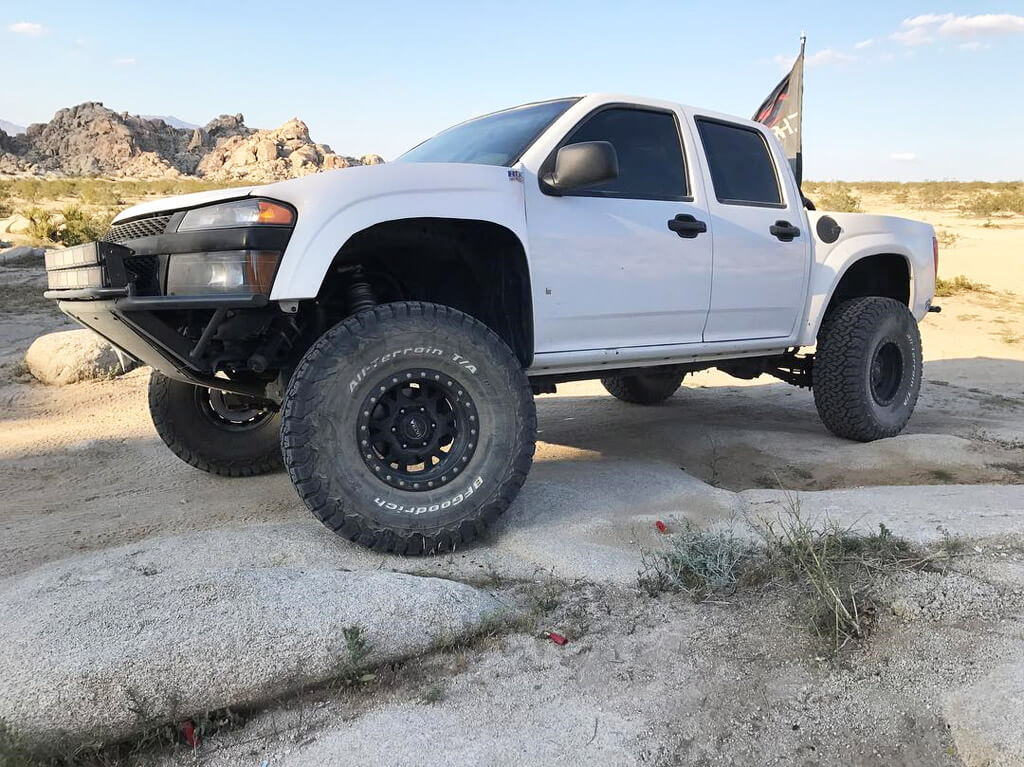 Suspension
The suspension is the place where things get much more exciting, as the number of modifications here will not leave anyone indifferent. To achieve proper articulation and gain maximum wheel travel, which is vitally important in the desert racing, it was decided to install a Dynasty offroad long travel kit upfront, and hook it up with 2.5″ 10″ coilovers by RADFLO suspension technology and KING bump stops.
The rear end suspension modifications are represented by the CWF built bed cage, mated with 16″ 2.5" RADFLO shocks and triple bypasses, which allowed the truck to get that nice floating suspension feel and gain confidence while driving at the higher speeds.
Rear-wheel drive means fewer modifications upfront and more suspension travel, however, there is a higher risk to get suck, which isn't a great thing when you're out there in the desert alone. Factory Chevy differential was been dropped off in favor of Hummer H3 differential with 4.56 gears that work particularly great with the oversized offroad wheels.
Wheels
Speaking of wheels, the Colorado prerunner is rolling on ULTRA Motorsports beadlock wheels wrapped with 33" BF Goodrich T/A KO offroad tires.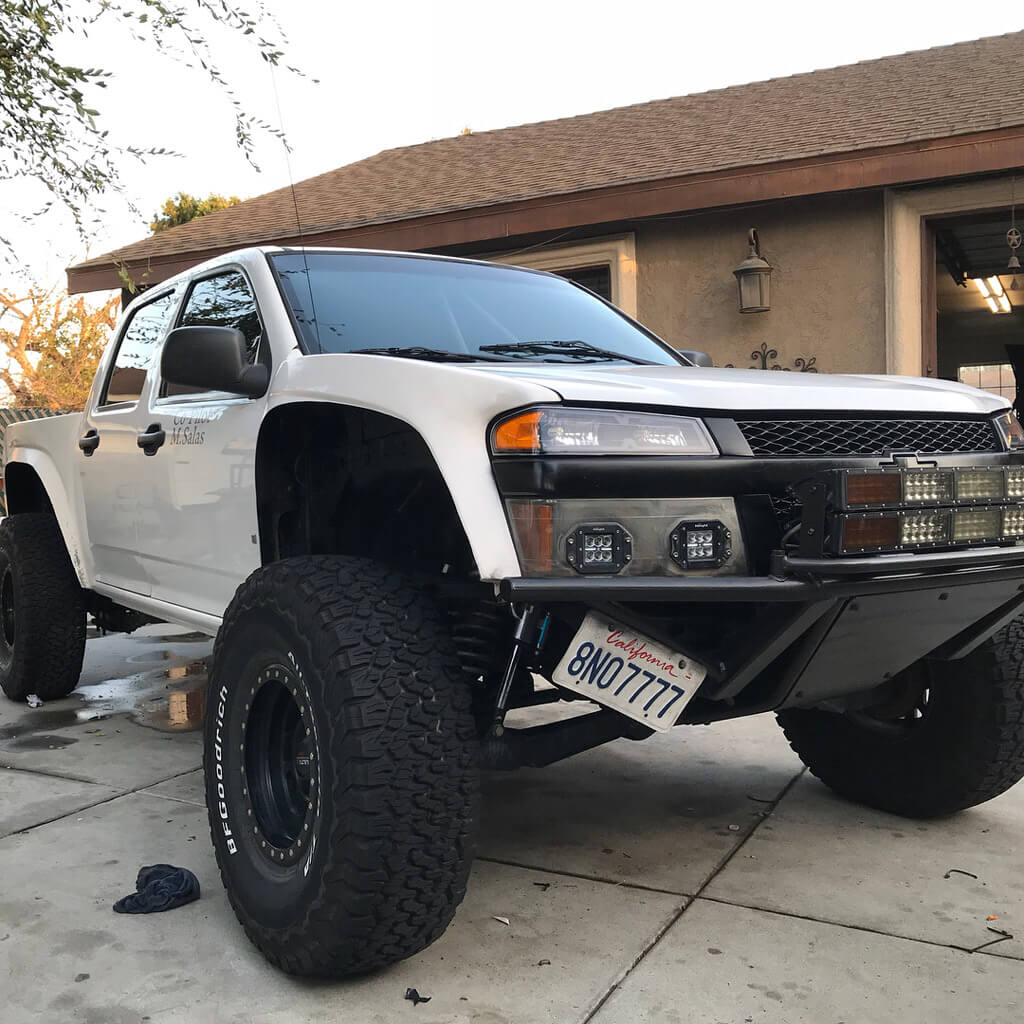 Body
Of course widened stance gained by the new suspension component, longer wheel travel height and the new tires required much more space in the wheel arches both on the front and the back, so there was no chance of keeping the factory fenders untouched. Instead of cutting, Steve decided to swap them with a pair of bulge fiberglass fenders, that made the truck look even wilder.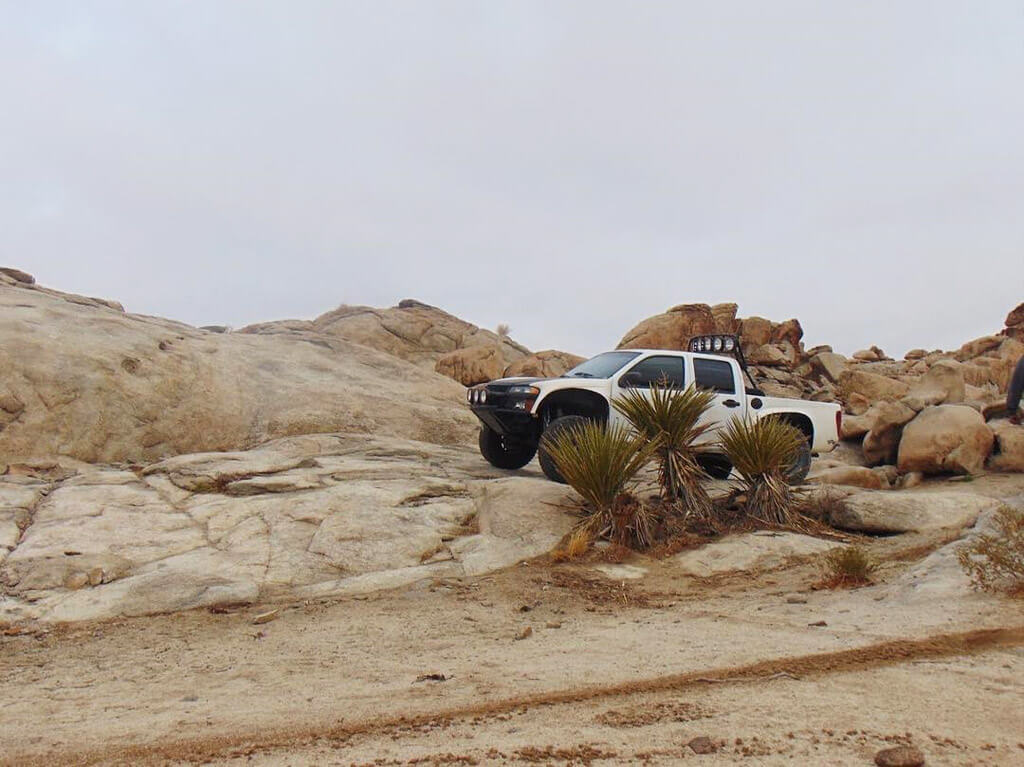 The original bumpers had to go as well, to free up some space for the wheels and improve the approach and departure angles for the truck. Steel tubular bumpers fabricated by CWF with integrated skid plate allowed the truck to improve the ground clearance and avoid damages on a hard landing.
Thanks to these mods Steve was finally able to join the crowd of the offroad racing crowd and bring his truck along to have some fun in the desert.
Safety
All types of the motorsport are closely related with a certain risk to health and desert racing is considered to be one of the most dangerous arts of the motorsport, so neglecting common safety measures can result in serious consequences for the driver and the passengers. The unpredictable off-road terrain is hiding various hazards, such as pots and bumps, rocks, roots and God knows what else. Even a flat tire or a mechanical failure may cause an unfortunate accident. Keeping this in mind, Steve decided to invest in a fully TIG welded cage done by Jason Noren Fabrications out of Montclair, CA. Precisely measured and fabricated cage out of 1 ¾ tubing protects the whole space inside of the cab and doesn't interfere with other interior panels, making the truck comfortable even for the everyday driving. It also gives a peace of mind to Steve, so he could fully enjoy driving the truck without the fear of rollover.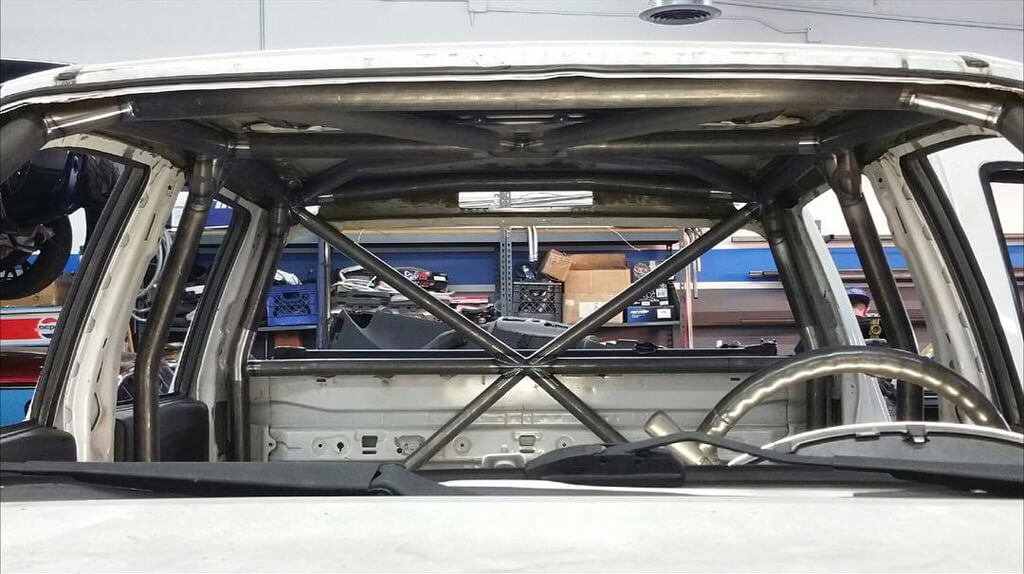 The interior of Colorado is outfitted with 3 weld-on PRP bucket suspension seats to improve the comfort and driving safety. 5-point seat harness by Crove keeps the passengers planted no matter how crazy are the turns and jumps. Factory A/C works great to maintain a comfortable climate inside of the cabin when it get's too hot outside.
Lights
You can find different kinds of additional LED lights all around the truck starting from the small rectangular LED quad lights carefully built-in to the bumper up to 3 extra bright round off-road driving lights on the front bumper and the same 4 round offroad lights on the rear sport bar. All of the lights provide excellent output and highlight the racing attitude of the truck.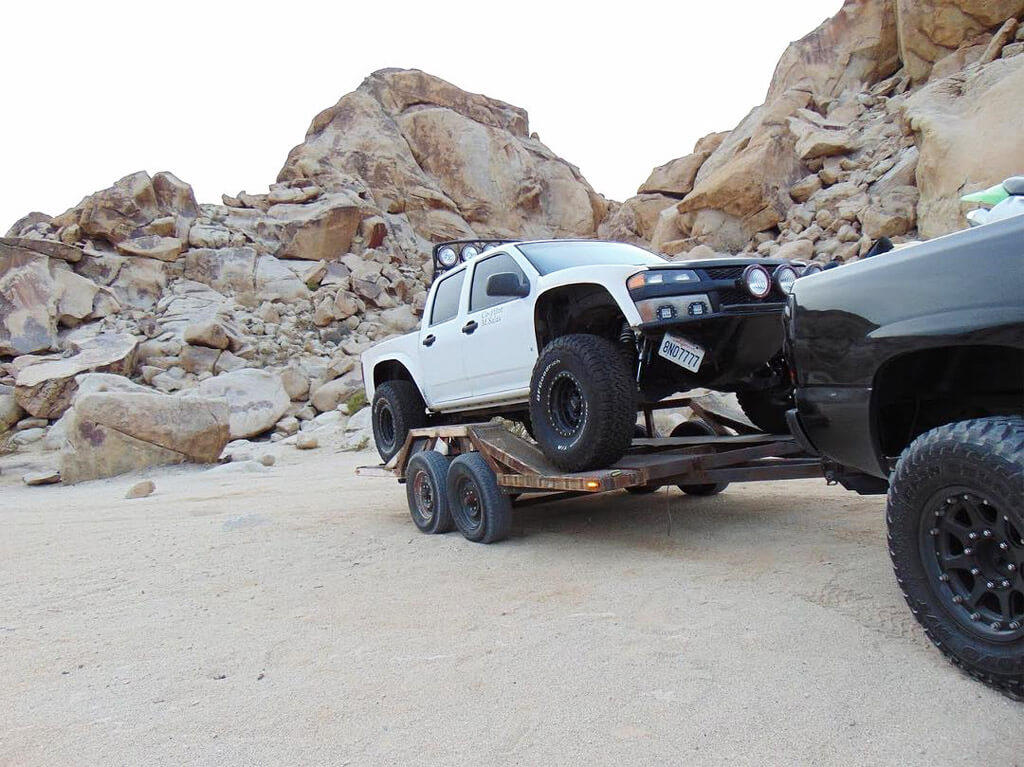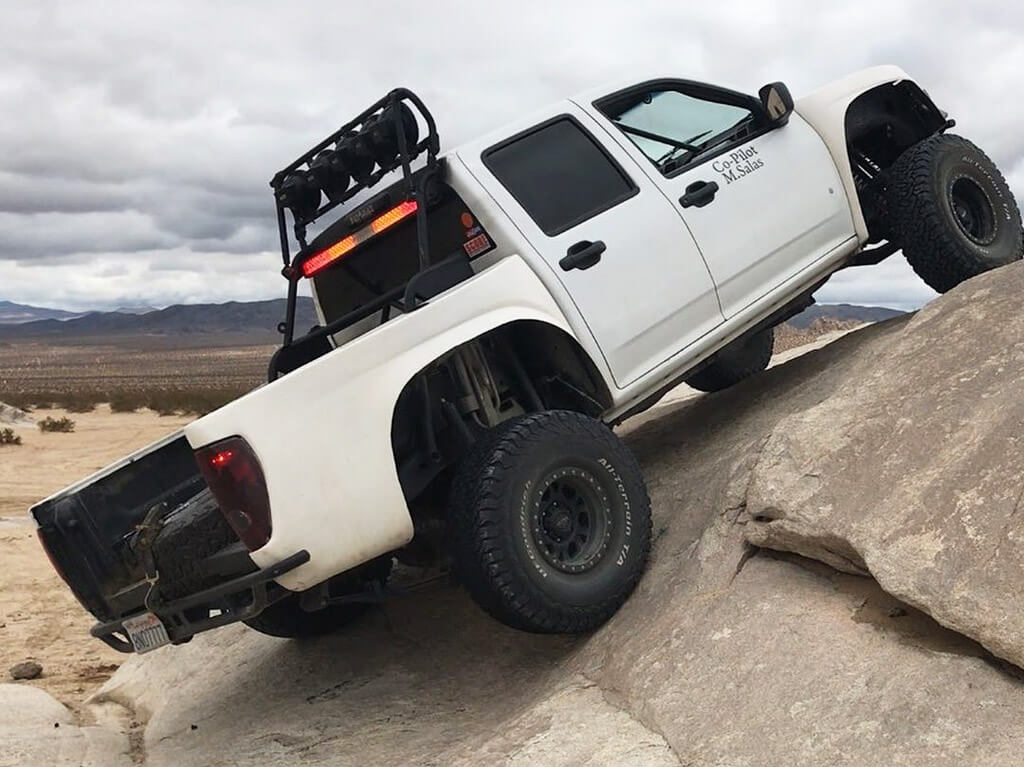 Q&A
Autocarspec: Can you name a few advantages and disadvantages of a smaller truck in compare with a Silvarado 1500?
Steve: Advantages, the wheel base of my truck is ideal for the short course link setup. It's less on gass, at least for now untill the V8 swap. As for disadvantages, Chevy 1500 comes with a V8, which easier to cage, there are many prefabbed cages. More room, stronger frame, more choices of long travel kits. It's only like one or two companies that offer long travel kits for Colorado.
Autocarspec: Would you switch to a bigger truck like 1500?
Steve: At this point, the only way I would switch is selling mine and buying one built already.
At the moment Steve's Chevy Colorado prerunner is cut in half and peacefully sleeps in the shop, waiting for the 4-link rear suspension upgrade, so we hope that our little write up will cheer him up and help to finish all the work on the truck faster and head out to the desert.
In general, the truck project is pretty much complete and needs nothing but a couple of small touch-ups here and there. The only one big thing that Steve is planning to do to the truck is the V8 motor swap, which doesn't seem to be too complicated since these trucks were available with a 5.3L V8 Vortech engines during the last few years of production.
Vehicle:
2007 Chevy Colorado
Drivetrain:
RWD
Engine:
3.7L Inline 5-Cylinder
Engine mods:
K&N Cold Air Intake, Jet Performance Throttle Body Spacer
Suspension:
Front - Dynasty Offroad longtravel kit with 2.5 10" coilovers by RADFLO

Rear - CWF built bed cage with 16" 2.5" RADFLO shocks and King triple bypasses
Wheels:
33" BFGoodrich T/A KO
Safety:
Rollcage 1 3/4 tubing