Towing a fifth wheel with a lifted truck VS travel trailer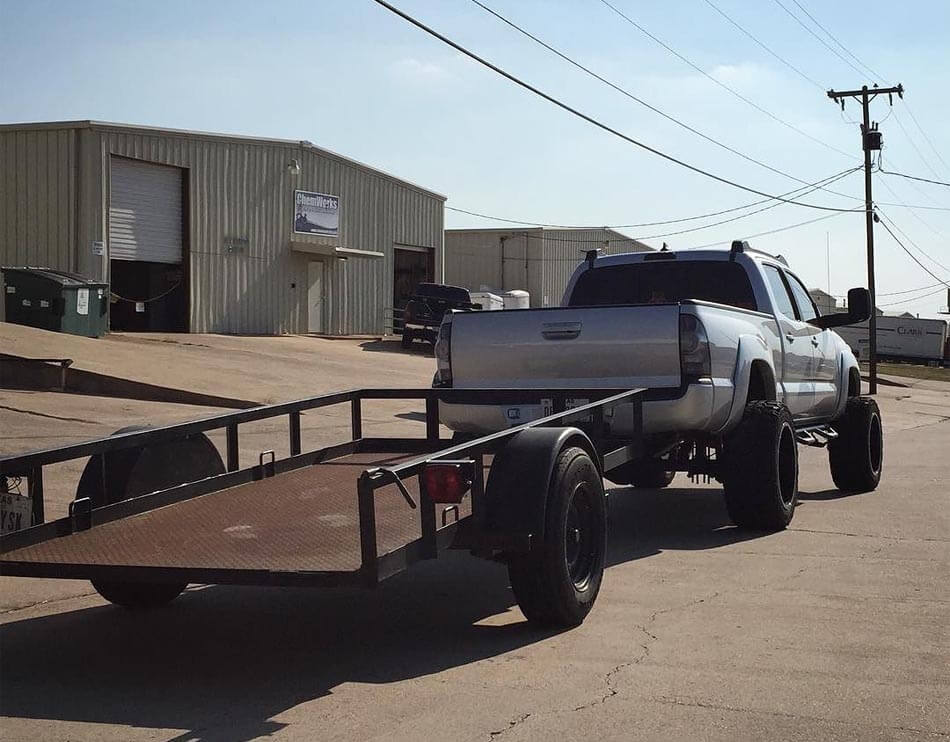 Today we're going to talk about towing a fifth wheel with a lifted truck and lifting four-wheel-drive trucks. In this tech article, we will review all important key points that you have to keep in mind when choosing a proper lift kit.
Lifted truck towing
If you're going to put a mild lift on ¾ tone or even a half-ton truck it shouldn't severely affect your ability to tow. What will affect lifted truck towing more than anything – are taller tires of about 35"-40". The sidewall on your tire is going to flex regardless of what size tires you have. The tire flex is going to be different on various types of wheels as well as the thread blocks themselves. Nitto Trail Grapler for example has very tall and thick blocks, and they will actually sway slightly or bend. So even though you have a mild lift kit on a truck, if you plan on towing with it, you will end up having a back and forth movement that you get from the tire flexes.
If you decide to go with a taller lift kit, something like a 4 – 6" there are other things to keep in mind. Most of these lift kits consist of lift blocks, leaf springs or spacers. Some kits only add blocks, other feature additional leaf springs. The problem of such kits is the aftermarket springs that are usually not rated as high as the factory ones and have a much greater taper, deeper bend, and far more progressive rating. If you are towing a travel trailer or a fifth wheel the stress on the rear suspension is actually much higher than it was intended by the manufacturer of an aftermarket lift kit. The payload capacity of these springs is oftentimes smaller than your factory ones and this is why you can often see lifted trucks sag on the back considerably in comparison to the stock trucks.
One of the best solutions for lifting a truck and keeping it's original towing capacity is choosing a lift kit with slightly taller leaf blocks and additional leaf spring, also known as add-a-leaf-spring. Typically, such combo is available in Pro-comp kits, lower range BDS kits and some other kits that are on the market, as this is eventually a more cost-effective way to go than replacing the entire spring setup on your truck. They use less material and usually such kits are not designed for heavy off-road use, rather used for cosmetic changes of the clearance. Adding a leaf spring tighten up your suspension without changing the base. Lift blocks only raise the back of the truck and they add nothing to the suspension, but keep in mind that when you add height to your vehicle you change the geometry of the driveshaft and how it connects to the axle. With this in mind you have to know that there is a higher risk of a common problem that is called axle wrap. It means that the drive shaft of the vehicle is spinning with a higher torque that is causing the rear axle to roll back on the spring. There are ways to address that and it generally involves mounting a traction bar to the frame of your vehicle and attaching it to the axle to prevent it from rolling back or wrapping.
Towing with a short base lifted truck
The base length of a truck and types of truck cabs are critically important for towing. Whether your truck is a regular cab, extended or crew cab it can all influence its behavior. If you want to pick a short base lifted truck or the one without a long bed you will not have as much sway control in compare with a long base truck, so if you lift such truck, this problem will become even more noticeable. The truck will sway itself along with the sway that you get from large tires.
Another problem of towing with a lifted truck is that it is much more difficult to hitch up a dingy or a fifth wheel trailer. Travel trailers give you a flexibility as you can use a drop hitch to lower the hitch point.
Towing a fifth wheel with a lifted truck
Things are a little bit more complicated with towing a fifth wheel trailer, because it's overhang has to clear with the truck's bed rails, so if you go too high with a lift, the 5th wheel is going to pitch up on the front. It may not look like a big deal but in fact, you are transferring a significant amount of weight from the tongue of the truck to the rear axle of the trailer and the tires. The weight distribution changes as well. If the original suspension of the truck receives about 15-20% of the trailer weight, with a 4-8" lift it will be anywhere close to only 10% of the load, which may lead to serious consequences.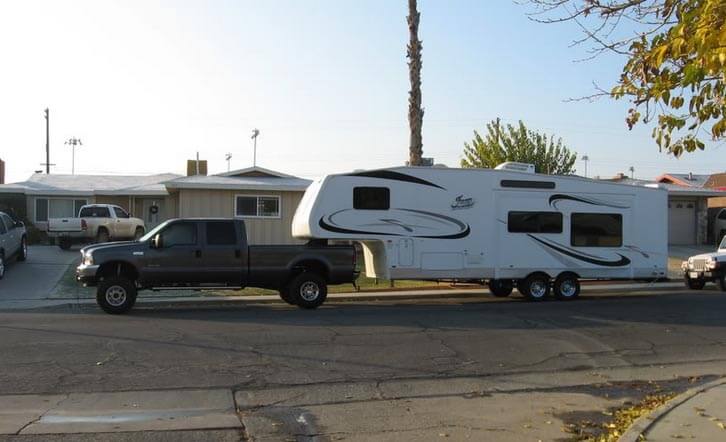 The sway will appear in the places where it wouldn't take place if towed with a truck on a stock suspension. The weight of the trailer may start wandering from side to side when towing a fifth wheel with a lifted truck and make it feel very unstable.
All these problems aren't severe if you tow a travel trailer with a lifted truck. Naturally it will have less problems than a fifth wheel trailer if you have a drop hitch and a proper weight distribution, but keep in mind that this kind of trailers produces more sway even on long base dually trucks. It will appear any time with a crosswind or when semi-trucks pass by.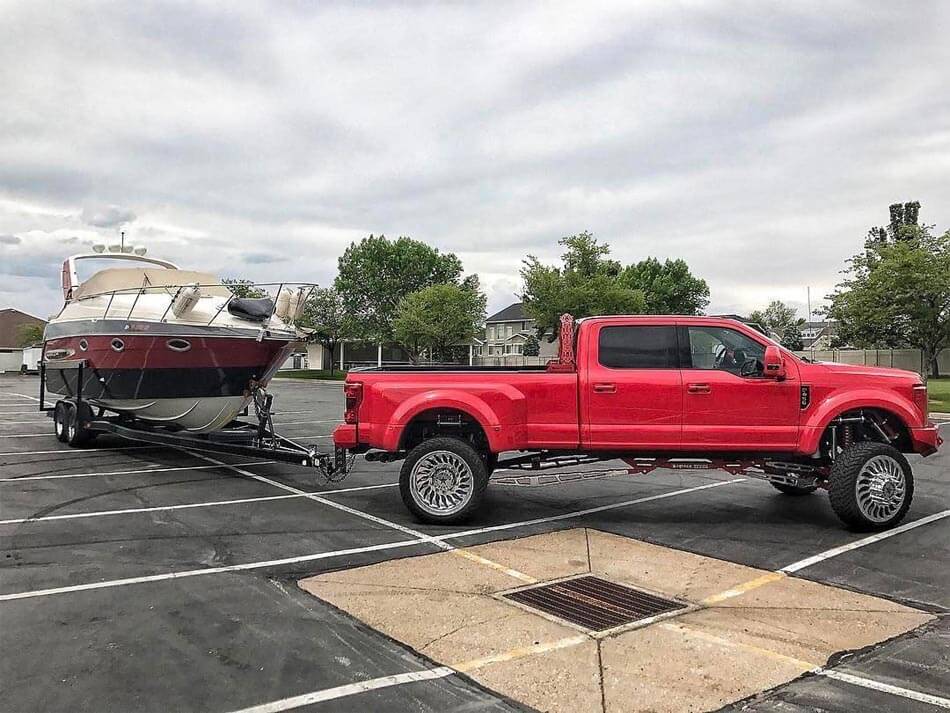 To sum up all the disadvantages of towing with a lifted truck your best bet would be to keep the stock suspension on a truck that you are going to tow with. If you still want to lift it, do it in responsible way and proceed with a mild lift of about 2-3". Keep in mind what your limitations are. Do not try radical lift solutions, as they may be dangerous for you, your passengers and other people around you in certain circumstances.
If you are not looking to use your truck for some serious off-roading you can choose pretty much any lift kit produced by a reputable brand, which offers a lifetime warranty. There isn't much to break in such kits because the material that is used for aftermarket applications is often even more durable than factory components.
Different shocks provide different ride characteristics. Fox 2.0 shocks make a ride a little bit more firm, which makes a truck feel stiffer when you go off-roading. On the other hand, they will be beneficial on the highway. Ranch 1000 and ProComp MX series shocks are adjustable, so you can pick the most optimal height and ride comfort. Most of the monotube shocks last for about 60,000 miles and require a complete replacement once they are done, however, Fox 2.0 shocks are fully serviceable and can easily be fixed when required.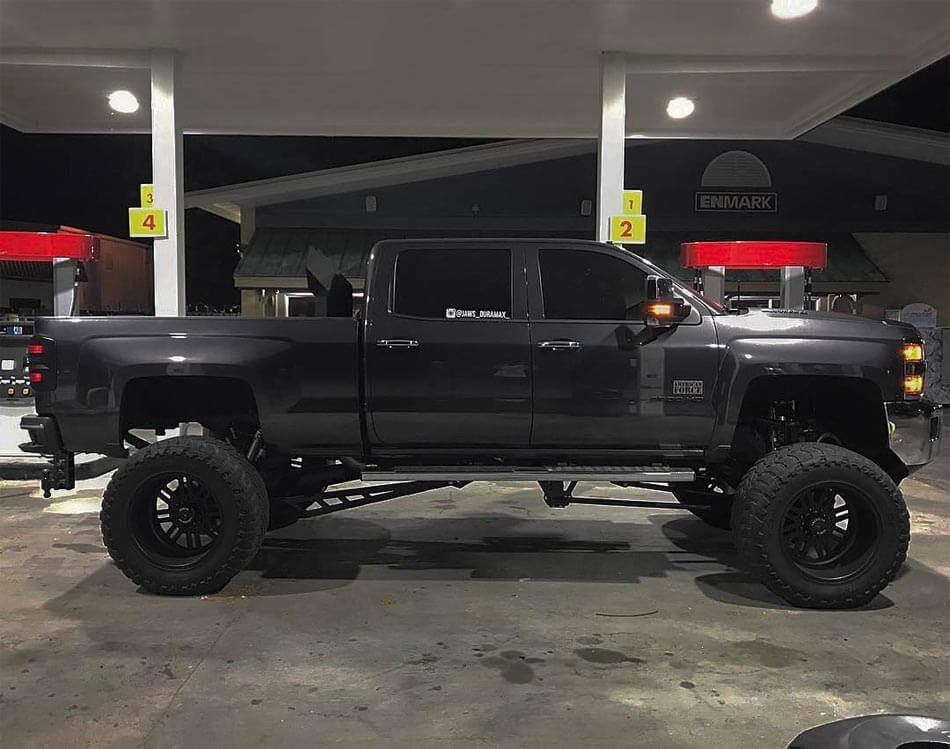 Towing a fifth wheel with a lifted truck that is designed for off-roading is not an option because its lift kit is most likely not capable of this task. As usually, compromises may lead to negative consequences so towing is one of the activities that require proper equipment to be performed safely.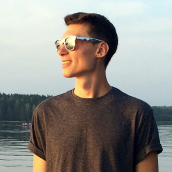 Matt Grabli
Matt brings over a decade of automotive expertise to his role as staff writer and editor at Offroadium.com. With an enduring passion for the off-road vehicles and adventures, he is devoted to creating interesting content that equips 4x4 enthusiasts with the knowledge to improve their rigs.