Do it all BMW X1 F48 Off Road Build With a Lift Kit & A/T Tires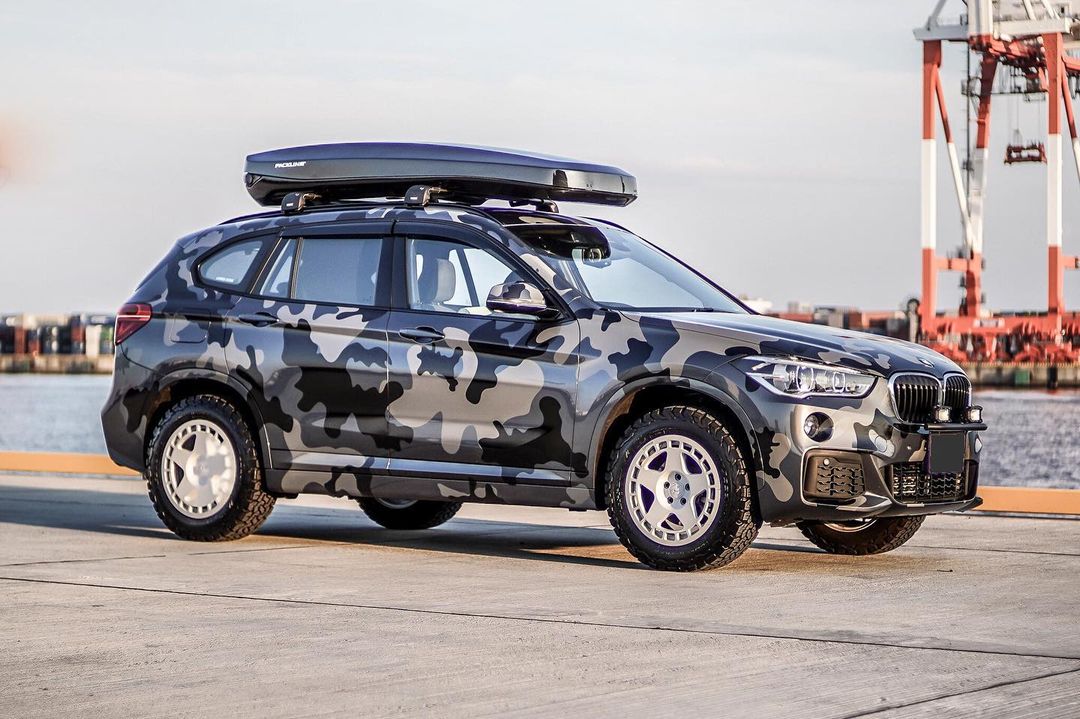 Compact crossovers are all the rage these days, and with good reason – they offer a great blend of features and performance, all while being more affordable than their larger counterparts. Even though the crossovers like a BMW X1 F48 aren't built for off roading, they still have pretty impressive potential that will allow you to keep going strong when the pavement ends.
The X1 F48 is the smallest model in the range of BMW crossovers, yet, just like the big brothers it's equipped with all the features that distinguish it from hatchbacks and other road cars. Starting with the exterior, you'll find a slightly taller silhouette and higher clearance that give it just enough SUV stance. It also comes with some great aerodynamic features that help reduce drag and improve engine performance.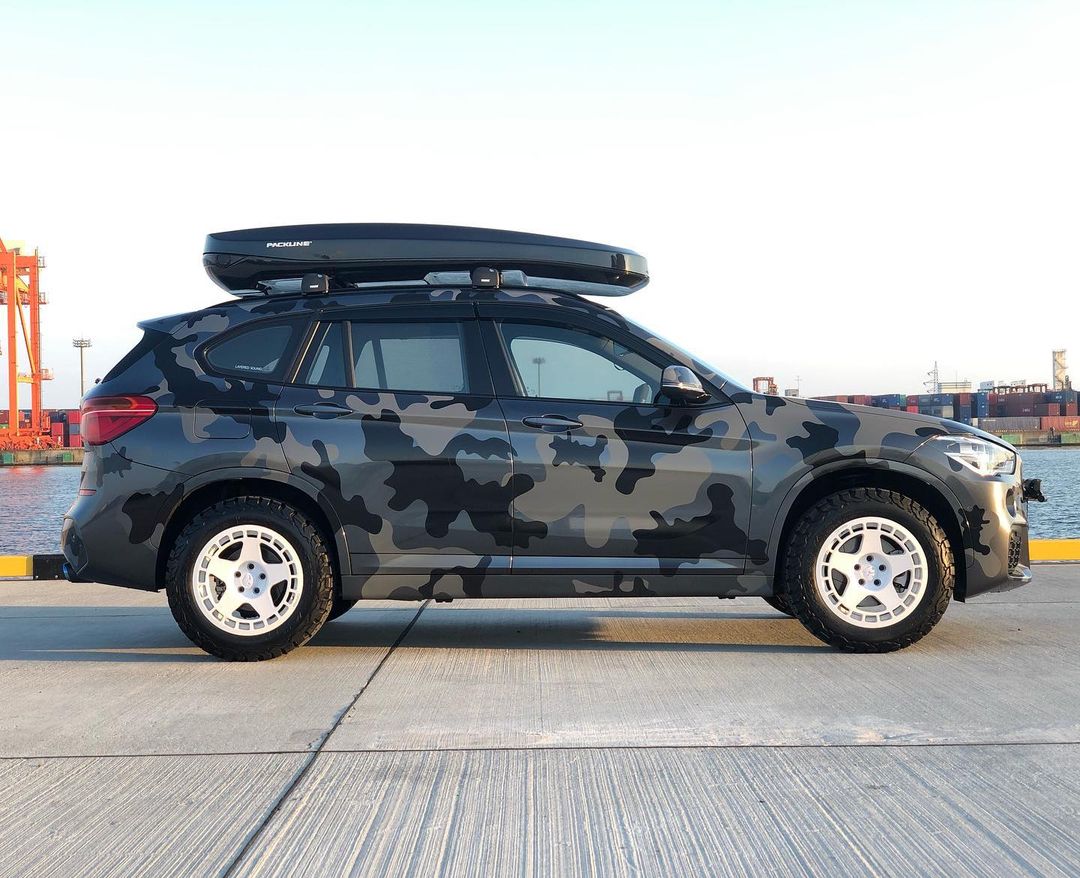 Features
The F48 X1 has plenty of power under the hood too, thanks to its 2.0L 4 cylinder engine and 8-speed automatic transmission. This will get you an impressive 150kW/320Nm of torque, so you'll be able to navigate your way through most tough terrain with ease. The car is also equipped with all wheel drive, which adds an extra layer of stability when driving on different surfaces with compromised traction (and this is where the xDrive with it's torue vectoring can really surprise you).
The suspension is also designed to offer a comfortable ride no matter the road conditions, so you can enjoy your journey without having to worry about bumps in the road.
Model Years: 2016, 2017, 2018, 2019, 2020, 2021, 2022;
Limitations
Let's not forget, the X1 was designed as an on-road car with extra capabilities that would allow you to get to a mountain resort during the snow storm or stay out of trouble when the roads get covered with ice.
With a ground clearance of 7.2 inches, and large factory wheels with skinny tires this crossover can barely handle off road terrain, but if you really want it to, a lift kit and a set of A/T tires are exactly what you need.
Lift Kit
A lift kit is the perfect way to increase the ground clearance of your car. By installing a larger suspension system, you can clear obstacles that would otherwise bring your car to a stop. In addition, a lift kit allows you to install larger tires, which can provide better traction in off-road conditions.
Off road Tires
When choosing tires for off-roading, go for those labeled all-terrain or mud terrain and look for ones that are specifically designed for your car model. Furthermore, keep in mind that bigger the size – better the traction and ground clearance, so you ultimate goal here would be to install the biggest possible tires that wouldn't hurt your your vehicle and the wheel wells to be specific.
It's usually safe to go one size larger than the factory recommended option, but we strongly recommend you to use a tire size calculator or consult with a professional when choosing oversized tires.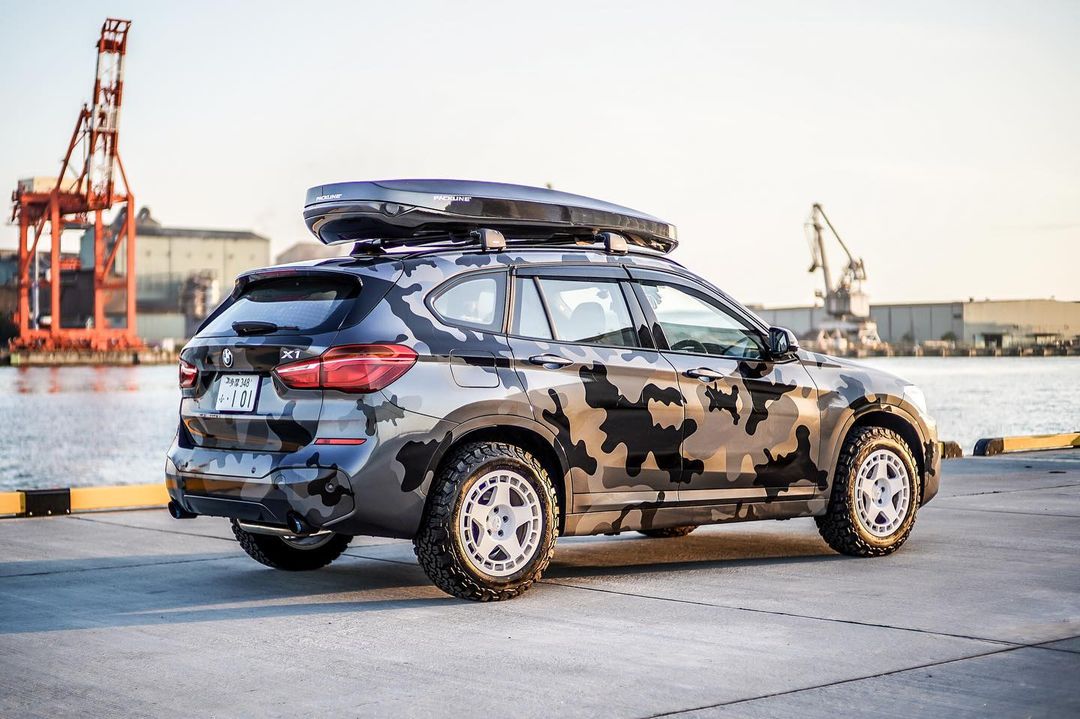 BMW X1 F48 Off Road Build
This BMW X1 off road build that you see on the pictures is equipped with a 40mm lift by All Ground Japan. The extra ground clearance provided by the lift kit has allowed the owner to install larger tires, which improve the X1's traction and stability in off-road conditions. In addition, the lift kit has also given the X1 a more aggressive look that is sure to turn heads when driving down the street. Thanks to the All Ground Japan lift kit, this BMW X1 is ready for anything that the road throws its way.
SPECS
40mm lift by All Ground Japan

Fifteen52 Turbomac rims in Rally White finish
BF Goodrich All Terrain T/A tires
Packline NX Premium roof cargo box
Conclusion
In conclusion, compact crossovers like a BMW X1 F48 can easily take on some offroad adventures if they are equipped with the right modifications. With a lift kit and all-terrain tires, you can be sure to have a great time and experience some thrilling offroad adventures! So why not step out of your comfort zone and take your X1 F48 out for a spin in the wild? You won't regret it!
Photo: @shinohara.cpm
Owner: @motonarhythm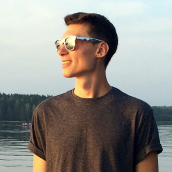 Matt Grabli
Automotive journalist and technical writer at Offroadium.com with more than 10 years of experience in the sphere of aftermarket parts and 4×4 vehicle modifications. Passionate about off-roading, outdoor adventures, and an active lifestyle.