Dodge Durango 33 Inch Tires vs 35″ – What Lift and Size to Pick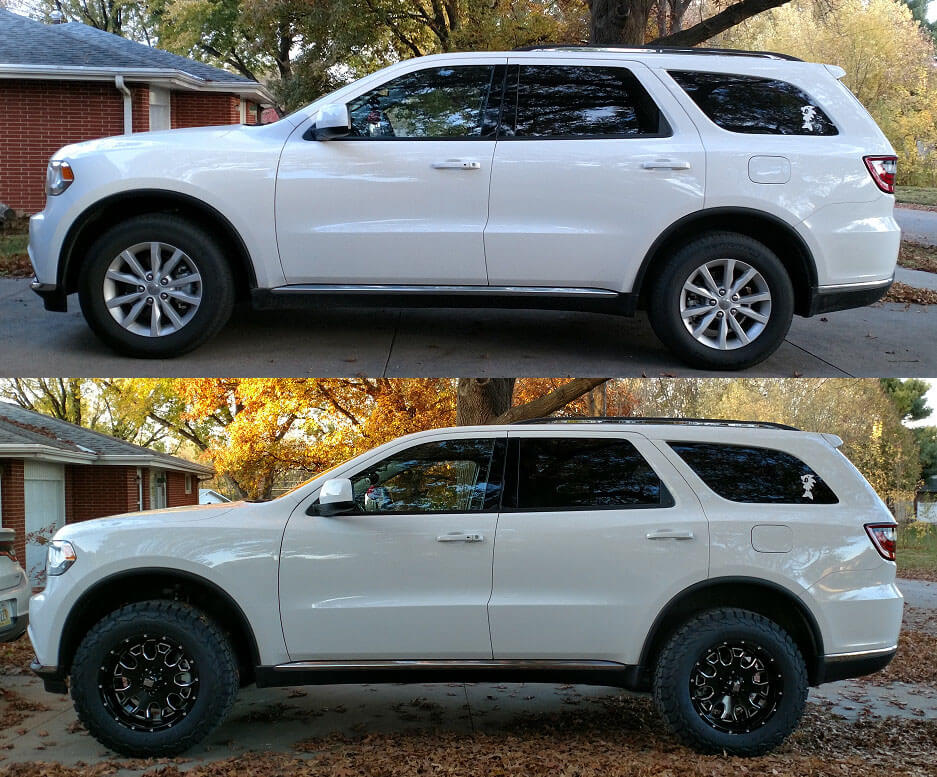 We continue our series of articles dedicated to oversized off-road tires, and today we are going to find out what does it take to get your Dodge Durango outfitted with 33-inch tires and see if it's even possible to install 35"s. Larger tires provide certain benefits such as improved overall ground clearance, wider tracks, and improved stability both on the highway and off the pavement.
From the visual standpoint, a Dodge Durango on 33 inch tires looks much beefier compared to the stock trucks, so it's not a surprise that many owners opt to install oversized tires. Thanks to the body on frame construction, the 1st and 2nd gen models are more lift-friendly so fitting these Durango models with 33" or 35 inch wheels does not involve serious modifications. 3rd Gen model, on the other hand, is a completely different vehicle that features a unibody construction which puts certain limits on the suspension modifications, making 33s the largest size you can install without cutting.
List of factory tire sizes of Dodge Durango and their equivalent in inches
Below is the list of factory equipped wheel sizes and their equivalents in common off-road tire sizes. The information is based on OEM fitment table.
| Generation | Production Years | Metric OE Tire Size | Size Equivalent in Inches |
| --- | --- | --- | --- |
| DN | 1997-2003 | 255/65R16 | 29" |
| ND | 2004-2009 | 265/55R19 | 30" |
| WD | 2011-2018 | 275/50R20 | 31" |
First Generation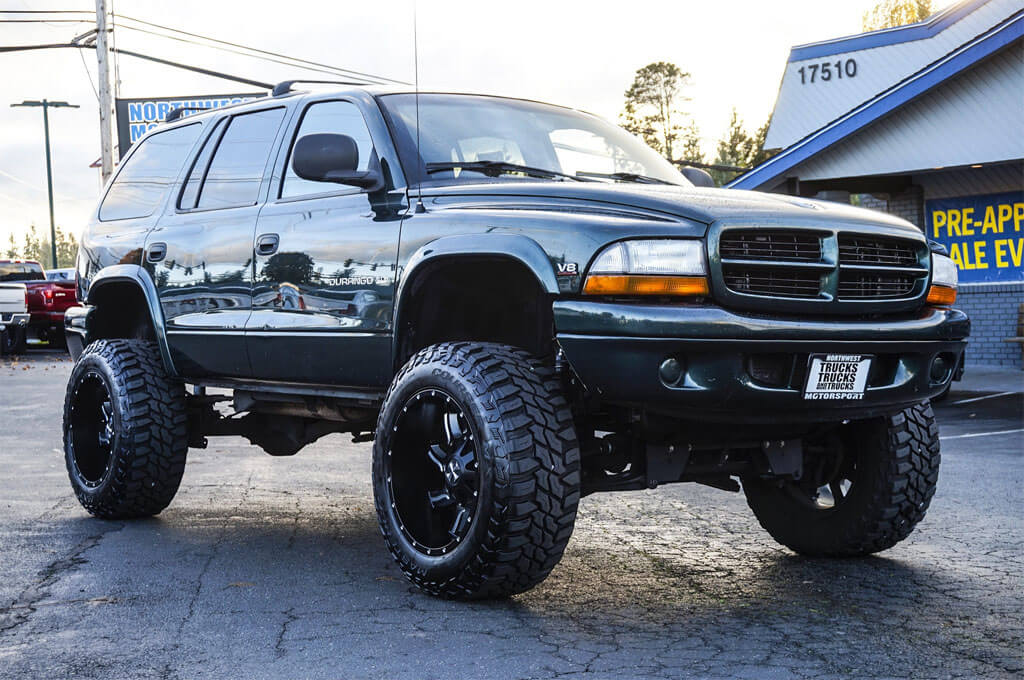 Thanks to the classy 90s design, the space inside of the wheel arches allows you to install up to a 31″ tire without lifting your SUV. With a small 2-3″ spacer/torsion key lift you will gain enough space to clear 33s, but 35s will require a serious axle drop in order to fit the wheel wells. As you see on the first picture, a lot of cutting will also be involved to avoid rubbing on turns.
2nd Generation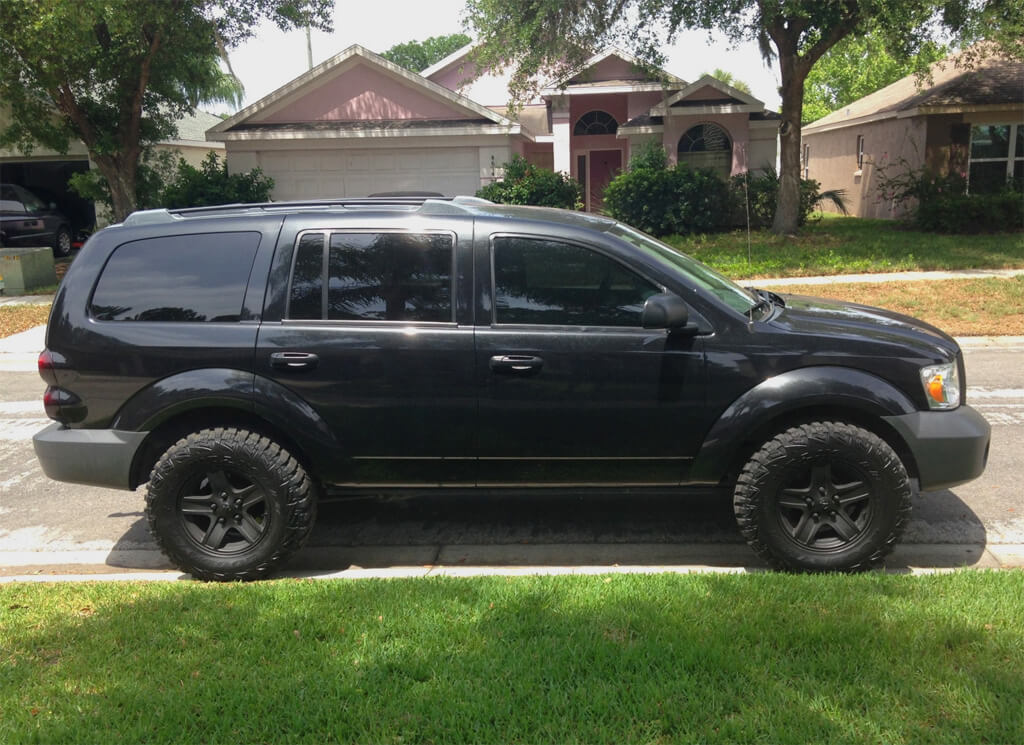 2nd gen Durangos already come with 30s from the factory, but due to the refreshed design provide less space in the wheel wells compared to the 1st generation. 2.5″-3″ lift kits with spacers and torsion bars will allow you to install up to 33″ tires on these trucks, but keep in mind that 2WD lift kits will not fit on the 4WD models.
Third Generation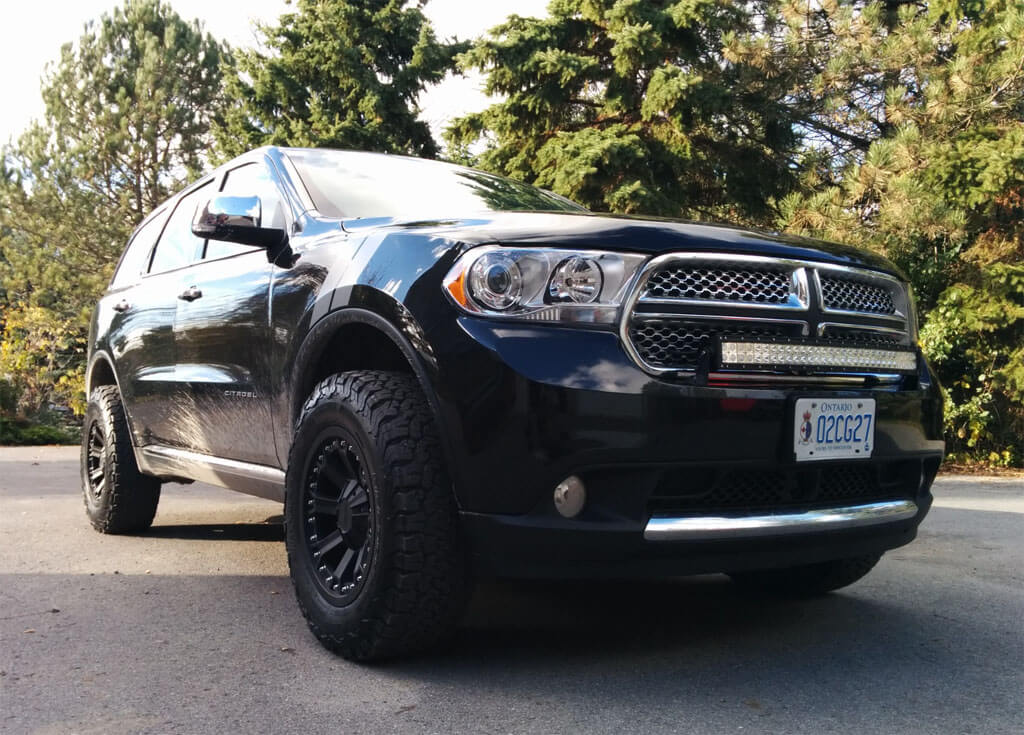 3rd Gen models are rarely being lifted, even though they share the platform with a Jeep Grand Cherokee. 2.5″ lift will give you enough room to clear 32 inch tires, and kits over 3″ will allow you to install 33s, but some cutting may be required. It's difficult to find an out-of-the-box solution for these models, but some lift kits designed for the Grand Cherokee will work too (consult with your vendor about fitment for your application). 35s will not fit unless you're ready to do a lot of cutting and ready to custom fab things.
Common 33 inch and 35 inch tires for Dodge Durango
33 x 11.5 x R20
33 x 12.5 x R17/R18/R20
35 x 11.5 R17/R18/R20
35 x 12.5 R17/R18/R20
Common 33 inch size metric equivalents
16 inch rim – 255/85R16 265/80R16 275/80R16 285/75R16 295/75R16 305/70R16 315/70R16
17 inch rim – 265/75R17, 275/75R17, 285/70R17
18 inch rim – 265/70R18, 275/70R18, 285/65R18 295/65R18
Common 34 inch size metric equivalents
Common 35 inch size metric equivalents
18 inch rim – 315/70R18, 325/65R18
How To Fit Big Tires
Fitting a Dodge Durango with big wheels is just a question of time for many fans of the outdoor activities, off-roading, and camping. The majority of modern body-on-frame pickups and SUV can easily accommodate 33 inch tires with a help of spacers or a body lift, and 35-inch tires with a help of full suspension lift kits. Unibody body vehicles such as the 3rd gen Durango, on the other hand, present fewer possibilities of lifting and are limited to 33 inch M/T or A/T tires (unless complex modifications are involved).
The driving characteristics of a Dodge Durango on 33 inch tires will slightly change but you will still be able to maintain normal ride quality. Keep in mind that a lift will shift the center of mass upwards, which may result in a more noticeable body roll on turns. The gas mileage will also drop for 2-4MPG. All of these disadvantages are a trade-off for improved off-road capability and stunning looks that will make your SUV truly unique.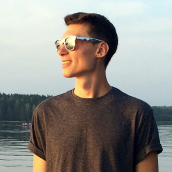 Matt Grabli
Matt brings over a decade of automotive expertise to his role as staff writer and editor at Offroadium.com. With an enduring passion for the off-road vehicles and adventures, he is devoted to creating interesting content that equips 4x4 enthusiasts with the knowledge to improve their rigs.