Dune Buggy Rat Rod – Can You Guess The Model?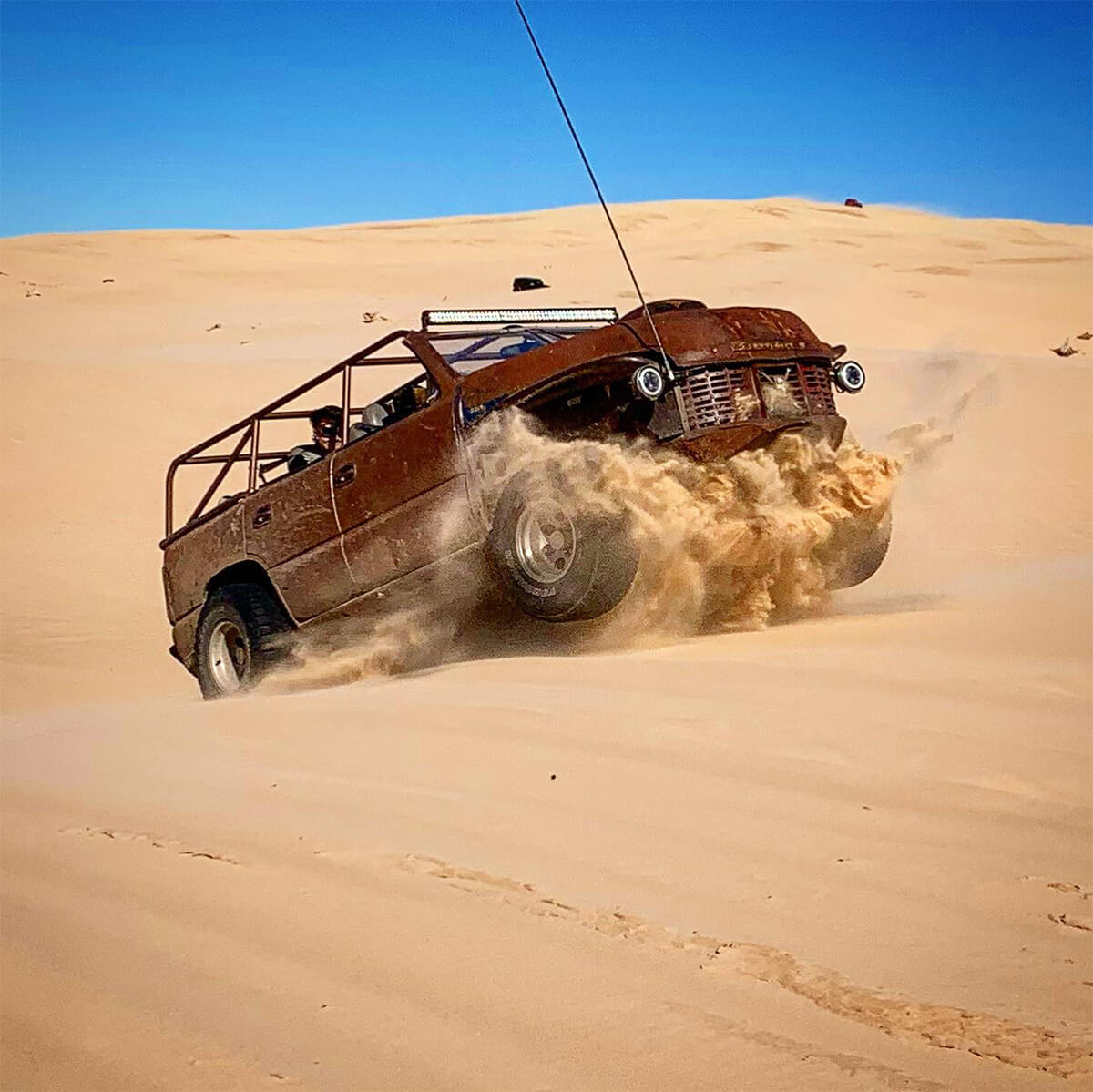 We are all accustomed to the idea that car modification or restoration is an expensive hobby. Of course, if you want to travel a lot and make multi-day trips to the wilderness, you cannot do without expensive gear equipment, but if your goal is just having fun outdoors, joyriding, and occasional excursions into the desert for the weekend, you can create a simple rig without serious investment. Fabrication skills, resourcefulness, and support of the spouse are also important ingredients for success.
Take for example the story of Chad Nicholls and his son Mason from Toledo, Ohio, who managed to build a real work of art literally from scrap metal. As it turned out, something good had happened due to the pandemic and lockdown restrictions. Not being able to buy new parts, the guys had to deal with challenges creating custom parts from scrap metal and rely on their metalworking skills. Chad was lucky enough to get his hands on a pretty banged-up 2000 Chevy Tahoe, a perfect donor for the future Rat Rod project.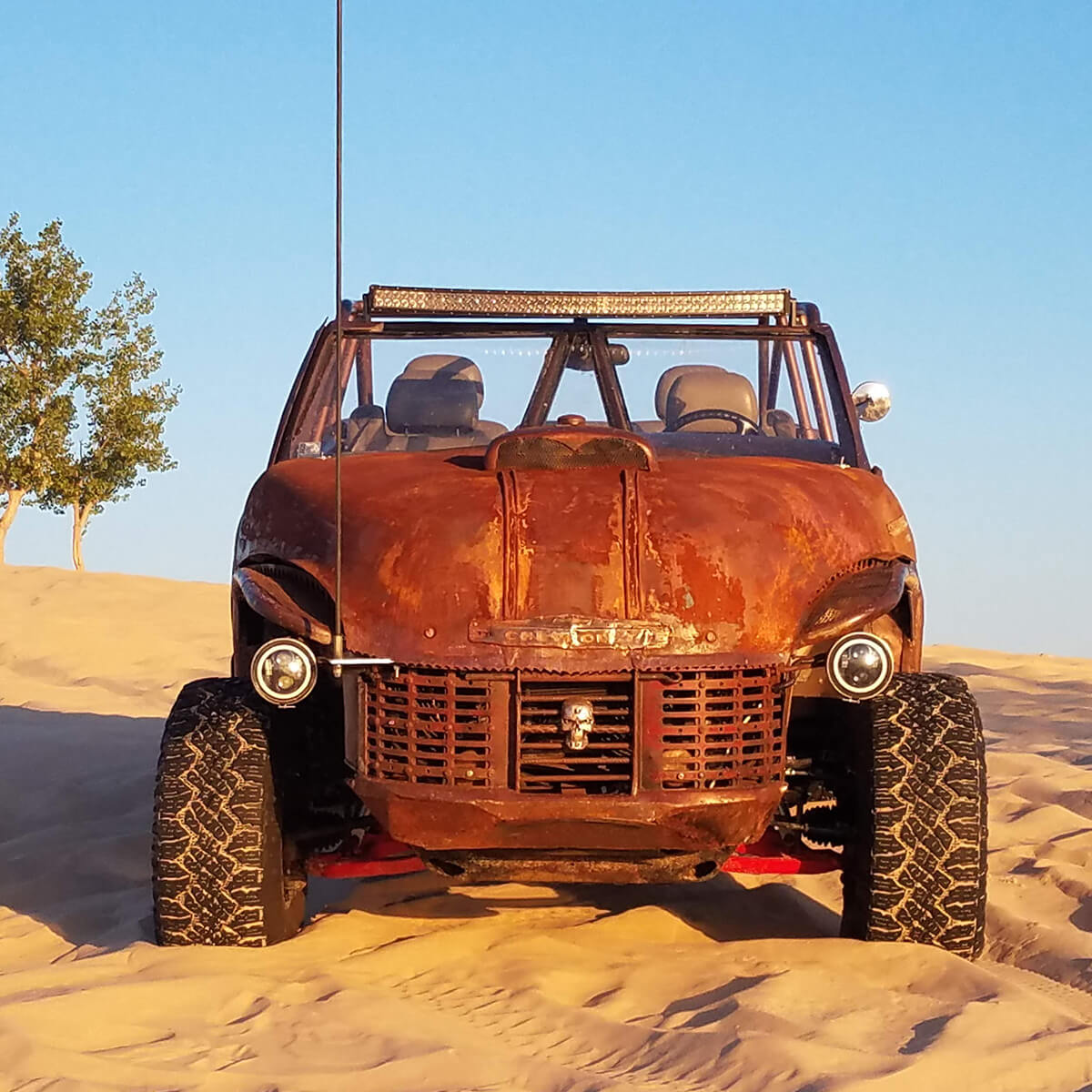 A few months of hard work, deliberate aging of the body, fabrication, and tinkering with what was available at home, and we see the result – a bright example of creativity, daring ideas, and unique style, a truck that looks like it just rolled out of the Mad Max post-apocalypse movie. Now, this menacing rig brings joy to the whole family and turns heads on the streets and trails. And those who ask cannot believe that such a miracle can be created in a home garage without serious investment. We spoke with Chad and he told us the story behind his Rat Rod convertible.
"a bright example of creativity, daring ideas, and unique style, a truck that looks like it just rolled out of the Mad Max post-apocalypse movie"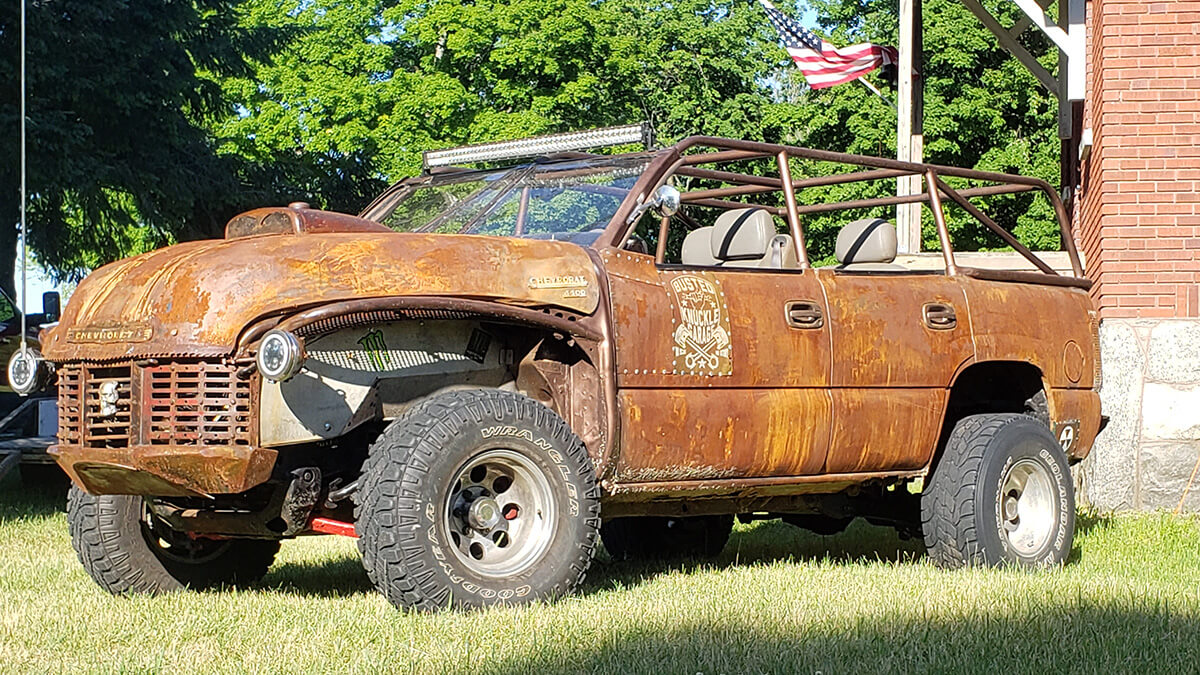 How did you become interested in off-roading?
– I have vacationed at Silver Lake Sand Dunes, in Mears, Michigan starting when I was 11. We were surrounded by amazing dune toys of all kinds, VW powered buggies, jeeps, trucks. I loved hearing the roar of the engines, folks working on fixing their rigs, it was amazing to me. Over the years we made friends that would take me along, it was like going to another planet surrounded by sand, cool rigs, and cool people. I wanted in!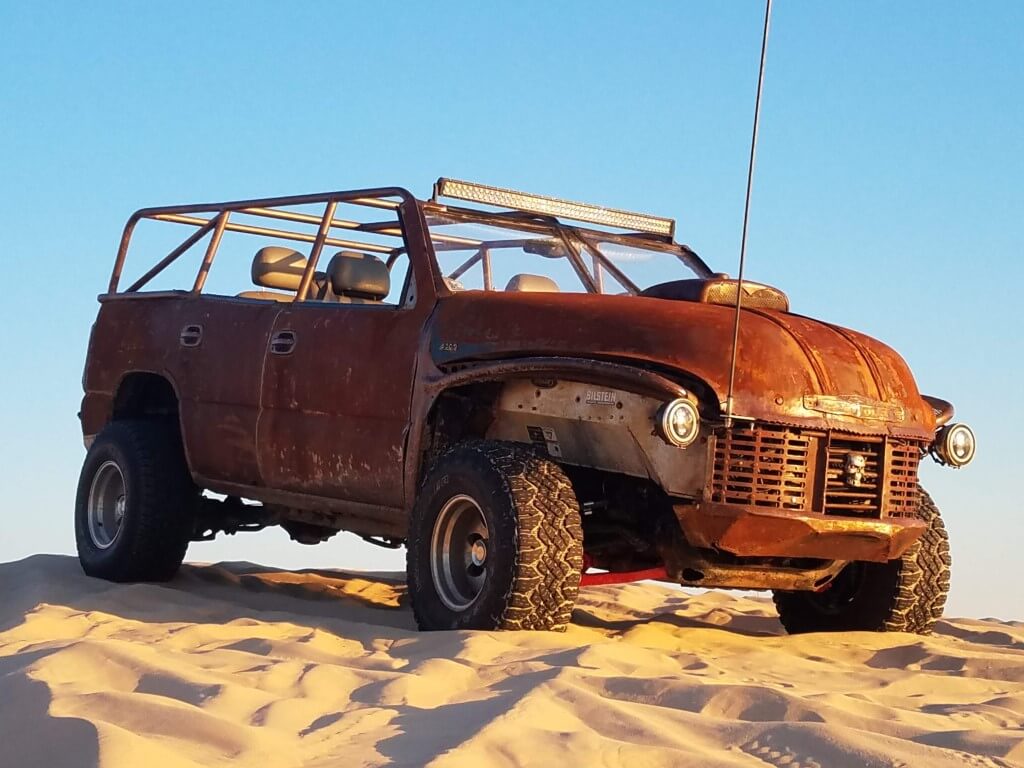 Why did you choose a Tahoe?
– The short version of the story is, we bought the Tahoe for $400 that was in a rollover accident. We wanted the engine and transmission for my son's 46 Ford rat rod. I cut the roof off so I could open the doors up and drive it around on our property, after removing the hood, I covered the engine with an old grain truck hood, and thought hey that looks pretty cool. When Covid hit, we got the idea to see if we could build the Tahoe for the dunes using only what we had on hand. With our four children being home schooled we thought it would be a good opportunity to demonstrate that junk can be repurposed. Having it seat 7 people we could all ride together safely got the wife's approval.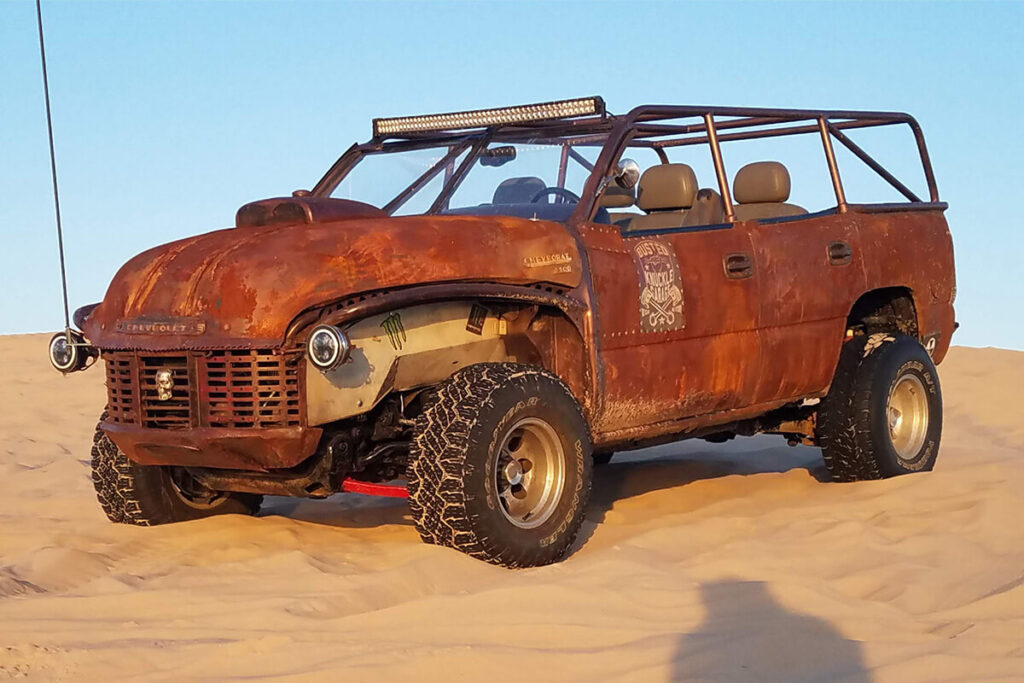 What inspired you to build an off-road rat rod?
– It was Covid after-all and the vehicles from mad-max has always been my all-time favorite.
So The theme was us post apocalypses, not recreating a mad-max vehicle but more of a tribute. Most people who know me know we are into old cars so with scrap value had been very low at the time, We had a decent pile of old scrap metal that we acquired. So most everything on Max was taken from the scrap heap.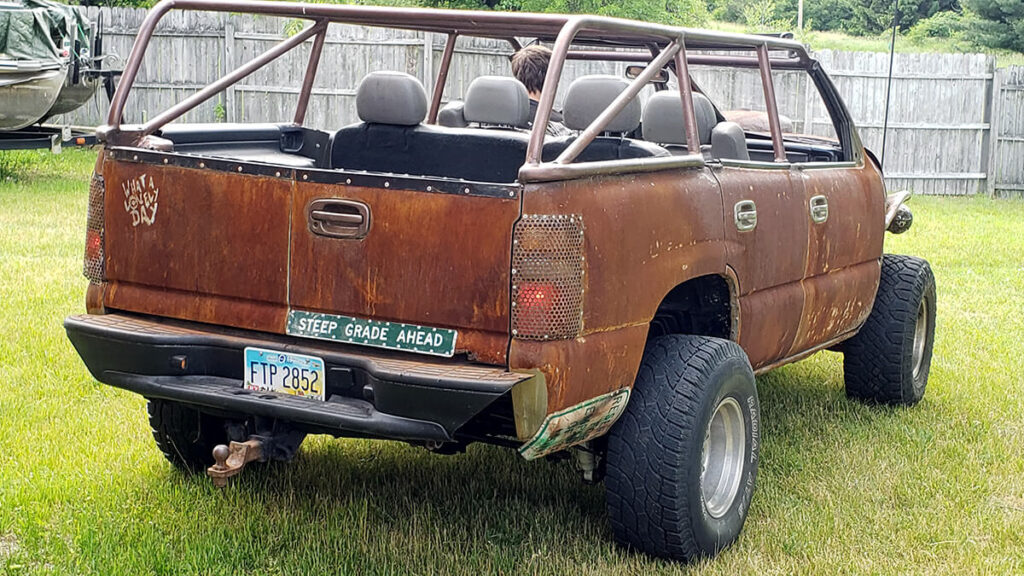 What challenges did you face while putting it together?
– Just making everything come together so you don't really know what is old, and what was new.
What do you love about your rig?
– I love the fact that we have spent less than $1,500 in the whole project. It's covered in rust, on purpose, and when we sit next to $30K purpose-built sand cars, everyone is drawn to Max. Just driving around town everyone who sees it immediately smiles, gives a thumbs up, or takes pictures of it.
We go off-roading in the sand dunes or trail riding every weekend.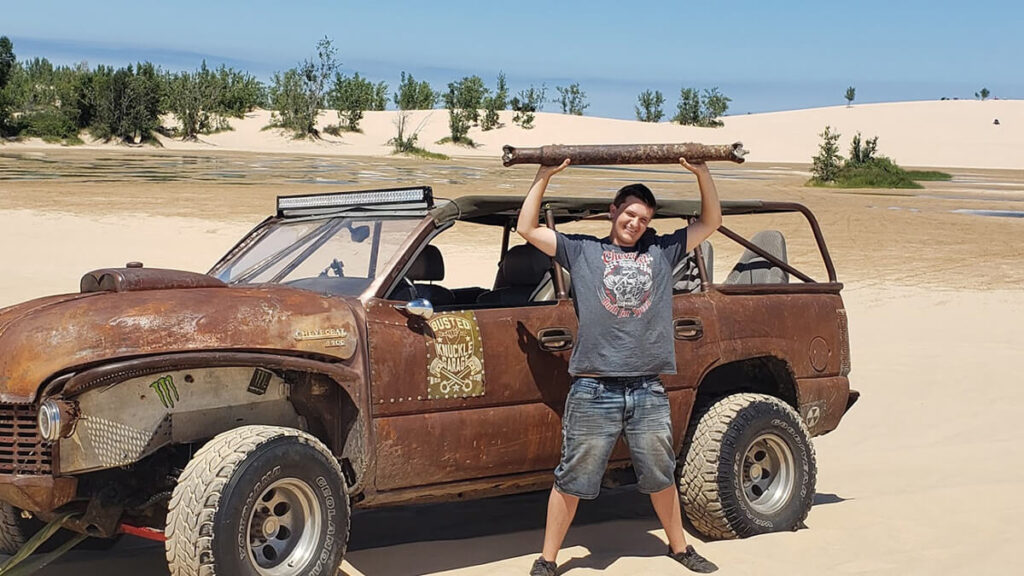 Specs and mods
Year / Make / Model
– 2000 Chevy Tahoe 5.3L 4WD
Engine
– Complete Rebuild
– Engle (sloppy) Stage 2 Camshaft
– Pac 1218 Springs
– Manual transfer case from a 96 Chevy Blazer
– 4l65E Transmission
– Efi uses the factory PCM modded to a custom OS Using Open Source PCM Hammer
– Tuned with TunerPro (Free Tuning Software)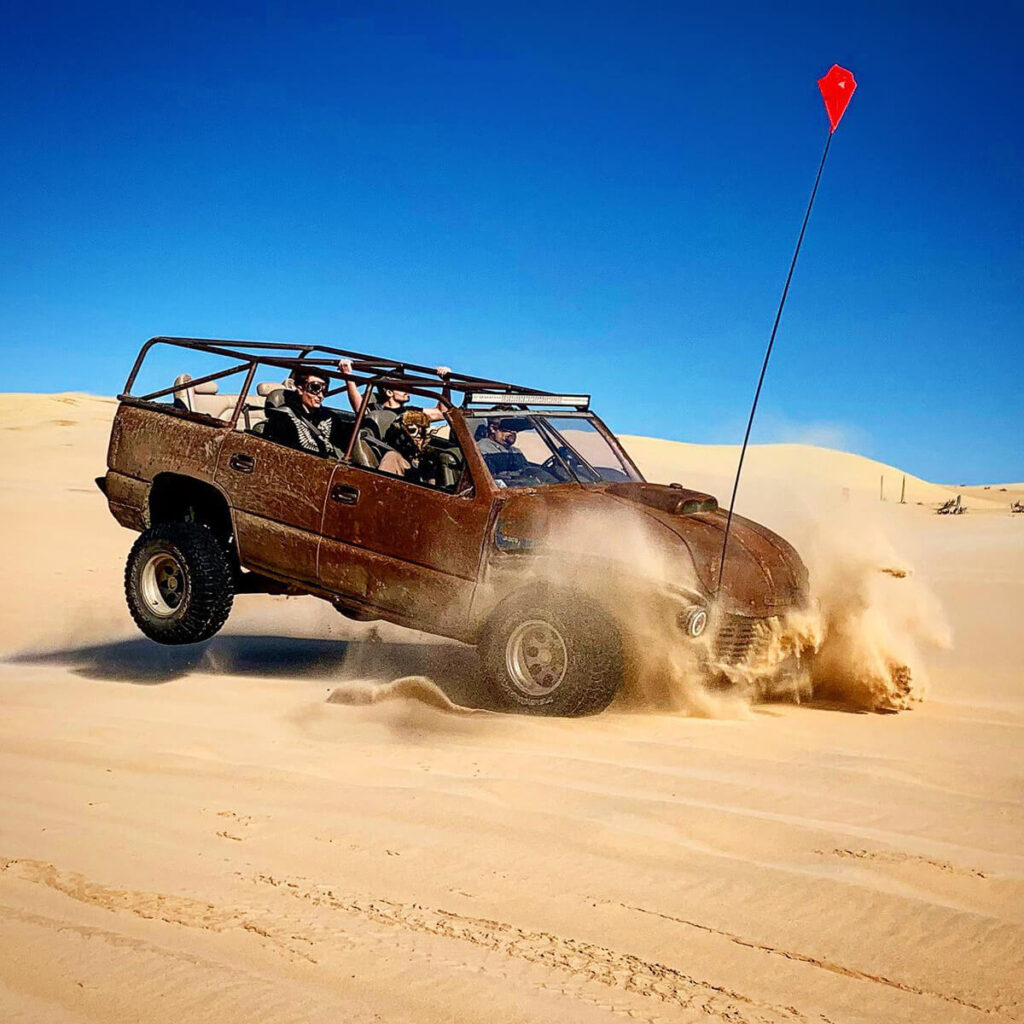 Lift height and suspension
– Fabricated Rear Lift
– Factory Torsion Adjusted Front
– Rear Bilstein 25-187625 5160 Series Shocks
– Front Bilstein (24-186643) 5100 Series Shock Absorber
Wheels
– Used 15 Inch Aluminum American Racing Rims
– 33×13.5 Super Swamper TSL Boggers Rear
– 33×12.5 Goodyear Wrangler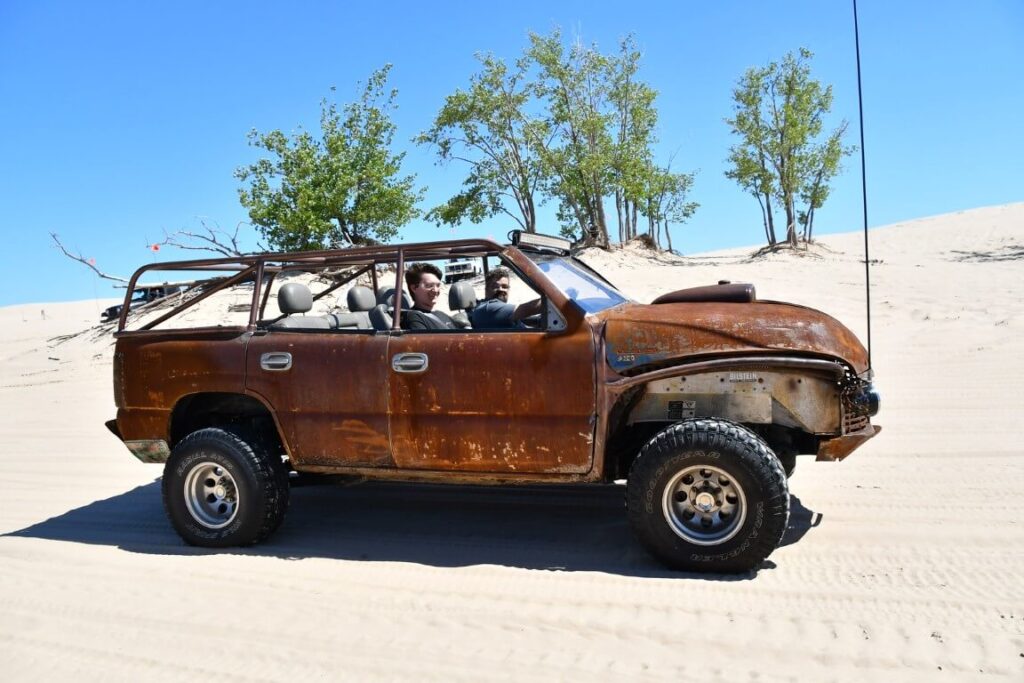 Exterior
– Removed Roof, Fabricated Front End using various scrap metal Hood from a 47 Chevy 4400 Dump Truck it was widened 12″ and the functional hood vent is the gas tank of a 1941 Model A Farmall Tractor split in half, grill was made from an International Harvester combine thrasher wheel, and rebar, the fender side panels are aluminum from a carrier refrigeration unit, and mesh fenders we salvaged from the insides office cubicle walls. The 50″ light bar lights up the trails like high noon. The headlights are cans from old KC lights, that are held by welded skeleton bolt hands. The halo lights led headlights are made for motorcycles.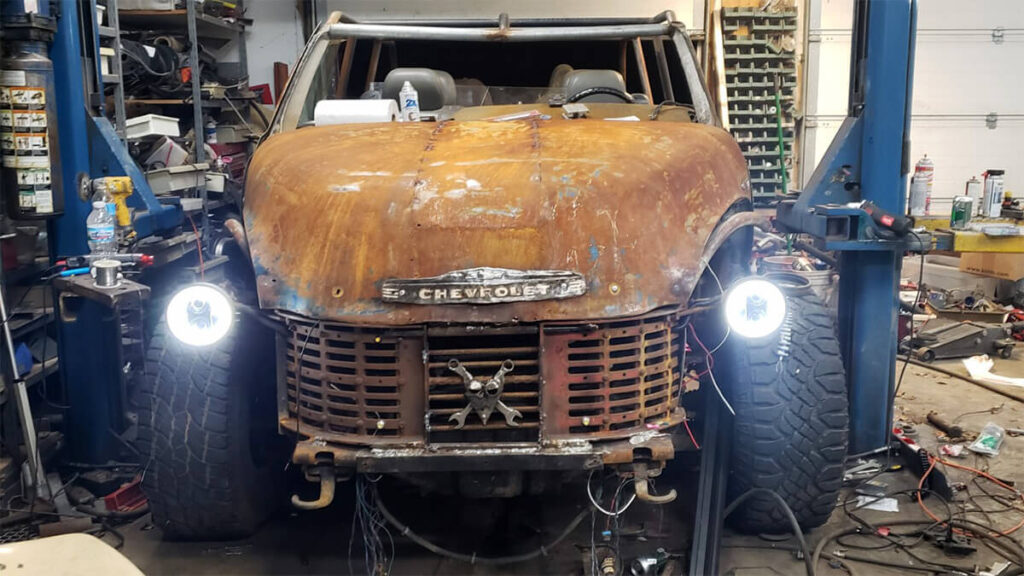 Interior
– Removed all carpet and non essential accessories, seats 7 comfortably. Added a control switch panel for lighting, 4×4, fans and AFR Gauges.
All other mods
– The Roll Cage we bent all of our own 1-3/4″ tubing with our fully hydraulic homemade tubing bender, we used an Affordable Bender Die Set. All the paint was then ground off and force rusted using vinegar, hydrogen peroxide, and Epsom salt. We cast the terminator skull emblem in our homemade aluminum foundry. First we modeled and 3D printed the skull in plastic, then casted it in plaster, then melted out the plastic and filled it with aluminum recycled from window frames.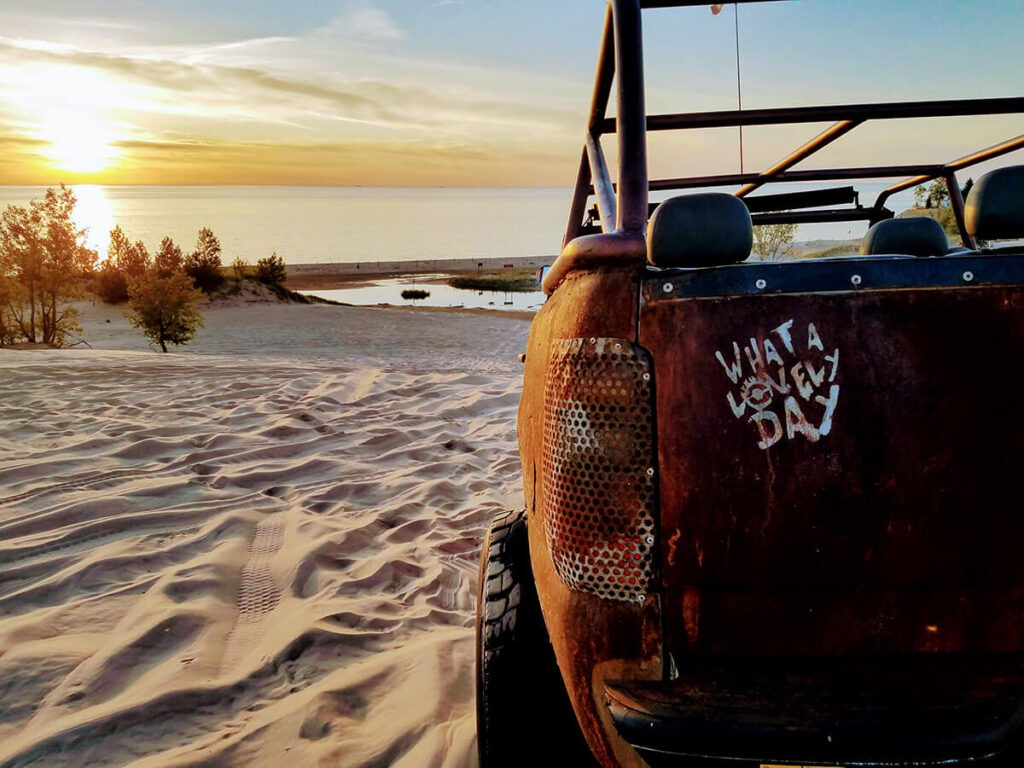 What are your future plans for this rig?
We would like to do a suspension lift or convert the torsion bars to coil-overs and a mid/long travel suspension. We also have been collecting the parts for a twin turbo setup in the future.
Anything else you would like to share about your vehicle or about the off-roading in general?
Hey if you want to get off-road and you don't have thousands sitting around for a side by side or a jeep. You don't need a fancy paint job (or any paint) for people to respect your rig. Even if they hate your ride, forget them, it's yours, have fun, in the end if it breaks it's paid for…Get on marketplace buy a Junker and get to work! Don't feel you have to be like everyone else, make it yours. You don't need to have the best to have fun, just get started.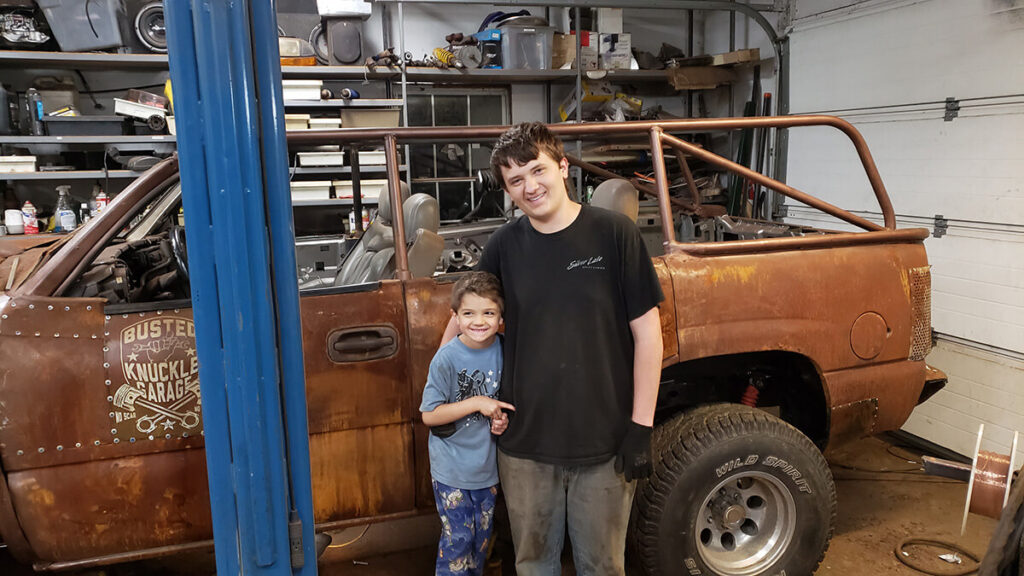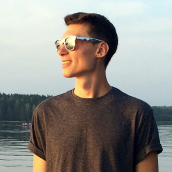 Matt Grabli
Automotive journalist and technical writer at Offroadium.com with more than 10 years of experience in the sphere of aftermarket parts and 4×4 vehicle modifications. Passionate about off-roading, outdoor adventures, and an active lifestyle.