For those of us who love the outdoors and enjoy off-roading, customizing a vehicle to our needs is essential. This build overview takes it one step further and showcases a unique fusion between pre-runner style truck and an overland expedition rig based on a Chevy Tahoe full-size SUV.
This custom-built Tahoe is outfitted with a fully reworked long travel pre-runner suspension that gives it incredible performance capabilities on any terrain, but unlike many desert trucks you've seen, this one is also rocking an overland-style roof top tent, and boasts a handy storage system on the back, which tells us a little bit more about the dual purpose of this build.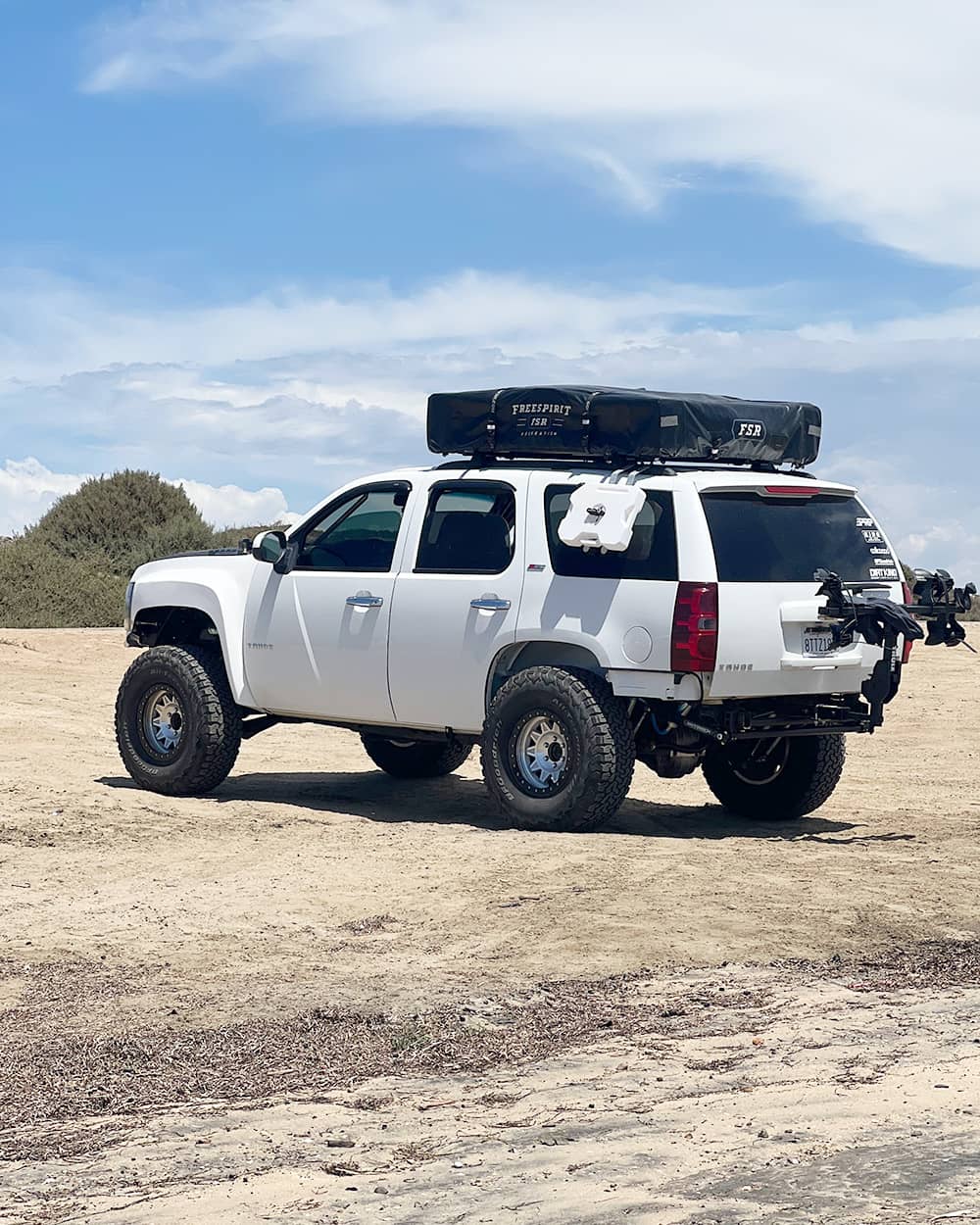 Mods & Upgrades
From its upgraded shocks, springs, and tires to the roof rack and RTT, this beast has been designed for maximum performance and versatility on all sorts of off-road trips. Whether it's a weekend camping getaway, an overland expedition, or a full-on desert race experience, this vehicle can do it all.
"This is one of the most impressive builds we've seen and a great example of how to create a "jack-of-all-trades" rig that can handle any kind of off-roading situation".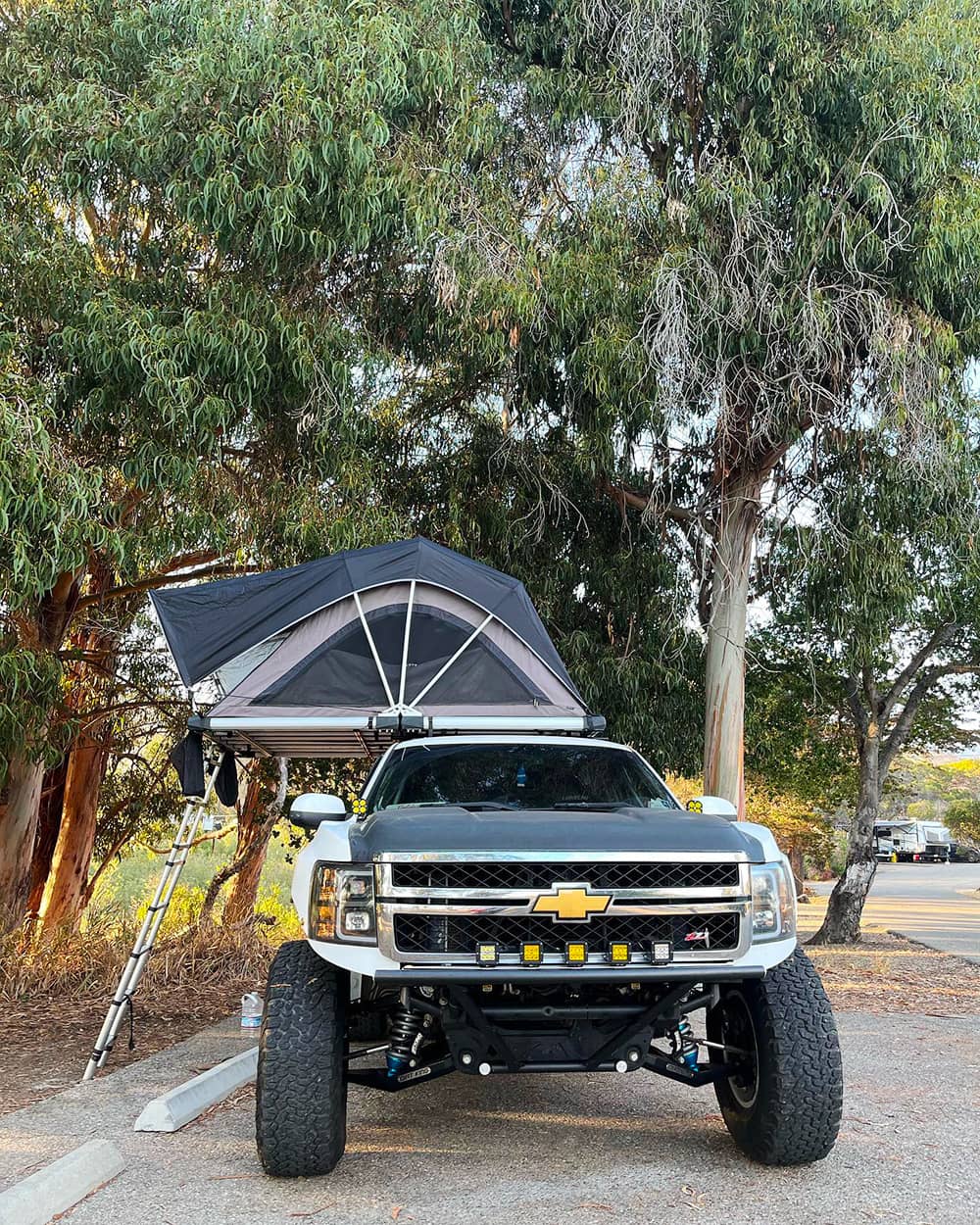 Chevy HD Front End Swap
One of the first things you notice about this truck is the 2013 Chevy Silverado 2500HD front-end swap. With the new LED headlights, wider HD grille, and custom fab front bumper it perfectly blends in with wide-body fenders that house a long travel suspension setup and massive tires.
The rear has a custom rear bumper and a hitch along with custom rear rotopax and traction board mounts.
Suspension
The suspension features a long list of upgrades common for pre runner builds, with the main components being a Dirt King Long Travel Kit, King 2.5 Front Coilovers, custom tube control arms, and Kryptonite Hubs. On the back, you'll find King 2.5 smooth body rear shocks, Rock-jock sway bar, 14 bolt SF, 4.56 gears, Detroit locker, and B&M aluminum diff cover.
"This off-road monster was fitted with pre-runner style shocks and springs that provide exceptional dampening as well as superior articulation for dynamic handling and stability at high speeds".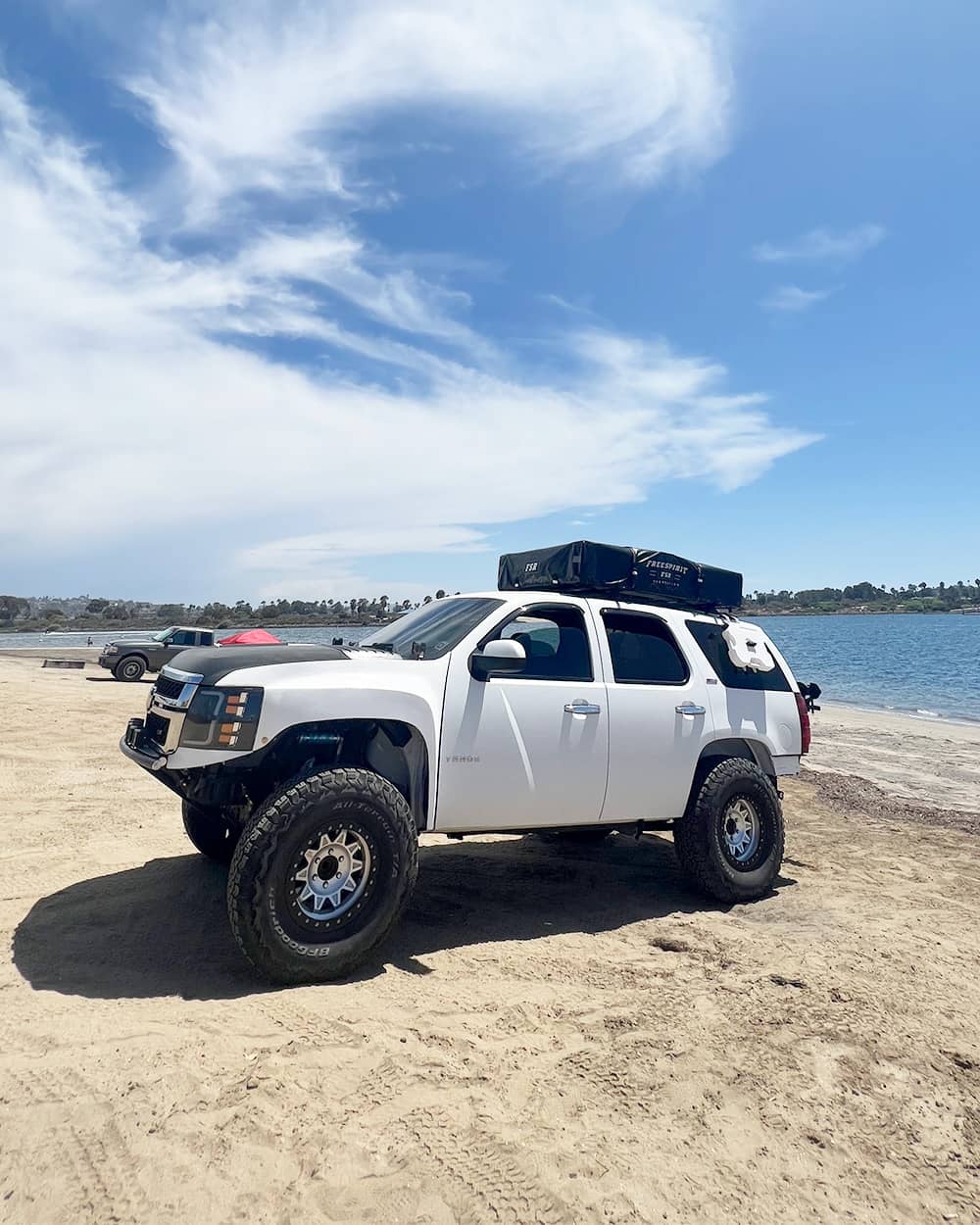 Brakes
Wilwood brakes with EBC slotted rotors were installed in all 4 corners for superior stopping power. As a result, this silver Tahoe pre unner can stop on a dime even after full-throttle acceleration on any terrain.
Wheels
This Tahoe pre-runner sits on a set of Dirty life beadlock wheels wrapped in 35-inch all-terrain tires that are designed to provide maximum traction, even in the most demanding conditions.
Interior
The interior has been outfitted with all the necessary amenities for an off-road adventure. The spacious cargo area provides plenty of room for supplies, tools, and camping equipment. The cabin features Corbeau heated race seats with a custom center console plate and switch panel common for desert truck projects.
"The safety of this rig was also taken into consideration and hence it features a custom rear cage, as well as a 4-point bolt in harness bar for additional protection and stability when hitting those gnarly tracks".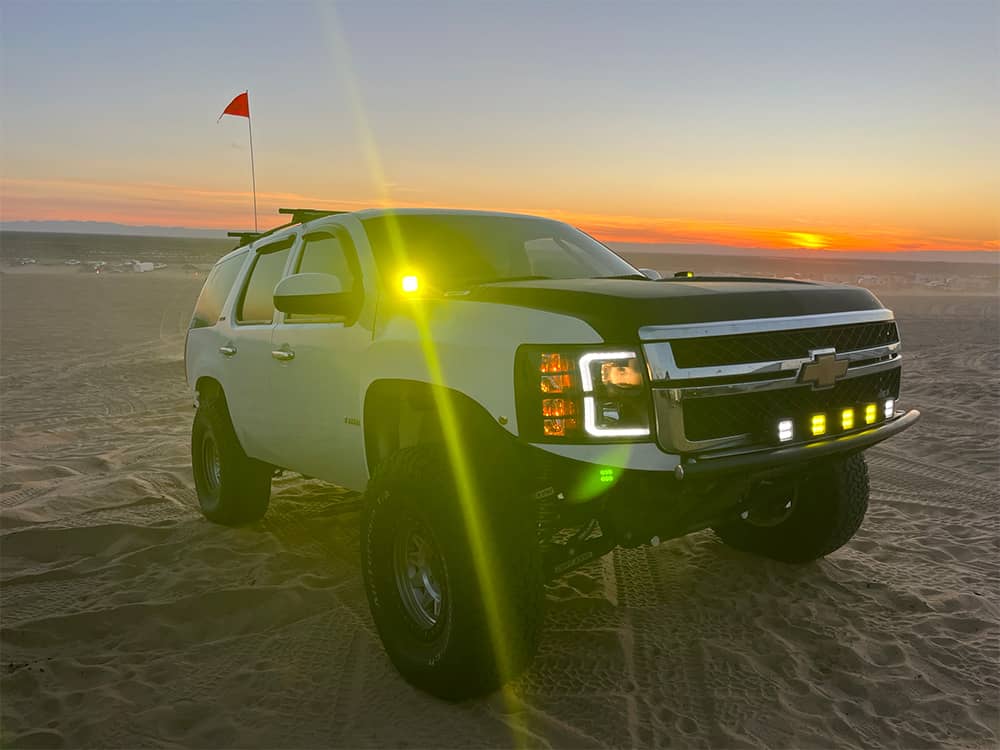 Additionally, an RTT (Roof Top Tent) provides an easy way for campers to enjoy the views from anywhere their adventures take them.
Specs – 2008 Chevy Tahoe Pre/lander
Suspension & Drivetrain
Dirt king long travel kit
King 2.5 front coilovers
Kryptonite hubs
Custom tube control arms
king 2.5 smooth body rear shocks
Rock-jock sway bar
14 bolt SF, 4.56 gears, Detroit locker
B&M aluminum diff cover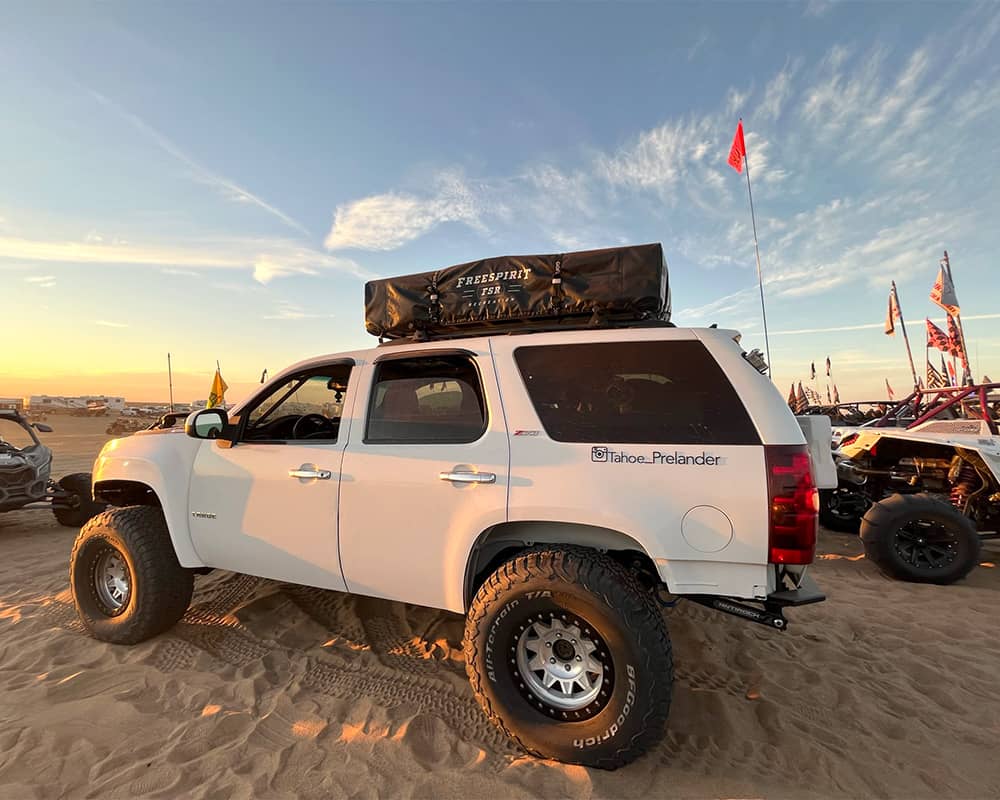 Wheels
Dirty life beadlock Rims
37×12.50r17 BF Goodrich All Terrain Tires
Brakes
Wilwood brakes front and rear
EBC slotted rotors all 4 corners
Exterior
2013 Chevy 2500hd front end swap
Custom made front bumper
GG-lighting pods
Custom 3D printed chase light brackets
custom rear rotopax and traction board mounts
Custom rear bumper and hitch
Free Spirit Recreation Roof Rack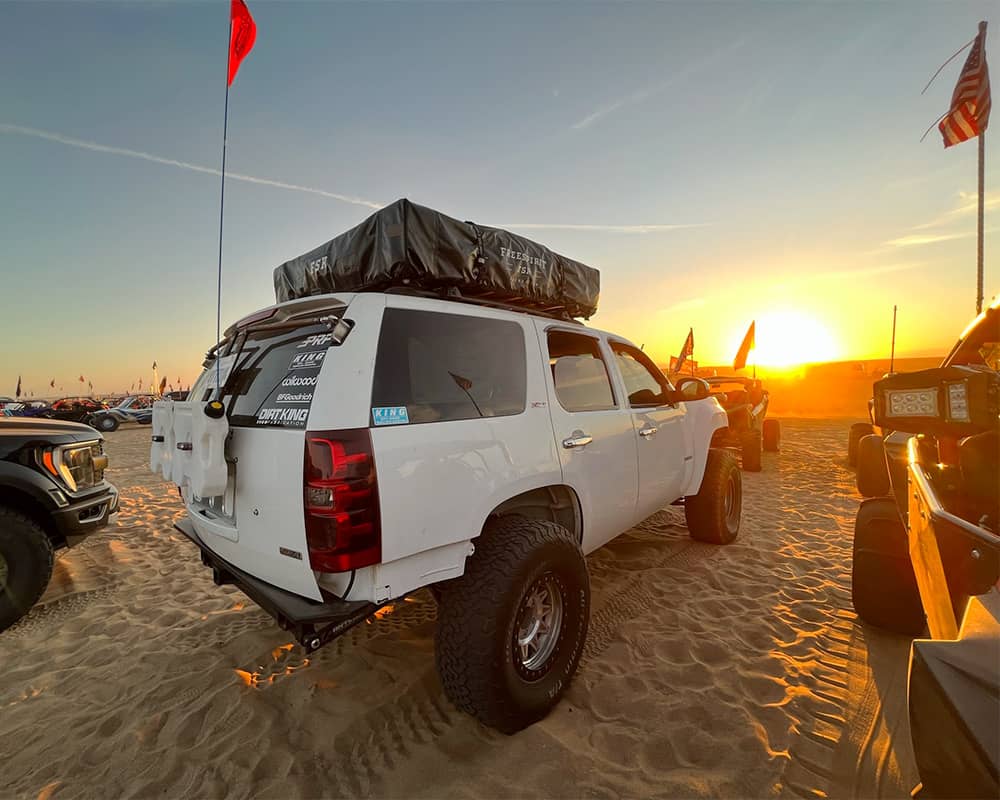 Interior
Custom harness bar
Corbeau heated race seats
Custom center console plate and switch panel
Custom rear cage
Conclusion
So there you have it – a unique fusion between pre-runner and overlanding styles that creates the ultimate off-road vehicle for any terrain or situation. Whether you're looking for a weekend adventure rig or an all-out desert racing machine, this custom-built Tahoe is a perfect example to follow!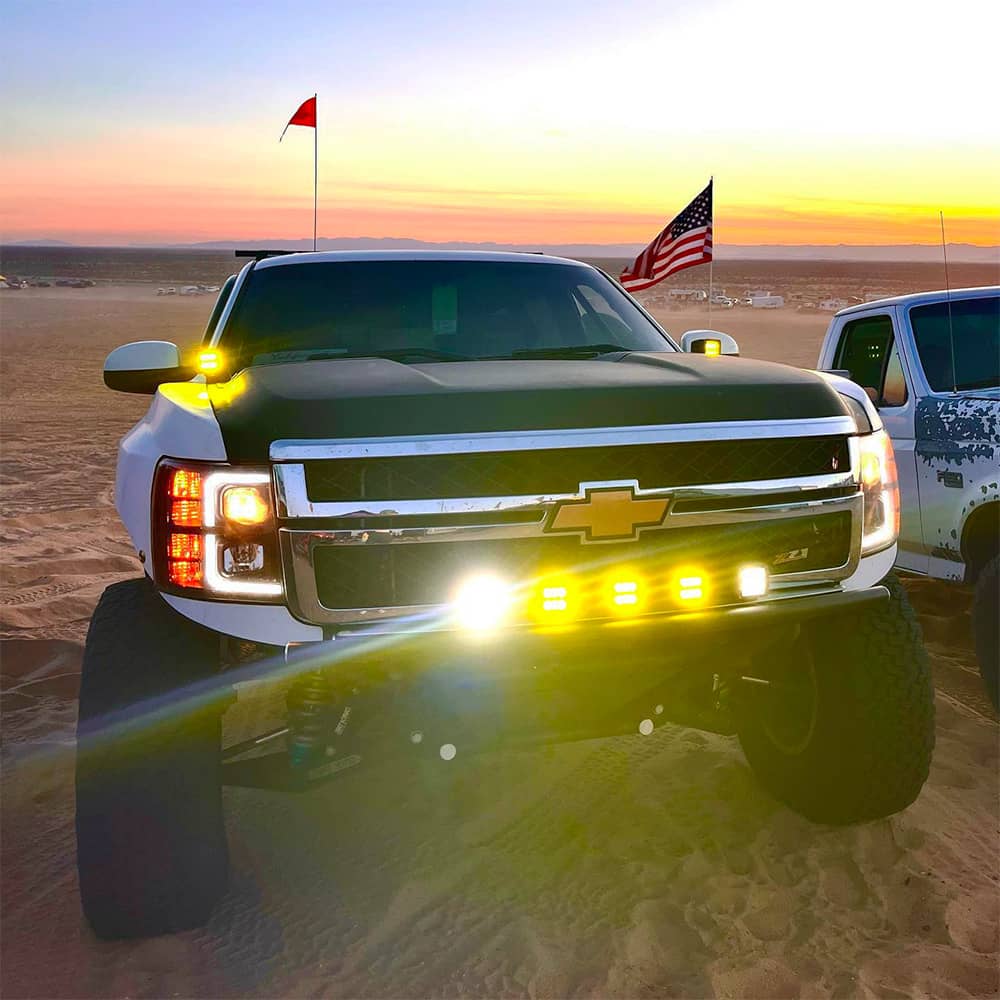 Watch the progress and find out more about this Chevy Tahoe project by visiting the Instagram profile of the owner: @tahoe_prelander!
Stay tuned for more project reviews on Offroadium.com – Follow us on social media, and share this write-up if you enjoyed reading it!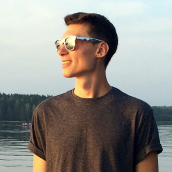 Matt Grabli
Matt brings over a decade of automotive expertise to his role as staff writer and editor at Offroadium.com. With an enduring passion for the off-road vehicles and adventures, he is devoted to creating interesting content that equips 4x4 enthusiasts with the knowledge to improve their rigs.