What is a prerunner truck and how to build it right?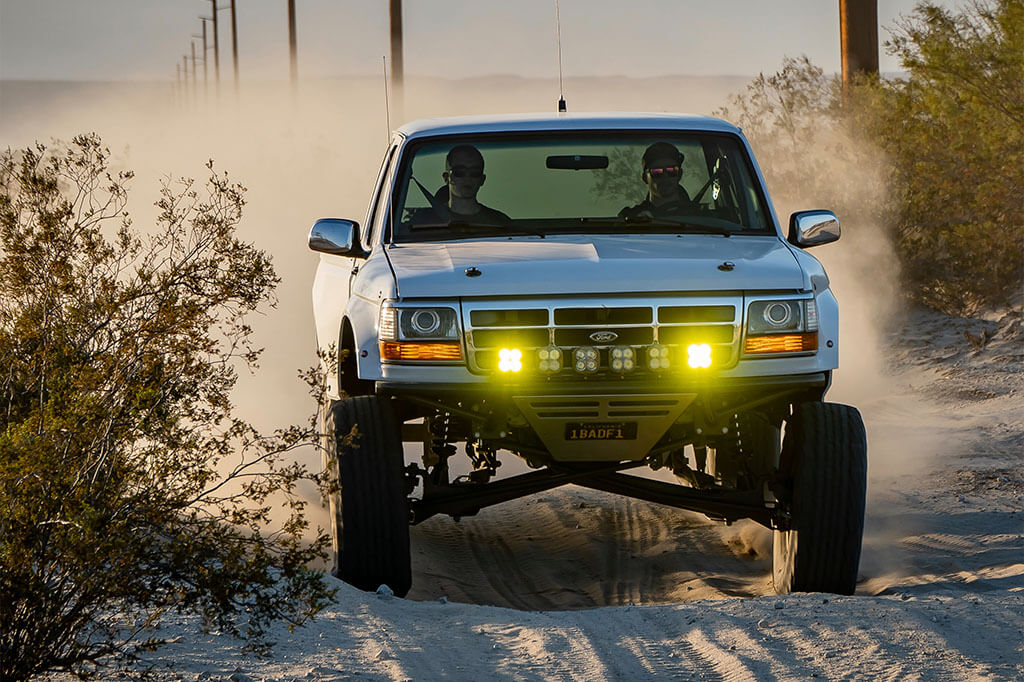 In today's automotive culture, the word Prerunner means a certain truck modification style, that features off-road racing-inspired upgrades, and allows driving at high speeds on desert terrain. Unlike with regular lifted trucks, the suspension travel and damping play a much more important role for these vehicles than improved ground clearance.
The main features of a Prerunner truck build:
Custom fabricated tubular chassis or a body-on-frame truck/SUV
Long travel performance suspension, with advanced damping elements, designed to absorb impacts from bumps and potholes at high speeds, as well as the jumps without bottoming-out.
Widened track and low center of gravity for better stability and cornering.
Advanced passive security features for a driver and passengers such as the roll cage, bucket seats, multi-point harness, etc.
Oversized A/T or M/T off-road wheels
Bulge bodywork (typically fiberglass) to clear widened suspension components and tires
Recessed front and rear bumpers for improved approach and departure angles
Prerunner in Offroad Racing
It's typically a truck or a buggy modified for high-speed off-road racing and used by racers to pre run (test run) the course before competitions, without the risk of damaging the main race vehicle. A prerunner is usually similar to a race vehicle, but more simple in terms of performance and construction. Off-road racing vehicles greatly vary in forms and shapes, and so are the pre runners.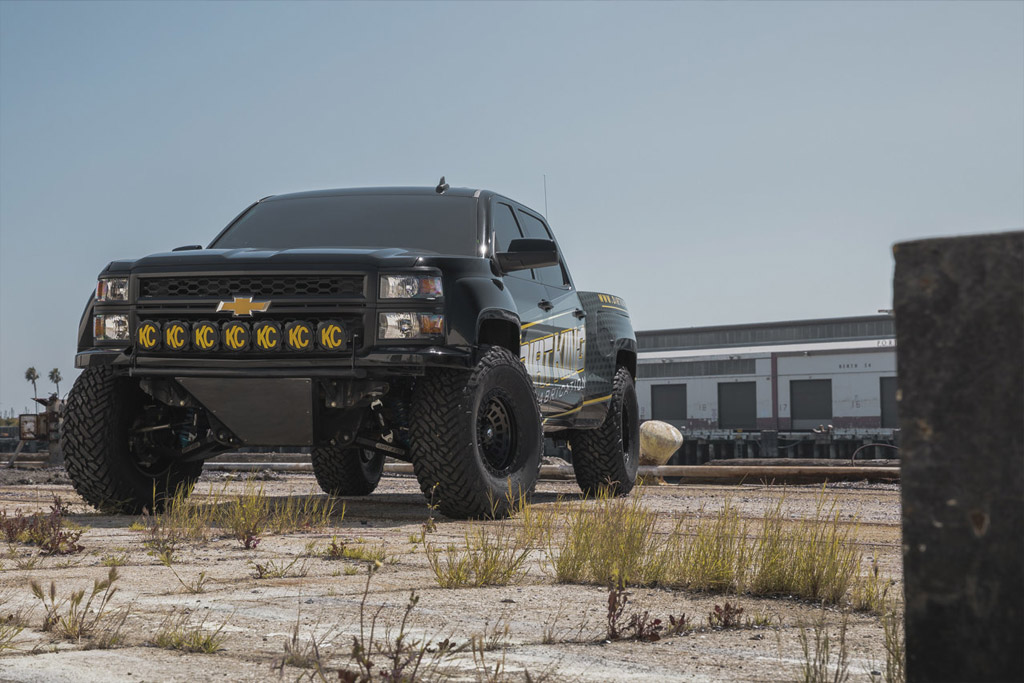 The Origin
The word Prerunner came to us from the autosport and desert races, such as the Baja 1000, in particular. Unlike in road racing, there's no particular course in such competitions, and drivers do not compete on a track or follow a certain path. The whole competition consists of checkpoints, often located in the middle of nowhere, so it's up to the racers to decide which course to choose to get to the destination faster than competitors.
Interesting fact: Spence Murray was the first winner of the Baja 1000. He was driving a Rambler American, which was way far from being the fastest truck in the race. Despite this fact, he won the race simply due to getting lost in the desert less than his competitors.
To learn the course, get familiar with the road conditions, and find the best route to the checkpoint, racers pre-run it. The better they know the track, the higher are the chances to win the race. Depending on the type of competition, pre-running the course takes from two up to seven days.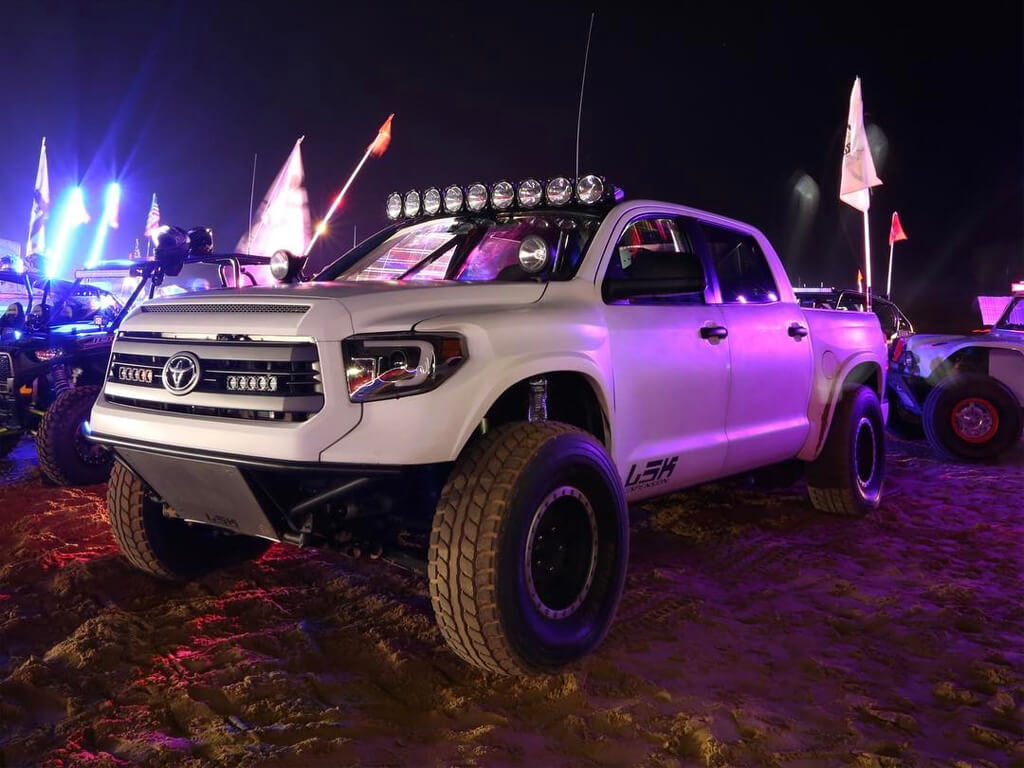 As you can imagine, race trucks and trophy trucks for such competitions as Baja 1000, or Mint 400, feature aero-space grade technologies and enhancements. Often, the cost of such rigs exceeds millions of dollars, and obviously, it could be quite risky to use them for prerunning and training activities. Race teams usually have a couple of less expensive, tucks to fulfill this task, and this is why they are called pre runners. There are usually 3 or 4 people in the team involved in prerunning: driver, navigator, team manager, and mechanic.
A truck for pre-running must be capable of tackling the racecourse, but not necessarily have all the advancements of a trophy truck. They are usually equipped with a long-travel suspension, full-cage, oversized wheels (including the spare), and other recovery gear.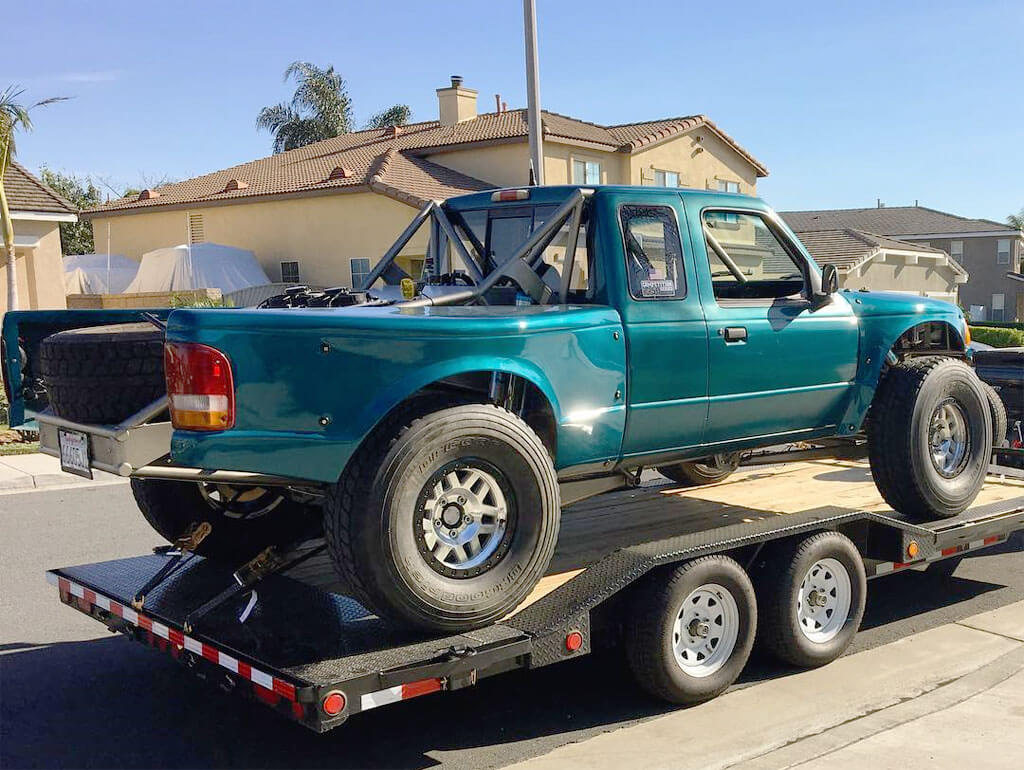 The first privately built prerunners belonged to former racers, mechanics, and fabricators with the roots in desert racing. Stock Volkswagen Type One Beetles modified for use in off-road terrain, known as Baja Bugs, have been a common sight throughout many race events. Modified Bugs and trucks started to attract the attention of the off-road enthusiasts and fans who wanted to engage in desert off-roading. Hopping through the bumps at high speeds, going sideways, and sending the truck up in the air appeared to be one of the most badass forms of recreational off-roading for many adrenaline junkies in California, Nevada, and Arizona. In modern culture, pre runners have been widely popularized by the mainstream off-road magazines, and of course, YouTube.
Today, there is a wide range of fabrication shops specialized in building prerunners and race trucks for recreational use and professional competitions. Depending on your needs, you can order an all-out custom-built trick-truck with an unlimited budget, or get a starter-level bolt-on suspension kit that will bring a lot of fun time wheeling during the weekend.
What are my options?
Let's say you want a Prerunner truck for recreational off-roading or amateur competitions, so what are your options?
#1 Order a custom-built truck at a professional shop (For example this one)
PROS

– you get a safe, reliable, professionally built vehicle, tailored to your needs

CONS

– Only available for people with deep pockets
#2 Buy a used truck (Check our used Prerunner listings to bull park the cost)
PROS

– you get ready to use and enjoy vehicles at a fraction of the cost.

CONS

– it is not tailored to your exact needs; may require complicated repairs of worn-out components
#3 Build the truck DIY (Read on to do an estimate)
PROS

– fully tailored to your needs, a lot of fun garage time, save money on labor

CONS

– Time-consuming, requires a good knowledge base, skills, and resources (you must have the tools, space and a helping hand).
The Truck
The majority of the projects are based on modern full-size trucks, such as the Chevy Silverado 1500 or Ford F150, but smaller trucks as the Chevy Colorado / Ford Ranger and bigger ¾ heavy-duty trucks as Chevy Silverado 2500 and Ford F250 are also suitable.
Vehicles Used as a Base for Prerunner Projects
Type
PICKUP TRUCKS
SUV
CAR

Small
-
-
VW Beetle (aka Baja Bugs)

Mid size

Chevy Colorado
Dodge Dakota
Ford Ranger
GMC Canyon
Jeep Gladiator
Nissan Frontier
Toyota Tacoma
Chevy Blazer S10
Ford Bronco
Chevy Tahoe / GMC Yukon (3 door)
Toyota 4Runner
Dodge Durango
Jeep Cherokee
Jeep Grand Cherokee

Subaru Impreza
Subaru Forester
Full Size
Chevy Silverado 1500
Dodge Ram 1500
GMC Sierra 1500
Ford F150 / Raptor
Nissan Titan
Toyota Tundra

Chevy Tahoe
Chevy Suburban
Ford Expedition
Ford Excursion
GMC Yukon / Yukon XL
Toyota Sequoia
(Didn't exect eh?)
Lexus LS400
Ford LTD
Ford Crown Victoria
Large
Chevy Silverado 2500
Dodge Ram 2500
GMC Sierra 2500
Ford F250

-
-
*Common types of factory cars, SUV and trucks that can be used for pre runner projects.
The word prerunner also refers to one of the trim levels available in the First and Second generations of Toyota Tacoma pickup trucks available from 1998 up to 2015 as per Wikipedia. These trucks featured a 2WD layout, front skid plate, 1.5" lift and 1.5" wider track in comparison with other trim levels.
The Engine
The rule "the more power, the better" is significant, because the engine must provide enough power and torque to maneuver and maintain the high speed. V6 naturally aspirated engines may be enough for smaller trucks like the Ford Ranger, but their performance may not be as sufficient for heavier full-size trucks, so we suggest choosing a large displacement V8, especially if it's supercharged or turbocharged.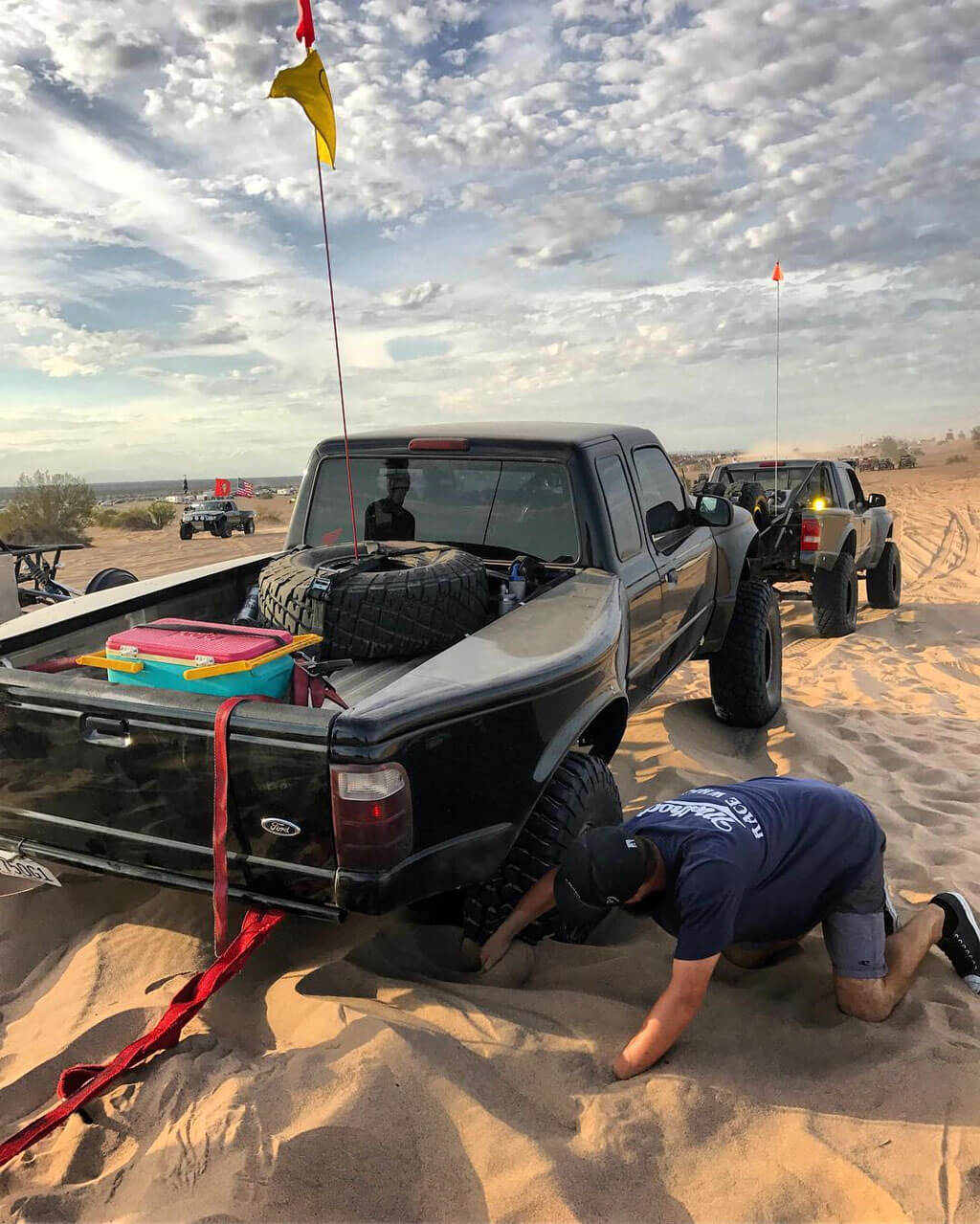 2WD or 4WD
Many say that only the 2WD trucks must be used for prerunning, but it's not the necessity, as both 2WD and 4WD can be easily utilized for this purpose. 2WD trucks are often preferred due to the absence of the front axle and transfer case, which means lighter weight, better suspension travel, and easier modification/maintenance. 4WD trucks, on the other hand, feature a better off-road capability, which minimizes the chances of getting stuck in the middle of nowhere. Additionally, the four-wheel-drive trucks run straight and don't get sideways in a drift like RWD rigs sometimes do.
The Modifications
Suspension
Bolt-on long-travel suspension conversion kits are available for the majority of a modern full-size truck, such as Chevy Silverado and Ford F150. They usually come with all necessary components to replace factory upper and lower control arms and steering components.
Dirt King Fabrication® – Front Long Travel Kit at CARiD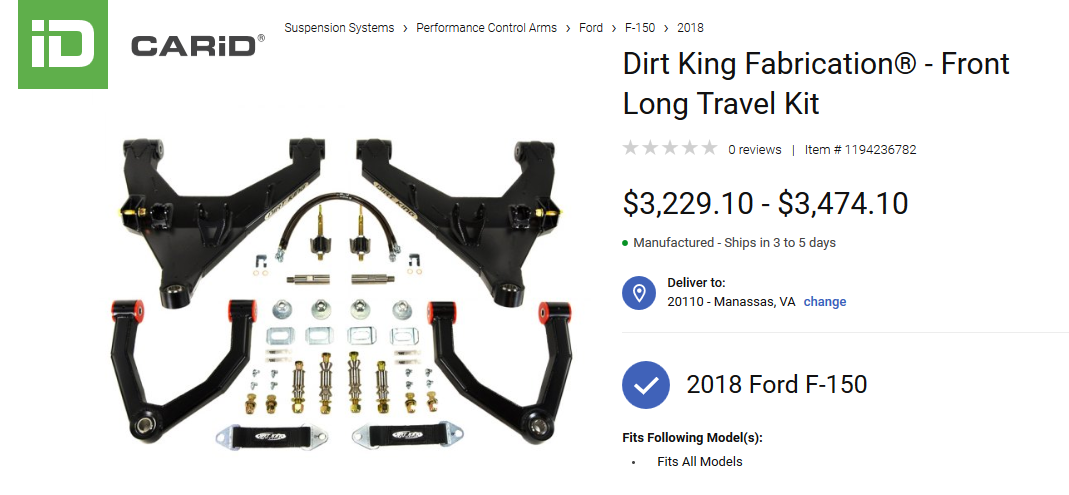 Shocks & Springs
Due to the increased wheel size, weight, and altered suspension geometry, the stock shocks, and springs will require a replacement. Advanced coilovers, single, or dual shock setups with remote reservoirs will ensure proper damping within the entire wheel travel range. The shocks with remote reservoirs are widely used in such applications to enable normal operation under extreme compression. If you choose to go with one of the bolt-on long travel conversion kits, there will be no need to determine the shock size and load rating. Usually, these parameters are predetermined by the supplier of your kit, so you only need to buy the matching part number to complete the kit. Fox and King shocks and coilovers are used in the majority of the Prerunner projects.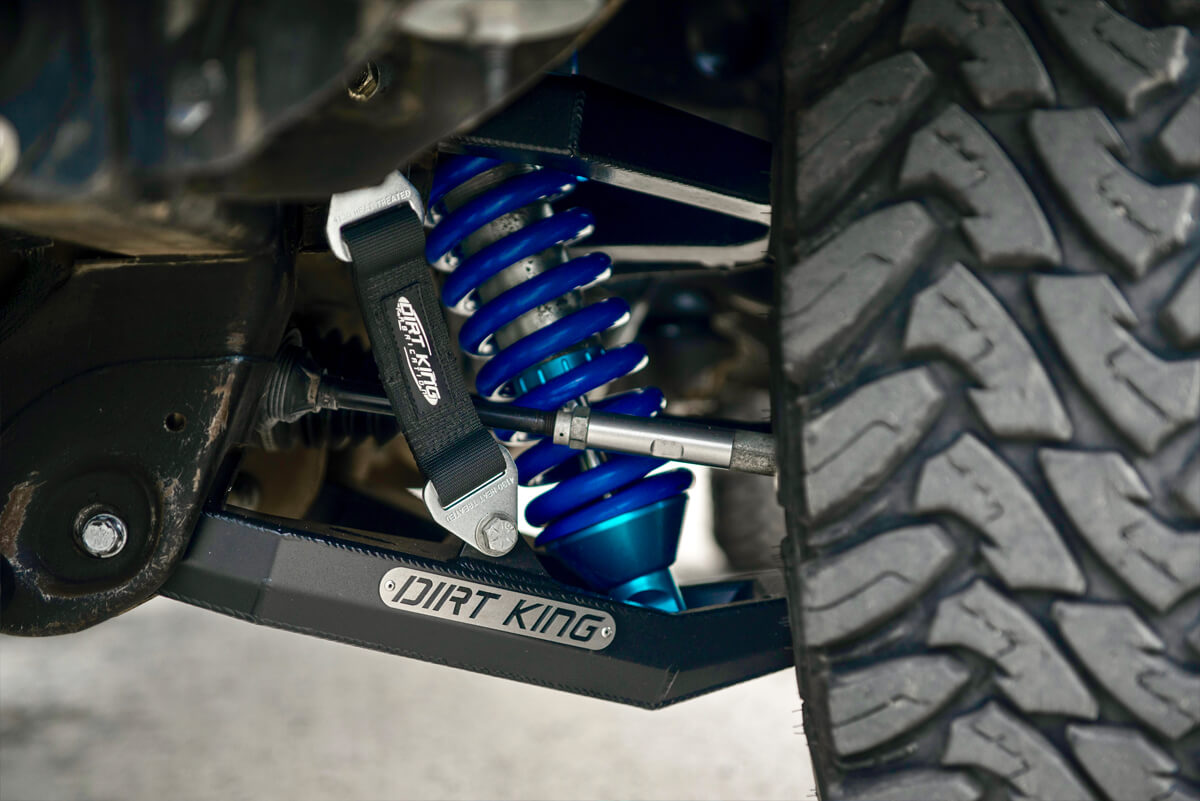 Wheels
Oversized wheels with advanced traction are a must for any off-road rig. Except for getting a confident grip in the sand, mud, and other types of terrain, the overall diameter of a tire plays an important role. 35″-40″ tires allow desert trucks to hover above the minor pots and holes, whereas smaller tires wouldn't roll over. Both M/T Mud-Terrain and A/T All-Terrain tires are used for this application.
Among the wide variety of DOT-approved off-road tires available on the market, you can choose the Race-only rubber to maximize your desert driving experience. Being a competition-tested BF Goodrich Baja T/A KR3 offers improved tread and sidewall puncture resistance, along with a larger contact patch for improved traction, sharper steering response, and shortened braking distances.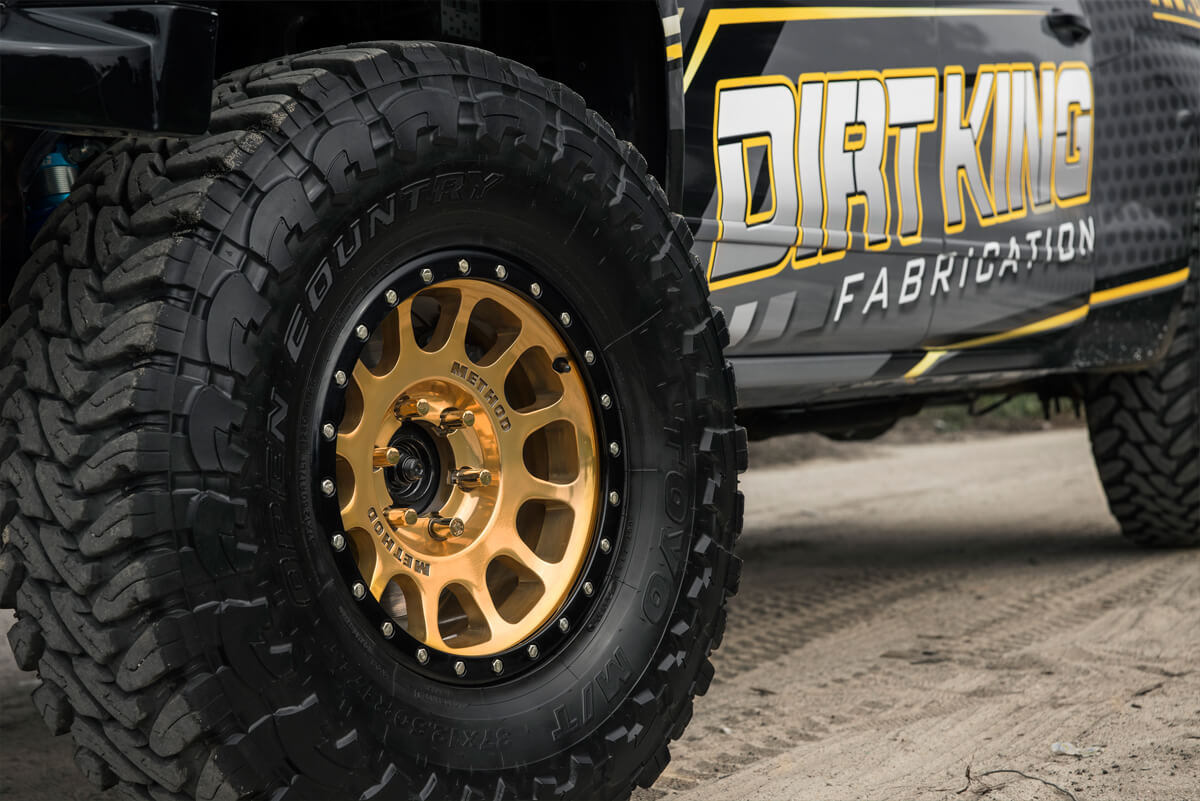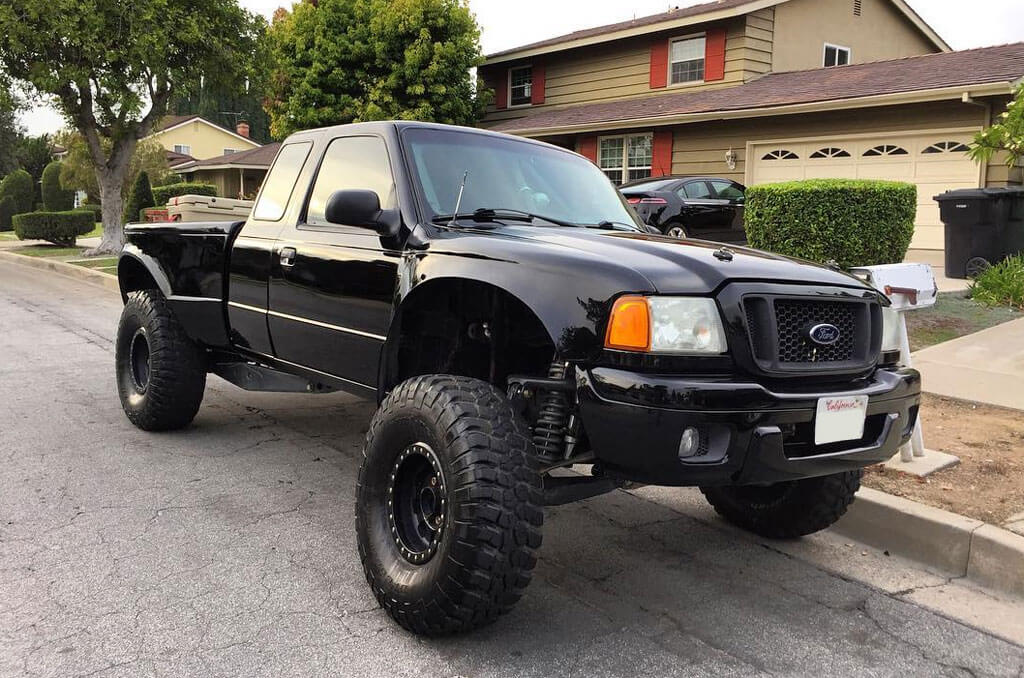 Bodywork
Once the suspension works are completed and the wheels mounted on the truck, you can do the final calculations of the width and the wheel travel. Wide fiberglass fenders are designed to clear the wheels and provide enough space in the arches. The fiberglass front fenders are often integrated into a one-piece front-clip unit similar to the trophy truck body elements.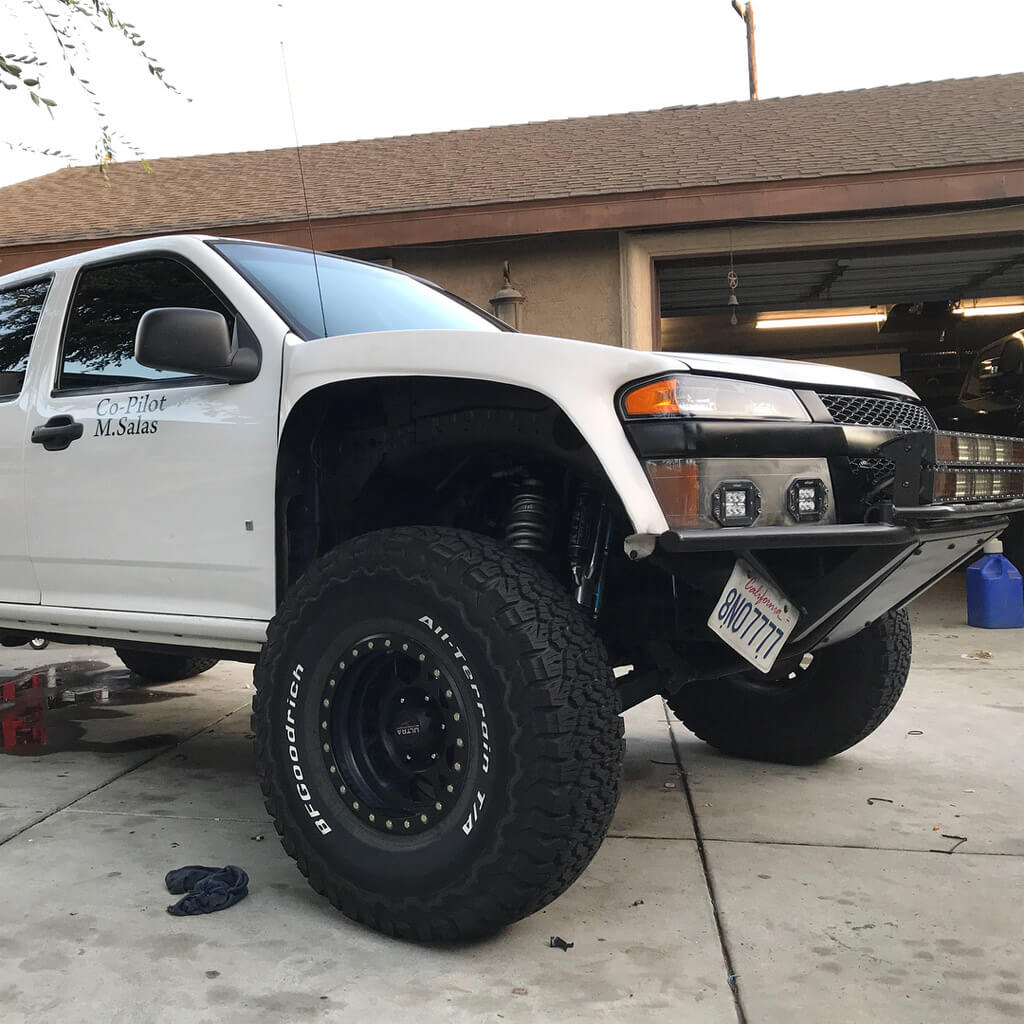 Low-profile tubular bumpers with integrated skid plates are used to increase the approach & departure angles and protect exposed suspension components.
Safety
Desert racing is a dangerous activity due to the unpredictable terrain and high speeds, so every team takes care of proper safety measures.
Recovery
Running wild in the desert without a spare tire can easily leave you stranded in the middle of nowhere, and the chances for a flat tire are very high here.
Most of the prerunners carry either one or two full-size spare tires. They must be conveniently stored on the holder for easy and fast replacement.
Accessories
Among the additional accessories often used for preruner projects are, CB radio, Navigation system, Auxilliary lighting and other gear.
Resources
Related Build Threads