Toyota Tundra prerunner – One Truck To Do It All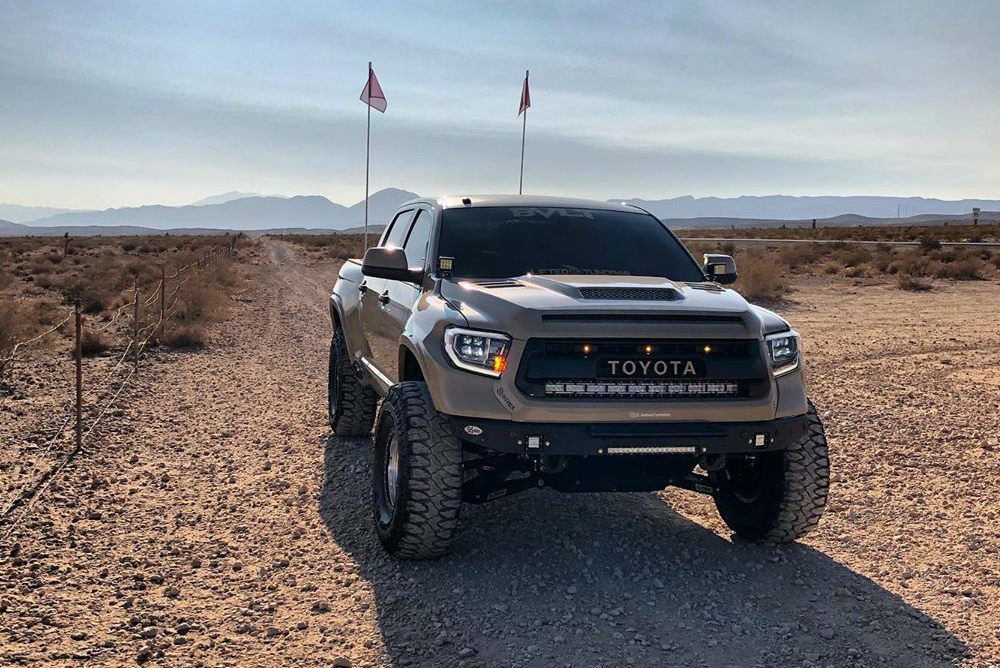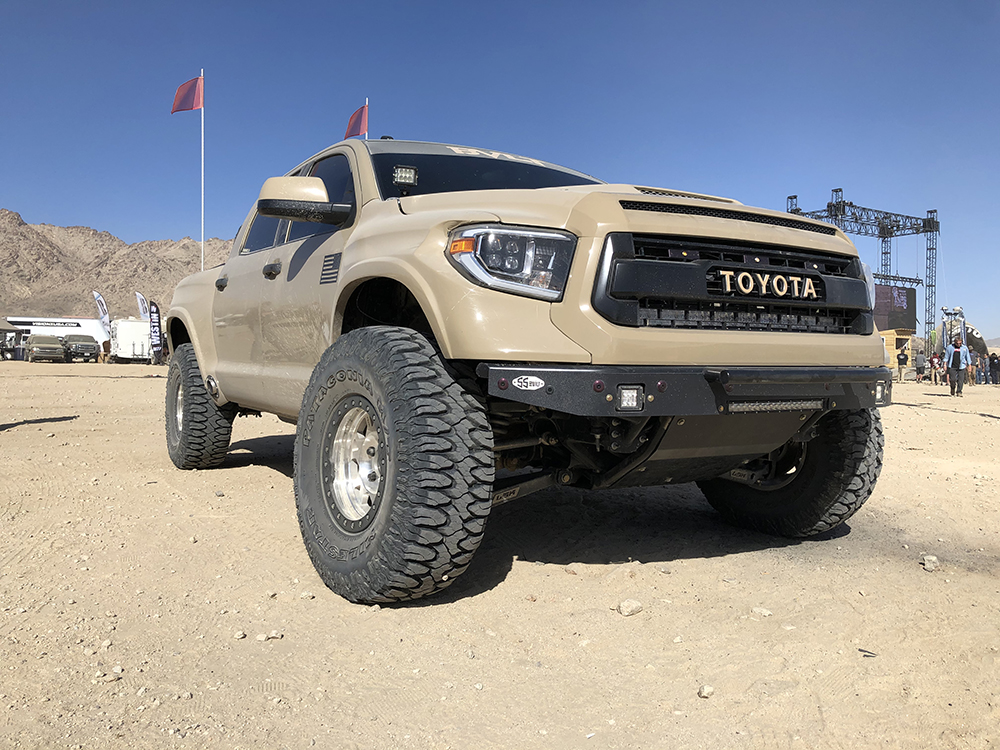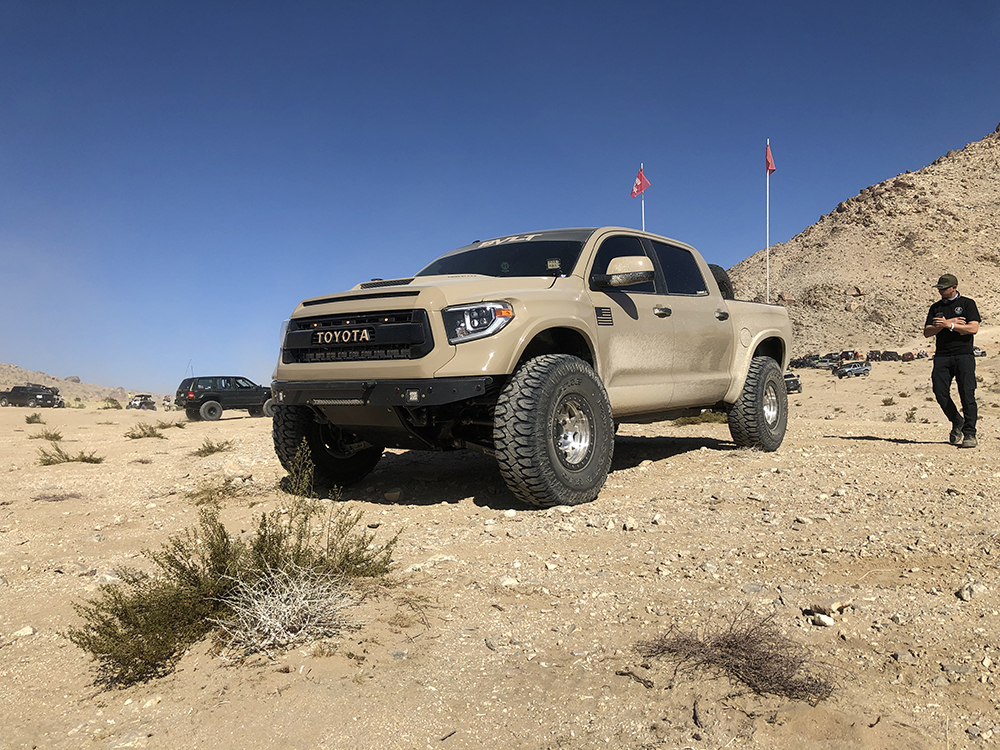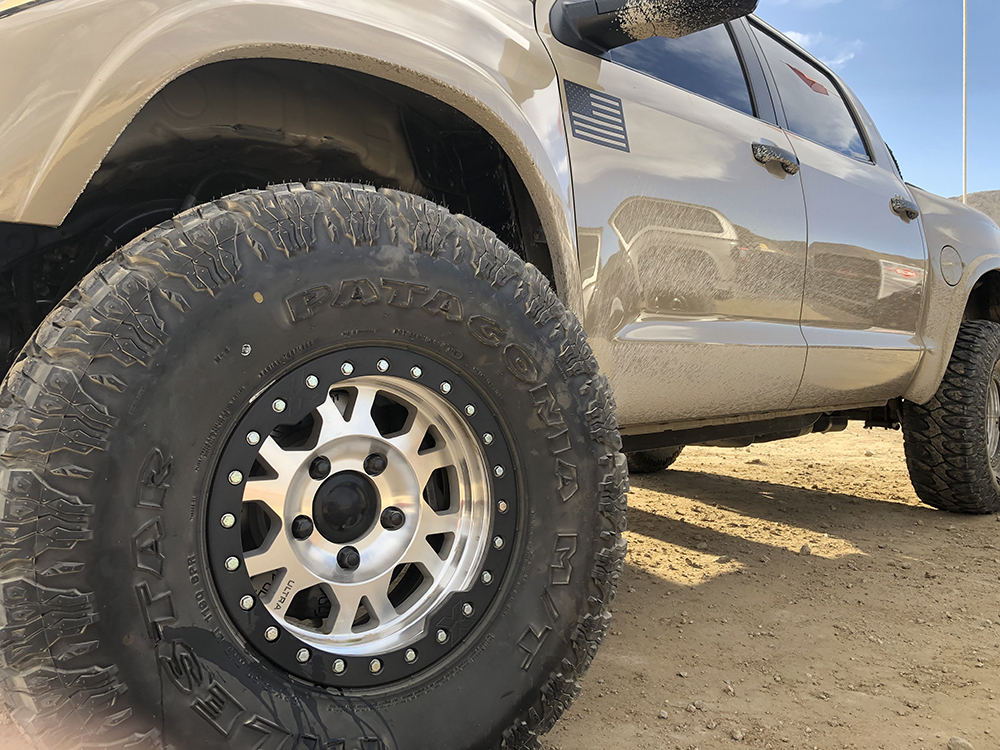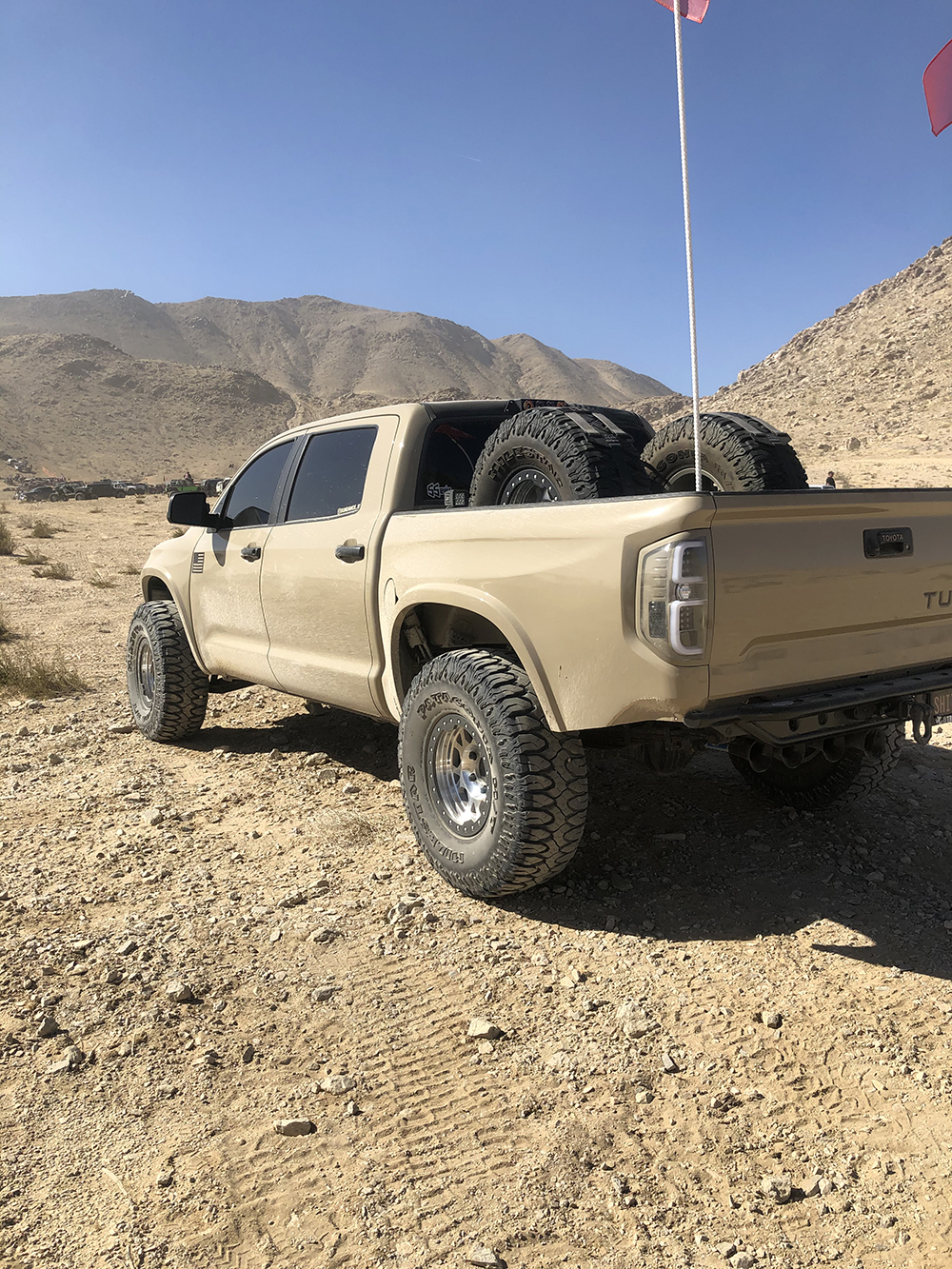 View Gallery
We all know Toyota Tundra trucks as reliable workhorses that easily cope with every challenge that we throw at them, whether it's towing, hauling, exhausting road trips, or anything in between, but how good are they for off-roading?
This question arose in the head of Kyle Piper, Corona, CA, who decided to turn his 2017 Tundra into a street-legal desert truck. His main goal was to build an off-road-worthy Toyota Tundra Prerunner without sacrificing on the comfort of a daily driver.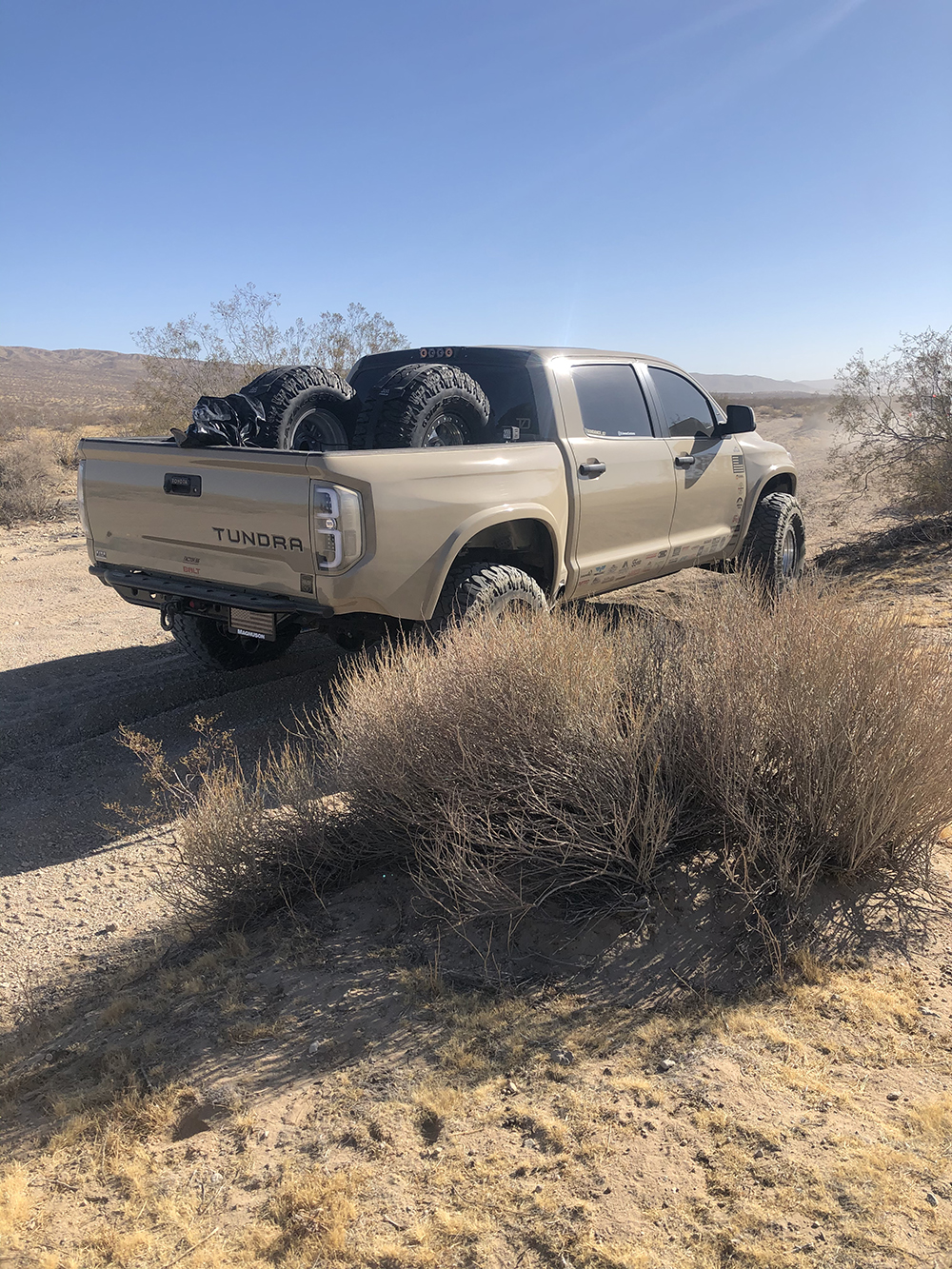 Unlike many modified trucks, this Tundra doesn't have an in-your-face appearance of a race-truck with over-the-top exterior modifications and aggressive wheel/suspension setup, but its extensive spec list will impress any car guy familiar with this type of trucks.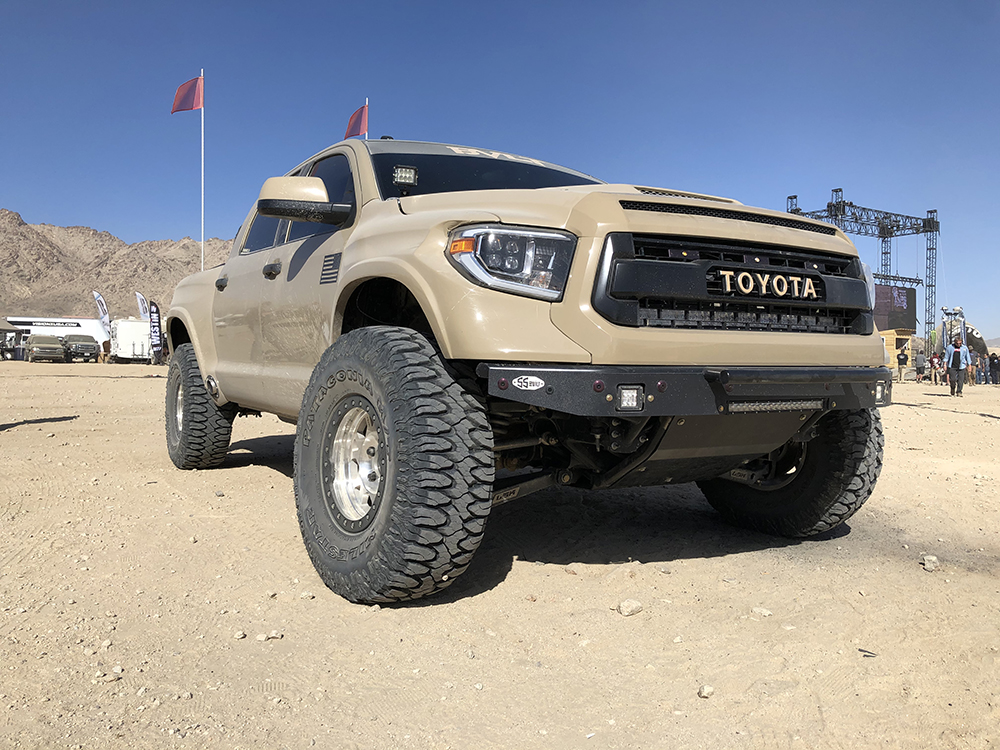 Luckily Kyle agreed to answer a couple of questions about his awesome Tundra pre-runner build and tell us more about it in the interview below.
How did you become interested in off-roading?
I grew up in an area that was known for offroading and was surrounded by it in Southern California. My dad used to go off-roading when I was little.
Why did you choose this particular model for your project?
One of the most reliable trucks out there and had some of the most usable power as well. Not too many Tundras were dedicated offroad trucks and I wanted to do something a little different.
What inspired you to choose this modification style?
I'm all about function and performance. Most of my modifications are to increase power, reliability and find the balance between street and offroad. I wanted something that was subtle enough but also caught your eye and caused you to do a double-take.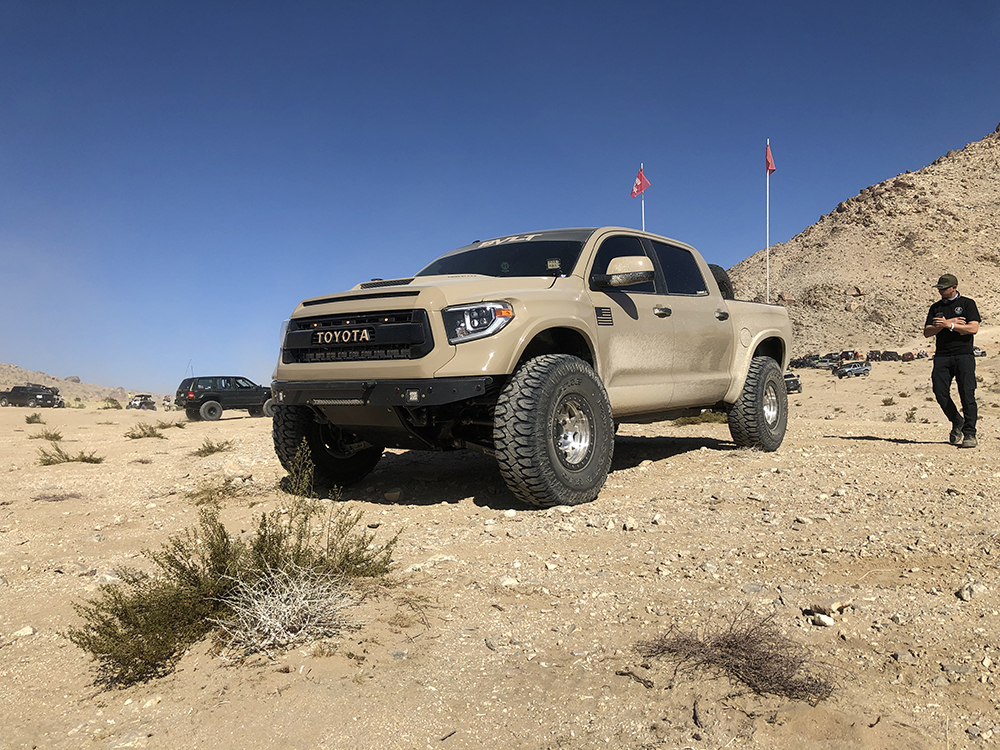 What challenges did you face while putting it together?
How far I wanted to really go into the offroad side before I started losing functionality as a street/daily driver truck. When you start switching out some parts, that causes to switch out others in order to keep the reliability intact. The biggest hardship is keeping the balance and function of a badass offroad truck that your girlfriend or wife can drive to the grocery store with ease.
What do you love about your vehicle?
I love that my vehicle doesn't scream at people. Yeah it's an off-road truck but it's nothing out of the realm of possibility for others. It's not all cut up like most dedicated dirt trucks and still has a nice look that makes you know it's still a Tundra. I wanted to create a Tundra that looks like it was a dealership option.
Is it your daily or a weekend ride?
It's more of a fun/weekend ride but is built in a way that it can be a daily driver without being too high maintenance. I tried my best to keep everything as daily-driver-friendly as possible.
Do you take it off-road? If so, where and how often?
Yes. As much as I can. I try and take it out at least once a month if I can.[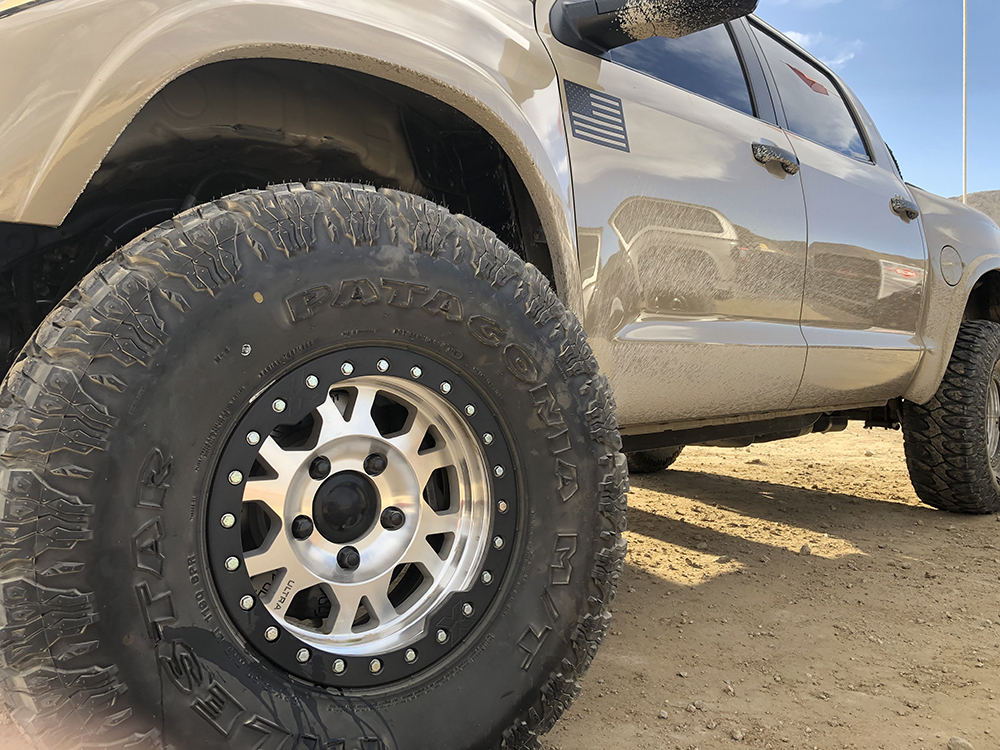 2017 Toyota Tundra Prerunner – Specs
Engine specs, modifications
Magnuson Supercharger
Doug Thorley Long Tube Headers
Custom routed side exit exhaust by Dirt Skum with Black Widow Race Venom Muffler
DAP Tuned
CBR Aluminum racing radiator
Lift height and suspension modifications
3-4" lift
LSK Race Kit with UCA and LCA
Locked Offroad 2.5's with remote reservoirs and triple bypasses
Deaver U748 rear leaf springs with Total Chaos shackles
King 2.5's w/remote reservoirs custom valved
Locked Offroad Bump Stops
Wheel specs
Ultra Wheel Company x103 true beadlocks
17×9.0 with -13.7mm offset
Custom textured powder-coated bead ring by Maverick Powdercoating
38×13.0 Milestar Patagonia MT
Exterior mods
Lights
Cali Raised double row42" behind the grille
Cali Raised 20" single row in bumper
Cali Raised 3×2 amber pods in bumper
Cali Raised side shooter ditch lights
Cali Raised 3×2 amber rear chase lights
Yota LEDs raptor grille lights
Alpha Rex Nova series headlights
Go Recon taillights custom retrofitted by CW Custom Lights
Armor
SS Built front and rear bumpers
SS Built engine skid
Advanced Fiberglass Concepts fenders and bedsides
RK Sport fiberglass hood
Wrap Armor satin black roof wrap and color matching wrap for fenders, hood, and bedsides
Line X bed liner
SDHQ rear chase rack with spare tires, Pro Eagle 3 ton jack and Powertank 15lb tank
Interior mods
Custom PRP racing seats, harnesses and QR steering wheel
Wrap Armor custom blackout wrapped interior pieces and custom suede interior with some extras
ESP underwear storage
Getta Grip custom shifter
Tech 12 Volts complete stereo system overhaul. 2 12" Hertz subs with a custom box, Hertz complete door speakers, custom a pillar speakers from
Hertz, custom dashboard speakers, JL amp and complete Kenwood Headunit swap.
All other mods
Nitro Gear 4.88 gear kit
Auburn Pro LSD
R1 Concepts custom engraved rotors and pads
Hornblasters spare tire delete kit with Conductor train horns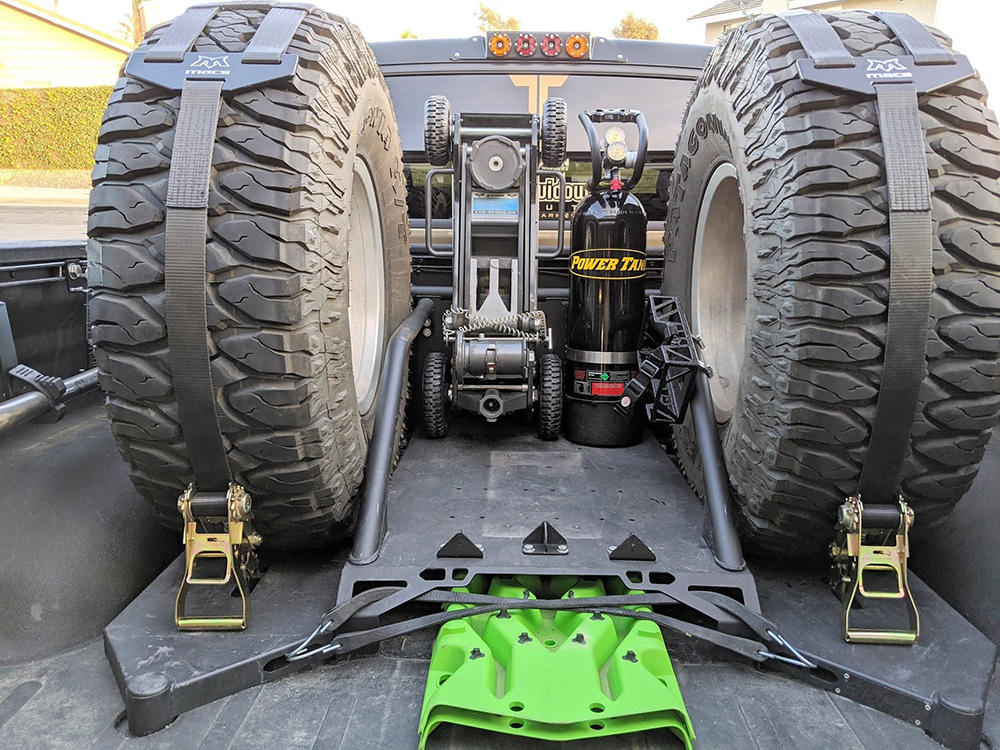 What are your future plans for this truck?
I will be continuing to do more interior work like the custom center console, interior cage, racing seats in the rear and some other tweaks inside.
I will be linking the rear suspension with the LSK rear link kit and Locked Offroad shocks, bypasses and bumps.
Anything else you would like to share about your vehicle or about the off-roading in general?
This enthusiast community should be about helping each other and bringing people together. No matter if you're offroad, street, car, truck, etc we all need to be an actual community. We should be sharing in the true "car culture" with one another and not bringing a bad connotation to this community. No matter our tastes we should all be connected through the simple fact about building our vehicles to our own wants and needs.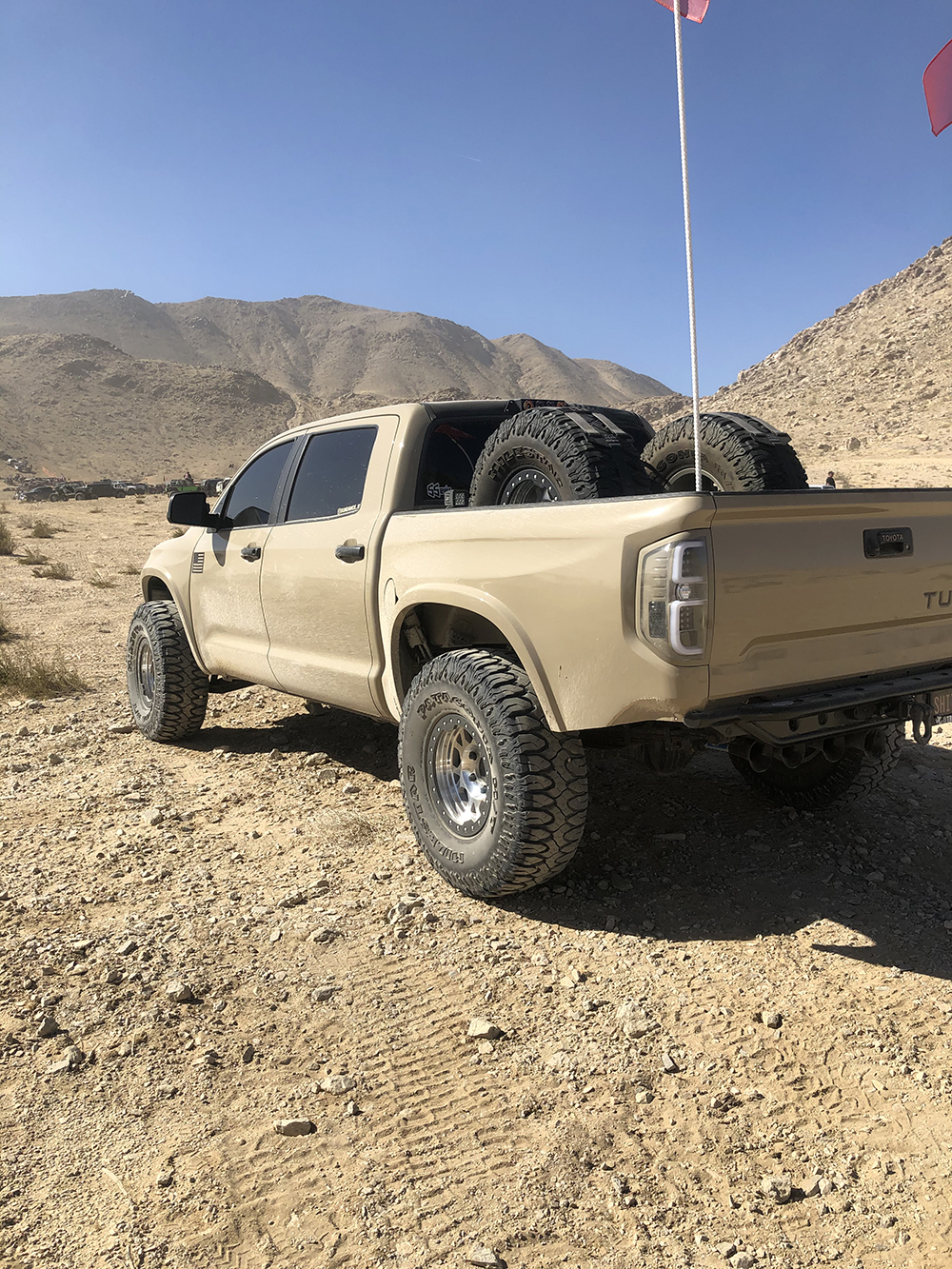 Watch the progress and find out more about this Toyota Tundra pre runner project by visiting the Instagram profile of the owner: @sundance_67!
Stay tuned for more project reviews on Offroadium.com – Follow us on social media and share this write up if you enjoyed reading it using the share buttons below!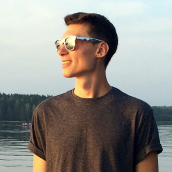 Matt Grabli
Automotive journalist and technical writer at Offroadium.com with more than 10 years of experience in the sphere of aftermarket parts and 4×4 vehicle modifications. Passionate about off-roading, outdoor adventures, and an active lifestyle.