How to build a Chevy Tahoe prerunner – FAQ & Pictures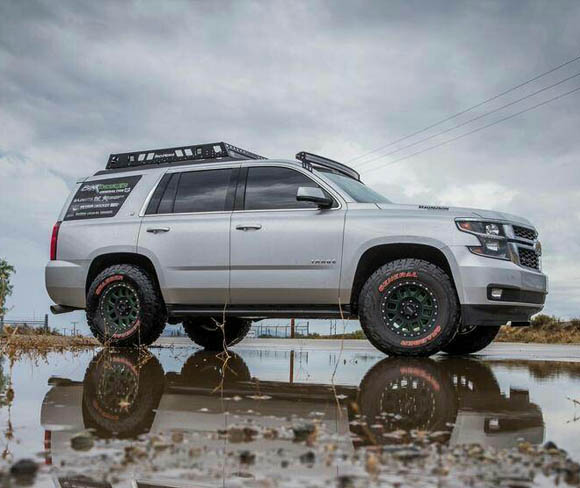 It's not a secret that typical suspension lift solutions aren't always capable of handling serious off-road action. If your main objective is spirited driving on desert terrain you'll definitely need to consider a starting a prerunner-style build. In this article we will provide some information that may be useful for someone trying to figure out the basics of a Chevy Tahoe prerunner build before contacting a professional shop or those who consider starting their own DIY project.
So what's a prerunner?
– There are no strict standards of building a prerunner, but this term is typically used to describe an off-road truck that is equipped with long travel suspension, beefy tires, wide bodywork to fit them, and low-profile bumpers to reduce the approach/departure angles. As you understand, Tahoe prerunner builds may vary greatly in style and complexity depending on the goals of an owner and the budget.
Even though the market offers a lot of bolt-on solutions for these trucks, their installation will require a higher level of expertise from a mechanic, so installing even a basic pre-runner suspension kit will take more time an effort compared to a regular lift kit. If you are looking to start a DIY project, you should definitely feel comfortable with going beyond the installation manual and creative enough to find custom solutions.
Key Components of a Tahoe Pre-runner Build
Suspension
Wheels & Tires
Fiberglass bodywork
Safety
SUSPENSION
The similarity with Silverado prerunner trucks plays a key role here because many of the front suspension solutions can be utilized or adapted to a Tahoe. Short, mid and long travel kits will improve articulation and stability of the suspension even on the toughest terrain with lots of high peed bumps. Late model Tahoes come with either springs or air bags on the back that can be easily converted to coilovers with tougher off-road shocks like Fox or King.
There are not many Chevy Tahoe prerunner kits on the market today, however there are few brands that do offer solutions for this model and one of them is famous BajaKits by Brenthel brothers. These guys are famous for fabricating some of the best off-road race vehicles for such famous events like Baja 1000 and Dakar race.
There are few base suspension kits that give about 9 inches of travel which may be enough for recreational off-roading, however if you're up to something more serious you should definitely check out their complete racing prerunner kits for 2WD and 4WD applications that give impressive 18″ of suspension travel.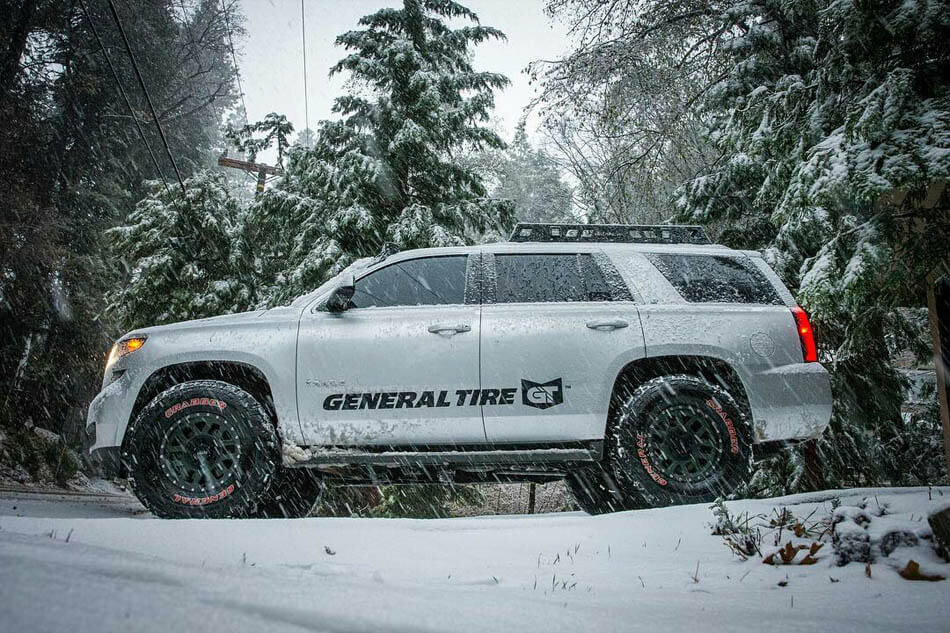 TIRES
Once you made up your mind on the suspension setup it's the right time to think about the tires. If you run long upper control arm setup with mild travel and want to stick with stock fenders – 33" tires would be the best bet. More aggressive suspension setups with larger tires will require some modifications in the fenders department.
FENDERS
As of right now 2015&UP Chevy Tahoe bulge fenders are not available at the moment but you should definitely check out Fiberwerx as they may be releasing a set anywhere in the future. Bushwecker cut-out flares may also work if your wheel travel allows some clearance in the bottom position.
BUMPER
2015-2017 Chevy Tahoe offroad bumper is also something that is not available on the market at the moment but you can fabricate one on a custom order.
OTHER MODS
The rest of modes for Chevy Tahoe prerunner project are pretty much universal so you can choose any non-model specific application to make your off-road adventures even more comfortable and safe.
You will definitely need something to light up your path on the trails, so a roof or bumper mount LED lightbar is a must.
Racing buckets or suspension seats with multi-point harness will keep you planted no matter how hard you jump on a high speed bump. Spare tire and tools can be either mounted on a tailgate tire carrier or simply kept in horizontal position in the cargo are for better weight distribution.
We hope that our short write-up and these beautiful pictures will help you to see the full potential of this model and inspire to build a truly capable Chevy Tahoe prerunner project.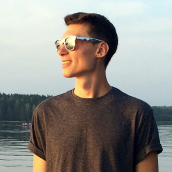 Matt Grabli
Matt brings over a decade of automotive expertise to his role as staff writer and editor at Offroadium.com. With an enduring passion for the off-road vehicles and adventures, he is devoted to creating interesting content that equips 4x4 enthusiasts with the knowledge to improve their rigs.