Ford E350 Econoline QUADVAN Conversion Off-road Camper Build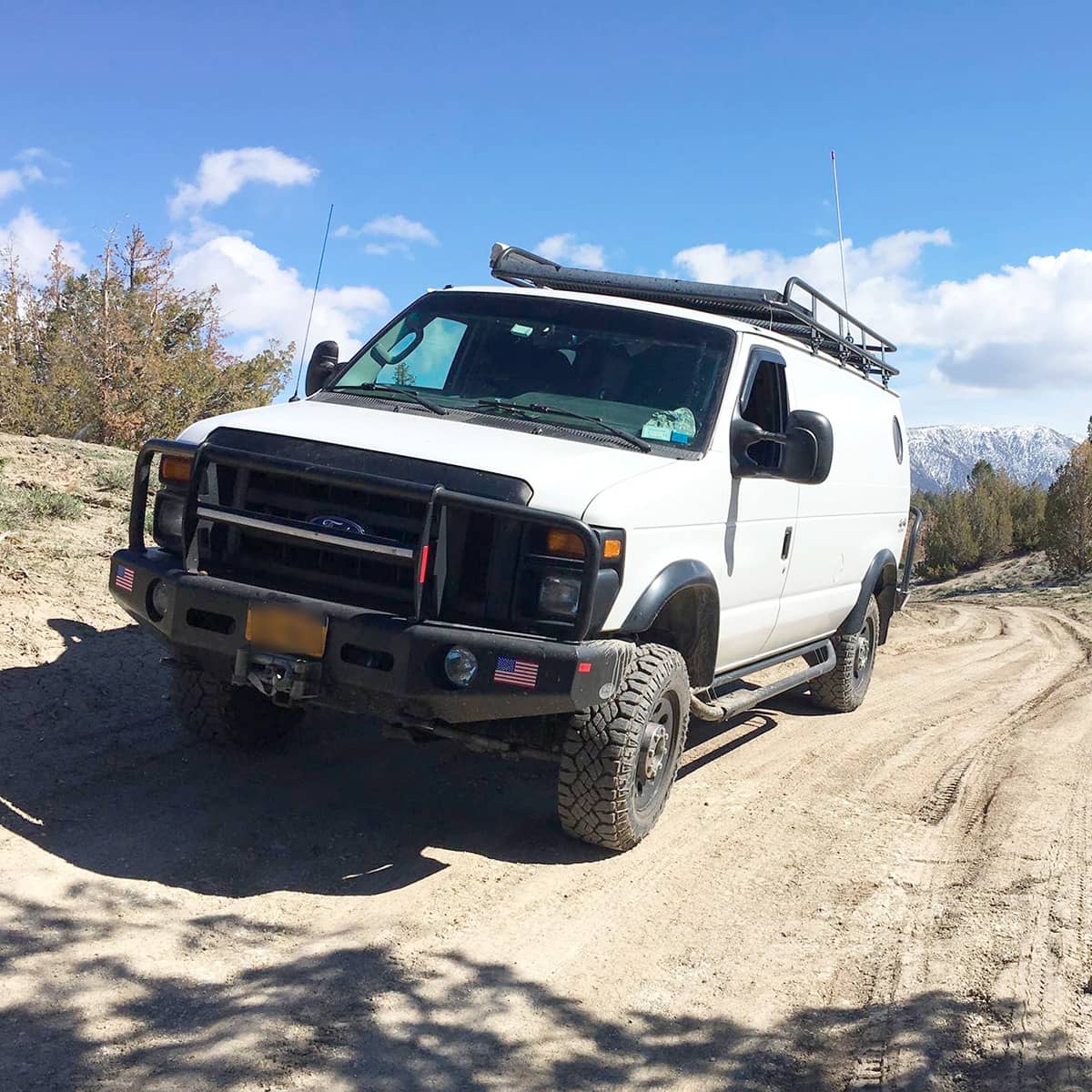 The van life movement has exploded in popularity in recent years as more people seek adventure on the open road. For those looking to truly get off the grid and explore remote locations, few vehicles can compete with a fully converted camper van built for off-road travel.
One such beast is this 2009 Ford E-350 that has been meticulously converted by Quadvan into the ultimate overlanding machine. With significant upgrades to the drivetrain, suspension, exterior, and interior, this van is ready to take on any terrain.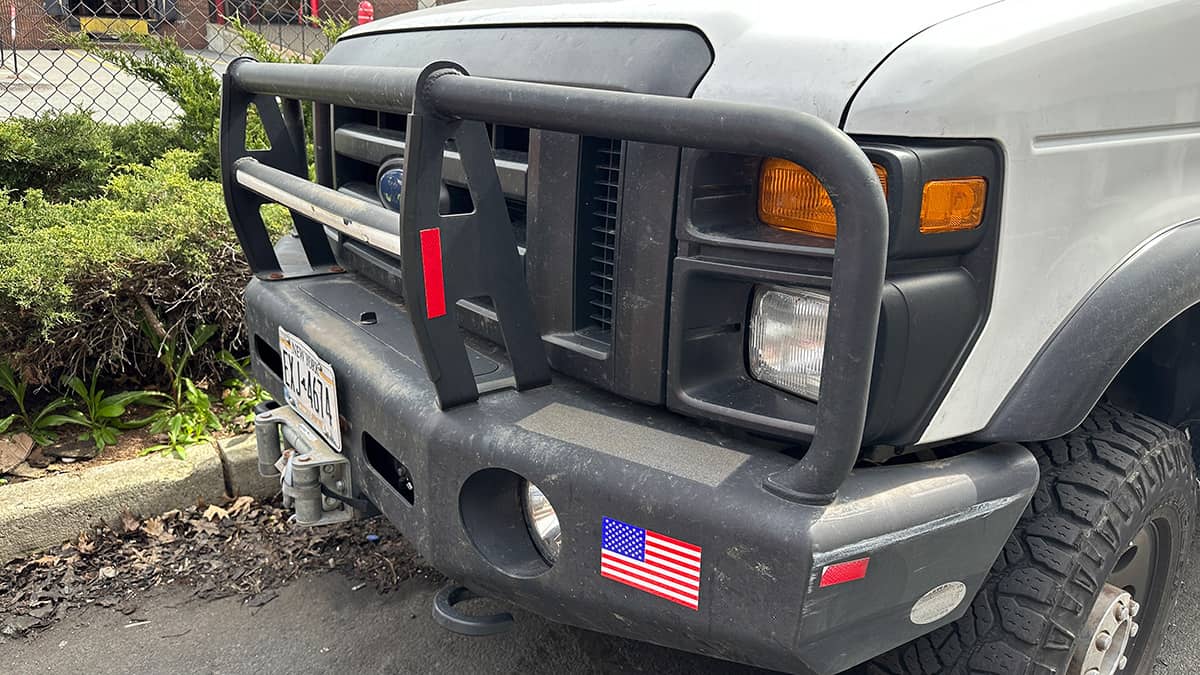 Key Facts
2009 Ford E350 Econoline with 148,000 miles
Powered by a 5.4L V8 engine, rebuilt transmission at 110k miles
4×4 conversion by Quadvan, using axles from 2009 Harley Davidson F150
46 gallon fuel tank for extended range
E-locker front differential and Eaton Truetrac rear differential
Upgraded Quadvan suspension with extra leaf at Deaver Springs
265/70R17 tires on aftermarket wheels with 30k miles
12,000lb Warn winch on custom front bumper by Buckstop
Aluminess rear bumper, roof rack and baja box for storage
Two new solar panels and upgraded electrical system
Insulated interior with fridge, galley, fantasic fan, and more
Price – $27,000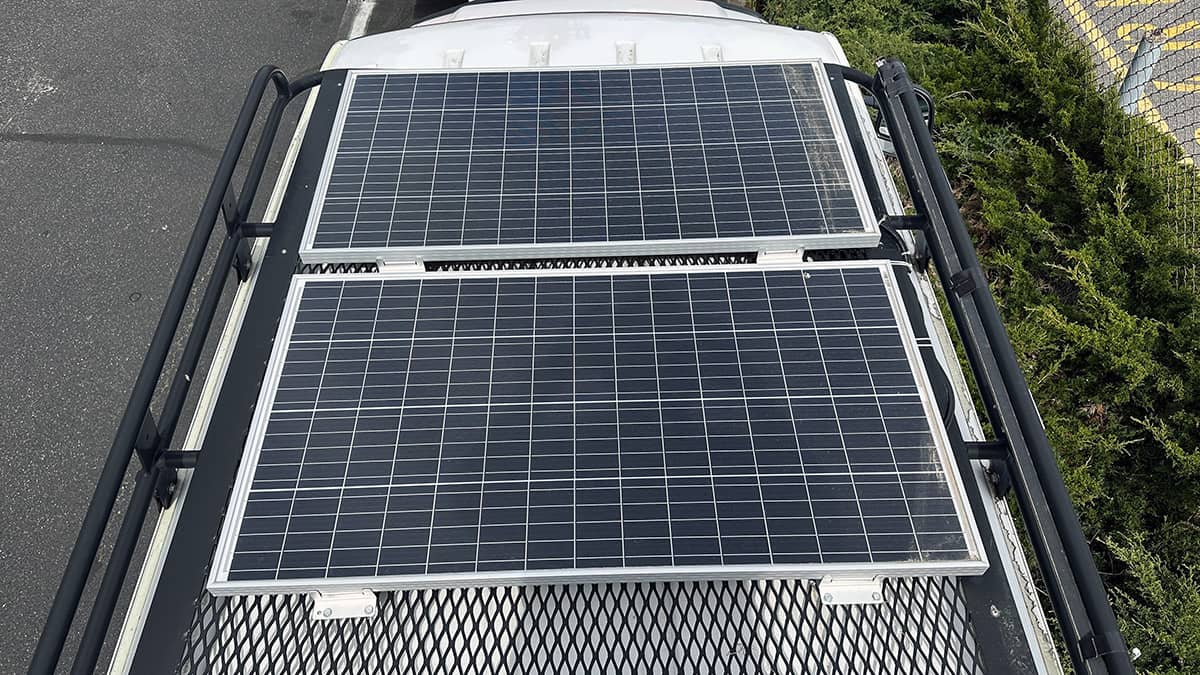 Ford E350 Econoline Quadvan Build
Off-Road Wheels, Suspension & Drivetrain
This van's off-road cred starts with its rugged suspension and drivetrain. Quadvan installed a 4×4 system using sturdy axles from a 2009 Harley Davidson pickup. This gives it solid Dana 60 front and Dana 80 rear axles. They added an E-locker to the front differential and a Truetrac limited slip differential to the rear for serious traction.
The suspension utilizes Quadvan's custom leaf spring pack with an extra leaf added at Deaver Springs for more load capacity. Combined with the 17″ wheels and 10-ply Duratrac tires, this van has tremendous articulation and clearance to crest rocky trails. Rebuilt at 110k miles, the transmission is ready for adventure.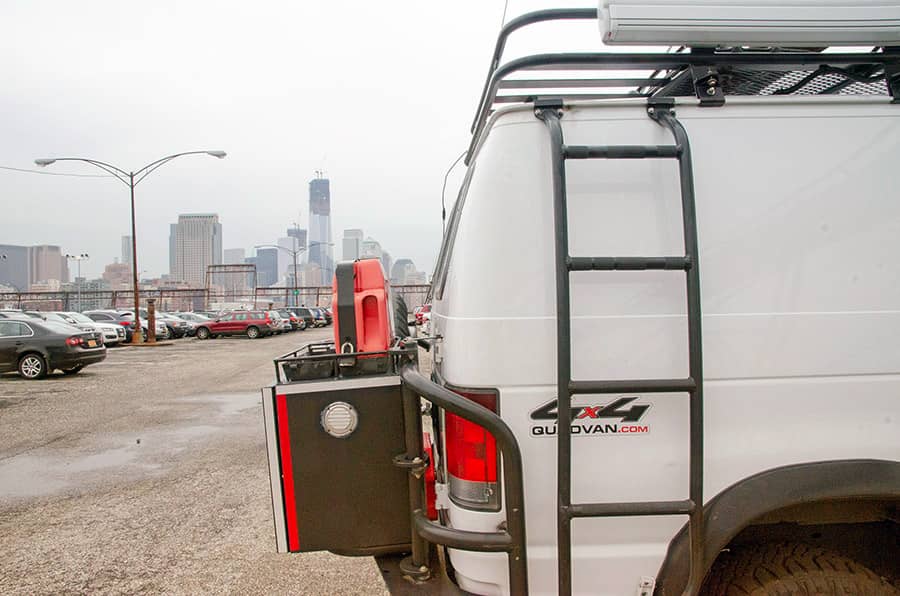 Exterior Modifications
Outfitted for self-reliance and storage, the exterior features a range of upgrades. The front sports a steel bumper from Buckstop with an integrated 12,000lb Warn winch that can pull you out of any sticky situation.
Out back, a tough Aluminess bumper and baja box provide expanded cargo capacity. An Aluminess roof rack up top can haul even more gear. With 46 gallons of fuel capacity, you can go the distance off-grid. New solar panels feed into the upgraded electrical system to keep you powered indefinitely.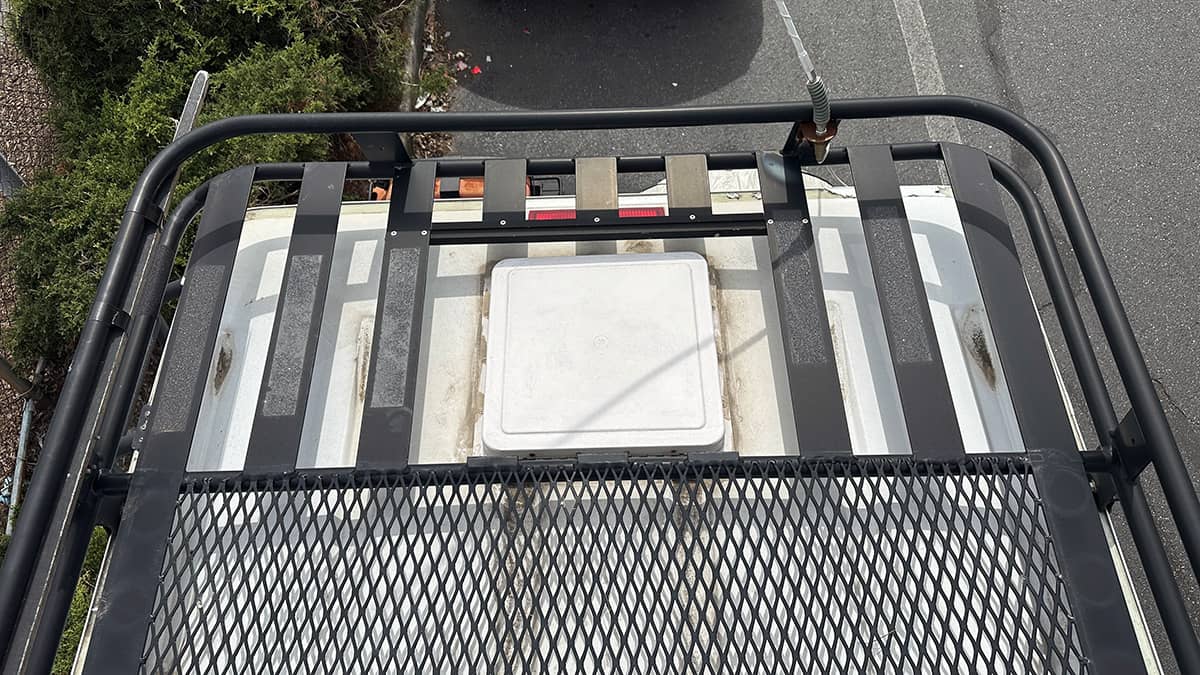 Interior Modifications
Inside, the living space has been optimized for comfortable camping. Thick insulation keeps temperatures comfortable in any climate. The workhorse Engel fridge/freezer slides out for easy access.
A galley box on the side door contains the cooking essentials. With abundant power thanks to upgraded alternator, batteries, and inverter, you can run accessories with ease. Multiple AC outlets throughout enable you to charge devices and plug in tools. This is a turnkey overlander ready for adventure.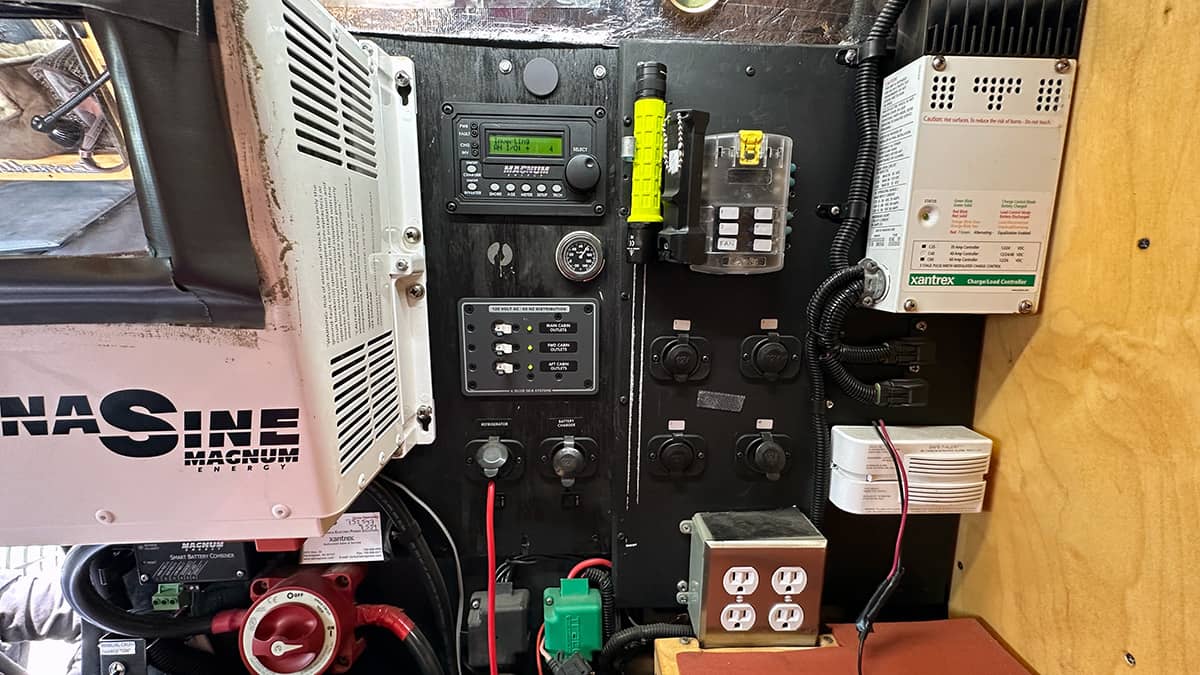 Expert Opinion
I'm thoroughly impressed by the quality and capability of this Quadvan camper conversion. They did an outstanding job selecting top-shelf components like the Harley Davidson axles, upgrading key mechanical parts like the transmission, and dialing in the suspension geometry.
This van can flex its off-road muscles while also serving as a comfortable mobile dwelling thanks to considered touches like plentiful power, extensive insulation, and storage options. The relatively low mileage means you can pile on many more overlanding miles worry-free.
Whether blazing trails out West or trekking to secluded sites in the Northeast, this van is up for the journey. The asking price is very reasonable when you consider the cost of the conversion work and upgraded components. If you're looking to live the van life to its fullest potential off the beaten path, this 2009 Ford E350 Quadvan camper is an ideal rig.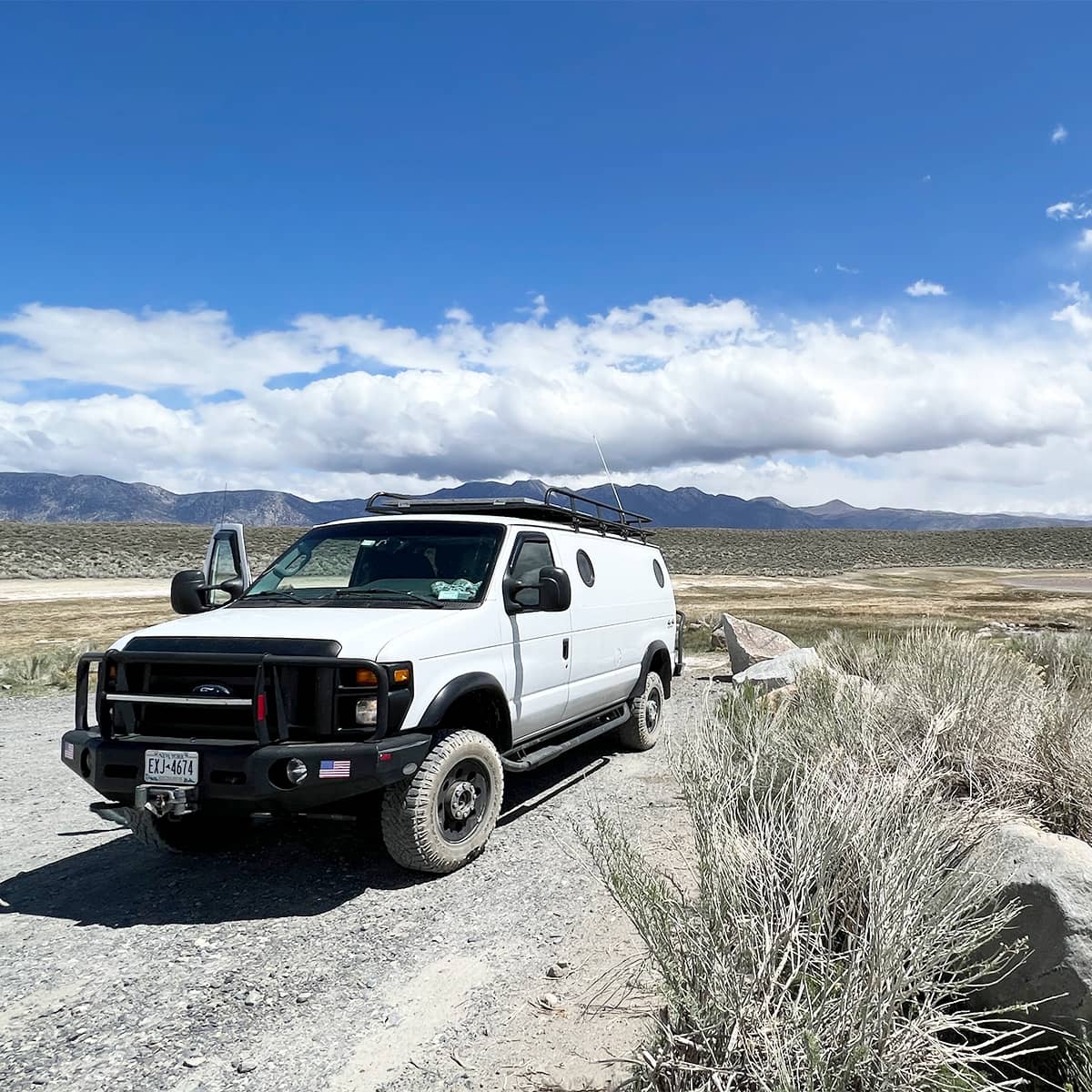 Conclusion
This premium off-road camper van conversion leaves little to be desired for overlanders seeking rugged capabilities. With Ford's proven E350 Econoline platform enhanced by Quadvan's 4×4 drivetrain and suspension upgrades, it can handle any terrain.
Outfitted with top-quality gear inside and out, it provides convenience and self-reliance. The seller has maintained it to high standards. This off-road van is for sale at $27,000 and located in New York City, but possible delivery available, everything about this van says adventure awaits.
Contact the seller: [email protected] or @motelsign on Instagram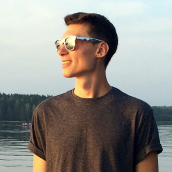 Matt Grabli
Matt brings over a decade of automotive expertise to his role as staff writer and editor at Offroadium.com. With an enduring passion for the off-road vehicles and adventures, he is devoted to creating interesting content that equips 4x4 enthusiasts with the knowledge to improve their rigs.