Jeep Grand Cherokee 32 inch Tires – Pictures and Wheel Specs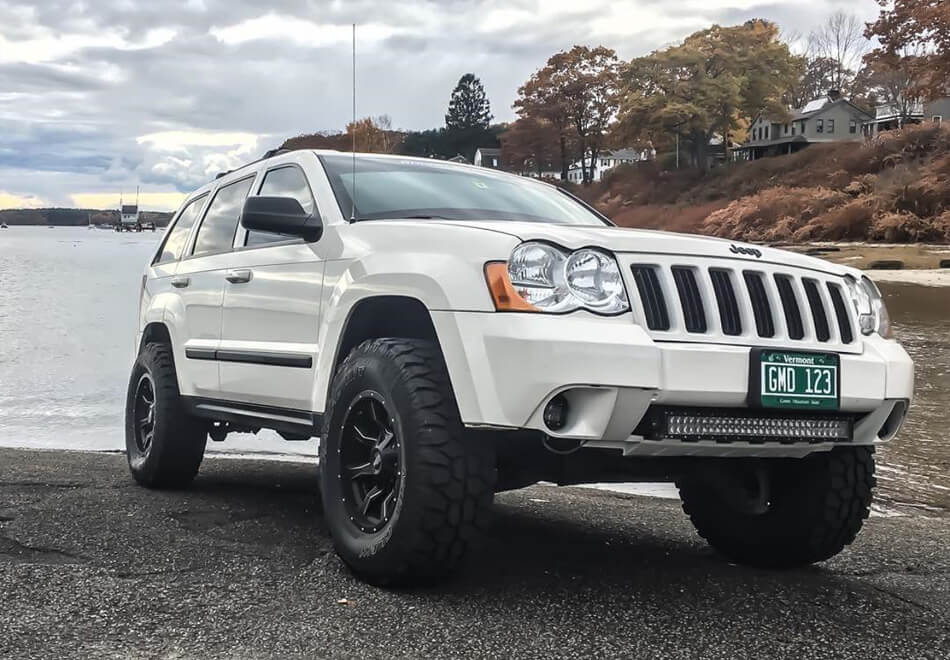 If you are looking to improve the off-road capabilities of your jeep grand Cherokee 32 inch tires will be perfect as they will easily fit in the wheel wells, especially on the late models, and wouldn't require serious body or suspension modifications. 32 stands for the overall diameter of a tire, which means that you can use different rim and tire combinations to suit this number. For instance, if you have 16" rims you can install 265/75 which will be equivalent to 32".
Common 32 Inch Wheel Sizes
265/70 R17
245/75R17
265/75R16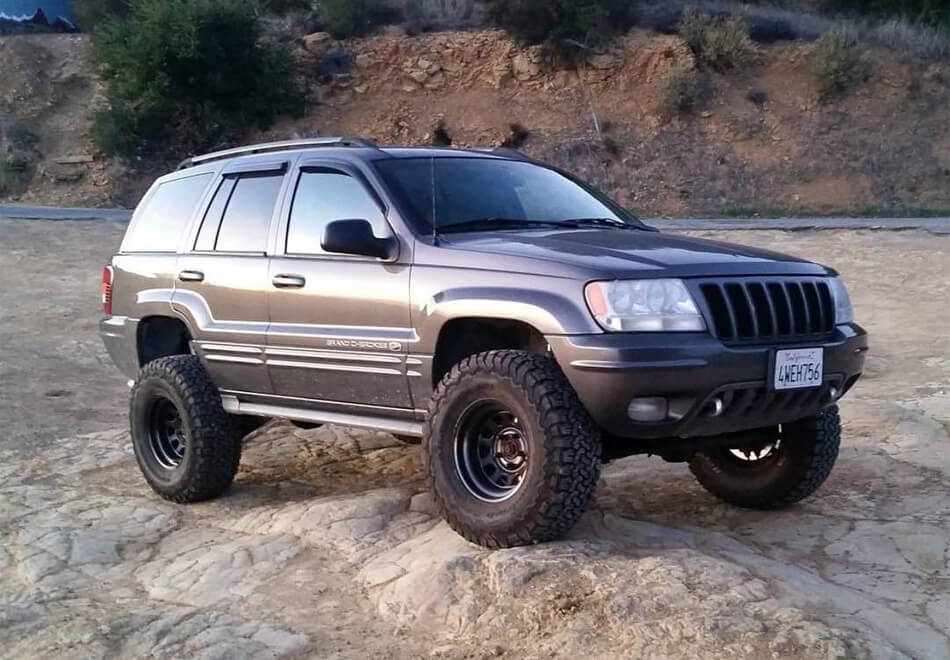 YEARS OF PRODUCTION
BODY CODE
FACTORY WHEEL SIZE
EQUIVALENT
2011-2017
WK/WK2

245/70 R17

31″
2005-2010
WK

245/65 R17

29.5"
1999-2004
WJ

245/65 R17

29.5"
1993-1998
ZJ

215/75 15

or

225/70

27.5"
Back in the 90's when the ZJ was introduced the automotive standards were different and all vehicles of this class came with smaller sized wheels. 225/70 R15 wheels were standard on the first gen Grand Cherokee which is equal to 27,5". Smaller wheels made it more agile and more efficient, on the concrete, however times and technologies change so as the standards in the wheels industry.
1999-2004 models were equipped with larger stock 29.5" tires and the last generation WK2 comes standard with 31" tires.
HOW TO FIT Jeep Grand Cherokee 32 inch Tires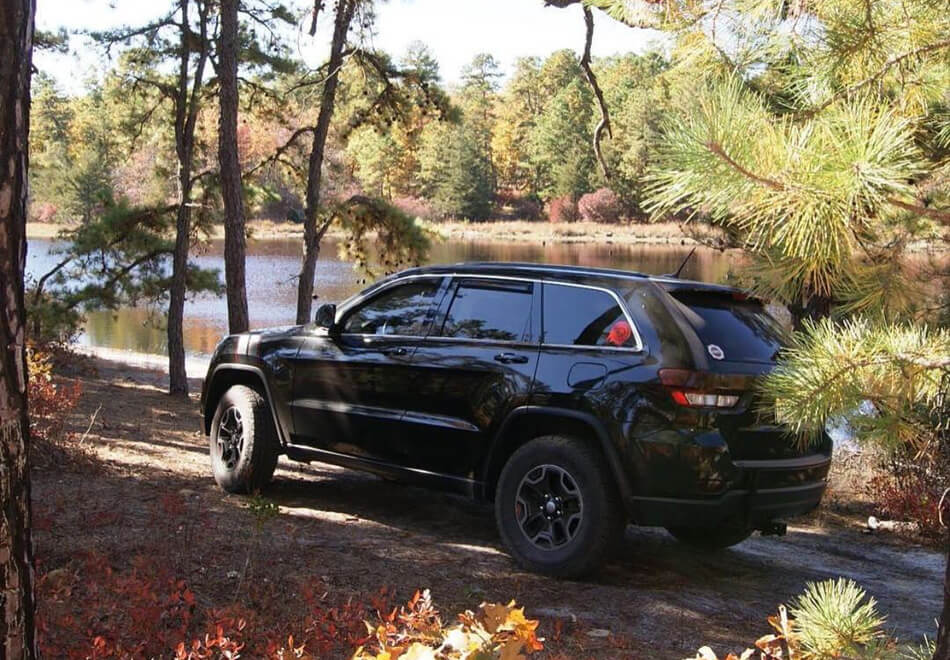 The amount of modifications will be different depending on what model year do you have. So if you need to jump from 31s to 32 inch wheels on the late model GC, it will be a fairly easy task, however if you want to upscale on your ZJ or WJ it will be a little bit more complicated task. With the right rim size and off-set you can run 32s even on the stock suspension on WK2.
WJ and WK1 will require a 3-4" lift in order to clear the 32 inch tires properly. Lift blocks or coil spacers in a combination with extended length shocks and coils may provide needed clearance, however it is better to get a complete suspension lift kit all around.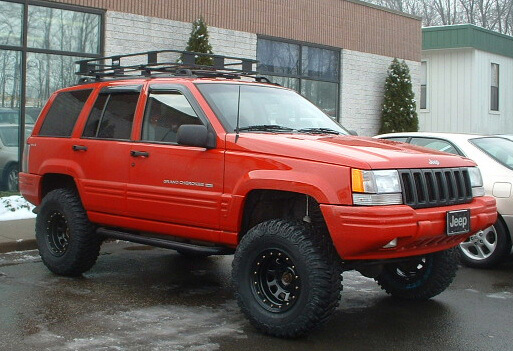 On ZJ Jeep grand Cherokee 4.5 inch or taller lift will be required to clear 32 inch tires. Additional trimming may be necessary in order to make the front wheels turn properly. It also depends on the rim size, backspacing and off-set.
With the change of wheel size you will face the difference in all driving characteristics, and as a downside to the obvious improvement in off-road capabilities you will see a drop in the gas mileage and acceleration. In order to minimize the change in the engine and transmission performance you may also need to swap gearing in the differentials.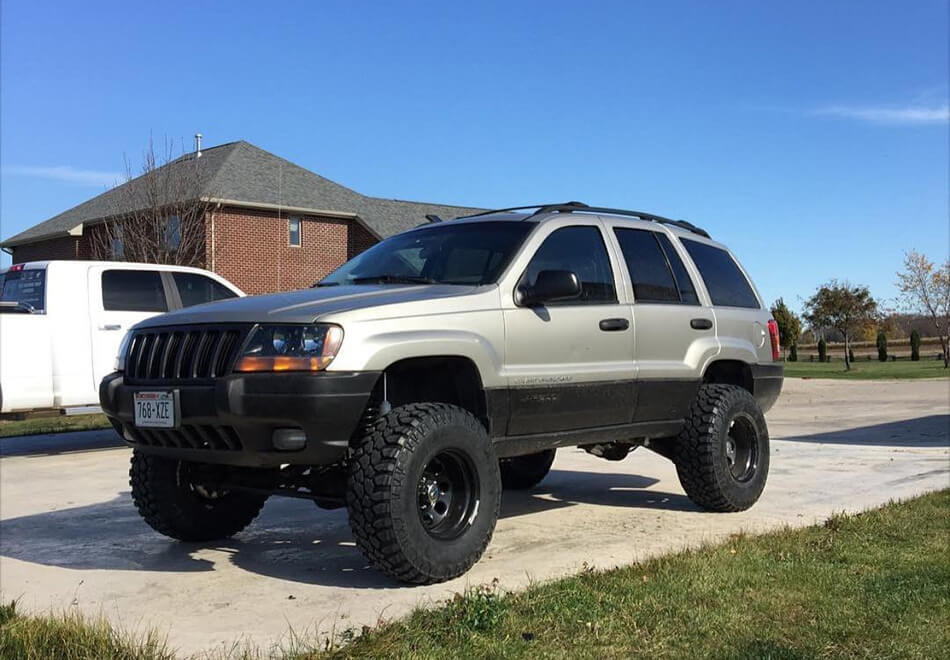 There are many 32 inch tires with either All-terrain A/T or Mud Terrain M/T thread type. You should consider choosing one of the two options depending on your driving conditions. A/T rubber usually lasts longer, and provides pretty good results on the sand, concrete, snow and gravel. M/T is obviously better for mud terrain, snow and other roads. As you see Jeep grand Cherokee 32 inch tires bring a lot of benefits and can be easily installed on your vehicle.
Lift Kits Recommended For Jeep Grand Cherokee ZJ, WJ and WK with 32″ Tires
1993 -1998 Jeep Grand Cherokee ZJ 4WD
1999 – 2004 Jeep Grand Cherokee WJ 4WD
Rough Country 4″ Long Arm Lift Kit 90820– For 1999-2004 Jeep Grand Cherokee WJ. One of the most reliable lift kits of this segment that provides proper clearance to fit up to 265/75 R16 off-road tires.
2005 – 2010 Jeep Grand Cherokee WK 2WD/4WD
Rough Country 2″ Lift Kit 664 – For 06-10 Jeep Grand Cherokee WK/Commander XK. Since WK generation is more friendly to bigger tires than older generations of Grand Cherokee – you can opt for a suspension spacer kit to get necessary clearance. Recommended Tire Size is 265/70 R17 which is equal to 32″ inch size.
2011 & Up Jeep Grand Cherokee WK2 4WD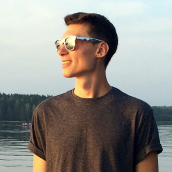 Matt Grabli
Matt brings over a decade of automotive expertise to his role as staff writer and editor at Offroadium.com. With an enduring passion for the off-road vehicles and adventures, he is devoted to creating interesting content that equips 4x4 enthusiasts with the knowledge to improve their rigs.