For Sale: Lifted Ford E250 Adventure Van With 6" Lift and 35s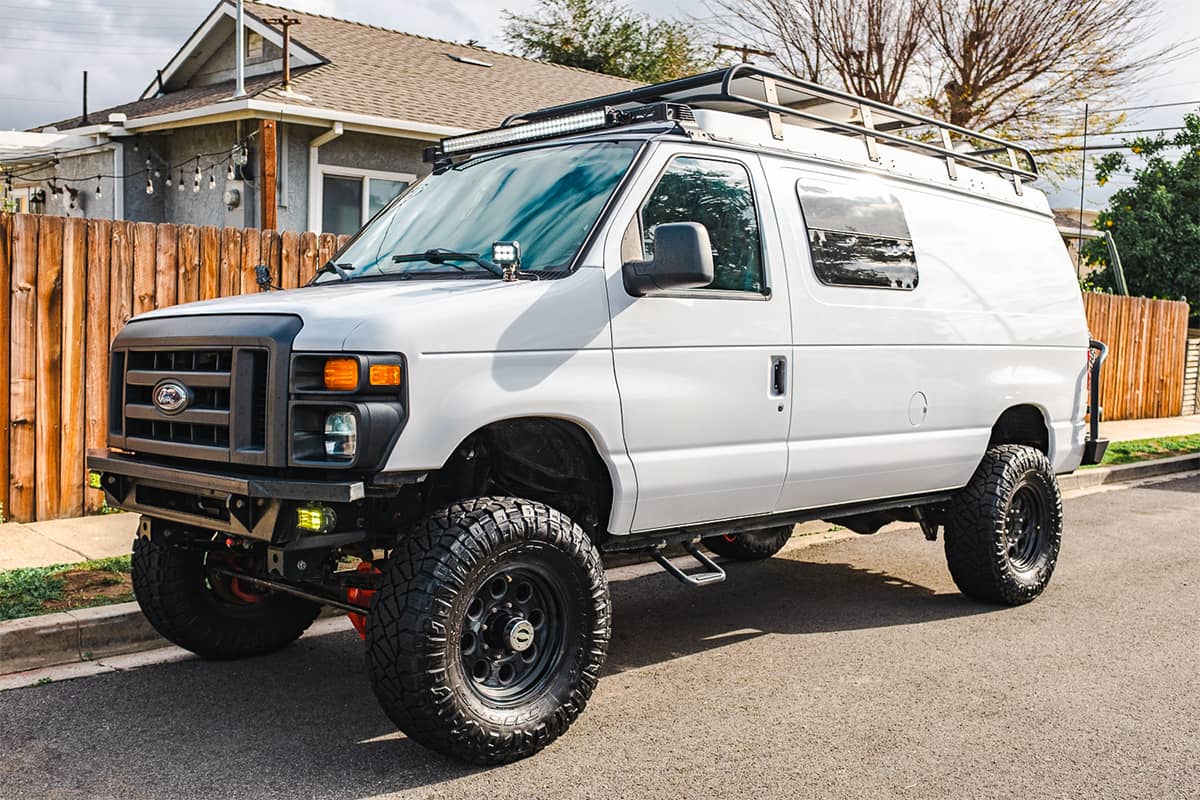 Introducing the Lifted Ford E250 off-road adventure van—the ultimate rig for camping trips and wild explorations! Get ready to have an unforgettable experience as you tackle terrain with this 4×4 monster that features a 6" lift, 35" tires, and locking front and rear diffs so tough they can take you just about anywhere.
You'll be able to stay in comfort on your trip thanks to the super conveniently organized interior space with all necessary things one could need on a camping trip, such as the fully functioning kitchen with fridge to store snacks and drinks, a stove for hot meals on long nights, a bed for much needed rest after a long drive and much more.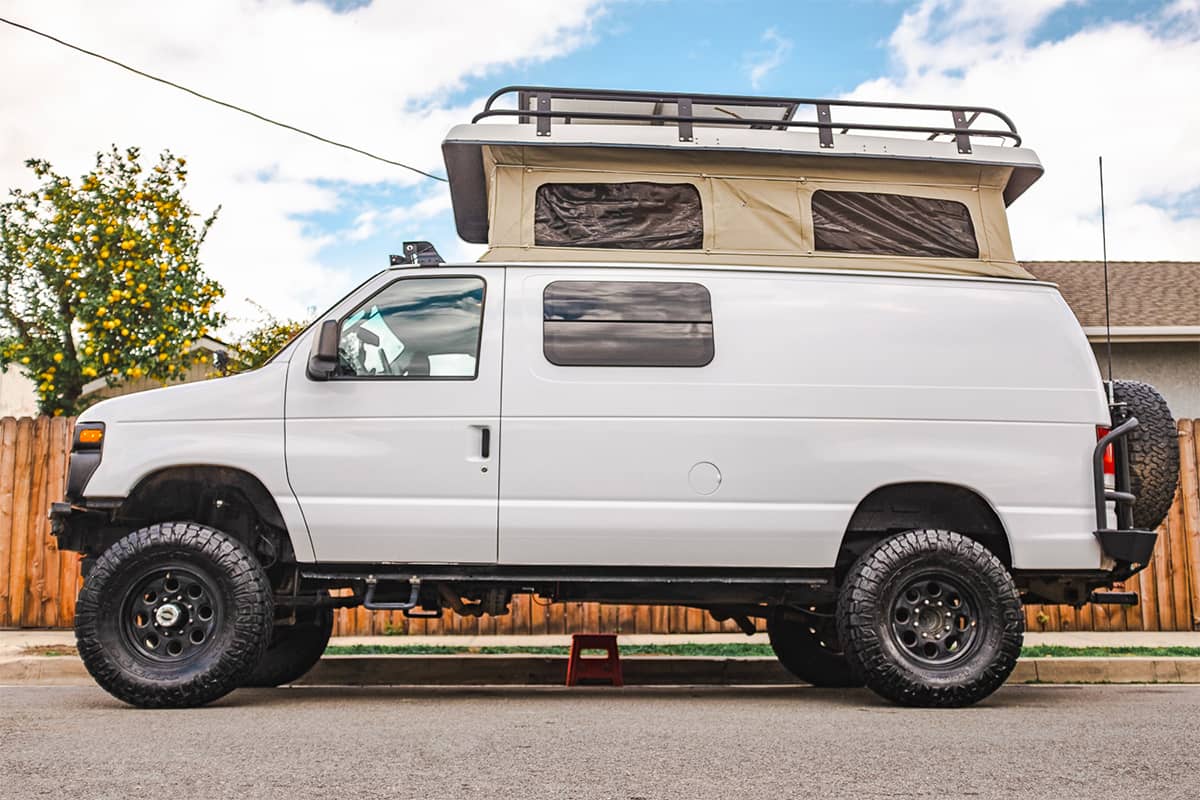 This lifted Ford E250 Adventure Van will keep you going no matter how much fun is had or how far away from civilization you might travel. Don't miss out on this great opportunity – get behind the wheel and embark on the outdoors journey of your dreams in this awesome van!
2013 FORD E250 – SPECS & UPGRADES
Drivetrain
Mileage
Engine
5.4 L v8 – stock engine – with 5 Star Tune town tune loaded (includes SCT Programmer), 4.56 gear ratio
Suspension
Ujoint Offroad 6″ kit
Dana 60 front axle
Front and rear air lockers
New Bilstein 5100 shocks and rebuilt leaf packs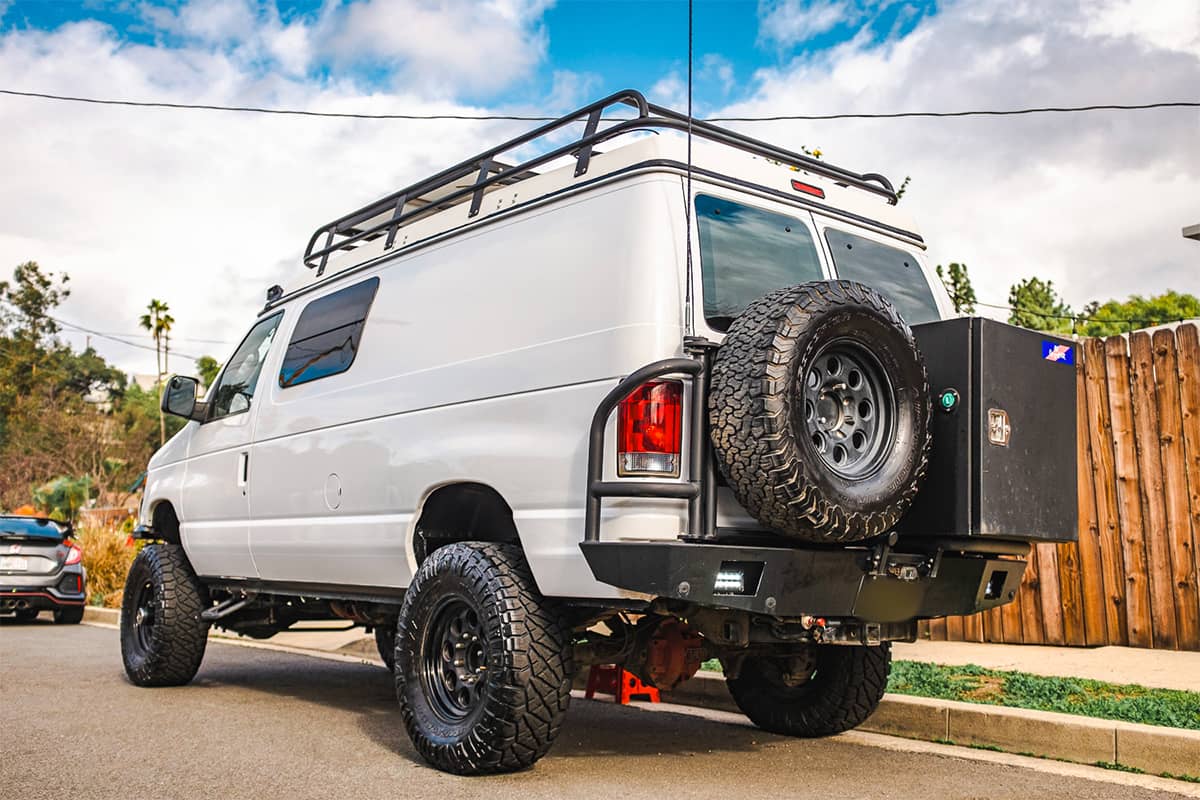 Wheels
New Nitto Ridge Grappler 35″ tires – spare is a 315 BFG T/A KO2
Exterior
Sportsmobile electric pop top
Aluminess rear bumper with storage / swing box / tire carrier
Custom low profile front bumper
Air chucks under front and rear bumper
Aluminess roof rack with 280w of solar
Skid plate with 2 x 100ah Interstate AGM batteries
Light bar
Fog lights
Ditch light
Rear lights (all on Auxbeam controller)
Aux trans fluid cooler
ARB dual air compressor + tank + Kleinn 2-trumpet air horn under driver side
Warn locking hubs
ARB diff covers
Flowmaster exhaust
MagHytec deep finned transmission pan
Incudes 1UP 2″ Super Duty single bike mount (with matching keyed locks, hitch extender + stabilizer, 1UP Rack Stash, 10′ Kryptonite Bike Lock, spare keys)
Carr Hoop steps
Talon on left side barn door to hold it open
2 x gas rotopax (1 on top and 1 on back of swing box)
ARB manual awning
Plastic folding step
Interior
Custom 1×1 steal frame interior with single piece wooden kitchen counter
25gal water tank
Under-mount sink
Water pump, closet
Bench with Paco pad that sleeps 1 in addition to the double bed in the pop top
Passenger swivel seat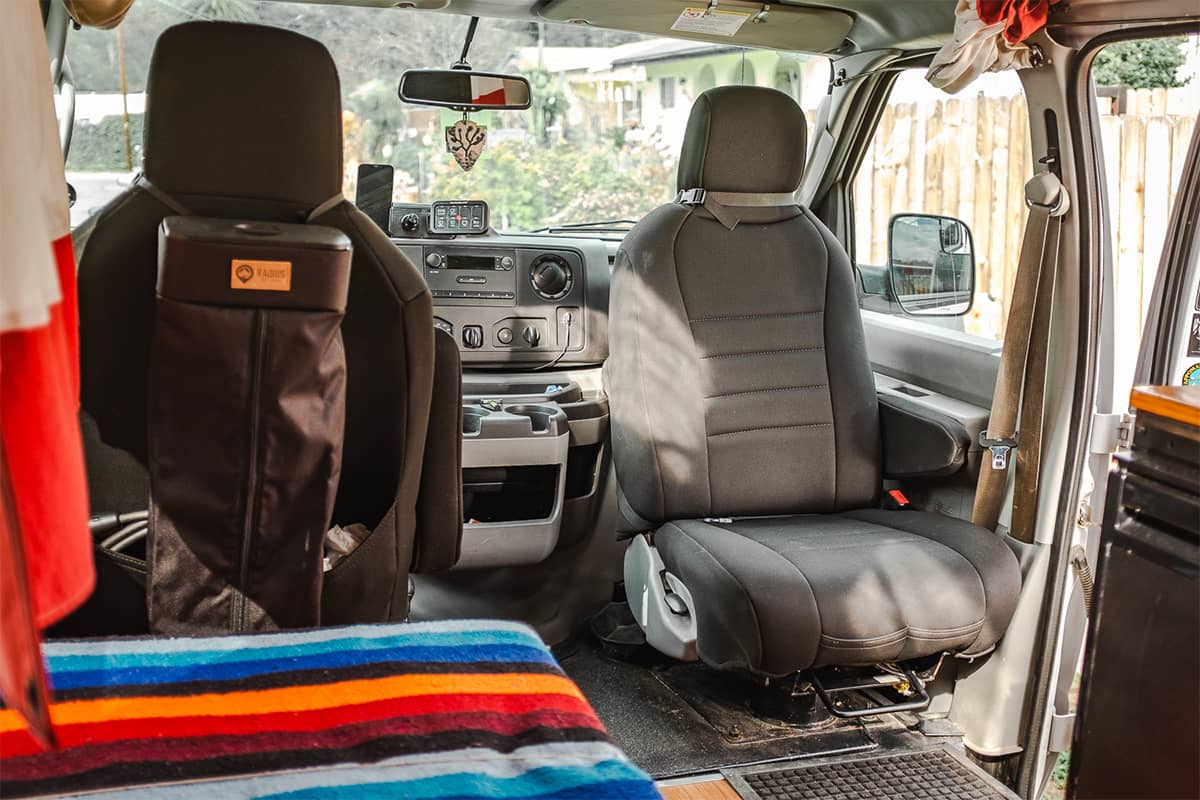 Neoprene seat covers
Vinyl plank wood floor
12v Dometic crx 110 fridge
Dometic propane stove (5lb propane tank in swing box)
Flip out window on driver side
Propane instant hot shower in garage
3 x full size Sidio crates under bench
Custom baltic birch drawers on heavy duty sliders with locks in kitchen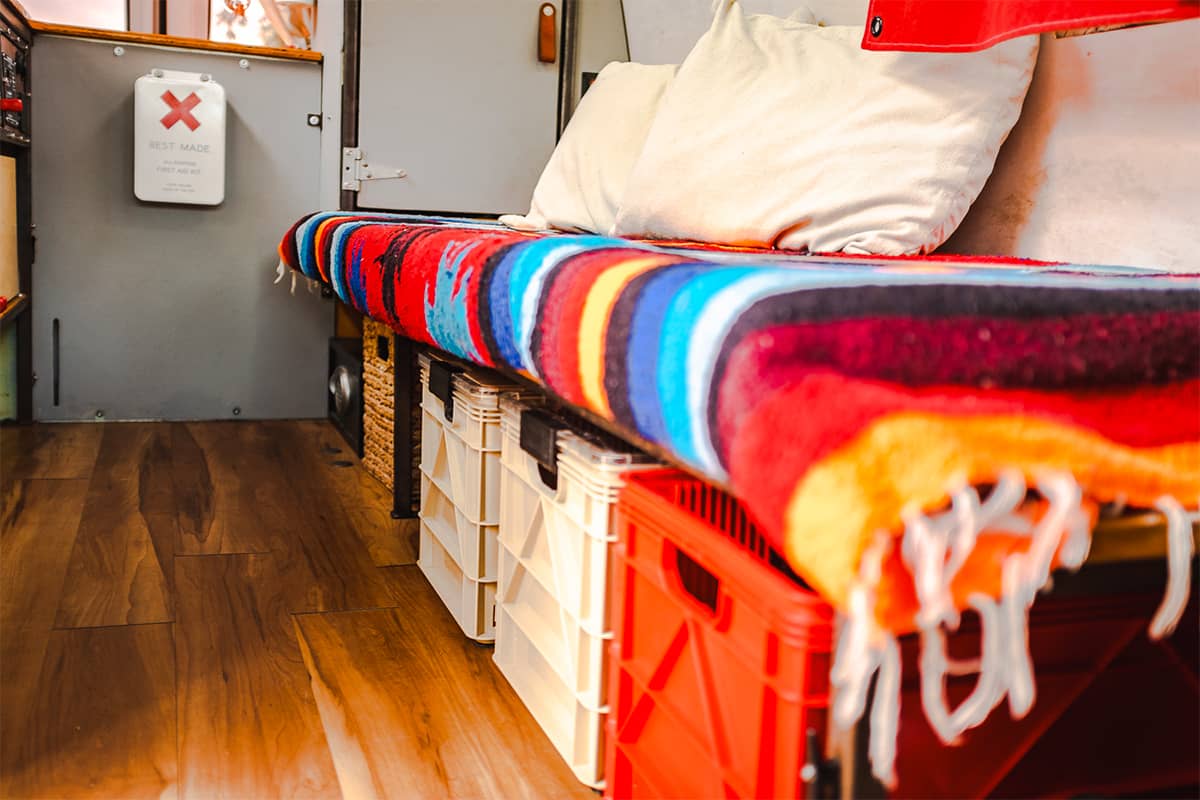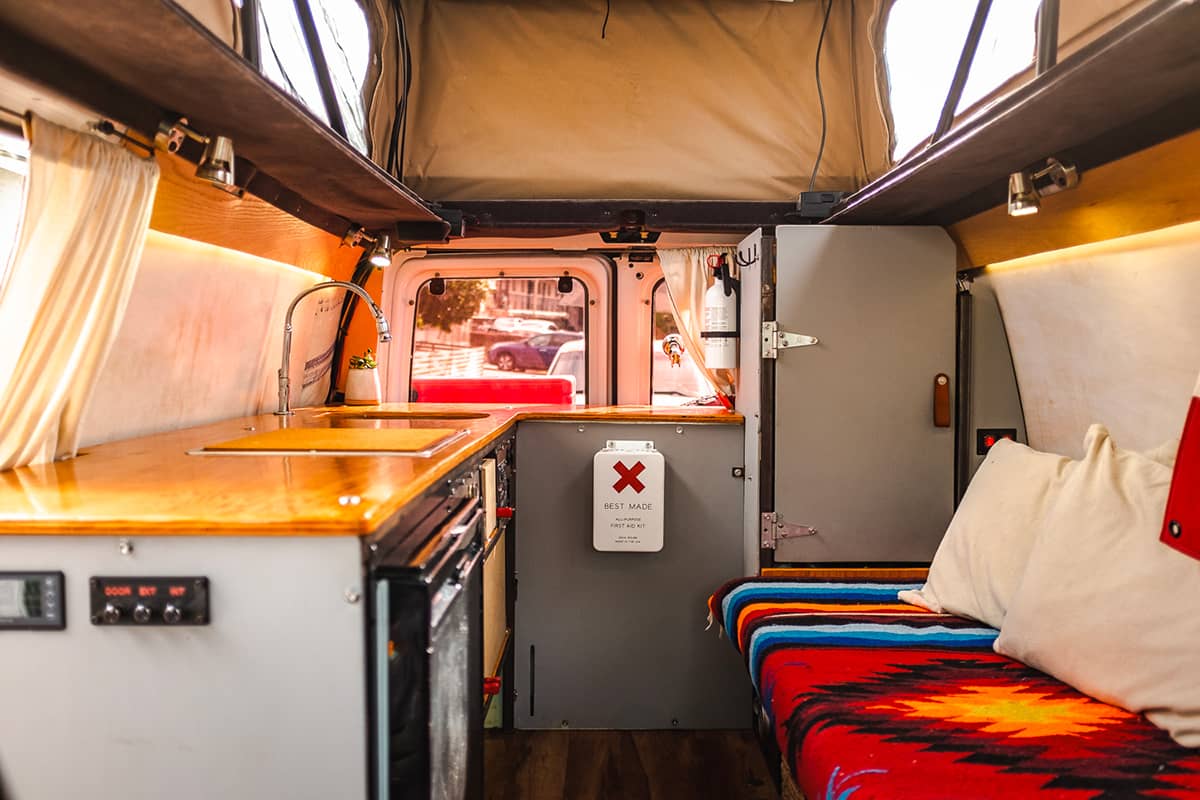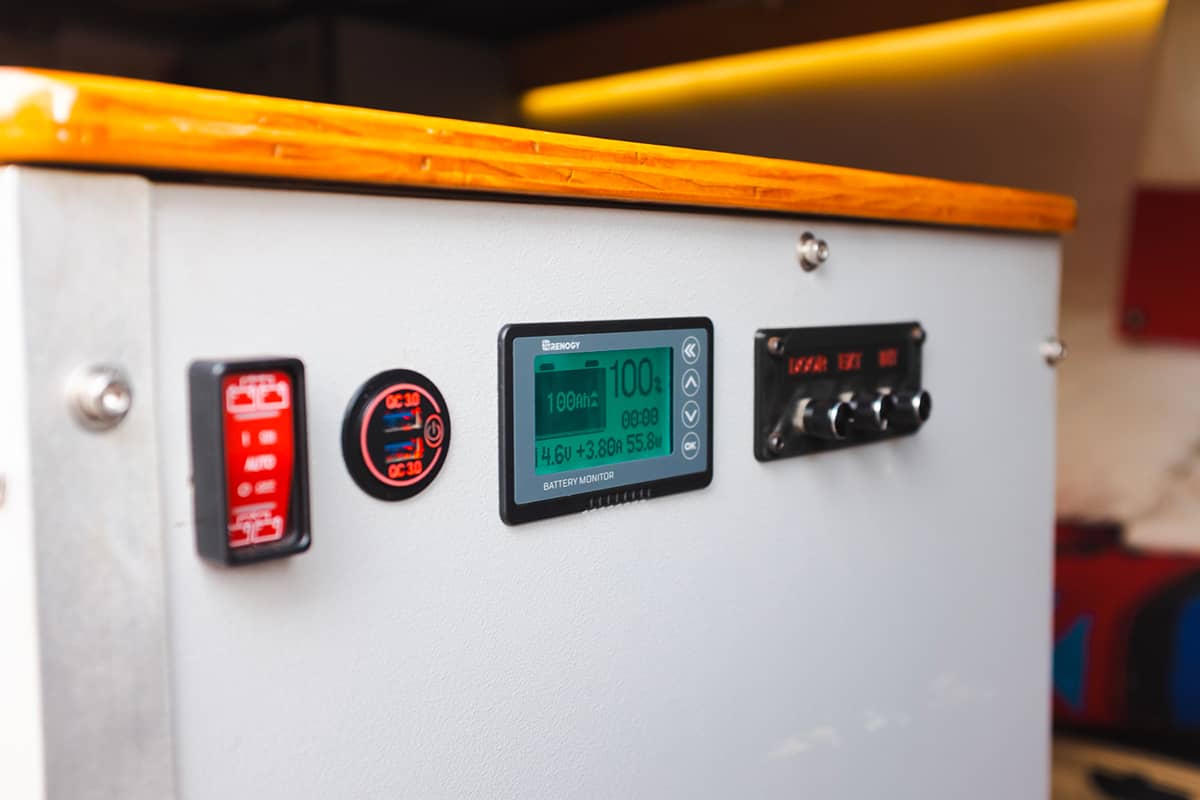 Trans temp gauge
Lots of usb and cig lighter style plugs throughout
Magnetic bottle opener
Radius Outfitters trash bag with custom 3D printed lid
Passenger seat-back organizer
Killmat + new vinyl floor in cab
Metal Best Made first aid kit
Fire extinguisher
All other Upgrades
Victron Lynx distribution
PROwatt 2000w inverter
Blue Sky Solar Boost 3000i charge controller
Renogy battery monitor
Blue Seas ML-ACR Charge relay with custom run circuit mod (connected to Aux Beam controller in cab to charge while driving)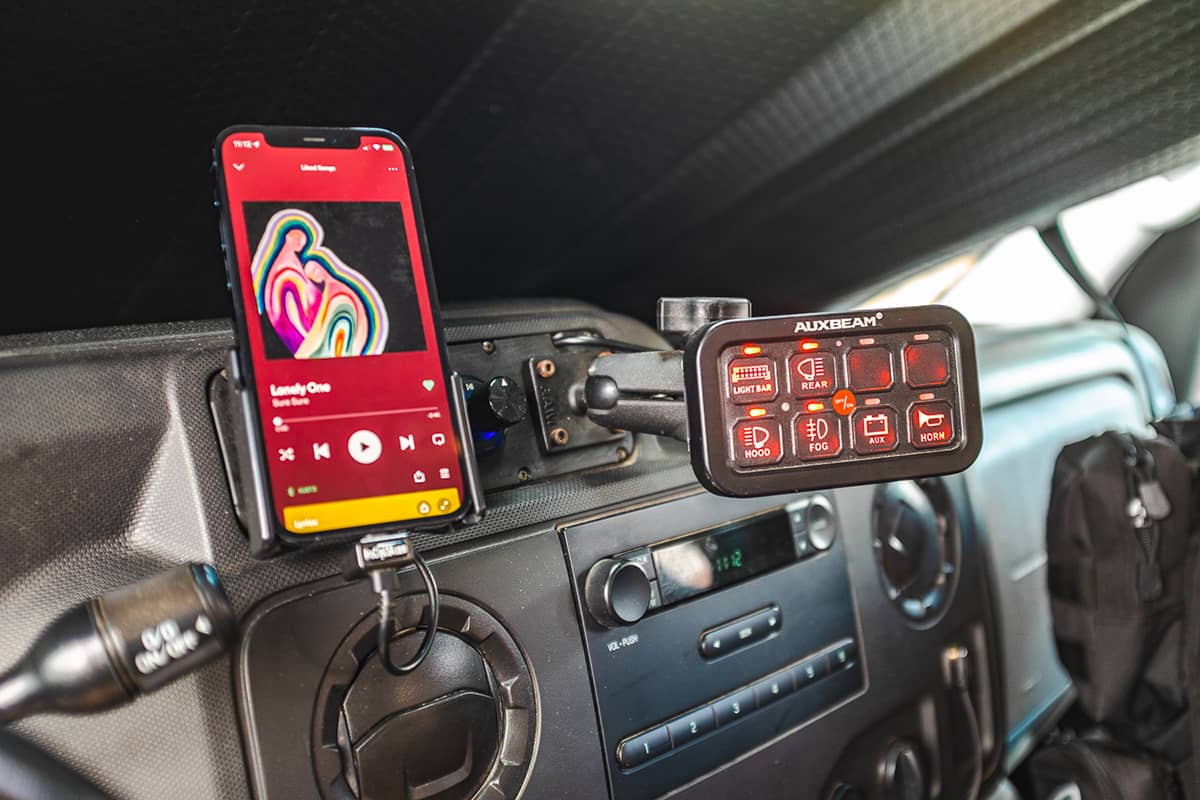 12v distribution in garage and behind fridge
Hidden LED strip mood lights
LED under body to light van side entry
Aux beam controller mounted in cab on custom 3D print mount with 2 x AMPS pattern mounts (one for phone, one for Aux beam) and Bluetooth control knob
1 lock box in cab
1 safe mounted to floor under bench
5″ Ram tough-track on dog house for gps (etc)
Comes with completely stocked kitchen (including plates, bowls, cups, cookware, coffee kit TONS of accesories and a Wustof chef's knife)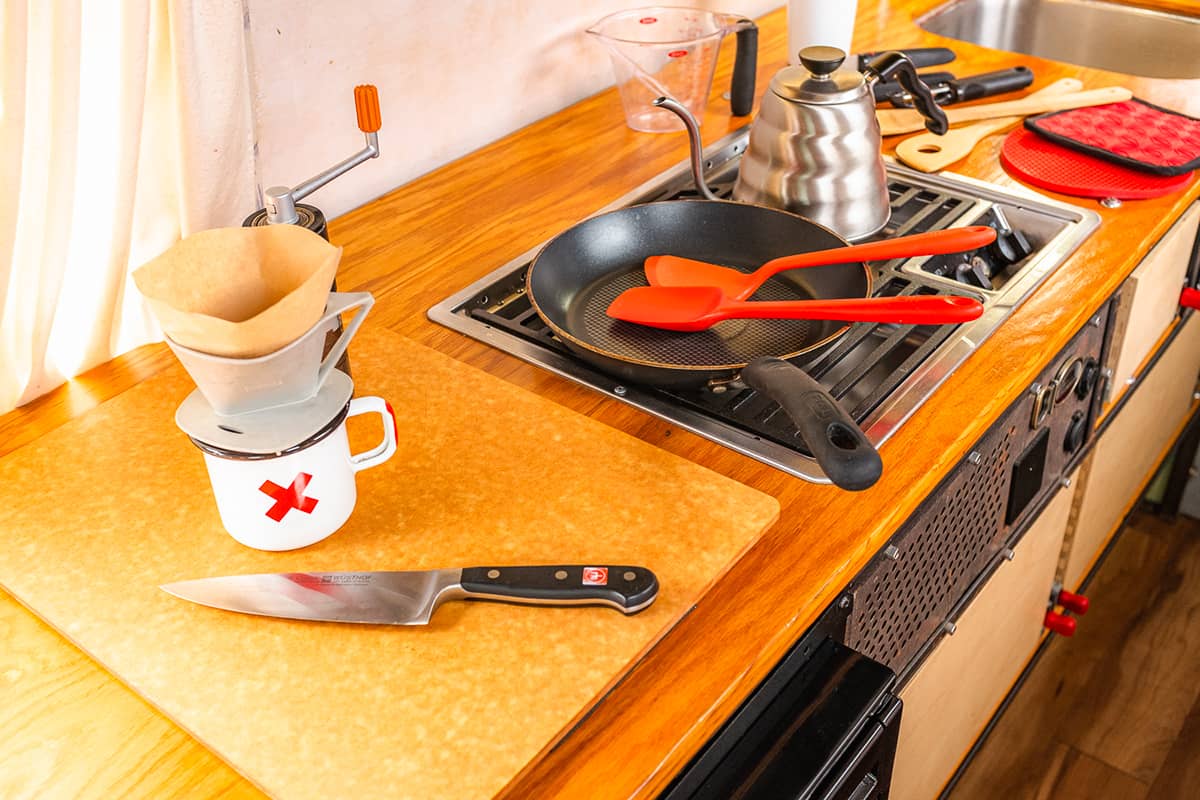 Recovery gear (straps, shackles, new GoTreads XL, jack, stand, tire tools, folding shovel, etc)
Also comes with tool kit, spare parts, fuses, as well as air tools (hoses, chucks, connectors, accessories)
Price
Location
Contact information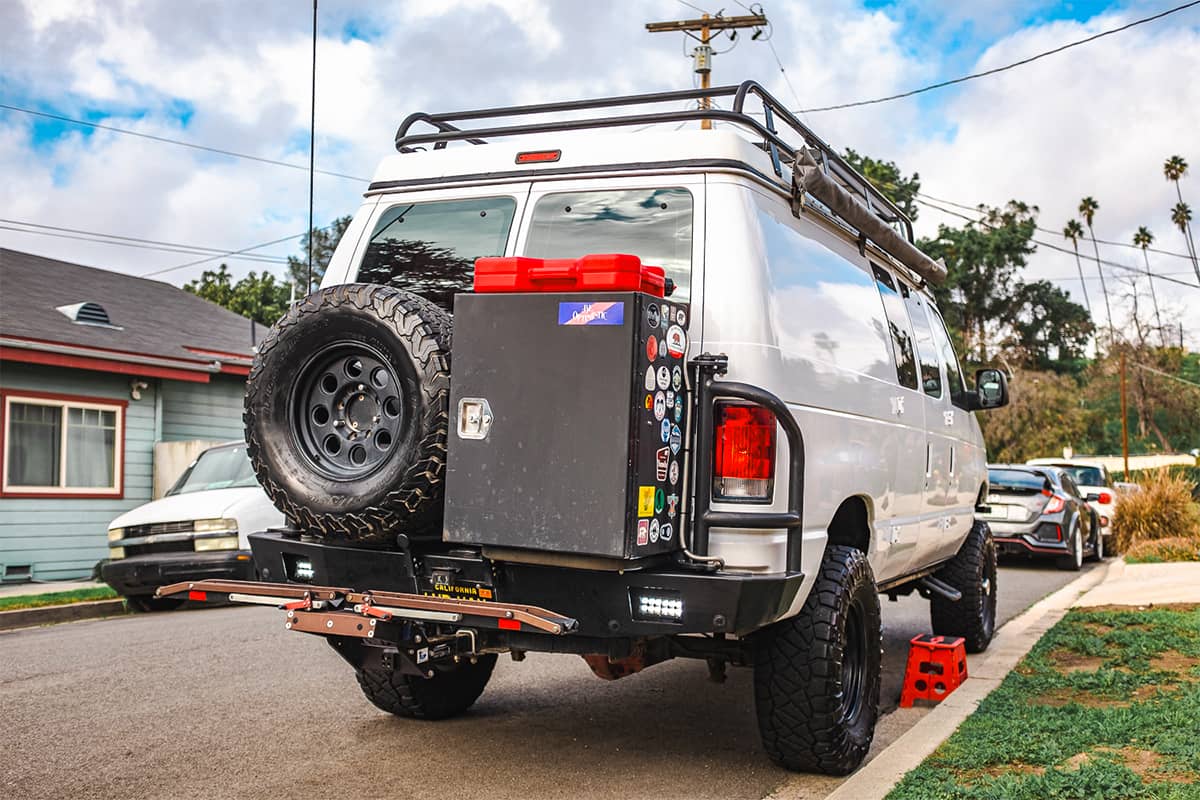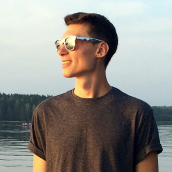 Matt Grabli
Automotive journalist and technical writer at Offroadium.com with more than 10 years of experience in the sphere of aftermarket parts and 4×4 vehicle modifications. Passionate about off-roading, outdoor adventures, and an active lifestyle.