This Japanese compact crossover SUV received its nameplate to evoke a "feeling of journeying to distant, unexplored lands in search of adventure," and for the last 20 years, it has been doing exactly that for hundreds of thousands of users worldwide. Sure, it isn't the fastest or the most capable family hauler out there, but the attractive price tag, design, gas mileage and great safety ratings help cement its place in the marketplace.
Many Outlander owners love the fact that you don't see these vehicles very often on or off the roads, including Mario Marron from California, the owner of the top-of-the-line 2017 Mitsubishi Outlander GT S-AWC powered by a 3.0-liter V6 engine.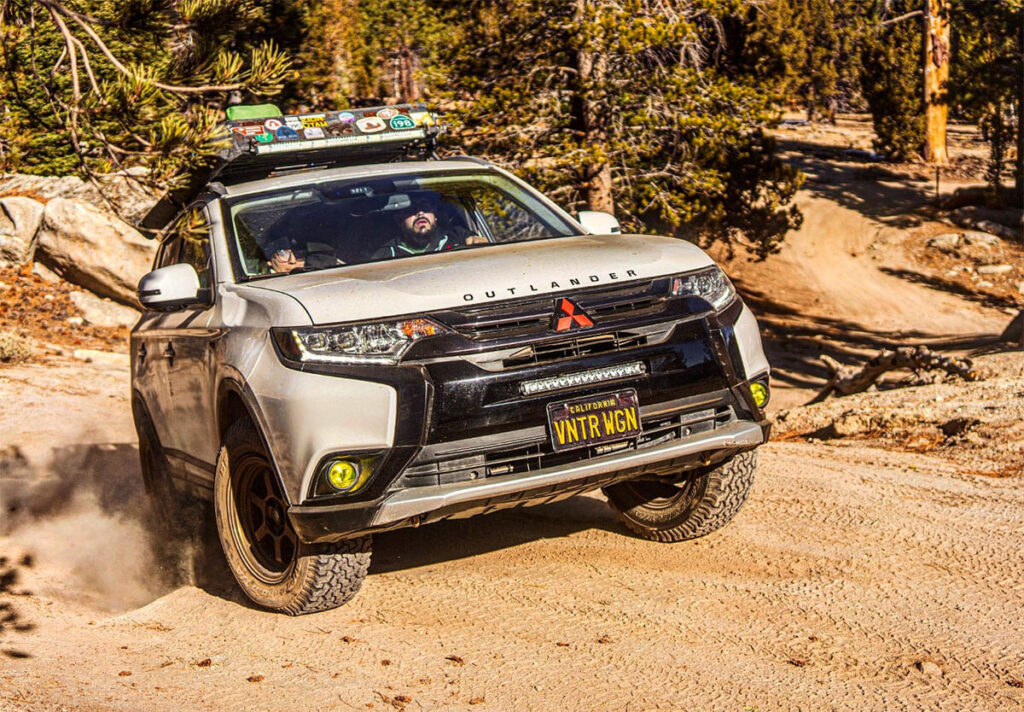 What separates the Outlander from other crossovers and more conventional off-road vehicles is the comfort and reduced cabin noise even when you drive on gravel or dirt roads on your way to the campsite. Even though the domestic aftermarket is almost non-existent, you can still find a way to upgrade your vehicle by ordering parts internationally.
"Even though the domestic aftermarket is almost non-existent, you can still find a way to upgrade your vehicle by ordering parts internationally"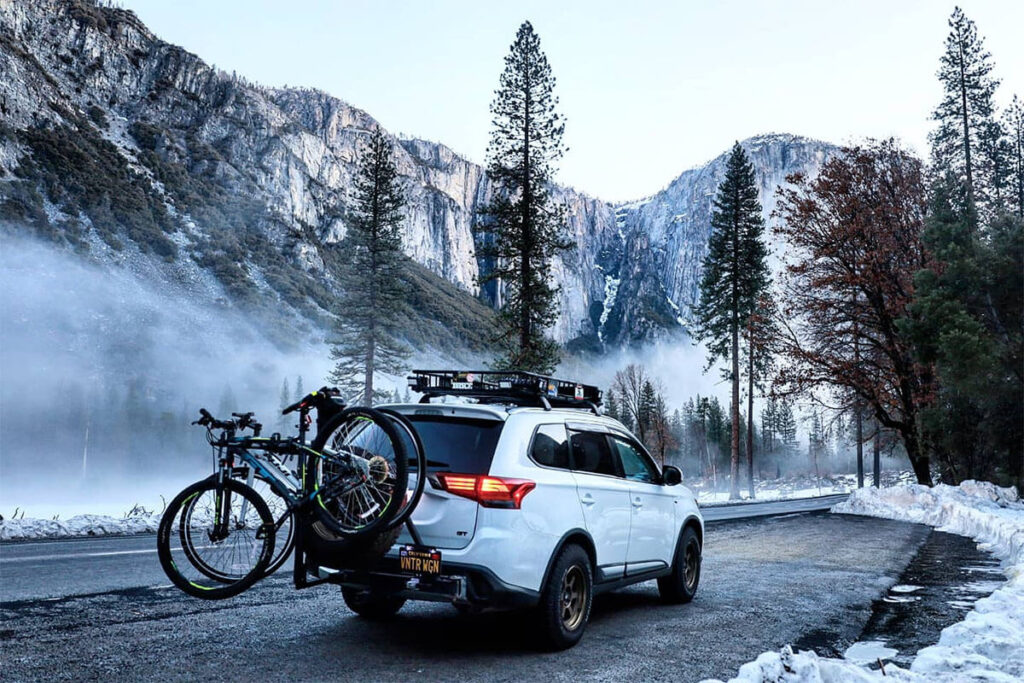 A lifted Outlander on beefy all-terrain off-road tires is a rare sight to see in our parts. As a travel and adventure aficionado, Mario has shaped his Outlander according to his needs, so he knows it could take him and his family to see exciting places and have fun and safe adventures in comfort. We contacted the owner of this unique rig and asked him to share some details about his project.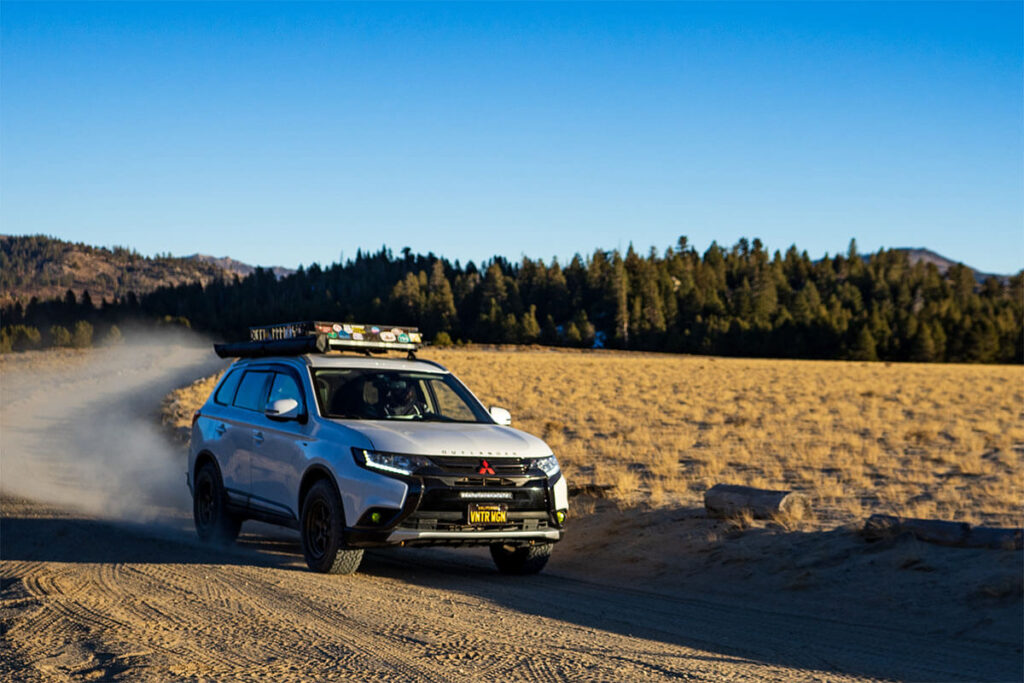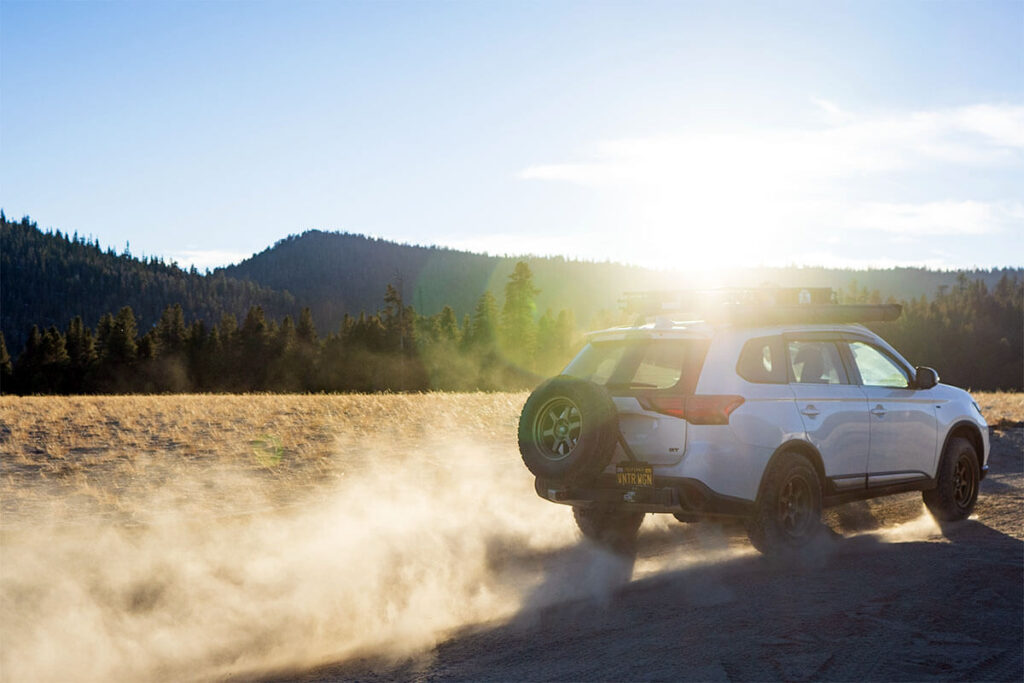 How did you become interested in off-roading?
– Not necessarily off-road omg but I love camping. And this vehicle can get me to those campsites you can't get to on a regular car.
Why did you choose an Outlander for your project?
– Love the design. Not everyone has one. Great value and the AWD system is great.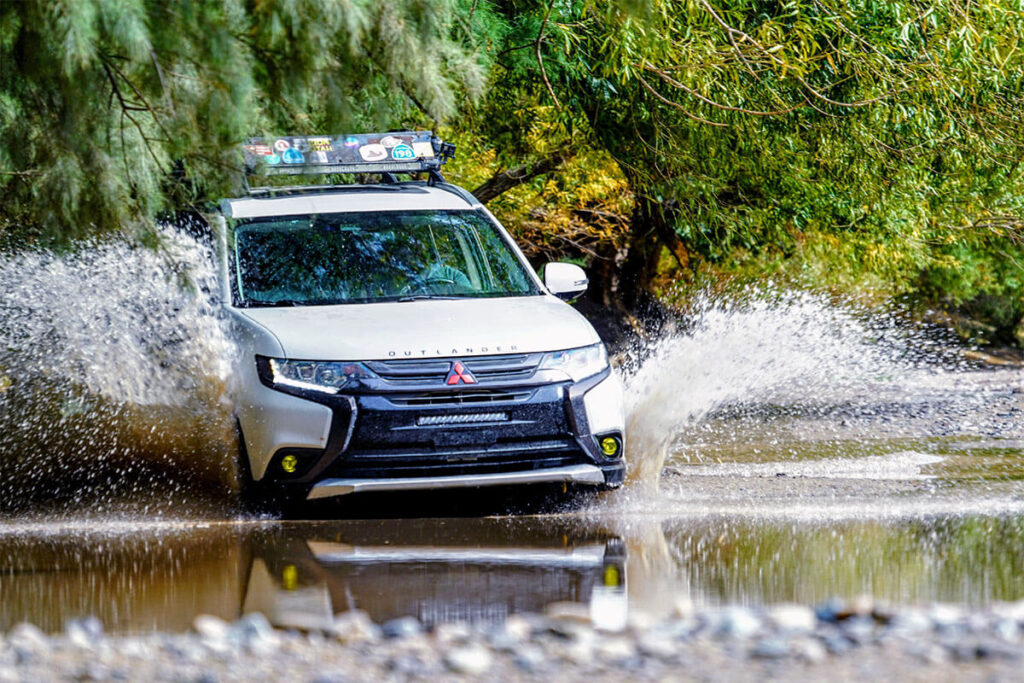 What inspired you to choose this modification style?
– Really it's just what works and what I need to take me places. Everything has a function
What challenges did you face while putting it together?
– No aftermarket support. What you see here is all we got.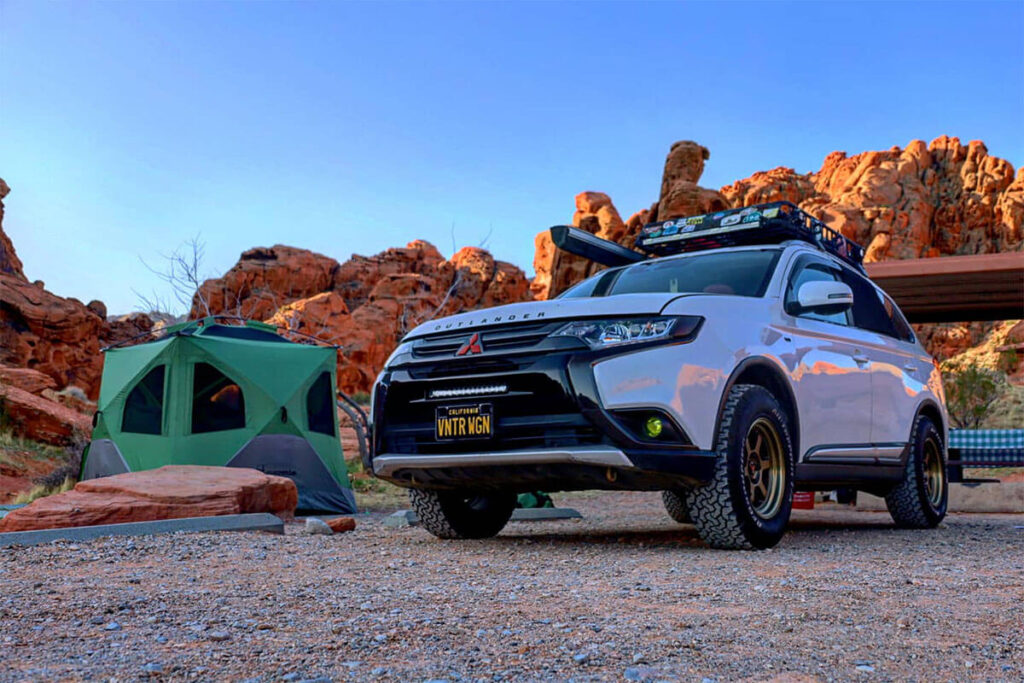 What do you love about your vehicle?
– Everything. It's what I want and need.
Is it your daily or a weekend ride?
– We have 3 cars so it's not really a daily but we do drive it often. And also it's our biggest car so it's the go to when the family comes along anywhere
Do you take it off-road? If so, where and how often?
– Off-road definitely. I try to go somewhere at least 1 weekend a month. Sometimes more.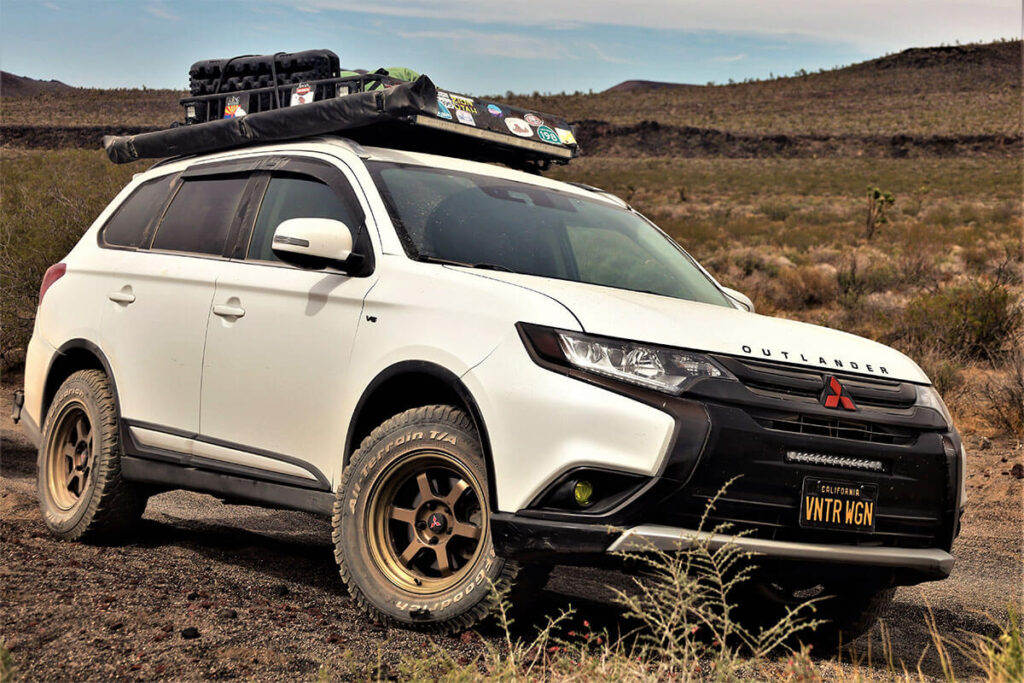 Specs: 2017 Mitsubishi Outlander GT S-AWC
Engine
– 3.0l Mitsubishi 6B31 MIVEC V6 215hp 214ftlb torque
– 6 Speed Automatic with Paddle Shifters Stock Drivetrain
Lift height and suspension modifications
– Tema4x4 40mm (1.5″) strut Spacers (Russia)
– King Springs (Australia)
– OEM Struts
– Whiteline adjustable sway bar links
Wheel specs
– MST Time Attack 16×8 +20 in Bronze
– BFG KO 245/70/16 A/T tires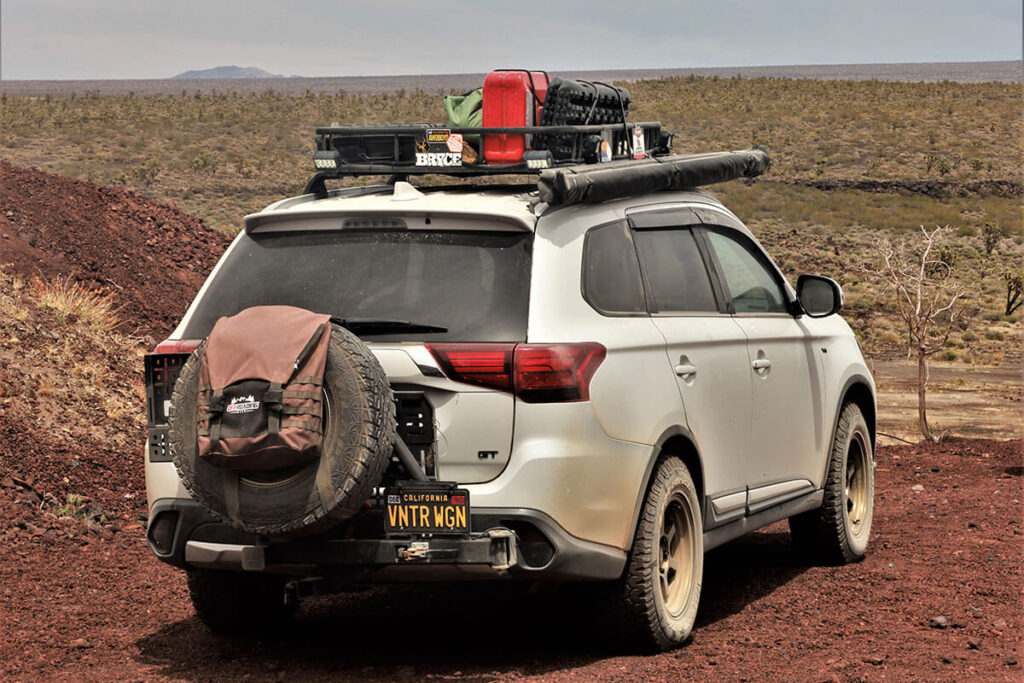 Exterior mods
– 64×36″ roof basket total of 6 lights on sides and back along with a 32″ light bar in front for 360 degree light in the dark when setting up camp
– KOBALT Shovel mounted with quick fist
– 8×8 side awning
– Xbull recovery boards
– 17″ light bar in the front grill
– Rig'd Ultra Swing hitch mounted tire carrier with fold down table and propane tank holder
– All Chrome deleted with vinyl wrap
Interior mods
– Scan Gauge II to monitor transmission temps
– Currently working on rear drawer system
– Version 1 needs some changes.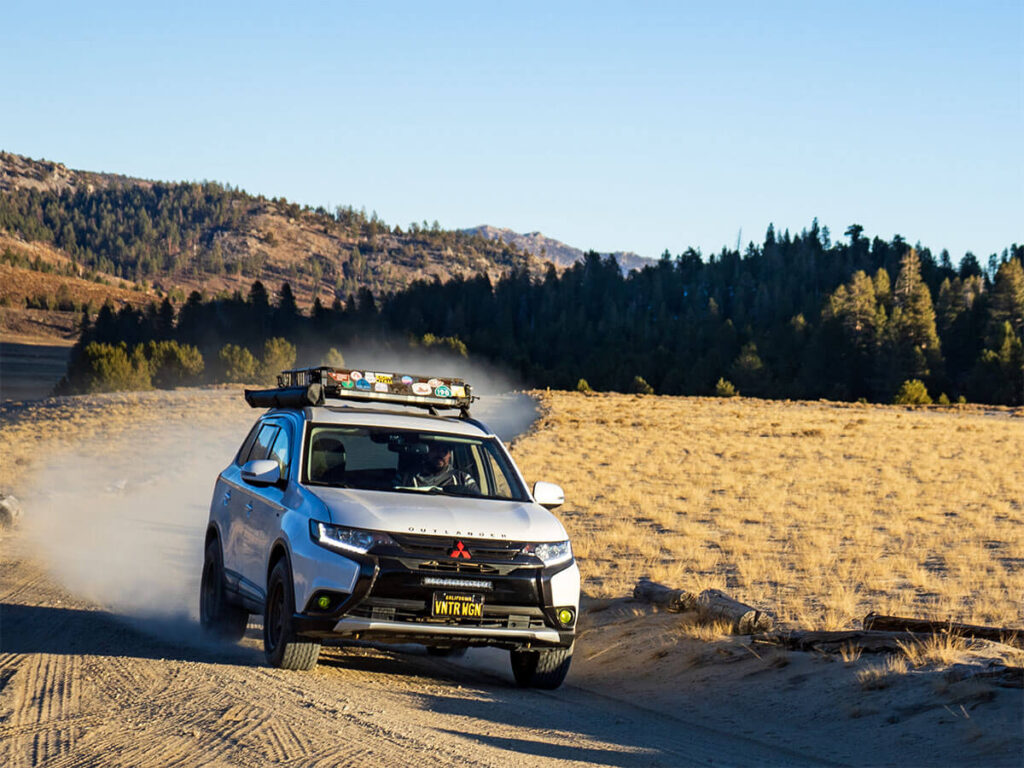 What are your future plans about this vehicle?
– No real future plans except regular maintenance and new tires as well as maybe an auxiliary battery. Right now I'm just using a Goal Zero for my cooler. I will add new accessories as needed but it's pretty much good how it is.
Anything else you would like to share about your vehicle or about off-roading in general?
– Even though there's no aftermarket support, I like having a vehicle that not that many people have. It makes it unique. However I do get excited when I see someone else modify their Outlander.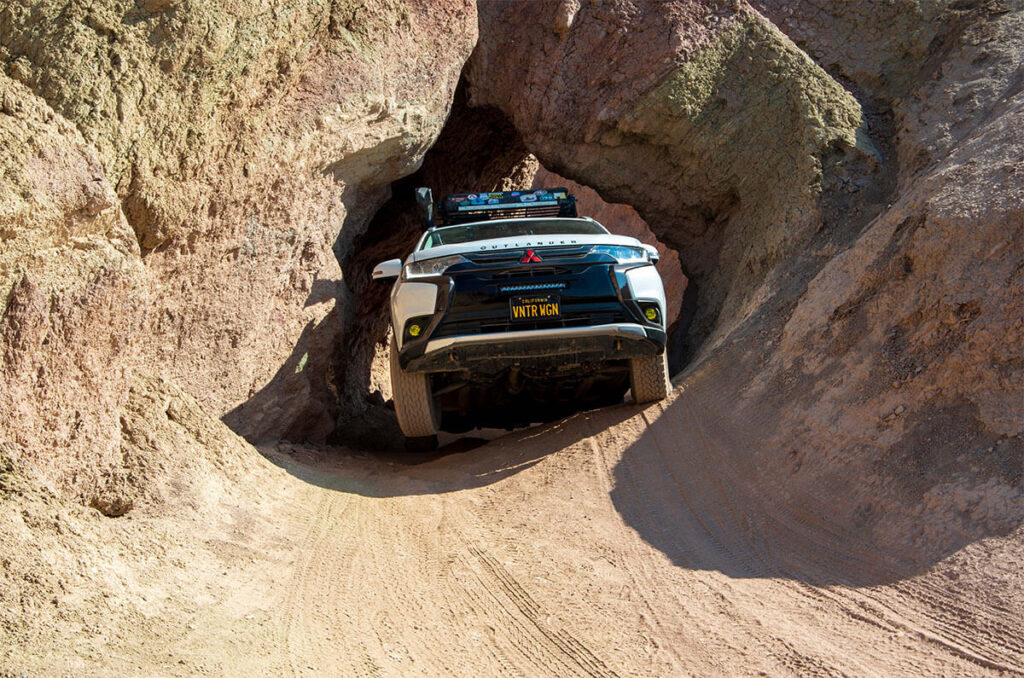 Related Parts & Mods
– Inspired by this Mitsubishi Outlander build and looking to prepare your own crossover for off-road adventures? Some parts used in this build were sourced from custom shops or custom made, but our team has put together a list of similar products and accessories available online that may help you to achieve similar results:
Lift Kit
Wheels
Roof Rack
Roof Top Tent
Awning
LED Lights
Fender Flares
*Before ordering any part or accessory, it is recommended that you verify its fitment with a qualified professional and/or seller. We are not responsible for fitment or other issues that may arise from using the products featured on our website.
Stay tuned for more project reviews on Offroadium.com – Follow us on social media, and share this write-up if you enjoyed reading it!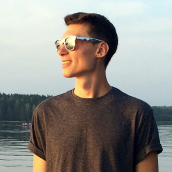 Matt Grabli
Automotive journalist and technical writer at Offroadium.com with more than 10 years of experience in the sphere of aftermarket parts and 4×4 vehicle modifications. Passionate about off-roading, outdoor adventures, and an active lifestyle.