Lifted Mitsubishi Pajero with 33 Inch Offroad Wheels from Japan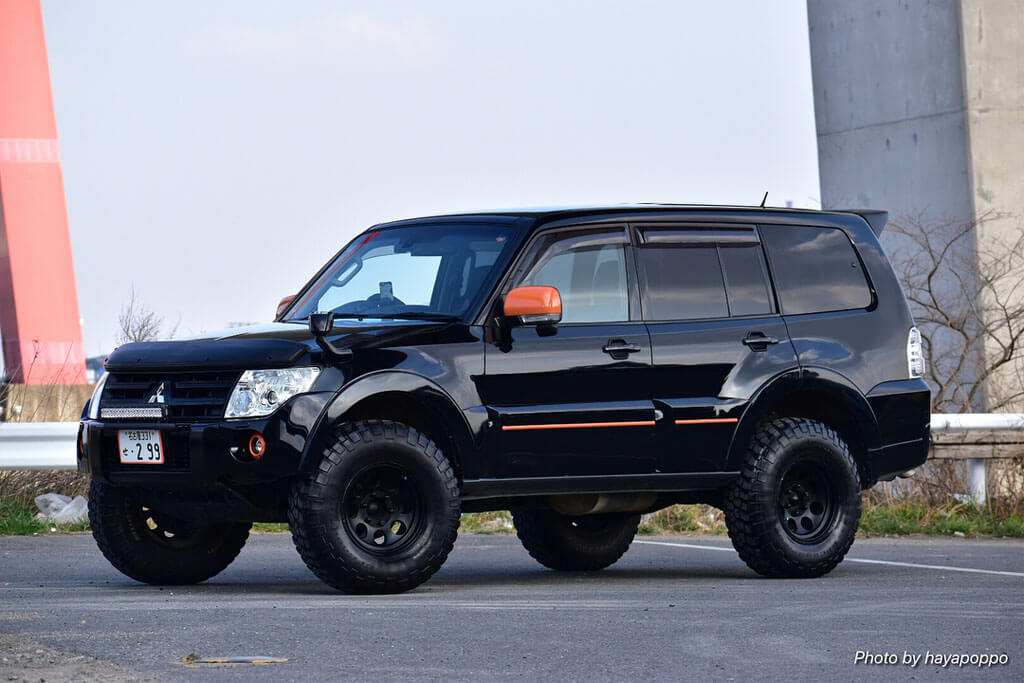 Today we're taking an in-depth look at the lifted Mitsubishi Pajero on 33 inch offroad wheels owned and modified on its motherland of Japan. To many of us, this model is familiar as Montero or Pajero Wagon.
If you are familiar with the Japanese culture, you definitely know the meaning of the word Shogun, but in case you're not, we'll give you a small historical breakdown. According to Wikipedia Shogun was the military dictator of Japan during the period from 1185 to 1868. In most of this period, the shōguns were the de facto rulers of the country, although nominally they were appointed by the Emperor as a ceremonial formality.

So you may ask yourself, what does it have to do with the Mitsubishi Montero from our today's post? And the answer is simple, Mitsubishi Pajero is sold under the name Shogun in the UK, and in our opinion, this name can characterize this legendary Japanese SUV in the best way. Its brutal muscular outlook means nothing but power. Even the stock Mitsubishi Pajero looks impressive, but if you decide to outfit it with some basic off-road modifications such as big tires and a suspension lift – it will immediately transform into a real warrior. To continuing the analogy with political figures from the history of Japan you can call the Land Cruiser an Off-road president, and Mitsubishi Pajero can certainly be named an off-road Shogun.

Off-road Qualities
You don't need much to improve the offroad capability of the Mitsubishi Pajero, because it features one of the most successful 4×4 systems Super Select, that allows using all advantages of the four wheel drive at the high speeds. Thanks to the implementation of this system, Pajero has become the winner of the legendary Paris-Dakar races at the beginning of the 90s, leaving all it's competitors behind in the deep sands of the Sahara's desert. 3rd and 4th generations of this famous SUV have switched from the classic body-on-frame construction to unibody. Many 4×4 fans say that this was a downgrade in the development of the model, but on the other hand, this decision has given the Pajero a much better handling on flat roads, so unlike many land yachts, it's got a very precise handling and stability. Among the other disadvantages of the modern Pajeros are the big front and rear overhangs and not really impressive road clearance, that limit the approach and departure angles, however it didn't stop the hero of our feature story, so he decided to improve them by installing larger offroad wheels along with a mild suspension kit.

Lift Kit
2" suspension lift kit made by a famous Japanese manufacturer of aftermarket off-road parts JAOS has given Pajero the necessary improvement on the clearance height which immediately improved the approach and departure angles.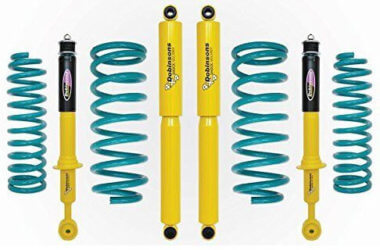 Dobbinson 2″ lift kit for Mitsubishi Montero / Mitsubishi Pajero 2000-2016
This lift kit is designed for 3rd and 4th generation models. Provides excellent handling on and off the road. Dobinsons 4×4 shock absorbers and coil springs are designed in Australia and tested to perform in the harshest offroad conditions.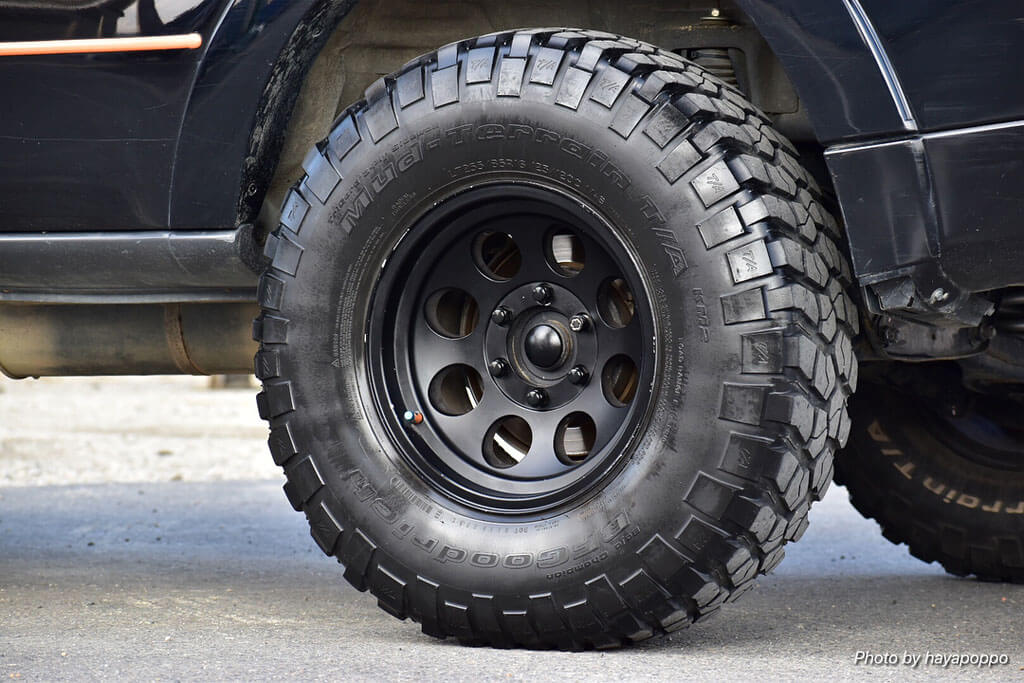 Offroad Wheels
Mickey Thompson Classic II offroad rims with a 0 offset wrapped with beefy 33 inch offroad wheels have extended the tracks and gave a few more points to the road clearance.
The tires are BFGoodrich Mud-Terrain T/A KM 2 sized 255/85R16 which equals to 33x10R16. They provide an excellent grip on the rough terrain so along with a smart Super Select 4×4 system they make this Lifted Mitsubishi Pajero a real offroad Shogun.
The exterior modifications are minimal and feature only classic bulge Dakar-style window deflectors and a small aerodynamic hatch spoiler. Interesting solution, the factory spare tire was ditched away in a favor of functional 4×4 recovery gear such as a HiLift jack, shovel, and other tools.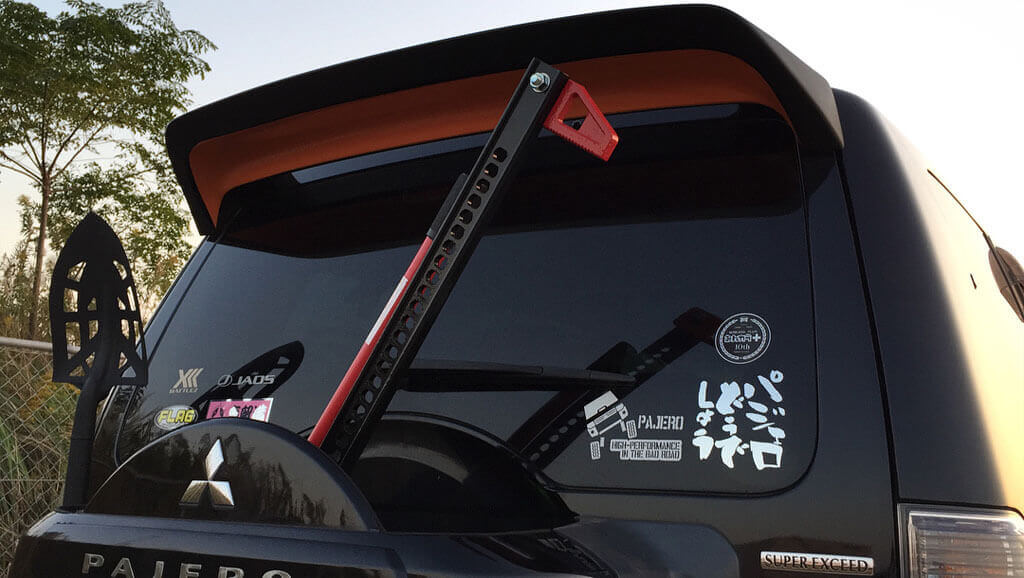 This stunning lifted Mitsubishi Pajero LWB is one of the cleanest and eye-catching vehicles that we came across for a while. It features the full list of tastefully selected modifications common for the JDM offroad style: clean look, beefy wheels, minimum of functional 4WD gear and immaculate condition. It can easily be used for any 4×4 and overland activities. See more pictures on the IG of the owner, share this article on social media and stay tuned for more off-road features in our upcoming stories!

| Model: | 2011 Mitsubishi Pajero V93W |
| --- | --- |
| Engine: | 6G72, V6, 3.0L |
| Body color: | ACTIVEGEAR - Limited to Japan |
| Suspension mods: | JAOS Lift Kit 2 Inch |
| Rims: | Mickey Thompson, classic II. 0 - Offset |
| Tires: | BFGoodrich Mud - Terrain T/A KM 2 255/85R16 |
Matt Grabli
Automotive journalist and technical writer at Offroadium.com with more than 10 years of experience in the sphere of aftermarket parts and 4×4 vehicle modifications. Passionate about off-roading, outdoor adventures, and an active lifestyle.