DIY Project – Chevy Tahoe With 6″ lift and 35 Inch Tires

Looking to lift your Chevy Tahoe 6 inches? In this post, we will compare the best 6-inch suspension lift kits on the market. We will look at the features and benefits of the popular solutions available on the market from the brands like Pro Comp and Rough Country. We will also show pictures of a Chevy Tahoe of all generations with a 6-inch lift kit installed (including GMT800, GMT900, GMT K2UC/G and GMT1YC as well as GMC Yukon), so you can see what the finished product looks like. Let's get started!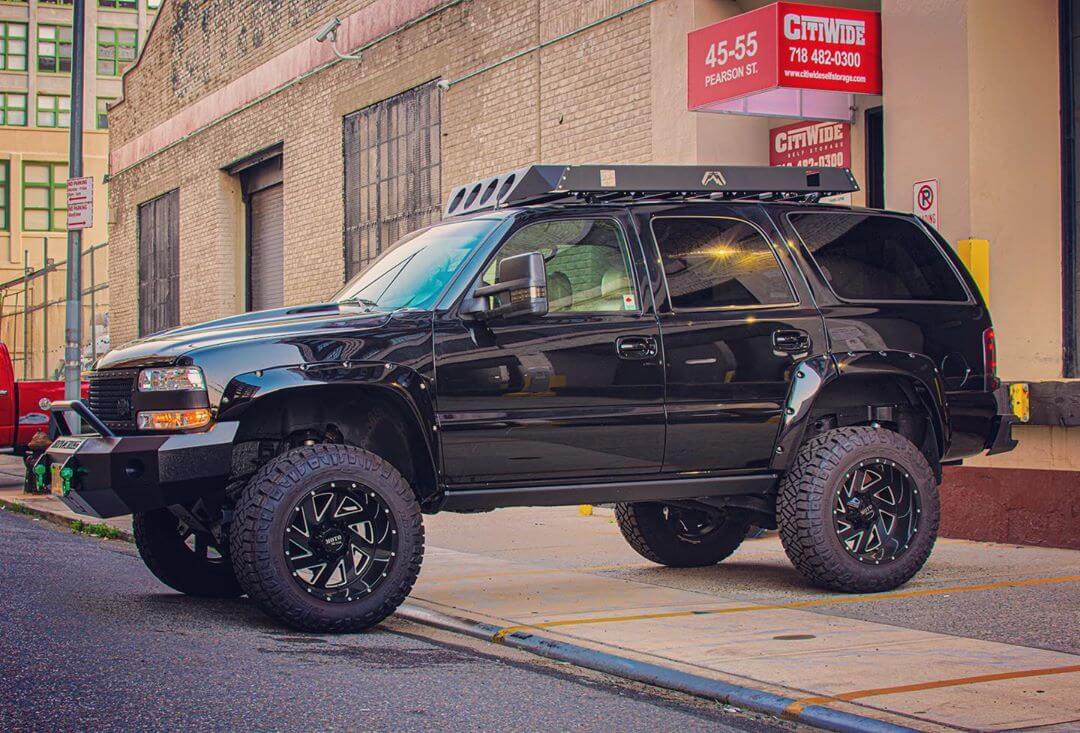 Why would you even want to install a lift kit on your Chevy Tahoe?
There are actually quite a few benefits of installing a 6 inch lift, as you will improve the capabilities and the looks of your SUV at the same time.
You will be able to take on tougher off-road trails and obstacles thanks to the installation of bigger off-road tires, up to 35 inches. Not to mention, your Chevy Tahoe will look badass with a 6-inch lift and will definitely stand out from the crowd of stock trucks in your parking lot.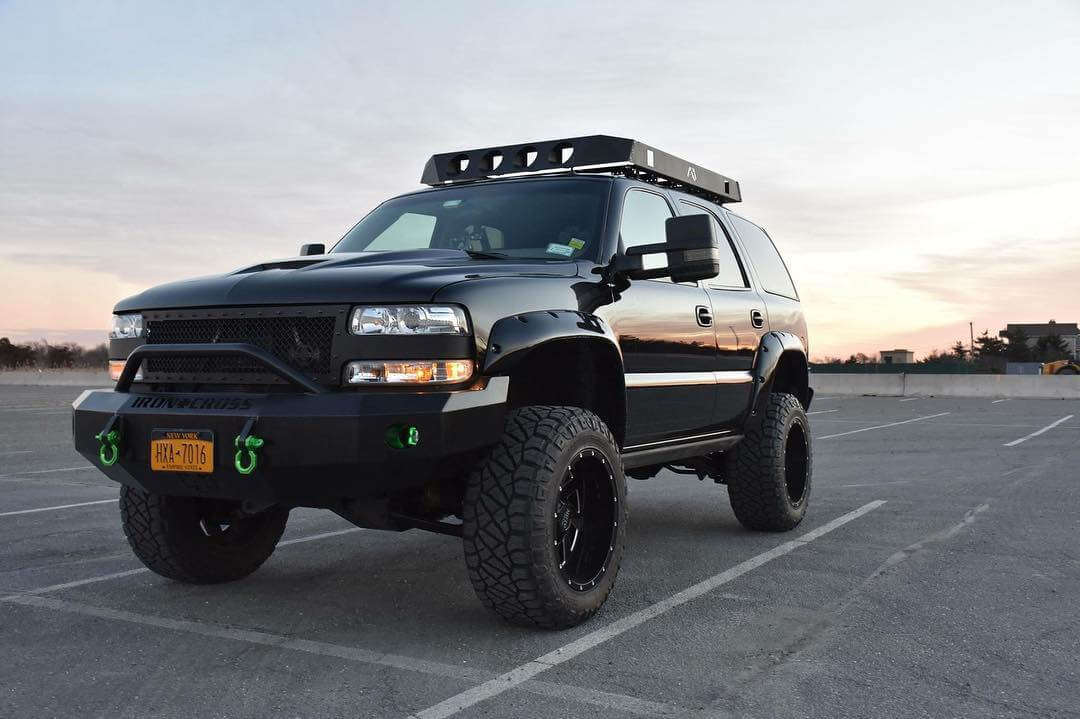 Chevy Tahoe GMT800 with a 6 inch lift
It's example of putting together a badass DIY off-road project based on a 2002 Chevy Tahoe LTZ 4×4. It was purchased at the local Used car dealership by Jon Cavemen in NJ for just $2900 and turned into a trail-worthy off-road rig for a little more than a year. The majority of the pars were purchased online and installed by the owner or with the help of the local body shop. Watch the video to see the build sequence and other details from the owner!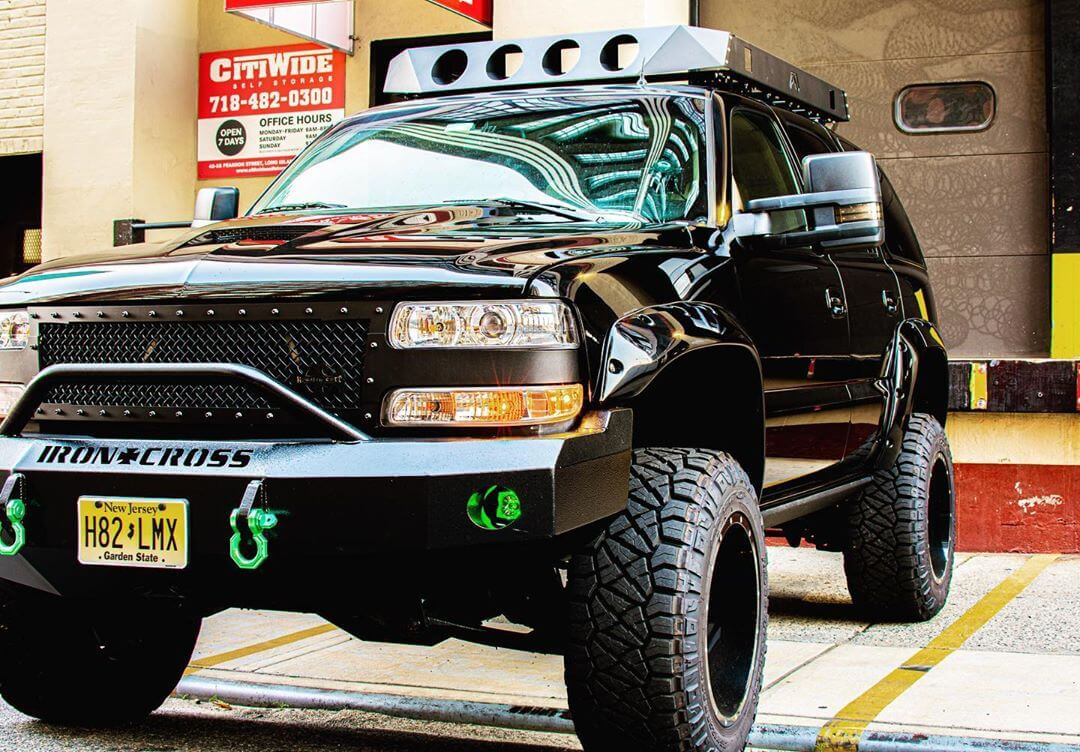 Specs:
2002 Chevy Tahoe LTZ 4×4
Depo Projector Headlights (HID Low beams, LED High beams), taillights, mirrors,
Iron Cross steel off-road bumper with Green accent lights
Hammerhead flush mount rear steel bumper
Steel Cowl Hood by Auto Metal Direct
Upgraded Audio system and a custom Subwoofer
Custom Fender Flares from Chevy Silverado
Subscribe to Jon's channel to watch more awesome installation videos and new updates on his badass project!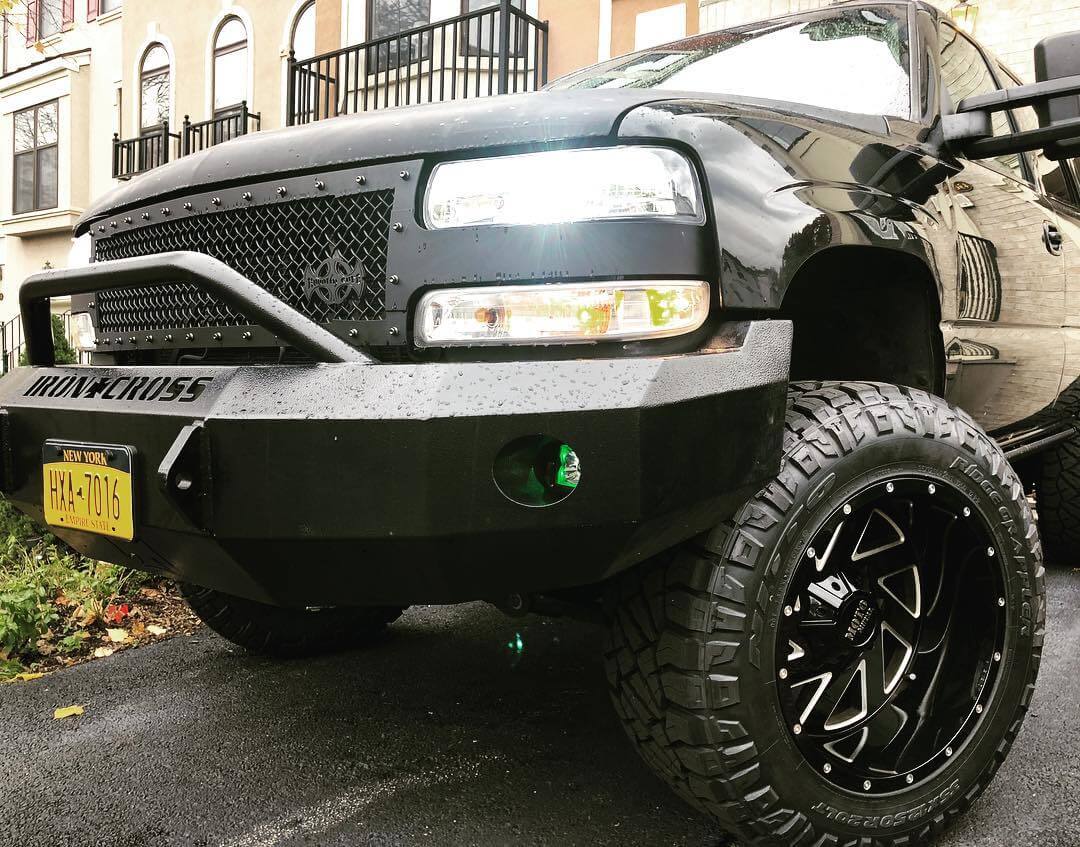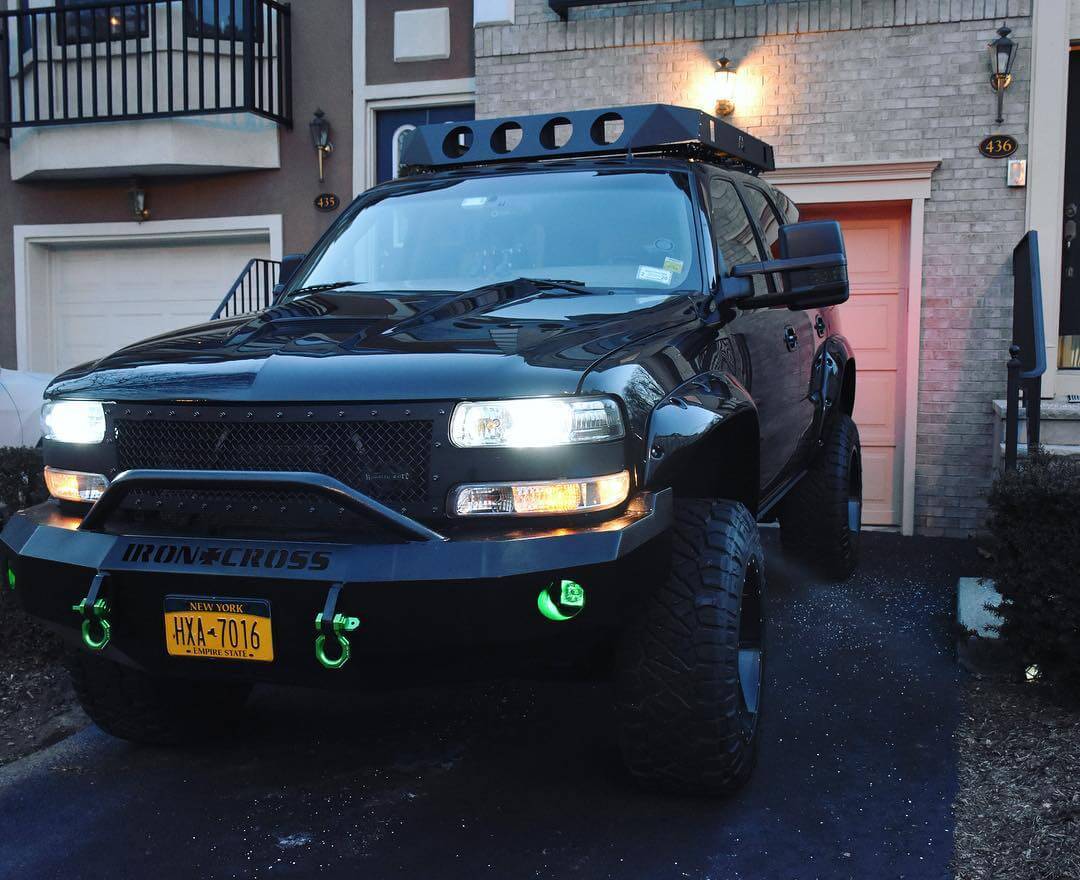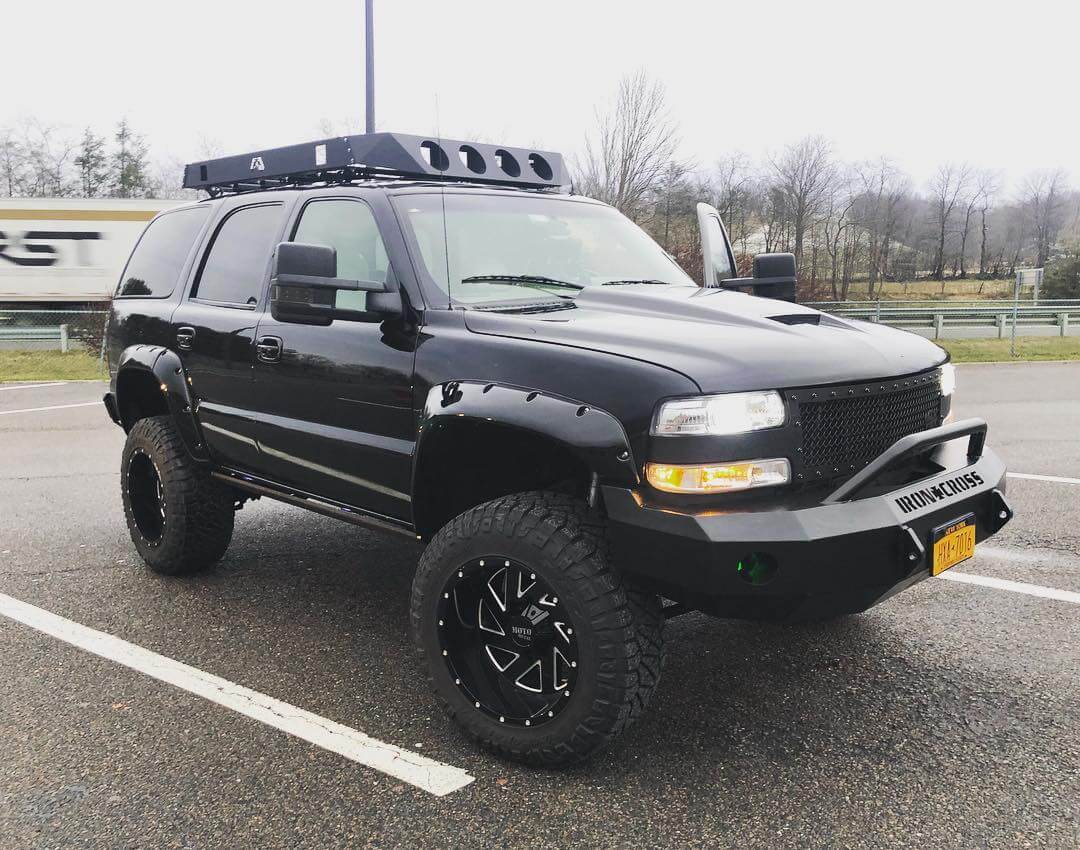 2020 Chevy Tahoe With a Rough Country 6-inch Lift and 35s
It seems like the newer generation GMT K2UC/G Tahoe looks just right with the 35s. They are nearly 3″ bigger compared to the stock 275/55/R20 tires which adds another 1.5″ inches of height on top of the lift. Unlike the 33s, they barely fit into the wheel wells and may rub on the inner side depending on the backspacing of the selected rim.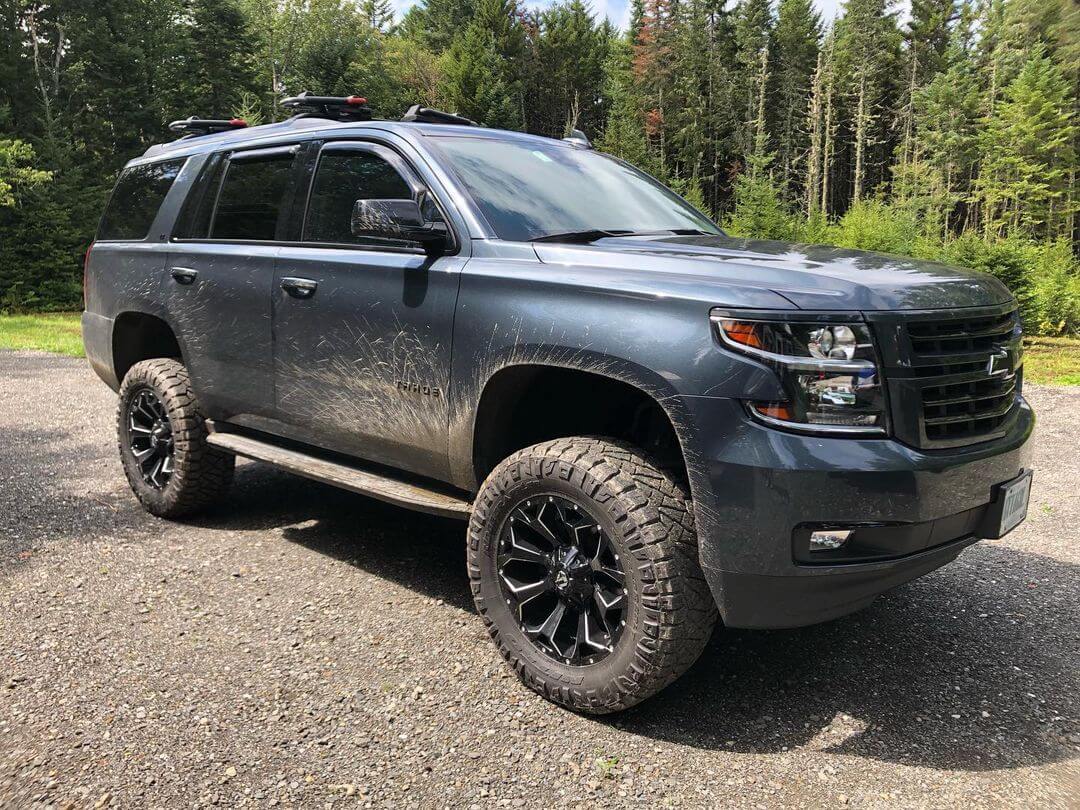 Specs:
– Rough Country 6″ Lift Kit
– 20×9 Fuel Assault custom wheels
– 35×12.5 Nitto Ridge Grappler M/T Tires
Find out more about this rig on the Instagram profile of the owner @attagirl_lifted_tahoe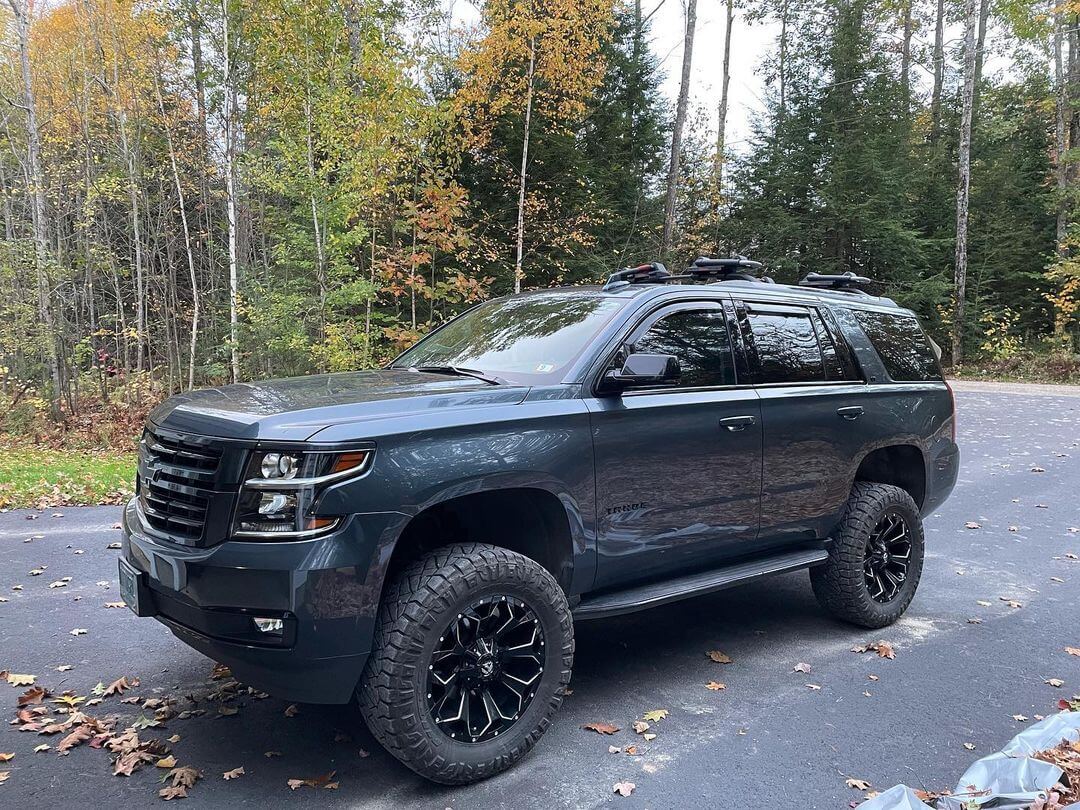 Latest 2022 Chevy Tahoe GMT1YC
This gorgeous white 2022 Tahoe is professionally built by
Autoplex Customs
and it looks right with a set of 35-inch wheels and a new 6″ Rough Country lift. While this lift is a tiny bit taller than a 3.5″ option, it gives the right amount of space for large 35s in the wheel wells. Check out their Instagram to see more lifted truck builds
@autoplexcustoms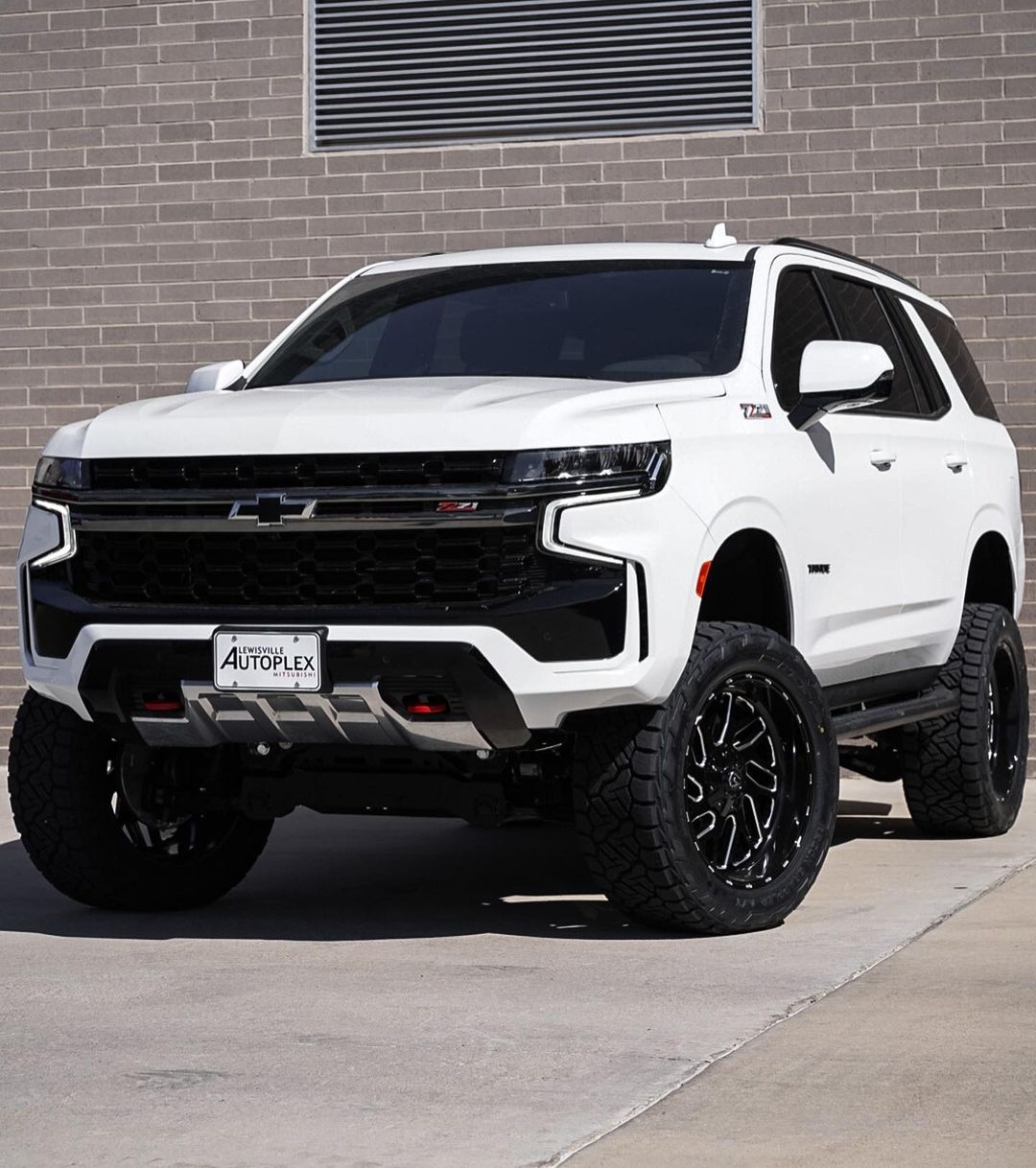 Specs:
– 22 CHEVROLET TAHOE Z71 (2,360 MILES / NEW BUILD)
– 6" Rough Country Lift
– 22×10 Fuel "Triton" Wheels
– 35×12.50R22LT Nitto A/T Tires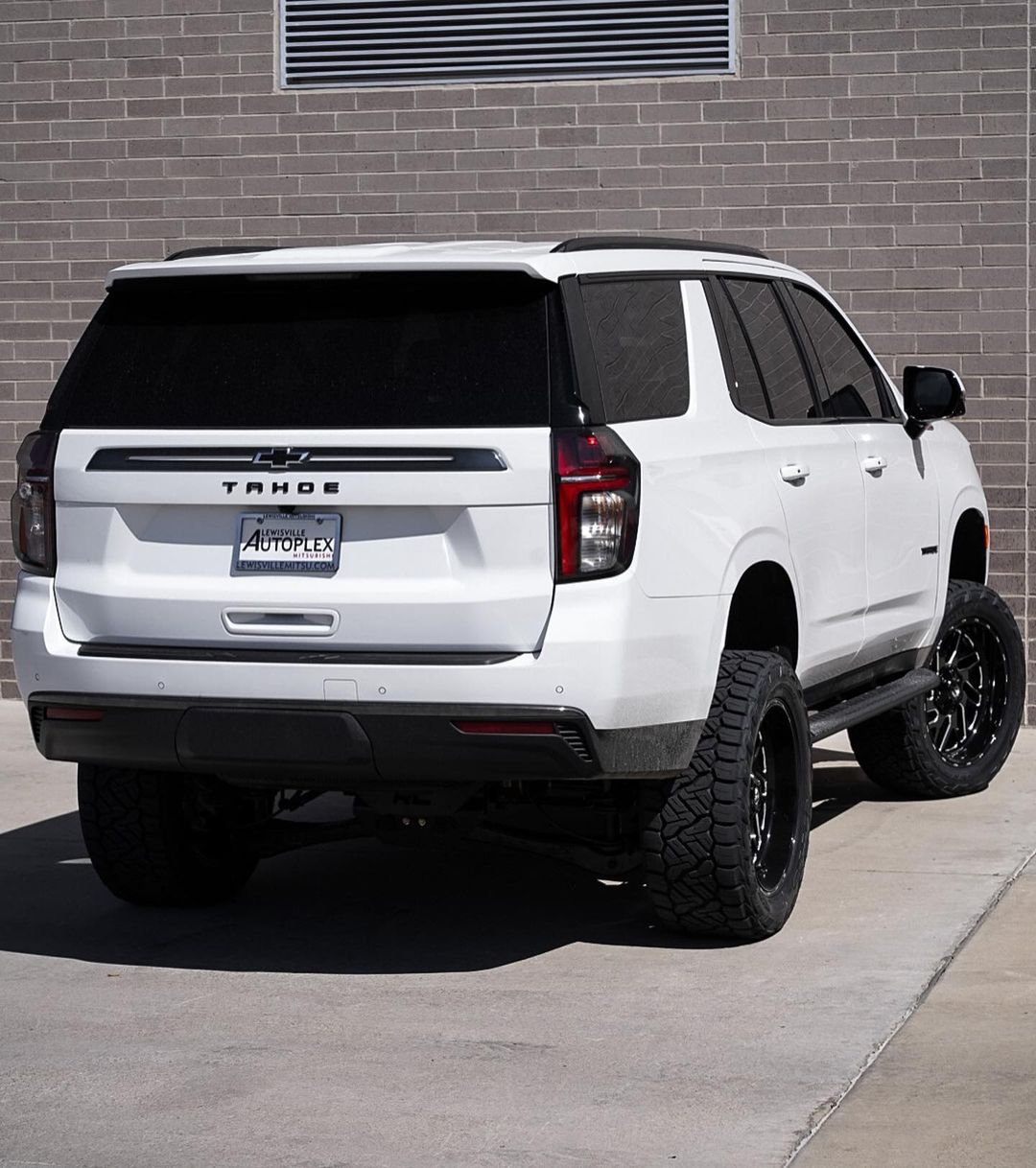 Best Chevy Tahoe 6 inch lift kits
If you are looking for a Chevy Tahoe six-inch lift kit, then you will need to replace the stock shocks with longer aftermarket units. In addition, the front and rear coil springs will need to be replaced with taller ones. The installation of such a kit will allow you to install up to 35″ tires on your Chevy Tahoe. Keep in mind that lifting your Chevy Tahoe six inches or more will require advanced suspension and drive-train modifications.
Pro Comp
American manufacturer of off-road parts and accessories Pro Comp offers various lift kits for Chevy Tahoe and GMC Yukon models. Their kits include basic spacer lifts and full long-travel suspension lifts.
Rough Country
One of the biggest manufacturers of lifting solutions for trucks an SUV Rough Country has been in this business for decades, and they have custom fit kits for all generations for Chevy Tahoe and GMC Yukon. No matter if you are looking for a small leveling, spacer, body lift or a full suspension kit these guys will get you covered. The majority of the Tahoe builds we reviewed in this article are equipped with Rough Country lift kits, so if you would like to use a tried and tested solution on your rig, feel free to check what do they have on offer for your specific model here. Keep in mind that RWD and 4WD kits are different.
Why 35″ Tires are Worth It?
If you are looking to improve the offroad performance of your Chevy Tahoe, one of the best ways to do it is by installing a set of 35 inch tires. Bigger than the factory tires, 35 inches provide a number of serious benefits that will make tackling even the most challenging terrain a breeze.
Perhaps the most immediately noticeable benefit of 35 inch tires is the increased ground clearance as they are about 3 inches bigger compared to the stock 275/55/R20 tires. Even without any lift they provide 1,5 – 2″ ground clearance improvement.
In addition, 35-inch tires also improve the approach and departure angles of your Tahoe. This means that you'll be able to drive up and down steep inclines with ease, without having to worry about damaging your bumpers or the rocker panels. Another great benefit of 35-inch tires is that they widen the tracks of your Tahoe. This provides increased stability and helps to prevent rollovers, even when driving at high speeds on uneven terrain.
Best 35 Inch tires for A Chevy Tahoe with a 6 inch lift
If you drive on the pavement most of the time and use gravel or sandy roads – all terrain tires will do the job for you. If your destination involves crossing muddy terrain or dirt – nothing will do the job better than M/T tires. This article will help you to choose the right tires for your truck!
Conclusion
So, there you have it! The benefits of installing a 6-inch lift kit on your Chevy Tahoe are pretty obvious. With the installation of a full suspension lift kit like this, your rig will maintain optimal handling and you don't have to worry about damaging the suspension components while off-roading. Know your limits though, it's far from being a race kit, so if you would like to push it to the limit, a prerunner suspension kit may be a better option for you.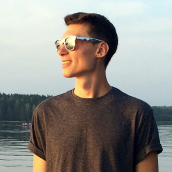 Matt Grabli
Automotive journalist and technical writer at Offroadium.com with more than 10 years of experience in the sphere of aftermarket parts and 4×4 vehicle modifications. Passionate about off-roading, outdoor adventures, and an active lifestyle.