Continuing the series of articles dedicated to AWD crossovers, it's impossible not to cover off-road/overland projects based on the Subaru Forester SJ platform. Being equipped with an impressively capable Subaru Symmetric all-wheel-drive system, it became one of the most popular models in the segment of compact crossovers on the market.
When you first get to drive this thing off the paved roads, you realize how well it behaves on literally any surface. When equipped with the right tires, it can handle pretty much any line that you thought was only possible for bigger body-on-frame 4x4s. It doesn't have lockers, but the X-Mode or a disengaged Traction Control perfectly compensate for their absence in the majority of situations.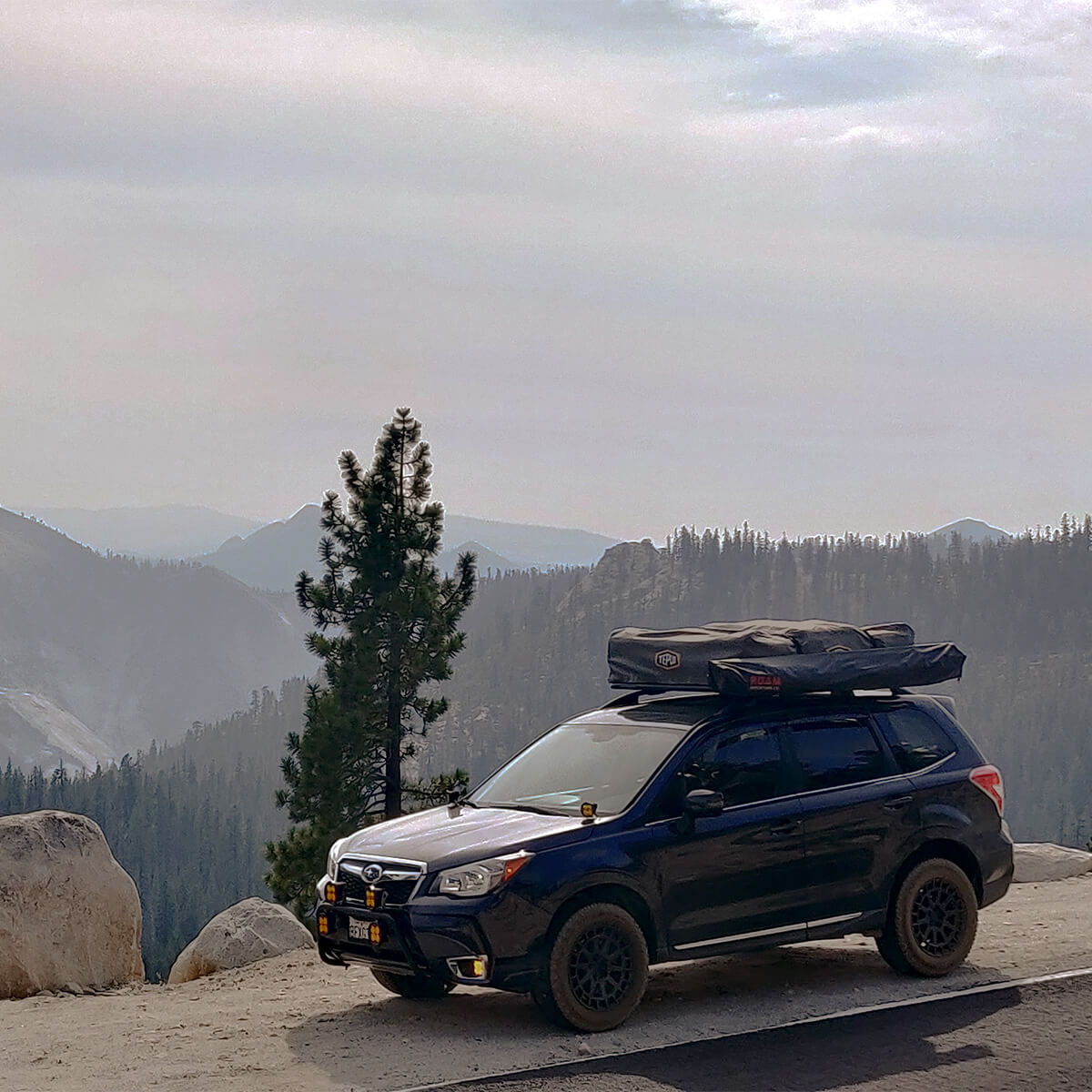 The main, if not the only, disadvantage of the Forester compared with bigger 4x4s, in terms of the off-road performance, is the ground clearance in the stock form, but it's pretty easy to address this problem with the help of an aftermarket lift kit and higher profile off-road tires.
That's what Ricky Lai, from Orange County, CA, did to his 2016 Subaru Forester XT. He chose to equip it with a set of Falken Wildpeak A/T tires sized 235/65R17 and a tried and tested 2″ lift kit by LP Aventure with KYB Excel-G struts and Rallitek 0″ front/rear Overload springs.
Instead of starting another Instagram-famous crossover project, he concentrated on convenience, functionality, and off-road performance.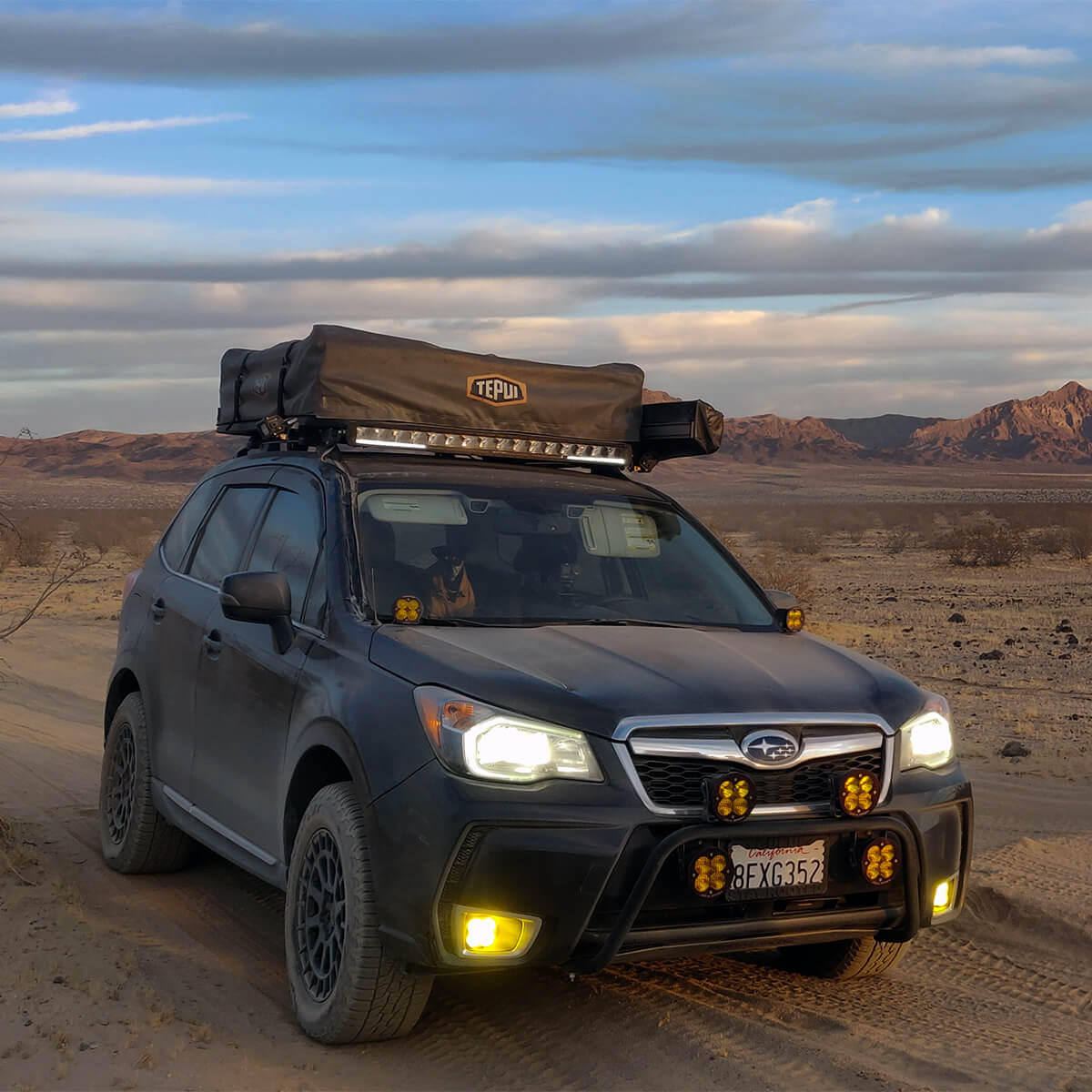 How did you become interested in off-roading?
– I've always enjoyed the outdoors and camping, but I was mostly a passenger or traveling in someone else's vehicle. I wasn't interested in off-roading until 2018, which is when I purchased my first Subaru. At the time, I didn't think I would be as interested in offroading and overlanding as much as I am today.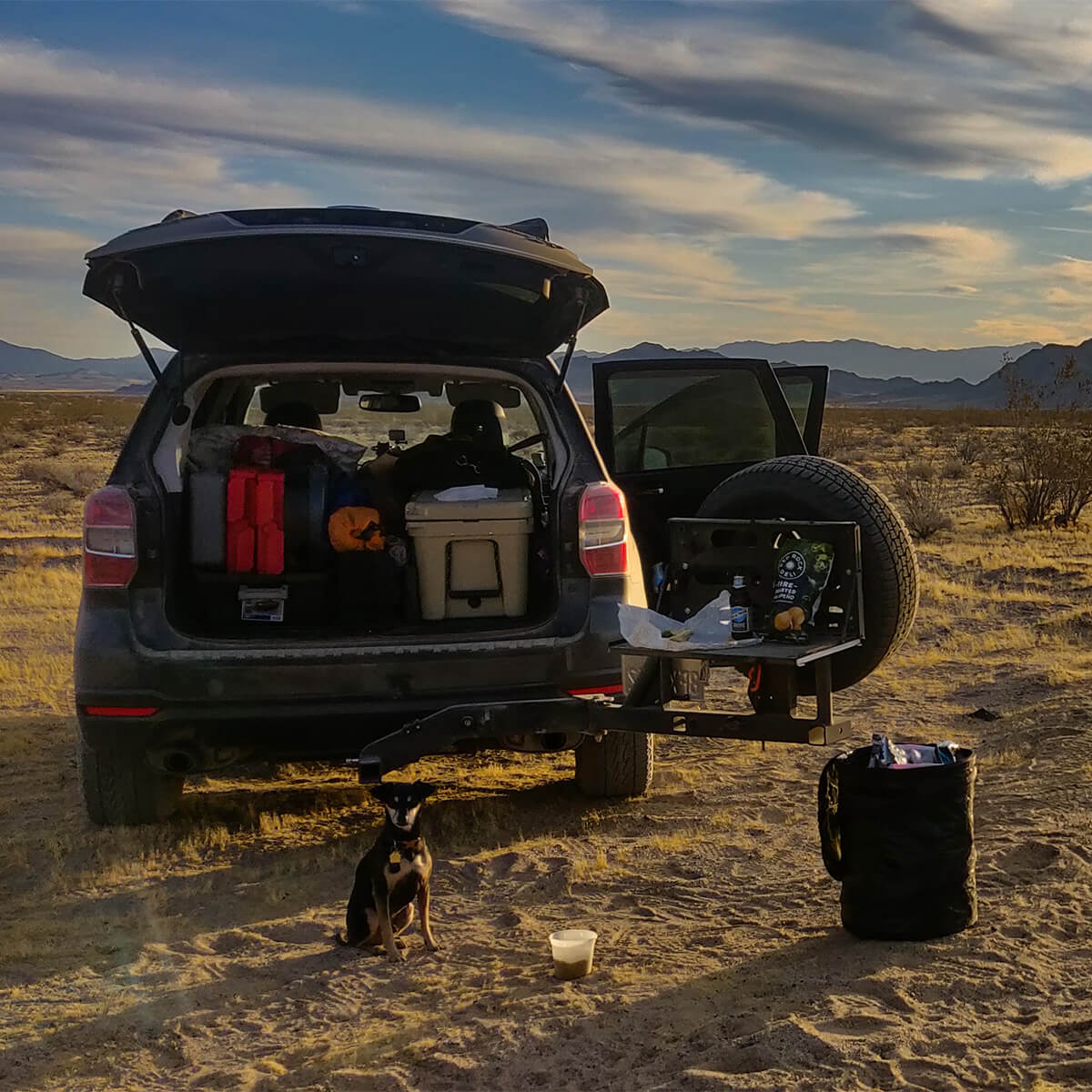 Why did you choose this particular model for your project?
– When I was in the market for a new car, I knew I wanted an AWD SUV that inspired confidence when driving in the mountains when I went snowboarding. This is practically Subaru's bread and butter. Interestingly enough, I didn't think much of overlanding or preparing my Forester's build for offroading use at that time.
At first, I actually wanted a Crosstrek, but it felt sluggish and didn't have enough power for my taste. Once I test drove the Forester XT however, I knew it was the one. Once I found out that the 2018 model year was also the last year they were offering the XT model for the Foresters, it seemed like a no-brainer and I decided on it that day. No regrets!
What inspired you to choose this modification style?
– My buddy Dickson, @bearnorthx, is a big inspiration for my modification style and getting me into the overlanding lifestyle in general back in 2016/2017. This was all before I had my own rig, so Dickson was the friend I often went out with on camping trips. Nowadays, he's riding around in his Jeep JL Rubicon, and we often will plan offroading and overlanding trips together. Likewise, we also push each other to keep building out our rigs and testing our limits when we're out on the trails.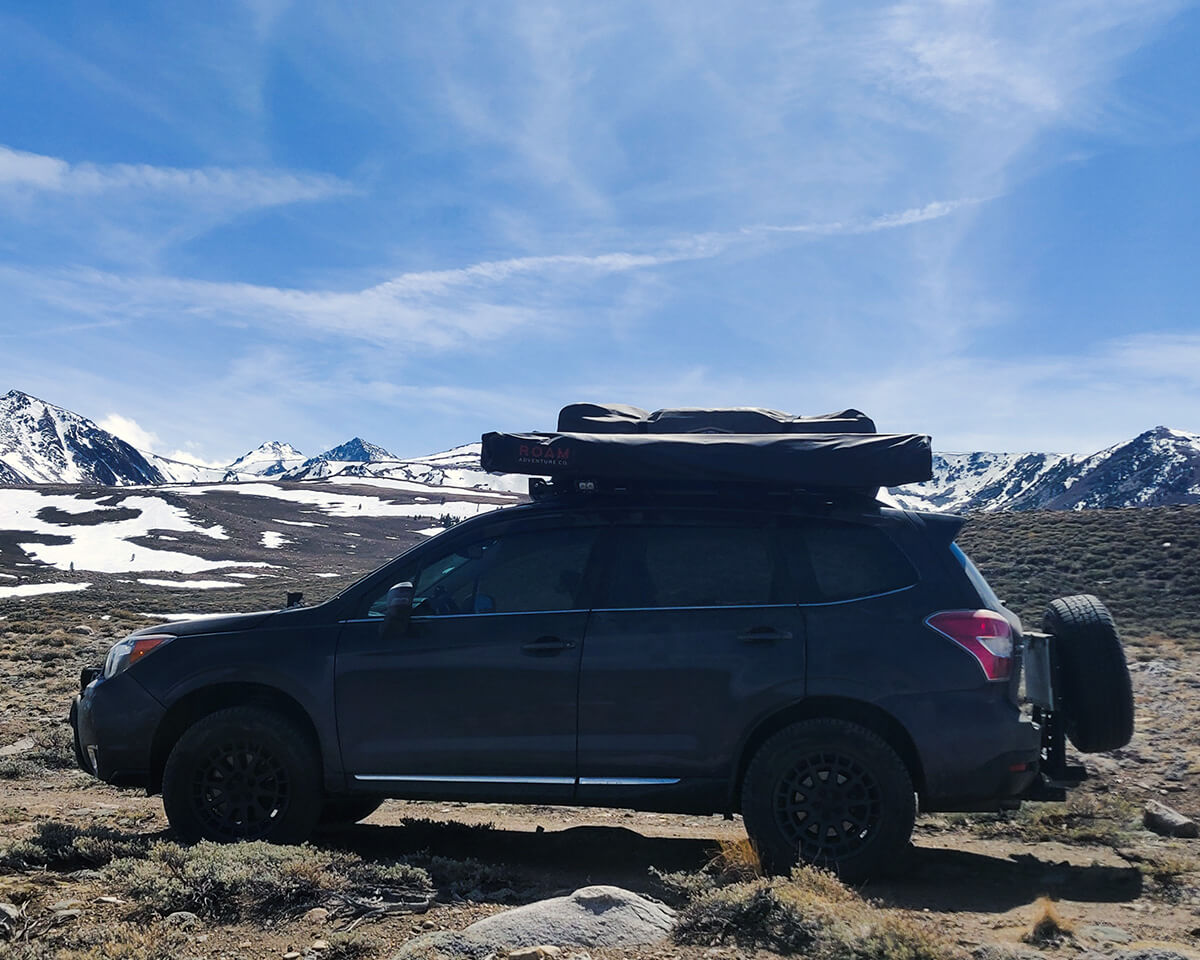 What challenges did you face while putting it together?
– I found it challenging to figure out what was really necessary for building out my rig for legitimate offroad use, as opposed to making a nice build for "social media" or "mall crawling". I have nothing against those who enjoy building their cars to achieve the offroad look, but for me it was a lot of trial and error to figure out what I truly needed to feel confident in my vehicle when I am hours away from civilization.
I also found it somewhat difficult to adhere to my budget – it can be very easy to want to splurge or spend more than you actually have. However, I think I did a good job buying most of my build second-hand whenever I could, which made my build out process slower, but much cheaper overall. It also gave me some time to appreciate each piece I'd add to the build over time.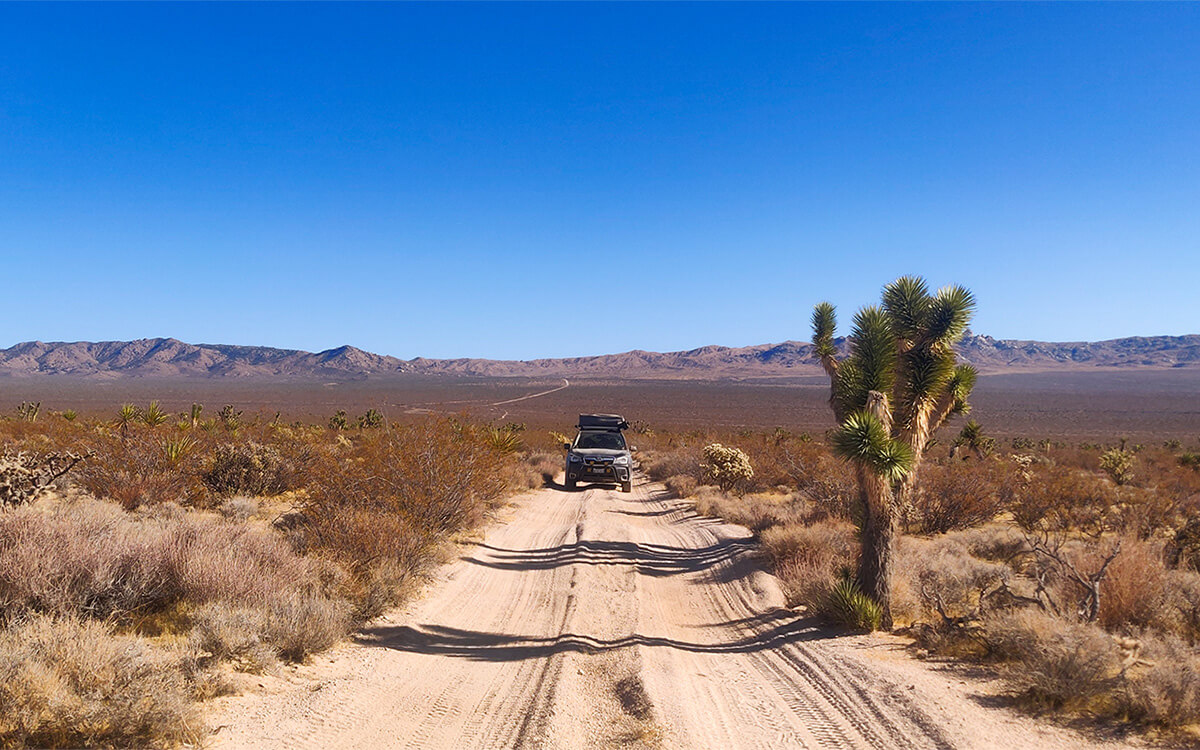 What do you love about your vehicle?
– I love how capable my Forester is and how often I will surprise other offroaders with more capable vehicles, such as Toyotas or Jeeps, while I'm out on the trails. They'll often remind me I should have 4WD or lockers before I go attempting a trail, only to be surprised when the Forester pulls through without issues. I honestly don't skip a beat going from offroad-use to daily driving use, which is very important to me since my car is a daily driver 99% of the time. My car feels like it balances decent MPGs, quiet daily drive use, and spirited offroad use, all in one solid and capable AWD drivetrain. I'm also really partial to how the 14-18′ Forester XT models look – a little boxy but not too much, the lines on this vehicle complement it well, and in my opinion it looks much more refined than the current model year.
Is it your daily or a weekend ride?
– My ride's a daily driver!
Do you take it off road? If so, where and how often?
– I go offroading usually at least once a month, typically around Southern California and the West Coast region.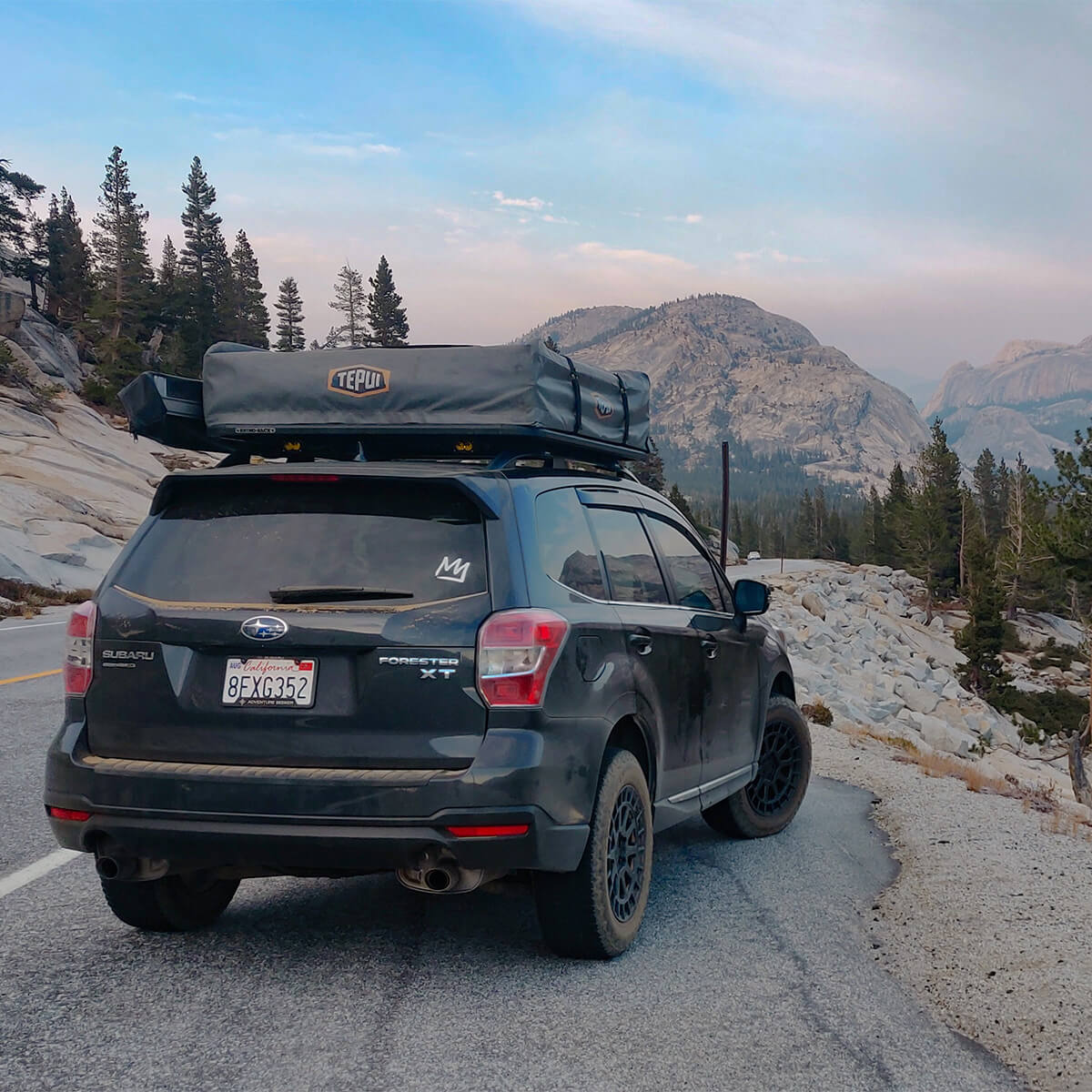 2016 Subaru Forester XT Touring Specs
Engine specs, modifications
– 2.0L H-4 Engine, 250 hp with CVT transmission. Currently no engine mods, however I am installing a Mishimoto transmission cooler soon.
Lift height and suspension modifications
– LP Aventure 2″ Lift Kit
– KYB Excel-G Struts
– Rallitek 0″ Front/Rear Overload Springs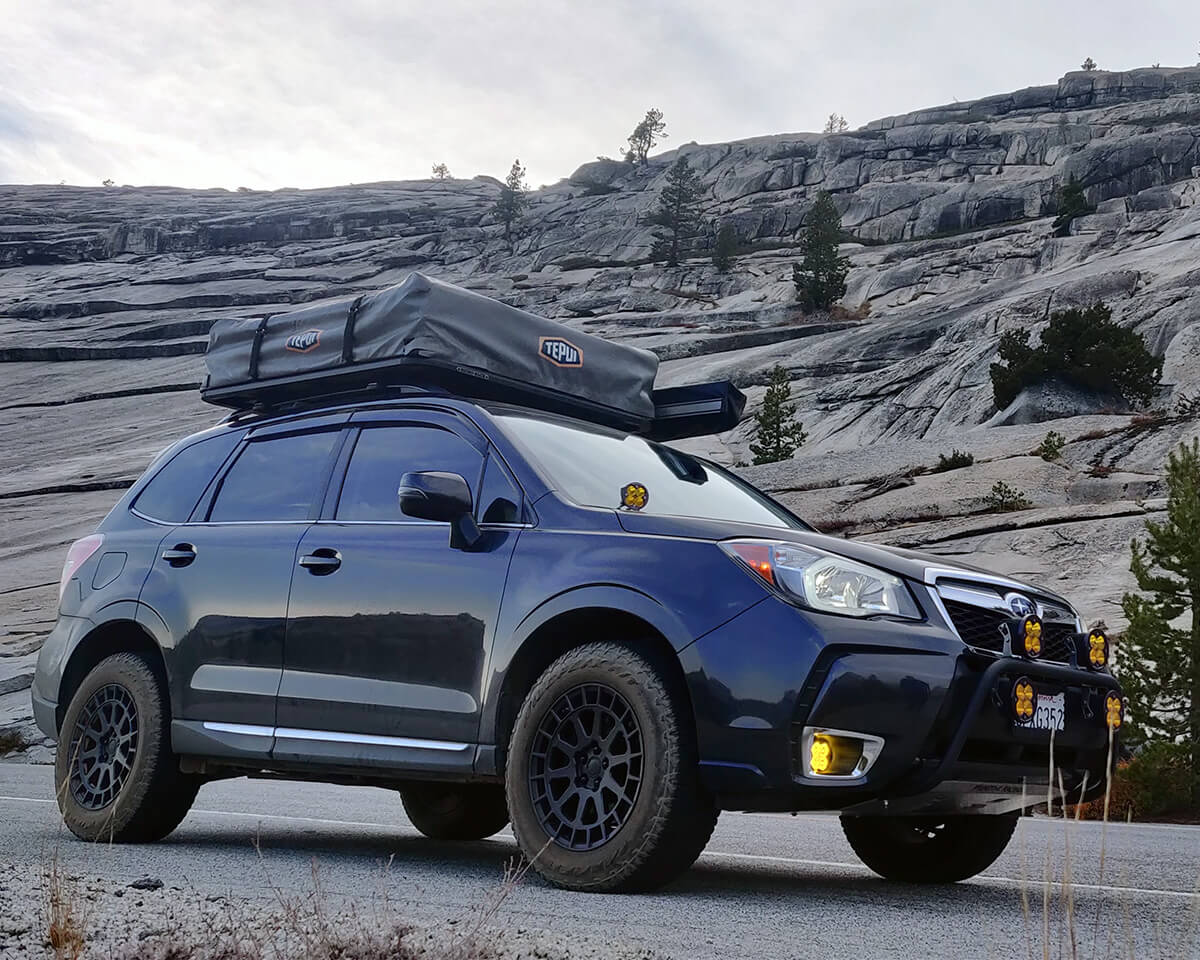 Wheel specs
– Black Rhino Boxer Wheels – Gun Black – 17×8.5 5×100 Offset – 40
– Falken WildPeak A/T Trail – 235/65/R17 108H XL RBL
Exterior mods
– Primitive Racing Full Armor Skid Plates (Front, Center, Rear Differential) (3)
– RallyInnovations Light Bar (front bull bar) (1)
– Rhino Rack Pioneer Platform Roof Rack (1)
– Thule-Tepui Kukenam 3 Rooftop Tent (1)
– Roam Adventure Co 270 degree Awning (1)
– RigdSupply Ultra Swing with Frontrunner Table (1)
– Diode Dynamics SS3 Fog Lights (2)
– Stedi Australia 40.5″ ST2K Curved LED Light Bar (1)
– Stedi Australia ST3301 4.6″ CREE LED Work Light (2)
– Baja Designs XL-R Sport LED Lights (4)
– Baja Designs Squadron Sport Ditch Lights (2)
– Baja Designs S2 Chase Lights (2)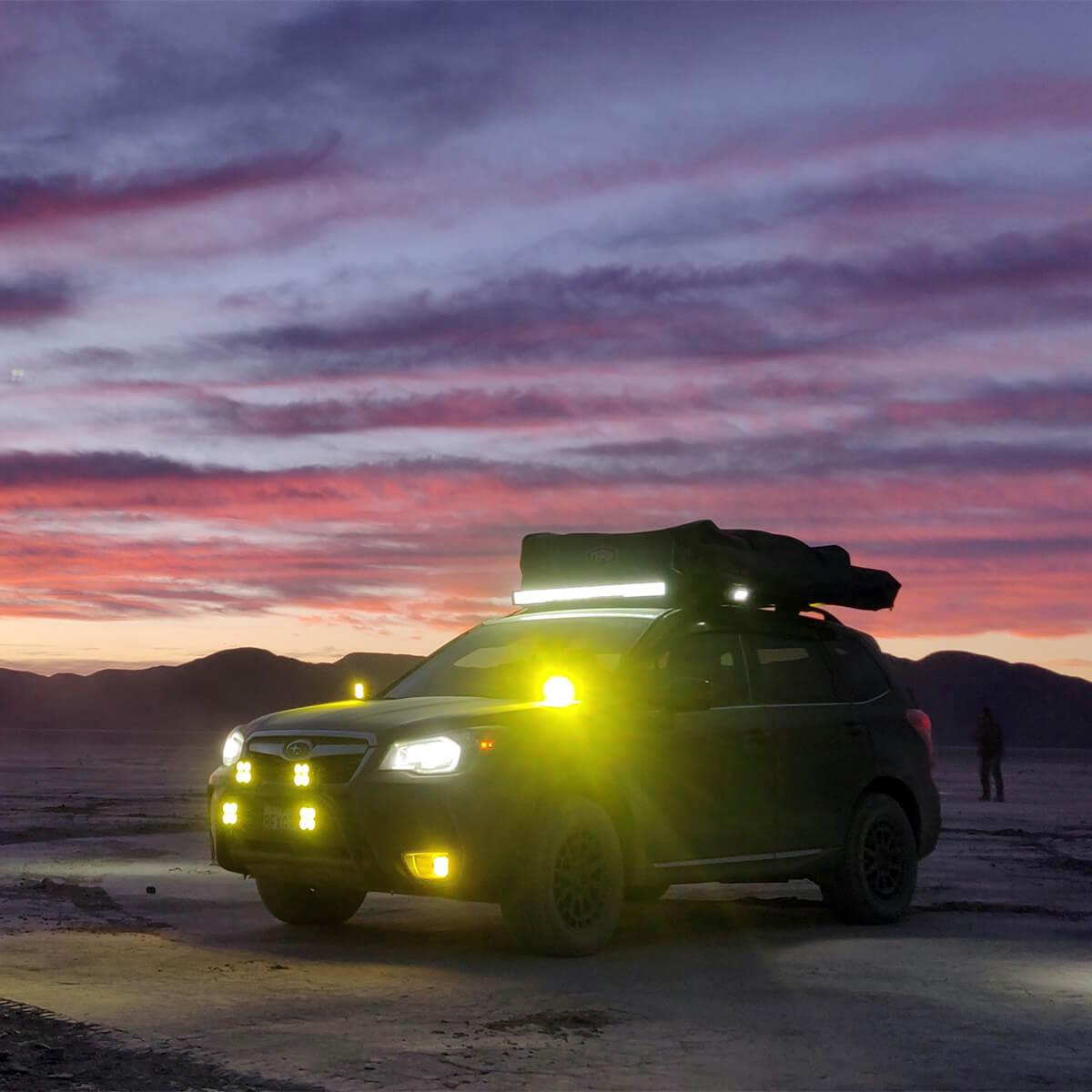 Interior mods
– Midland MXT275 GMRS Radio
– Dometic PLB40 Battery (1)
– Dometic CFX40 Fridge
– Trigger Controller 6 Shooter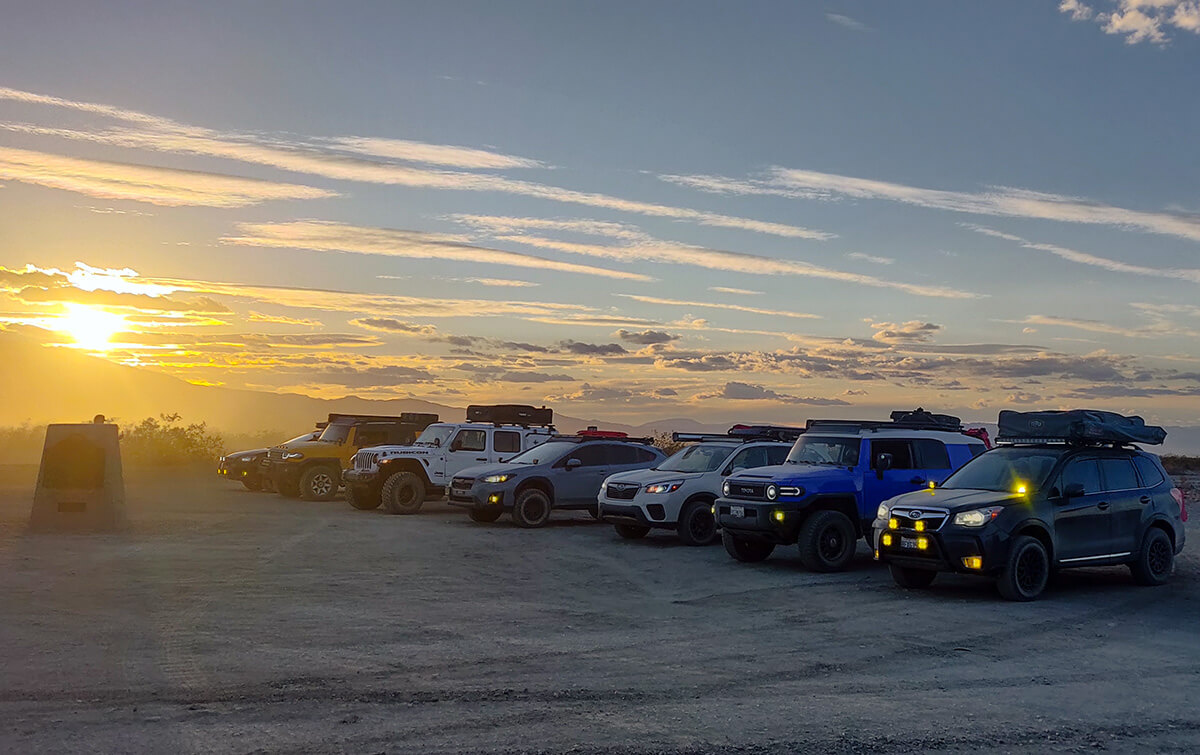 What are your future plans about this vehicle?
– I plan to upgrade my KYB Excel-G struts to Bilstein B6 struts for improved handling and a smoother ride when offroading. I'm also installing a Mishimoto CVT transmission cooler to help reduce the transmission oil temperature on hotter trail days where the CVT temperature will go over 250 degrees.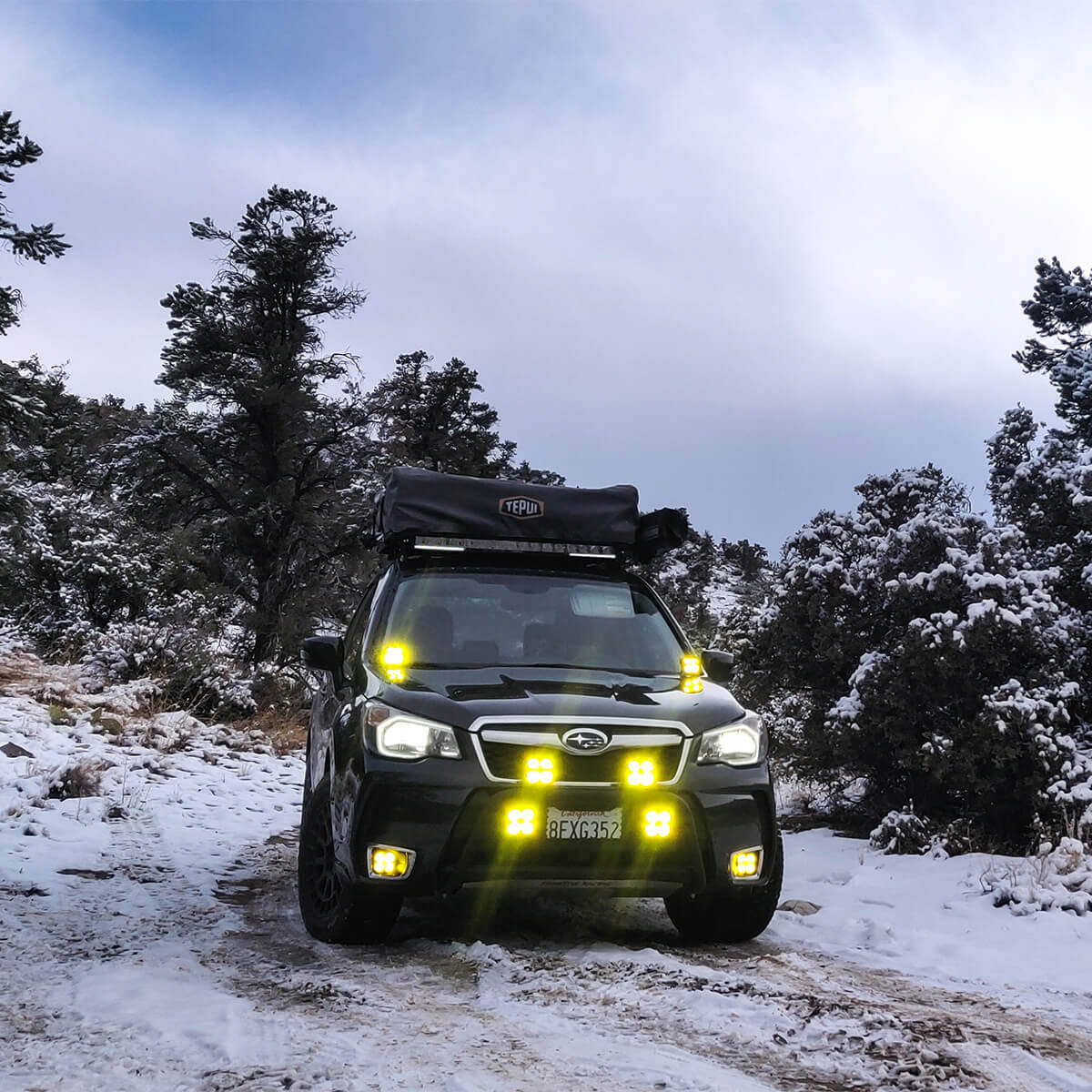 Anything else you would like to share about your vehicle or about the off-roading in general?
– Be kind to others, leave no trace, and always send it!
Watch the progress and find out more about this Subaru Forester XT Touring project by visiting the Instagram profile of the owner: @sj2016xt !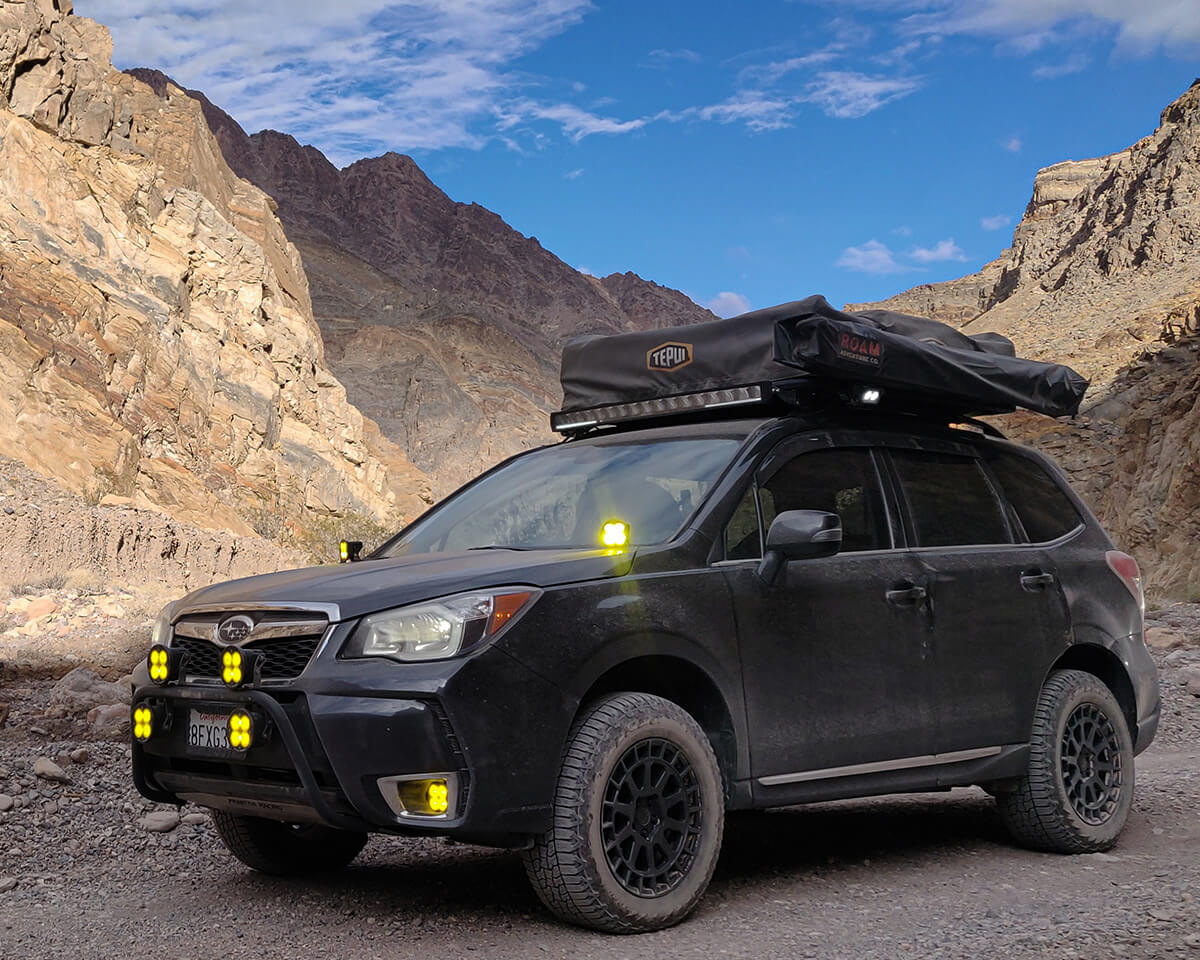 Related Parts & Mods
– Inspired by this Subaru Forester build and looking to prepare your own SJ for off-road adventures? Our team has put together a list of products and accessories available online that may help you to achieve similar results:
Lift Kit
Wheels
Roof Rack
Roof Top Tent
Awning
Lights
*Before ordering any part or accessory, it is recommended that you verify its fitment with a qualified professional and/or seller. We are not responsible for fitment or other issues that may arise from using the products featured on our website.
Stay tuned for more project reviews on Offroadium.com – Follow us on social media, and share this write-up if you enjoyed reading it!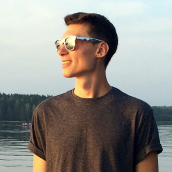 Matt Grabli
Matt brings over a decade of automotive expertise to his role as staff writer and editor at Offroadium.com. With an enduring passion for the off-road vehicles and adventures, he is devoted to creating interesting content that equips 4x4 enthusiasts with the knowledge to improve their rigs.