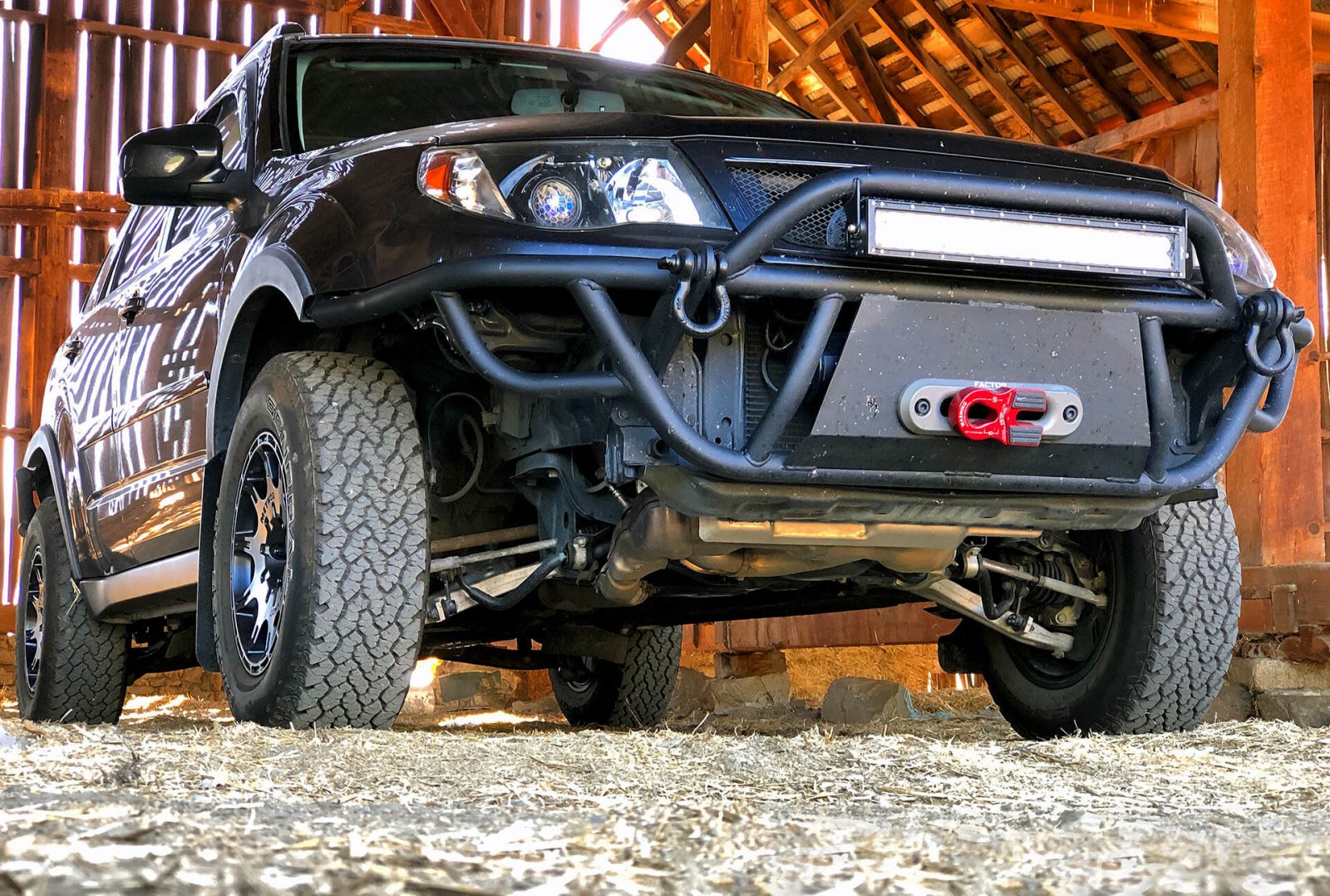 As part of the third generation of Foresters introduced to the U.S. market, the 2009 model based on the compact Impreza platform became very popular among offroading enthusiasts because it appears substantially larger than its previous iterations, has more ground clearance, the cabin became more spacious, and the vehicle looks more like a compact SUV crossover rather than awkward family wagon while keeping all of the advantages previous generations had.
The increased wheelbase results in better ride quality. One of the main traits of the Forester is its practicality, ample cargo space, capable boxer engine, and standard symmetrical AWD, which makes the vehicle great for driving on snow, ice, and mud.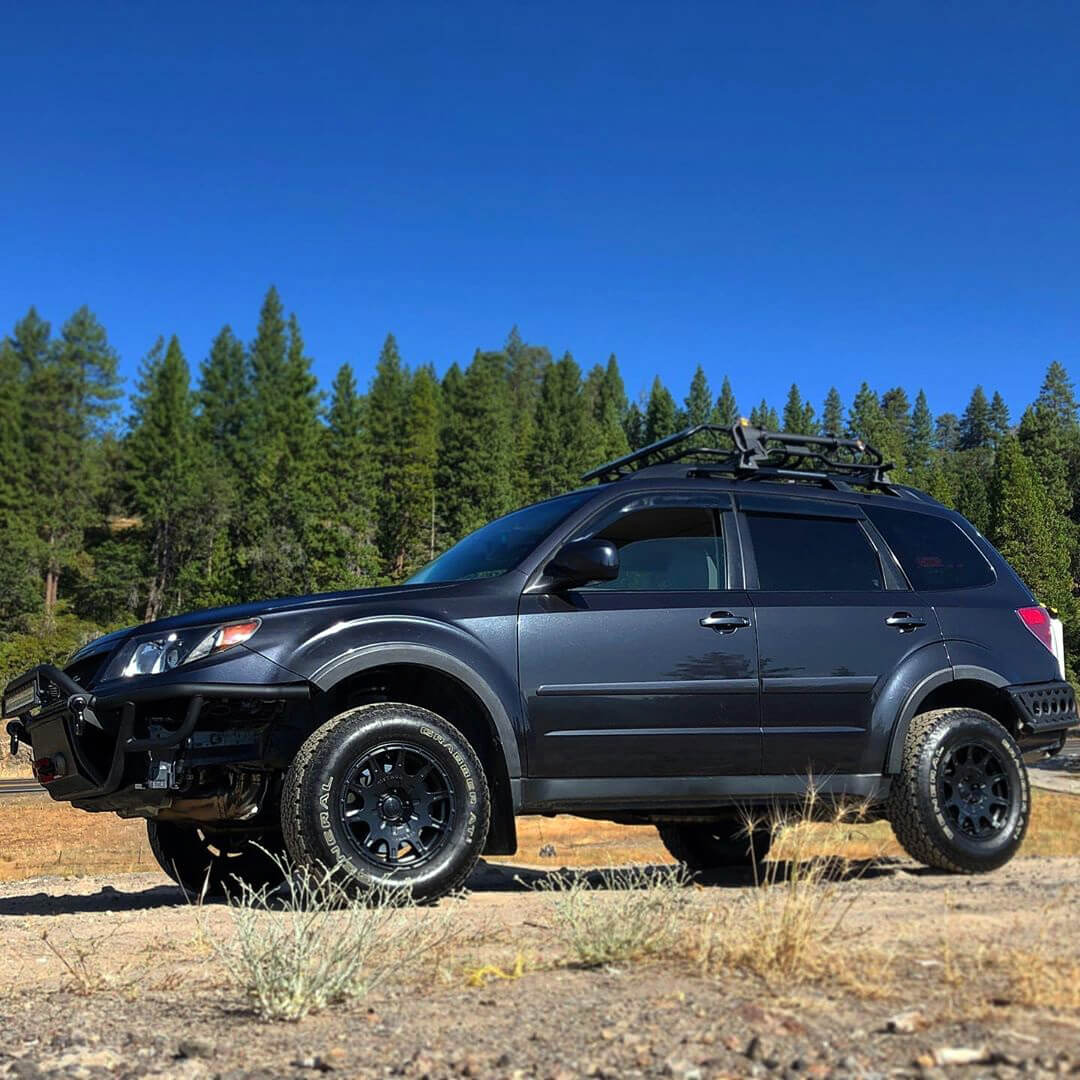 Brian from San Jose, California, has chosen the 2009 Subaru Forester Limited as his daily driver and transformed it into an overland beast that could take him anywhere and bring him back home safely. The most noticeable modifications include 2" front, 2.5" rear suspension lift for greater ground clearance, snorkel for river crossings, off-road bumpers for better approach and departure angles – the front one with a winch and lightbar, and the rear one with a spare tire carrier.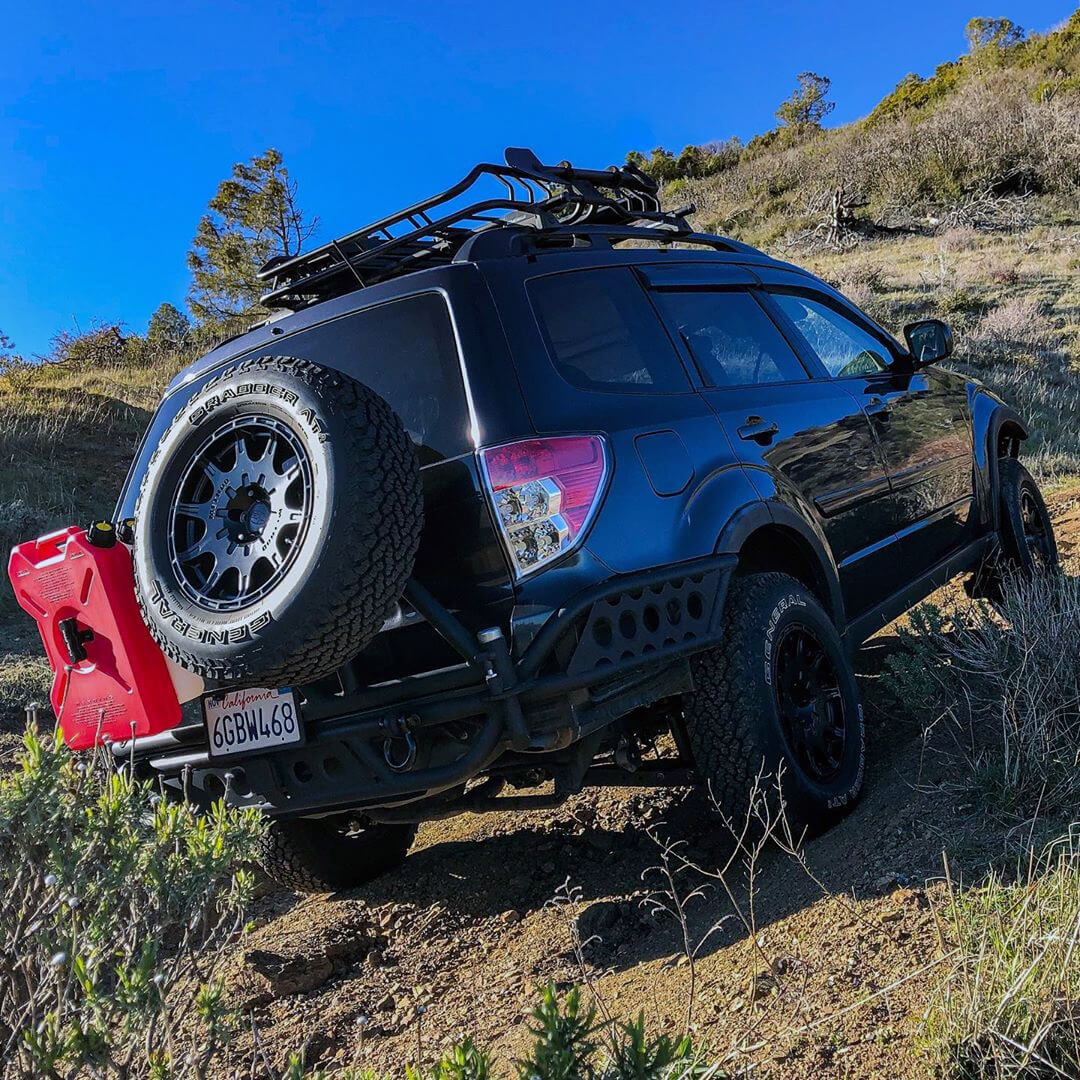 How did you become interested in off-roading?
– My first memory is probably camping as a kid and seeing all the built rigs that seemed like they could drive just about anywhere.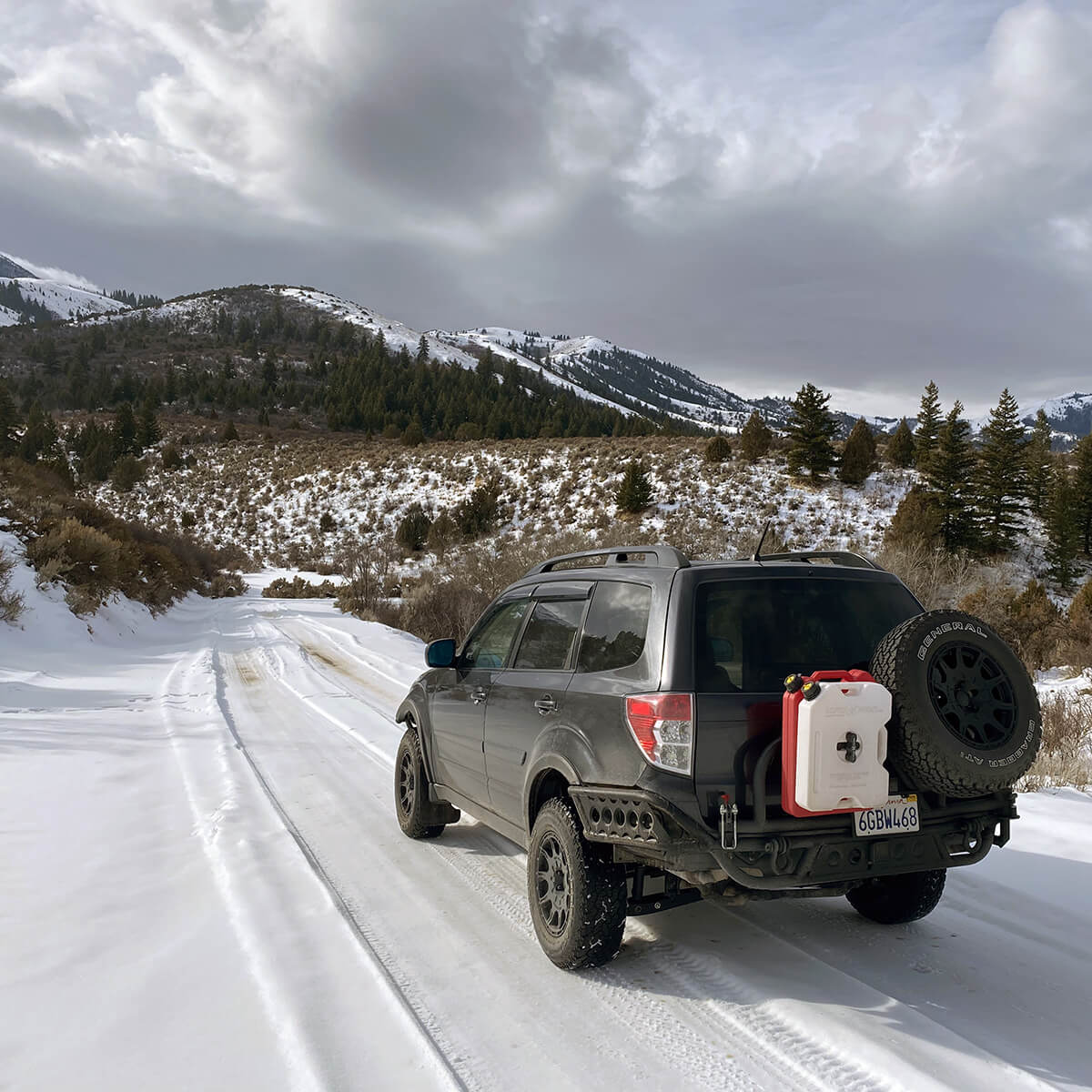 Why did you choose this particular model for your project?
– I spend a lot of time driving in the Tahoe area so I needed something that did well in snow. I like to explore new trails often so I wanted something compact that could squeeze its way past overgrown trails. And I wanted something that was still going to be comfortable on the road since I do a lot of interstate road trips.
What inspired you to choose this modification style?
– The Subaru has its limits, mainly lacking a low range and the inability to regear for bigger tires. So with that in mind, I tried to build a vehicle that could get me anywhere I wanted to go, with enough recovery gear to get me out of the trouble I would inevitably find myself in. Subaru's AWD system and my Torqmasters rear locker get me out there. The winch, recovery tracks, shovel, axe and all my other gear give me the confidence to send it knowing I can get out of pretty much any situation.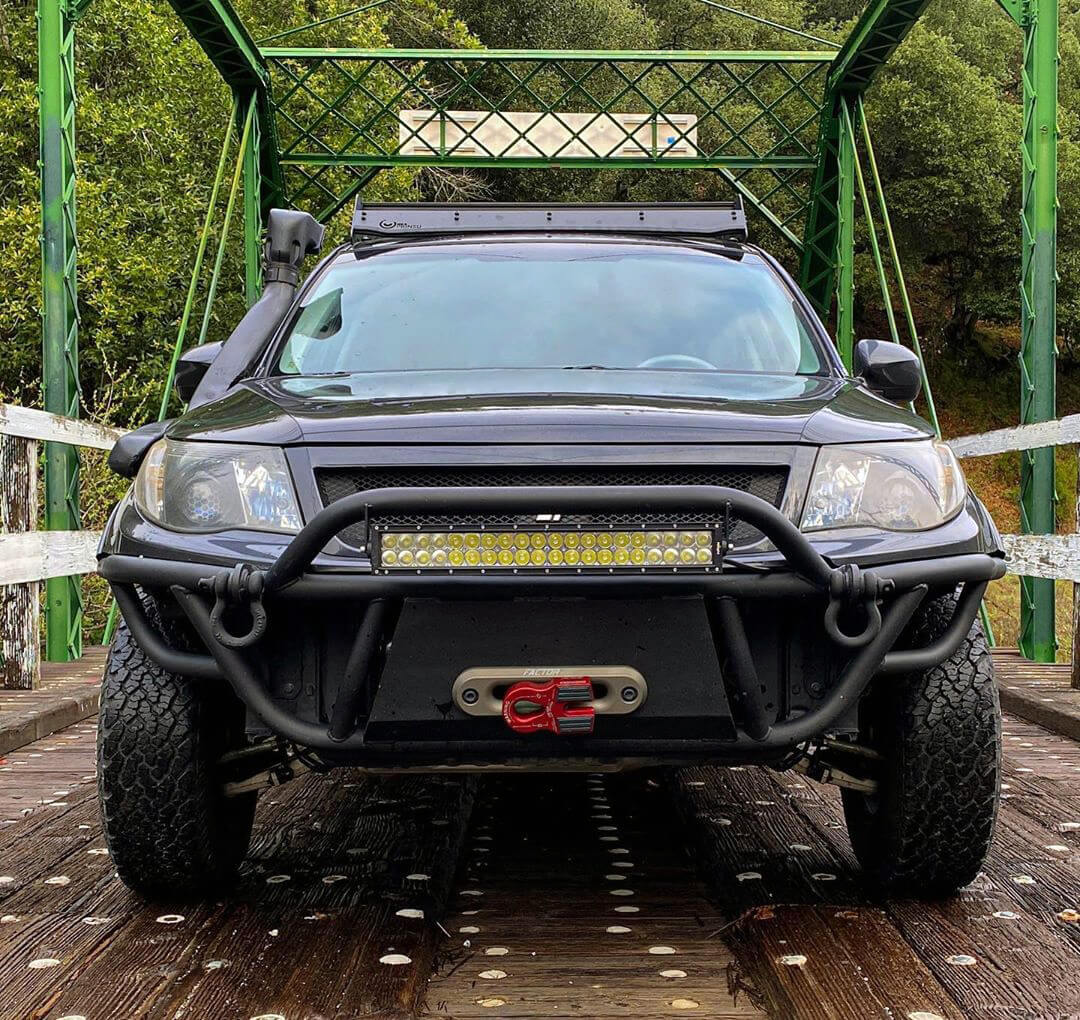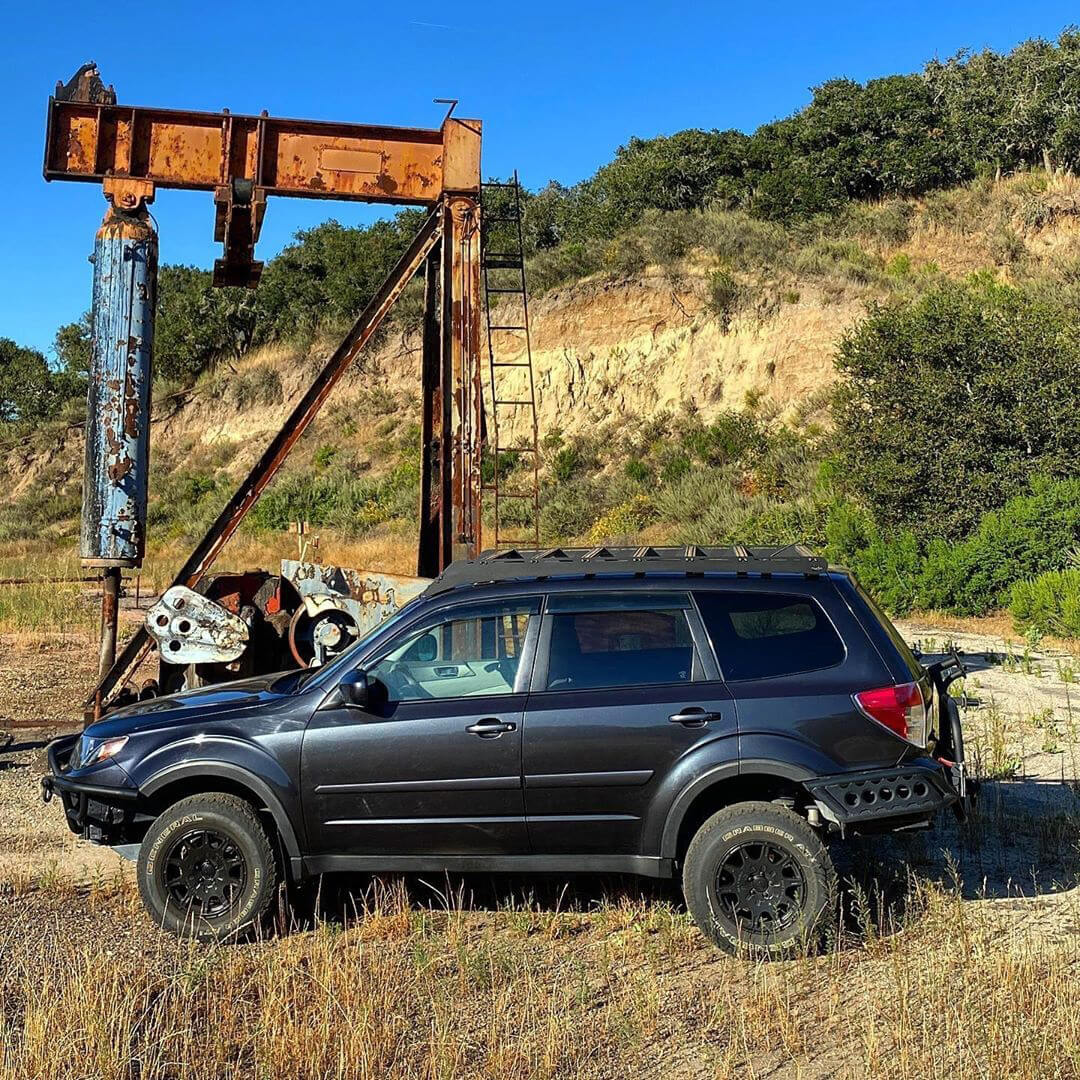 What challenges did you face while putting it together?
– The biggest challenges so far have been building a bed in the back, and installing a snorkel. The snorkel was challenging mainly because there are none made for the Forester. So I had to modify a Mitsubishi Pajero snorkel to fit. The bed was tough because I have no experience with woodwork, but I made it work.
What do you love about your vehicle?
– My favorite part is loading up my gear and my dogs and hitting a new trail to explore. I also love seeing the reactions from the Jeeps and Toyotas out on the trails.
Is it your daily or a weekend ride?
– It is my daily commuter.
Do you take it off road? If so, where and how often?
– I do, several times a year. It's been to every state west of Colorado, countless OHV parks, National Parks, National Forests, anywhere I haven't been before is on my list.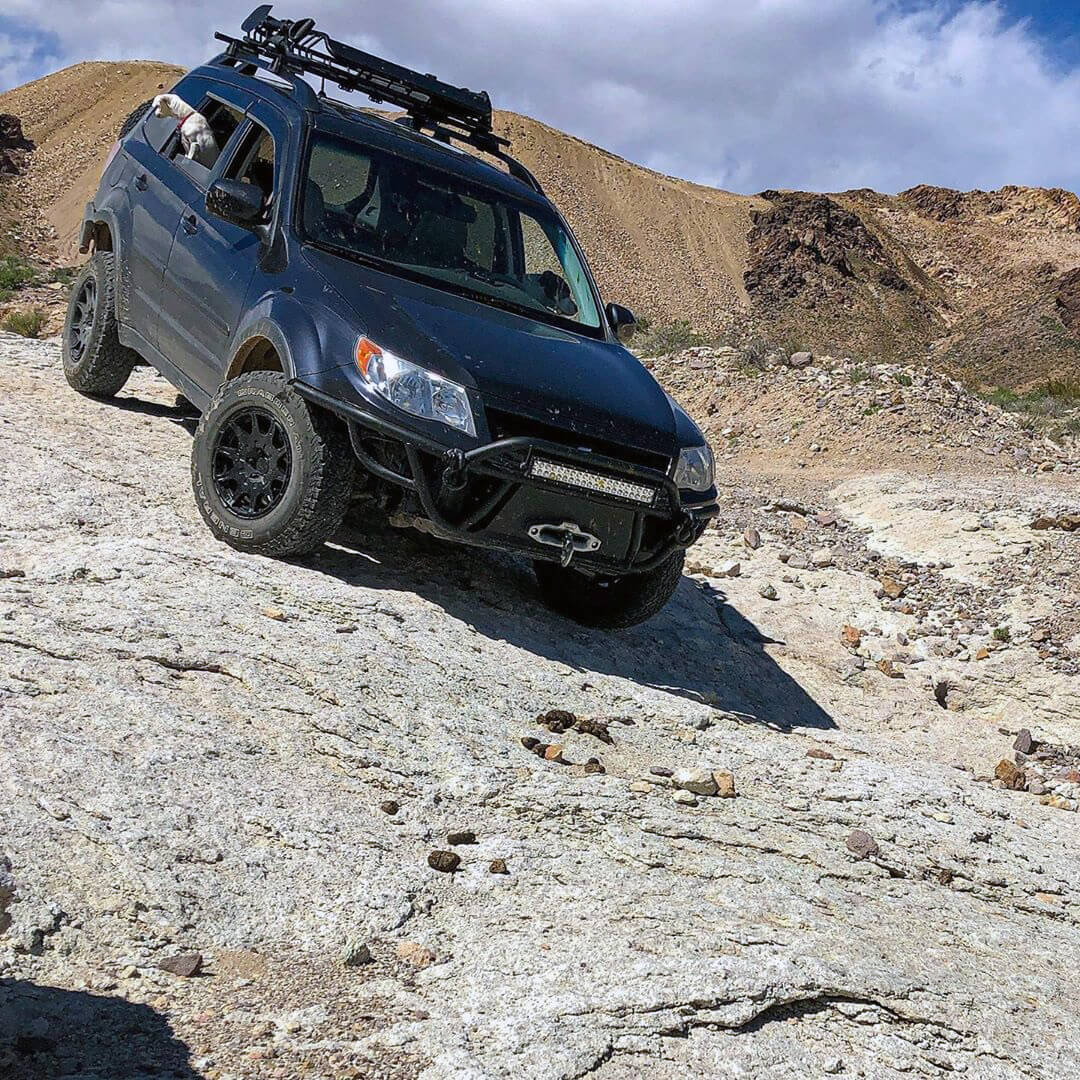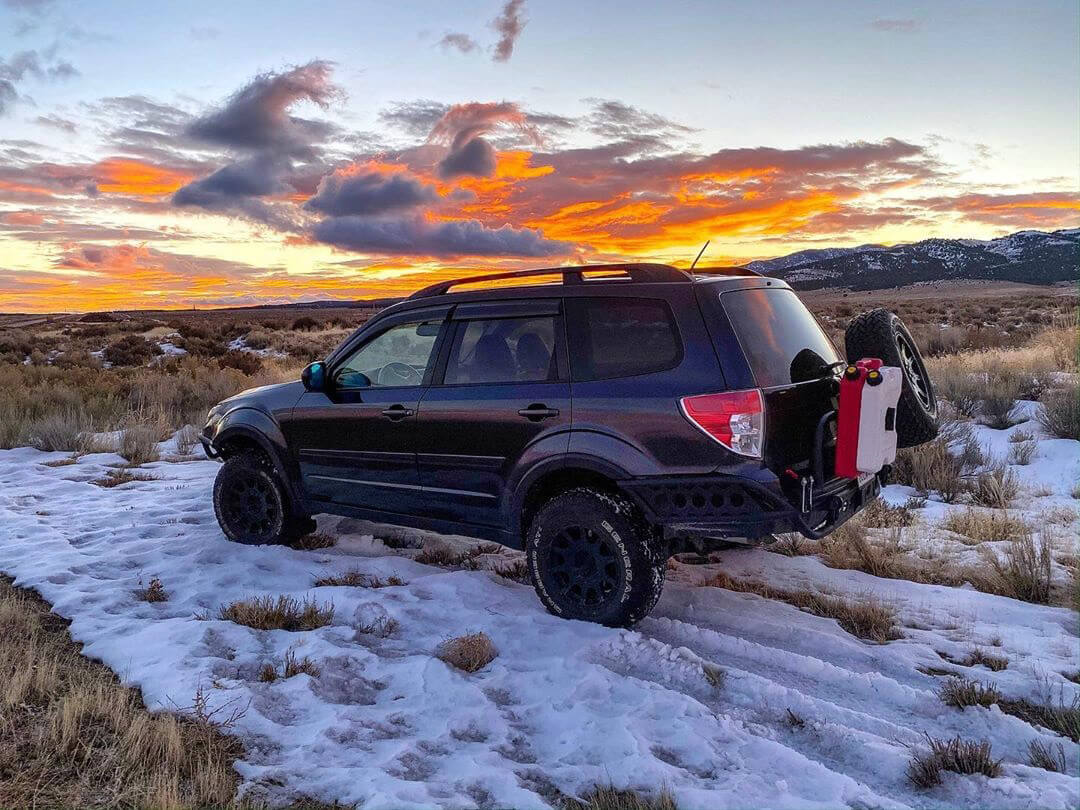 2009 Subaru Forester Limited – Specs
Engine specs, modifications
– Stock 2.5L EJ motor
Lift height and suspension modifications
– 2" front
– 2.5" rear suspension lift
– STi aluminum control arms
– Heavy duty cv axles
– Rallitek extended front end links
– Adjustable rear control arms
– Rear sway bar removed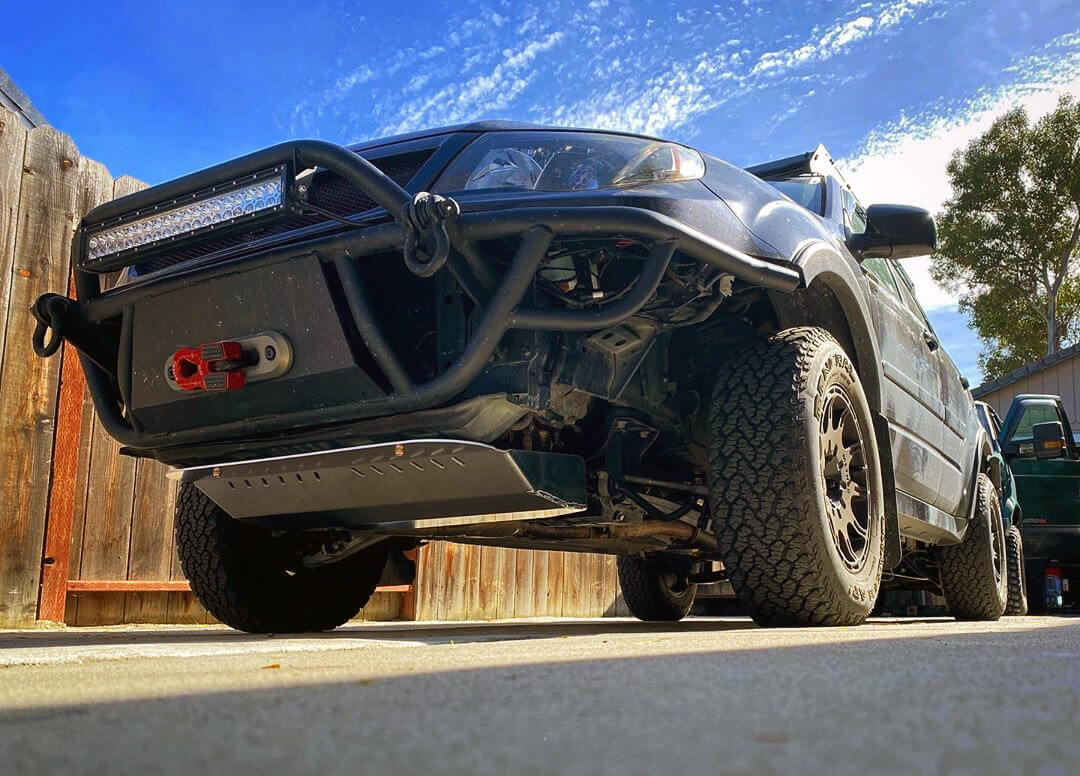 Wheel specs
– Method 502 Rally wheels 15×7 et15
– General Grabber AT2 tires, 215/75-15
Exterior mods
– Custom steel bumpers from Stellar Built
– Warn 8k winch
– Factor55 fairlead & winch hook
– Spare tire carrier
– Rotopax mount
– Prinsu roof rack
– ADF skid plate
– ARB awning
– Custom HID projector headlights
– 22" light bar
– Mud flaps
– Window visors
– Wide angle mirrors
– OEM fender flare kit
– OEM sport grill with JDM emblem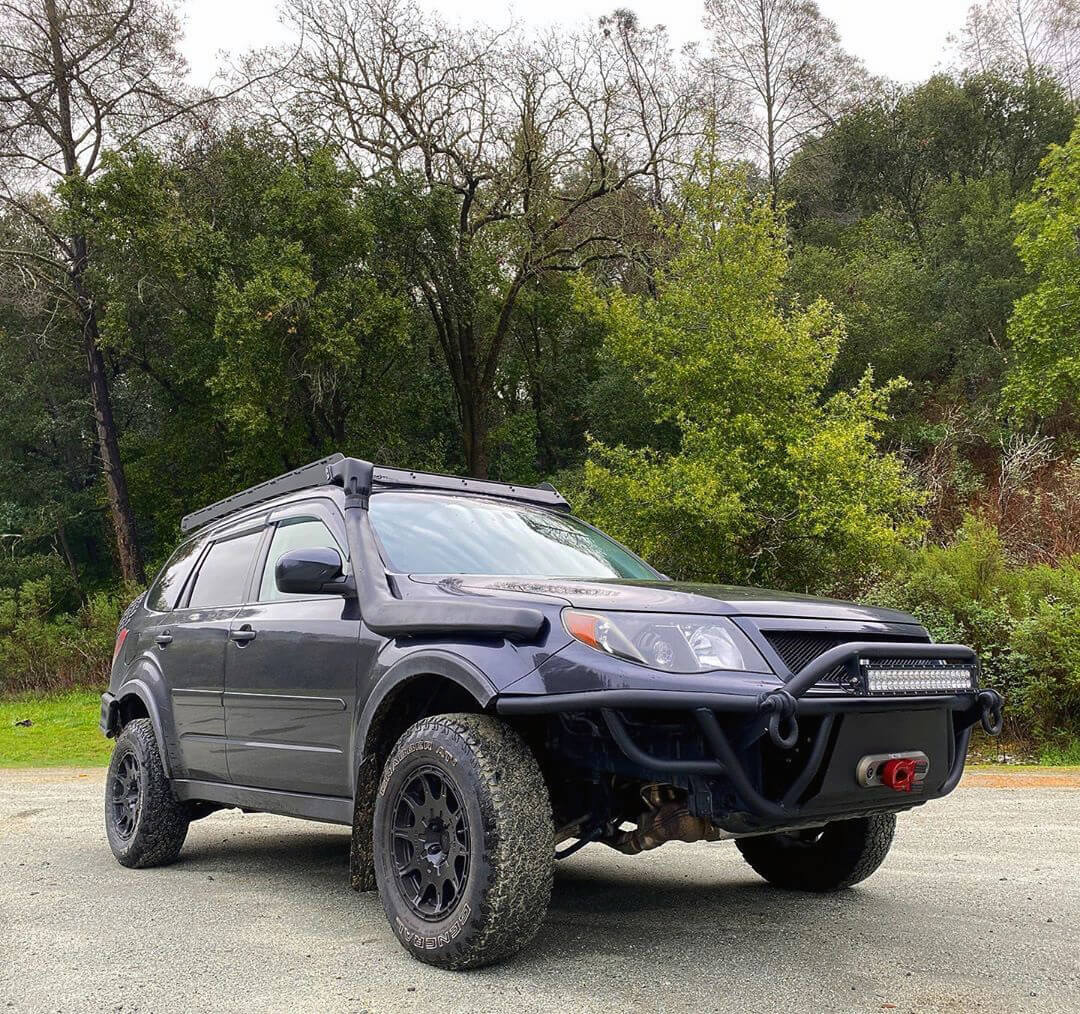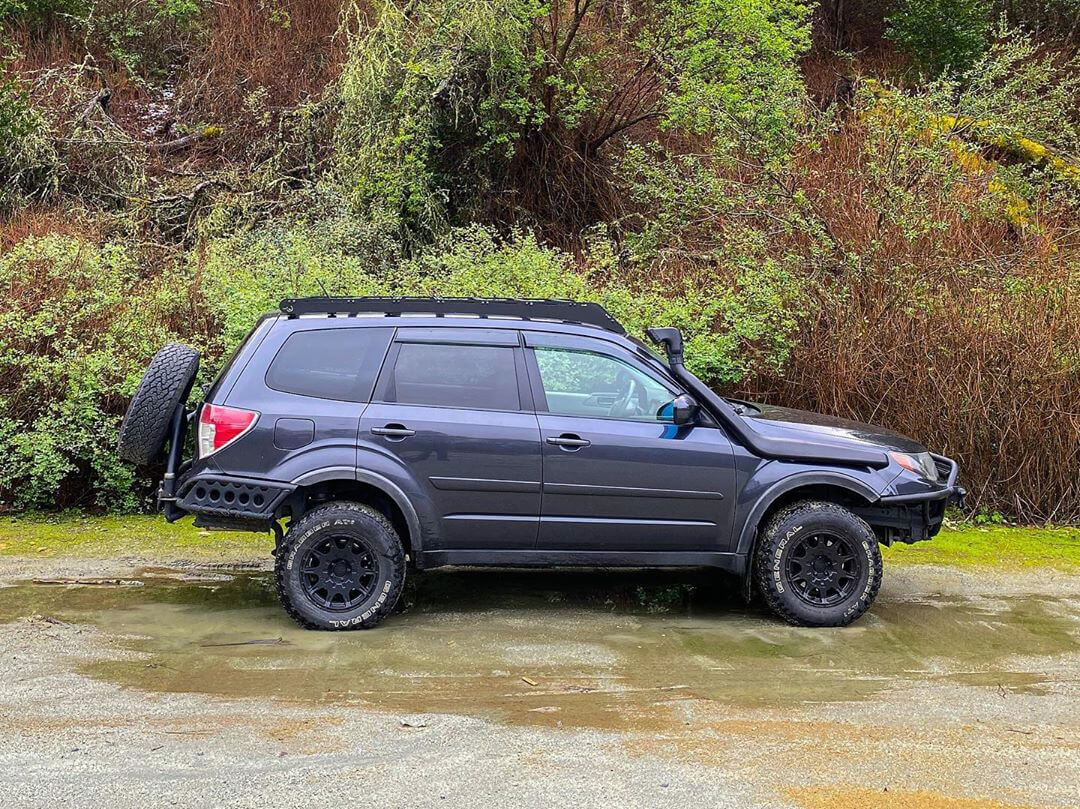 Interior mods
– Custom bed platform with full size mattress
– CB and FRS dash mounted radios
– Window mounted Molle storage rack
– Weathertech mats
– Ceiling cargo net
– Touring gauge cluster swap
– Homelink/compass mirror
All other mods
– Torqmasters locking rear diff
– Diff skid plate
– Heavy duty transmission oil pan
– Tucked Magnaflow muffler
– Custom snorkel
– Diff breather extensions
What are your future plans about this vehicle?
– At this point I mostly just enjoy it, beat it up and replace the parts I wear out or break. I do tweak little things here and there but the majority of the build is complete.
Anything else you would like to share about your vehicle or about the off-roading in general?
– Stay safe, know your limits and most importantly, remember that you need to drive it home. But also, send it!
Watch the progress and find out more about this Subaru Forester project by visiting the Instagram profile of the owner: @offroad.foz!
Related Parts & Mods
– Inspired by this Subaru Forester build and looking to prepare your own crossover for off-road adventures? Some parts used on this vehicle were sourced from custom shops or custom made, but our team has put together a list of products and accessories available online that may help you to achieve similar results:
Wheels
Roof Rack
Roof Top Tent
Awning
LED Lights
Recovery
*Before ordering any part or accessory, it is recommended that you verify its fitment with a qualified professional and/or seller. We are not responsible for fitment or other issues that may arise from using the products featured on our website.
Stay tuned for more project reviews on Offroadium.com – Follow us on social media, and share this write up if you enjoyed reading it!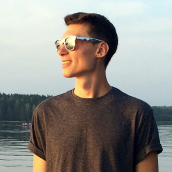 Matt Grabli
Matt brings over a decade of automotive expertise to his role as staff writer and editor at Offroadium.com. With an enduring passion for the off-road vehicles and adventures, he is devoted to creating interesting content that equips 4x4 enthusiasts with the knowledge to improve their rigs.