If you're the proud owner of a Subaru Forester and love taking it off-road, you'll want to make sure you have the best protection for your vehicle. That's where a good set of off road bumpers or bumper guards comes handy. In this comprehensive guide, we'll take a look at all the different options available for Forester owners who like to hit the trails without the risk of damaging the front end. We'll review the main types of bumpers available for SF, SG, SH, SJ and SK models. So whether you're looking for a basic push bar or a custom fab off-road bumper, this guide is for you!
Why do you need an off-road bumper or a bumper guard?
One of the biggest disadvantages of stock bumpers is their vulnerability. Plastic bumpers are easy to damage while wheeling, so if you don't want to deal with costly repairs every time you hit the trails, it may be a good idea to think about an off-road bumper or a bumper guard to protect the front end of your crossover.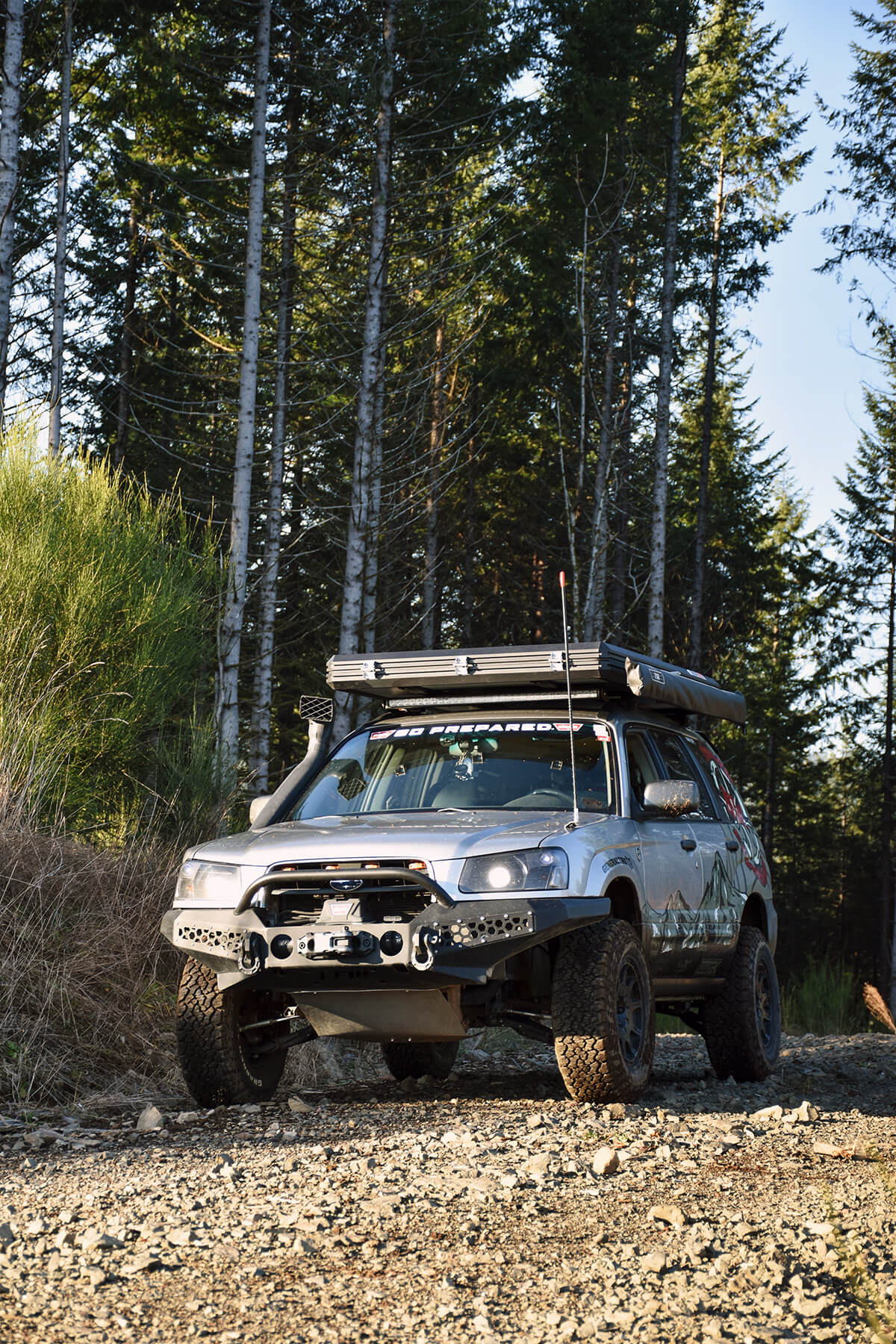 What bumpers & guards are available for a Forester?
There are various front end protection solutions available for these crossovers, starting from simple universal-fit rally-style light bars and push bars up to custom tubular and full off-road bumpers made of sheet metal.
Rally-style light bars $
Push bars & Bumper protectors $$
Custom Off-road bumpers $$$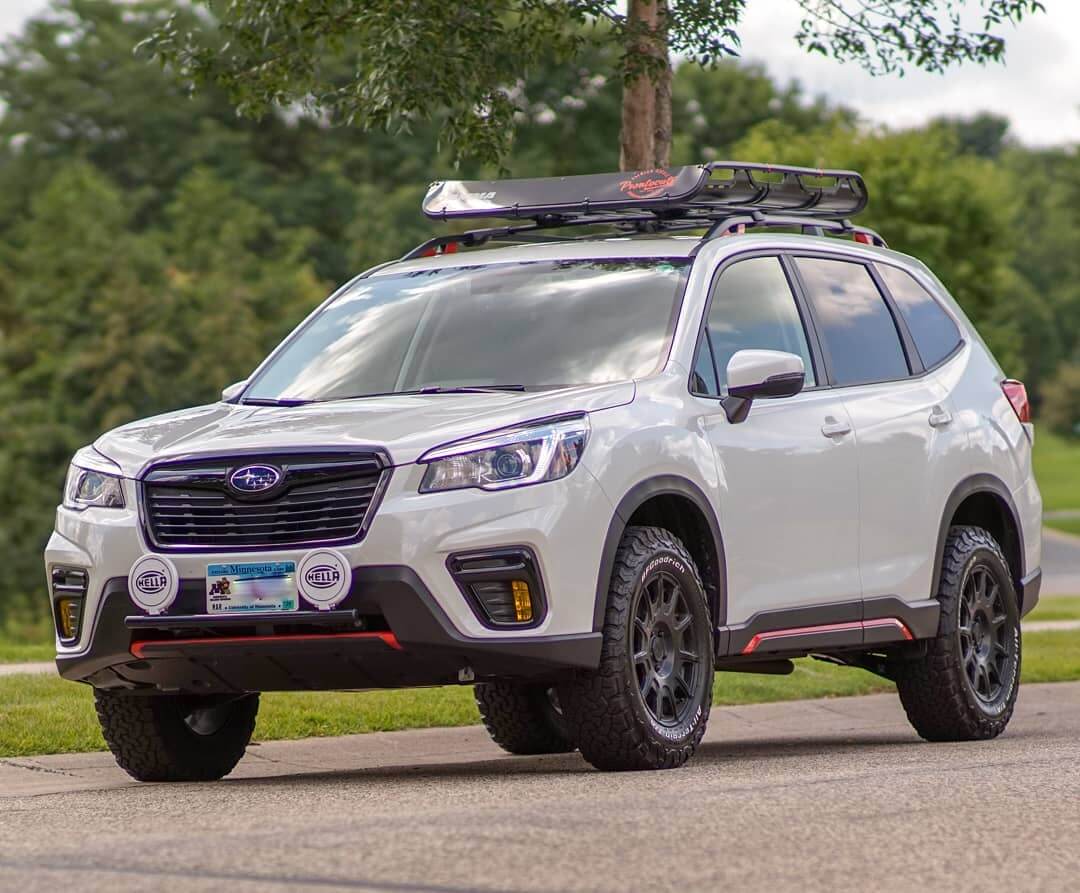 Rally-style light bars
Rally-style lightbars, provide minimal protection from debris on your way, yet barely protect your bumper. These products will be perfect for light offroading and adding that 4×4-style to your Foz.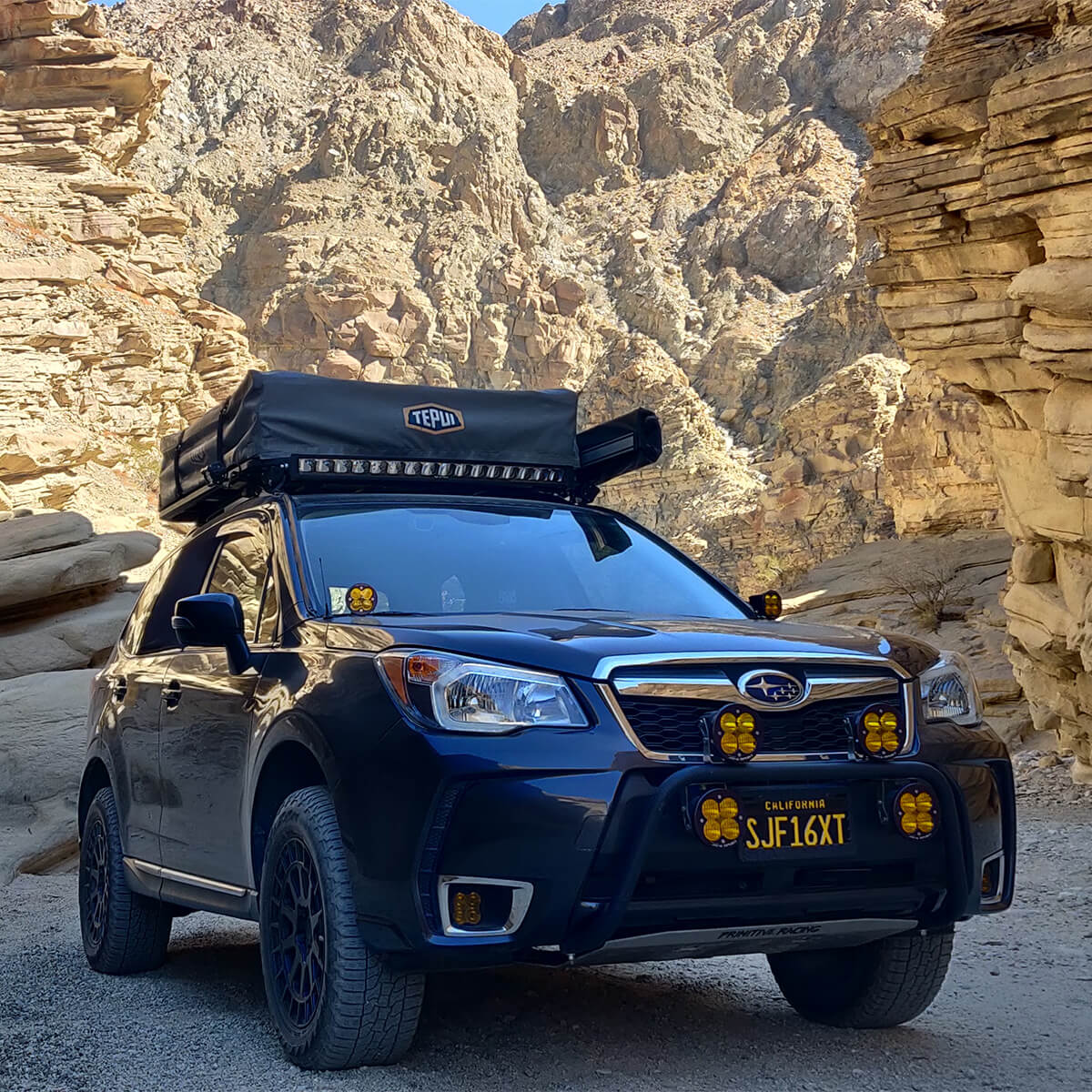 Push bars & Bumper protectors
Push bars and bumper protectors offer basic protection from dings and scratches left by small items you may encounter on your way, yet they often limit the approach and departure angles of your vehicle and don't provide wrap-around protection for the entire front end.
Rear bumper guards are usually mounted into a universal 2″ hitch receiver and offer additional functionality, such as the bike carrier or even a swing-out canister and spare tire carrier.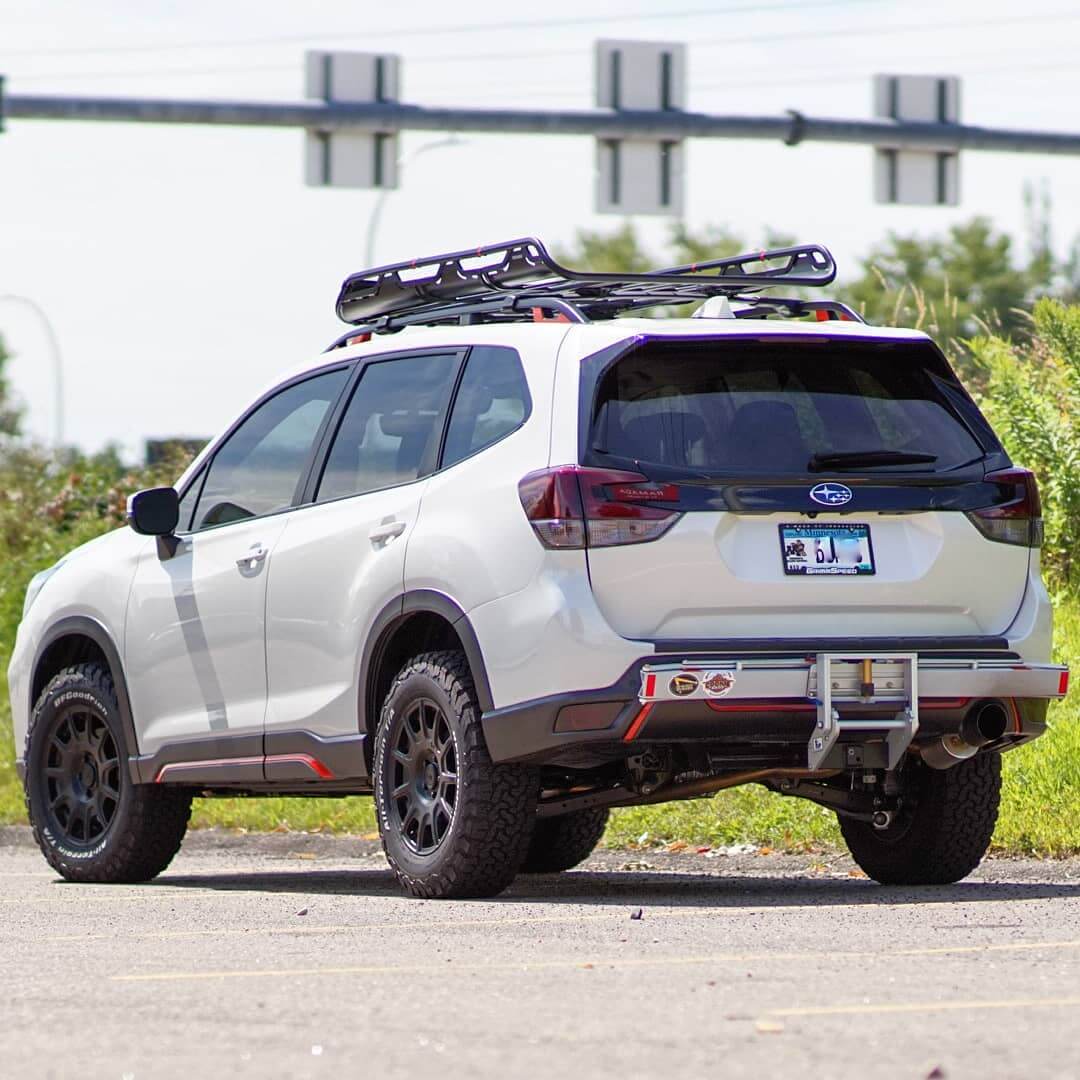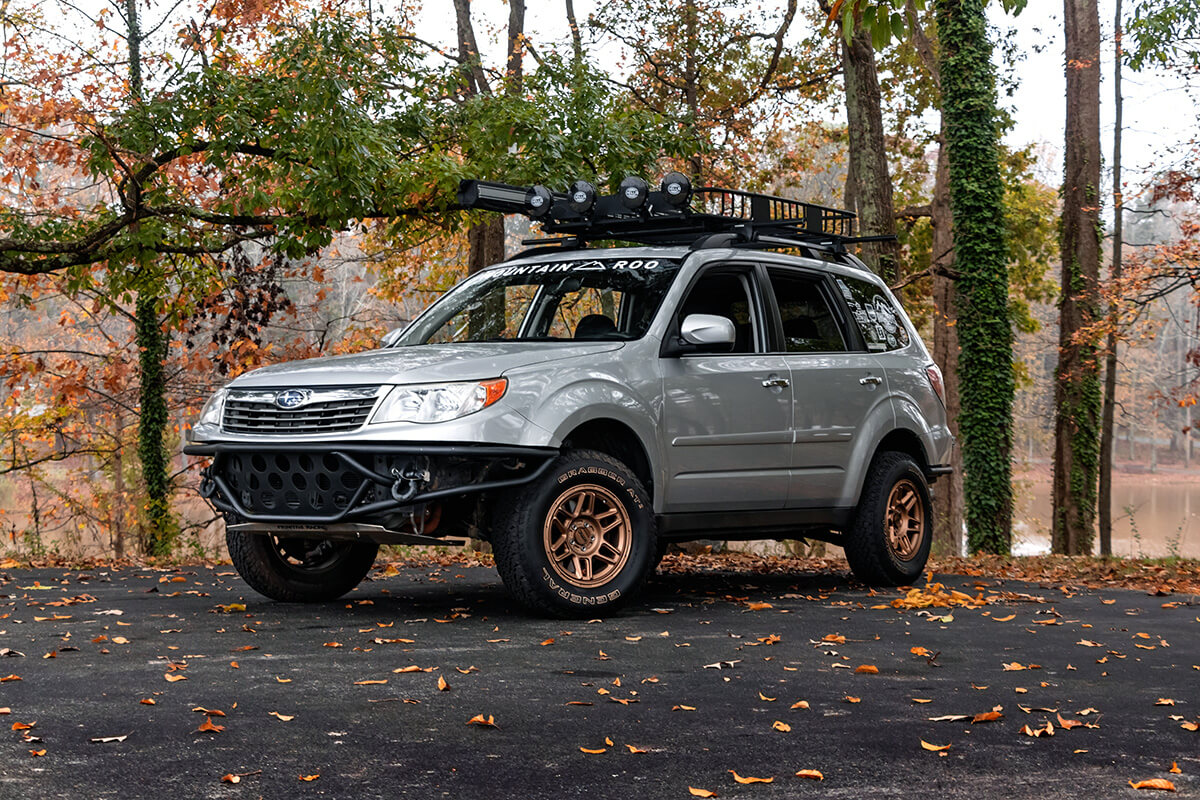 "Another easy, yet not always elegant solution to this problem is cutting. With a help of a dremel you can cut the lower portion of the bumper to improve the approach & departure angles and reinforce it with custom tubing for added durability".
Off-road bumper types & materials
They're typically made of steel or aluminum, which makes them ideal for those who love taking their Forester off the beaten path. They provide extra protection against bumps and scrapes, and they can also help deflect larger obstacles.
There are two main types of offroad bumpers that may be used on a Subaru Forester – tubular and solid sheet metal bumpers.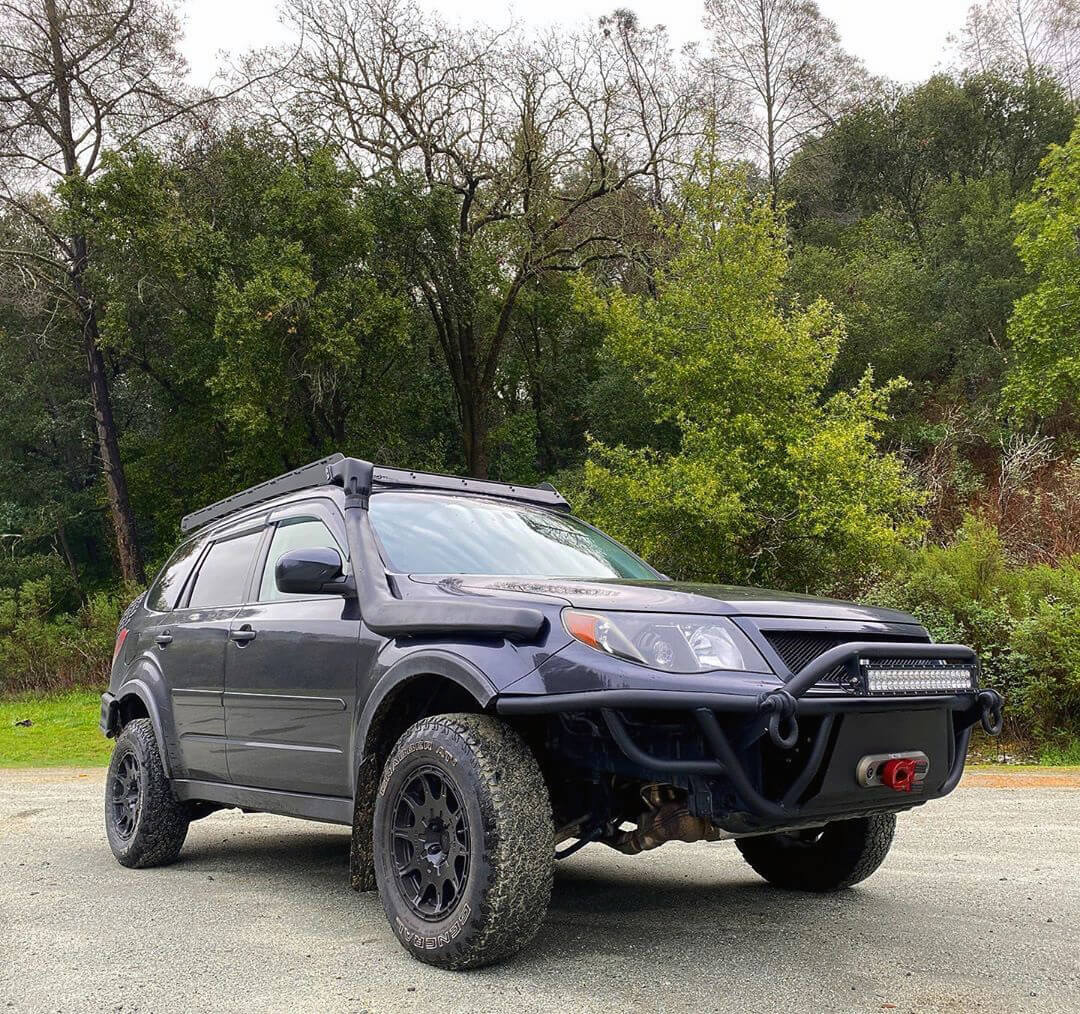 Tubular bumpers are a popular choice for many Forester owners because they're lightweight and provide good protection against obstacles on the trail. They can also be customized with spotlights, winches, and other accessories to make your off-road experience even more enjoyable. Low-profile tubular bumpers are often called Pre-runner style bumpers.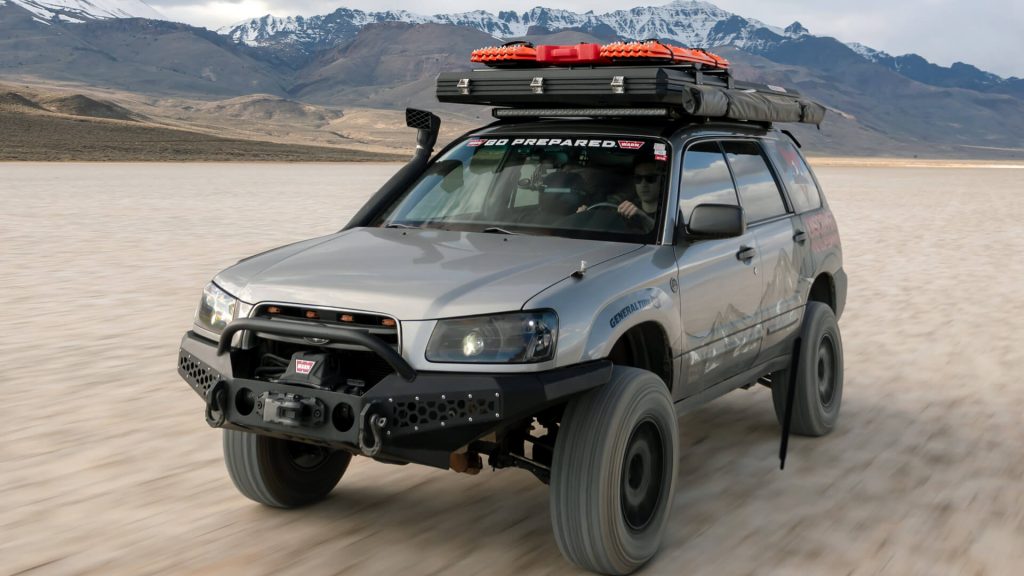 Solid sheet metal bumpers are heavier than tubular bumpers, but they offer the most thorough protection. They're also great for mountain roads and off-road trails that require extra strength and durability.
"With the low center of mass of the boxer engine and the nearly perfect weight distribution of the drivetrain, it wouldn't be a good idea to overload the front end of your Forester with a heavy steel bumper that would cause a nose dive, so a light-weight, low profile bumper would be a perfect choice for this vehicle."
Due to the relatively low popularity of such add-ons, there aren't many shops specialized in producing custom-fit off-road bumpers for a Subaru Forester, yet there are a few companies that offer ready-made solutions for SF, SG, SH, SJ, and SK models. Prepare to pay up to $2,000 for a custom steel or aluminum off-road bumper fabricated for you by a custom shop.
Generations
SF 1st gen production years: 1997, 1998, 1999, 2000, 2001, 2002;
SG 2nd gen production years: 2002, 2003, 2004, 2005, 2006, 2007, 2008;
SH3rd gen production years: 2008, 2009, 2010, 2011, 2012, 2013;
SJ 4th gen production years: 2013, 2014, 2015, 2016, 2017, 2018;
SK 5th gen production years: 2019, 2020, 2021, 2022, 2023;
Buying Advice from Offroadium
Stage 1
If you are on a budget and simply looking to add that off-road flavor to your Foz, it makes sense to stick with a rally-style light bar or a bull bar (push bar). These products look great, allow the installation of driving lights or LED lightbars, and offer easy installation. They don't require serious modifications and aren't expensive.
Stage 2
If you're not only concerned with the looks and searching for additional protection and functionality, yet don't want to cut up the front bumper and weld stuff you may want to check out this winch bumper by WARN Hidden Winch Mounting Kit
Stage 3
In case you're an experienced driver and looking to push the limits of your Subaru Forester – an off-road bumper will be a good investment because it will provide additional functionality and durability to keep up with the big dogs and attack some serious 4×4 trails.
During the last few years, we featured a couple of advanced Forester builds outfitted with custom and pre-made steel and aluminum bumpers. Browse through our build reviews to get inspired and source the parts you'd want to see on your vehicle!
Related Parts & Mods
– Inspired by these Forester builds and looking to prepare your own crossover for off-road adventures? Some parts used on these vehicles were sourced from custom shops or custom made, but our team has put together a list of products and accessories available online that may help you to achieve similar results:
Bumper
Bull Bar
Roof Rack
Off-road Light mounts
Transmission Skid Plate
Lift Kit
or
*Before ordering any part or accessory, it is recommended that you verify its fitment with a qualified professional and/or seller. We are not responsible for fitment or other issues that may arise from using the products featured on our website.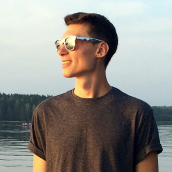 Matt Grabli
Automotive journalist and technical writer at Offroadium.com with more than 10 years of experience in the sphere of aftermarket parts and 4×4 vehicle modifications. Passionate about off-roading, outdoor adventures, and an active lifestyle.