Lifted Porsche Cayenne Turbo S on 33 Inch Off-road tires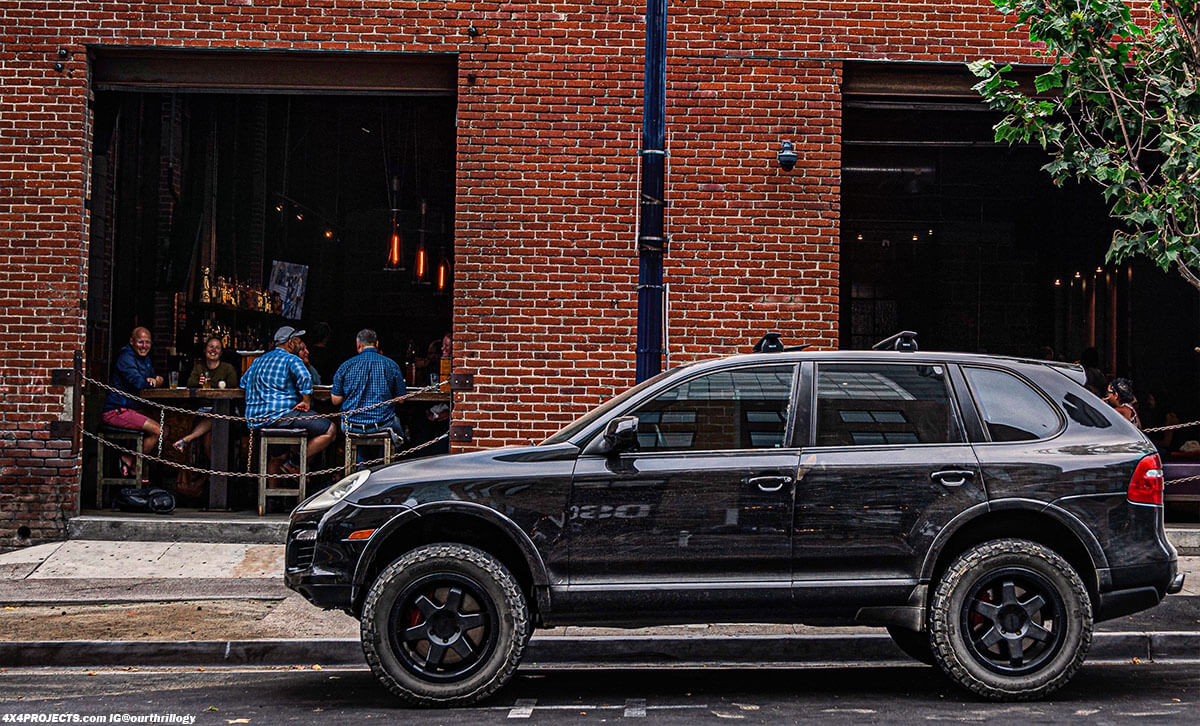 We don't always see Caynnes tearing up the off-road trails, but when we do, they make everyone wow. Obviously, taking a $160k brand new performance SUV off-road is not for everyone, but since the 1st, and 2nd gen Porsche Cayenne models became more affordable, some of the owners decided to actually use their underestimated off-road potential without the fear of scratching the shiny paint job.
When Porsche decides to build something new, they do it with great responsibility and make sure, their new creation deserves to wear this name proudly. It happened with 911, Boxter, and the Cayenne is no exception. The company implemented the most progressive technological improvements in this model to make sure it remains number one no matter what type of terrain it's driven on. Just think about it, it's loaded with all functional off-road enhancements common for 4×4 vehicles, such as full-time all-wheel drive, locking center and rear differentials (on some models), advanced Porsche Traction Management and Porsche Dynamic Chassis Control, impressive ground clearance of 10.6 inches (air suspension advanced off-road mode) and short overhangs for excellent approach and departure angles.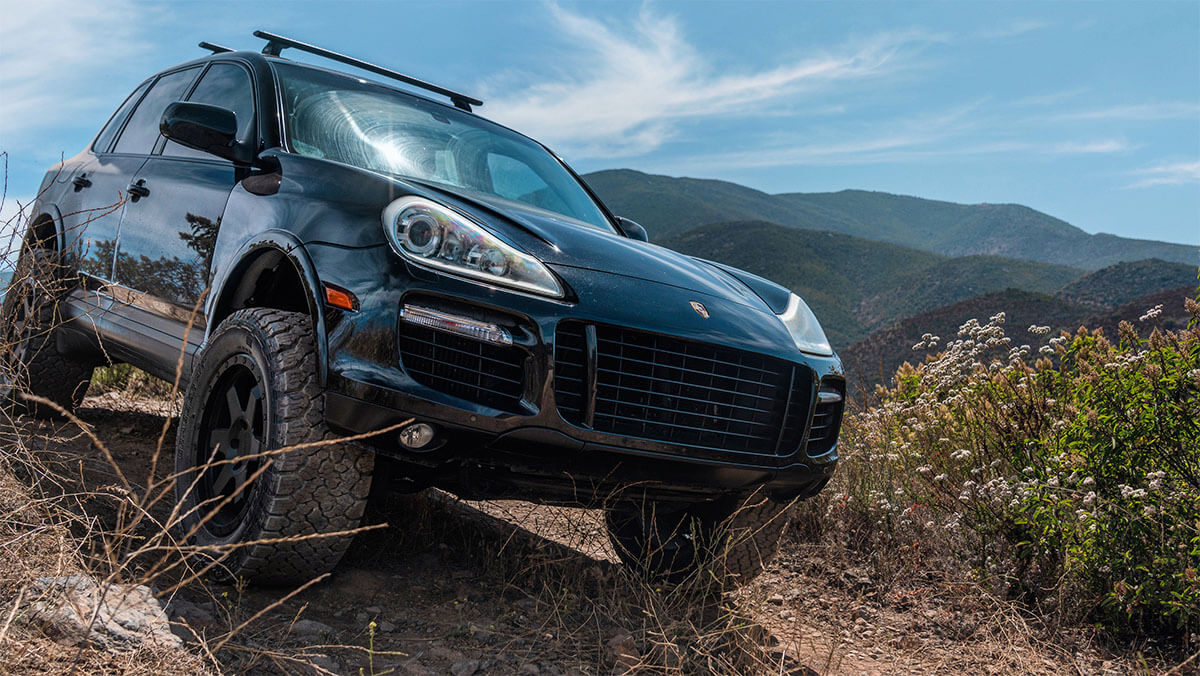 Just by looking at all these features you realize that Porsche didn't overlook anything to make their Cayenne fully offroad capable. Of course, it wouldn't be possible without a good technological base, and the history of Porsche sports cars shows that it has been looking at making off-road capable machines for quite a long time. It all started with the off-road-ready 911 models fully specced to compete in the African desert rally and other offroad competitions. Later Carrera 4s all-wheel-drive models forged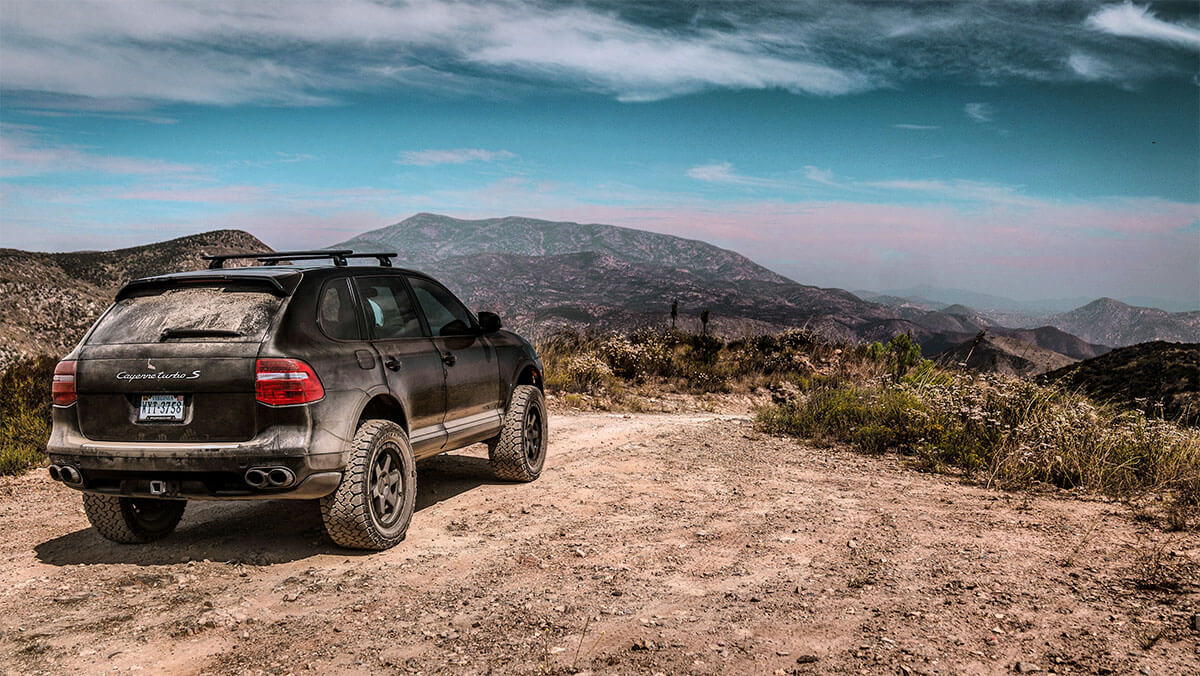 the reputation of the brand in the new market segment. And finally, the famous halo-car Porsche 959 developed to enter the rally championship and compete on the gravel roads, dirt tracks and even sand dunes of the desert. This model was even equipped with a special low range gear to maintain optimal traction on rough terrain. Most likely it was just a question of time for Porsche to launch the supercar for unpaved roads, and they've successfully achieved it with the Cayenne.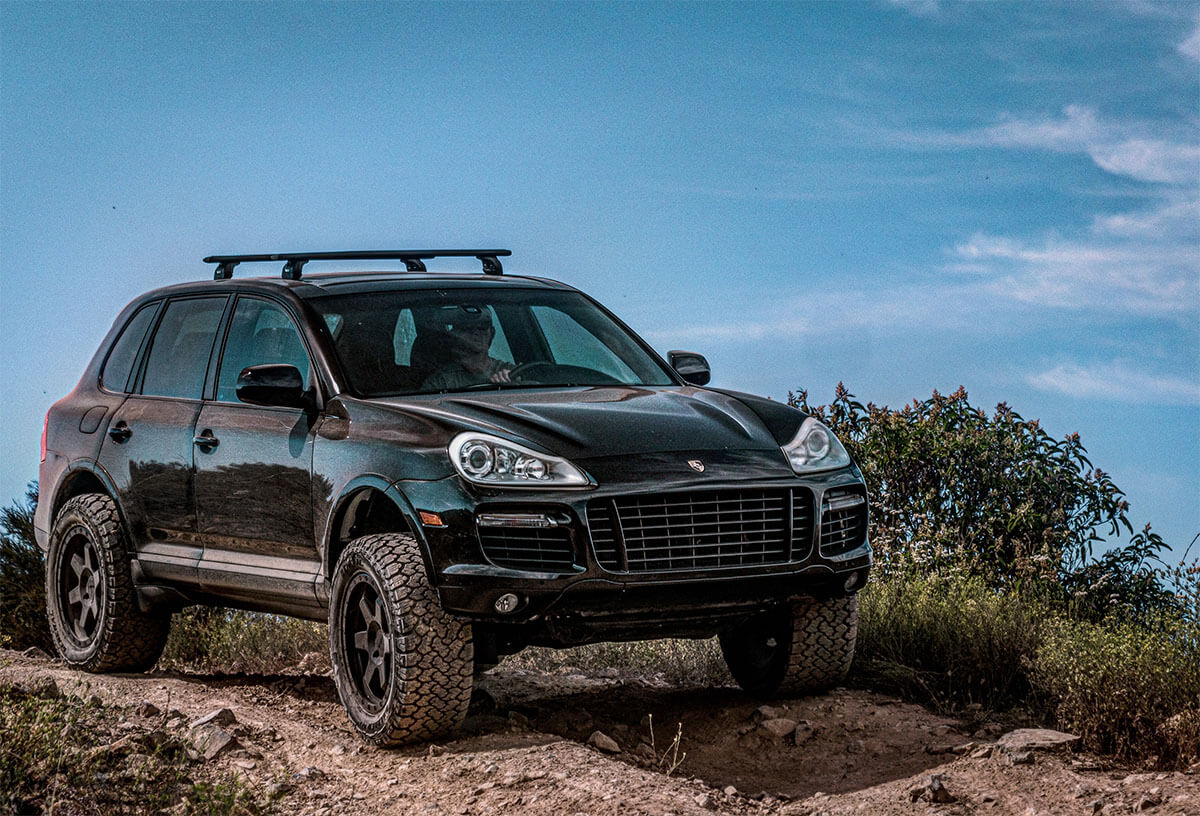 The owner of this badass-looking lifted Porsche Cayenne decided to lock the factory air suspension in the highest position to get maximum clearance and fit his SUV with large off-road tires to get confident traction on the dirt roads. Basically, that's all that he needed to do.
The biggest tire size for a Jeep Wrangler JK without the lift is 32"-33" depending on the width and backspacing. For the Cayenne locked in the top air suspension position the maximum tire size is nearly the same. So the "Before going to trails starter To-Do list" looks to be the same for both Jeep Wrangler and a Cayenne owner. How awesome is that?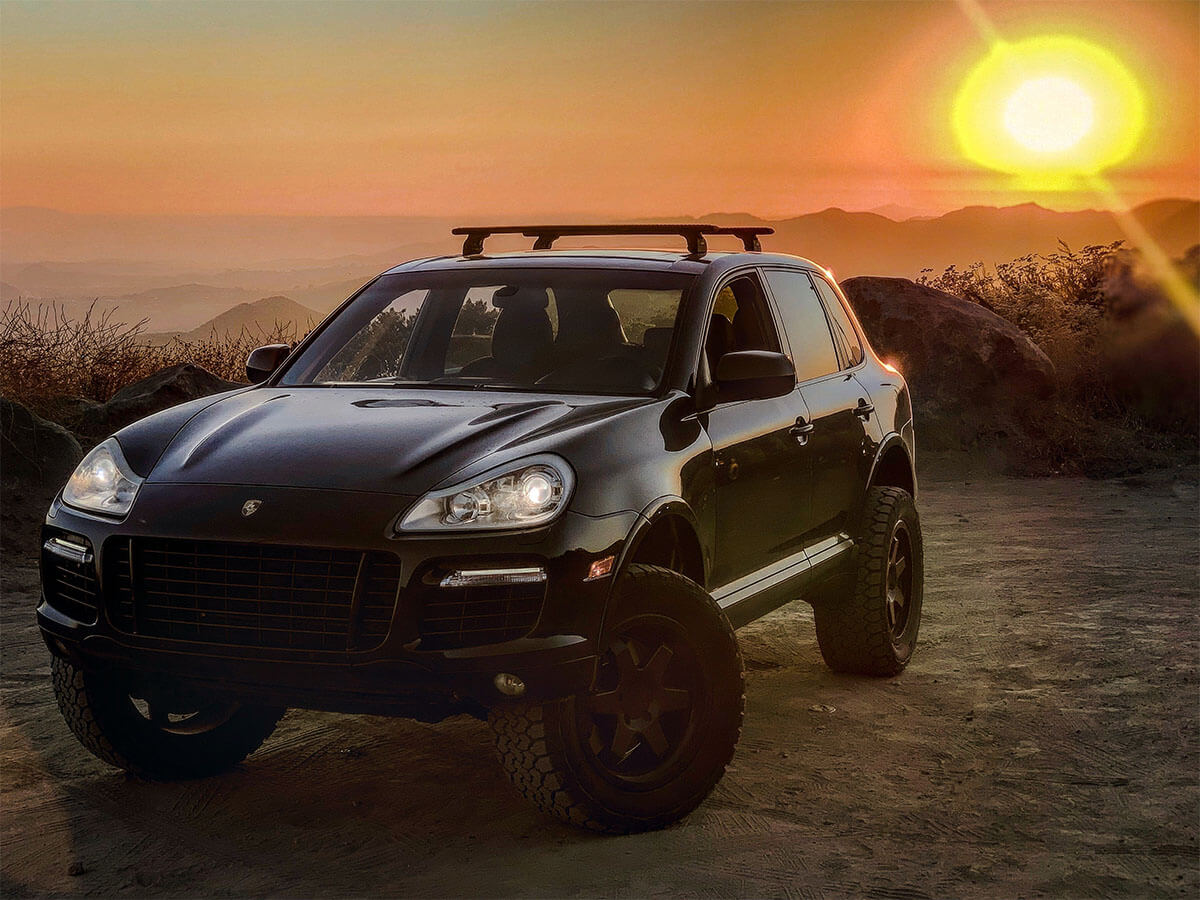 To really find out what it is like to take this car off-road, we decided to reach out to Viktor @ourthrillogy from San Diego, CA, the owner of this beefy lifted 2009 Porsche Cayenne Turbo S, and ask him a couple of questions about off-road mods.
What are the engine specs?
– Factory 4.8 Twin Turbo (550 HP/TQ) with secondary cat bypass pipes. Plan is to bump it up to about 700 hp with full bolt-ons and tune.
Is the suspension modified or is it just the stock air suspension?
– Factory air suspension electronically altered to maintain lifted position.
What are the wheel specs?
– 20×9 Rotiform Six-OR +30 offset wrapped in 33×12.50 General Grabber ATX and running 25mm spacers in front and 30mm in the rear. Will be swapping to 50mm all around once some more modification is done for sufficient rocker panel clearance.
Exterior modifications?
– Thule roof rack. Not too many custom fabricators want to tackle a Porsche 🙁
Any other mods/upgrades?
– My dog's drool which is always all over the car.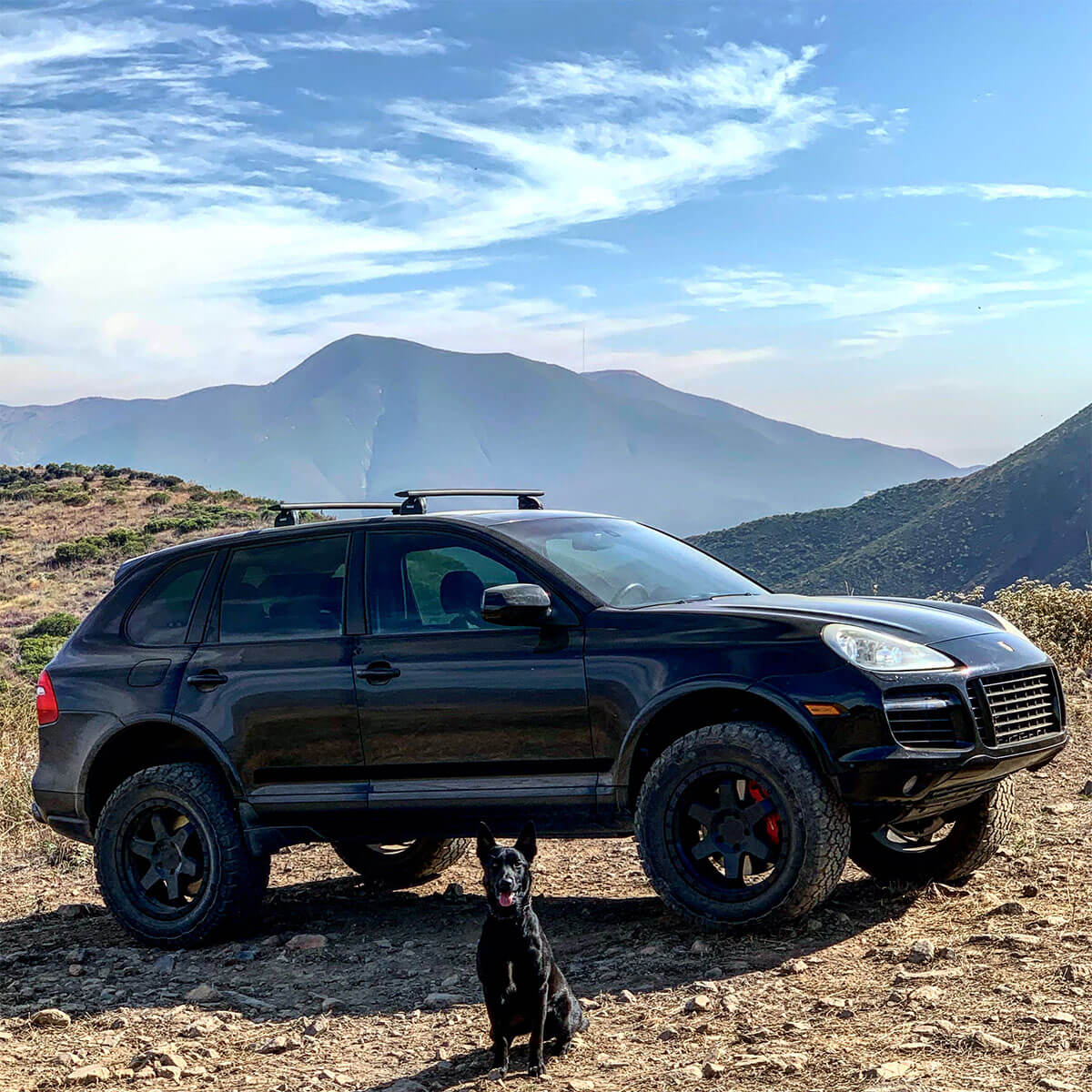 Why Porsche Cayenne?
– Perfect all around SUV for what I wanted and needed. Looks great (to me at least), more power than anyone will ever need in an SUV, still handles beautifully even lifted on 33s, and hauls my dog and gear with ease. And most importantly it gets me over most terrain outside of technical rock crawling areas.
Why did you choose the off-road/overland-style for your build, and what inspired you?
I knew it would never be a technical rock crawler, but I wanted to be able to traverse everything else outside of boulders, and unfortunately the tire selection for the factory 21" wheels was lacking. My inspiration came from watching the Transsyberia Cayennes tear through the Transsyberia Rally, and a couple other guys on IG who lifted their first generation Cayennes.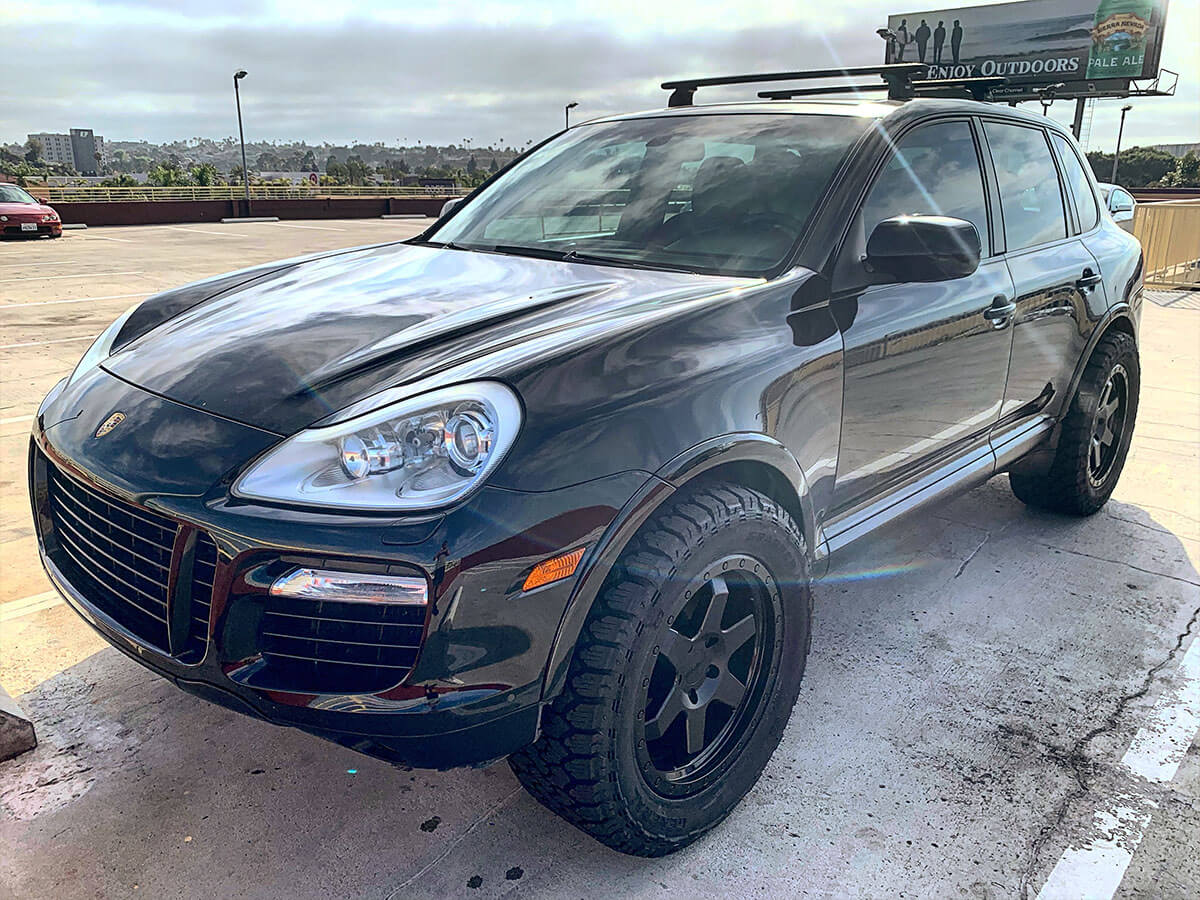 What challenges did you face while putting it together and while taking it off-road?
The biggest challenge was pushing the factory side mount intercoolers out of the way for the 33s to clear. Ideally a front mount intercooler will come in the future to alleviate any future clearance issues. Everything else was relatively easy/simple. No major challenges off-road thus far, then again I'm aware of it's capabilities so I avoid any areas that require crazy articulation and approach/departure angles.
Is it your daily or a weekend getaway ride?
It's my daily and boy does it take the abuse well.
Do you take it off road? If so, where and how?
Mainly SoCal the last several months, however, I'm itching for the snow season to start to get some snow wheeling in and eventually head to Rubicon to see if I can play anywhere around there.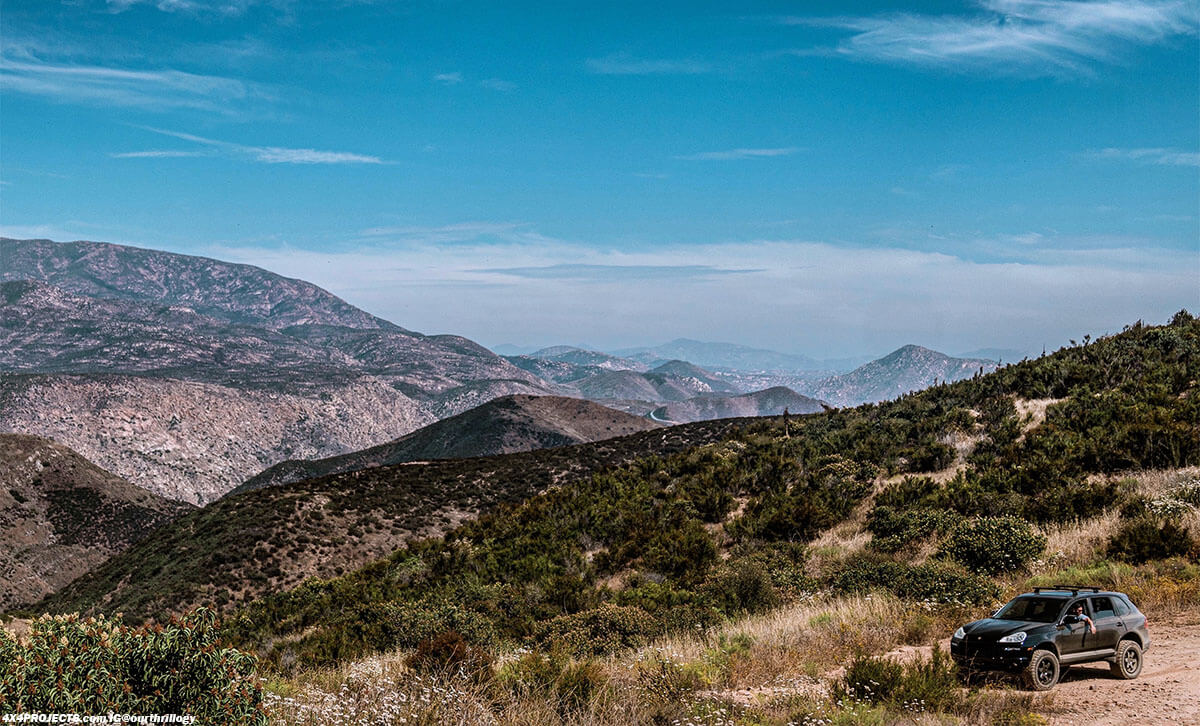 What are your future plans about this vehicle?
Get some armor made for it in the fashion of a simple tube front bumper, skid plates, and winch. In terms of engine performance, get it to 700 safe HP/TQ with basic bolt-ons, heavy duty radiator, and transmission cooler. For drivetrain, install a center locker.
Matt Grabli
Automotive journalist and technical writer at Offroadium.com with more than 10 years of experience in the sphere of aftermarket parts and 4×4 vehicle modifications. Passionate about off-roading, outdoor adventures, and an active lifestyle.