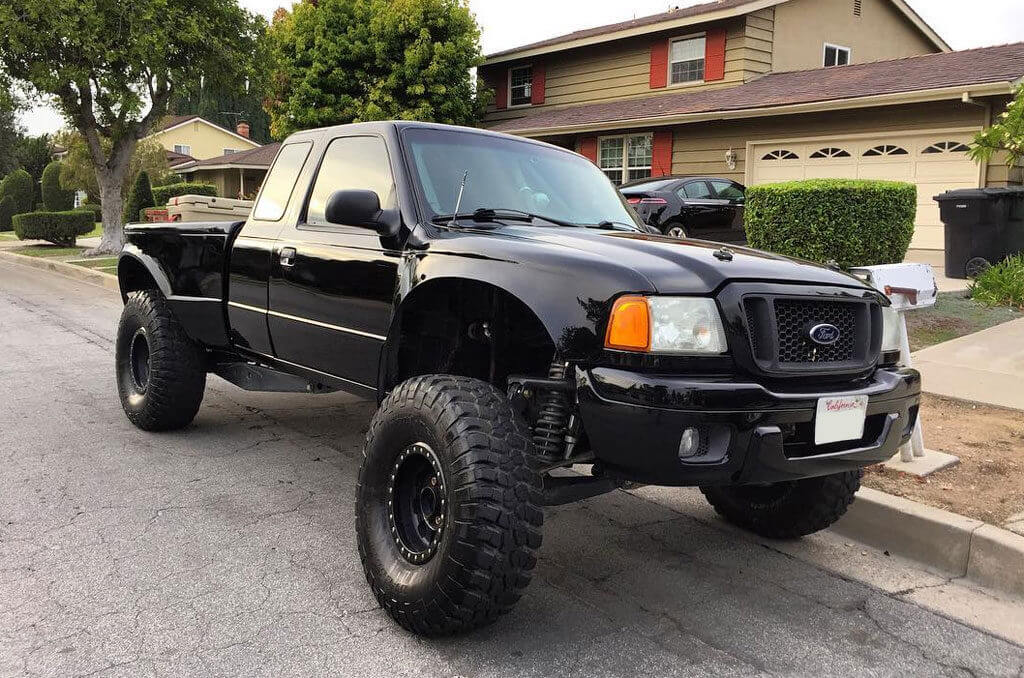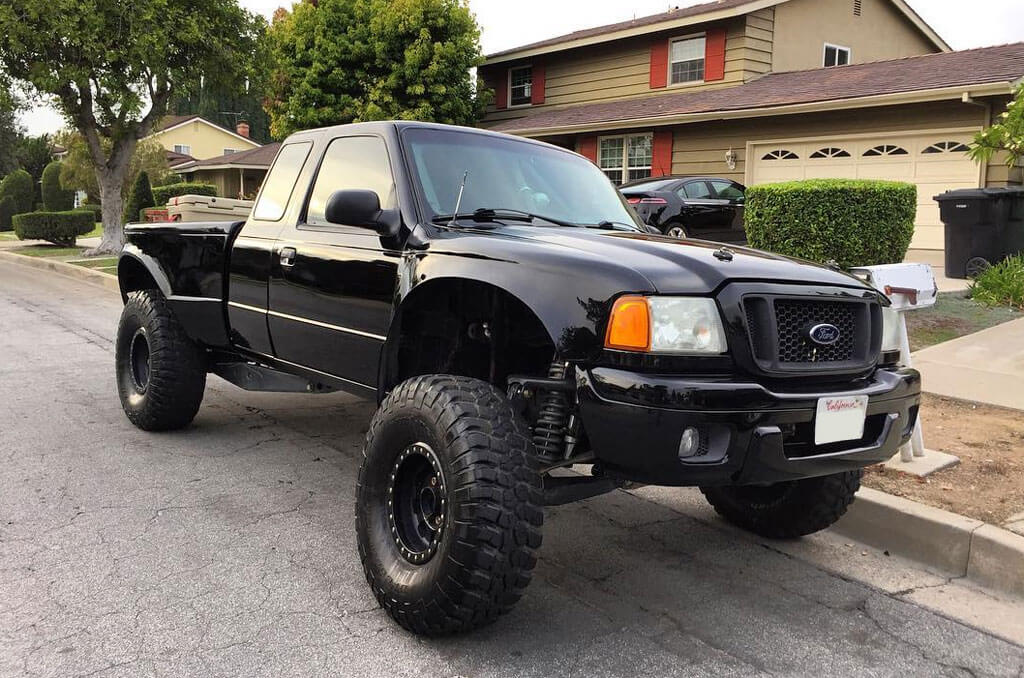 Ford Ranger prerunner is one of the most popular small trucks in the desert racing. In our todays post we will try to figure out why do people love these trucks and what does it take to build a worthy prerunner out of it. Kalil Bushala and David Hart – the owners of some of the most badass Rangers were kind enough to share the spec lists of their trucks and tell about the modifications they made. Read on to get the recipe of an ultimate Ford Ranger prerunner from the first hands!
The first reason why do we love these trucks so much is that they are very simple and affordable in compare to bigger full-size pickups, and therefore they are often selected as a prerunner platform by DIY enthusiasts. Rangers are available in both RWD and 4WD configurations. They were in production since 1983 until 2012 when Ford dropped this model off the production line. Low cost and high reliability made Ranger a best seller among small pickup trucks and, as a result of such popularity we can see a huge amount of aftermarket parts and components for it. If you are willing to find an affordable and easy to maintain entry level prerunner – Ranger will be your number one choice. With a truck like this, you can keep your comfortable daily driver and turn this truck into an ultimate desert rig without spending insane amount of money.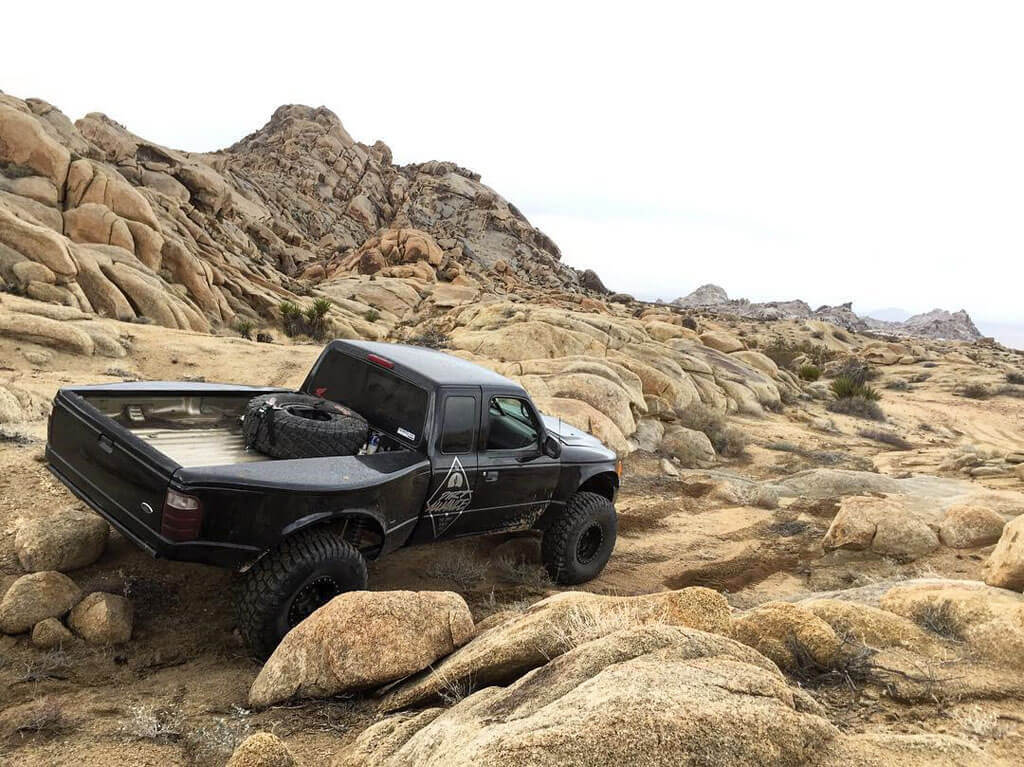 Pretty much all manufacturers of aftermarket off-road equipment and fab shops have an extensive line of Ford Ranger prerunner products and solutions, so you don't have to spend much time on designing your own components and custom fabrication. Ford Rangers are very capable but still stands on one step lower than fullsize trucks that come with stock V8 engines like Toyota Tundra or Nissan Titan prerunners.
The most important part of every prerunner build is choosing the right suspension setup. Kamburg, Dixon bros, HM racing design can offer you kits from mild to wild with a suspension travel starting from 15″ up to 24″, which will be more than enough for spirited driving in the desert.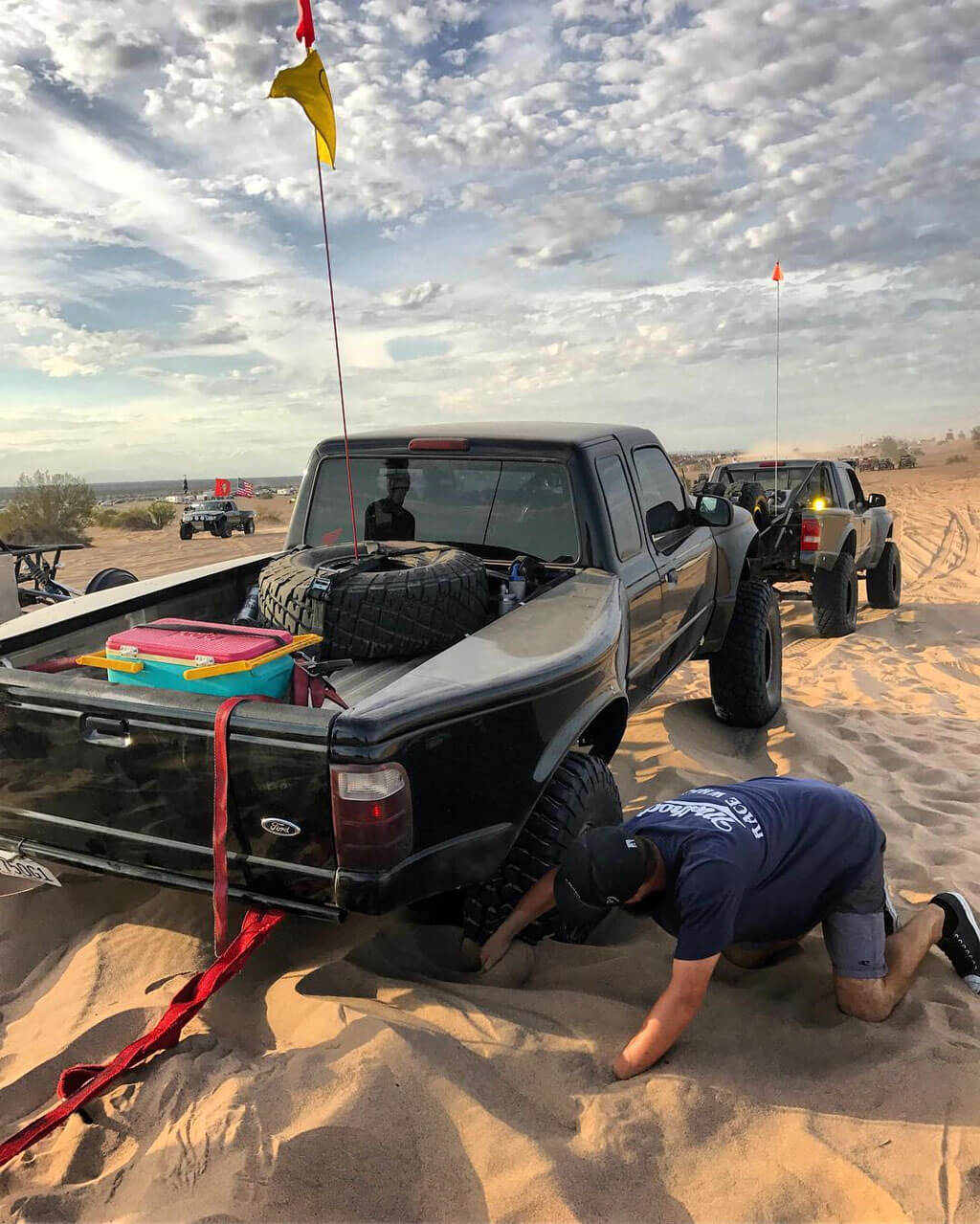 If you are concerned about the wheel size, you can choose any setup between 33″-35″ and up to 39″ tires. Bulge fenders and lightweight hood will help you to clear large wheels on a Ranger and allow a decent suspension travel.
If you tired of the edgy stock design of a Ranger, guys at Fiberwerks have something cool to offer you: a Ranger to Raptor conversion body kit. It includes a complete set of body panels, fenders, quarter panels, one-piece front end with raptor grille and headlights. Except for the first gen Ford Raptor front and rear end conversion you can already get a Gen 2 Ford Raptor conversion, which looks just awesome. It comes with 2015&UP F150 headlights and taillights that mount to the new Raptor front shell and fiberglass tailgate.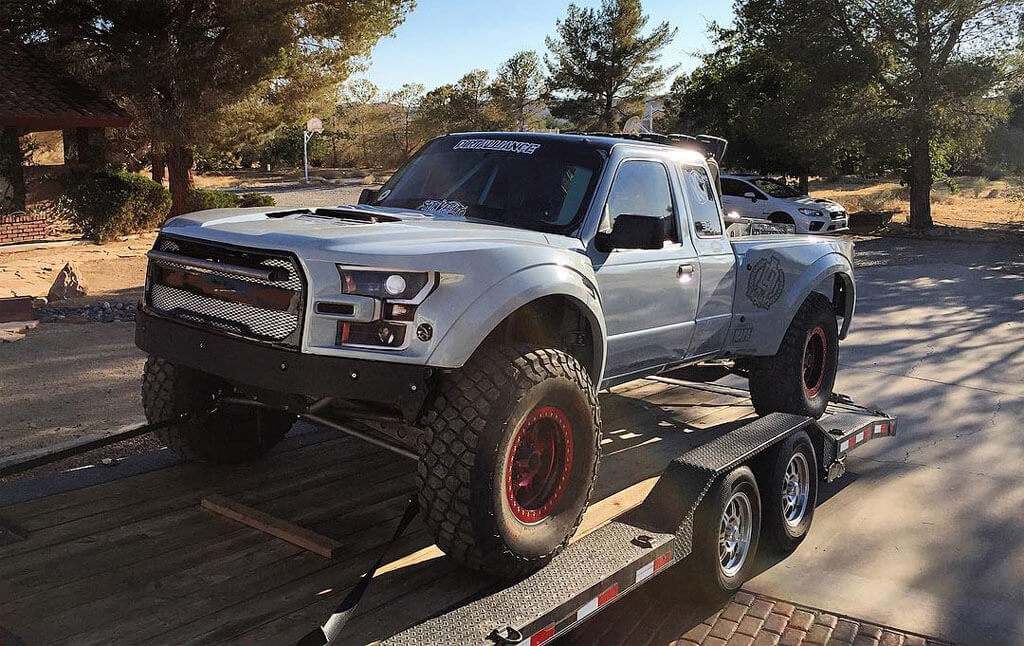 Rangers were available with 4 and 6 cylinder 2.3L – 4.0L motors, that were giving out up to 207 HP and 238 lb ft of torque, however many owners have chosen custom V8 conversions. Ford Ranger Diesel conversions are pretty rare, however there were some efforts to build those.
Alright, enough of the theory and brochure specs, in the second part of our writeup we decided to take a closer look at Ford Ranger Prerunners that see on the pictures, talk with the owners and find a recipe of a proper Ford Ranger desert truck.
2004 Ford Ranger Black Widow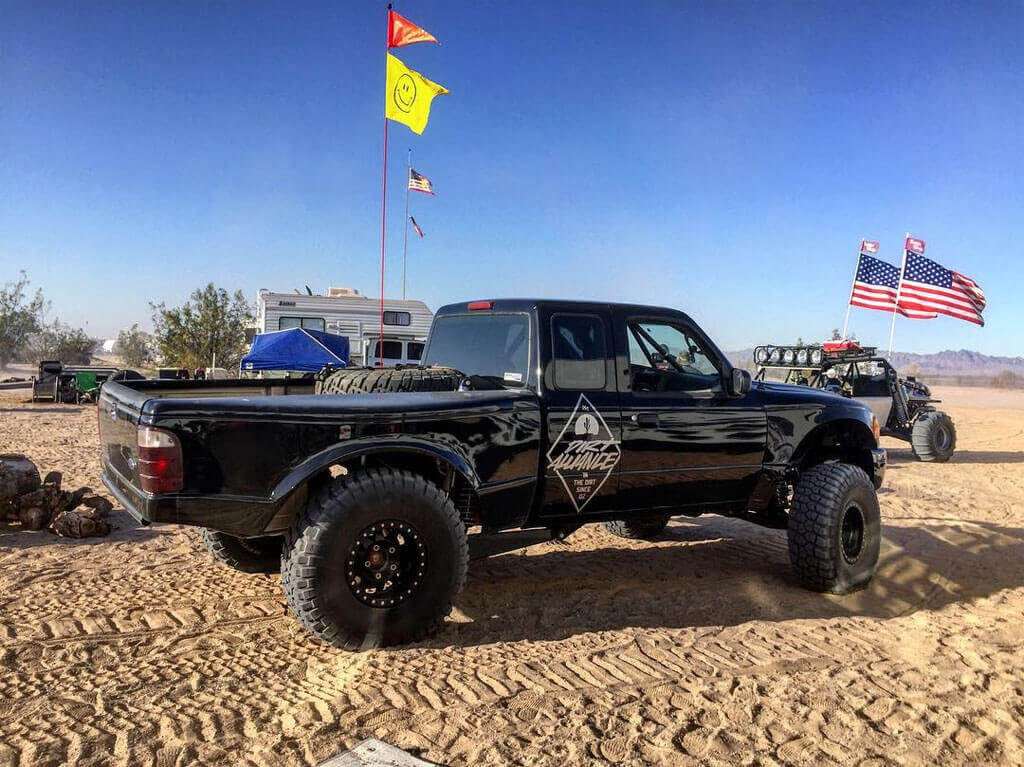 First one up is Kalil Bushala from Fullerton, California and his fully built daily driven 2004 Ford Ranger Prerunner with a nickname Black Widow. Wide stance, large tires and bulge fenders make the truck look extremely brutal especially in black color. Kalil owns the truck since 2010 and constantly working on it's modification. Throughout the years it has gone through many changes that touched pretty much all components of the truck which turned it in a real performer and a head turner.
Performance tune, Juanco tuned ECU and K&N air intake allowed to get more power from the stock 4.0 V6 SOHC engine which is paired with C4 Culhane built transmission to make the truck even more agile in the dunes and desert trails. It is also equipped with Jaz 32 gallon fuel cell and CBR Transmission cooler. As we all know there is always a room for improvement, so Kalil is planning to upgrade his Ranger with a supercharger to get even more power and torque in the future.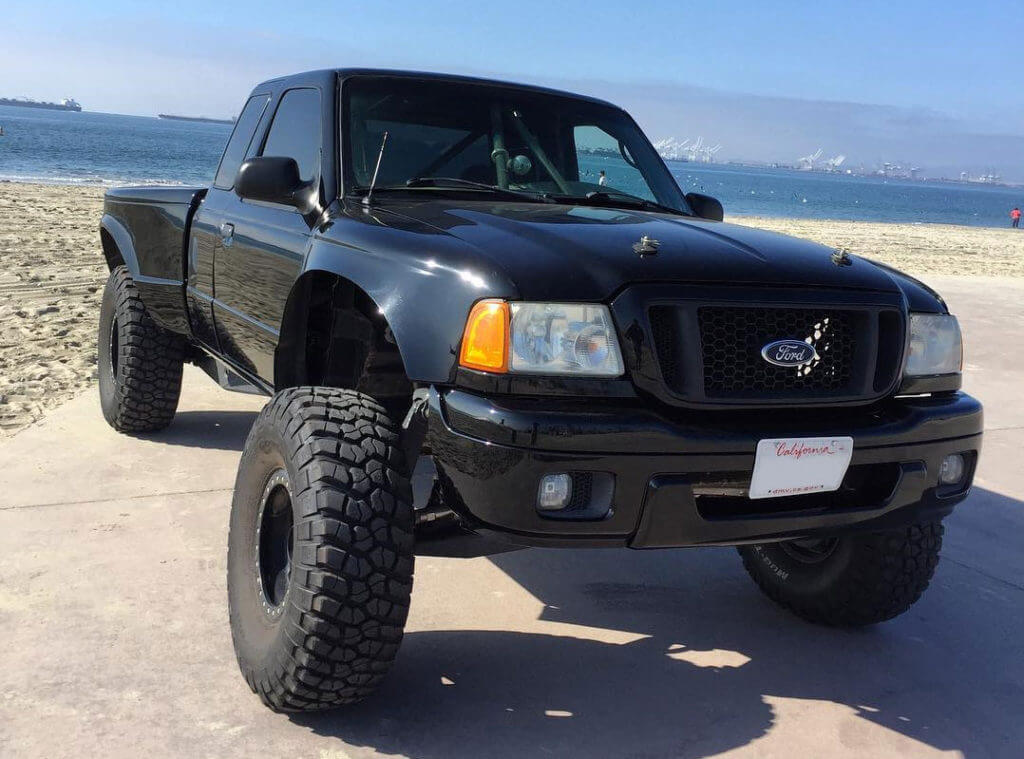 Suspension and drivetrain mods include Camburg Race Kit with 2.25 hubs, Camburg 3 link kit, Currie stamped 9″ rearend with modular case, Fox shocks all around and front & rear performance brakes by Wilwood.
The interior is rocking some Momo steering wheel with quick release, PRP racing seats and Crow 5 point harnesses. Big attention was dedicated to the safety so the Ranger is equipped with a full cage from front to rear using DOM tubing only. In order to make it race legal the roof was cut off to weld a cage full 360.
What makes the truck look even more awesome are the widebody fenders by Glassworks fiberglass that provide just enough clearance for huge 15″ Method rims with beadlocks wrapped with 35″ BFG mud terrain tires.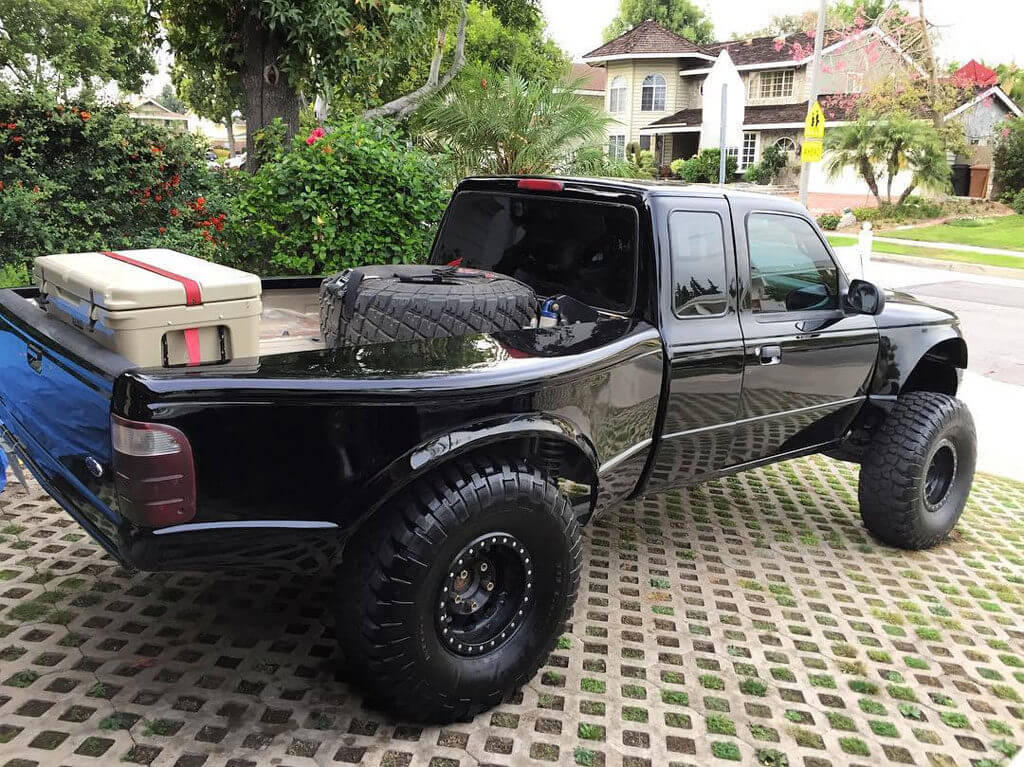 All these mods have turned a regular Ranger into a fully capable prerunner truck which became a great example of properly selected parts for safe and enjoyable usage.
1995 Ford Ranger "Gumby"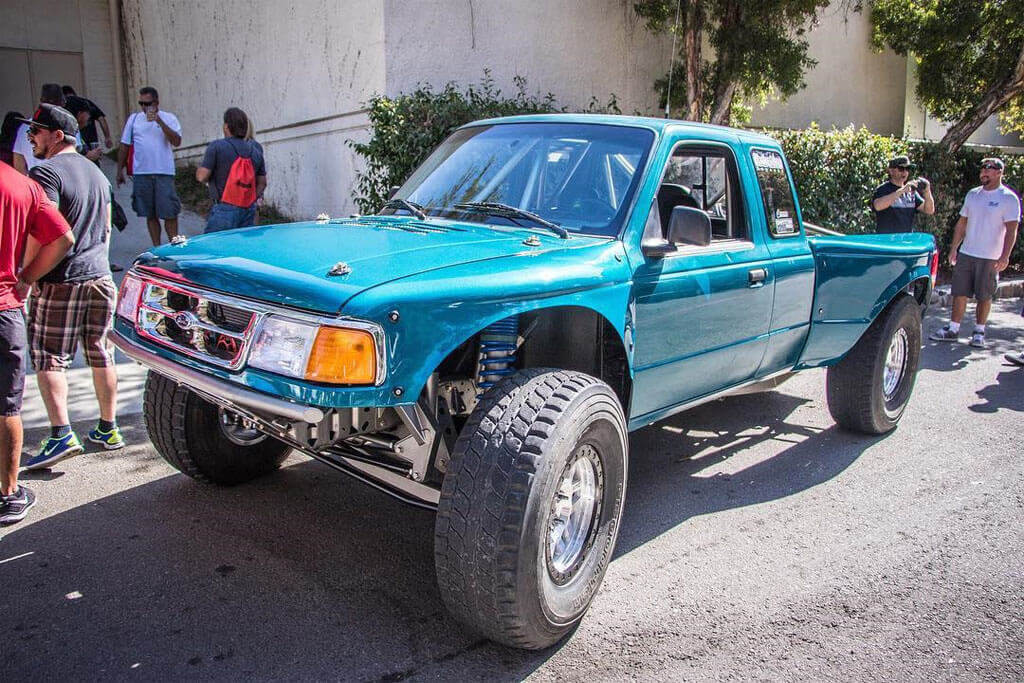 This deep sea blue chase truck with a wide stance and large sand tires looks way too far away from stock Rangers that we used to see here and there on the streets and truck meets. Wide fenders and beefy wheels make it look like a muscular athlete ready to hit any trails when it's needed. The truck is owned by David Hart from Southern California and it started the life as a regular 1995 Ford Ranger. After selling his previous prerunner and taking the co-pilot route for several years, he decided to get back into the scene by starting a full build from the frame up using all the experience that he's got in desert racing. For three years of the ownership and insane amount of man hours there's almost nothing left from the stock truck. The original Ford V6 Engine was replaced by GM 5.3L V8 motor mated to GM TH400 automatic transmission with transmission coolers to maximize the performance characteristics of the truck. Wilwood 4-piston brakes are installed on the front and the back of the truck to allow proper stopping power.
Suspension is one of the most important components of every desert truck and this is where we can see even more extensive changes. The truck is equipped with SI Motorsports equal length i-beams that are 6" wider than stock per each side and allow 21" of wheel travel on the front. Rear suspension is represented by SI Motorsports 4-link setup with insane 28″ of travel that guarantee excellent handling ability even on the most extreme terrain. King bypass shocks and hydraulic bump stops allow proper damping at the high speeds.
The truck has got Currie fabricated rear end housing full floater, Fuel Safe 50 gallon fuel cell, Baja Designs front light/dust light and 17" KMC Machete Beadlock off-road wheels. Hood and wide fenders are made of fiberglass.
Interior wise the mods are: Corbeau racing buckets, Crow 5-point seat harnesses, PCI intercom radio unit, RacePak digital dash and Lowrance GPS navigation unit.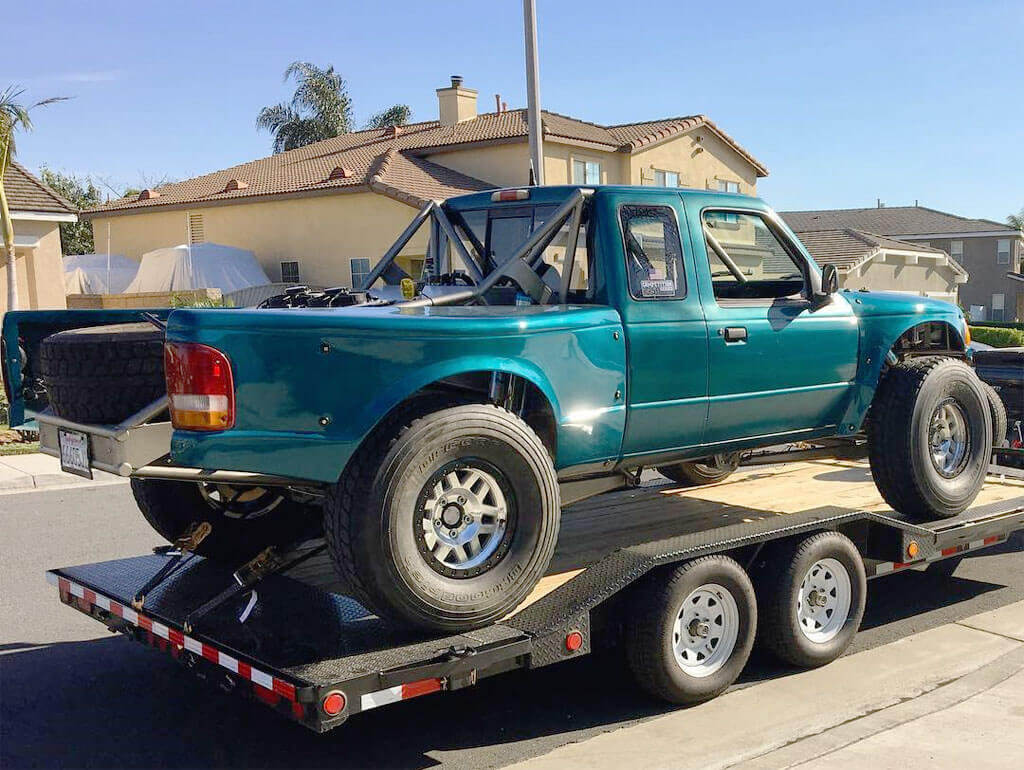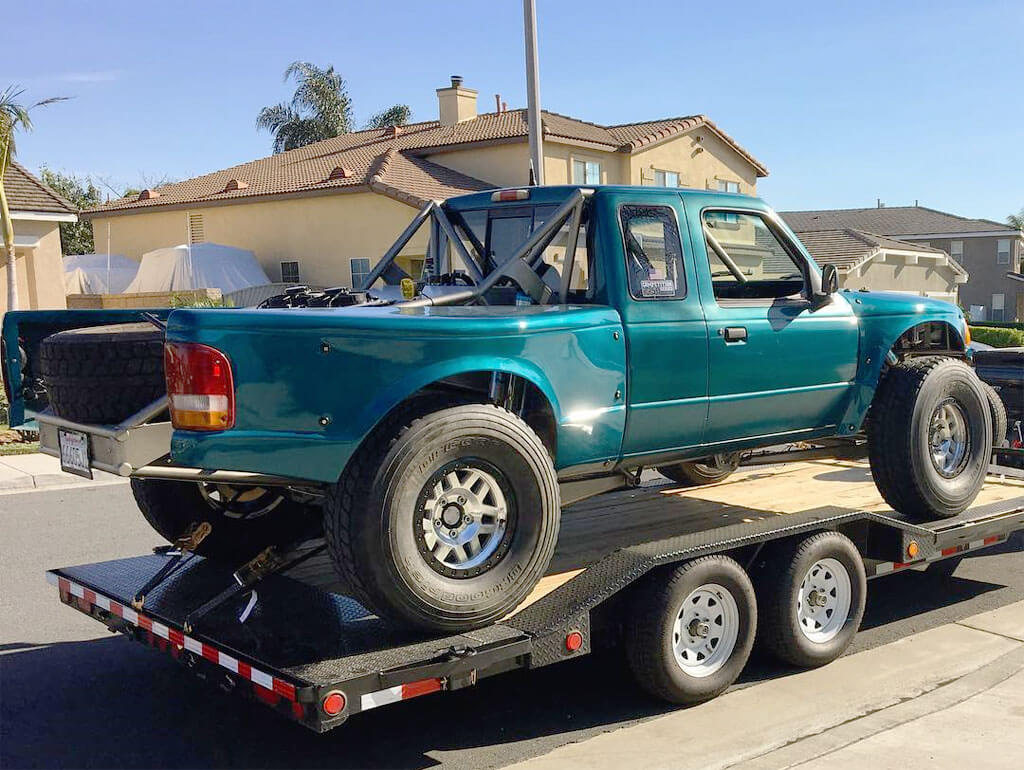 We can agree that the end result is simply astonishing and definitely deserves the highest praise. "Completing this truck wouldn't have been possible or entertaining if it wasn't for my buddies and shop partners Kevin Terry and Bronson Lee" – says David.
We showed you two remarkable Ford Ranger prerunner projects and hope that they will inspire you to start the build of your dream today. Ask questions and leave your comments below, we will gladly help you with the answers!
Recommended Parts: