UAZ 469 & UAZ Hunter – all you wanted to know about Russian 4×4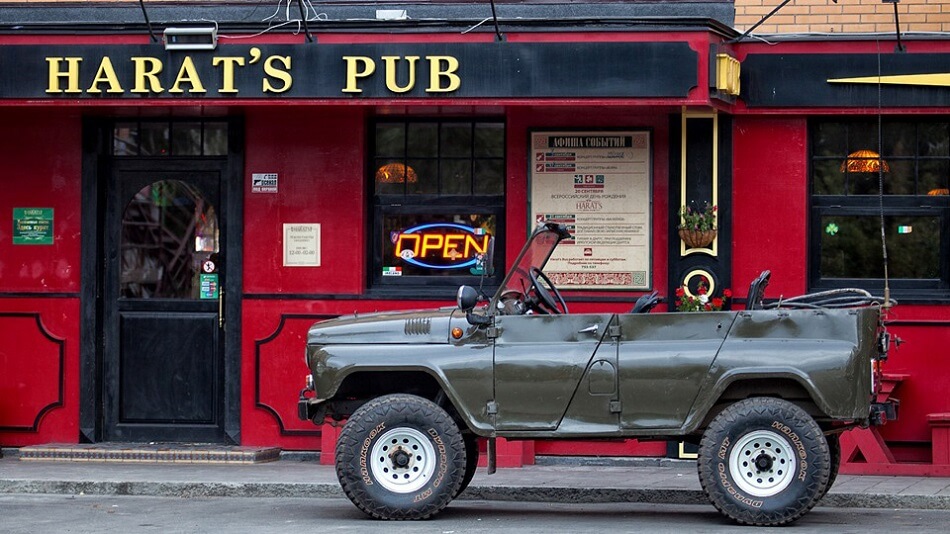 The history of tough and rugged Russian 4×4 vehicles like UAZ 469 and UAZ Hunter was always a bit shady for us. One of the reasons is that it used to serve as a military vehicle in Eastern Block countries that was always hidden from the western world society, however times change and for regular automotive enthusiasts like us, discussions about politics become less important than a story behind the vehicle itself. UAZ is quite a notable machine for anyone who is keen on off-roading and vintage 4×4 so we decided to dig more information about this shady rig.
THE HISTORY OF UAZ 469
The development of UAZ was started in the second part of the 1950s. The growing army demanded of the Soviet Union required a modernized 4×4 vehicle that could have been used in any type of terrain. UAZ 469 was meant to be a successor of GAZ 69, a military vehicle that was very similar to American Willys and its roots are coming from World War II. The first prototype UAZ 460 looked quite similar to a Land Rover, which has just started to conquer wild terrains of the former British colonies. The biggest structural difference was an independent suspension.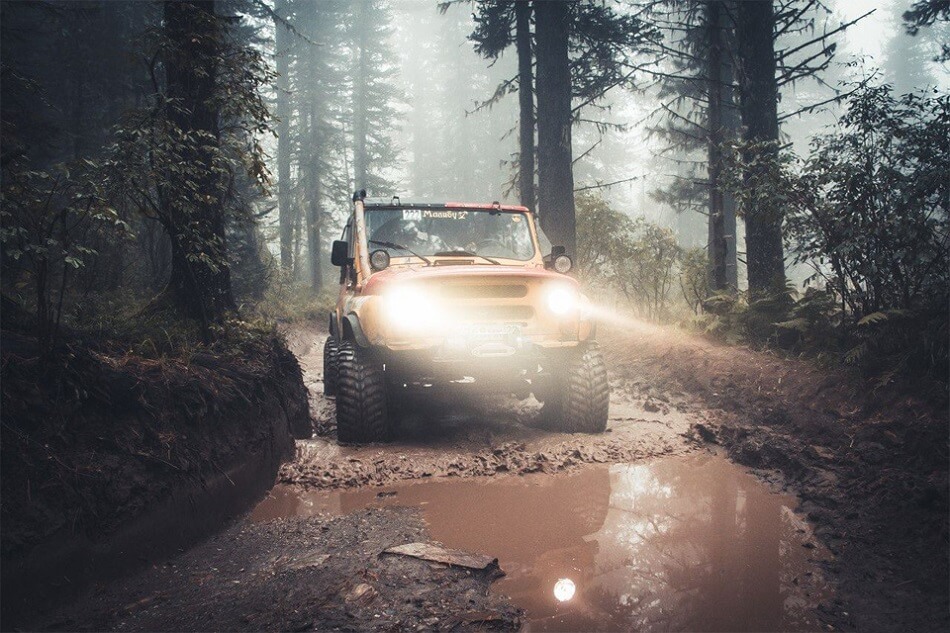 The engineers were really excited about this vehicle and were trying to use the innovative technologies, however, due to the reliability issues, most of the high-end variants couldn't compete with the reliability of 4 cylinder carburetor motors that have already been used in mass-produced Volga cars. The engine was giving out about 72 horsepowers. Just like AK47, UAZ should have been an ultimate tool in the hands of a soldier, that wouldn't stuck or break no matter what. Among the requirements of the army were a removable soft top and a foldable windshield that made UAZ compact enough to fit in the cargo area of a military helicopter. The final prototype of UAZ 469 has been released in the middle of the sixties, however, the production began only in 1972.
Thanks to the ground clearance of 12 inches (300mm), two-stage lower range gears, and live axles the vehicle received very serious off-road capabilities, that were really impressive according to the world standards of that time. The approach and departure angles were 52 and 42 degrees, which equals to German Unimog military trucks.
Interesting fact, UAZ 469 was not equipped with a locking differential but it didn't really make it less capable on the rough terrain. Perhaps the engineers decided to avoid the use of such a complicated unit in order to ease the maintenance, lower the cost, and extend the lifecycle of UAZ. Civil version UAZ 469B was available with a simple driveshaft, single lower range gears, and a ground clearance of 220mm.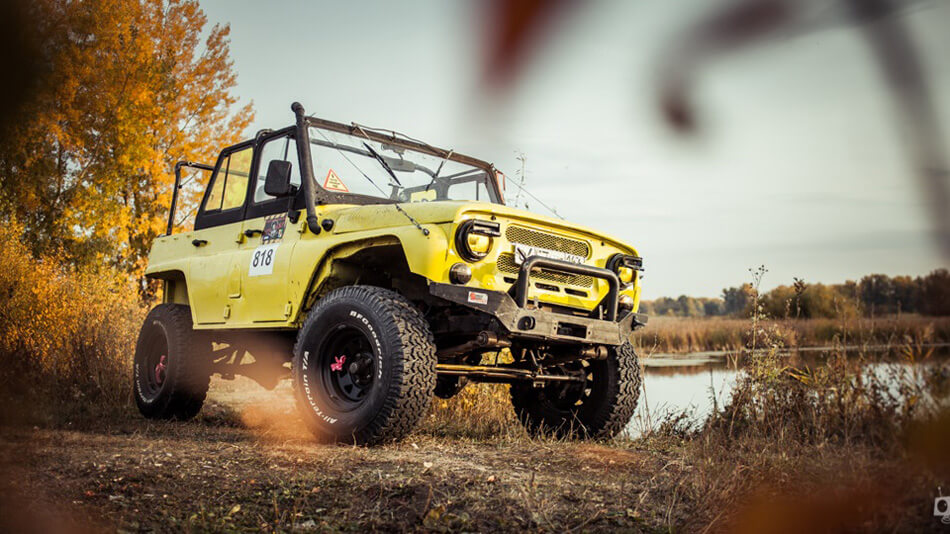 It was a drop-top 4-door vehicle that was capable to seat up to 7 people: two on the front, three on the back, and two more in the cargo compartment on the side-mounted jump seats. Alternatively, it could take two passengers and 600kg of cargo on board, or 5 passengers and 100kg of cargo. The gauges were located in the center of the dash so the higher rank military personnel sitting on the passenger seats could keep an eye on them. It's got two fuel tanks, 39 liters each, that gave a pretty good range. Talking about the fuel, UAZ 469 was designed to operate even on 72 octane fuel, however, 76 octane was more preferable. The interior comfort was simply absent, just like in any other military off-road vehicle of that time, because it was addressed to the people who were not used to comfort anyway.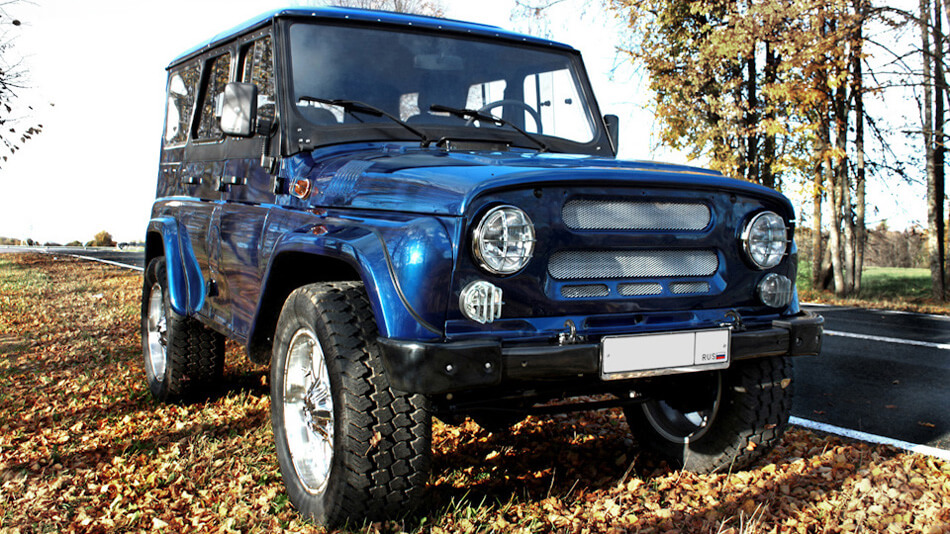 Just like all other military vehicles Russian 4×4 UAZ 469 was not available for private owners for a long time however it was widely used as a workhorse in the agricultural sector and other specialty services.
In 1974 a group of factory test drivers climbed to the top of Elbrus pike in Caucasian mountains on a pretty much stock UAZ 469, which was a way more important achievement than many modern promotional campaigns. Thanks to a friendly looking design of the front end it soon received a nickname Bobik, which literally means Buddy.
UAZ 469 TECHINCAL INFORMATION AND SPECS
This model received a couple of more technical modifications during the years until production was discontinued in 1985. The same year the model name was changed to 3151 because the majority of internal and external components were redesigned. UAZ 3151 and later modification UAZ Hunter are based on improved platform of the good old military 469 and have many common exterior elements.
| | |
| --- | --- |
| MODEL NAME | UAZ 469 |
| PRODUCTION | 1972-2003 |
| CHASSIS | Body on Frame |
| LAYOUT | Front engine, 4WD |
| ENGINE | 4 Cyl. 2.5L – 2.7L |
| POWER | 71-112HP |
| TRANSMISSION | Manual 4 or 5 Speed |
| GROUND CLEARANCE | 8.7″ – 12″ |
| FUEL TANK | 2 X 39L |
| APPROACH ANGLE | 52 Degrees |
| DEPARTURE ANGLE | 42 Degrees |
UAZ HUNTER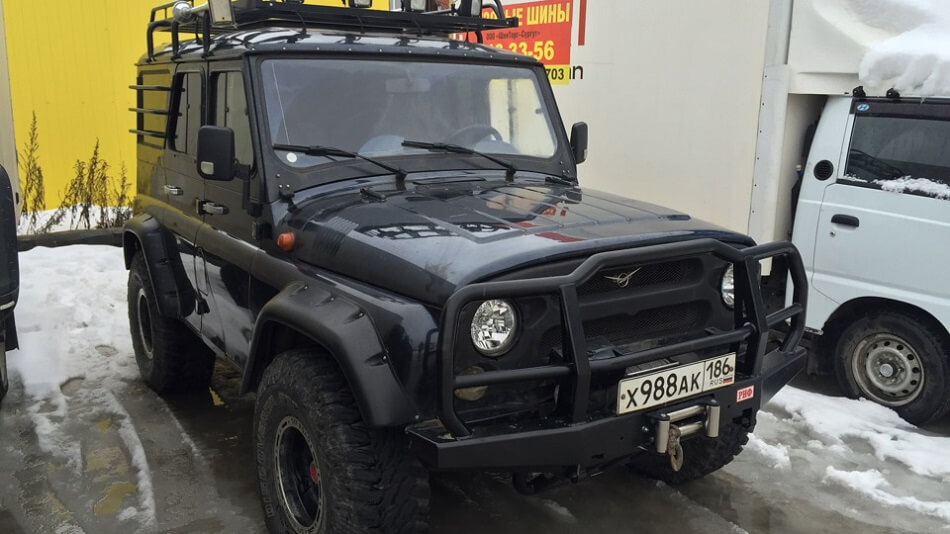 Modernized UAZ hunter remains in production until today and it is available for sale in Russia and other European and Asian countries. It is compliant with EURO 5 emission standards and comes equipped with front disc brakes, modern suspension, and comfortable interior.
There is also a long base version UAZ 3159 which is slightly less popular among UAZ enthusiasts. It can seat up to 9 passengers thanks to the extra room in front of the rear axle.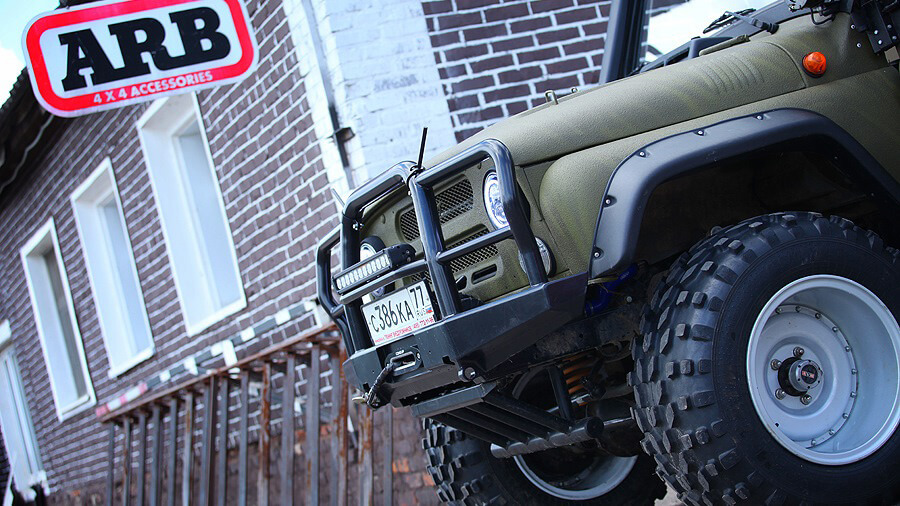 Needless to say that UAZ is one of the most favorite vehicles of Russian off-roaders, thanks to remarkable off-road characteristics, design, and availability of the parts, that also remain in production even today. Such a profitable niche couldn't be overlooked by the aftermarket manufacturers that offer a huge variety of off-road equipment for these vehicles, just like they do on the USA market for JEEP Wrangler.
Except for common suspension and drive train modifications, you can easily find custom-fit exterior mods such as off-road bumpers, fender flares, side steps, various bull bars, and grille guards, roof racks, spare tire carriers, numerous guards and much other stuff. UAZ has very much in common with Jeep Wrangler and Land Rover Defender and due to it's rarity in the western countries it will soon become the desired piece for many vintage off-road fans.
<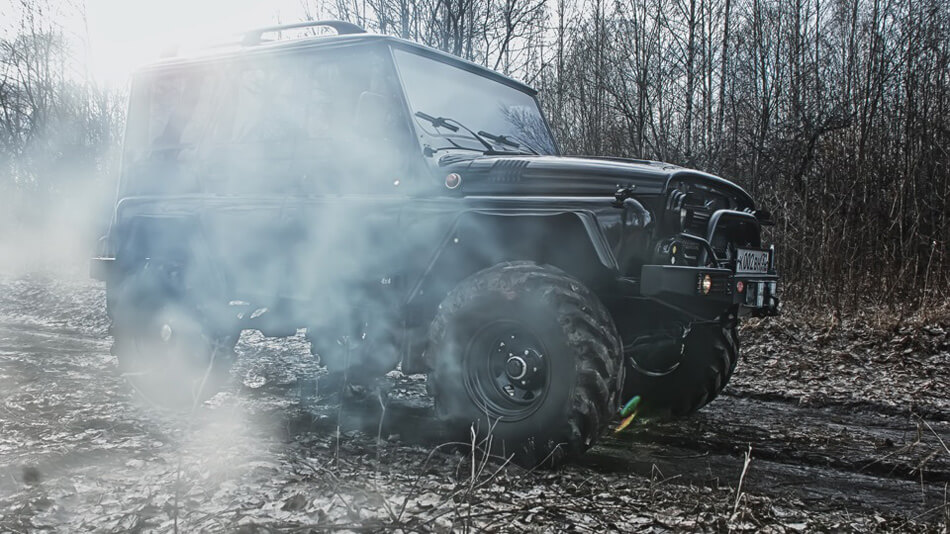 UAZ Overseas
It's not a secret that UAZ was actively exported to dozens of other countries abroad for the military purposes, however, it was also pretty popular on the civil off-road market. Believe it or not, but the biggest success of UAZ was achieved on the Italian market. One of the Martelli brothers was a big fan of off-roading and he used UAZ 459 in autocross, which helped him to win numerous races across the country.
The success of this vehicle in auto sport-inspired them to launch their own firm which was specialized on off-road modifications of the famous Russian 4×4 vehicles. They soon realized that the stock 4 cylinder engine was not very suitable for racing, and decided to offer 3 other variants: Dakar with Italian VM motor 100HP, Marathon 76HP Peugeot Diesel, and Racing with Fiat 112 HP engine.
Today's UAZ club of Italy is pretty extensive which constantly arranges numerous off-road events, meets and road trips.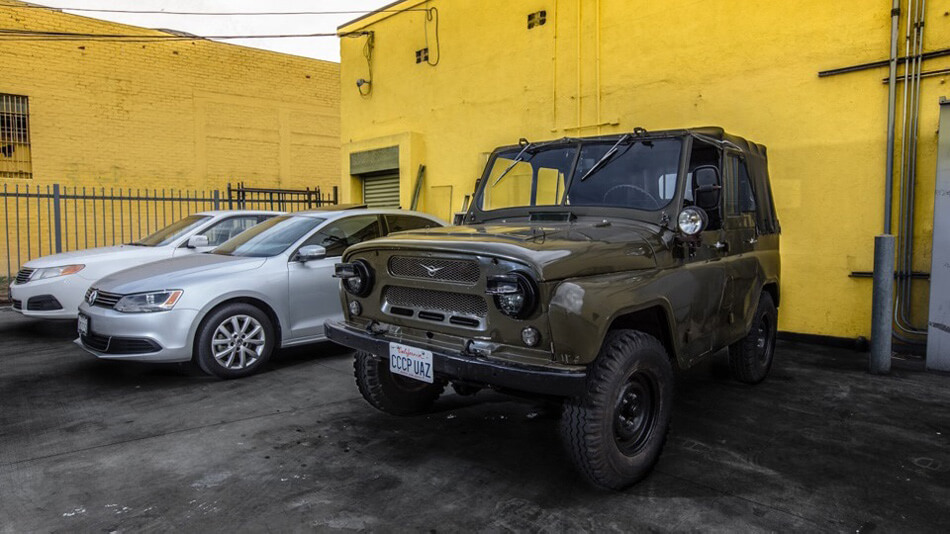 It's not a secret, that America has got the biggest truck/4×4 market in the world which means great sales for any manufacturers that enter it. Due to the political situation in Russia, UAZ was never really looking at the USA market, however, after the fall of the metal curtains between East and West, many companies have started to consider entering it.
American off-road enthusiast William Anderson was very impressed with a unique and rugged Russian 4×4 vehicle during his trip to Russia in 1991. It was something that he has never seen before, but in a matter of minutes, he realized that he wants to take one home. Knowing how big is the 4×4 market in the USA, he decided that there will definitely be a space for a machine like this. By that time he was an owner of two successful IT companies, however, his passion for cars made him quit them and soon found another company that was proudly called "UAZ of America" with headquarters in Florida.
Three main benefits of UAZ according to mr. Anderson were: rugged design, 4×4 capabilities, and unbelievable reliability. There were only two disadvantages though. The vehicle did not comply with modern safety and emissions standards. The task was to improve the weak points and maintain the low cost, however, it wasn't as easy as it appeared from the first glance.
The engineers of UAZ Of America left the frame, driveline, and suspension untouched because they used to have a pretty convenient structure, however, the 4 cylinder engine was meant to be replaced with GM 4.3L V6 engine that was used on Chevy Blazer and S10. It was relatively cheap, reliable, powerful, and what is more important – SAE compliant. Russian transmission couldn't cope with the V6 power and therefore was replaced with a reliable Borg-Warner unit. Factory suspension was left as is, but OE shocks were replaced with similar size units from Monroe. The more powerful engine required a better stopping power, so the engineers decided to utilize GM disc brakes. Stock side-mounted fuel tanks were banned due to the safety restrictions and that was a major problem because it was very complicated to reorganize the space on the back of the vehicle.
The upper portion of the modular door was too small for American standards and was an absolute nightmare for the people who often use drive-through services.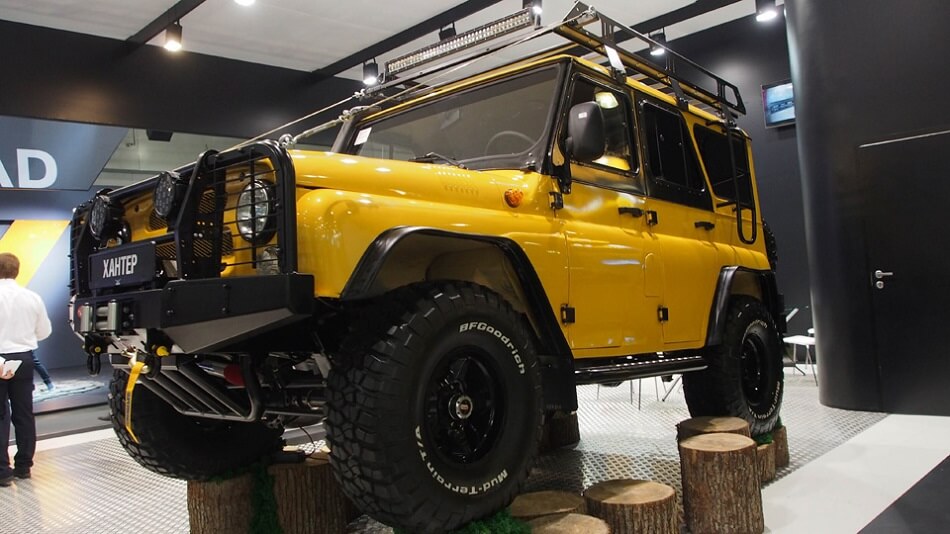 The market researches proved that there was a market for this vehicle and American UAZ was even displayed at the 1993 New York auto show. More than 200 car dealers have volunteered to sell it in their own showrooms, however, the use of modern components drove the price way higher than it was expected by William Anderson which apparently caused problems with production.
We can only assume what happened with this shady campaign back in the 90s, but unfortunately, this project was abandoned and UAZ has never entered the American market.
Today American automotive culture is diverse as never before and many people seek exclusive stuff, weather it's a rare European exotic car or a vintage 4×4. Perhaps now it's the right time for UAZ to make it's way to the new world, but not in a form of a brand new car that is sold through fancy dealer showrooms, but as rare imported unit for die-hard off-road enthusiasts. It perfectly complies with a "25 years old" rule and can be legally imported and registered in DMV as an antique vehicle. Oldtimer laws slightly vary from state to state, however 25-year-old UAZ doesn't even have to comply with modern safety or emission standards.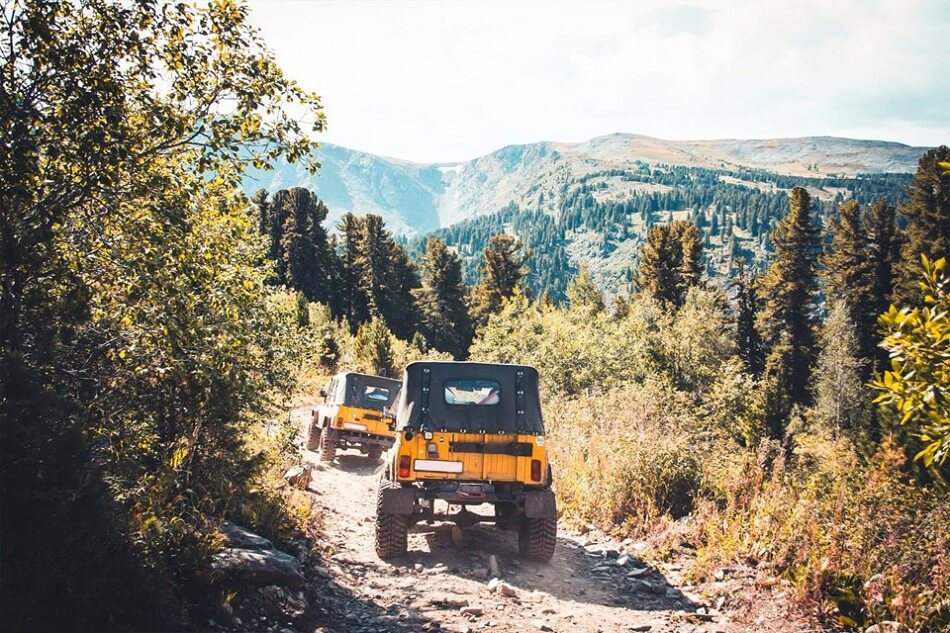 Comfortable UAZ hunter is too young to apply to this rule, however, older versions do have a green light from DMV. Here is an example of a freshly shipped military UAZ 469 from Russia and registered in the state of California. Of course, it wouldn't become a hype as mid-seventies Nissan Skyline, but there's still a high chance that these vehicles will soon gain bigger popularity in the states.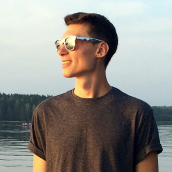 Matt Grabli
Matt brings over a decade of automotive expertise to his role as staff writer and editor at Offroadium.com. With an enduring passion for the off-road vehicles and adventures, he is devoted to creating interesting content that equips 4x4 enthusiasts with the knowledge to improve their rigs.