Unimog truck – history, technical specs, pictures and availability in USA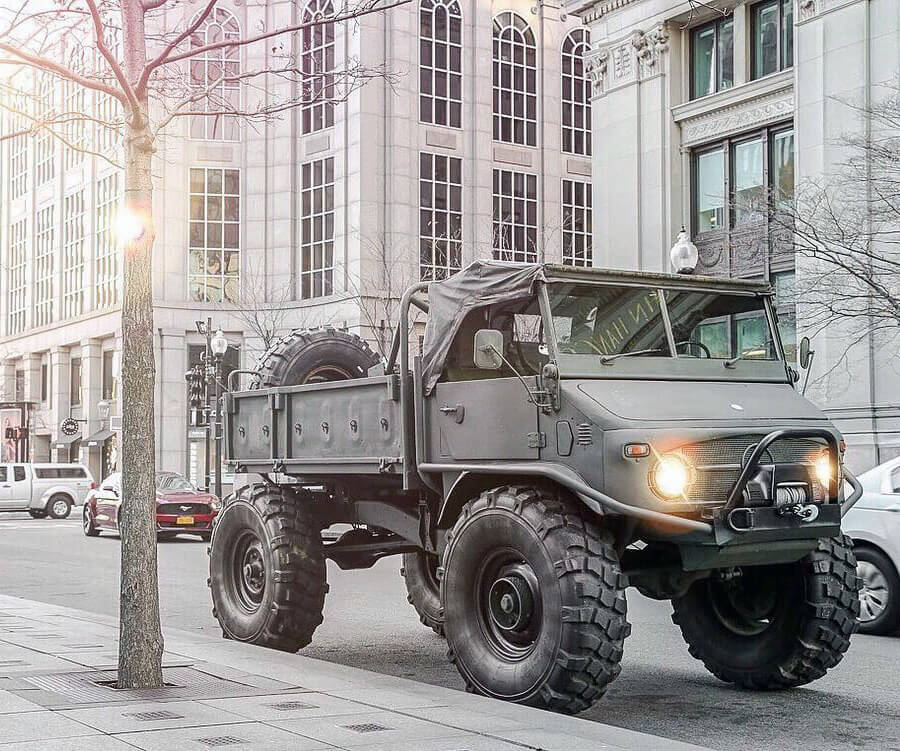 When people talk about Mercedes trucks, they usually mention the G-Wagon, but not all of them know about the Unimog truck, which is proudly called the most capable 4×4 vehicle on the planet. It is often used in remote areas to serve various purposes and help people get from point A to point B regardless of the terrain in between. Guinness World record book recognizes the Unimog truck as the world's best off-road vehicle. The recipe of this unique machine is simple, it combines the key elements of a truck and a tractor at the same time. It was developed in the middle of the last century, in a small factory by German engineer Albert Fridrich. The result was so impressive, that it stays in production for almost 70 years.
THE HISTORY OF UNIMOG TRUCK
Germany was recovering after World War II and the agricultural sector required a reliable workhorse to serve multiple purposes, as most of the people were not able to afford two machines like a tractor and a truck. Unlike tractors, Unimog was equipped with large wheels both in front and on the back, which allowed it to reach higher speeds in order to drive on public roads.
Unimog name stands for UNIversal MOtor Great – which translates as Universal Motor Machine.
The production of Unimogs began in 1949 and never stops even until today. They were widely used in military, agriculture, public and emergency services. They are also very popular among hunters and travelers around the world due to the price and reliability of the parts. It's unbelievable success immediately attracted investors and in two years the brand was purchased by Dimler-Benz company in 1951 which started to produce these trucks under the Mercedes name.
The owners of these machines know about their reliability better than anyone else. If you get a vehicle like this you automatically become a life long fan of Mercedes-Benz Unimog, because it's almost impossible to overestimate it.
Its brutal looks may not be attractive for the ordinary driver, but every single piece of its design serves a certain function. While the exterior may not be everyone's cup of tea, the technical characteristics and off-road capabilities are simply mindboggling. The ground clearance of Unimog truck is about 3 feet, approach angle is 46 degrees, departure angle 51, climbing ability 45 degrees (100%), but one of the most important elements of its construction is the flex frame. It allows a diagonal twist which extensively improves its off-road capabilities along with massive suspension travel. Due to this particularity, Unimogs don't have a big load capacity, unlike the trucks with regular frames. The forward placed cabin allows the driver to get better visibility at what's going on under the front wheels. If you have noticed, there is no common differential gear connecting the centers of the wheels on the front and on the back. They have used portal gears instead of common differential units which allowed to lift the differentials and the transmission above the wheels, for better clearance.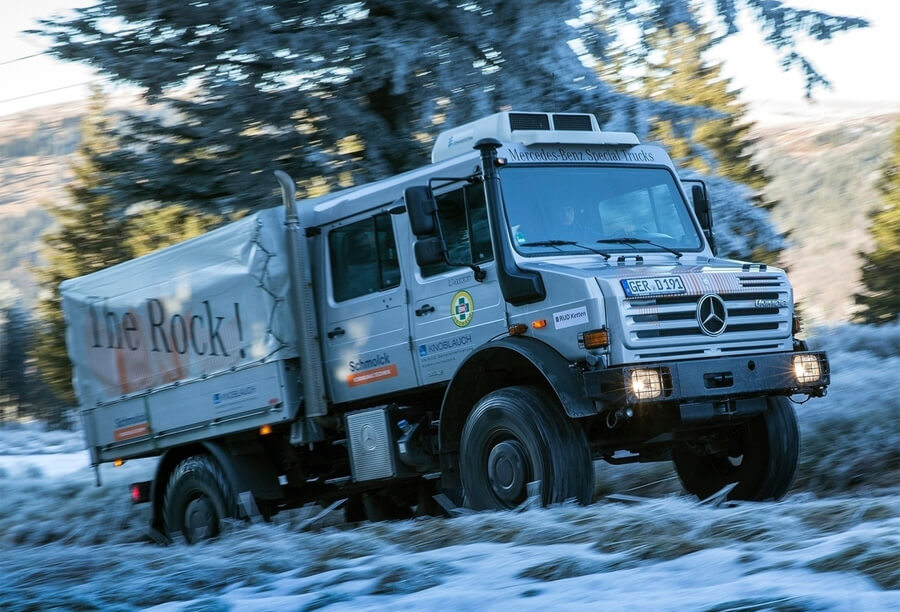 Another cool feature of the late model Unimogs is the ability to switch from left-hand drive to right-hand drive in order to let the driver operate it from the most convenient position for maneuvering.
Thanks to all of the benefits listed above, Unimog can be often met in the mountains, deserts, and jungles. It's got an impressive career in armed forces.
Interesting fact: During a military campaign a bulletproof Unimog Dingo exploded on a mine, however it's chassis and the frame has successfully protected the crew in the cabin.
In Europe, they are mostly used in snow cleaning, public services, construction, and agriculture.
UNIMOG TRUCK CAMPER FOR OVERLAND EXPEDITIONS
Unimog is popular among the fans of the overland expeditions thanks to its convenient short base and unmatched 4×4 capability. It is a favorite camper for hunters and travelers with deep pockets. The price of Unimogs varies on the year, model and condition. Old unrestored units may be found at a price of about $15,000 and grow up to $200,000 USD for brand new models. There are many Unimog trucks available for sale in European countries, but it wouldn't be easy to find one in the USA.
Interesting fact: The most popular model was Unimog 404. High displacement engines were not common for Europe because of the higher gas costs, so the truck was equipped with a relatively small 2.2L gas engine which was giving out just about 80 horses.
UNIMOG TRUCK IN USA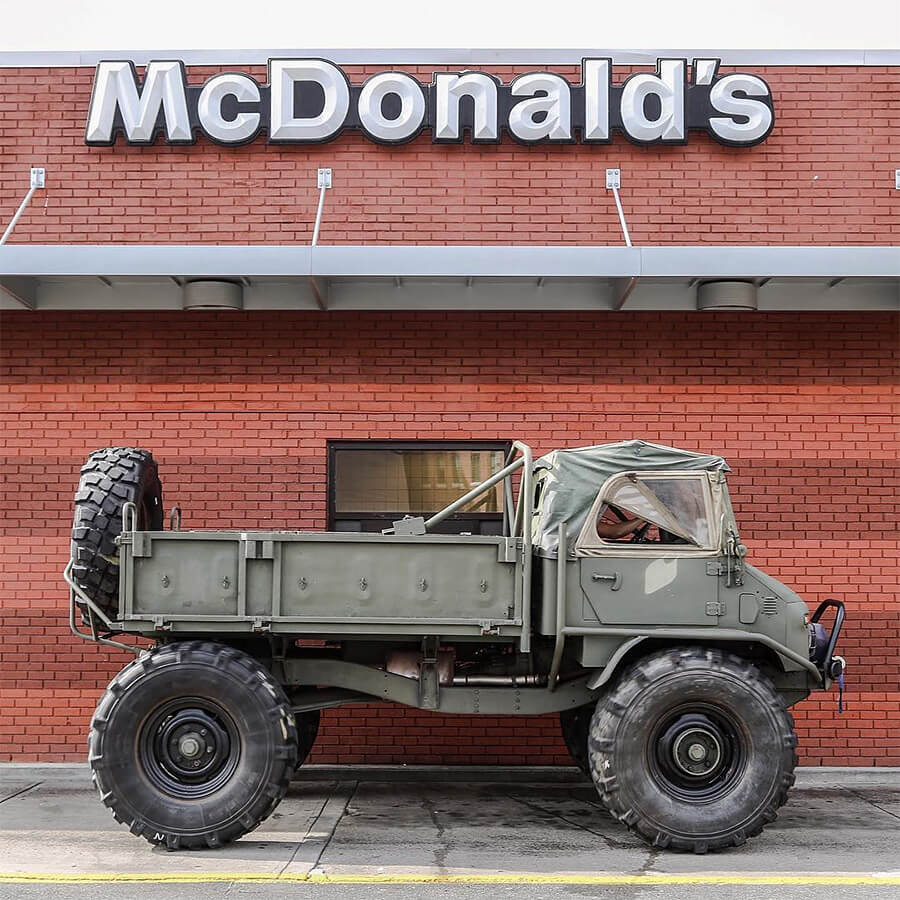 USA has got the biggest truck market in the world but with all the talents of the Unimog it has never been a key player on it due to the massive competition with domestic manufacturers, such as John Deer, GM and others. Back in the mid seventies Unimogs were sold through the tractor dealerships in small numbers, however it didn't last for a long time. Taking into consideration the amount of world wide sales of Unimogs, DimlerChrysler decided to renew the sales of Unimogs in the North America with their fresh model U500. They were sold under the name Freightliner and produced in Canada, however the sales were extremely small. For 4 years the company managed to sell only about 140 U500 units, and finally quit the market.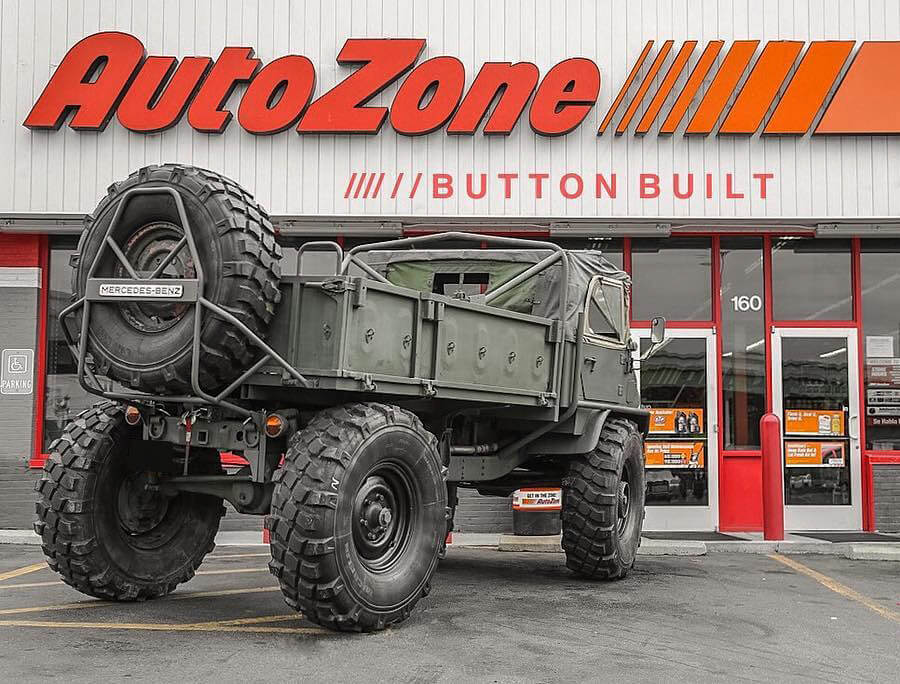 Vintage Unimog 404 truck that you see above belongs to ButtonBuilt and constantly gets driven through the streets of Boston, MA.
We all remember how automotive news were blown away by the pictures of Arnold Schwarzenegger driving around in his weird but extremely tough looking Mercedes Unimog. Remember when Hummer became available to the public? That's right GM actually signed a contract with the former governor of California to promote these vehicles. We can assume that the story repeated with Unimog, but taking into consideration the fact that mr. Schwarzenegger has roots from Austria, the purchase of Unimog truck could have been a result of his private decision.
| | |
| --- | --- |
| YEARS OF PRODUCTION | 1955 – 1980 |
| WHEEL BASE | 2,900 mm (110 in) |
| WEIGHT | 4,400 kg (9,700 lb) |
| WHEEL SIZE | 37″, 40″ |
| ENGINE | 2.2L, 2.8L |
| GAS MILEAGE | 10–14 mpg (US) (=16.8–23.5 L/100 km) |
| FUEL TYPE | GAS / DIESEL |
| GROUND CLEARANCE | 400 mm (16 in) |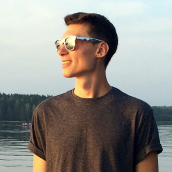 Matt Grabli
Matt brings over a decade of automotive expertise to his role as staff writer and editor at Offroadium.com. With an enduring passion for the off-road vehicles and adventures, he is devoted to creating interesting content that equips 4x4 enthusiasts with the knowledge to improve their rigs.