Mercedes G Wagon Lift Kit with Portal Axles – Why and How?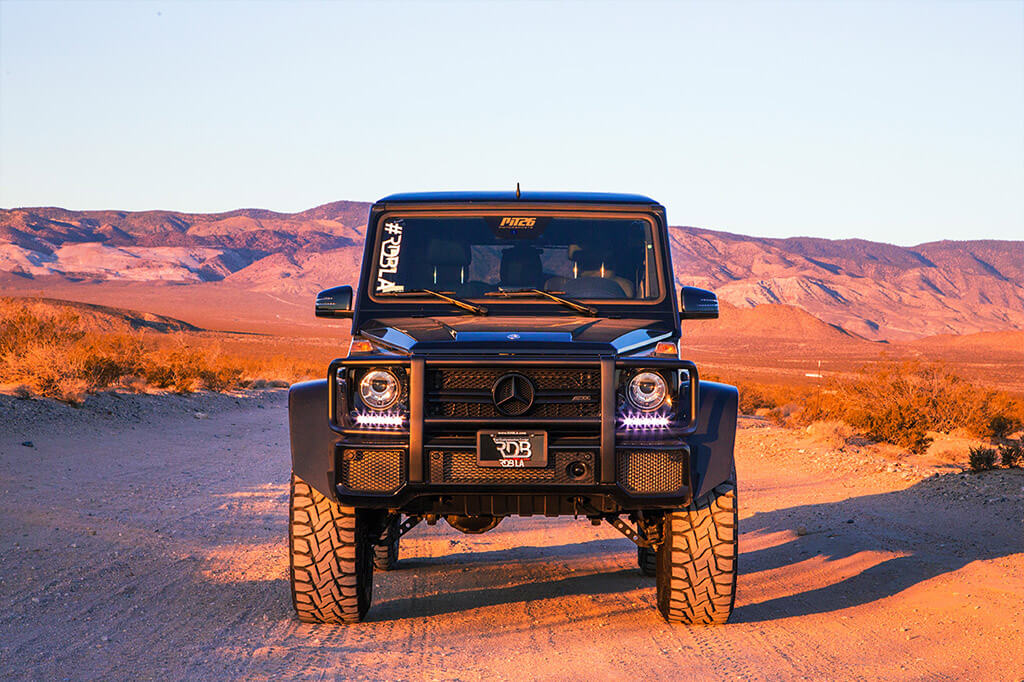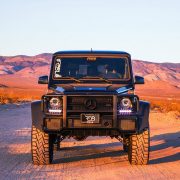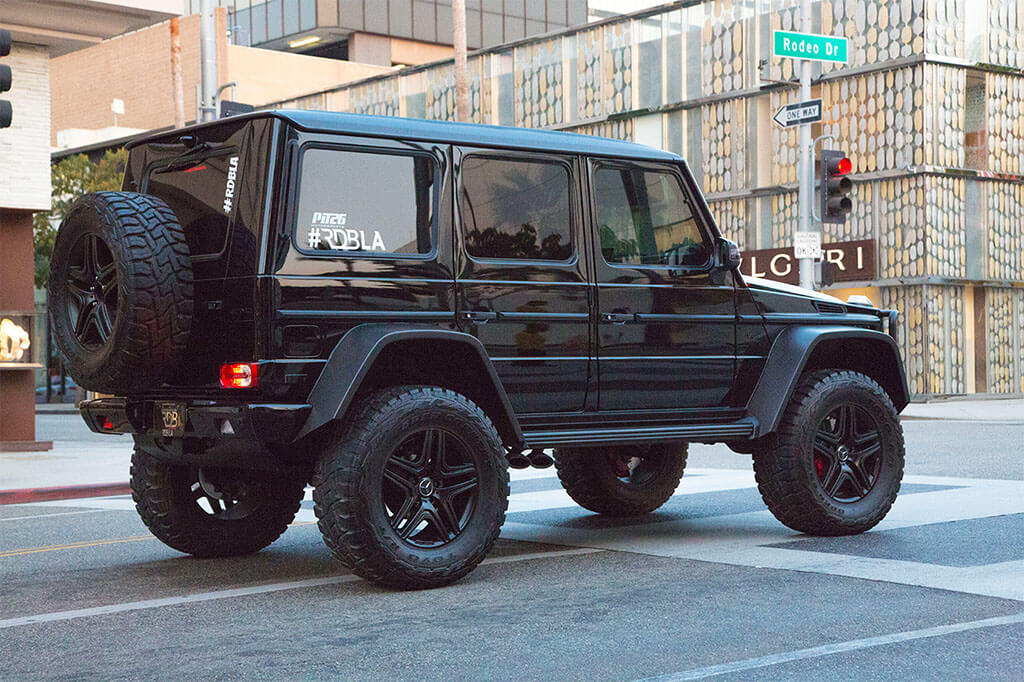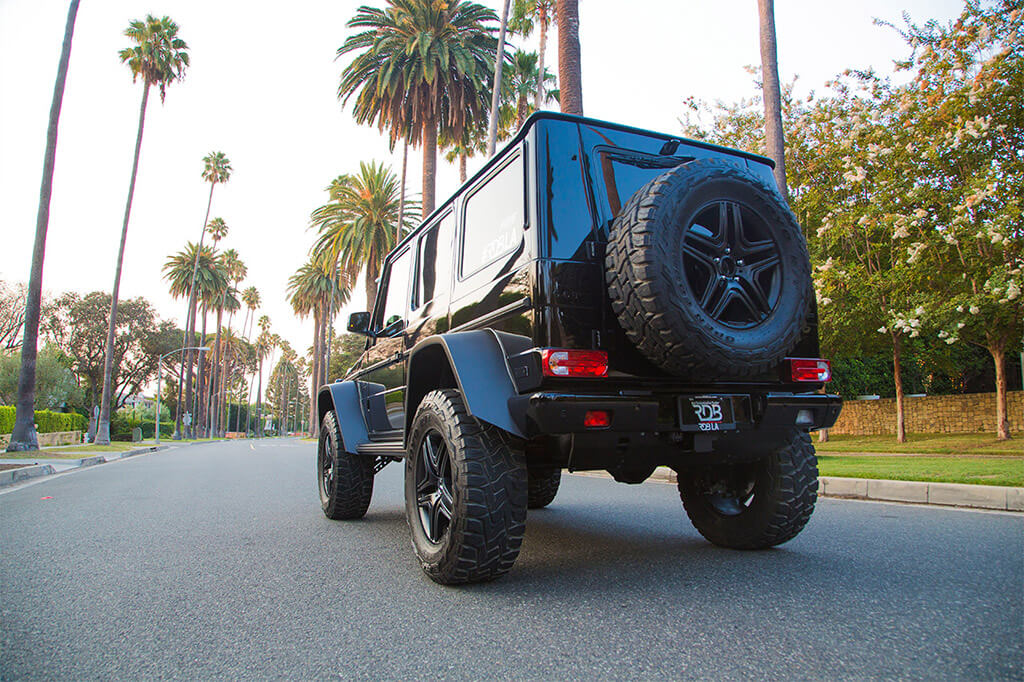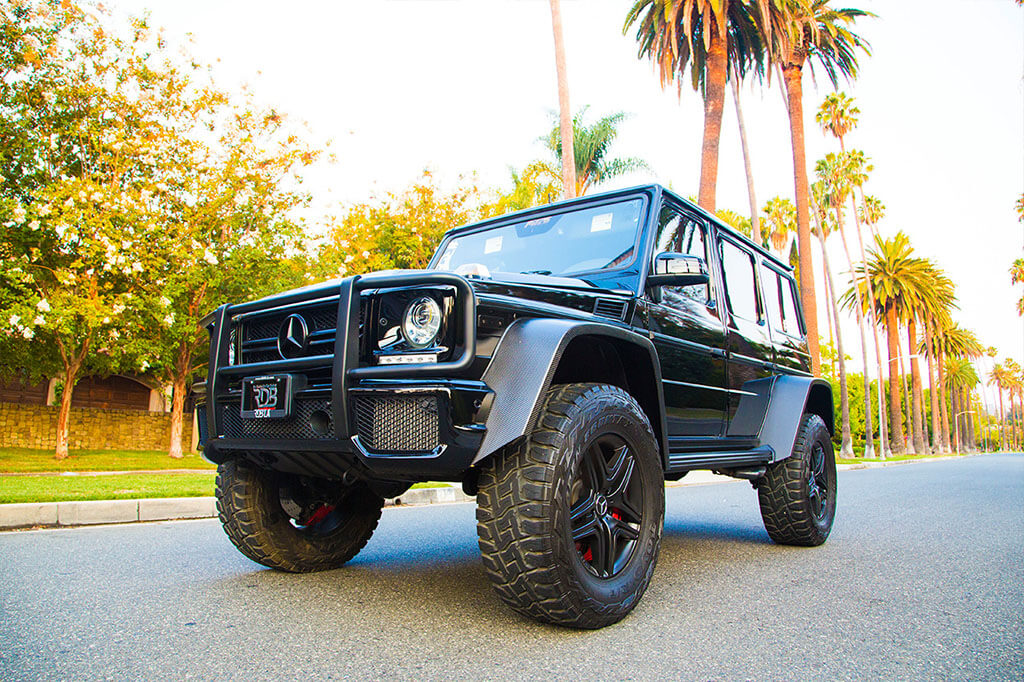 View Gallery
Even though most of us think of the G-Wagon as a luxury performance SUV that never leaves concrete, it's got a huge off-road potential and Mercedes has successfully proved it with their top-notch 4×4 squared and 6×6 squared models. Needless to say that both of these models have made a huge splash on the market thanks to highly capable portal axles and bringing the new combination of luxury and performance to the world of big tire trucks and SUV. But is it really something more than just a G-class with a lift kit?
According to the technical parameters such as engine performance, ground clearance, approach, and departure angles 4×4 squared comes very close to the most capable military off-road vehicles like HUMVEE, and even exceeds them at some points. In addition to that, luxury equipment and conveniences that you can find in these models can be hardly matched by the competition.

According to the information from luxury car dealers getting a 4×4 Squared sets you at the edge of staggering $225,000 and more. For that much money, you basically get the same G wagon put on portal axles and enhanced suspension along with a row of other exterior tweaks. But since the difference between the regular G-class and 4×4 squared isn't that fundamental wouldn't it be possible to achieve the same result by installing the lift kit on the base G?
We bet that this question appears in the head of every off-road enthusiast or a car guy. And, as you may have guessed the answer is pretty straight forward – yes it is, if you use the right parts.
Common suspension kits that we see on lifted trucks utilize various combinations of extended shocks, spacers or coilovers, but most of them inevitably change the suspension geometry and behavior of the vehicle which affects handling along with the overall driving comfort and may disable some of the smart factory suspension features on advanced models.
Of course, it may not be the case with small lifts, but if we talk about the installation of the oversized off-road tires like 35s or even 37s you have to be very selective.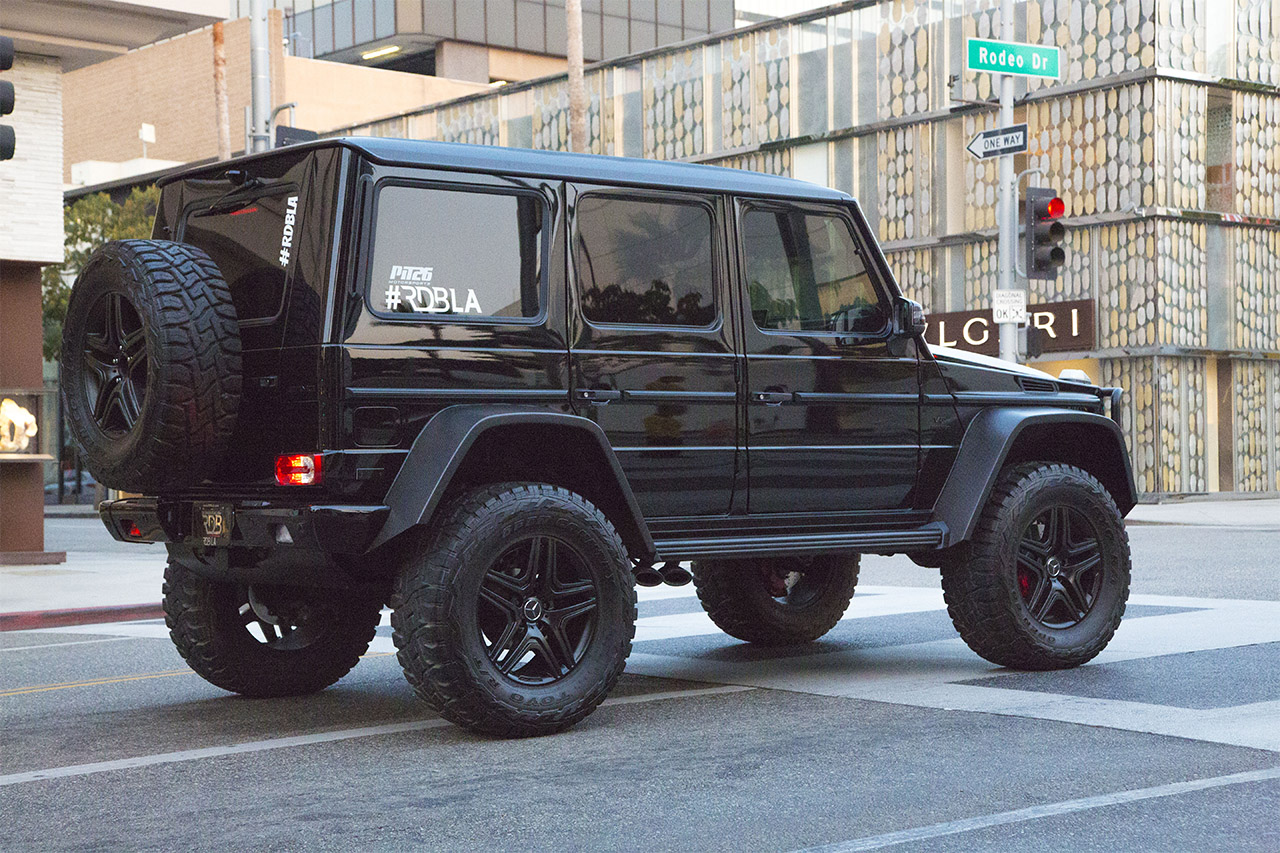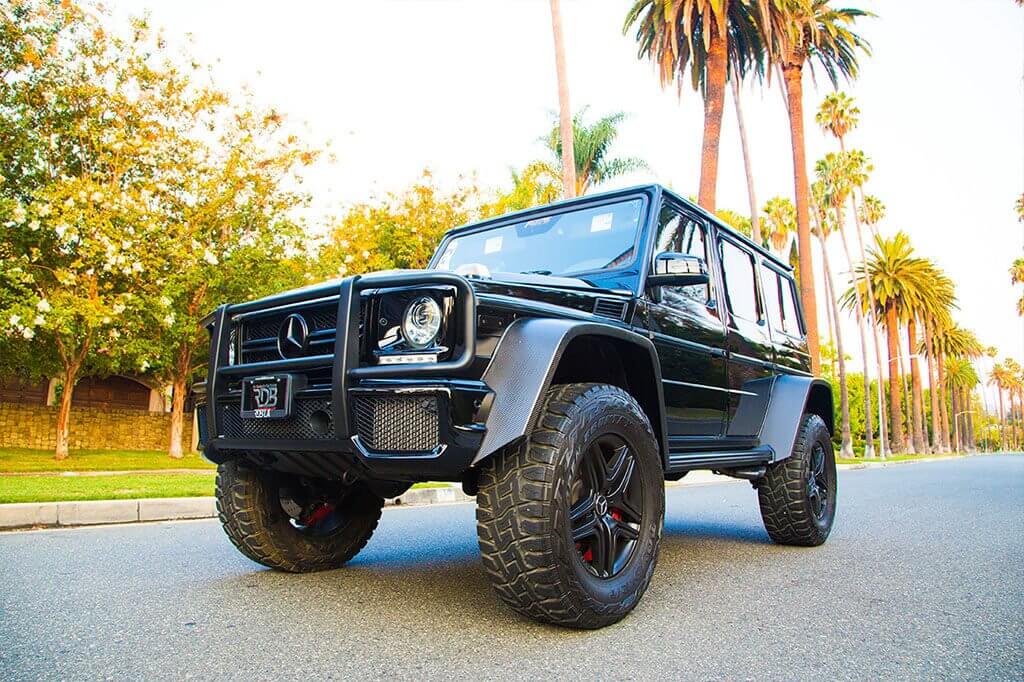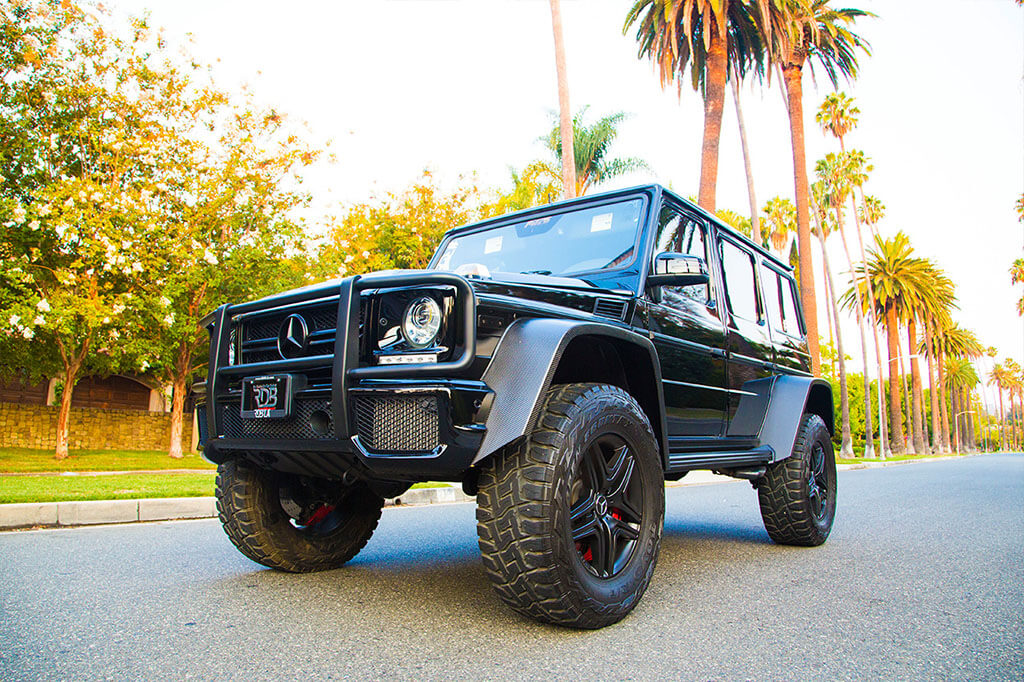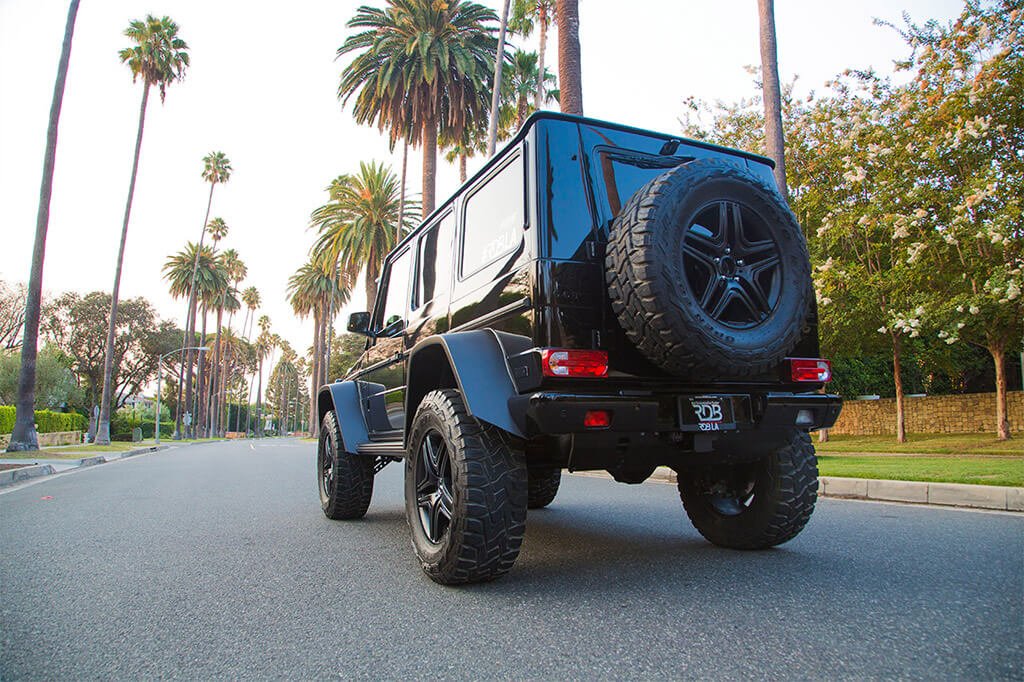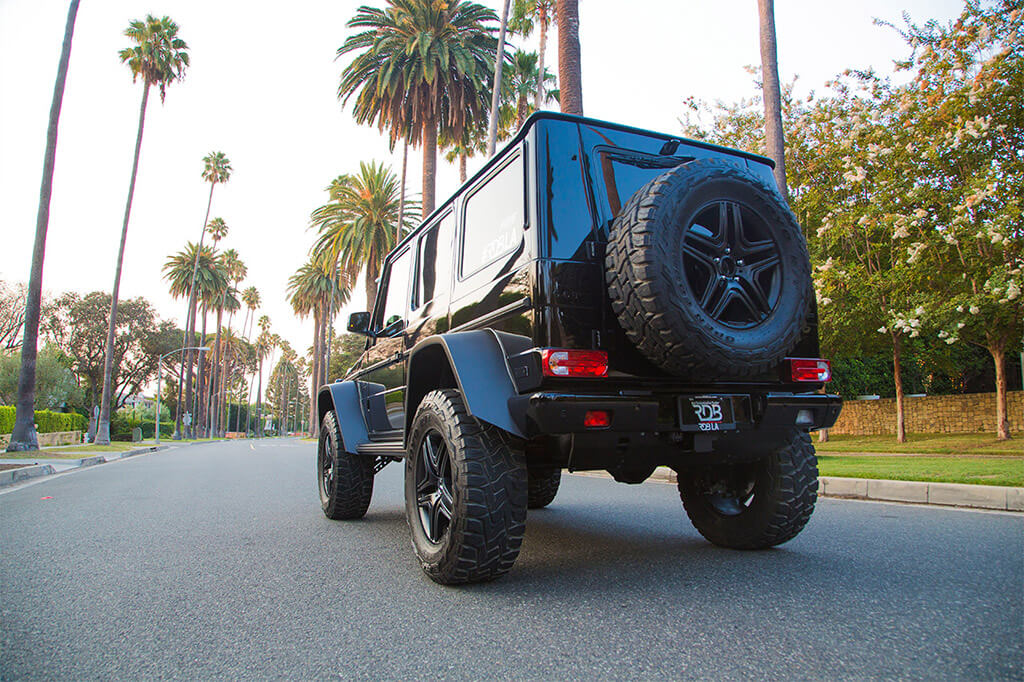 Taking this into consideration, the only right way to safely lift the G-wagon would be to install the portal axles, as they allow maintaining the factory suspension geometry and keeping the factory electronic systems that control your suspension and ensure excellent comfort level Mercedes is famous for. If an idea of converting your G-Wagon to the 4×4 Squared has ever crossed your mind then I must assure you, that you're not alone.
In fact, thanks to the company called Pit26 Motorsports it became easier than you think, as they have developed a complete 4×4 squared conversion kit for Mercedes G-Class.
We decided to reach out to Samuel Shaaya, the founder of Pit26 and take a closer look at one of their latest projects.
Samuel, please tell us a few words about this vehicle, and how did you achieve this result?
– This is the FIRST complete 4×4 conversion in the US.  All parts and accessories on this vehicle have been diligently tested over 3,500 miles and it is an absolute dream to drive.  In late 2014 when Mercedes announced the launch of their 6×6, I decided that the same could be accomplished with a standard G wagon.  After months of research, I created my partnership with TIBUS OFFROAD as the official US distributor for their Portal conversion kit which is the best in the market.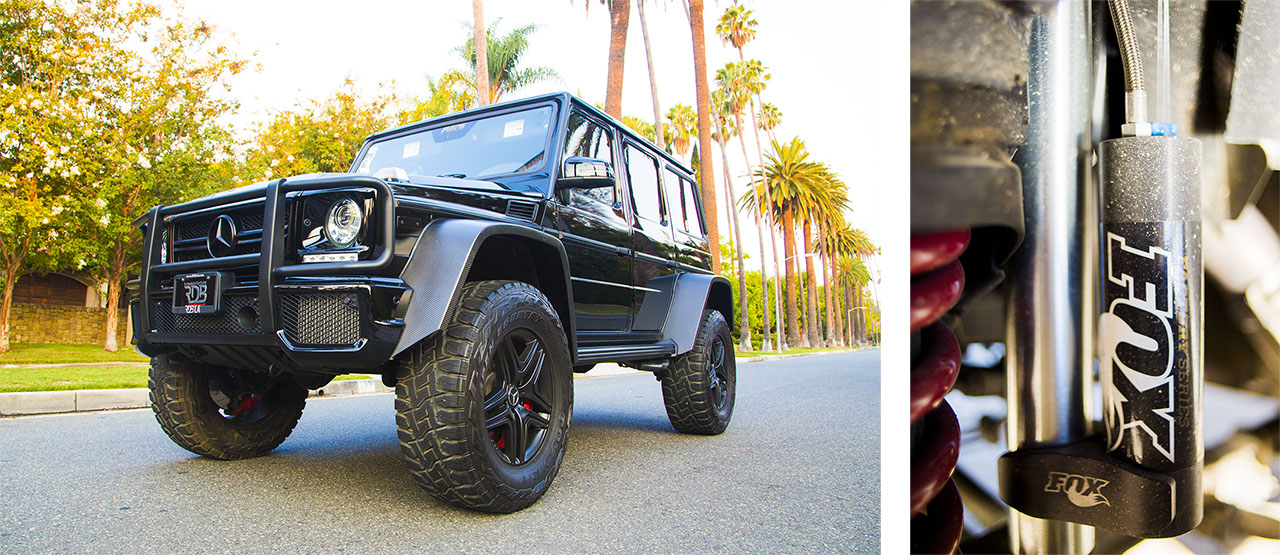 A brand new 2015 G63 AMG was our platform and once we installed the portals, we cycled through a number of spring manufacturers to set up the truck perfectly and handle better than stock and complimented it all with a FOX racing shock setup along with custom high clearance carbon fiber fender flares, which allow for a slightly lower stance and better handling on and off road.  We have built numerous portal conversions and countless portal sales around the world.
So this is now the leaner much faster 4-wheel version of the venerable Mercedes Benz 6×6 and 4×4 that was produced in limited quantities.  This G63 4×4² is the one-off superior older brother to the newly released G500 4×4². This G63 has all the necessary items that both the 6×6 and G5004x4² lack such as adaptive cruise control, rear view camera etc. Best of all it is not as tall and wide as the 6×6 nor the G500 4×4² so getting around town is much easier. To say that this is anything short of the ultimate SUV would be an understatement.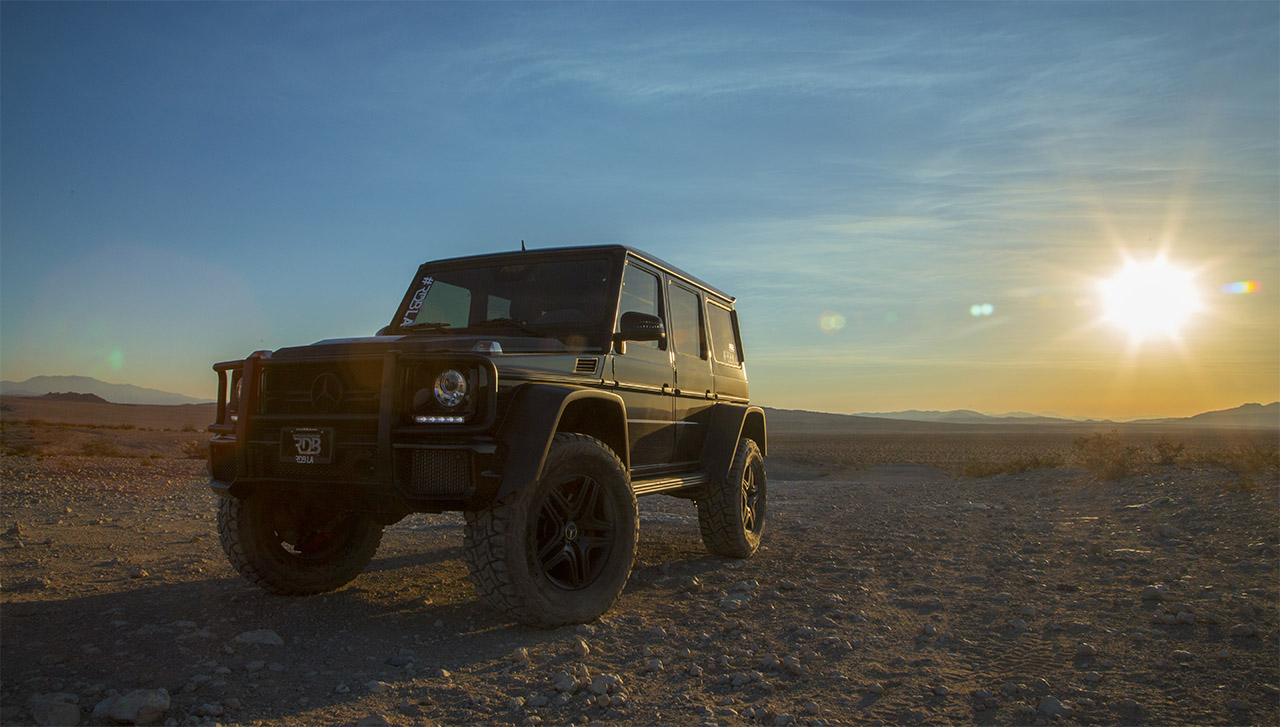 Tell us more about the portal axles and why did you select them for your conversions?
I am originally a Toyota "Rock Crawler" guy (I still have my first 96 Land Cruiser that is now coiled-over, linked, caged, etc.) and I have always been on the quest for the "best" suspension setup like most people in the US who are interested in this type of thing.  When I started my build and research into the G wagon world back in 2014/2015, learning about portals changed the way I looked at offroad design.
There are many benefits to running portals, here are the 3 I find to be the most valuable: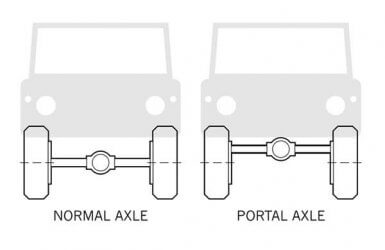 Larger tires without changing factory geometry for steering, suspension links, gearing, etc.: In a nutshell, when you lift your truck no matter what anyone says, it will never handle as well as it did before all that work. Portals keep everything as close to factory as possible but allow for bigger rubber.
Reduced torque load on the axles: What makes an axle a "portal axle" is the gear reduction box that sits at the end of each axle side. By relocating the center of the wheel hub below the axle, the power from the diff is passed through the axles and then through a series of "portal" gears (two or four gears) and down to the new output (where the wheels are mounted). This relocation is what allows for larger tires to fit w/out a traditional suspension lift. Mercedes is truly one of the pioneers in portal tech with the Unimog, but the US has played with it when they designed the HUMMER H1 for the military.
Ground Clearance: By dropping/lowering the point at which your wheel attaches to the axle and the net effect of now being able to fit larger tires, you raise the axle upward giving you greater ground clearance. i.e. factory truck running a 29″ tire has say 14″ of ground clearance, after a portal install that has a 5″ drop, that truck can now run 35″ tires, which increases ground clearance overall to 22″ (5″ portal + 3″ for 35″ tire( 35″-29″=6″/2=3″).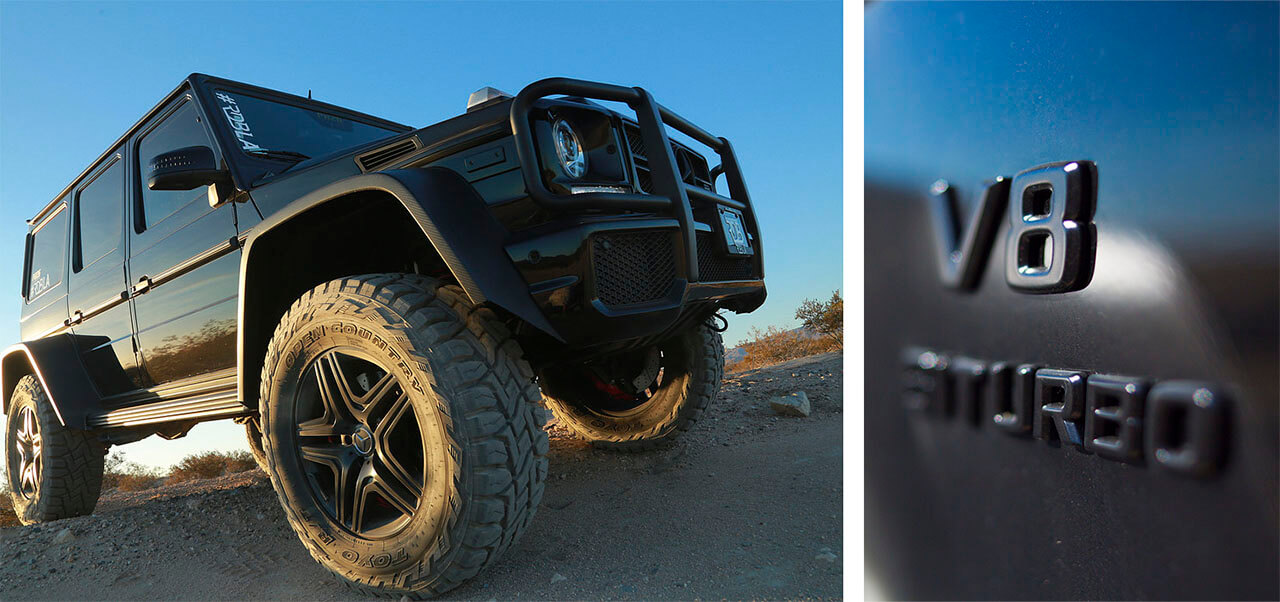 What are the upgrades that you currently have on this G63?
Front and Rear Portal box conversion with factory wheel lug nut configuration
Custom suspension coil springs for 50mm of added lift and improved drivability
FOX Racing Shocks with 10-way tool-free adjustability for on and off-road use
Carbon Fiber Fender Flares
37×13.5R20 Toyo Open Country R/T tires
complete blackout satin package by @RDBLA customizers.
Custom side step modification.
Removable full-size spare tire and custom mount, built for all uses.
This G63 drives better than stock and it is incredibly capable both off and on road.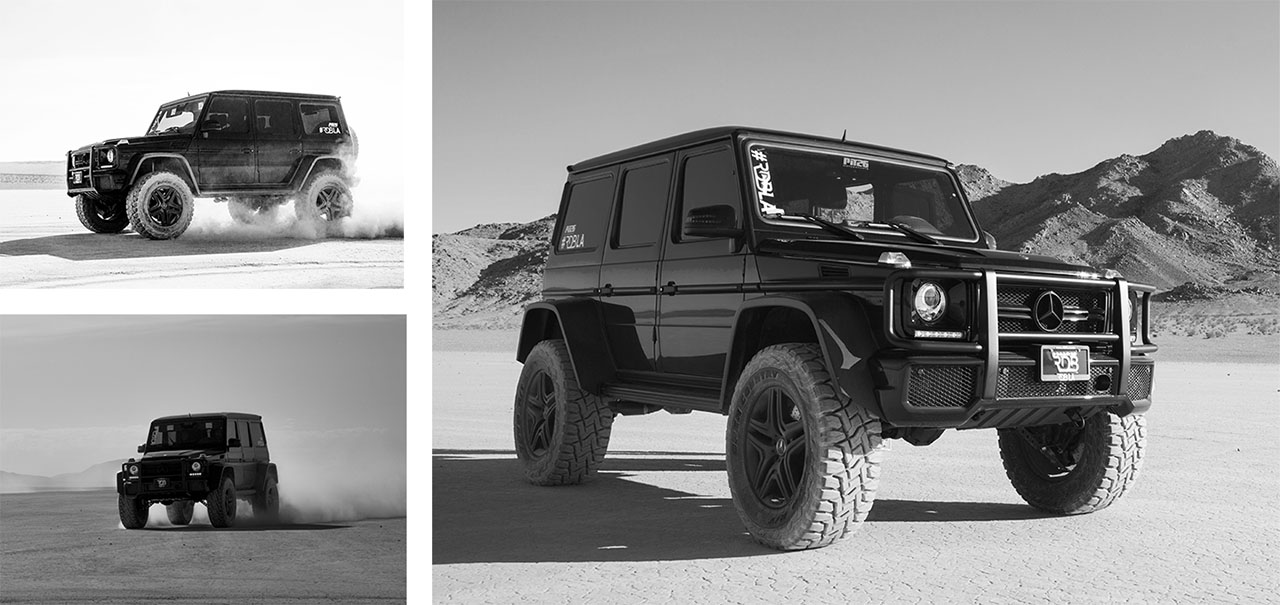 What exactly is included in the 4×4 squared conversion kit?
– As the US distributor for Tibus Offroad we are the point of sale for portals, but in order to fully convert and clear 37″ tires like the 4×4 square, most clients, in addition of a complete set of portals, purchase: New coil springs, larger diameter/travel shocks (typically either KING or FOX), 4×4 squared style fender flares, rear spare tire carrier/tire flip kit. (Some clients choose to only install the portals and run 35″ tires, which is the largest tire size you can fit w/out the new coil springs).
Can people order just the portal lift kit itself and install it at their local shop or do they need to take the vehicle to you for a complete installation?
– The kit can be ordered from us and installed at a local shop.  The installation will not be complicated for a proper shop given the picture documented installation guide that comes with the kit.  We have had several clients install the kits themselves at home.
How long does it usually take to perform the conversion start to end?
– Installation time for the portals for a first-time installer is 14-20 hrs.
How can I go about getting the quote from you guys?
– Contact us directly or through the shop, you intend on having them installed at for pricing.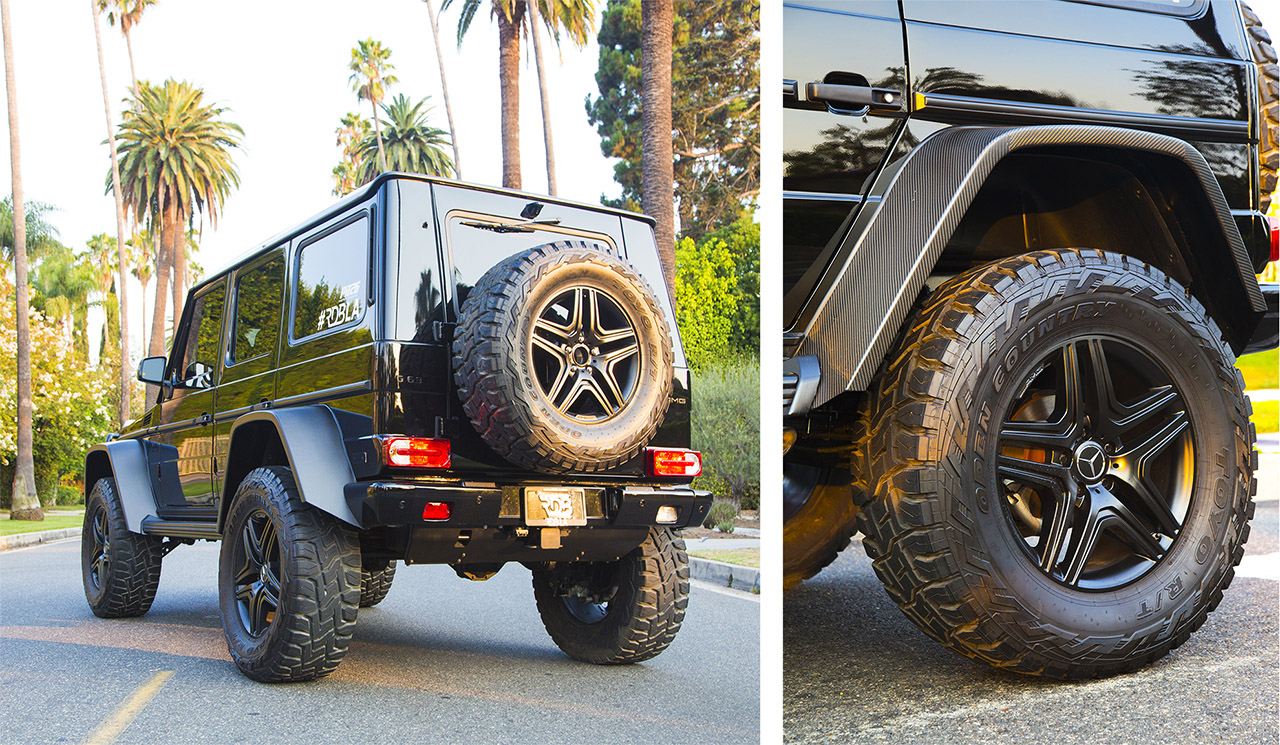 Conclusion
We want to thank Samuel for a detailed break down on this topic and giving us an insight at their truly notable solutions. Even though portal axle technology has been used in the military for quite a long time, and some 4×4 owners have been already using it on their trucks throughout the world, to me it sounds like the whole new vector in the American off-road industry, because such lift solutions eliminate nearly all problems related to the use of conventional suspension kits.
If you are thinking about upgrading your Mercedes G-wagon with a portal lift or making a complete 4×4 squared conversion but still have any concerns – get in touch with Pit26 motorsports and their experts will provide you with all necessary details.
CONTACTS
Email: [email protected]
IG @Pit26Motorsports
www.Pit26.com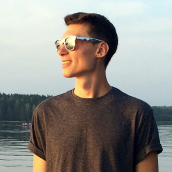 Matt Grabli
Automotive journalist and technical writer at Offroadium.com with more than 10 years of experience in the sphere of aftermarket parts and 4×4 vehicle modifications. Passionate about off-roading, outdoor adventures, and an active lifestyle.