4″ Lifted Mercedes G400d CDI on 35 Inch Tires is an Overlander's Dream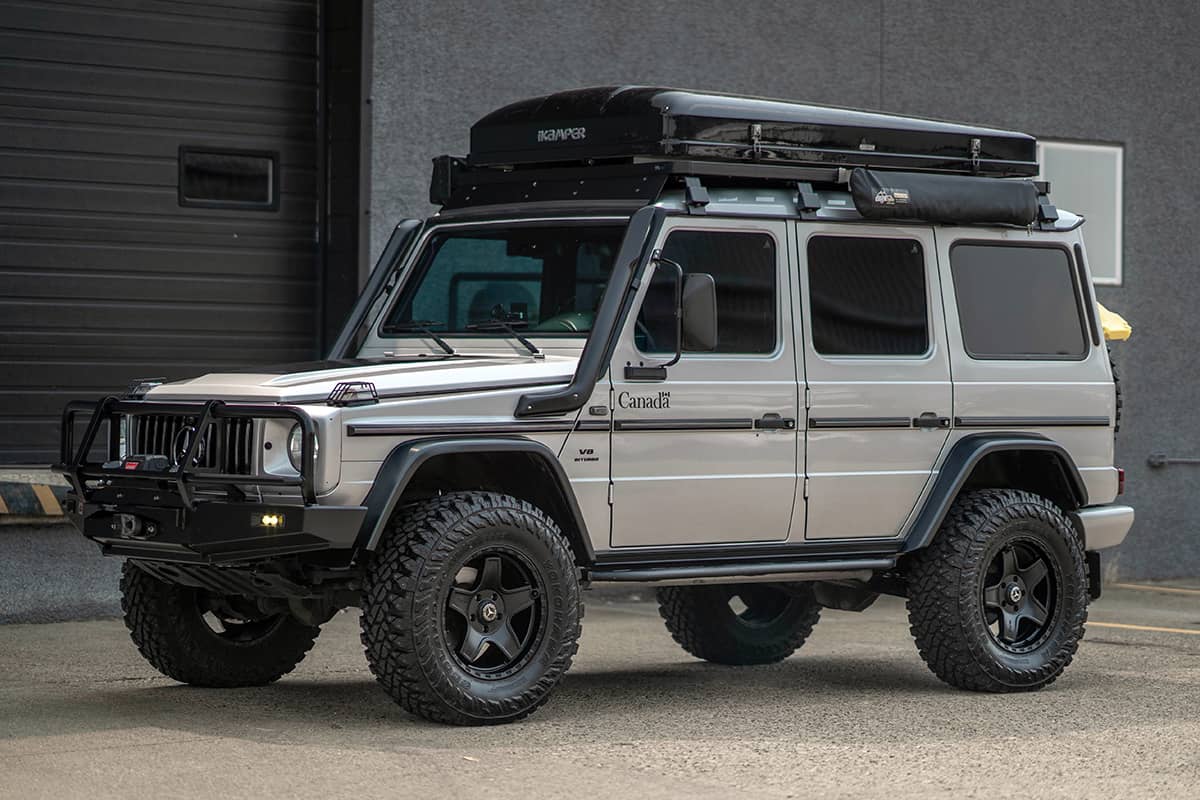 In the wild and wonderful world of off-roading, few vehicles inspire as much admiration as the mighty Mercedes G-Class, with its stout stance, formidable 4×4 capability, and an iconic design that has withstood the test of time. Today's spotlight hones in on an exceptional 2001 European spec Mercedes G400, sporting a 4-inch lift, 35-inch off-road tires, and an arsenal of functional overland-style upgrades.
"This rugged beast was imported from Germany in 2017 and has since then carved its own unique path, courtesy of an owner who had a clear vision for off-road dominance".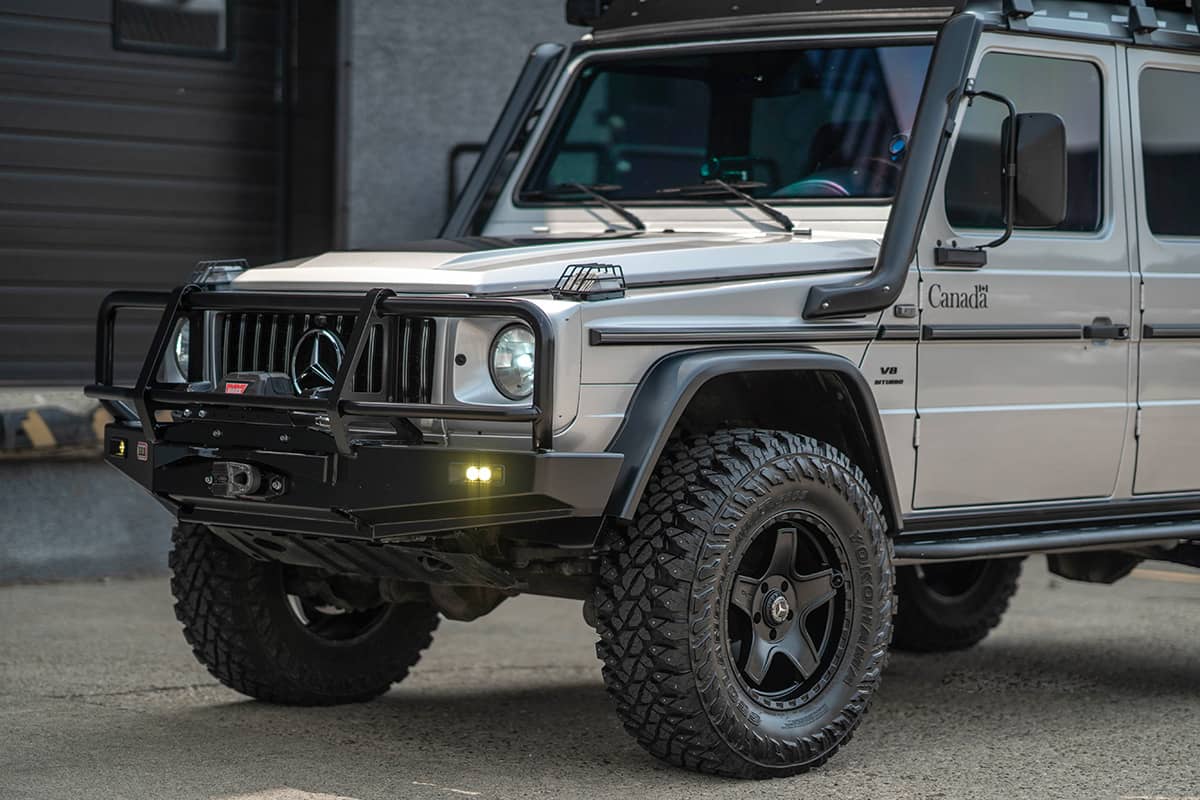 Now, imagine that vision realized – this G400 not just off-roading, but conquering, displaying the perfect synergy between raw power and innovative enhancements. This is the essence of the Mercedes G400 we're presenting to you, a marvel of the off-roading community that stands on the shoulders of its predecessors while boldly forging its own way.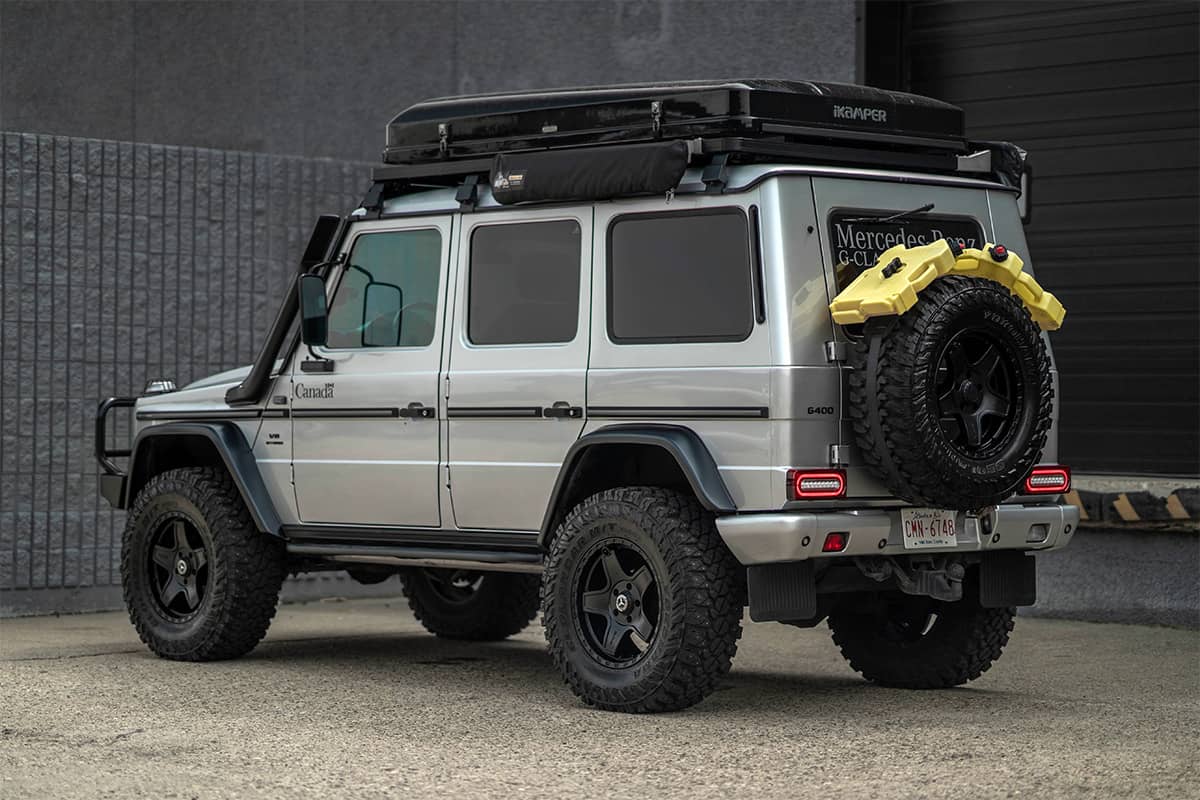 Why The Mercedes G-Class Shines in the Off-Roading Realm
Stepping back into the history, the Mercedes G-Class was initially developed for military use, where reliability and 4×4 capabilities were the order of the day. Fast forward to the present, and you can still see those core principles reflected in the modern G Wagon.
It's rugged, reliable, and comes with a full set of lockers (front, rear, and central differential) making it a serious off-road machine. And who could overlook the timeless design, a blend of pure utilitarian charm and understated luxury?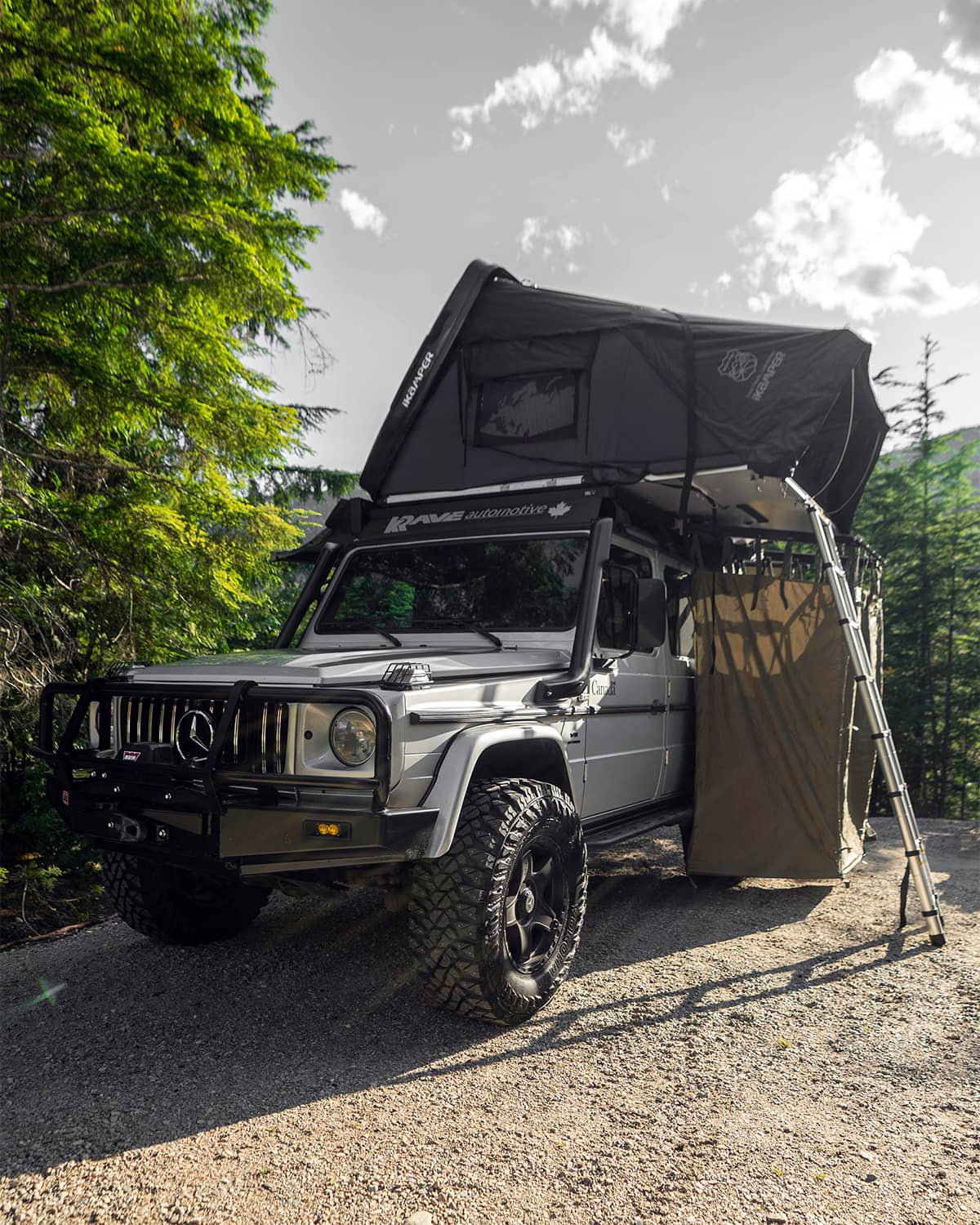 Lurking beneath the hood of this off-roading beast is a 4.0L V8 twin-turbo diesel engine that balances power and fuel efficiency in a way that would bring a smile to the most discerning off-road enthusiast.
But let's be real, the G-Class isn't cheap. It's an indulgence, a testament to the passion of the classic 4×4 fans and overlanding, who are willing to shell out for the ultimate off-road machine.
About the G Wagon
Mercedes G400 emerged as a symbol of robust power, remarkable durability, and uncompromising performance. This particular 2001 model has the heart of a lion, a potent V8 twin-turbo diesel engine and ground-shifting torque. Paired with an impressive all-wheel drive, it's the embodiment of all-terrain conquering force.
Over the years, this iconic model has held its ground in the face of changing trends and fleeting fads, building a cult following among off-road enthusiasts and luxury car lovers alike. The timeless design, the roaring power, and the promise of adventure make this model an undeniable classic.
The Overland Build
Riding High: The Wheels
An overland build's true grit can often be read by its wheels, and this G400 is a veritable open book. The 18" Alpha Equipt Echos, wrapped in 35" Yokohama M/T tires, give it a commandingly broad footprint on any terrain. To get a wider, more functional and stable stance, it's equipped with a set of H&R wheel spacers.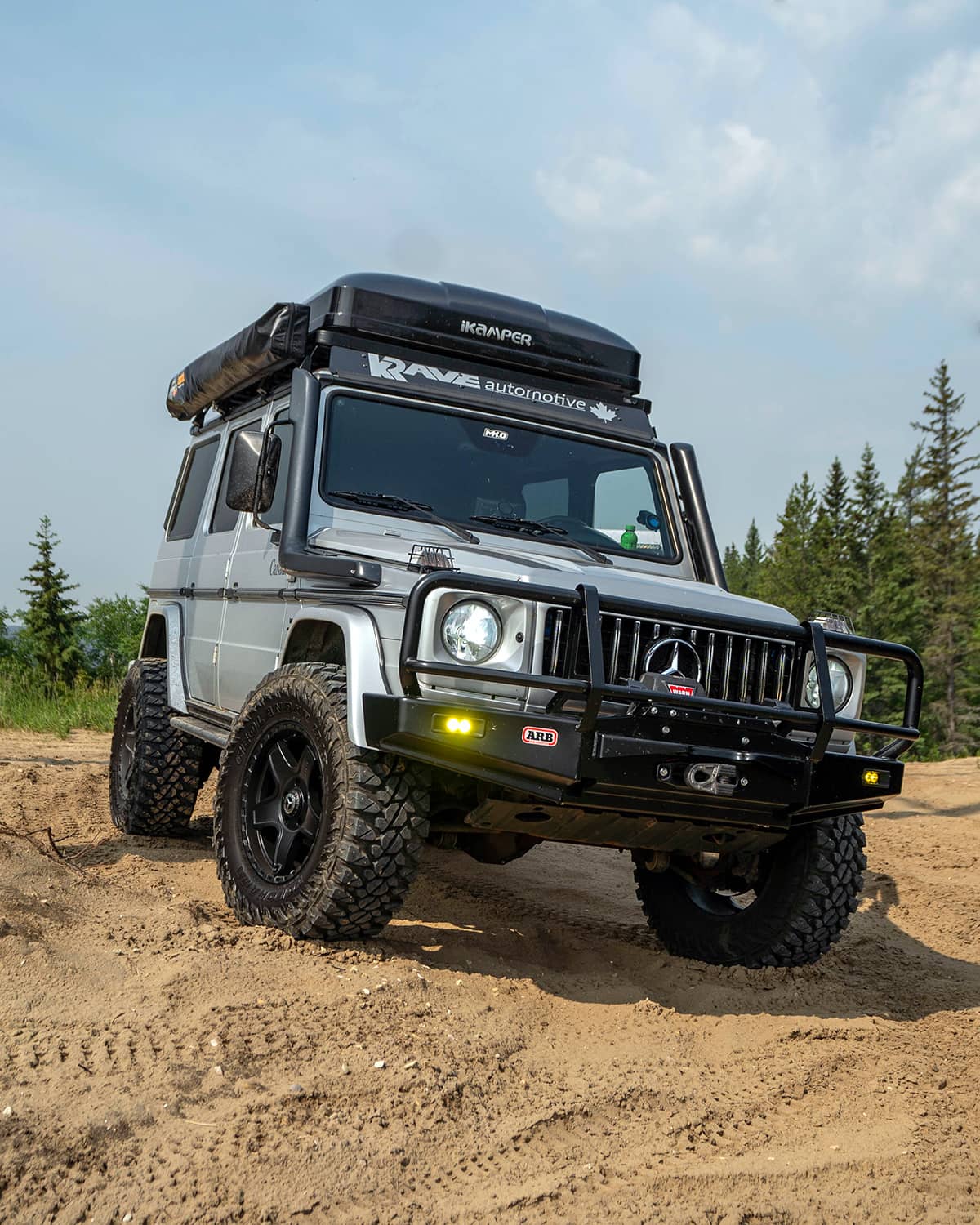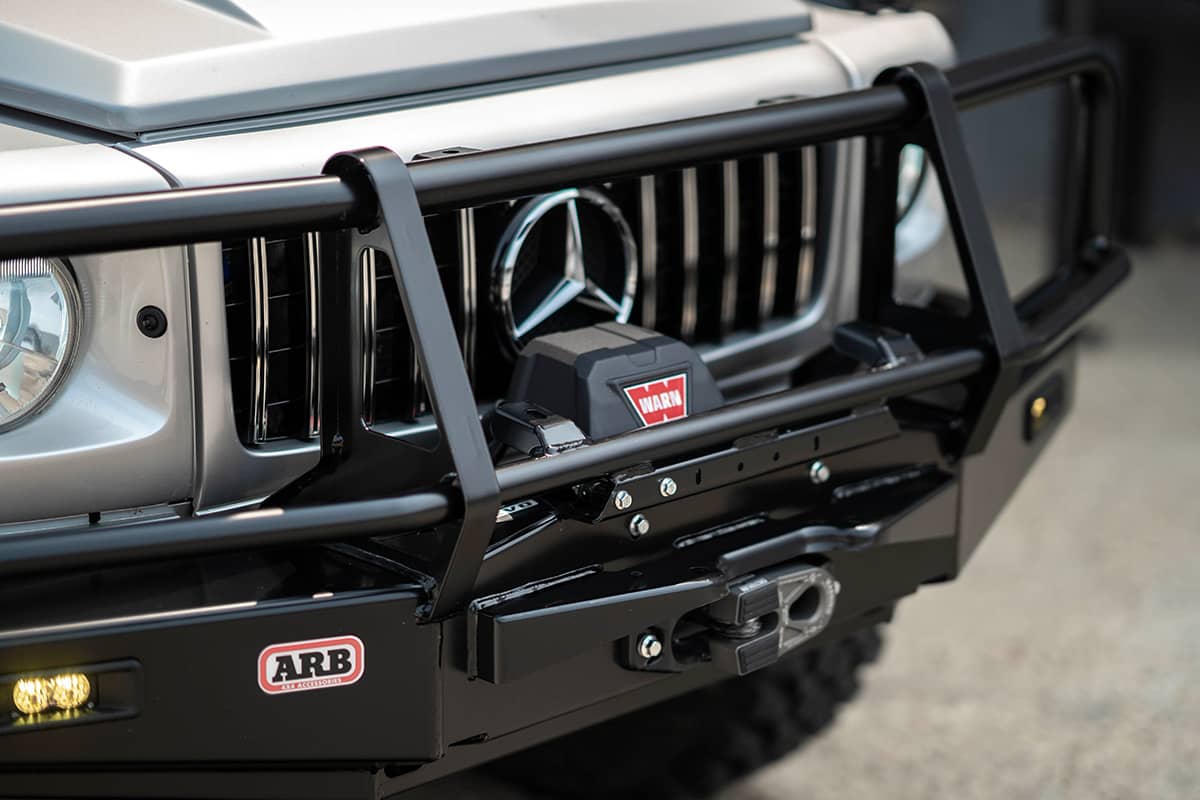 Lifted Spirit: The Suspension
Propelling this G400 head and shoulders above the rest is a 4" lift with Koni shocks. This upgrade, along with the Eurowise front and rear adjustable panhard bars, extended stainless brake and locker lines, and the Fox steering stabilizer, turn rocky terrain into a cakewalk.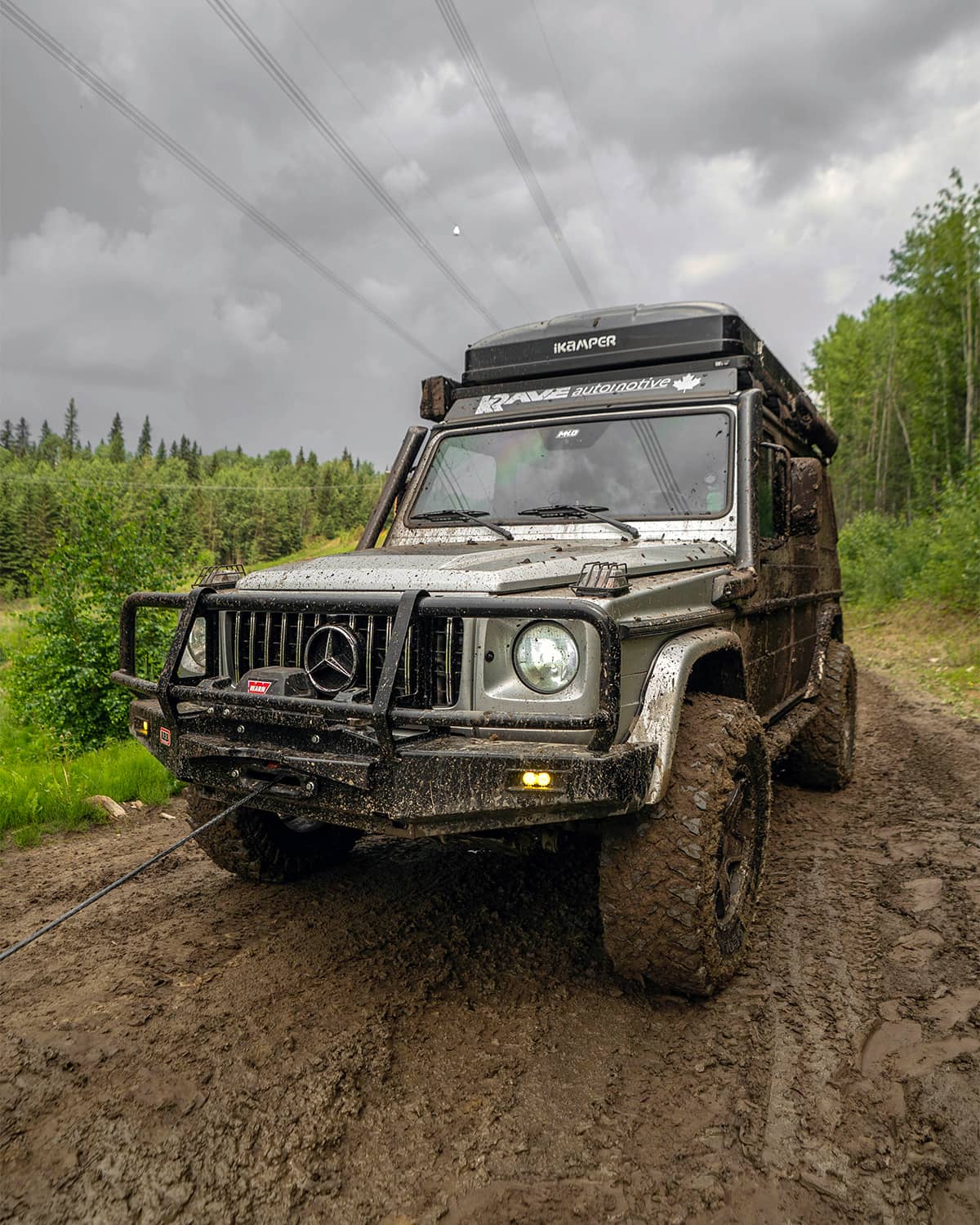 Armor Up: Body Armor & Off-road Accessories
As crucial as the skeleton and muscles are the shields and weapons. And this is where our G400 transforms into a medieval knight. Customized ARB 70 series Land Cruiser bumper, imported all the way from Australia, commands attention.
This unique addition, never officially built for the G-Wagon platform, fits flawlessly and is mounted directly onto the frame, improving the front end protection of the G Wagon in a dramatic way.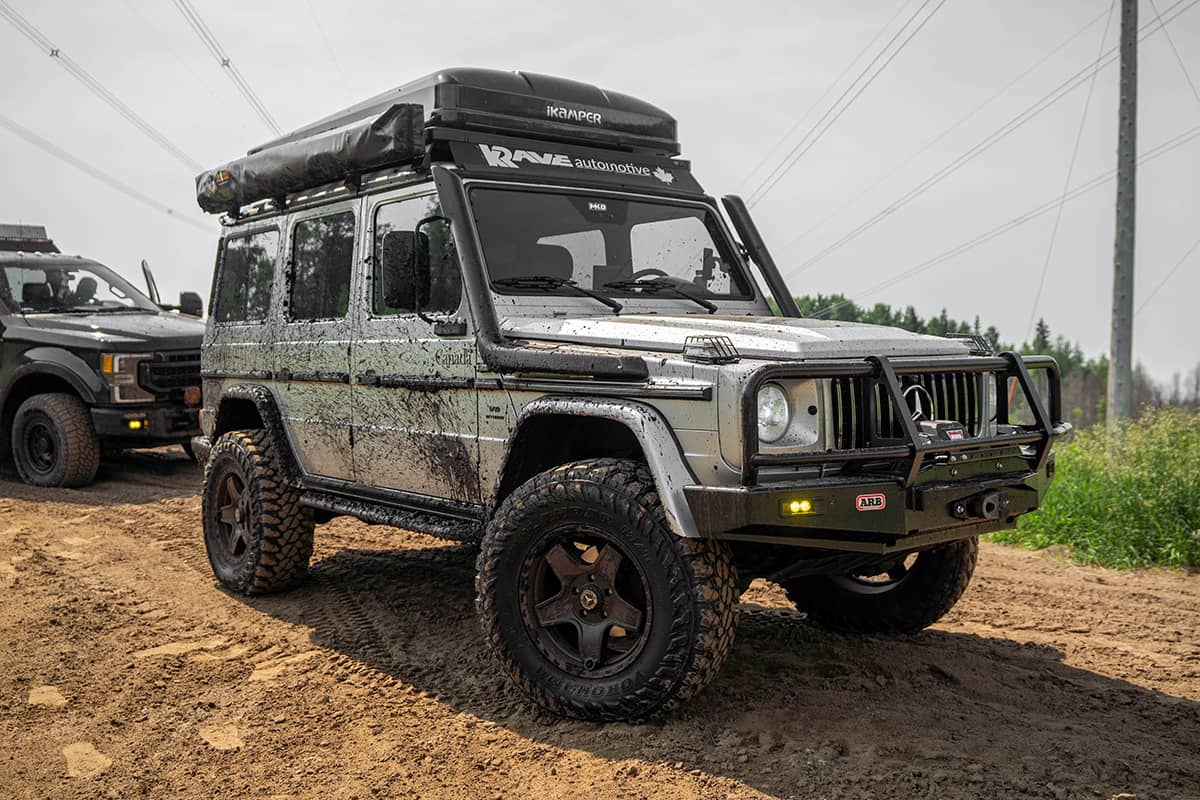 "Mercedes G-Class has made its way into the list of 5 Best Off Road SUVs Money Can Buy and proudly scored 129.5 points overall according our evaluation tests".
An array of off-road essentials like the Warn winch, Baja Designs S2 pro fog lights, Quick pitch 270-degree awning, and change room, not to mention the IKamper roof top tent (RTT) and Front Runner Roof Rack, makes this G400 a roving fortress.
With dual snorkels, AMG flares painted Night black Magno protected in XPEL stealth, and G professional mirrors, it's like an elite soldier ready for the battle of the wilderness.
Specs:
| Attribute | Specification |
| --- | --- |
| Model | Mercedes-Benz G-Class G 400 CDI |
| Production Years | 02.2002 – 08.2006 |
| Engine | V-shaped, 8-cylinder, diesel engine with a volume of 4.0 liters OM 628 DE 40 LA |
| Horsepower | 250 hp |
| Max Speed | 182 km/h |
Mods & Upgrades
Lift & Suspension Modifications
4" lift including springs
Koni shocks
Eurowise front and rear adjustable panhard bars
Extended stainless brake and locker lines
Fox steering stabilizer
Wheels & Tires
H&R wheel spacers
18" Alpha Equipt Echos wrapped in 35" Yokohama M/T and full-size spare
Body Armor & Off-road Accessories
ARB 70 series Landcruiser bumper imported from Australia
AMG flares painted Night black Magno and protected in XPEL stealth
Custom fabricated high clearance side steps
Warn winch
Baja Designs S2 pros wired up as the factory fog lights
Dual Snorkels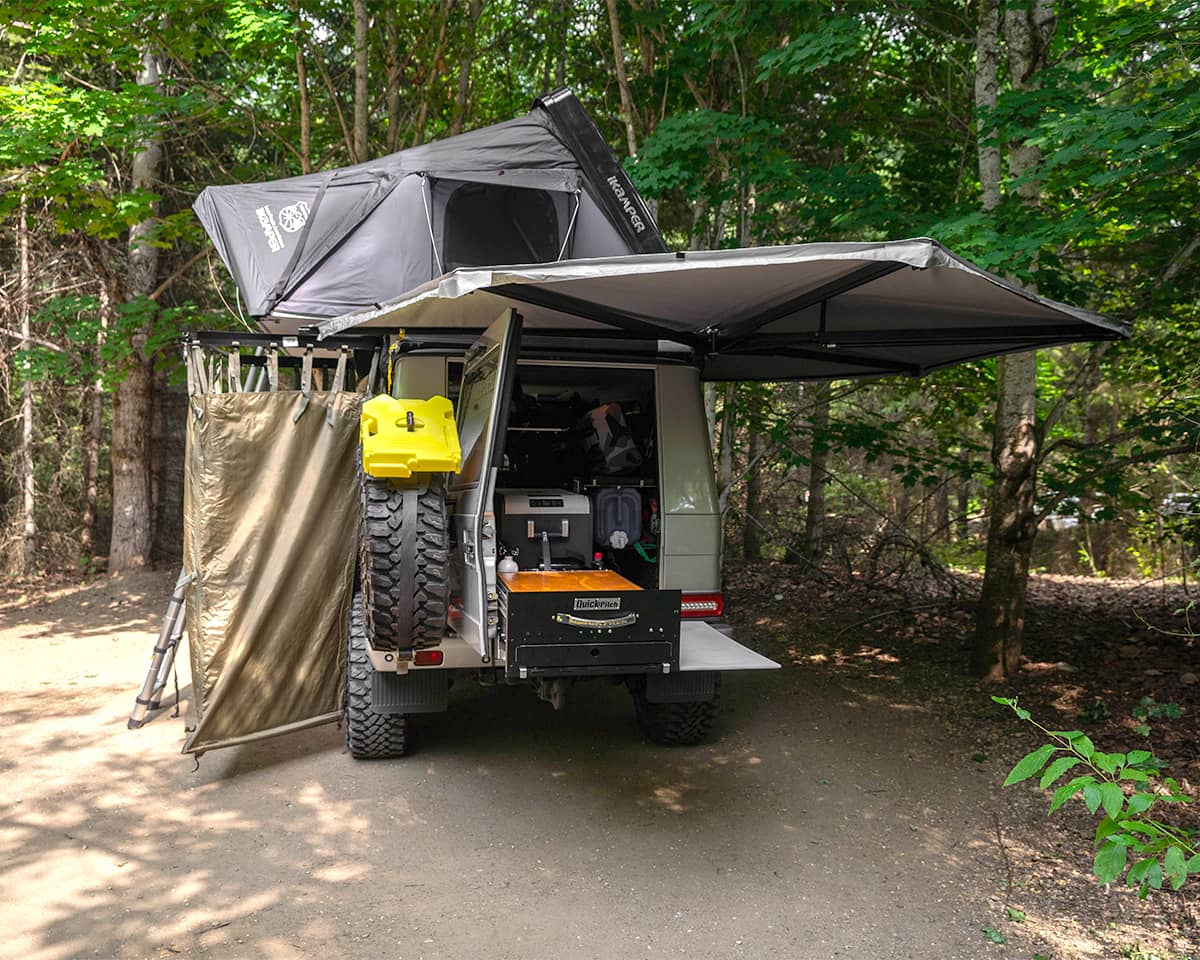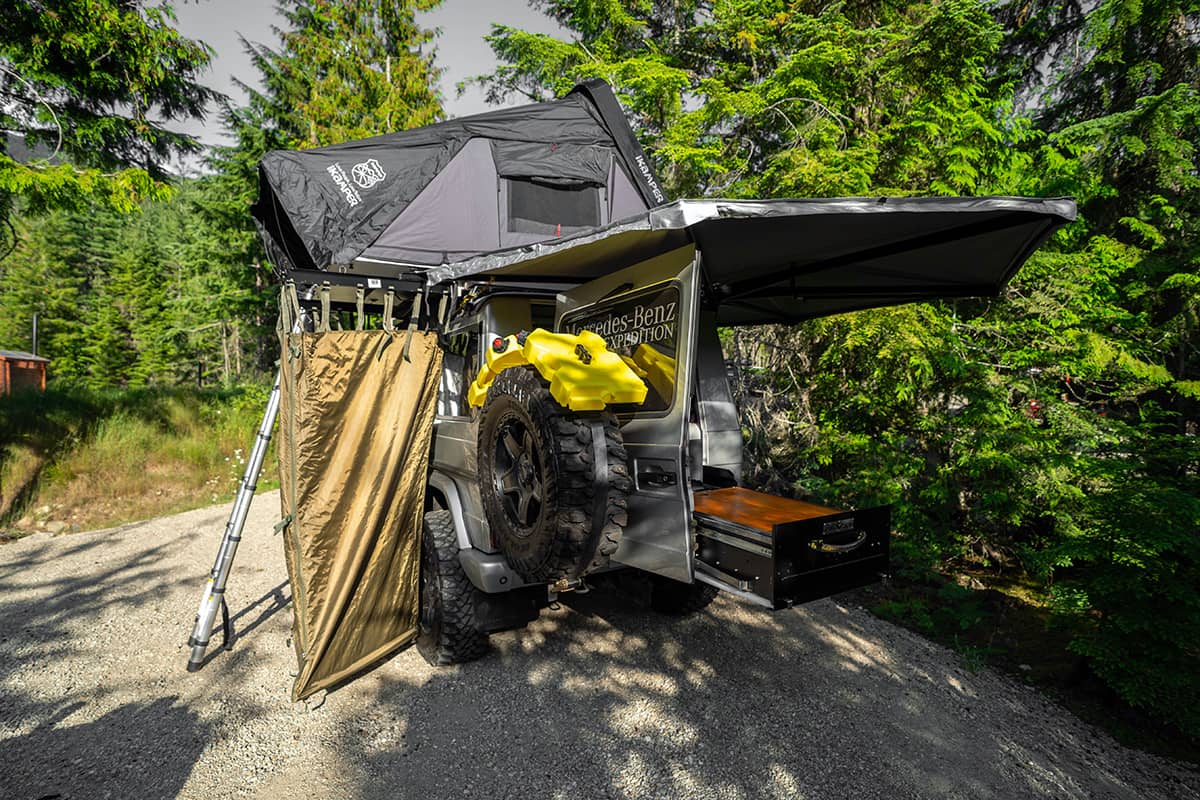 Overland Gear
Quick pitch 270-degree awning and change room
Front Runner Roof Rack
IKamper RTT
Other Upgrades
New deep cycle battery
Webasto engine heater with internal timers
Blue Sea connections to power fridge and accessories
G professional mirrors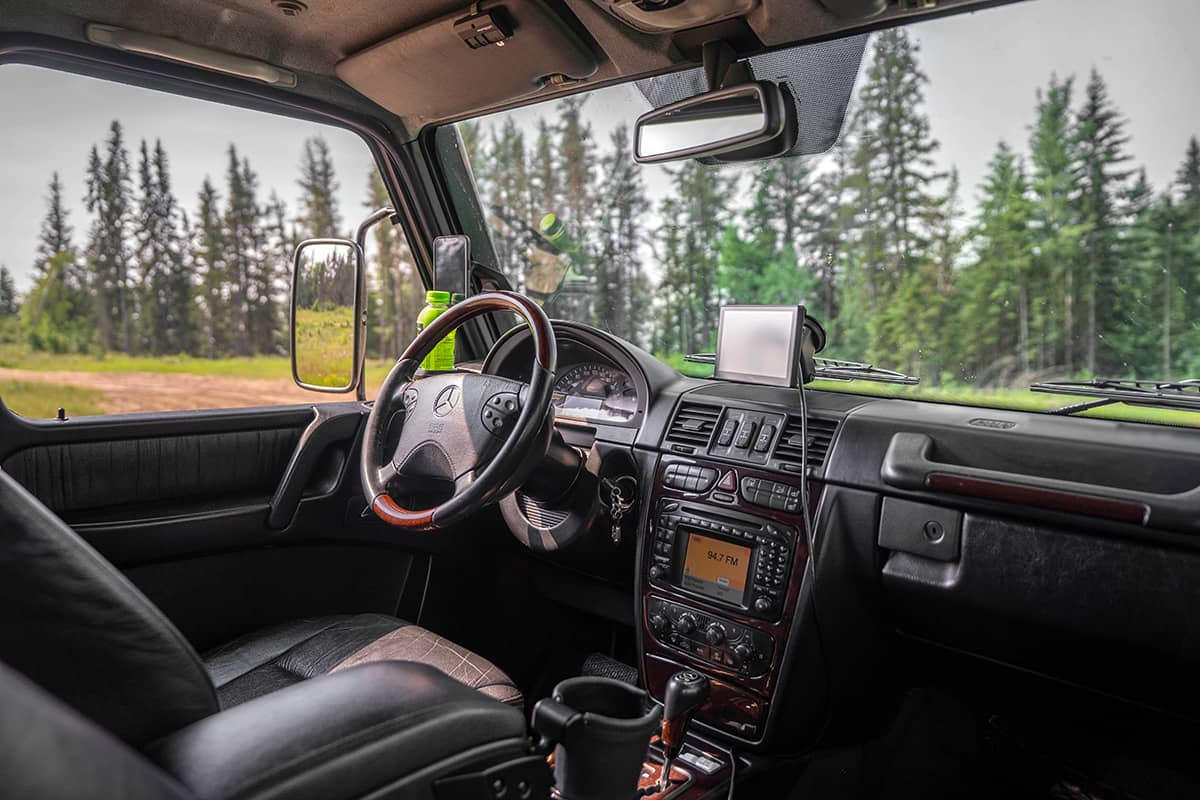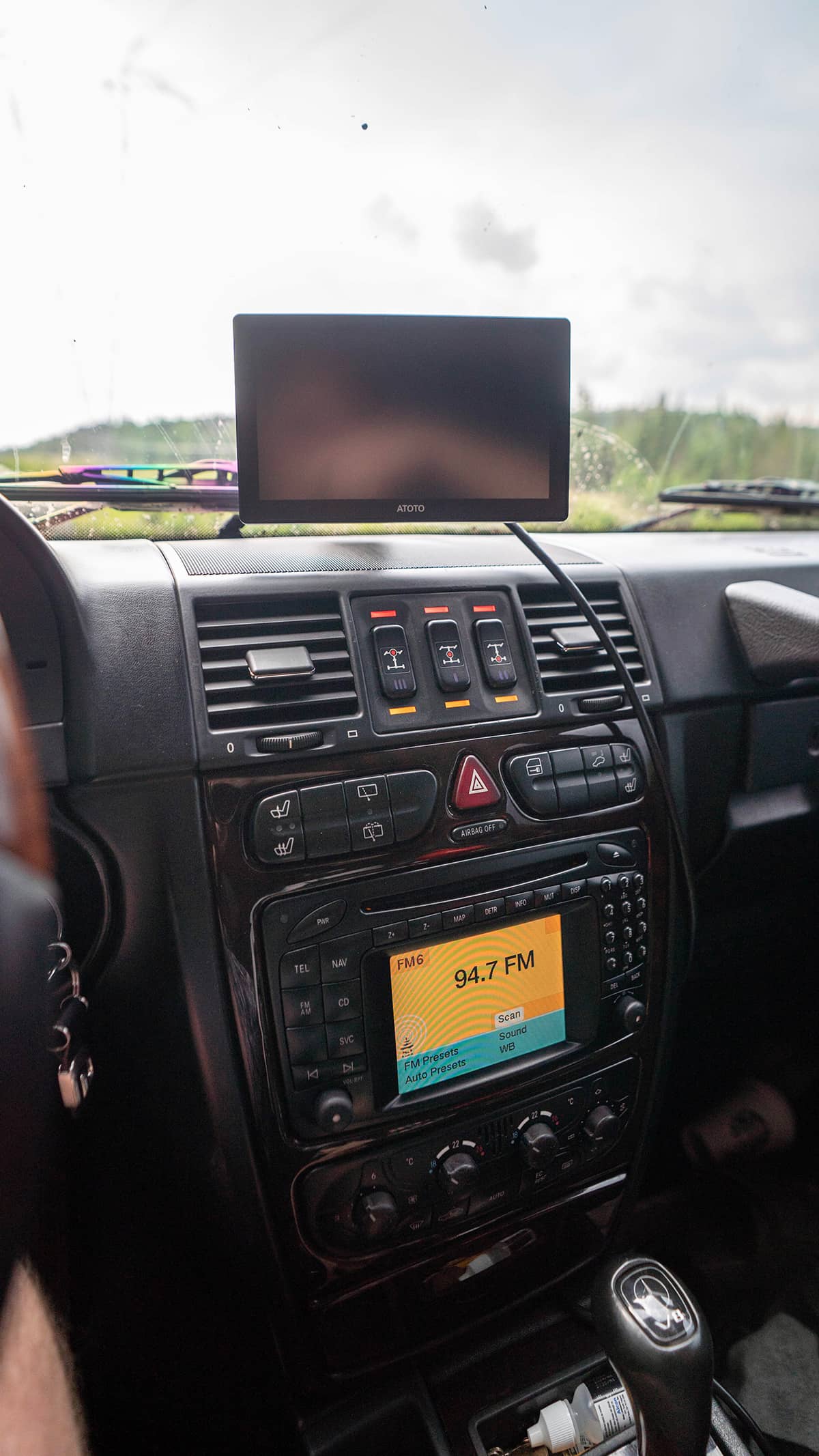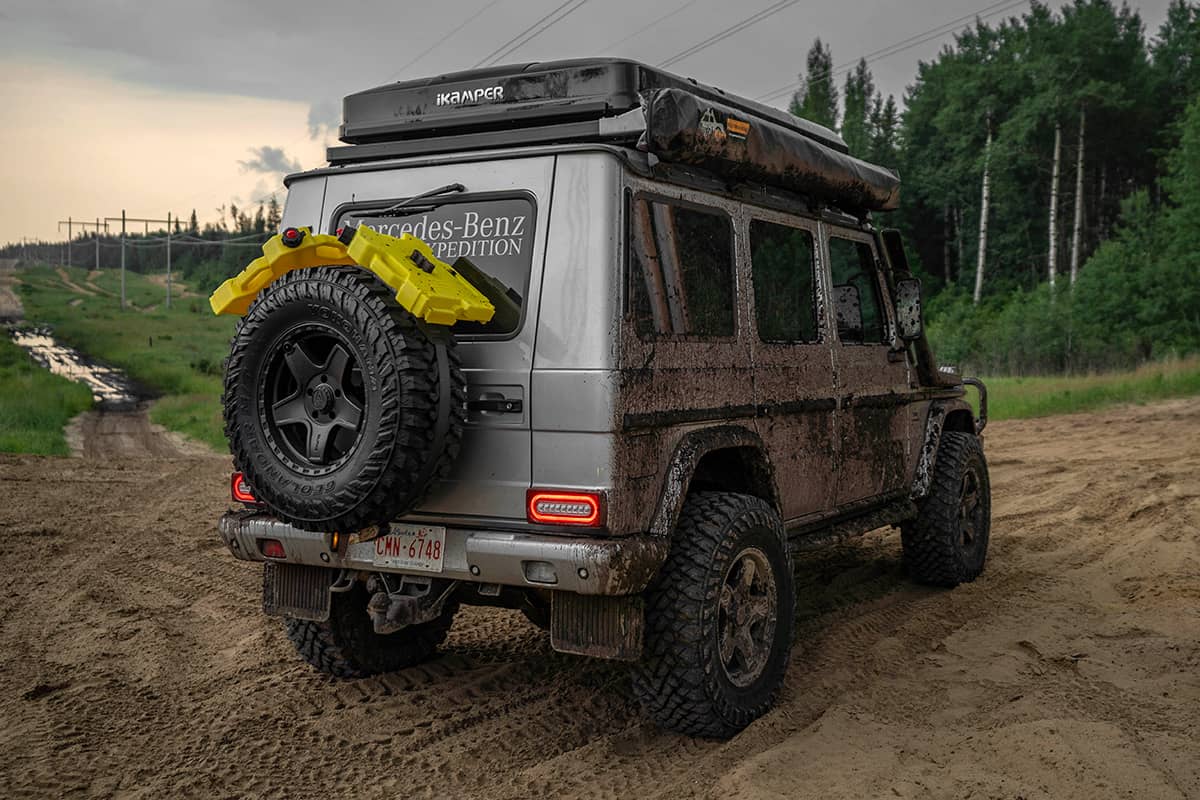 To Conclude: A Unique Opportunity
There's no mincing words here – this Mercedes G400 is one cool off-road build. If you're yearning for a vehicle that embodies the spirit of adventure and innovation in the off-roading scene, this lifted Gwagon is it. And the best part? It's up for grabs. Anybody interested in giving this machine a new home can reach out to the owner directly. There's no time like the present to take the wheel of your future off-road adventures.
Watch the progress and find out more about this Mercedes G400 project by visiting the Instagram profile of the owner: @notsostocko!
Stay tuned for more project reviews on Offroadium.com – Follow us on social media, and share this write-up if you enjoyed reading it!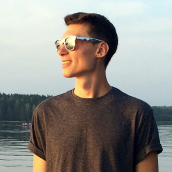 Matt Grabli
Automotive journalist and technical writer at Offroadium.com with more than 10 years of experience in the sphere of aftermarket parts and 4×4 vehicle modifications. Passionate about off-roading, outdoor adventures, and an active lifestyle.