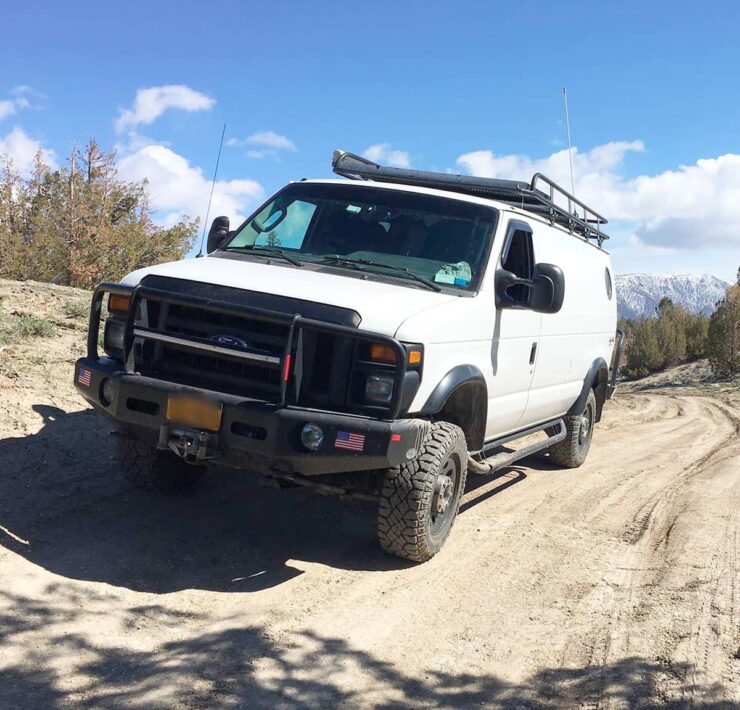 Make Model: Ford E350 Quadvan
Year: 2009

Price: $27,000

Mileage: 148,000

Location: New York City

Class: Overland Van
Read More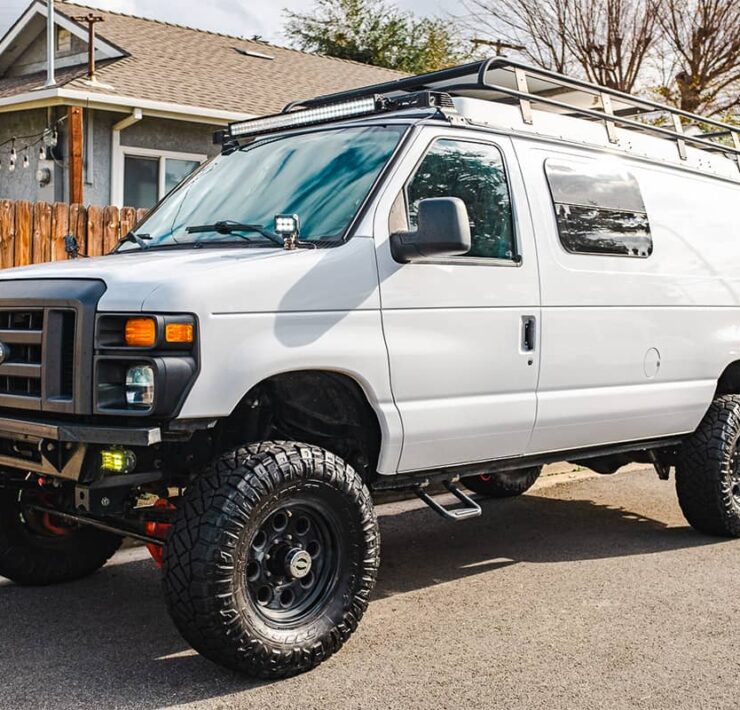 Make Model: Ford E250
Year: 2013

Price: $89,000

Mileage: 80,000

Location: Los Angeles, CA

Class: Overland Van
Read More
Van life – Ultimate Guide to Building and Living in a 4×4 Van
If you've ever camped with your car wagon, truck, or SUV you definitely know that interior space is one of the biggest limitations of such vehicles. You can outfit your ride with various cargo management solutions, drawers, racks, and baskets, but nothing will compare with the convenience of camping in a spacious van. Not only can you conveniently store your gear and belongings there, but also arrange a convenient sleeping platform, and even a cooking space there.
This unquestionable benefit made vans extremely popular back in the 70s. Vans were popular among music bands, bikers, workers, large families, VIP transfer companies, etc., but today this trend returned in an even wider scope and evolved into a whole new van life movement.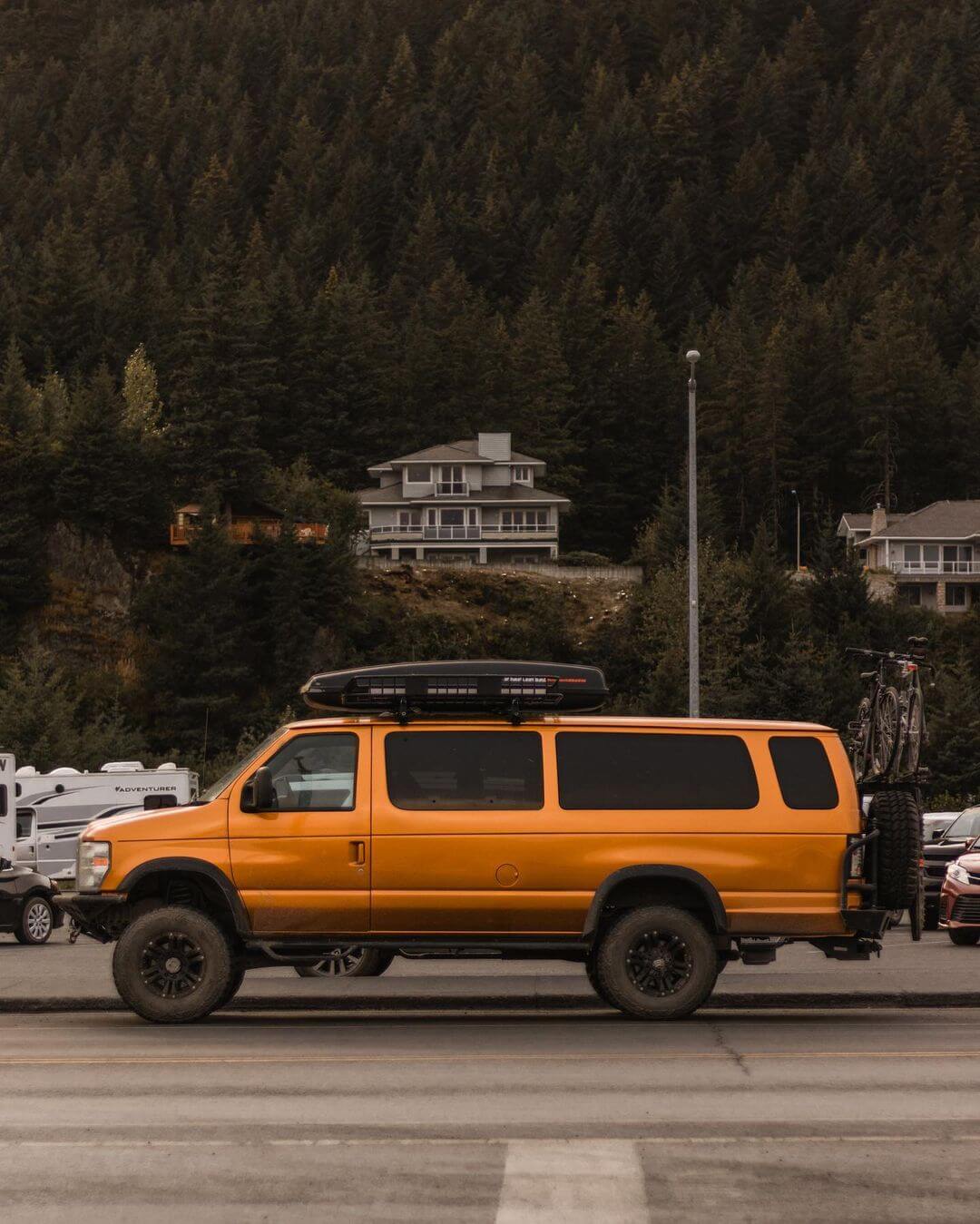 Van life why is it even a trend?
An idea to explore the world and live your life to the fullest is the main impulse that makes people get out and travel big. Vans are simply the most convenient vehicles to serve this purpose, and that's why people around the world choose them.
Thanks to the versatility of these vehicles, it's relatively easy to rearrange their interiors and tailor them to your needs. Just like designing your own house, the process of a van conversion always involves a good bit of creativity. Luckily a lot of people who successfully completed their conversion projects, don't mind sharing their experience with the world.
Vanlife essentials – Tips & Tricks
Every van life project is unique and involves various enhancements based on the needs and wants of its owners, but to build a truly convenient van it's important to start with the right base. Below is the list of the most important things to consider when choosing a camper van or starting your own project build.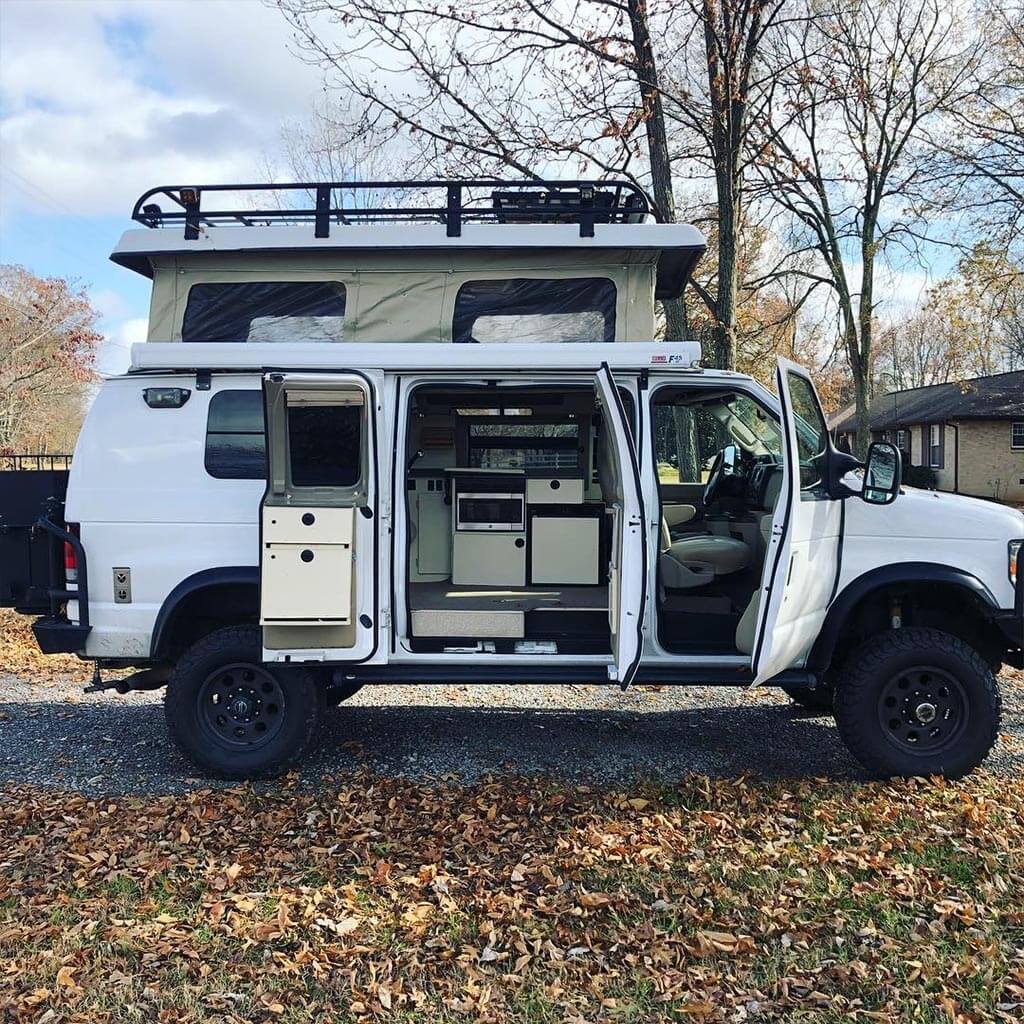 Reliability is a must
Reliability is your main concern, because getting your van repaired in the middle of nowhere may be a serious problem. Find the freshest vehicle you can afford with low miles and replace or maintain everything that may let you down within the next 5,000 – 10,000 miles. Remember, preventive maintenance is a must.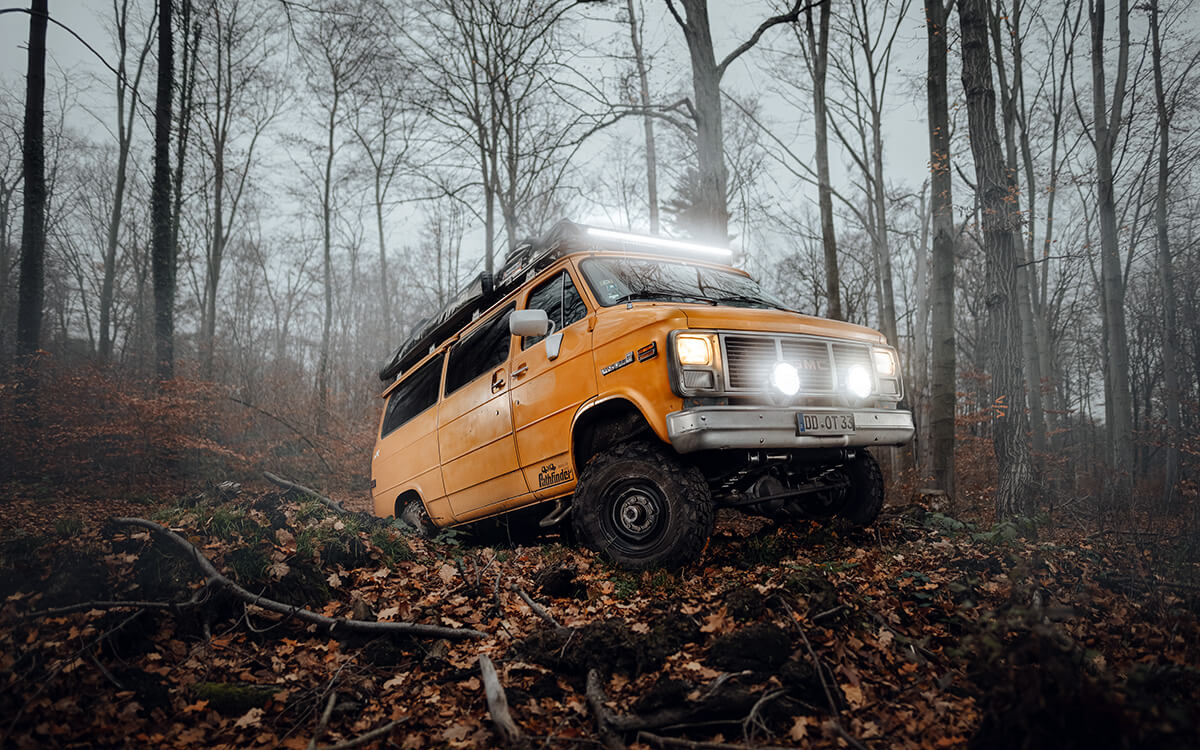 Here's an example of a restored old school GMC van converted to live the van life.
Old-school vans look cool and often have an attractive price tag, but keep in mind that you will have to invest a solid amount of money to fix all their mechanical problems and make them truly reliable. Jump on such offers only if you have the budget.
*Except for the vehicle mechanics, pay attention to all your onboard electronics, plumbing, and heating units.
How many people should it fit?
While minivans like a Chevy Astro or VW T3 can conveniently house two people, you may need a slightly bigger van to set up an in-door kitchen, arrange a working space, store your sports gear, or if you travel in a company of more than two people.
On or off-road – 2WD and 4×4 vans
If you plan to visit remote places far away from concrete roads, make sure that your van is cable to get you there and back safely. Many vans are offered in a 4×4 configuration which allows you to access the new trails and destinations that are only available for four-wheel-drive vehicles. 4×4 Chevy and Ford vans have a very impressive offroad potential that can be further enhanced by installing a lift kit and oversized Mud terrain tires, that make them truly unstoppable, no matter what terrain lays ahead.
Best Vans for Vanlife
| Types | Models | Drivetrain |
| --- | --- | --- |
| Minivans | Chrysler Town & Country, Toyota Sienna, Honda Odyssey, Mitsubishi Delica | 2WD, 4x4 |
| Vans | Chevy Astro, Volkswagen Transporter, | 2WD, 4x4 |
| Full-size vans | Ford E-series, Chevy Express vans, Dodge Ram Van, Nissan NV Cargo | 2WD, 4x4 |
| Extended base vans (Euro vans) | Dodge/Mercedes Sprinter, Ram Promaster van, Ford Transit | 2WD, 4x4 |
| Specialty vans | School bus, Ambulance, Delivery vans | 2WD |
| Full size buses | International 3000, 3900 | 2WD |
Overland offroad vans for sale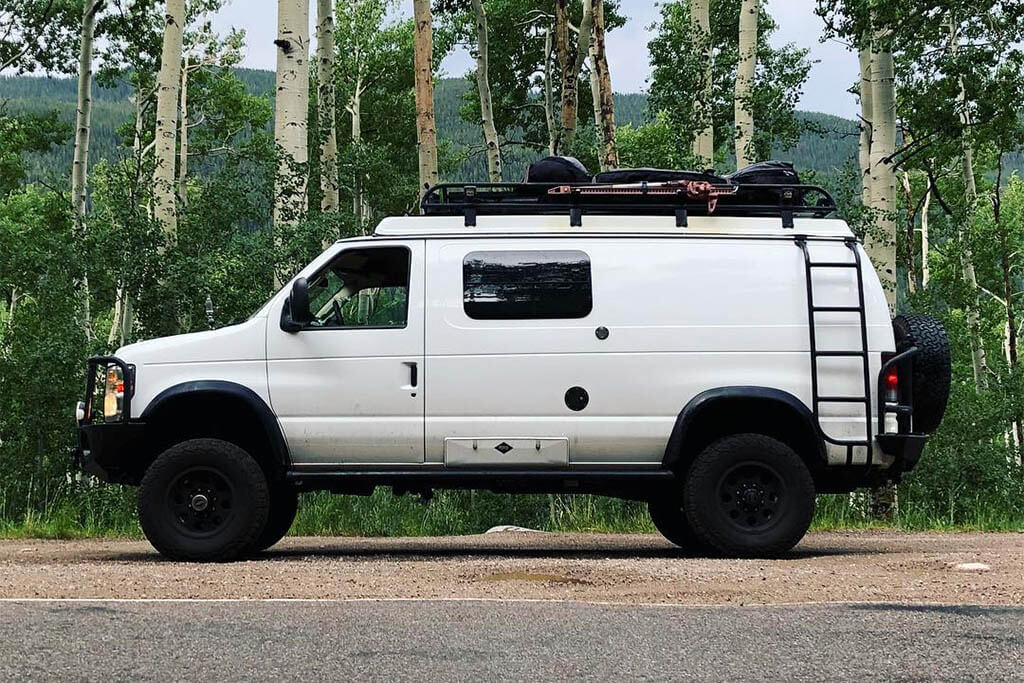 Make Model: Ford E350 Sportsmobile
Year: 2012

Price: $79,000

Location: Nashville, TN

Class: Overland Van
Read More
What conveniences do you need?
Setting up your van is the best part of the entire project, as it requires a lot of creativity. Depending on your needs, wants and budget you can outfit your van with pretty much everything that you may ever need on the road.
Sleeping
One of the most awesome benefits of the van is that you can arrange a convenient sleeping space inside. If you ever woke up in a ground-based tent on a cold morning then you definitely know that it isn't the most comfortable place to be, especially if the weather is not nice. There are various sleeping space layouts and configurations, but the most versatile solutions are the ones that you can fold away, or transform on the go to free up some space for other functional scenarios inside of your van. For instance, a king-size bed may be converted into a breakfast table for a big company.
Don't forget about the roof deck, where you can always install a rooftop tent for your kids or friends.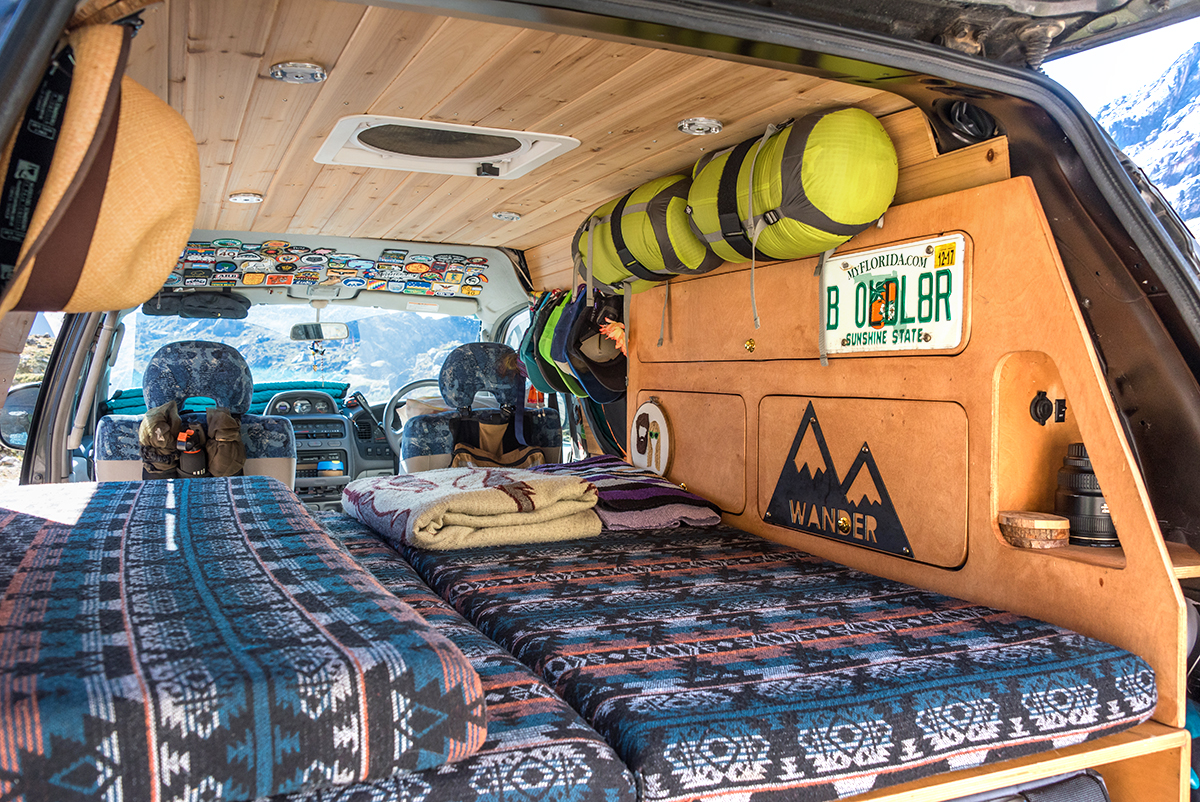 Water supply
Water supply is important, especially if you travel to remote locations. Usually, it's solved by arranging a freshwater tank and a simple plumbing system to deliver water conveniently. There are many camper van shower solutions available on the market today, that allows you to arrange it conveniently and even pressurize and heat up water for a shower.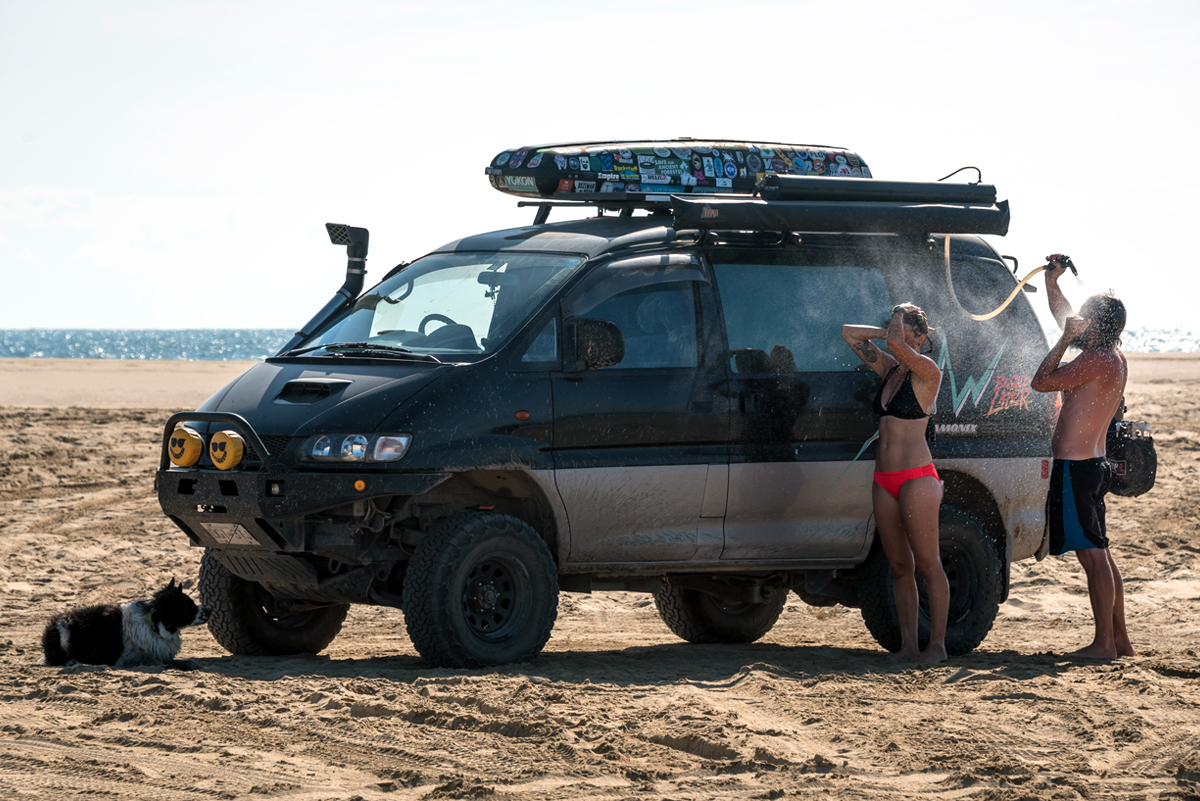 A/C, Heating and Ventilation
Unlike sleeping at home, spending a night in a van may be challenging in extreme weather conditions due to poor natural insulation and ventilation of a metal shell. If it's too hot outside, consider improving ventilation and air conditioning, if it's cold on the other hand, you may want to install a heater and a dehumidifier to stop condensation.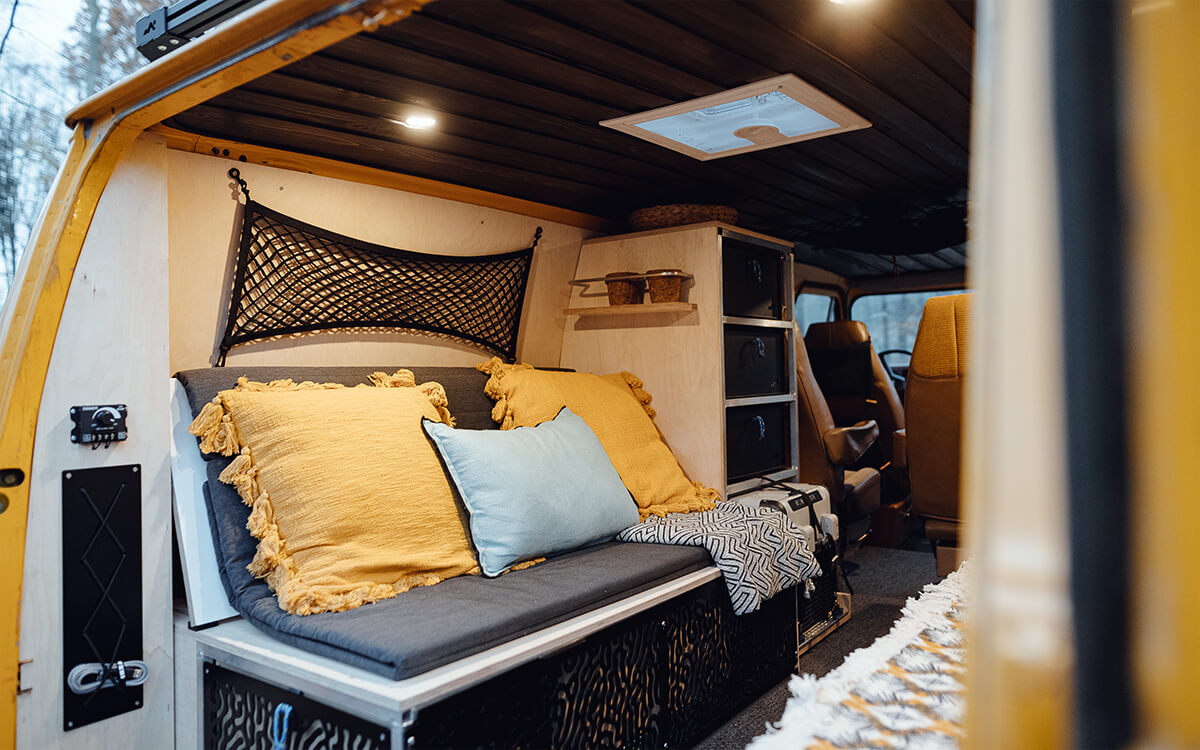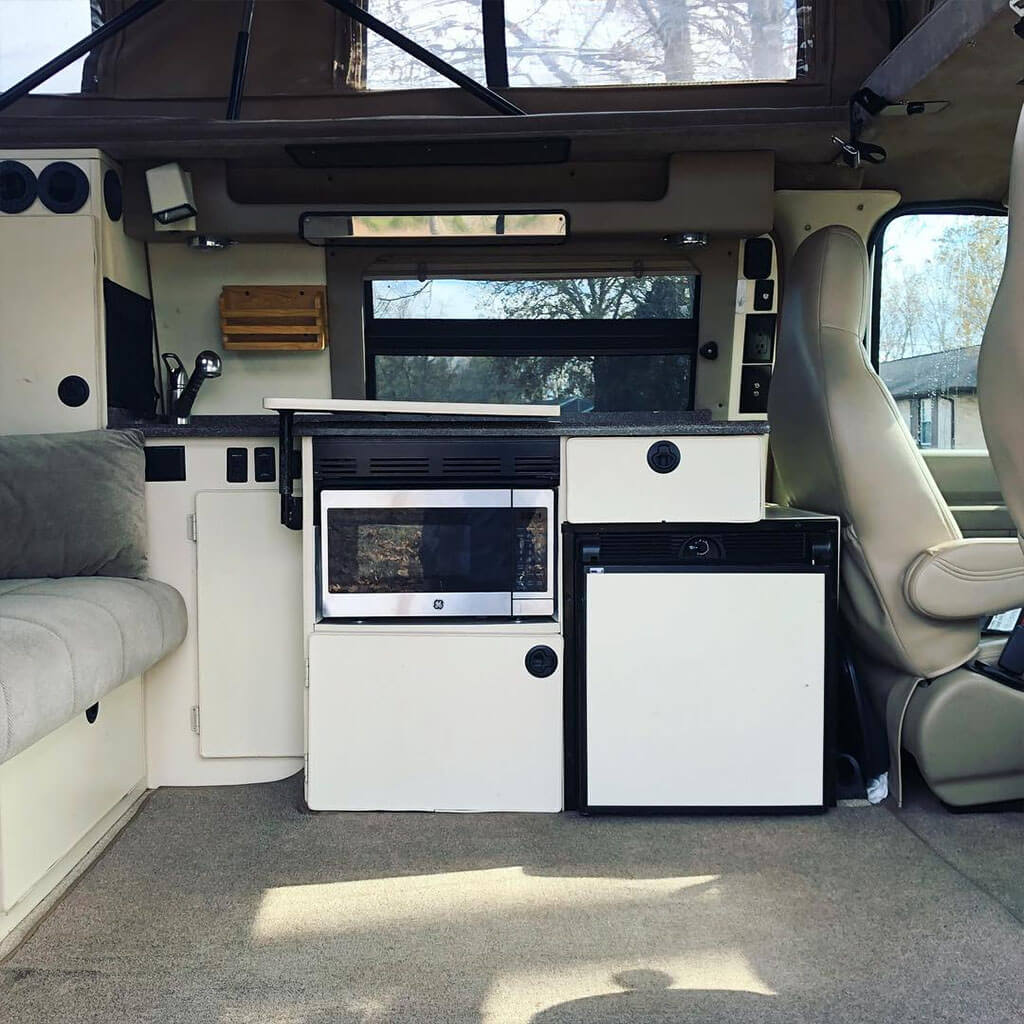 Cooking and Kitchen
If the space inside of your van or a minivan is limited you can arrange an out-door kitchen setup that would open up from the back of your van and slide out with a help of a convenient drawer system. To hide from mother nature's surprises we'd recommend getting an awning.
In case if your van has plenty of space inside, think about where would you install an induction cooktop, fridge, oven, cabinets, and sink.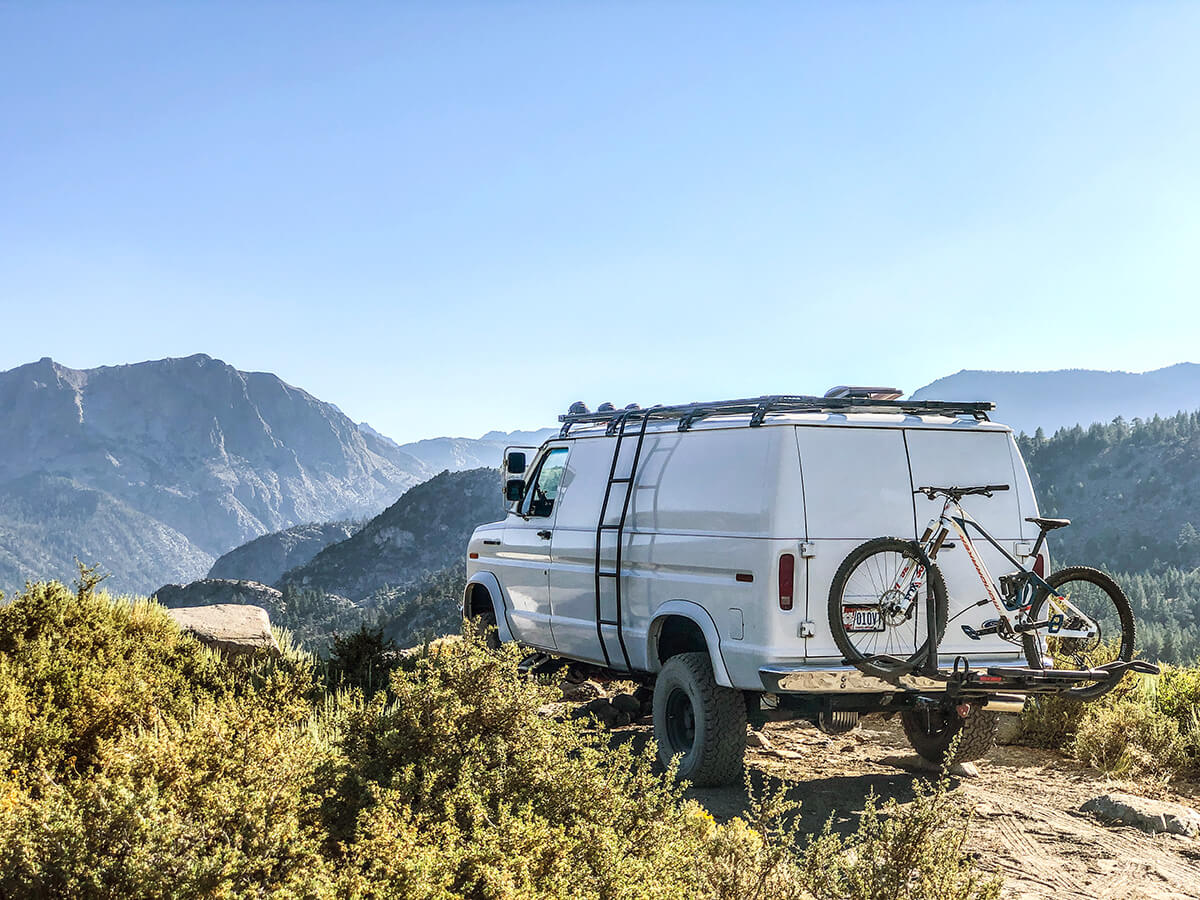 Storage
What can be more exciting than hopping on your bike, surfboard, or kayak to have fun and explore the new location once you arrive at the destination? A van will allow you to carry all your toys with the help of various racks and storage solutions.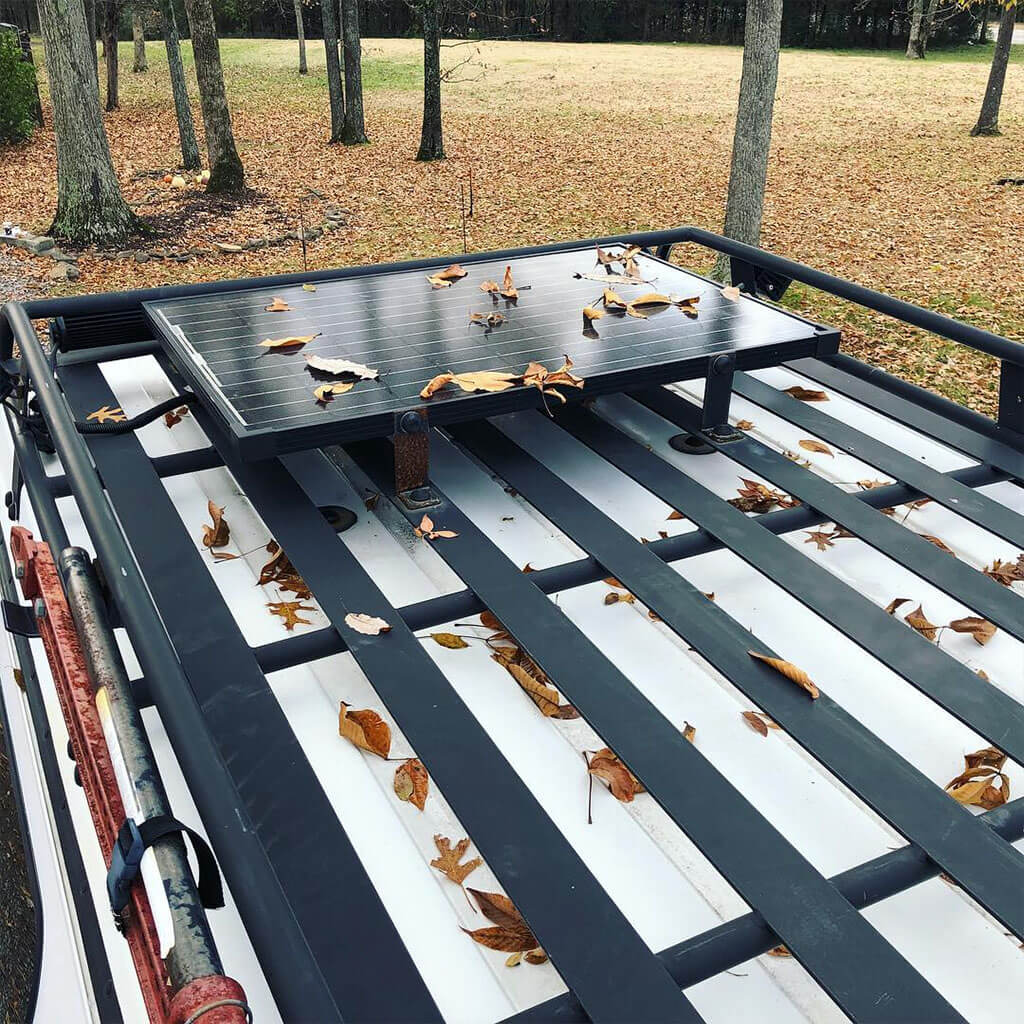 Charging and power supply
Modern electronic solutions like solar panels and inverters, allow you to generate enough energy to power your kitchen supplies and charge the batteries of your gadgets. This can truly make your life autonomous off the grid and allow working remotely from nearly any location with cellular service.
How to afford van life
This hobby isn't very cheap, at least because first of all you have to invest in a van itself. Except for buying or building a van, you will also need to have a travel budget to cover the gas money, fees, and food. This budget will vary depending on your needs and wants, but you can always generate an income working remotely and COVID 19 lockdown has proven it for many of us.