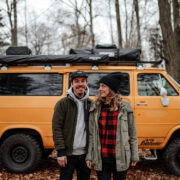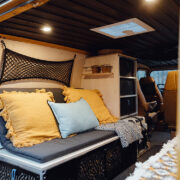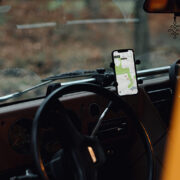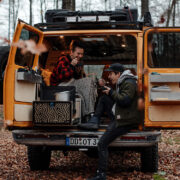 View Gallery
The third-generation G-Series vans by General Motors remained in production for 25 years with only minor interior and exterior changes sharing lots of visual cues with C/K pickup trucks. It is one of the longest production runs among all vehicles made by GM. The fact that almost three decades after its discontinuation lots of these vans are still in use today speaks for itself. And the exterior design doesn't look very dated. Do you remember an iconic GMC Vandura van Mr. T was driving in the A-Team television series in the 1980s? This impressive machine certainly stood the test of time.
We spoke with Nico Mueller from Dresden, Germany who was lucky enough to find the 1991 GMC Vandura 3500 4×4 Pathfinder in Europe, buy it, and register it in his home country known for strict emissions and safety regulations. Germany is also known for its perfect roads, which is bad news for off-roading enthusiasts.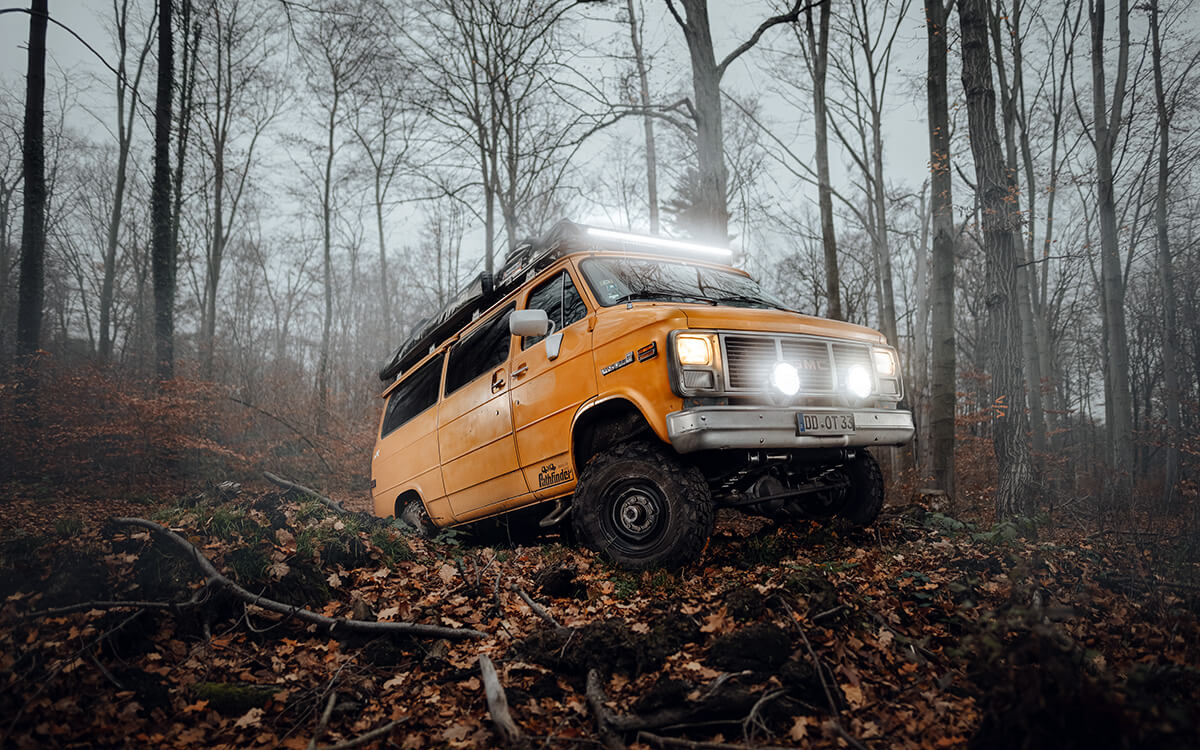 Funny enough, it's hard to come around a challenging trail in that country. He and his wife had to build the interior from scratch to convert the van into a luxury camper allowing them to travel throughout Europe with their boys. Nico had to invent his own custom roof rack system to be able to use that space to accommodate all the gear, supplies, roof tent, and auxiliary lighting. He even built a new business around it selling his hand-crafted roof rack kits. The 1990 Ford E-150 van that we featured a few weeks back actually uses one of those.
"He and his wife had to build the interior from scratch to convert the van into a luxury camper allowing them to travel throughout Europe with their boys"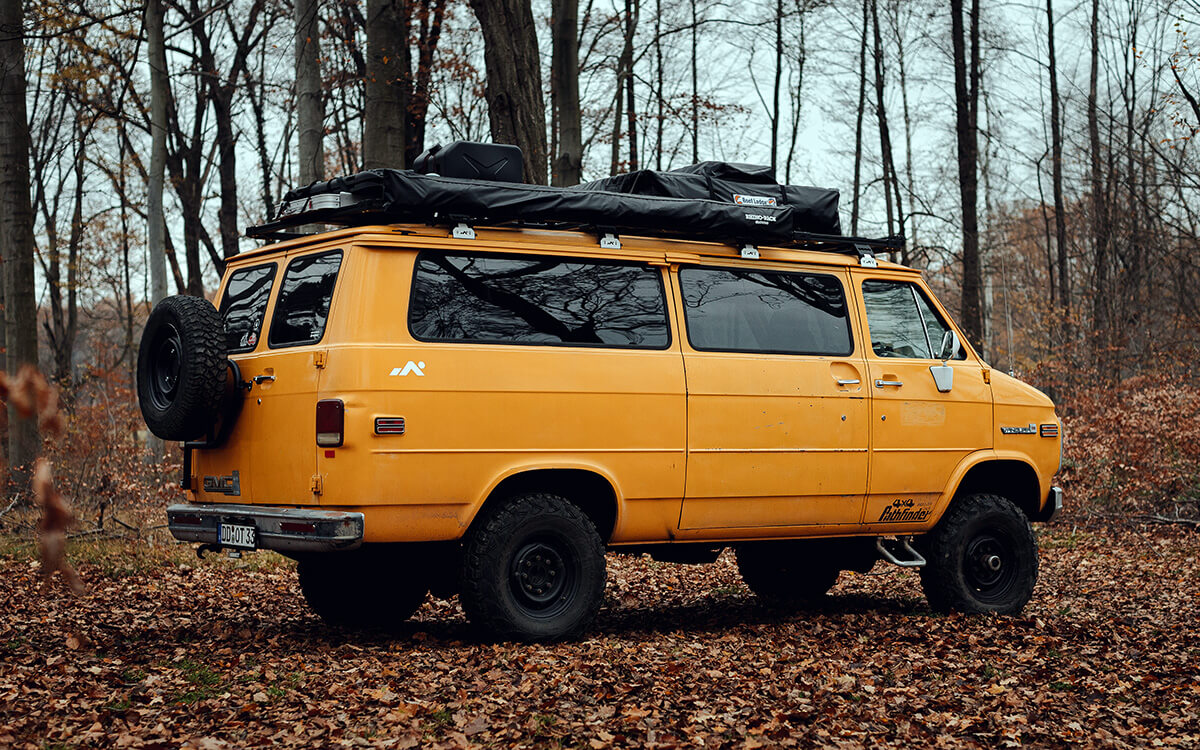 How did you become interested in off-roading?
– I'm not the on-road guy – my heart beats for gravel roads and adventures. I really like the feeling of following a road into the unknown and this is only possible when you get offroad. I think all my matchbox cars were Offroad cars and my first "off-roader" was a Jeep Wrangler.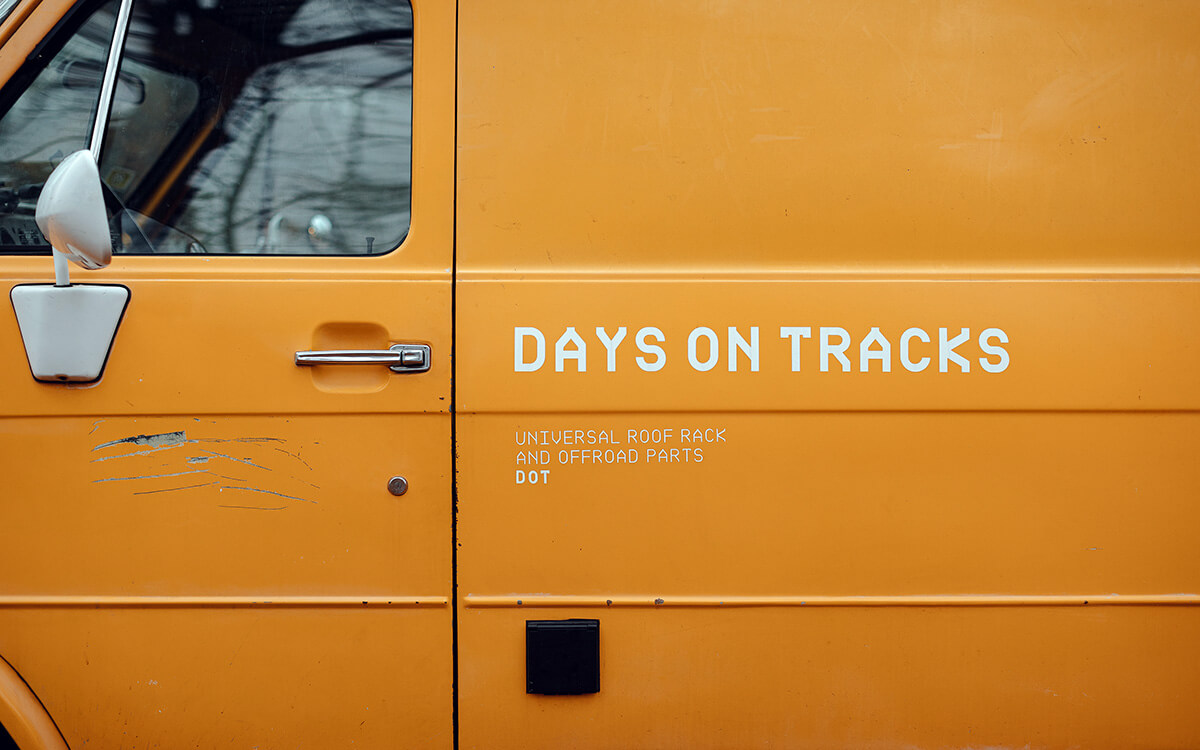 Why did you choose this particular model for your project?
– We were on the search for a family van – but 4×4 – and it has to be something special. So after some months of research, we decided on a US Van which gives us enough space for a camper conversion. Luckily I found a 4×4 Pathfinder Van in Austria and bought it via WhatsApp without a test drive or real-life walk around. There was only one chance to get this car and I did it!
What inspired you to choose this modification style?
– I'm totally into old vintage 4×4 Vans. Its a mixture of a classy look with modern interior camper solutions.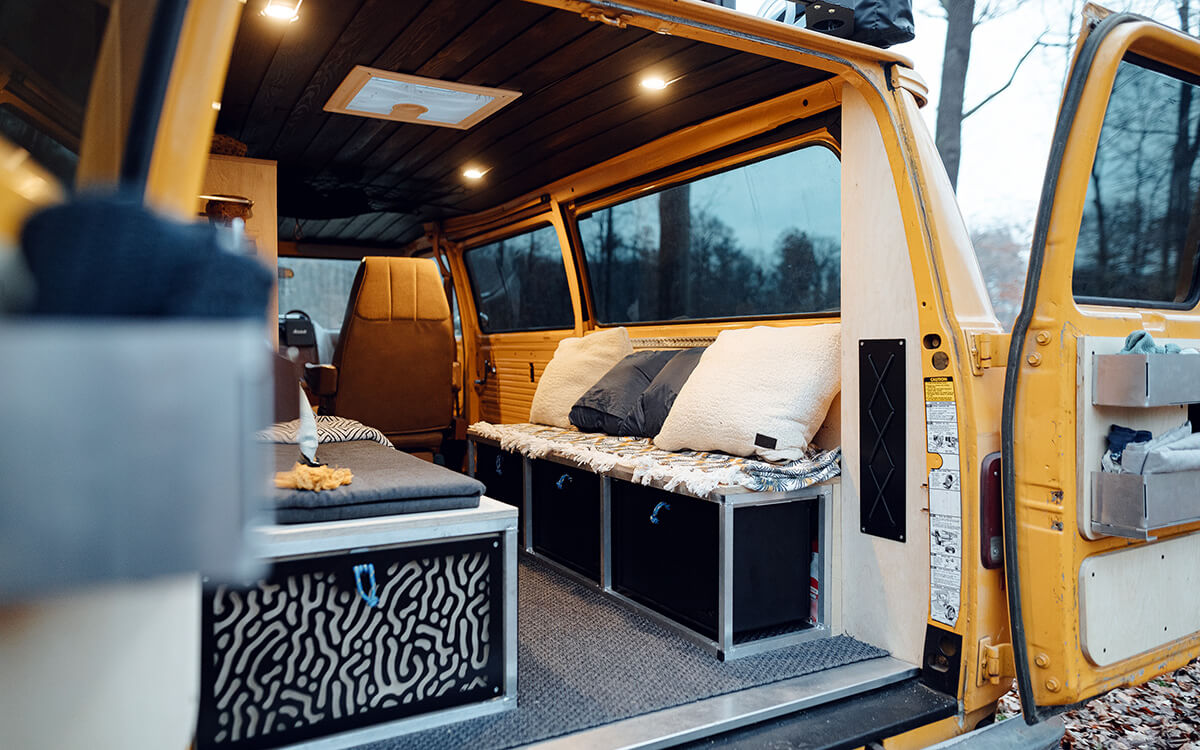 What challenges did you face while putting it together?
– Actually … nothing. I build mostly custom bikes for clients and I'm totally into fabrication. So welding, grinding, wood or construction are luckily my best friends!
What do you love about your vehicle?
– The color. It's just a great color!
Is it your daily or a weekend ride?
– Mostly weekend/camper ride. We did a 4 week trip to Slovenia this summer and it was awesome. Otherwise, we try to get out every weekend with the van.
Do you take it off road? If so, where and how often?
– Off road in Germany is rare 🙁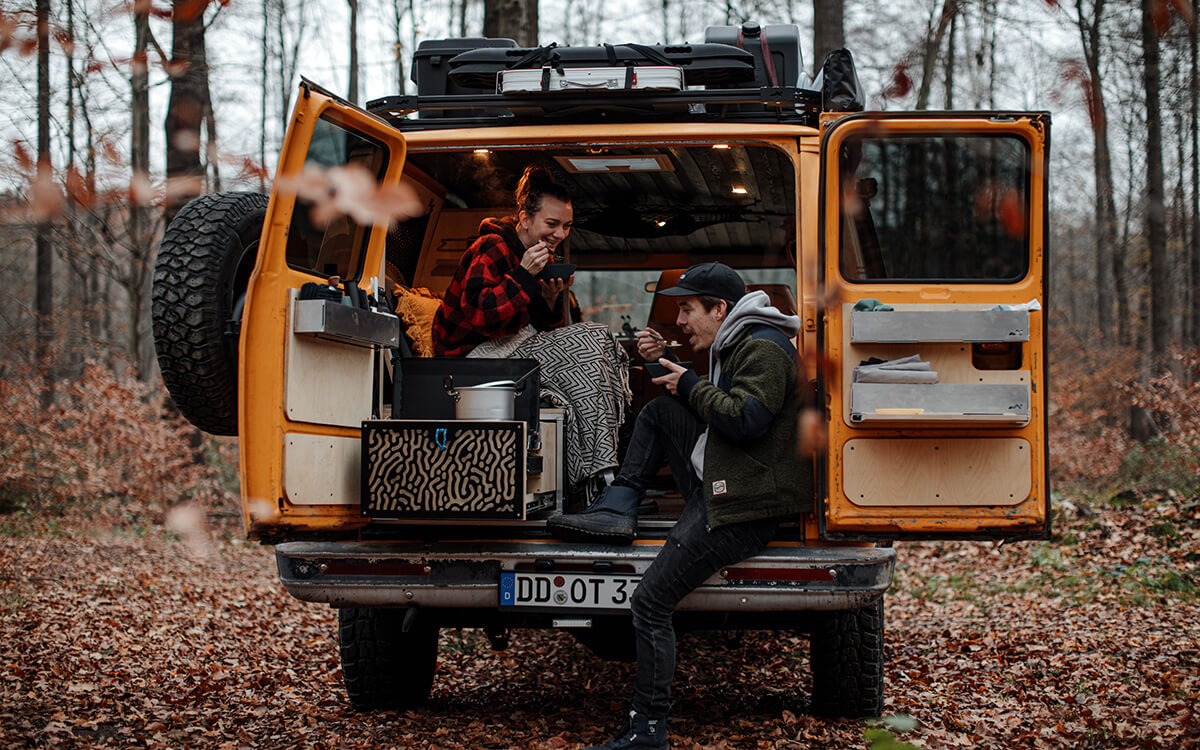 SPECS – 1991 GMC VANDURA 3500 4×4 PATHFINDER
Engine specs, modifications
– Stock 5,7 TBI runs still smooth and strong.
Lift height and suspension
– It's a Pathfinder 4×4 Conversion with 2″ lift.
Wheel specs
– 16″ stock 8 hole steelies with 235/85R16 Kumho MT 71. Next Upgrade will be 285/75R16. Rims are painted with raptor liner.
Exterior mods
– We add a complete Days on Tracks/DOT Roof Rack System on it. Its almost 4,50m long and 1,50m width. We placed a 2 person roof top tent on it (from Nakatanenga), a big storage box, a 40liters fresh water tank, a 270° rhino rack awning and accessories. A new LTPRTZ lightbar and additional lights are working at the front. I also built a spare tire holder. Otherwise the Body is completely stock and has a great patina!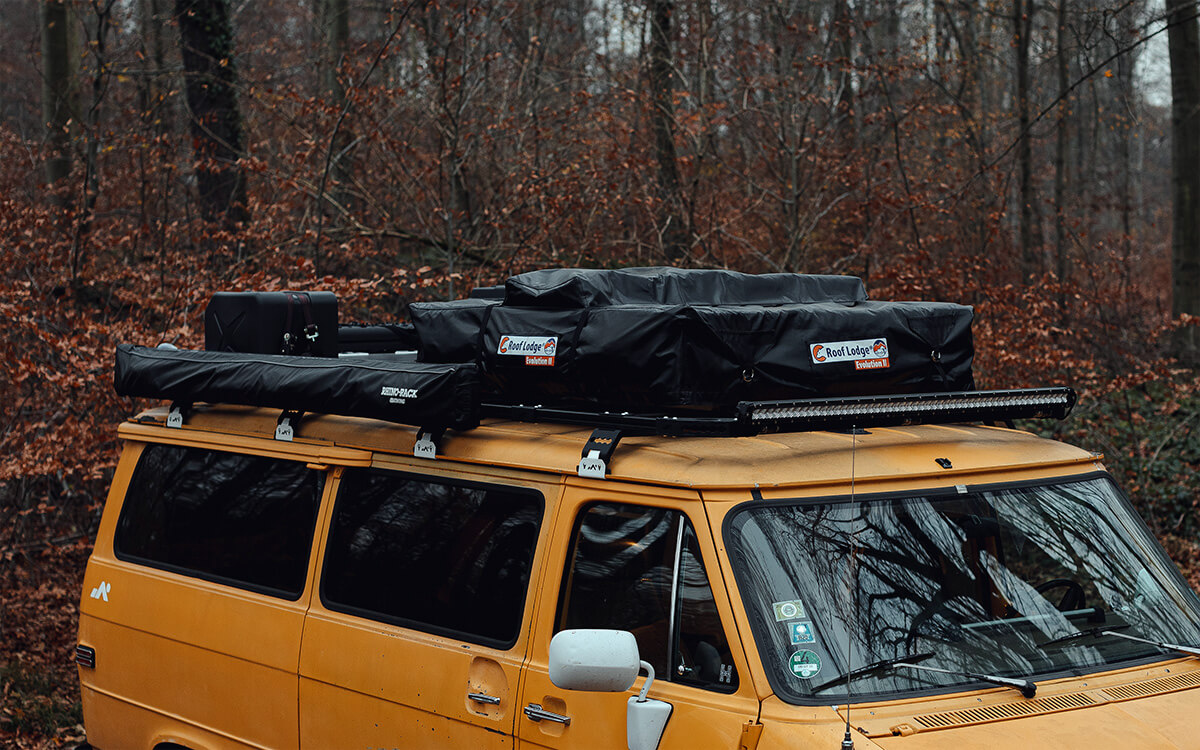 Interior mods
– When we bought the Van it was completely empty. We converted it to a 4 person family van and did all the interior work. We mounted 2 additional caption chairs for our boys. The storage system is a Days on Track Prototype and made out of aluminium. The furniture is based on an aluminium frame with wood out of birch. A slide-out kitchen with all stuff is placed under the "couch" and we can convert the rear place into a 4 person dining table or 2 person bed by only 2 screws. Additional accessories like the Days on Tracks shelves are placed on the doors. All electronic stuff is separated from the car electronics and works with a 100ah battery. The 38l dometic fridge is perfect for a 4-5 day trip. And 5x dimmable LED spots are placed into the new roof too.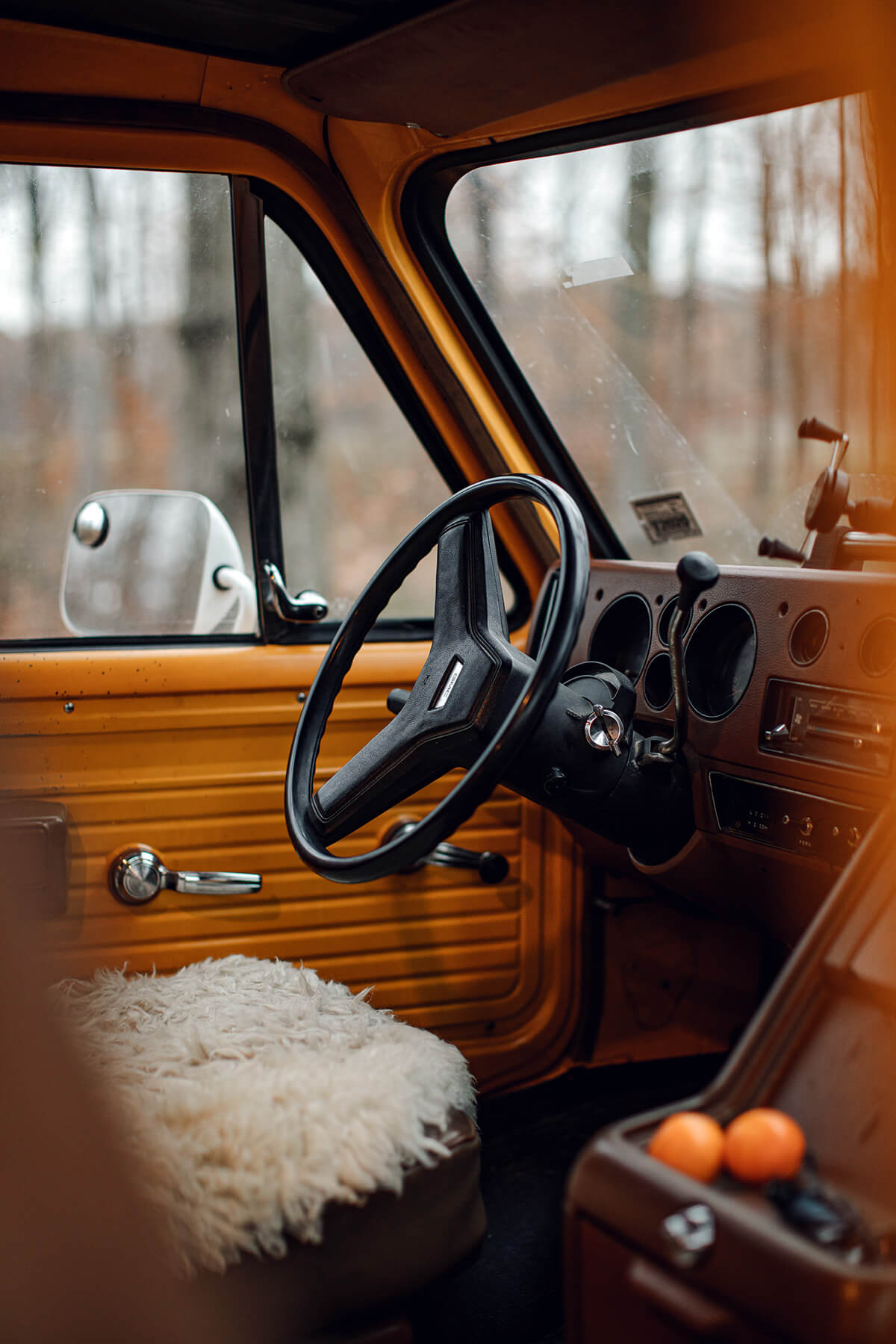 What are your future plans about this vehicle?
– Bigger wheels. Suspension upgrade. Heating system for autumn and winter trips. Otherwise I follow every time some wise words which are "never change a running system".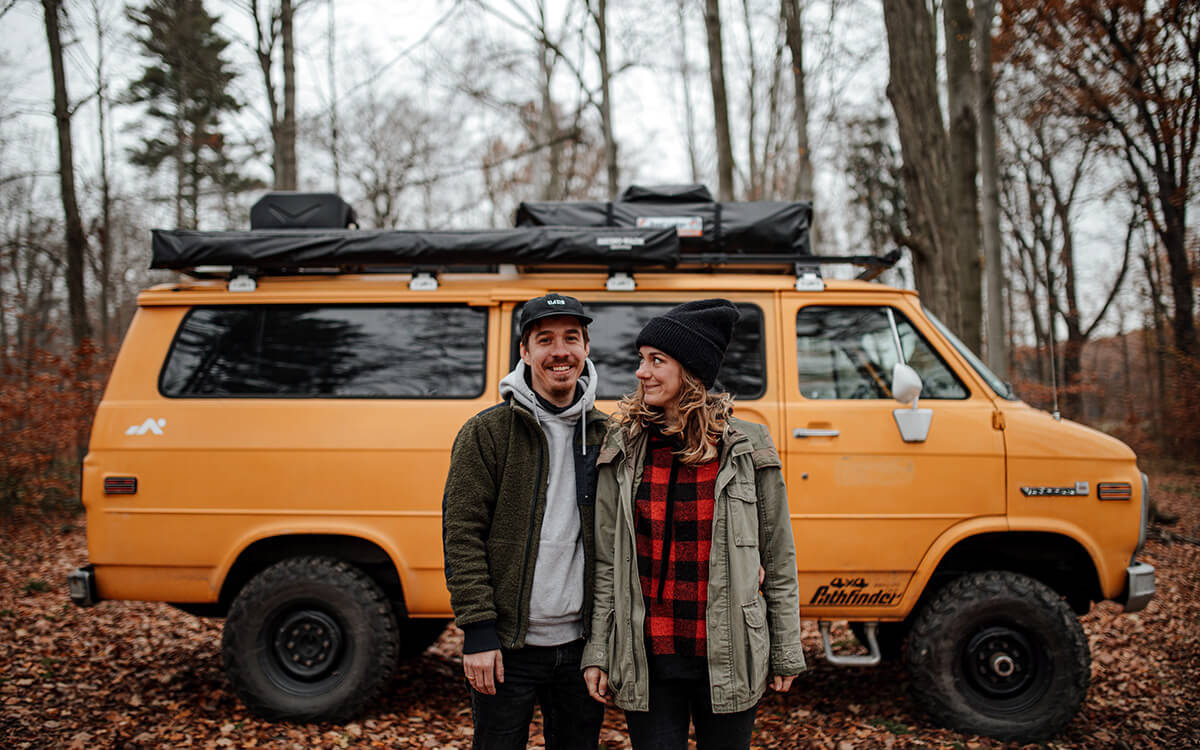 Watch the progress and find out more about this GMC Vandura 3500 4×4 Pathfinder project by visiting the Instagram profile of the owner: @daysontracks!
Stay tuned for more project reviews on Offroadium.com – Follow us on social media, and share this write up if you enjoyed reading it!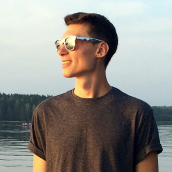 Matt Grabli
Matt brings over a decade of automotive expertise to his role as staff writer and editor at Offroadium.com. With an enduring passion for the off-road vehicles and adventures, he is devoted to creating interesting content that equips 4x4 enthusiasts with the knowledge to improve their rigs.