Lifted Ford Maverick Off-road Build with 31″ Tires – A Compact Overland Truck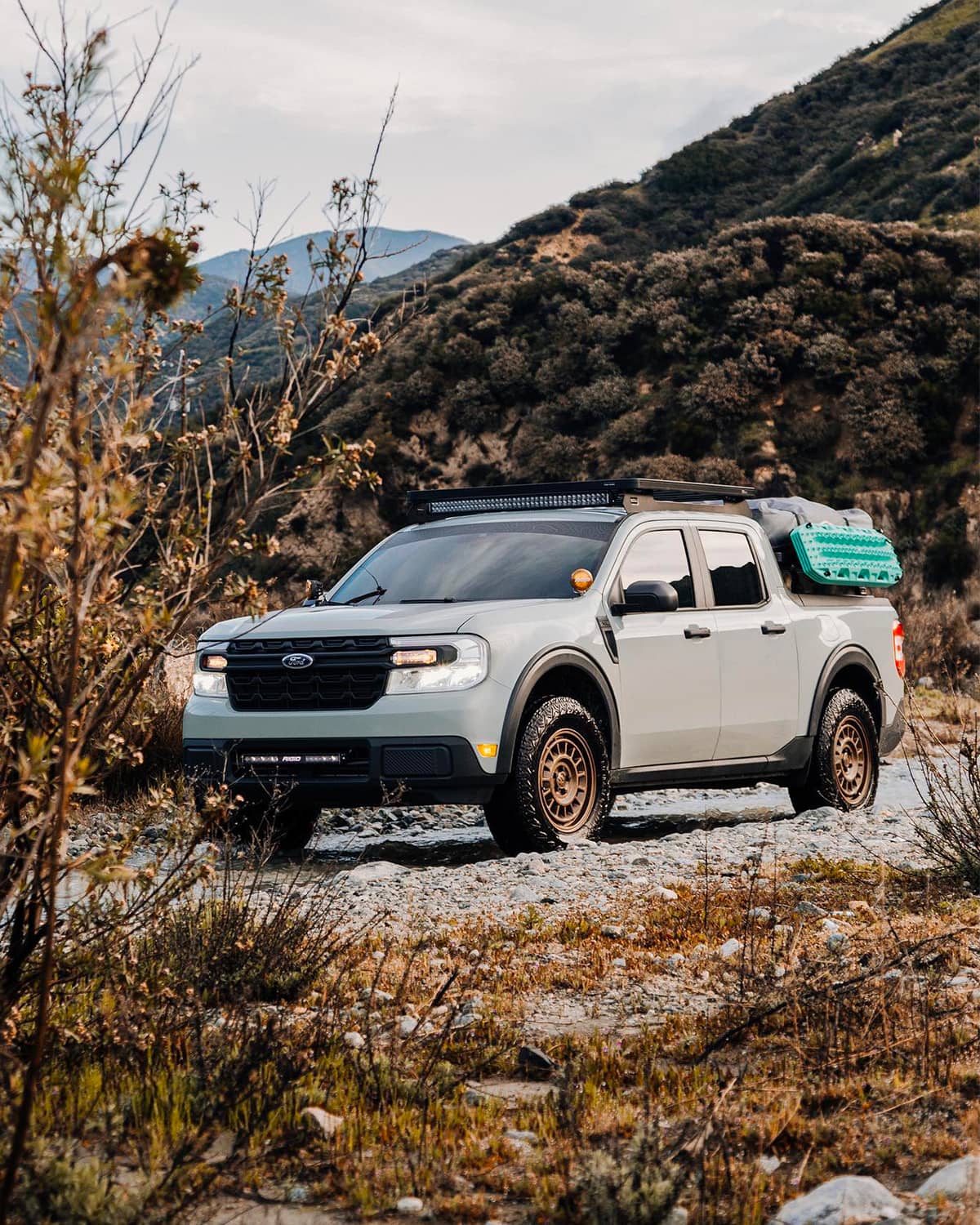 Photography by @clintontinley
When you think of compact unibody trucks, your mind may travel to obscure corners of automotive history and fish out the Subaru Baja or the Hyundai Veracruz. These curious vehicles blended the utility of a pickup with the comfort and maneuverability of a car, carving out a niche that was beloved by some, but largely unappreciated by the masses. But the times, as they say, are changing. With the rise of the urban adventurer and the expanding appeal of off-roading and overlanding, a new breed of compact truck is starting to take center stage.
Enter the Ford Maverick, a pint-sized titan stepping onto the scene with bold intent. This blue-collar charmer is a breath of fresh air in a market saturated with oversized and overpriced trucks. Its compact footprint and unibody construction make it a practical daily commuter, while its stout EcoBoost engine and all-wheel-drive system ensure it can confidently stray off the beaten path.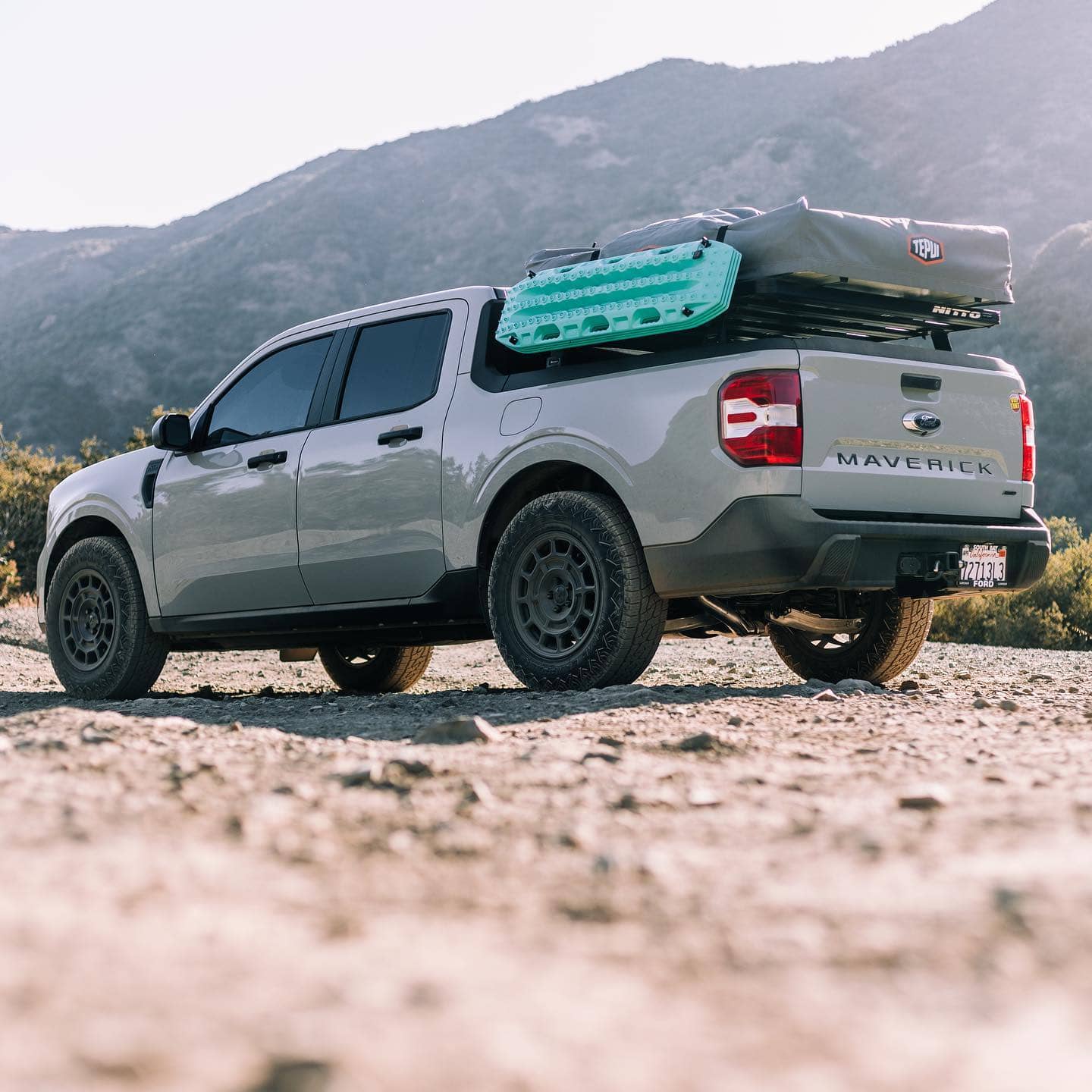 However, like the Baja and Veracruz of yore, the Maverick faces the challenge of lacking extensive aftermarket support. While this can be a deterrent for those looking to transform their compact truck into a rugged off-roader, it hasn't stopped intrepid adventurers like Alex from turning their Mavericks into trail-ready machines.
The Build
Alex's 2022 Maverick XL is a testament to patience, and creativity in the face of limited resources. Armed with the turbocharged 2.0L EcoBoost engine and all-wheel drive, this Maverick has been augmented with carefully selected aftermarket parts that elevate its off-road prowess.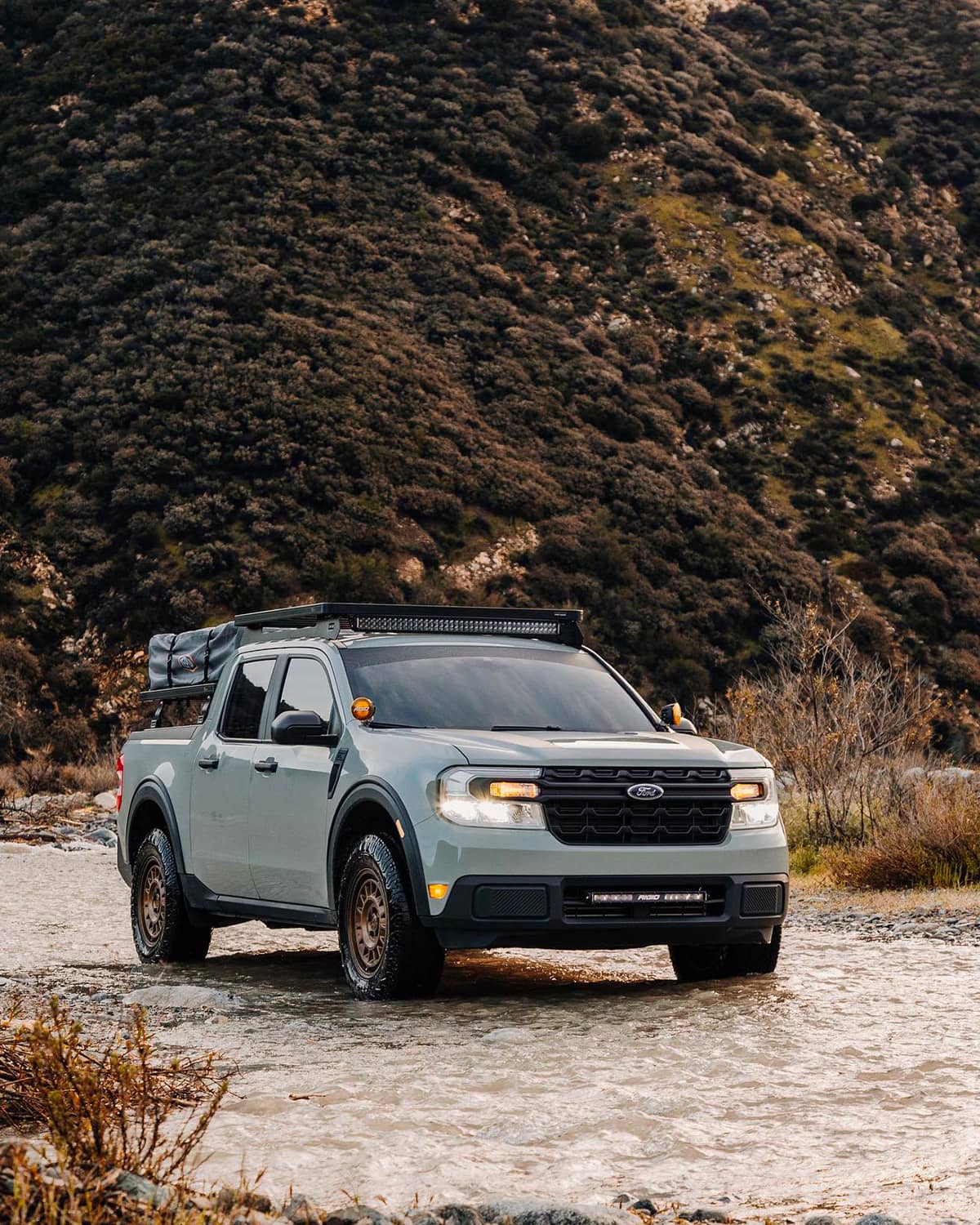 A set of Fifteen52 17×8 Metrix MX rims wrapped in Nitto Nomad Grappler 245/70r17 tires form the foundation of this build. The wheels, finished in Frosted Graphite, bring a sense of understated aggression to the Maverick, while the Nitto Grapplers ensure it can claw its way across varied terrains with ease. As Top Gear has noted, "the right choice of wheels and tires can significantly enhance a vehicle's off-road performance."
The suspension is upgraded with an Eibach 2" Pro-Lift Kit. This German-engineered lift not only gives the Maverick a more menacing stance but also increases ground clearance for improved off-road ability. In a world where aftermarket options for the Maverick are still limited, this suspension upgrade is a testament to Alex's dedication.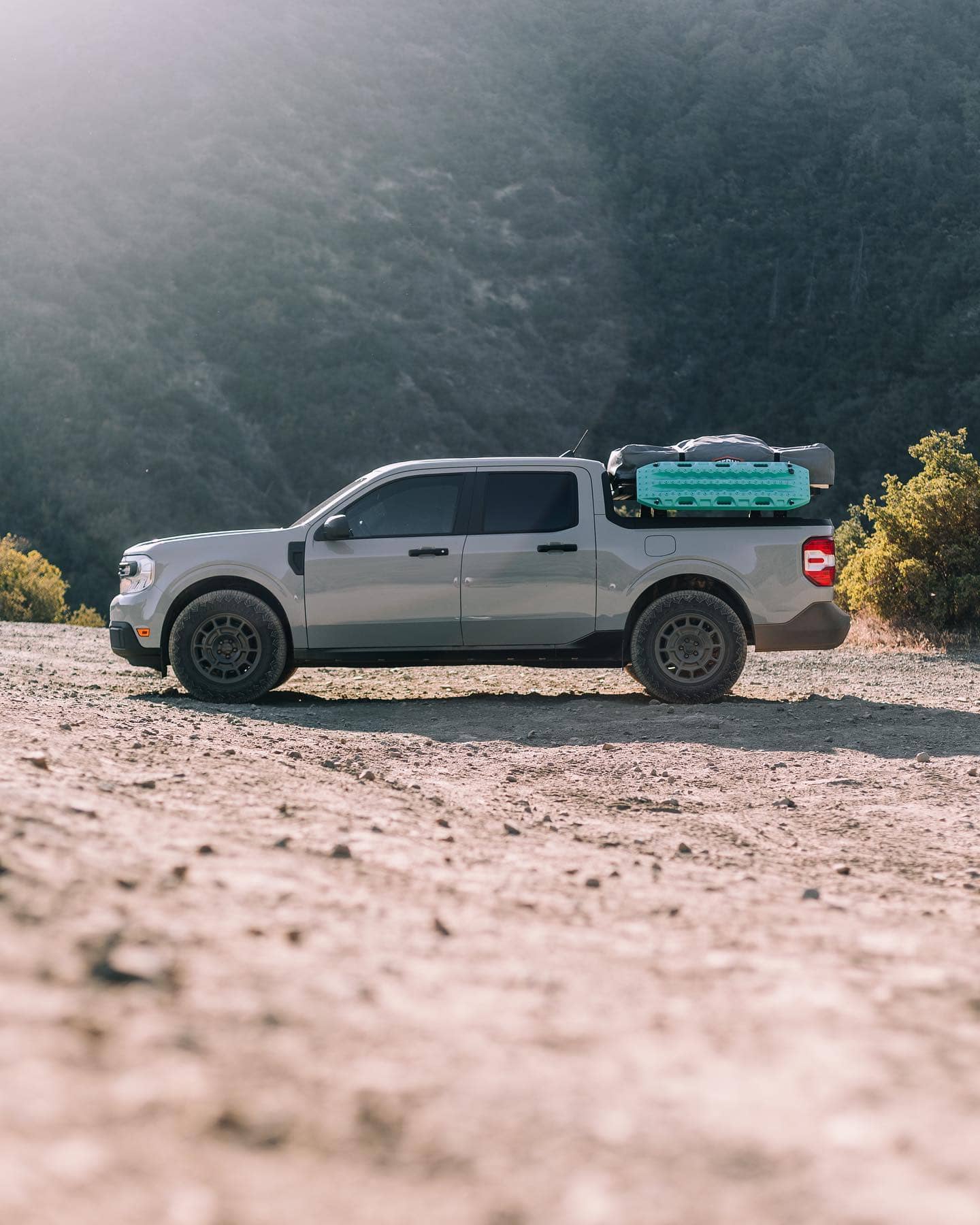 Aesthetically, the truck has been outfitted with an array of exterior accessories that add utility as well as style. AirDesignUSA fender flares enhance the vehicle's rugged look, while a vinyl hood wrap by @beyondwraps gives it a custom touch. The crowning glory, however, is the Front Runner Outfitters Roof/Bed Rack, which not only provides additional storage but also supports a Thule Adventure Kukenam 3 Roof Top Tent – the perfect setup for those impromptu wilderness getaways.
Lighting upgrades come in the form of RigidIndustries off-road LEDs: a 40" RDS-series Midnight edition spot, a 20" SR-series SAE drive, and four 4" 360-series diffused lights. These ensure Alex's Maverick can illuminate the darkest trails and navigate safely in low-visibility conditions.
Questions & Answers
Why did you choose a Maverick for your off-road project?
– Chose the Maverick because I wanted an affordable truck to get me to dispersed camp sites and to public shooting lands that I like to visit.
What was the most difficult part of the build?
– Hardest part so far has been waiting for parts to get built since there wasn't much aftermarket stuff available when I got it so I've been having to hit up all my friends at the various companies and letting them borrow my truck for testing to help speed up the process.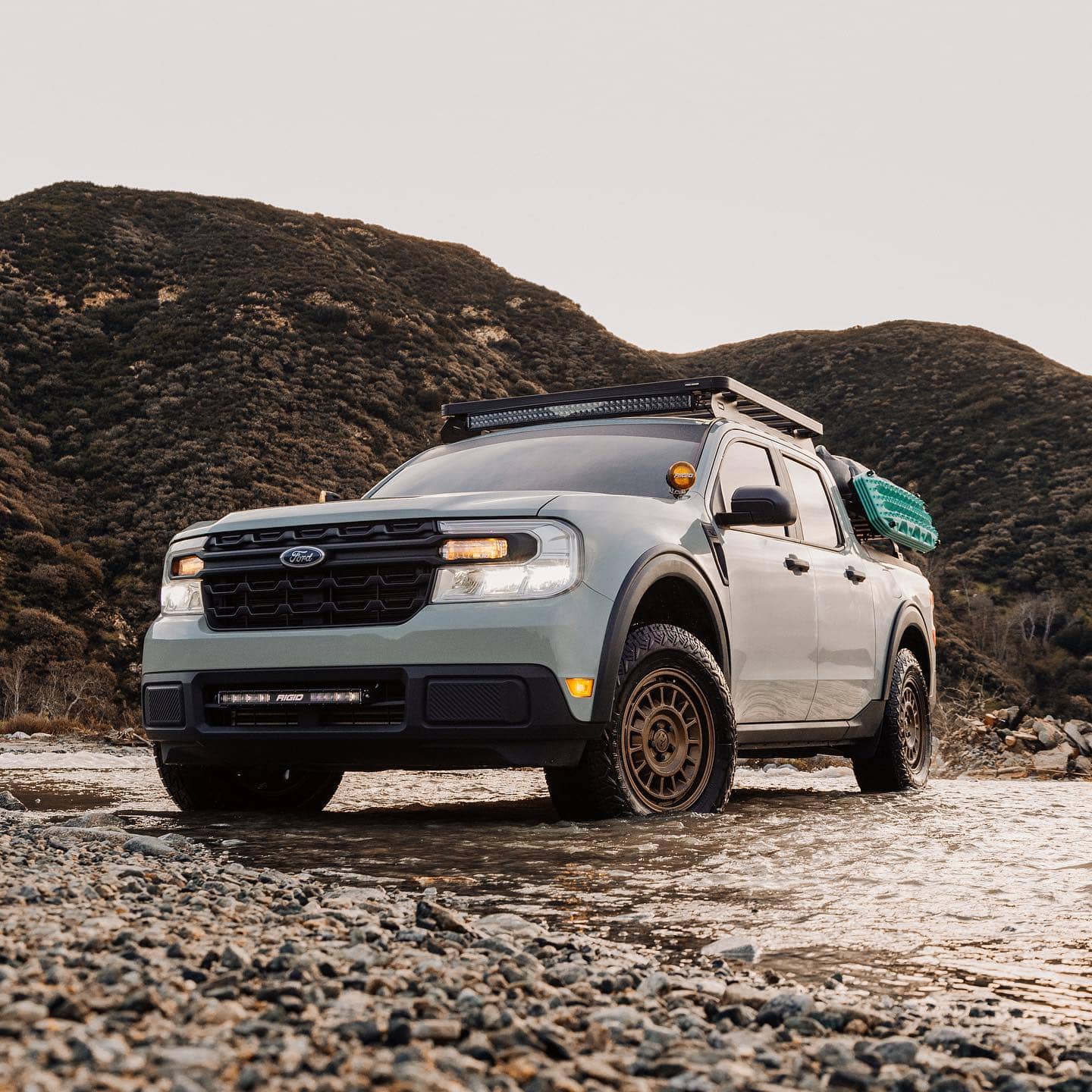 What do you love the most about your truck?
– Love the gas mileage when I take it out on trips. It's also the only time I take it out. Other than that it just sits in the garage.
2022 Ford Maverick XL 2.0L Ecoboost – Mods
Suspension
Wheels
Fifteen52 17×8 Metrix MX rims in Frosted Graphite finish
Nitto Nomad Grappler 245/70r17 Tires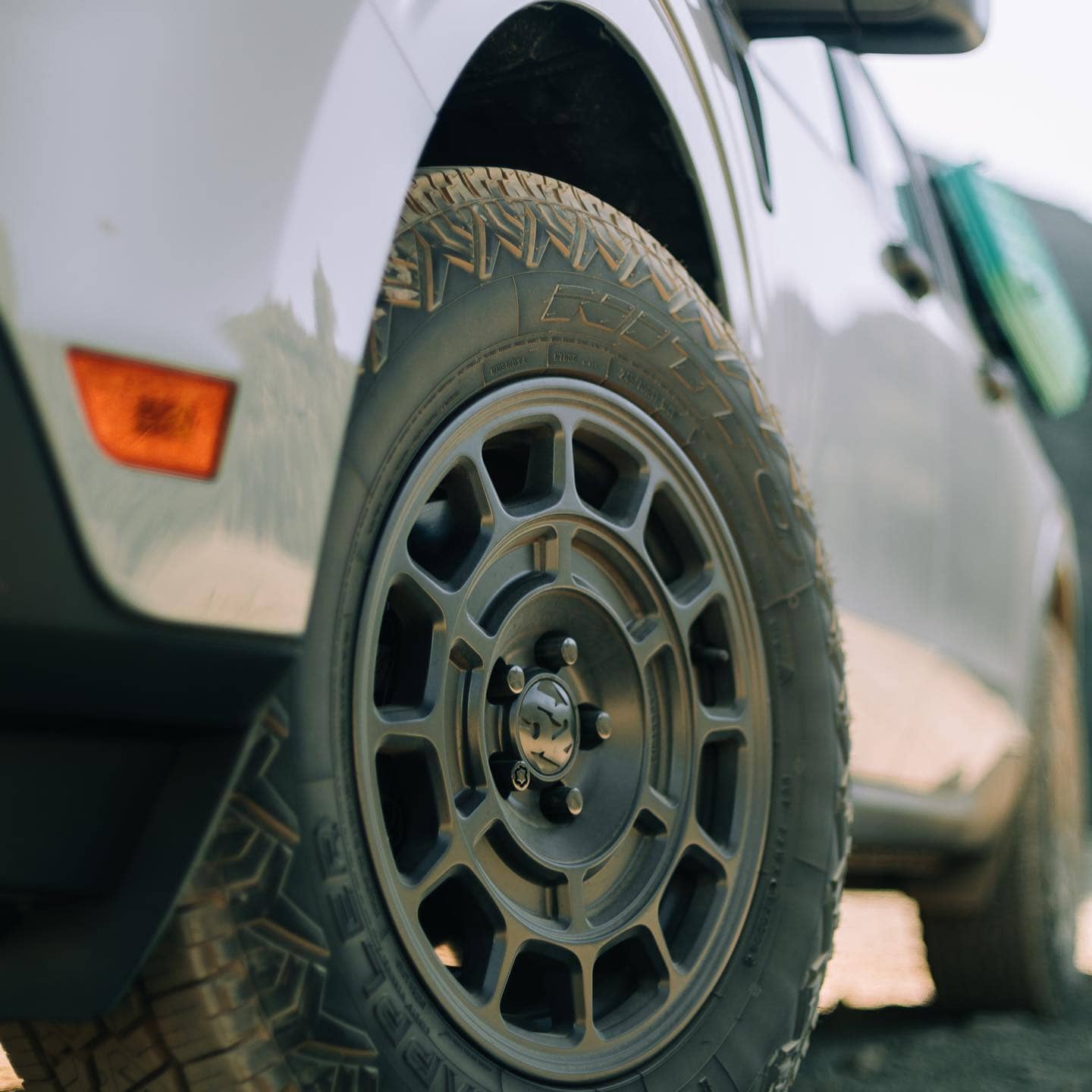 Lights
RigidIndustries 40" RDS-series Midnight edition spot
20" SR-series SAE drive
4" 360-series diffused
Accessories
Front Runner Outfitters Roof/Bed Rack
AirDesignUSA Fender Flares: @airdesignusa
Hood vinyl by @beyondwraps
Thule Adventure Kukenam 3 Roof Top Tent
Adventure Imports and Maxtrax recovery gear
Dometic CF-25 fridge powered by PLB40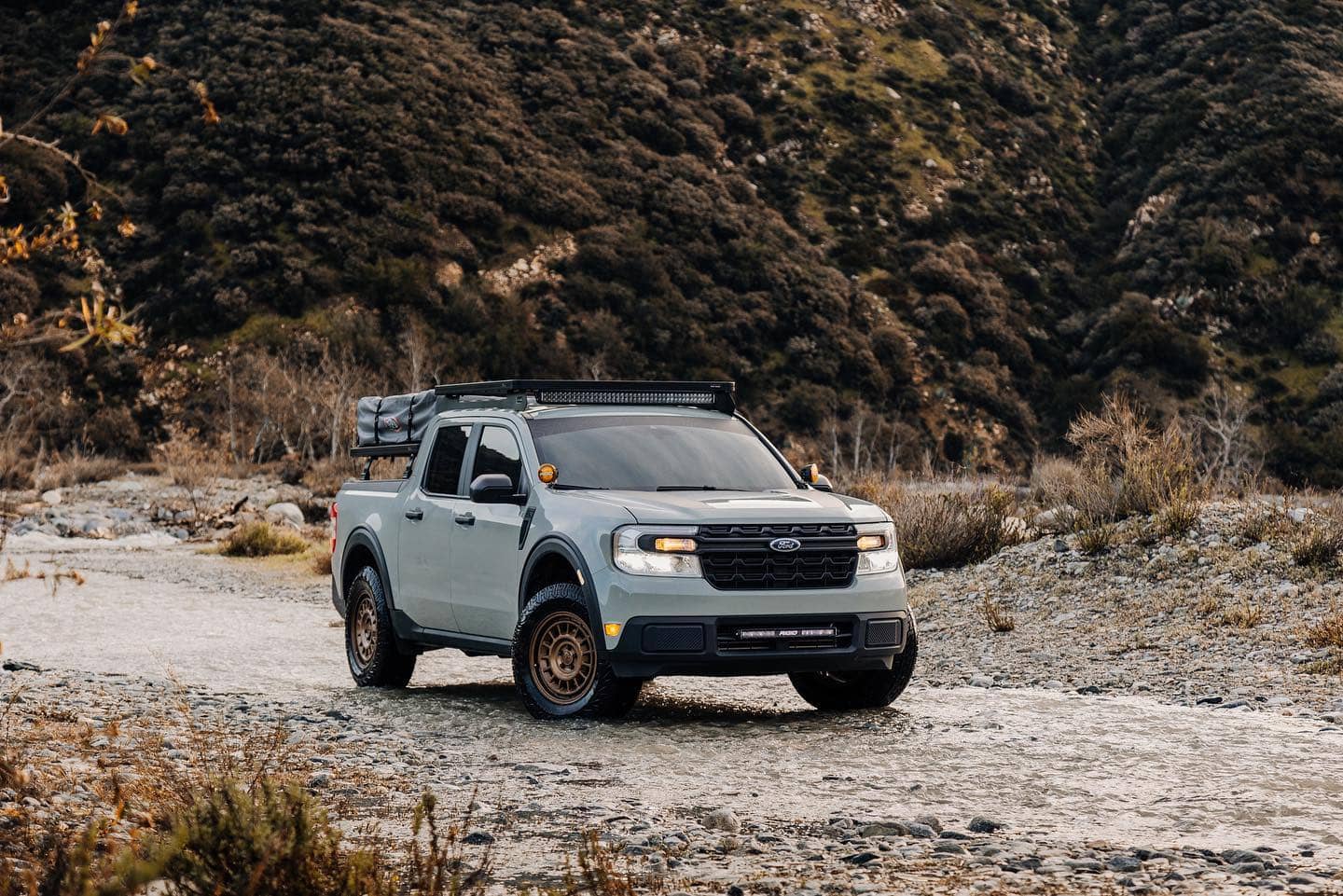 Watch the progress and find out more about this Ford Maverick project by visiting the Instagram profile of the owner: @alexmembribes!
Photography by: @clintontinley
Stay tuned for more project reviews on Offroadium.com – Follow us on social media, and share this write-up if you enjoyed reading it!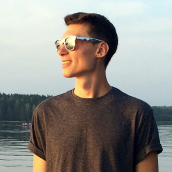 Matt Grabli
Automotive journalist and technical writer at Offroadium.com with more than 10 years of experience in the sphere of aftermarket parts and 4×4 vehicle modifications. Passionate about off-roading, outdoor adventures, and an active lifestyle.