Since 1996 when a Ford Bronco was discontinued by the manufacturer, most of the car guys knew that one day it would still make a comeback to the market. It used to be the brand's best-selling SUV for decades and despite the growing popularity of the more versatile and convenient 4-door models like Explorer, Expedition, and Excursion, the Bronco name was never forgotten.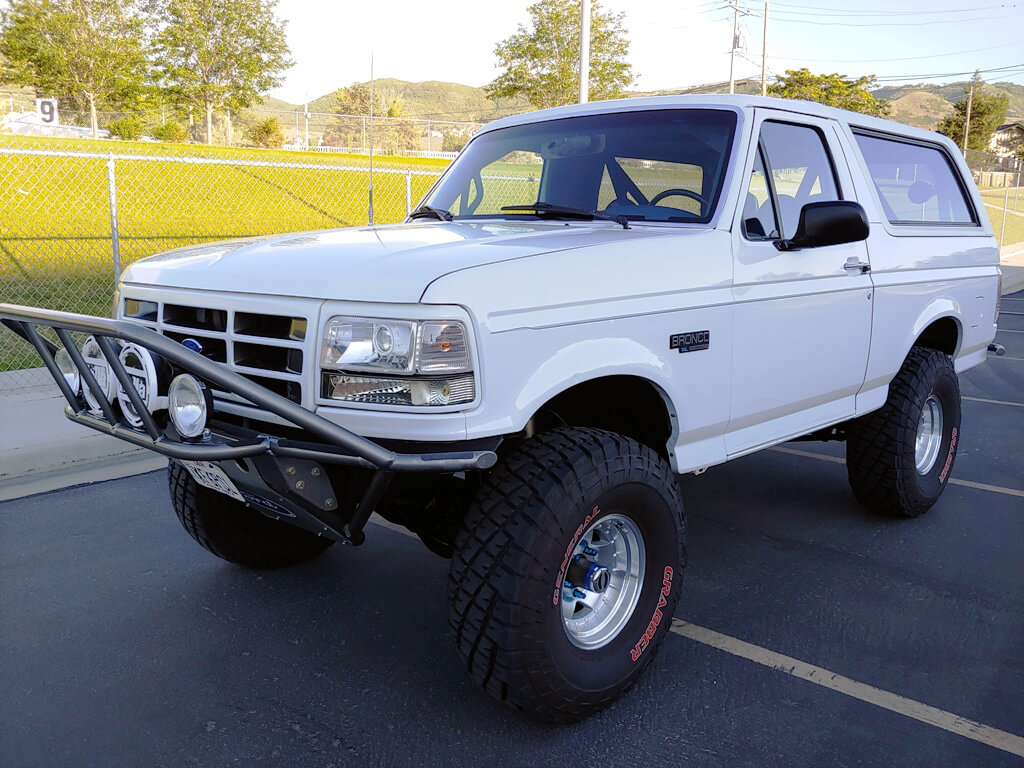 Every once in a while car designers and home-grown artists shared their vision of a new generation Bronco on the pages of car magazines and various websites which in the majority of cases pictured an F150 front end attached to a shortened 2 door SUV inspired by the Full-Size Bronco models produced between 1970 and 1996. Although some designers have speculated that the new Bronco might inherit some design elements from the classic model, such as the grille and round headlights.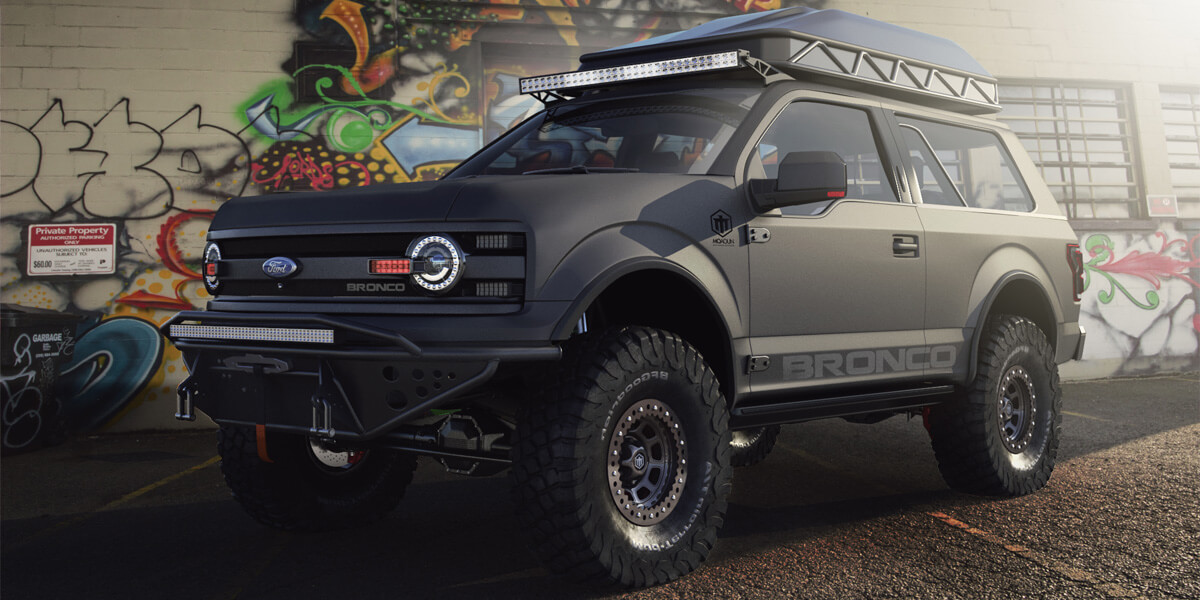 Why the Full-size Bronco did not get a Green Light?
Seeing a full-size 2-door Bronco truck was cool, and the public reaction was quite warm, but many experts realized that this concept may not fit very well into the modern SUV market with the strong competition of domestic and import brands.
First, a 2-door full-size SUV is simply less practical and versatile compared to the 4-door models. 2nd it may engage in internal competition with F150 Super cab and Crew cab models, which became much more comfortable and sporty during the last two decades. Perhaps, that's why Ford has kept it on hold for such a long time.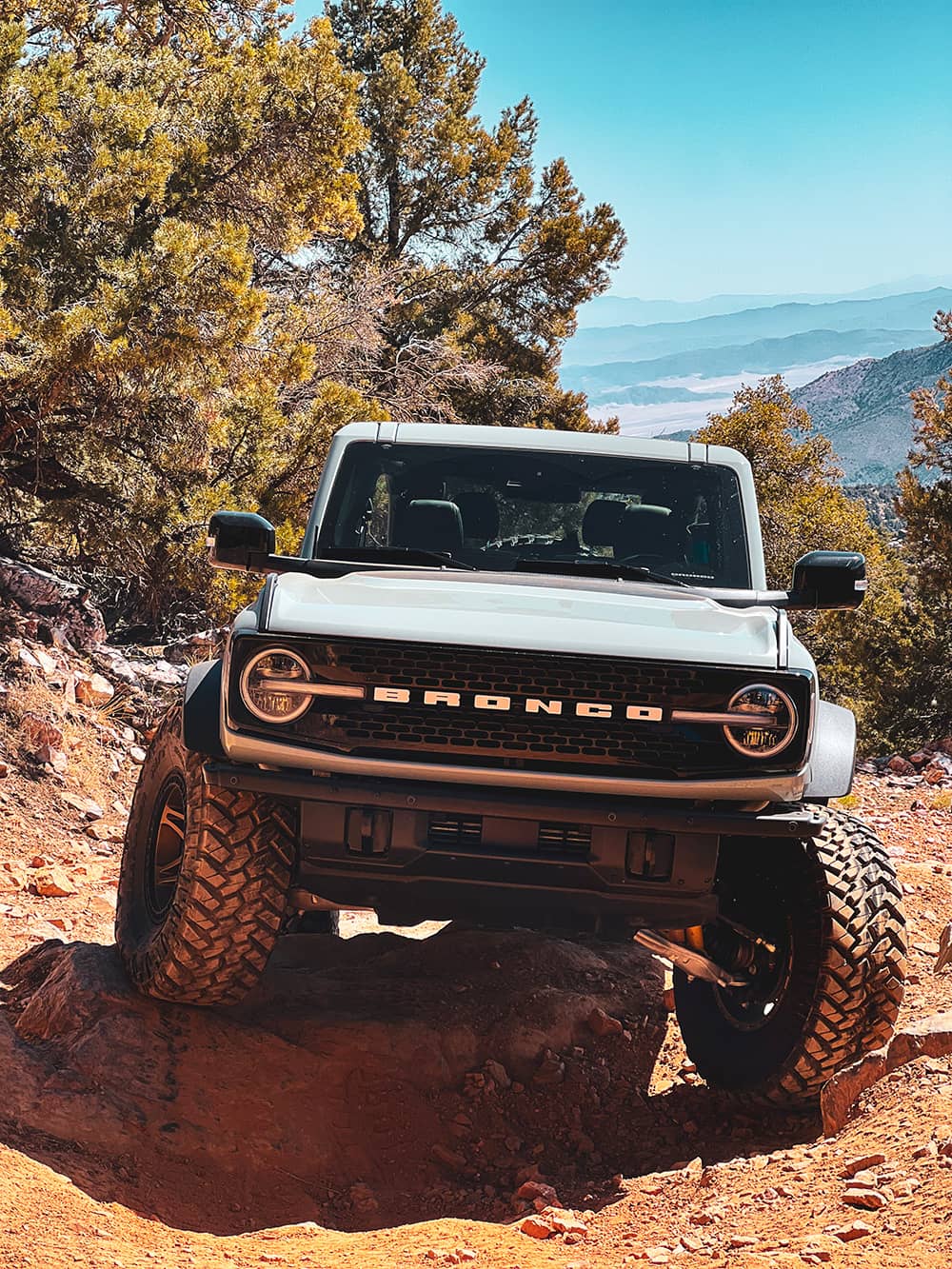 Why the classic Bronco revival is exactly what we need today?
Offroading and overlanding have been some of the strongest trends in the automotive world during the last 5-10 years. While the companies like Jeep and Toyota were doing everything to capitalize on this niche with their Wrangler, 4Runner, and Tacoma models, Ford, with all its potential proven in the development of Raptor models, was frankly, missing out.
While the return of the Ranger addressed the Tacoma competition, there were two more major models to target, and it looks like Ford has successfully achieved it with the revived Bronco model. Being available in 2- and 4-door variants and offering similar size and capabilities as both Wrangler and 4Runner, it managed to hit two birds with one stone.
P.S. Ford actually hit a few more birds like the Toyota Rav4, Subaru Forester, and Honda CRV with another smaller stone called a Bronco Sport… Good job, Ford. Well done!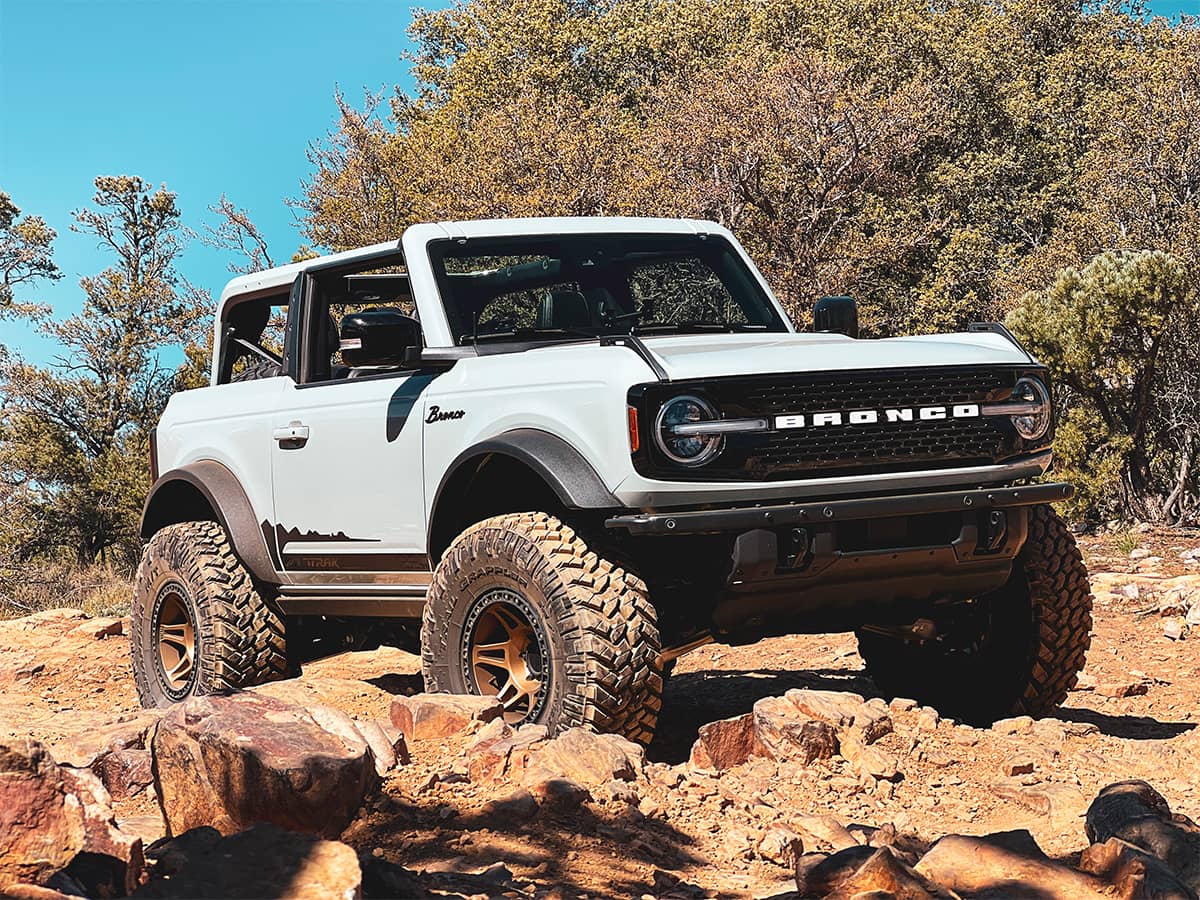 The Design
Just like the design of the S197 Ford Mustang which debuted in 2004, the new generation Bronco is based on the Gen 1 styling cues of the classic Bronco. This boxy, open-top truck with a vertical grille, round headlights and iconic bucking horse emblem means just as much for American automotive history as the 65' Mustang.
Perhaps custom shops specializing in building beautiful Classic Bronco resto-mods, such as the ICON 4×4, Newlegend 4×4, and ClassicBronco have unintentionally warmed up the market for the new Bronco and proved to Ford that people still have strong feelings about this model.
"Bronco could be all things for all people, a convertible, a pickup, a family car that goes off-road" – Hagerty
With all the resources of an automotive giant, Ford went far beyond what aftermarket custom shops could offer. Except for upgrading it with modern power plants, transmissions, e-lockers, and lifted suspension, it has fully adapted the truck to modern reliability, comfort, and safety standards. Plus the new spacious interior received a fully removable top, like the one we've seen on a Wrangler.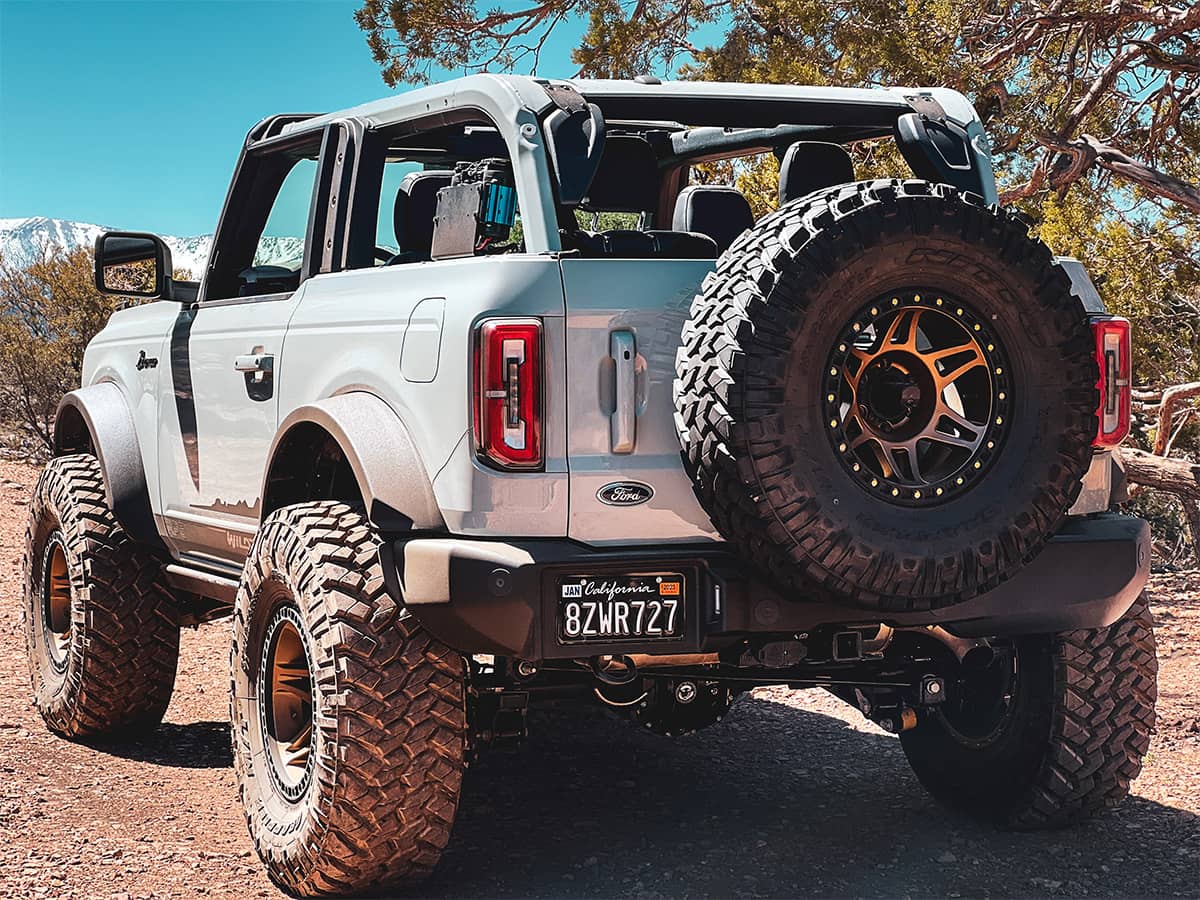 Modify or buy a fully loaded Bronco?
The idea to modify or personalize our vehicles lives in the head of every car guy, which fuels the aftermarket industry. This fact, of course, could not have been overlooked by Ford.
To eliminate the need to equip your new Bronco with some aftermarket components such as lifts, wheels etc., and spend your money elsewhere, it now gives you a choice of 8 model configurations that feature enhancements of every level that used to be available only through the aftermarket suppliers.
Want something basic and old school? Looking for a clean truck with a mild lift? Need a functional trail rig? Want an all-out off-roader? – Look through the options and choose the model which suits your requirements in the best way possible.
List of models 2021-2022 Ford Bronco™
BASE
Big Bend™
Black Diamon™
Outer Banks™
Badlands™
Wild Trak™
Everglades™
Raptor™
*You can find out more about each on Ford.com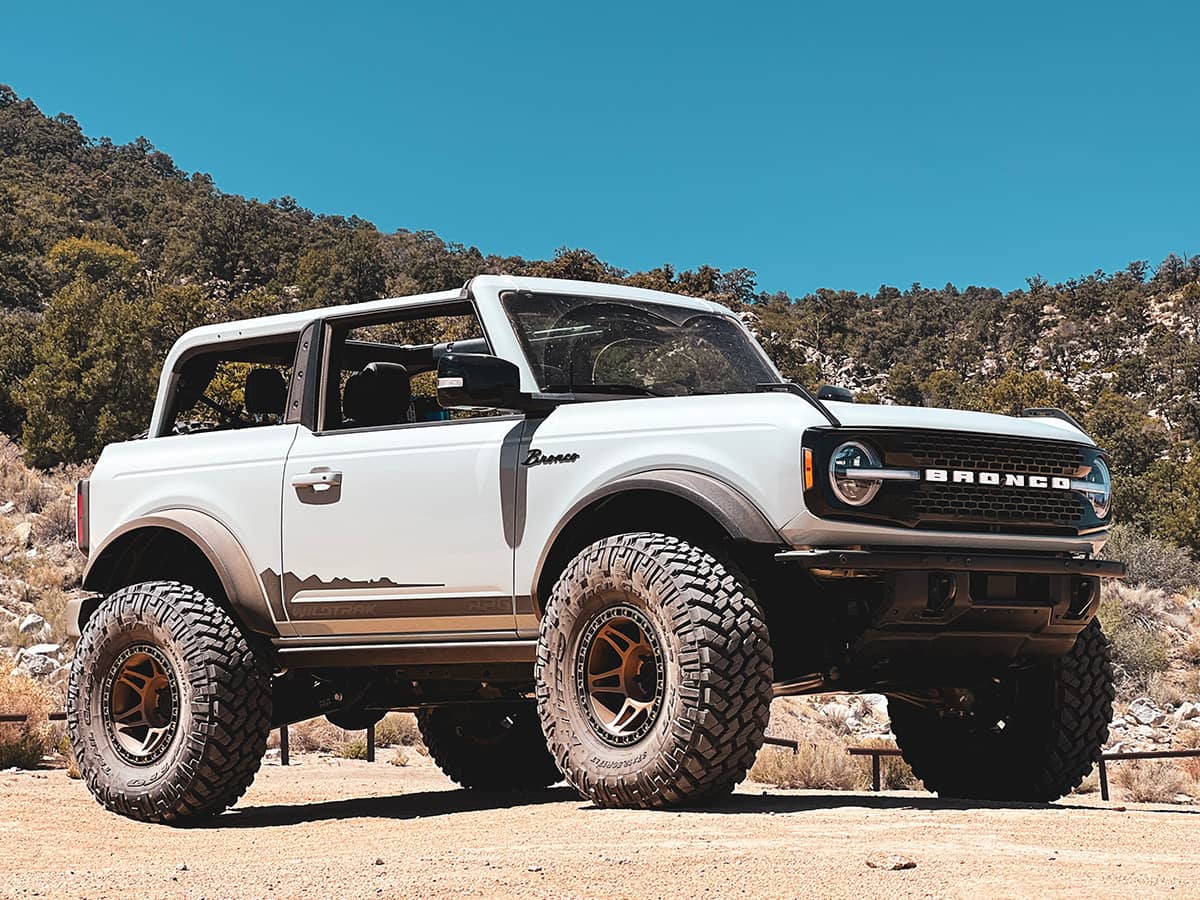 This move is perfect for both people that are new to offroading and those who don't want to deal with aftermarket upgrades(it does require knowledge, money and time anyway). But no matter how hard the Ford marketing team worked on optional equipment programs, the mod bug wouldn't stop car guys who want to tailor the look and performance of the new Broncos to their own liking.
One of such owners is Austin Berendes, from Rancho Cucamonga SoCal who picked this beautiful 2021 Ford Bronco Wild Trak as his next project and was kind enough to talk with us about the mods and modification process. Being an experienced Jeep guy, he decided to form his own opinion about this model and fairly compare it with the Wrangler that he used to modify and off-road for many years.
WILD TRAK™ Factory Off-road Features
35 inch tires
17" Beadlock capable wheels
Front and rear locking differentials
Bilstein position-sensitive monotube shocks
The Interview – Honest Feedback & Must-have Mods for the New Bronco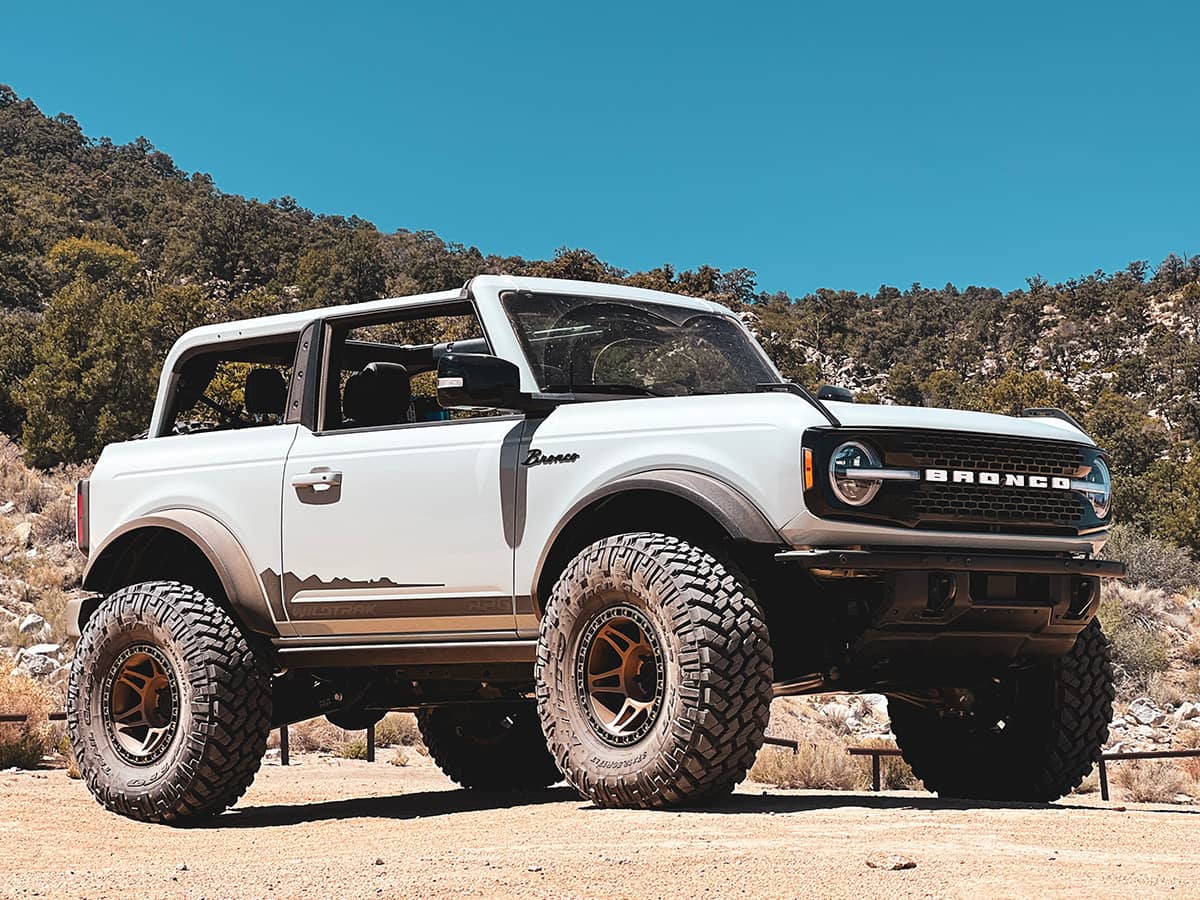 First steps in off-roading and living the Jeep Life
– I grew up off-roading with my dad out in Glamis and 4-wheeling out in the big dunes. I had a 450 for a while also out in Glamis. Then I moved up to Washington and didn't do any Offroading for a while, as I just couldn't afford it, but all my friends had Jeeps, and Toyotas and were always going up wheeling.
I wanted to join, so I saved up for a couple of years and was able to get myself a 2007 2-door Jeep from the car dealership where I worked at the time. It was all done up with bumpers, some steely wheels, and 315 all-terrain tires.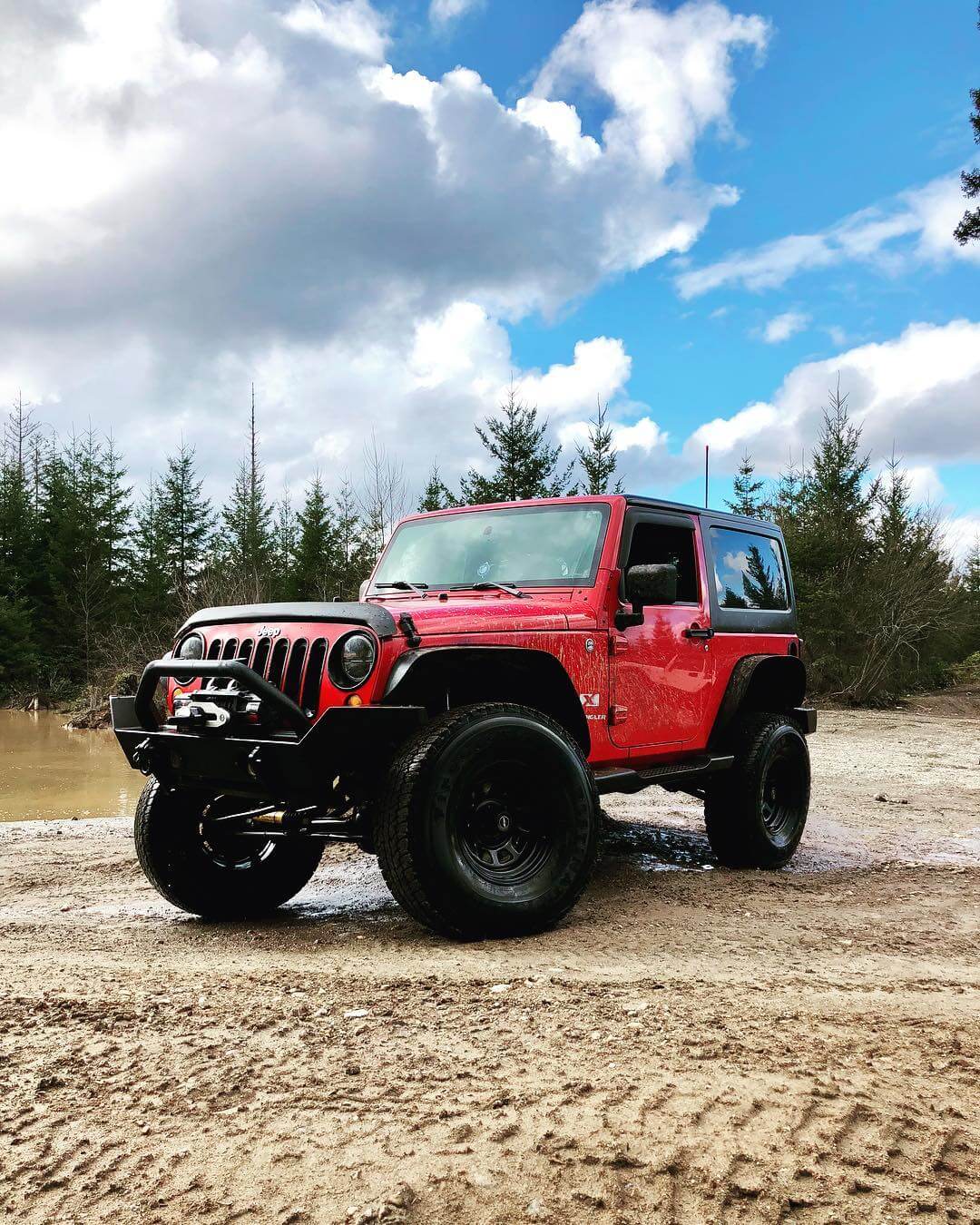 I took it up wheeling with the boys one day and was hooked…and then quickly became more broke, as I started buying lift kits and all kinds of stuff for it.
I've had that for about a year or so, and traded it in for a new 4-door JLU Rubicon…and that's where I really became broke, as I was hooked on Jeep life and bought all kinds of stuff for that thing. It ended up being on 40 inch Nitro Trail Grapplers, RV axel shafts, Metal Cloak Game Changer 6 pack lift kit, and a host of other things on that.
With my offroad journey in about 2 years, I had put 72k miles on it, then sold it to get the Bronco and started this build. I had sold the JLU to a buddy of mine that I would go wheeling with. It's always a cool thing when your build goes to someone, who is enjoying it as much as you did and treating it the same.
"I had already done the Jeep build and didn't want to do another one, since I probably would have just done all the same stuff."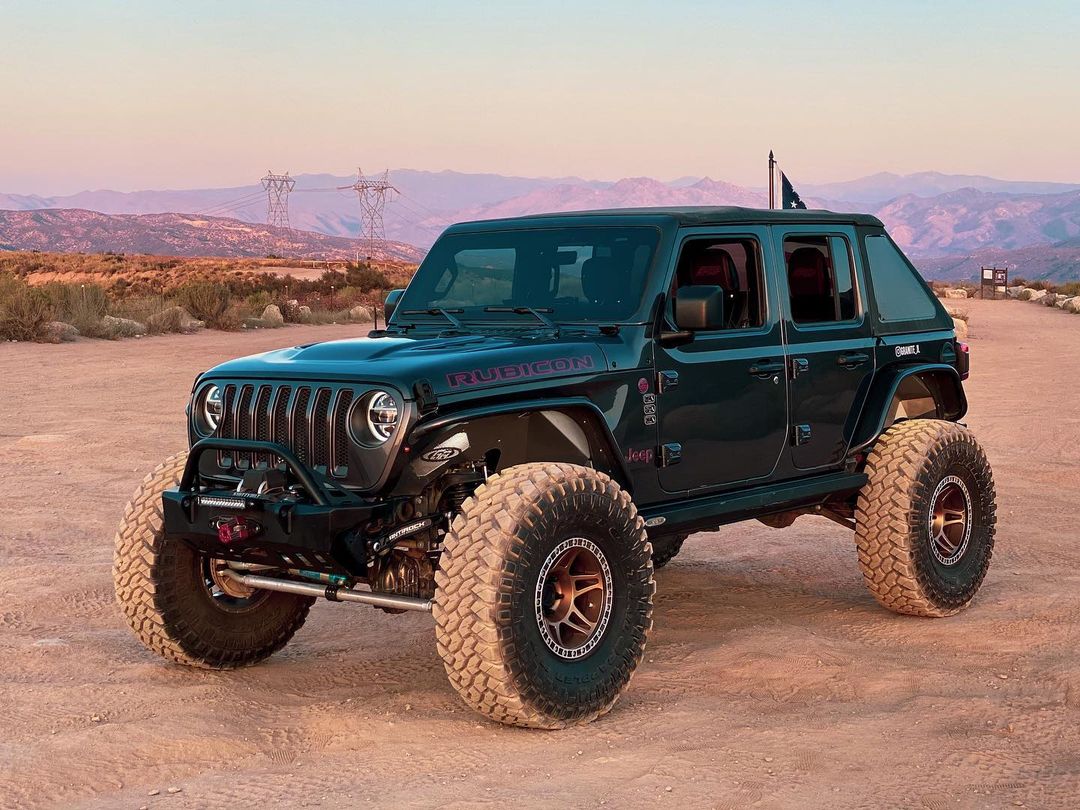 Long story short for this. I'm a commercial fleet manager at a Ford dealership, so I was able to get a Bronco quickly. I had already done the Jeep build and didn't want to do another one, since I probably would have just done all the same stuff. So I decided the new Bronco would be a cool new build, and I can give people an honest review, coming from a built-up Jeep Wrangler owner.
"So I decided the new Bronco would be a cool new build, and I can give people an honest review, coming from a built-up Jeep Wrangler owner."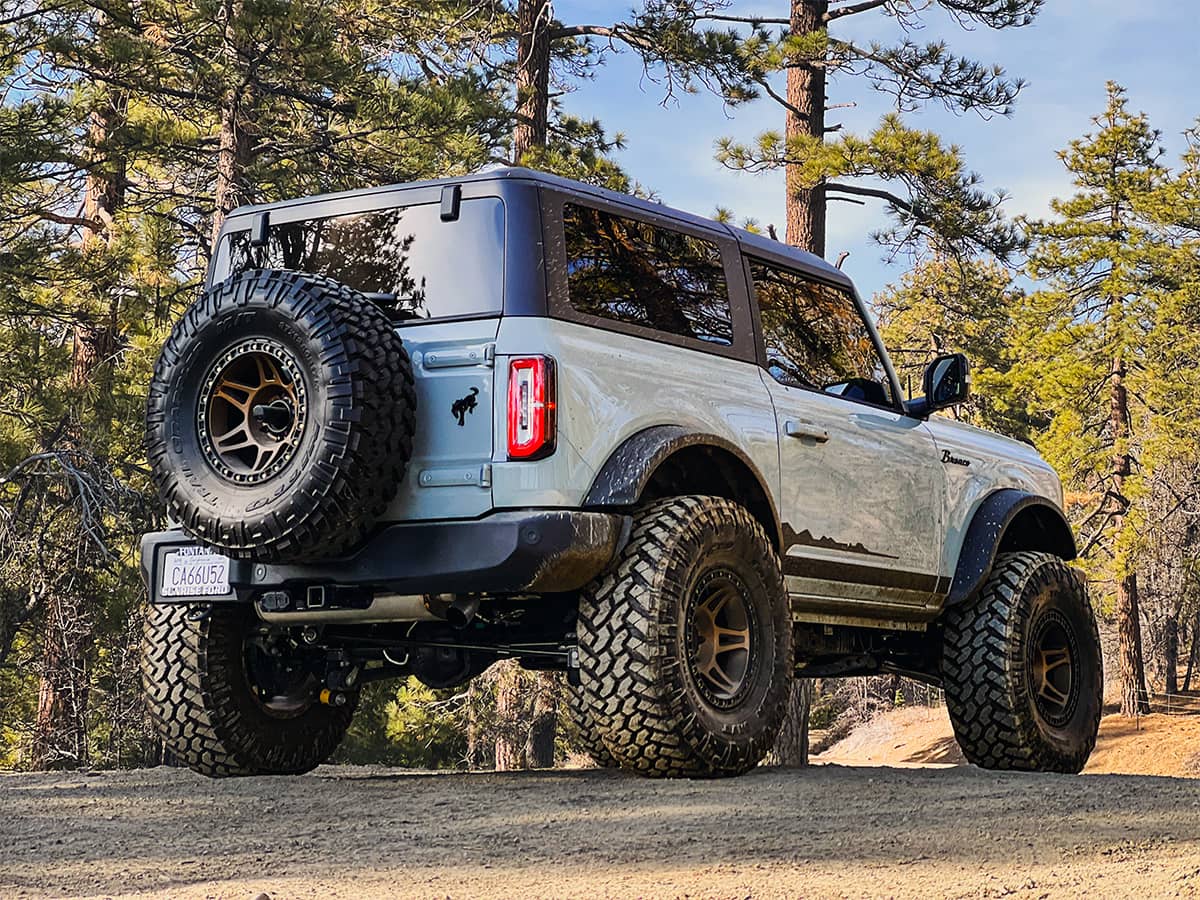 What inspired you to choose this modification style?
– This one is one that, probably, almost everyone that modifies their vehicles can understand…I did my research on all the different companies that had stuff out for the Bronco and hit up a couple of the people I knew in the companies that had made stuff for Jeeps to see if they were going to be coming out with something for the Broncos.
The Build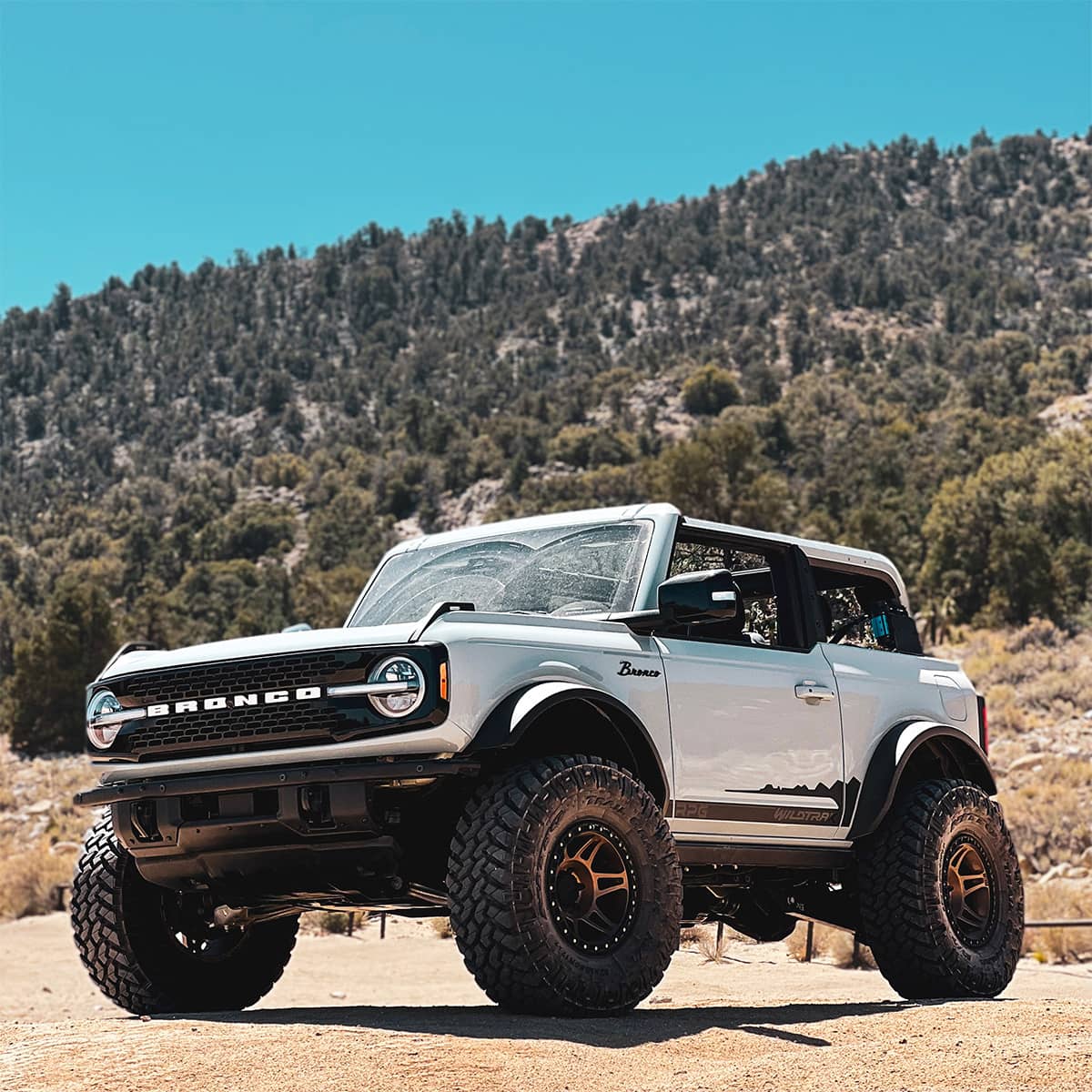 – Currently, all I have done to the motor is just a Vivid Racing plug and play tune, which honestly is pretty nice. With the audition of the Nitto 37s and Method beadlock wheels, it brings it back to feeling like stock power plus a little more.
I also am working with S&B filter on a cold air intake system more on that soon.
– For the suspension I am running, it's a little bit of a frankenlift…I started out with just the Zone Offroad 3-inch spacer lift since I was waiting for other companies to come out with some more lift kits. Quickly after getting it, RPG had come out with their system.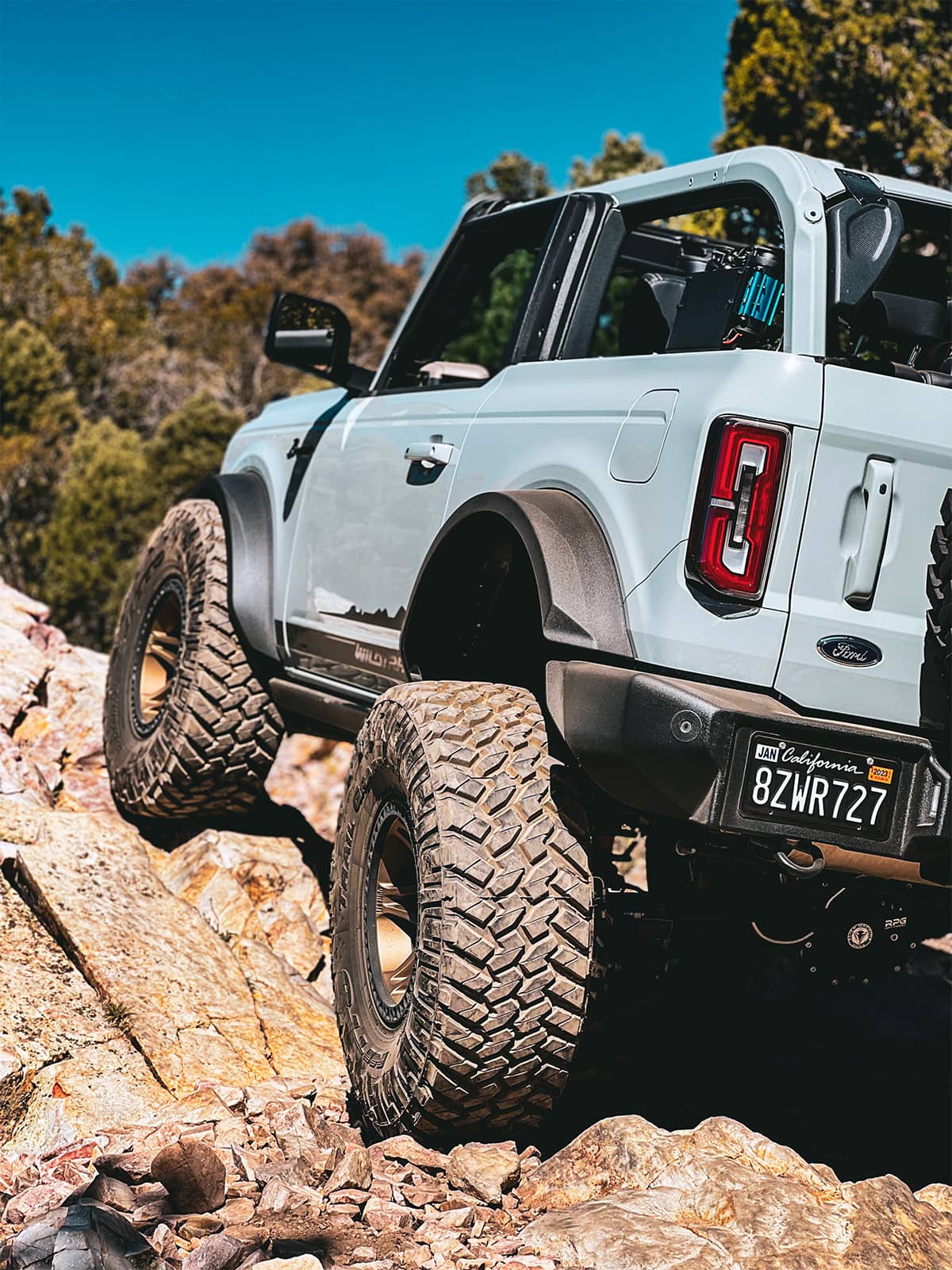 I was able to link up with RPG Off-road and buy a set of their billet aluminum black anodized fully adjustable A-arms, billet rear fully adjustable upper arms, and lower trailing arms. I do plan on going with Fox or King coilovers eventually, but as everyone knows, currently, they are impossible to get.
To back up a little with the addition of the Nitto Trail Grappler 37s and the Method 106 Beadlock wheels, it was an absolute must to upgrade the steering on these Broncos, since the tie rods are basically toothpicks. So I bought the RPG off-road full tie rod kit and the Broncobuster steering insert. Honestly, those 2 upgrades probably made the biggest difference in the way the bronco drives/handles.
When I first had the Bronco all stock, I had taken it out to Glamis to have some fun and the steering was all over the place and super loose to the point where I ran over a couple of bushes. Since getting tie rods and the insert, the steering feels much more responsive and direct. I need to plan another Glamis trip to see if I can now avoid some of those bushes.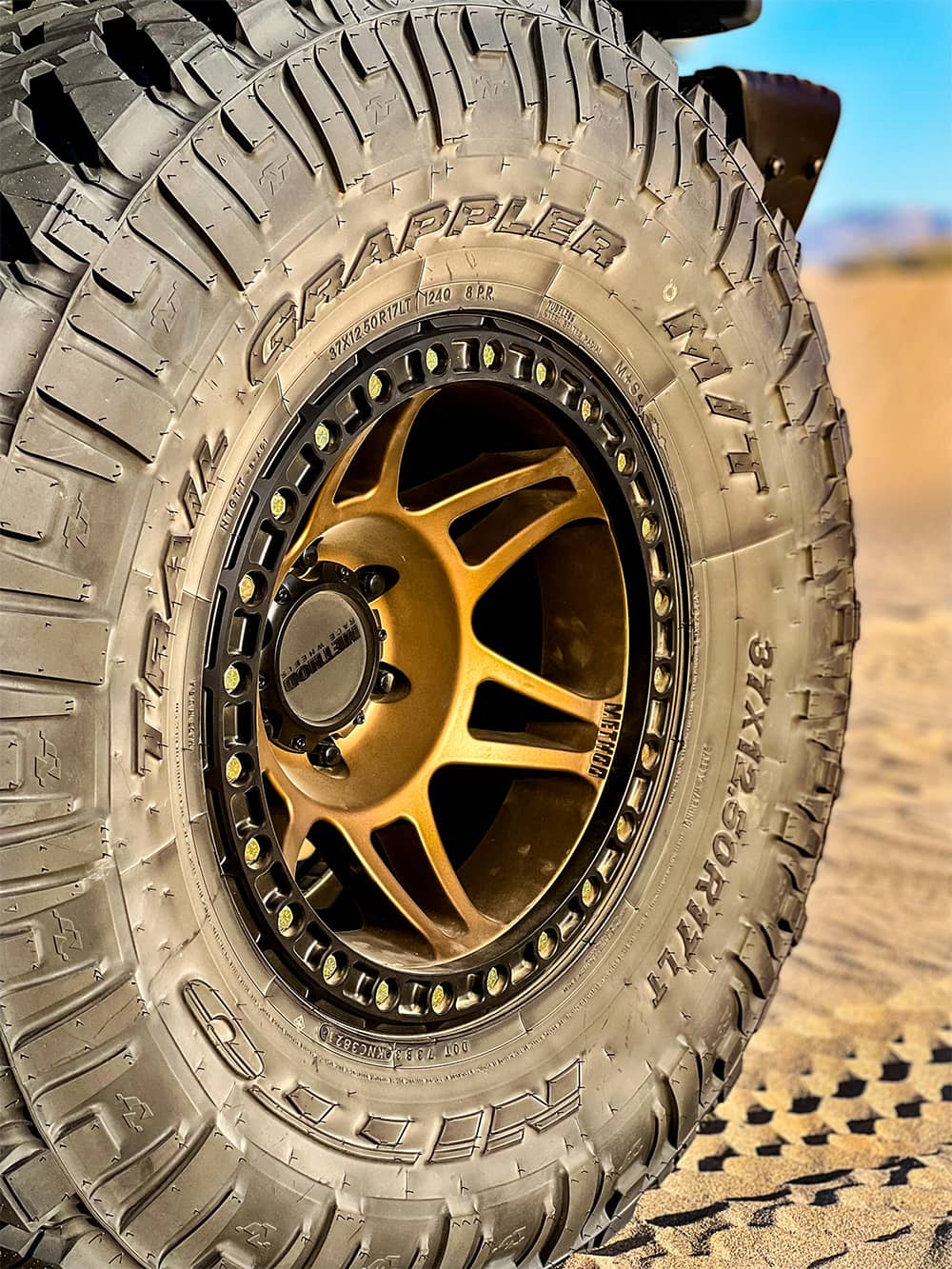 – For the wheels, I'm running a set of Method 106 deadlock wheels 18×9 -44 offset with 3.5 inch backspacing…they have the perfect amount of poke.
When I was on the hunt for wheels, I really wanted the method 106's but everyone kept telling me they won't fit due to aggressive offset. but I wanted deadlocks and I wanted these, so I said f**k, it lets send it and see how it goes.
I ended up picking them up and throwing them on with the stock wheels and stock suspension. I ran that for a little till the tires came in from Nitto, and to everyone's surprise, I had no rubbing issues whatsoever, and they looked sick! Still after getting the 37s and 3-inch lift kit on I have no rubbing.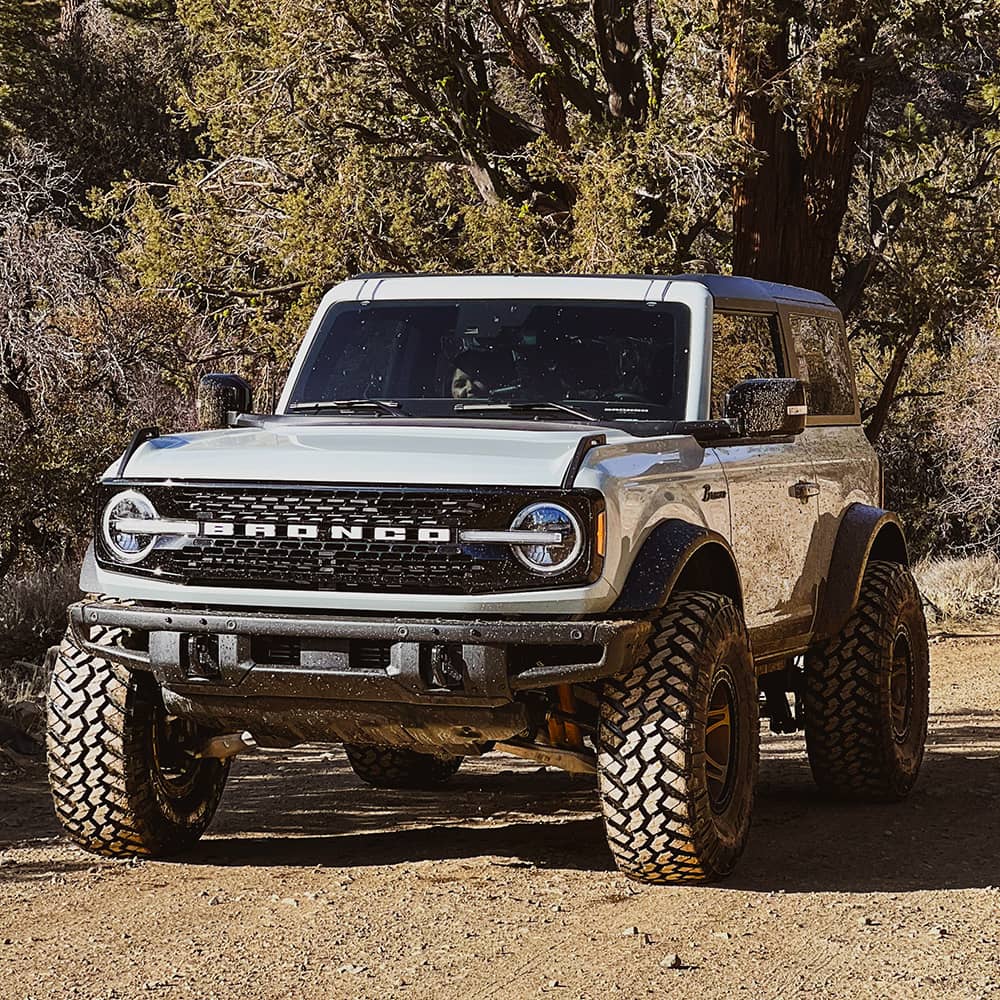 – Other than the wheels and tires I don't have much done to the outside. There are not many bumpers on the market that I personally like. I did just get a set of KC HiLights Slim Lights for the pillars, that I need to put on.
For the exterior, I have a lot of plans just simply waiting for the products to get shipped and/or come out. I plan on doing an Advanced Fiberglass Concepts 2- or 5-inch fender kit and their slot hood. From KC, I plan on doing a 50-inch light bar up top and a bumper-mounted 10-inch light bar, with Cyclone rock lights all around.
– For the interior, I have a set of custom leather seats, nothing too crazy on them. I just did black all around with tan stitching to match the dash and door air rest from the WildTrak. I also have a 67 Design phone mount which is a must. It's super clean and screws in right above the screen in the mount the Broncos have. I have a Gear Shades sunshade since I am topless pretty much 90% of the time now.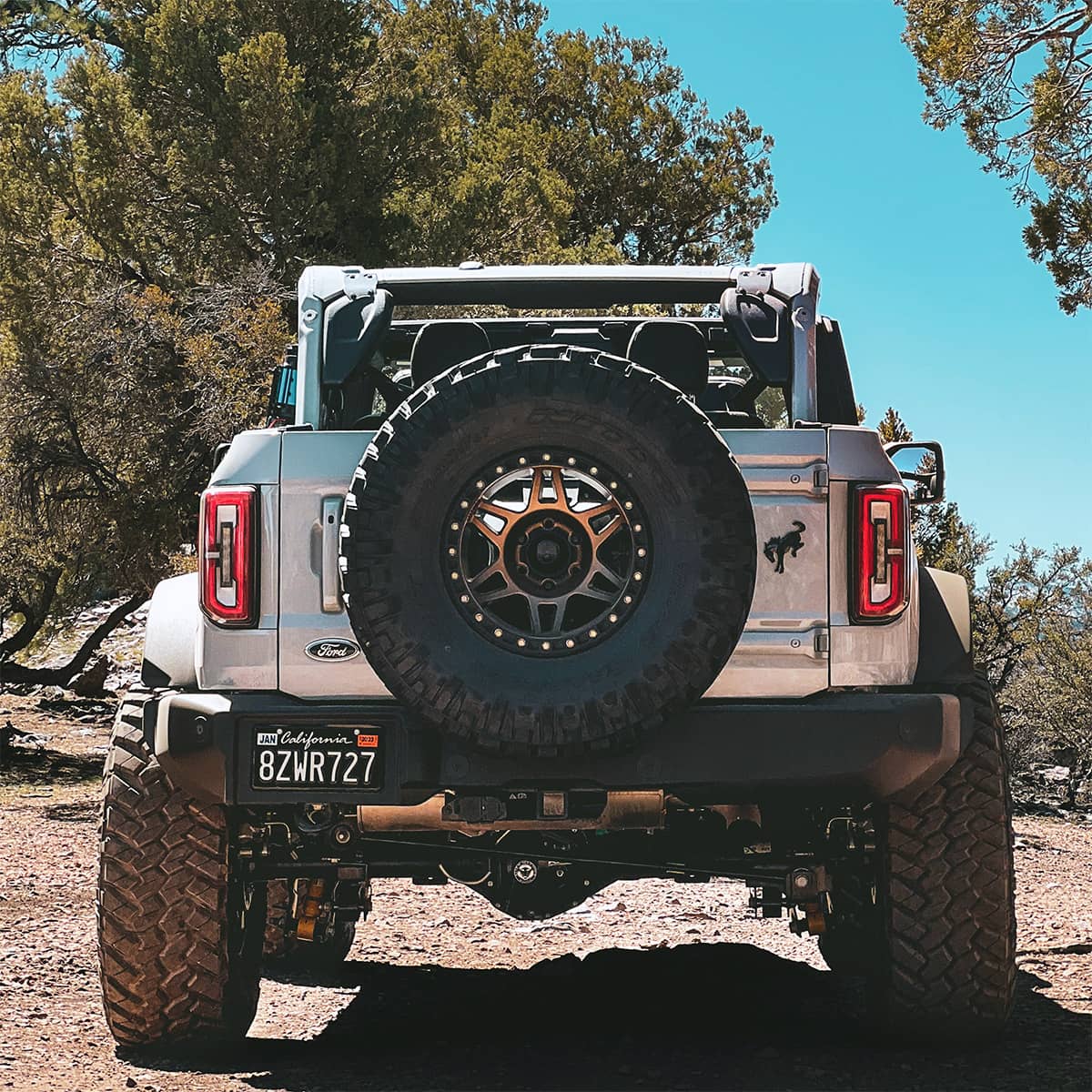 – Probably one of the most convenient things I have done is the Innovative AT Products 4 air up / air down system. I had this system on my Jeep and absolutely loved it, so naturally, I had to get it on the Bronco. Super cool system!
It has an ARB twin air compressor mounted in the back on the rail, where the hardtop is bolted in, and then plumbed in the pines and under the carpet to an outlet under the drivers and passengers seat where I can plug in my Y chuck to then plug into all 4 tires.
Super nice, since I can just use the ARB app to control it and set the pressure I want it to air down to and air up to. Also, I have RPGs rear diff billet diff cover which I have already put a scuff or 2 in.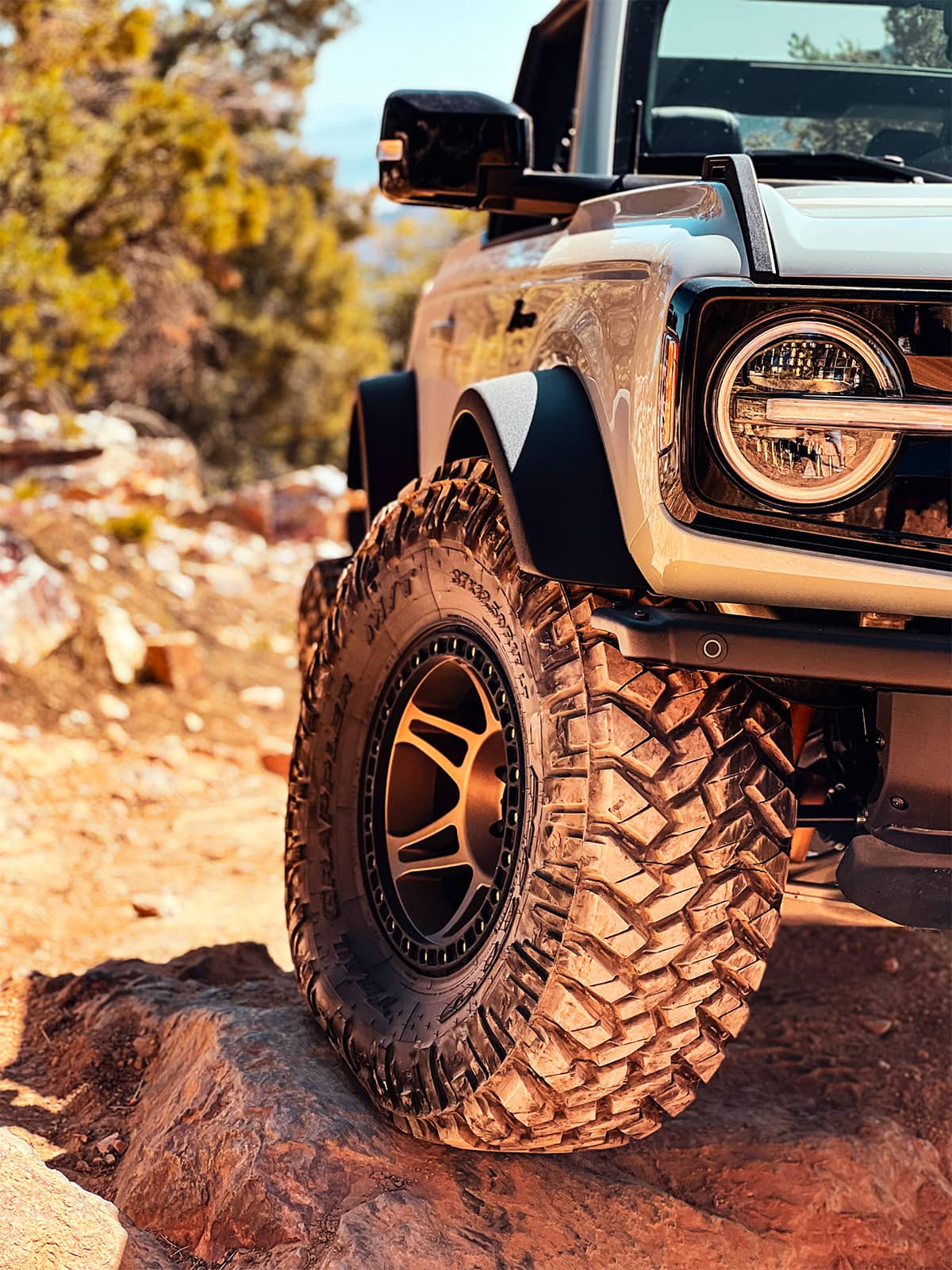 What challenges did you face while putting it together?
– It's still a work in progress as every build since no build is ever truly finished, but my biggest challenge currently is just product availability for the 2-door Bronco.
What do you love about your rig?
– How it looks and how it performs off-road, while also being like a Cadillac on the road.
Is it your daily or a weekend ride?
– Both daily and weekend whip.
Do you take it off-road? If so, where and how often?
– I mostly go up to Big Bear, as those are the closest 4×4 trails to me.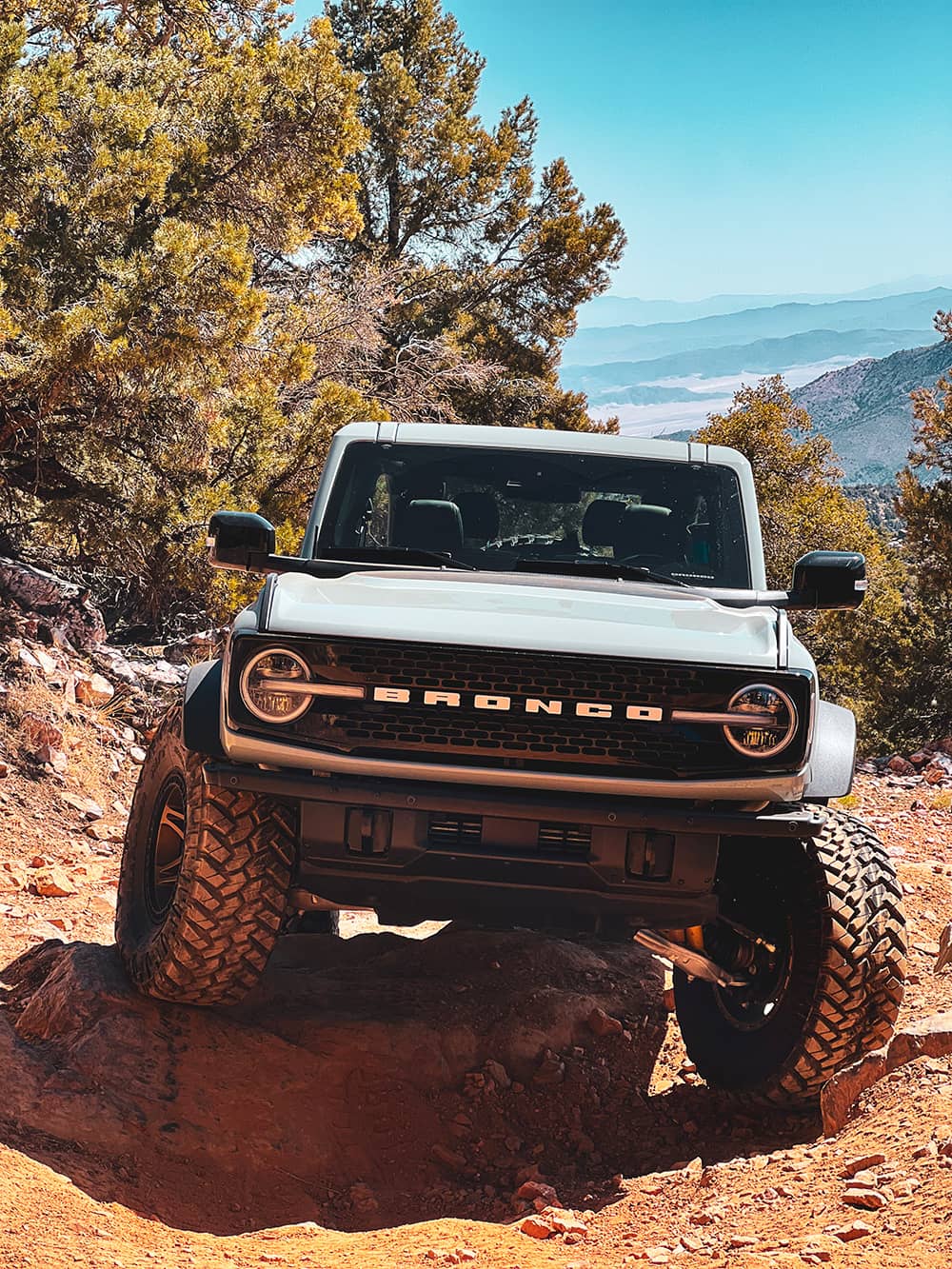 What are your future plans for this build?
Advanced fiberglass concepts slot hood and either 2 or 5-inch fender flare kit
King or Fox coilovers
Bumpers front and rear (when I see some come out that I like)
KC HiLights cyclone rock lights their 50inch Gravity Pro 6 light bar and some lights on the bumper
Rock Slide Engineering side steps.
that's it. Just keeping it simple and clean.
My motto with builds has always been to keep it simple and clean. I always see some of these builds and they are just way too overdone to the point, where what you built it for is either too expensive that you don't want to wheel it, or it's just not good at doing those things…
For my builds, I try and keep it budget-friendly and show that you don't need much to have a good time, and you really do not need to do much, to make a really killer-looking build – clean and simple!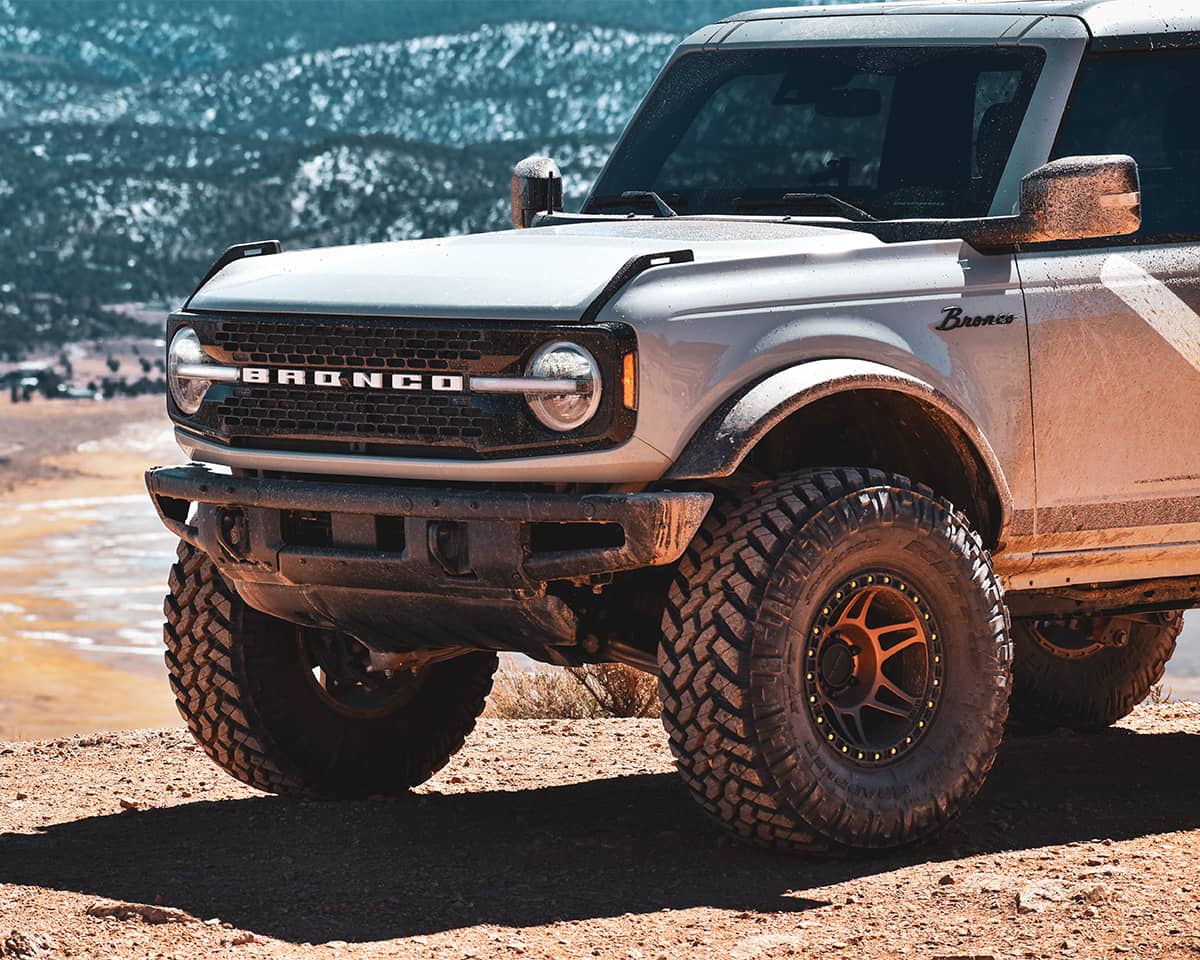 "The New Ford Bronco has made its way into the top of our Best Modern Off Road SUV comparison chart and proudly scored 151.5 points overall according our evaluation tests".
Conclusion
The new Bronco is straight awesome. Ford's marketing team and their high-class engineers did a great job at addressing the needs of modern drivers in the best way possible. The Bronco outperforms the competition at various levels and becomes a vehicle of choice for many off-road enthusiasts throughout the country.
"Now there's a new Bronco and history is repeating itself. Once again the Bronco is a great-looking simple, elegant piece of the industrial design. Once again it has removable doors, a removable roof, and class-leading horsepower. A look at the spec sheet shows that it poos all over today's Jeep Wrangler in almost every off-road metric: ground clearance, break over, water fording depth, departure angle, and so on." – Hagerty
If you have the experience of modifying your vehicles, it absolutely makes sense to get a more affordable package and maximize it's capabilities with the help of the aftermarket parts, which I am 100% sure will soon become available on the aftermarket. To maximize the off-road potential of your build we recommend choosing the Sasquatch package that features vital front and rear lockers.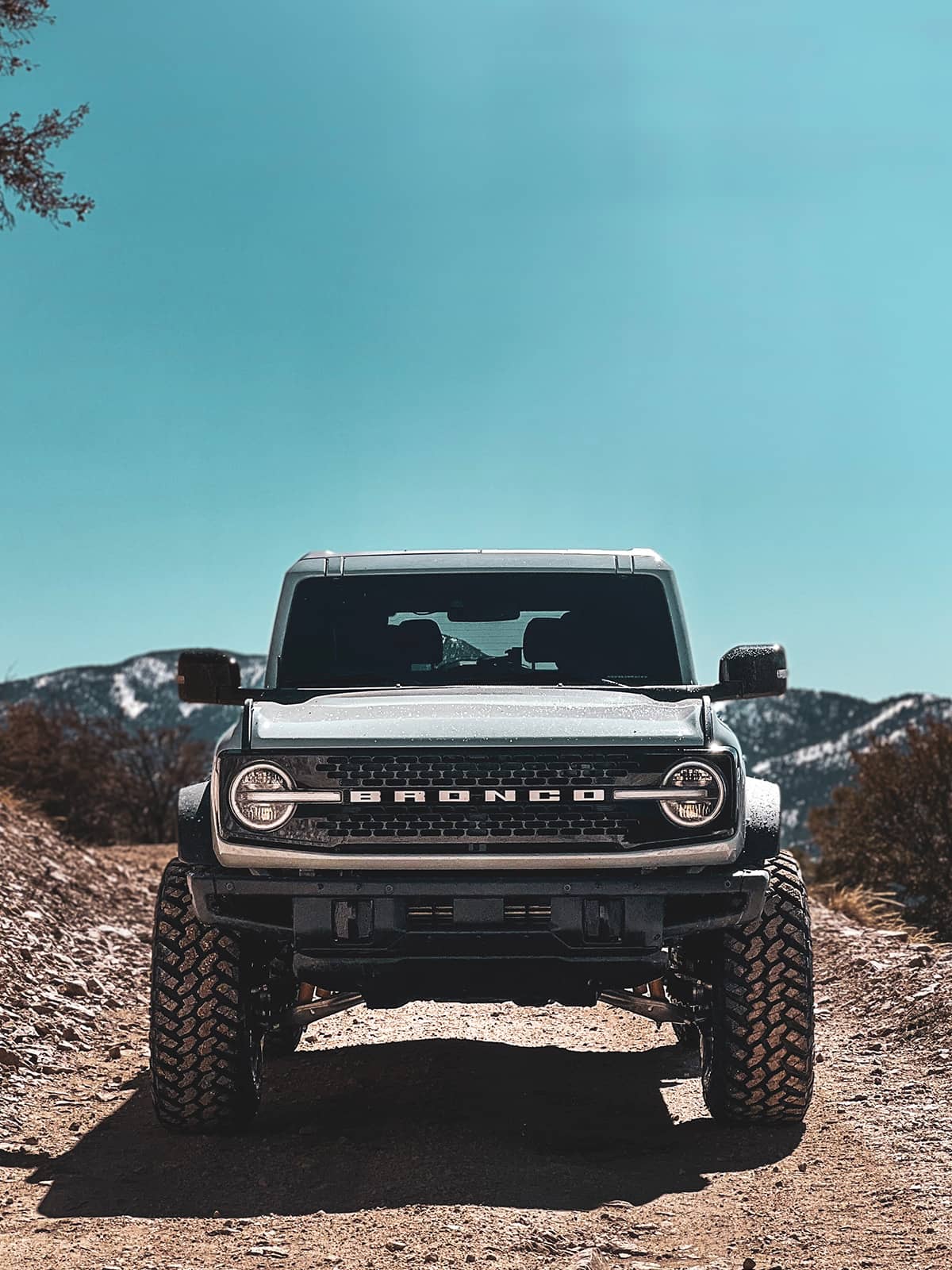 Watch the progress and find out more about this Ford Bronco WildTrak project by visiting the Instagram profile of the owner: @austin_berendes!
Stay tuned for more project reviews on Offroadium.com – Follow us on social media, and share this write-up if you enjoyed reading it!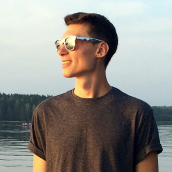 Matt Grabli
Matt brings over a decade of automotive expertise to his role as staff writer and editor at Offroadium.com. With an enduring passion for the off-road vehicles and adventures, he is devoted to creating interesting content that equips 4x4 enthusiasts with the knowledge to improve their rigs.