Meet the FJ Reaper – Blacked Out Toyota FJ Cruiser With Mid Travel Suspension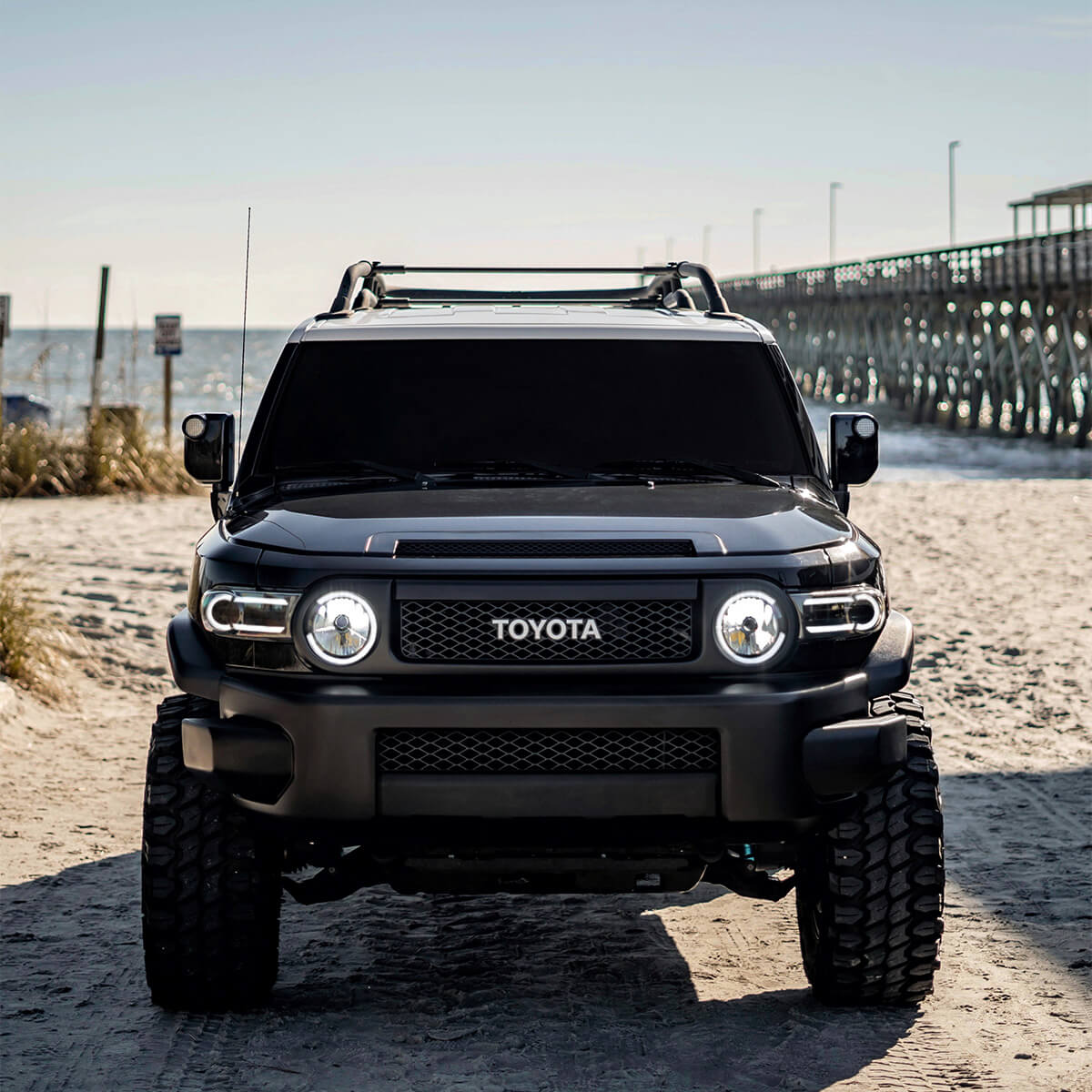 Paying homage to the original Toyota FJ40, the FJ Cruiser, introduced to the market in 2006, features a boxy design and round, very close-set headlights for such a wide-bodied vehicle. This gives the SUV a unique, distinctive look, which attracted tens of thousands of buyers in the U.S. from 2006 until 2014.
t's not the most versatile vehicle on the road, but if you want to test its capabilities off the beaten path, you will surely be impressed. Extreme off-road trails – that's where the FJ Cruiser really shines. Even the stock suspension setup has enough articulation to allow the vehicle to effortlessly crawl over boulders and logs.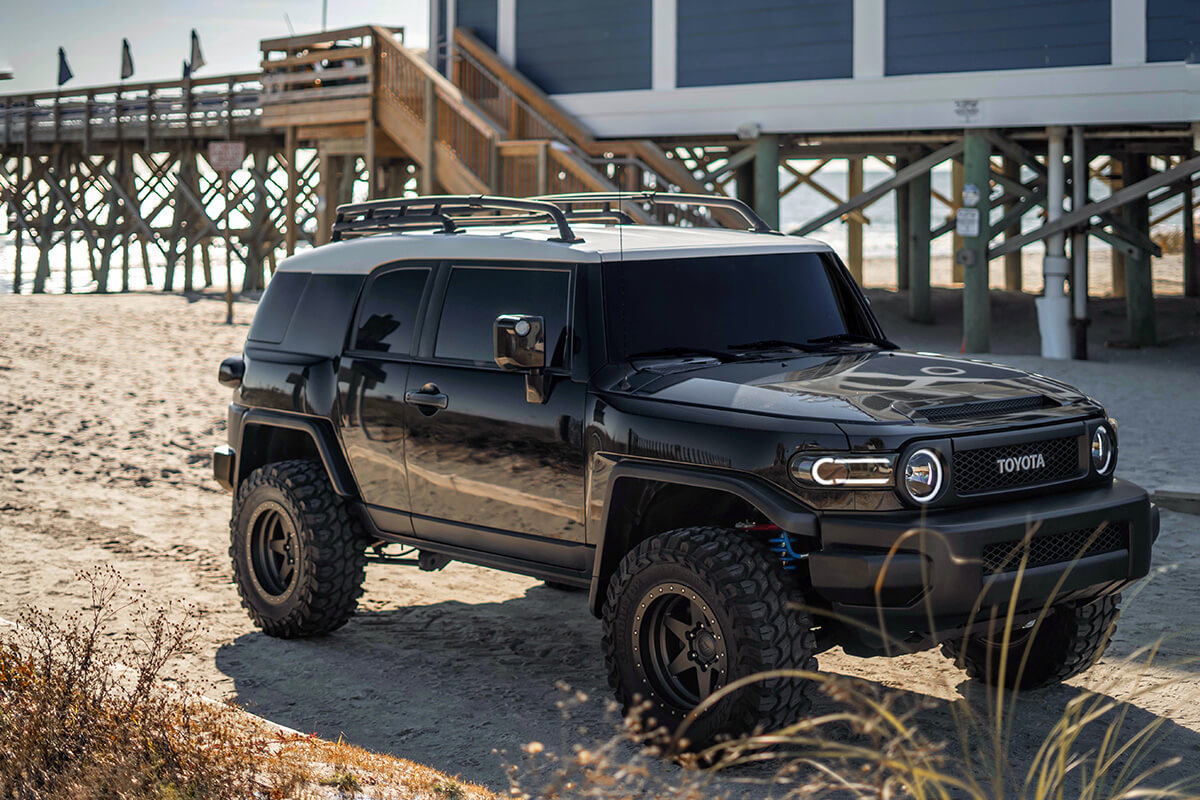 Driving comfort and reliability, the look that doesn't blend in – these were the main reasons why Tom Segura from North Carolina has traded his 2019 4Runner TRD for the FJ Cruiser in April 2020. And the first thing he did is installed new LED lights front and back and blacked out all silver exterior parts: the grille, bumper inserts, mirrors, and door handles to make it look even more unique and aggressive.
The suspension lift and custom wheels wrapped in mud-terrain tires complete the picture and make the truck even more capable off-road. We feel that this is just the beginning of this vehicle's modification journey. We will keep a close eye on Tom's FJ Reaper project.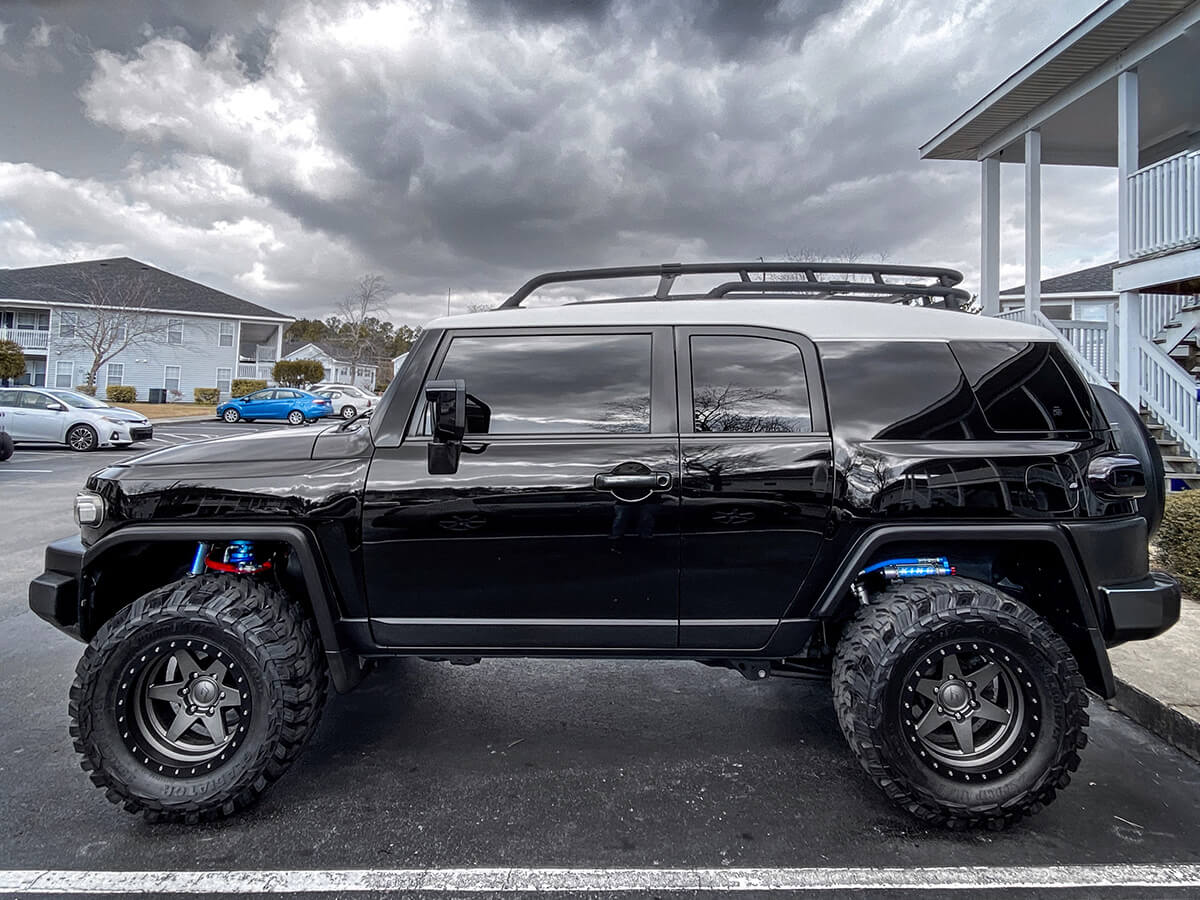 How did you become interested in off-roading?
– I've always liked trucks/cars growing up and when I got my first vehicle back in high school I went mud riding with some friends and I got hooked. After that I took my truck (2005 Nissan Xterra at the time) on trails almost every day after school both for the fun of riding and also to see new places/photograph. (I'm also into photography)
Why did you choose this particular model for your project?
– Reliability, uniqueness, rarity (compared the things like Jeeps, trucks, etc), quirkiness, and the flat out capability of the FJ. I like to stand out and the FJ does that. They also hold incredible value and will never leave you stranded all while having the ability to take you pretty much anywhere you could ever want to go!
What inspired you to choose this modification style?
– I've always been into pre-runners and been interested in high speed off roading but with long travel being on the pricey side, I could not quite justify spending so much on a (at the time) daily driver, so I decided to go with a mid travel setup. But I did stick with an extended travel coilover/shock with compression adjustability that way I can do some higher speed stuff if I feel like it.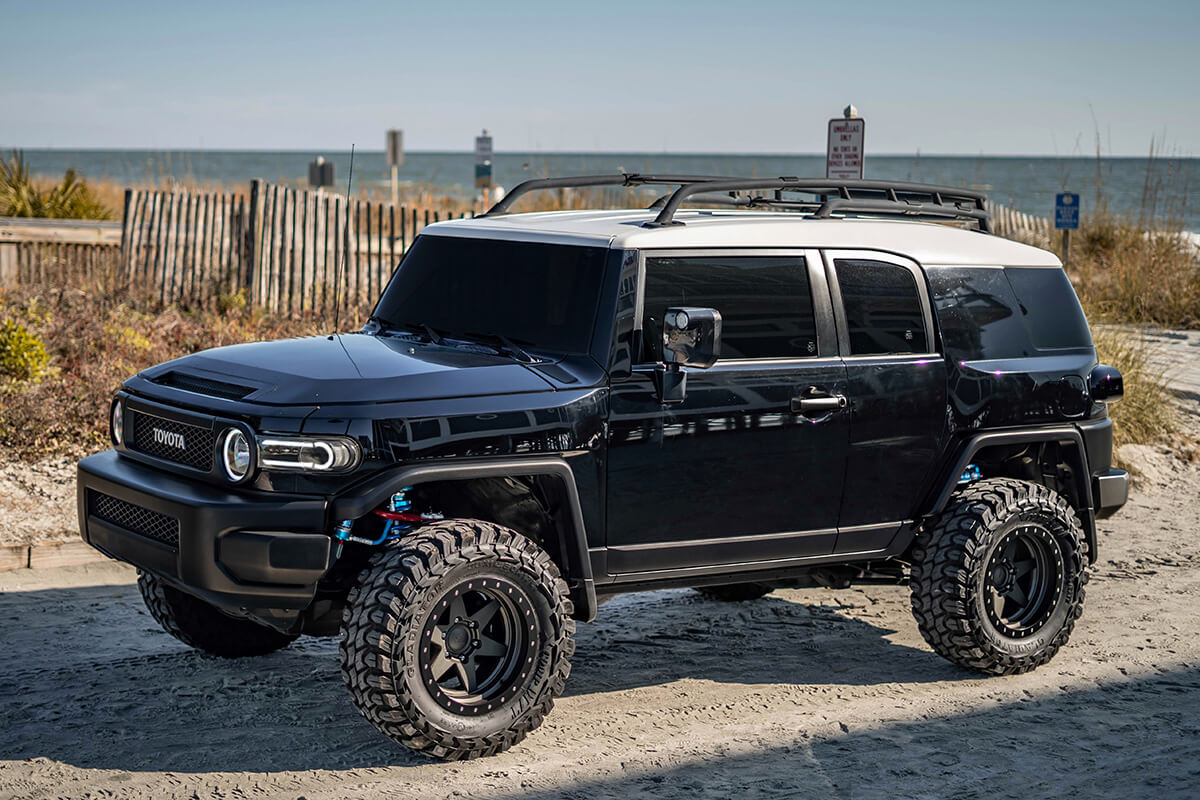 What challenges did you face while putting it together?
– The only real challenge was getting the specs right. Ordering suspension that fits the specs and needs that I was trying to achieve along with the right wheel offset/tire size that both looks and performs the part. Forums were my best friend for that!
What do you love about your vehicle?
– It's super unique, capable, reliable, and it's just "me". Most FJ's are different from one another because each owner has their own style and needs and I like that.
Is it your daily or a weekend ride?
– It started as my daily but now it's more of my toy. It's great for both applications aside from gas mileage!
Do you take it off road? If so, where and how often?
– I don't as much as I would like to. I bought it shortly after moving to NC so I don't know all the places like I did before moving. Mostly just trips to the beach as of now.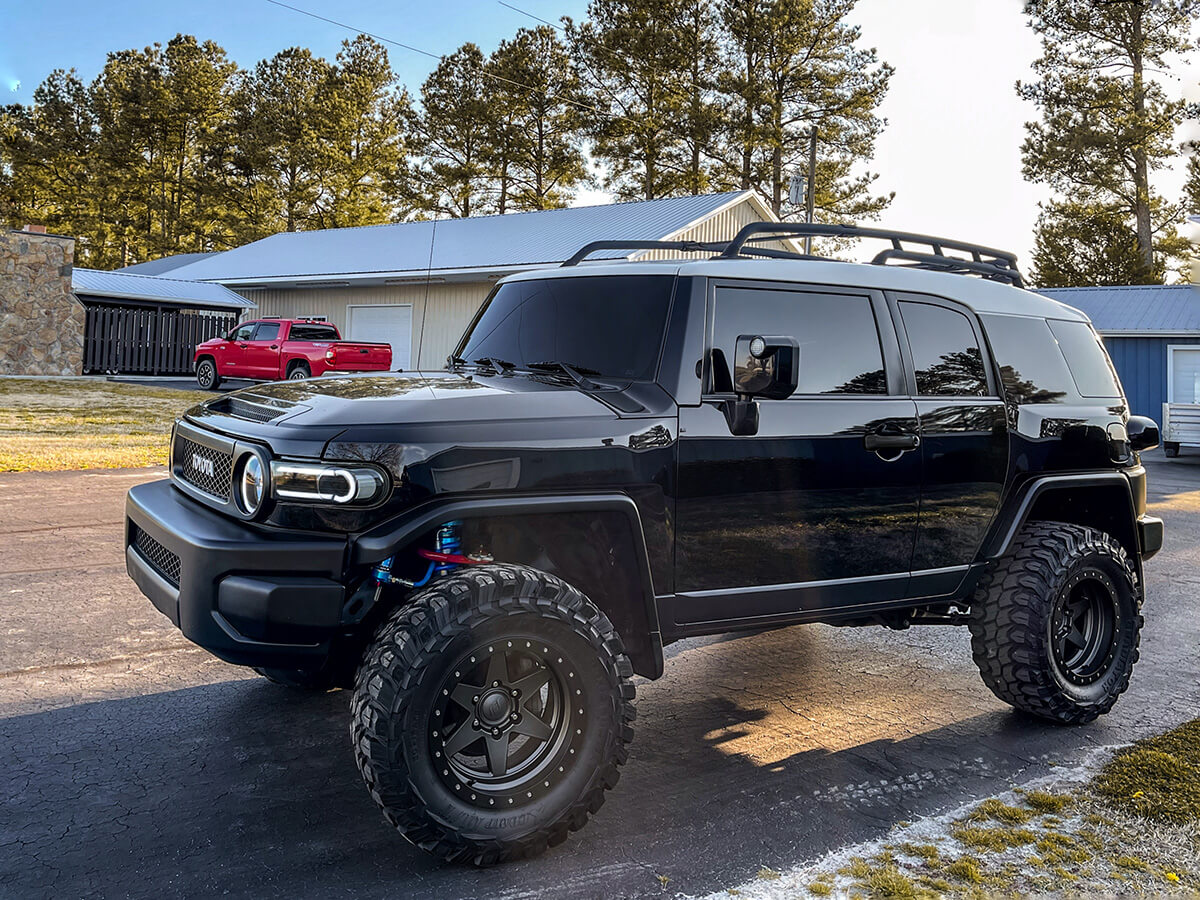 "A Toyota FJ-Cruiser has made its way into the list of 15 Best Off Road SUVs of All Times and proudly scored 121.6 points overall according our evaluation tests".
2010 Toyota FJ Cruiser Specs
Engine specs, modifications
– 4.0L V6 (updated 5th gen 4Runner Version) bone stock
Lift height and suspension modifications
– 3-3.5" of lift from adjustable King reservoir coilovers with compression adjusters
– JBA upper control arms in the front
– King reservoir shocks with compression adjusters in the rear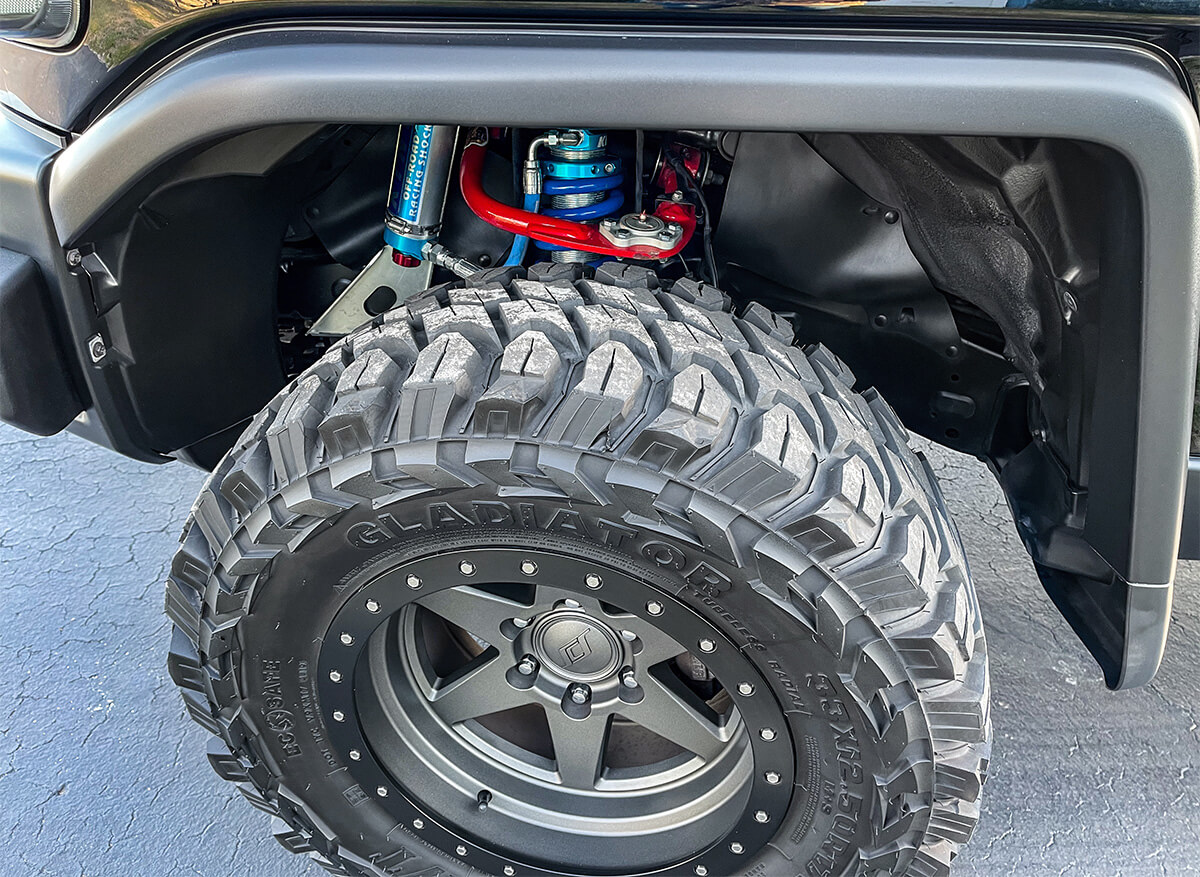 Wheel specs
– 17×9" -38 Stealth Custom Series BR6 in black with gunmetal grey spokes
– 33/12.50r17 Gladiator X-Comp MT tires
Exterior mods
– OEM black trail teams edition grille, Lumen LED headlights, Auxbeam LED's, new OEM smoked tail lights, and blacked out bumper fins/silver accents
Interior mods
– Interior is bone stock so far as I haven't even had the truck for a year yet so it's a work in progress!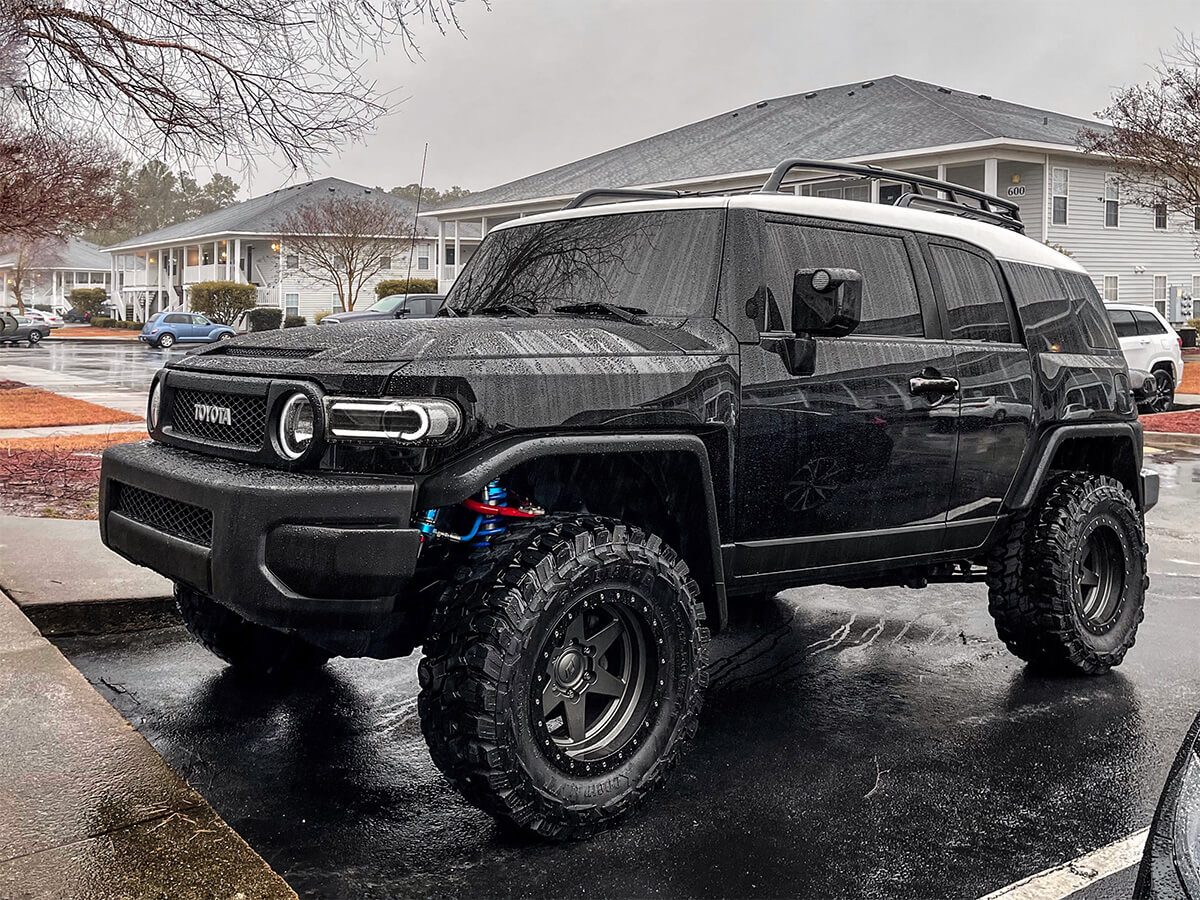 What are your future plans about this vehicle?
– I plan to do a body mount chop for tire clearance along with front and rear armor. Other than that, I've really taken it as far as I planned. I may also do more cosmetics like color matching the roof and such
Anything else you would like to share about your vehicle or about the off-roading in general?
– I think I've covered it. I've had 17 vehicles the last few years (I like to buy, build, then sell a lot) and I got to say the FJ is different. I love it differently than anything else and it's definitely one of my favorites!
Watch the progress and find out more about this Toyota FJ-Cruiser project by visiting the Instagram profile of the owner: @fj.reaper!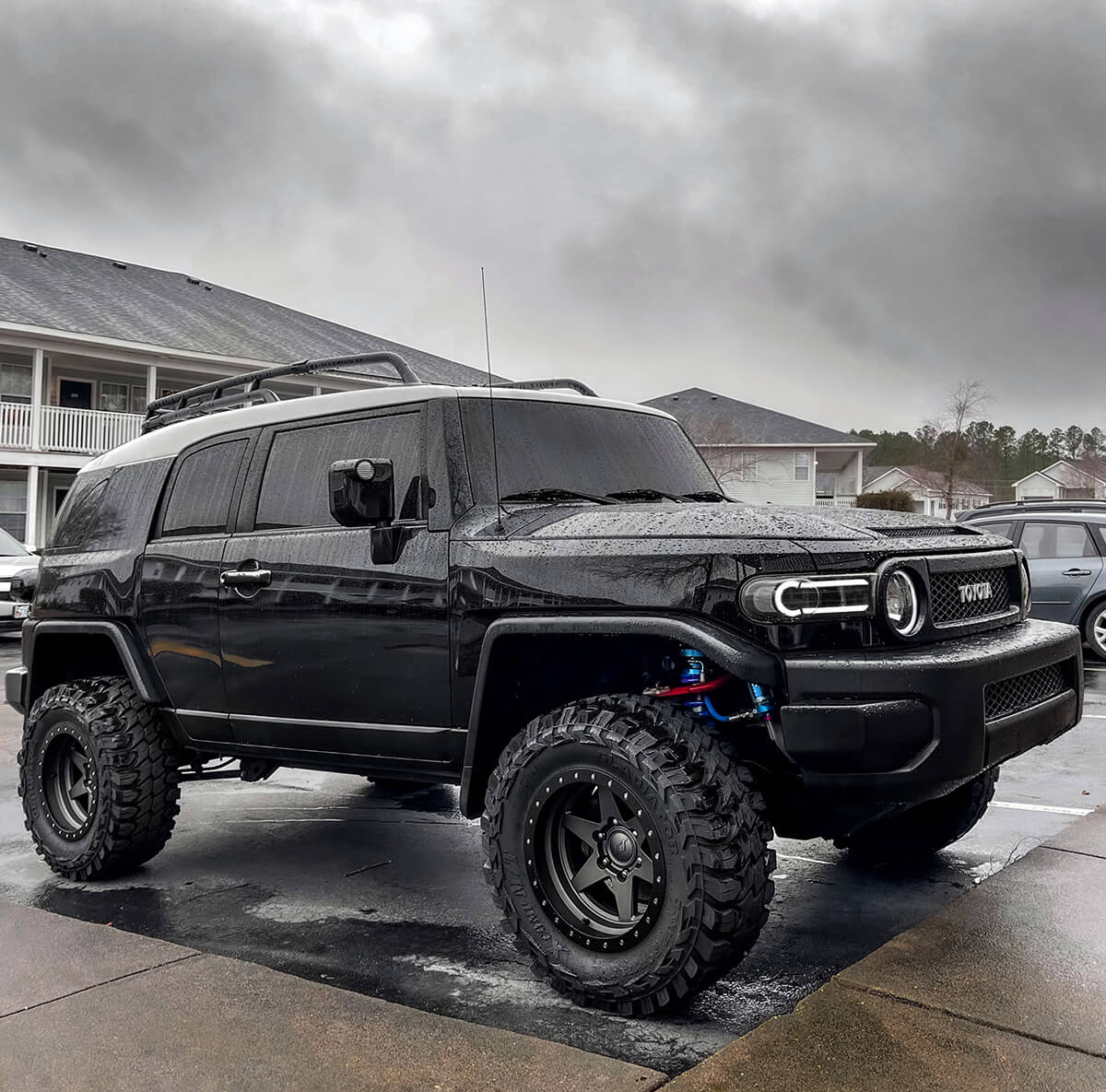 Related Parts & Mods
– Inspired by this Toyota FJ-Cruiser build and looking to prepare your own SUV for off-road adventures? Some parts used on this vehicle were sourced from custom shops or custom made, but our team has put together a list of products and accessories available online that may help you to achieve similar results:
Lift Kit
Body Armor
Roof Rack
Roof Top Tent
Awning
Lights
*Before ordering any part or accessory, it is recommended that you verify its fitment with a qualified professional and/or seller. We are not responsible for fitment or other issues that may arise from using the products featured on our website.
Stay tuned for more project reviews on Offroadium.com – Follow us on social media, and share this write-up if you enjoyed reading it!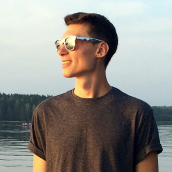 Matt Grabli
Automotive journalist and technical writer at Offroadium.com with more than 10 years of experience in the sphere of aftermarket parts and 4×4 vehicle modifications. Passionate about off-roading, outdoor adventures, and an active lifestyle.