Small Lifted Jeep Renegade For Big Overland & Off-road Adventures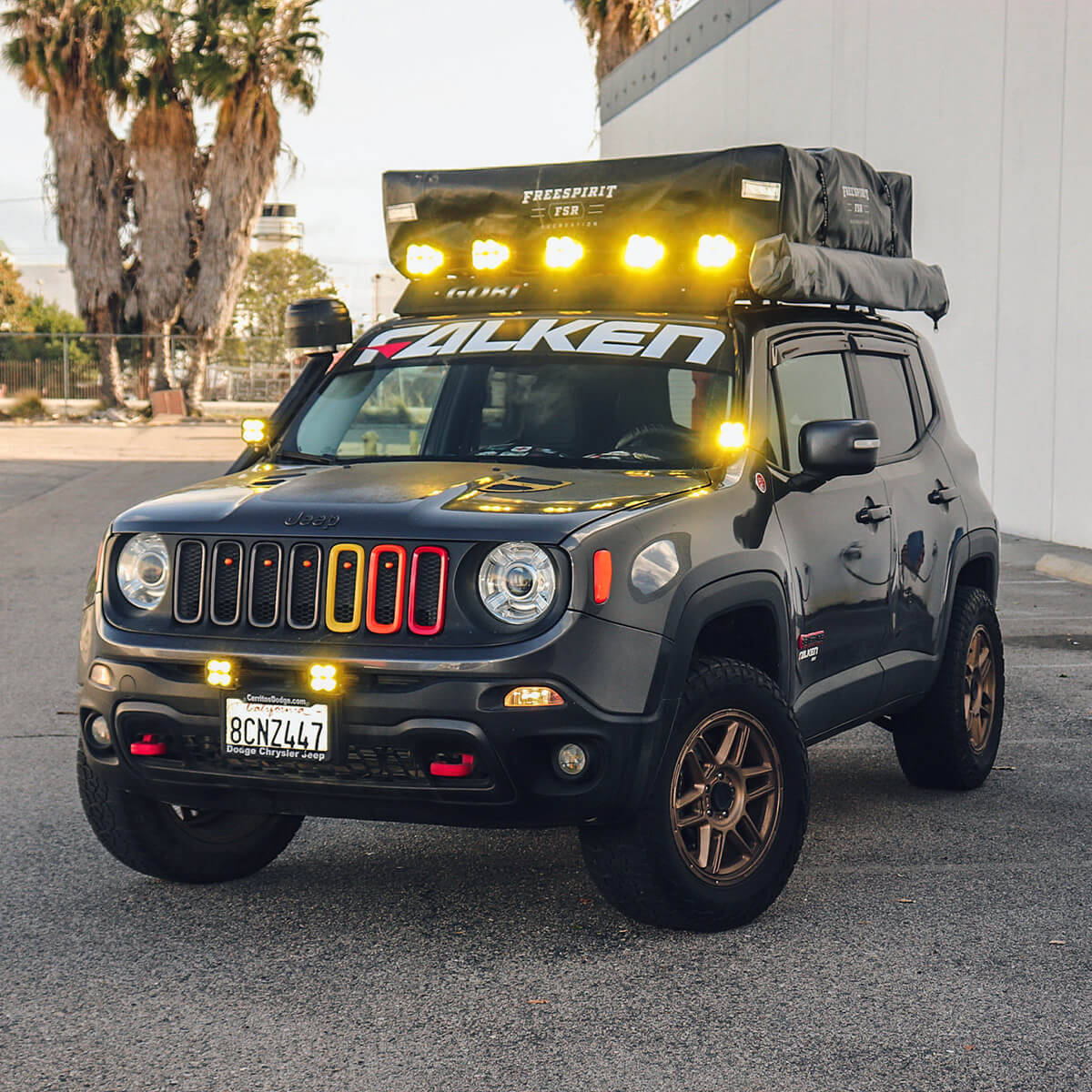 The Jeep Renegade was one of the coolest vehicles introduced to the market in 2015. Its signature tail lights with an X-shaped design resemble an indentation that you can find on old gas cans typically mounted at the back of WWII-era Jeeps. This compact crossover SUV has a classic boxy Jeep look, and its Trailhawk version comes off-road-ready from the factory. That was the vehicle of choice for David Gonzalez from Bellflower California. His love for Jeeps and trail riding materialized in this small but very capable rig.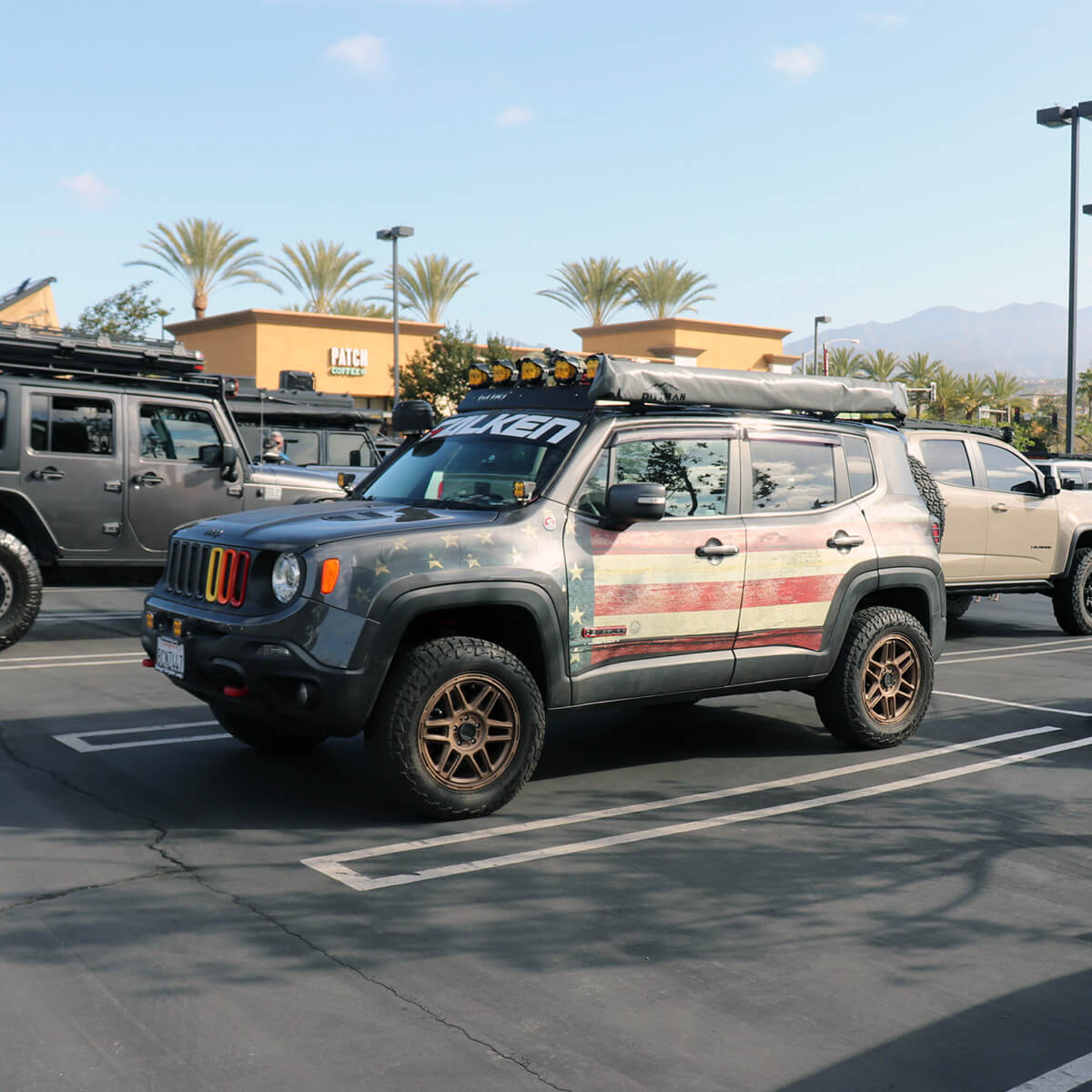 It was already equipped with off-road suspension and underbody skid plates. The interior was made more rugged, and the Jeep Selec-terrain traction control system allows for choosing the right mode depending on the conditions.
David did a great job upgrading the vehicle so that it could meet his needs better. The suspension was lifted to accommodate the larger wheel and tire combo. The lack of cargo space was compensated with a sturdy roof rack system that can hold a rooftop tent. With a nice tall snorkel, river crossings became much safer and easier. But we liked the rally-style lighting setup the most. At the time we were writing this, David has already decided to trade his car, but for a good reason. His daughter was born, so he needed something roomier, something like the Jeep Rubicon 4xe. Hope to see his new build soon.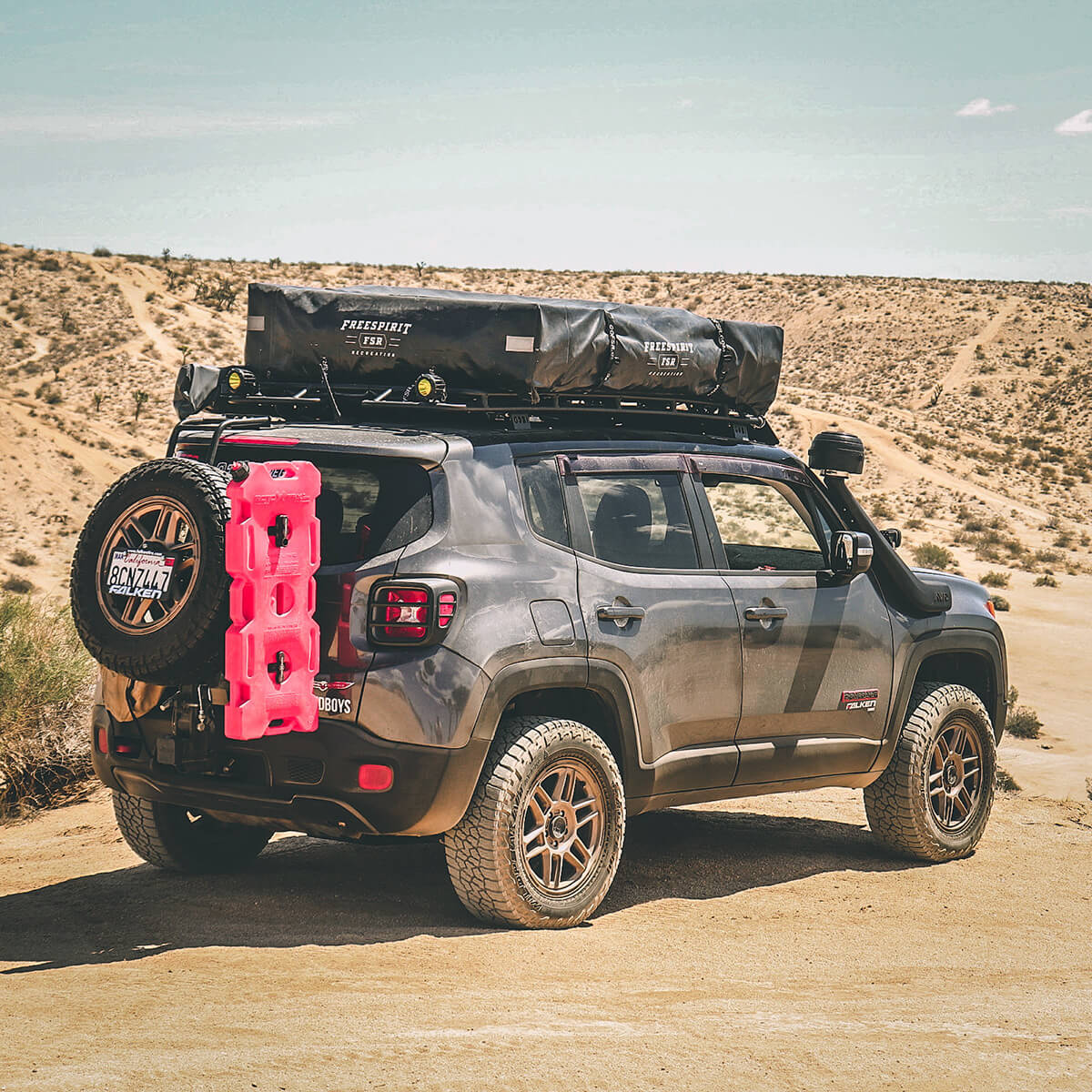 How did you become interested in off-roading?
– Always liked spending time outdoors from hunting to fishing with my dad and brother from a very young age liked the thought of going out into the secluded areas where no one can bother you.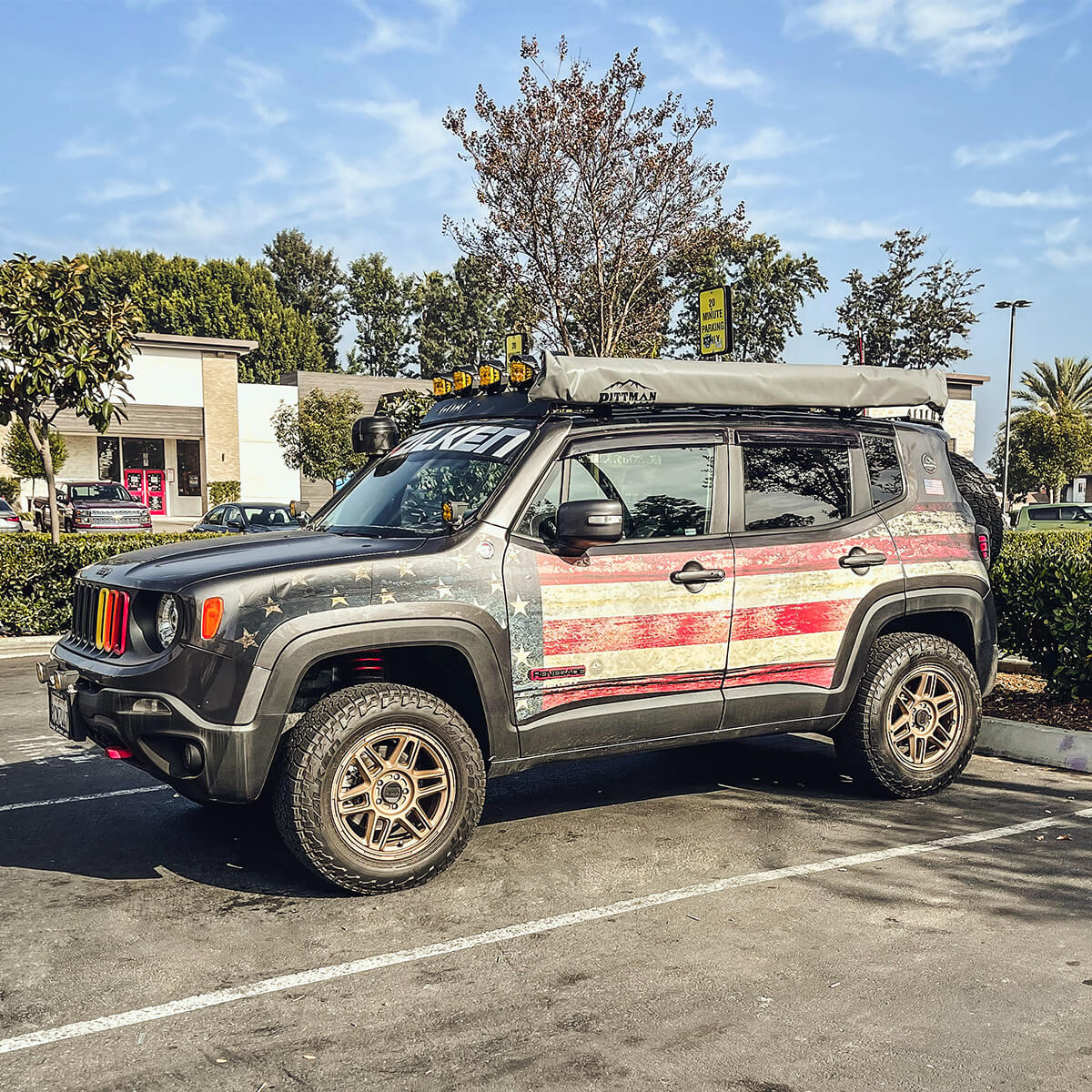 Why did you choose this particular model for your project?
– It honestly seemed like a really cool concept of a small rig with big capabilities on and off-road.
What inspired you to choose this modification style?
– I really liked the Baja style with like a safari jungle type look and wanted to realize that look in a small package.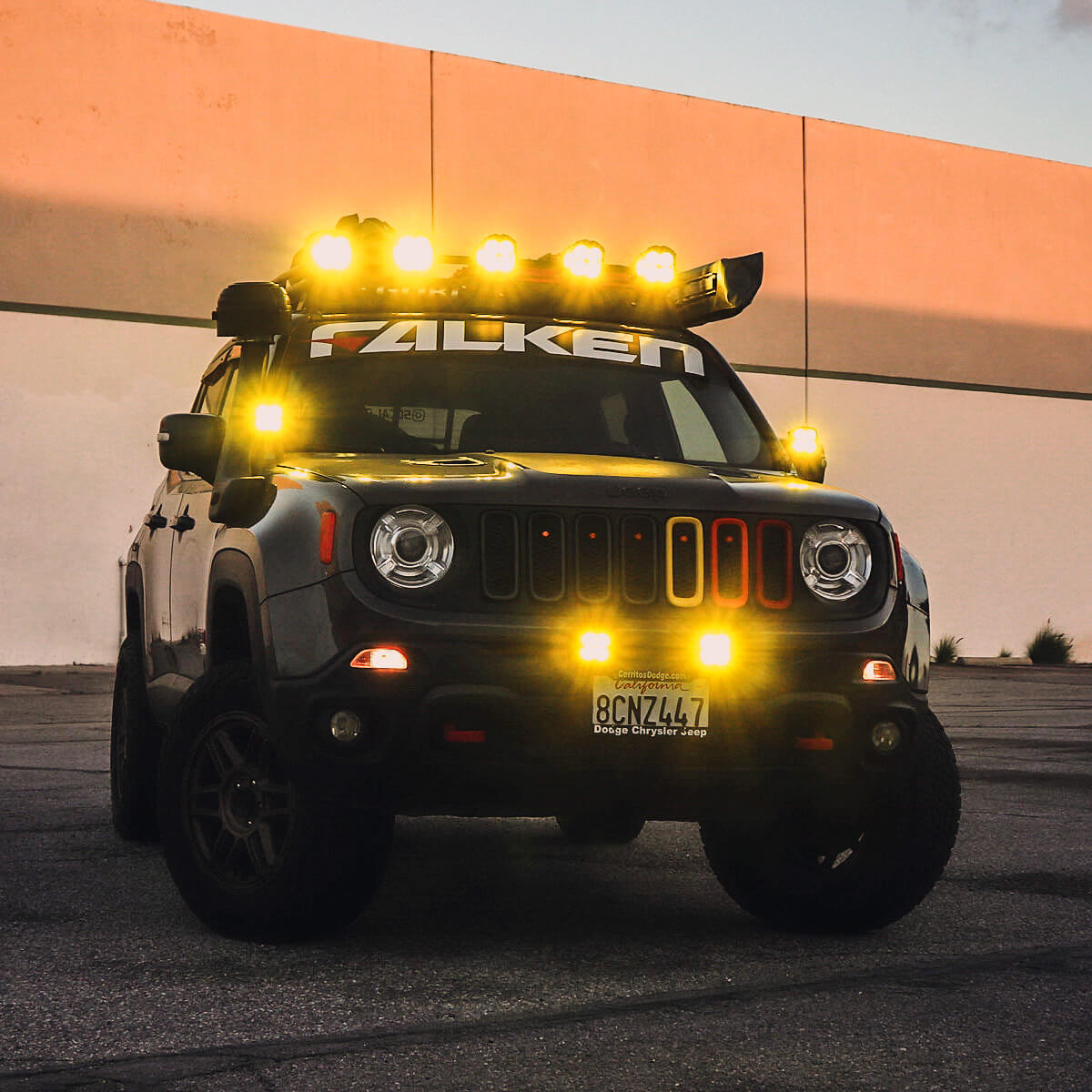 What challenges did you face while putting it together?
– There aren't many manufacturers that were willing to make parts for the vehicle
And the ones that were the lead times were ridiculous.
What do you love about your vehicle?
– The small compact size for one that I could squeeze into certain areas where others couldn't.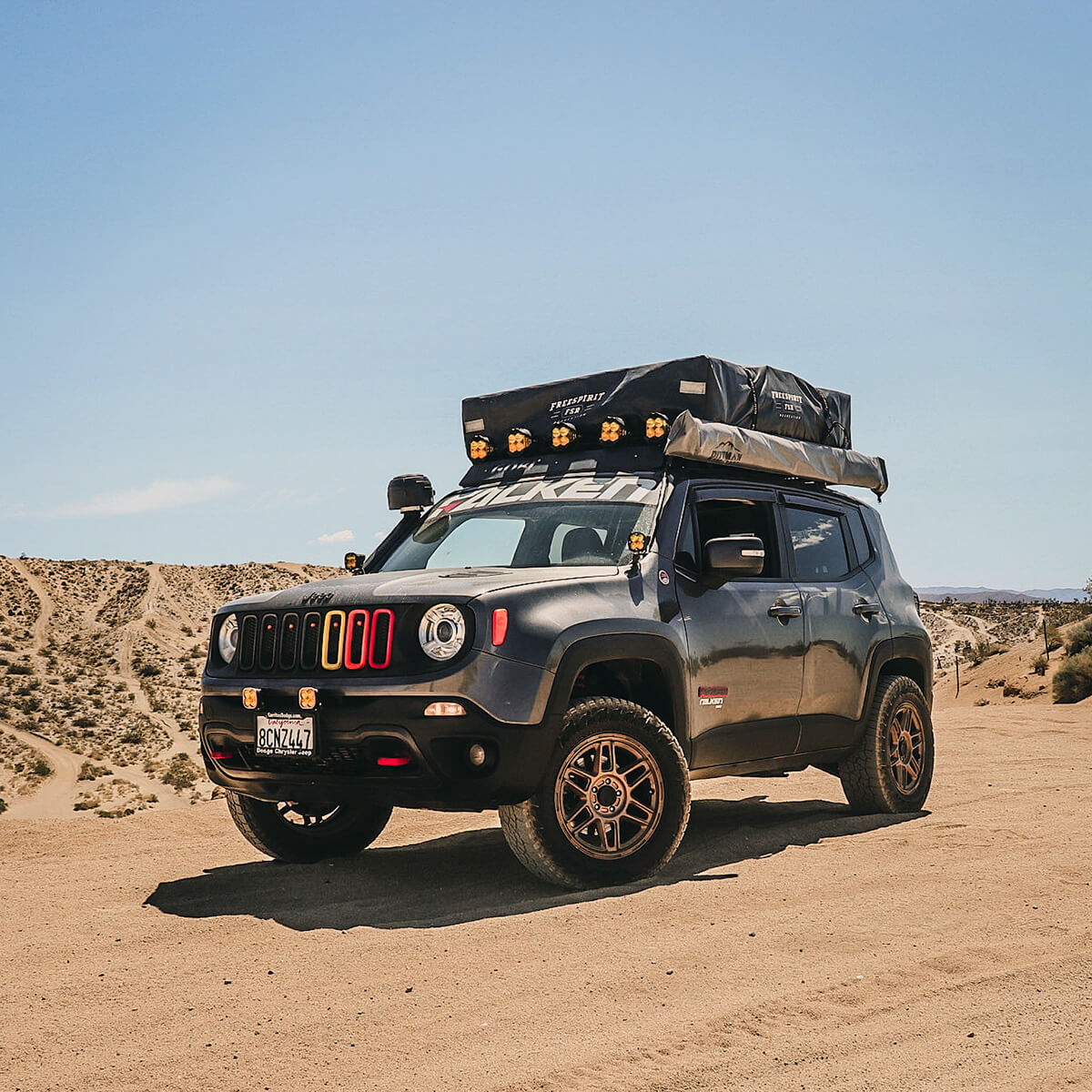 Is it your daily or a weekend ride?
– I use it as a daily and weekend ride.
Do you take it off road? If so, where and how often?
– Have taken it across all sorts of environments from desert to snow to mud and water(crossings) all over Southern California like big bear Mojave.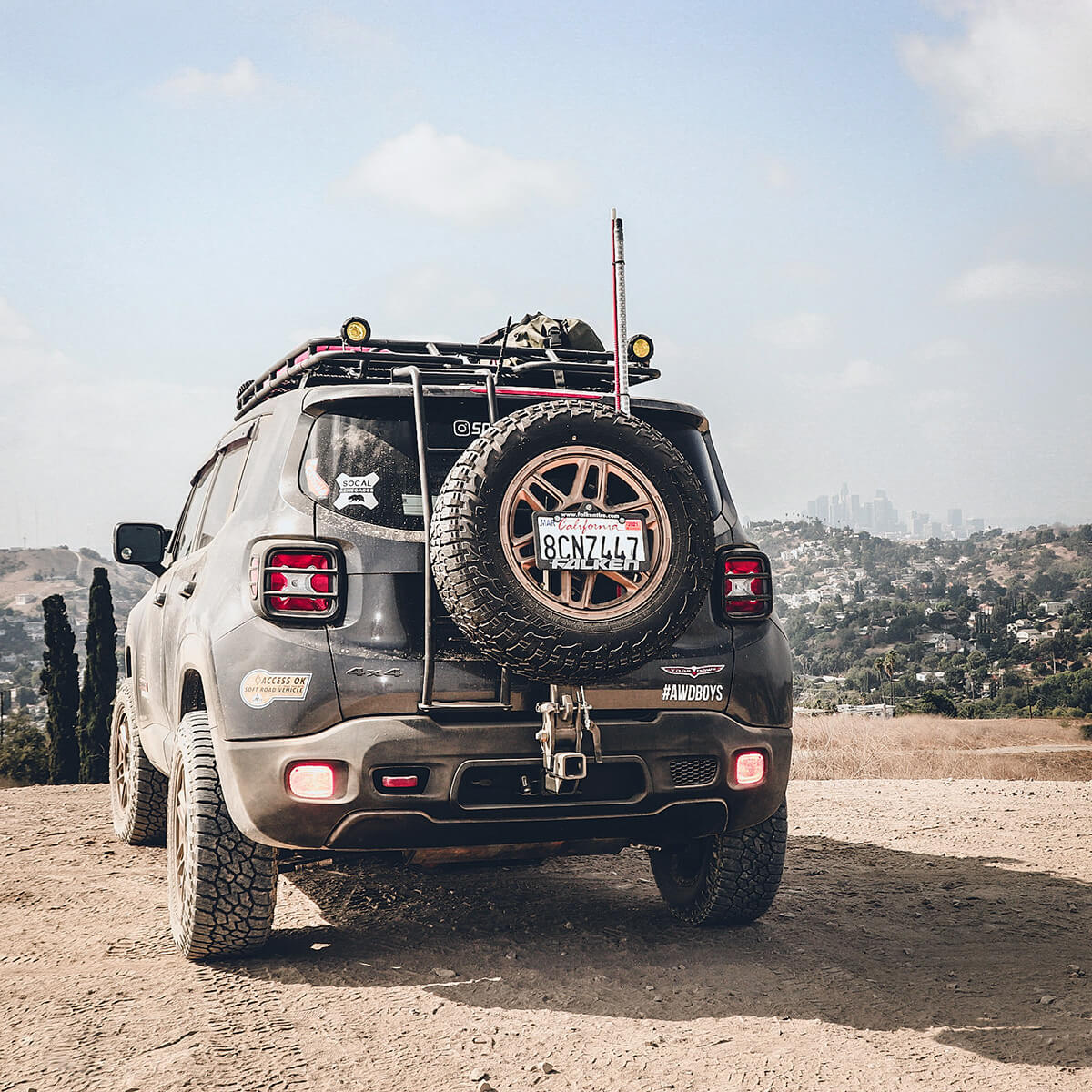 2017 Jeep Renegade Specs
Engine specs, modifications
– 2.4l tiger shark engine
– Avid Desert snorkel
Lift height and suspension modifications
– 2" lift kit with added Eibach pro lift springs for a total combined lift of about 3.5 inches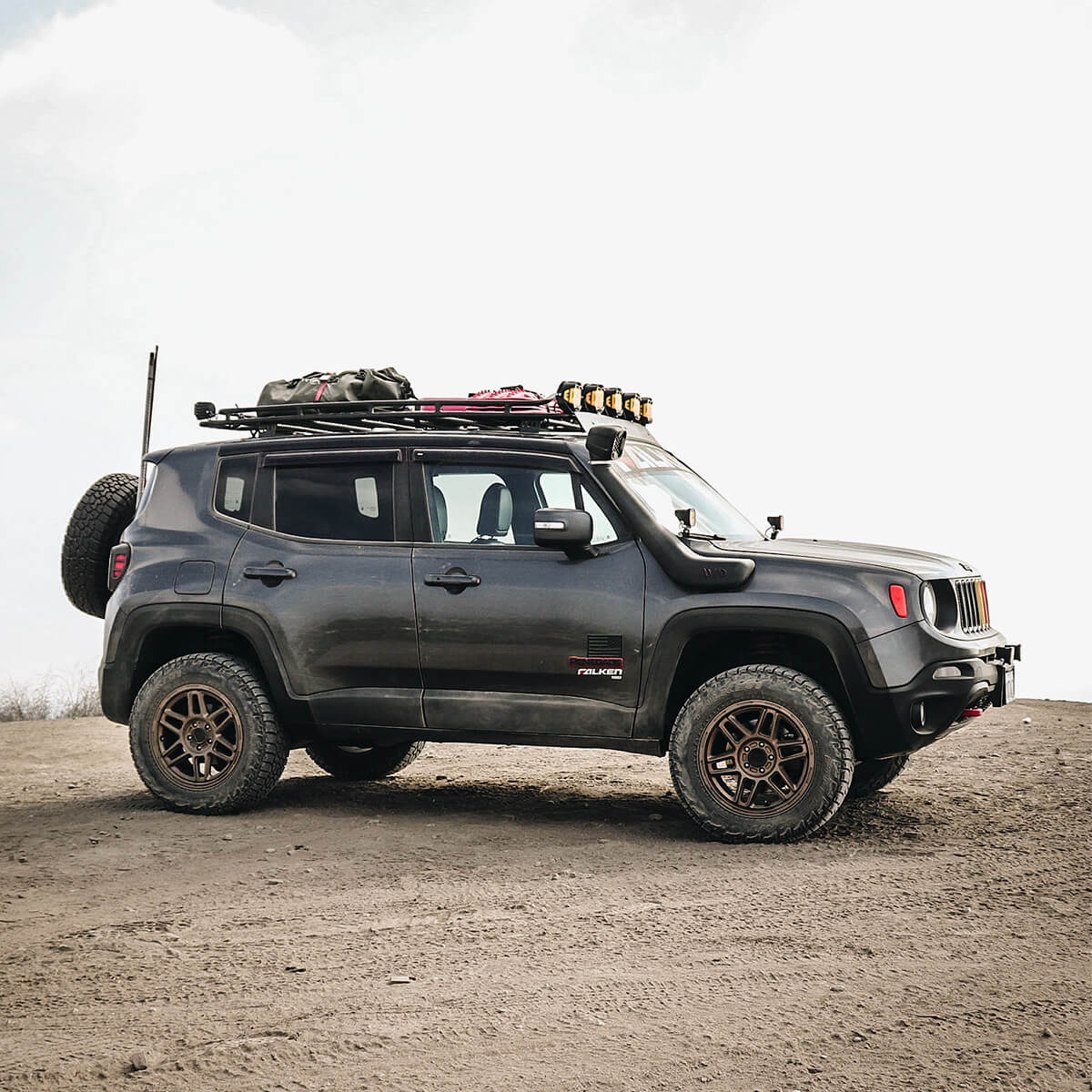 Wheel specs
– Tires: 245/65r/17 Falken Wildpeak AT3W
– Rims: Kmc Nomad 17x110x8 38mm offset 6 backspace
Exterior mods
– Gobiracks full integrated roof rack
– Baja designs lighting all around
– Valkyrie off-road under armor skid plates
– Rigid armor rear tire carrier
– Gofsr roof top tent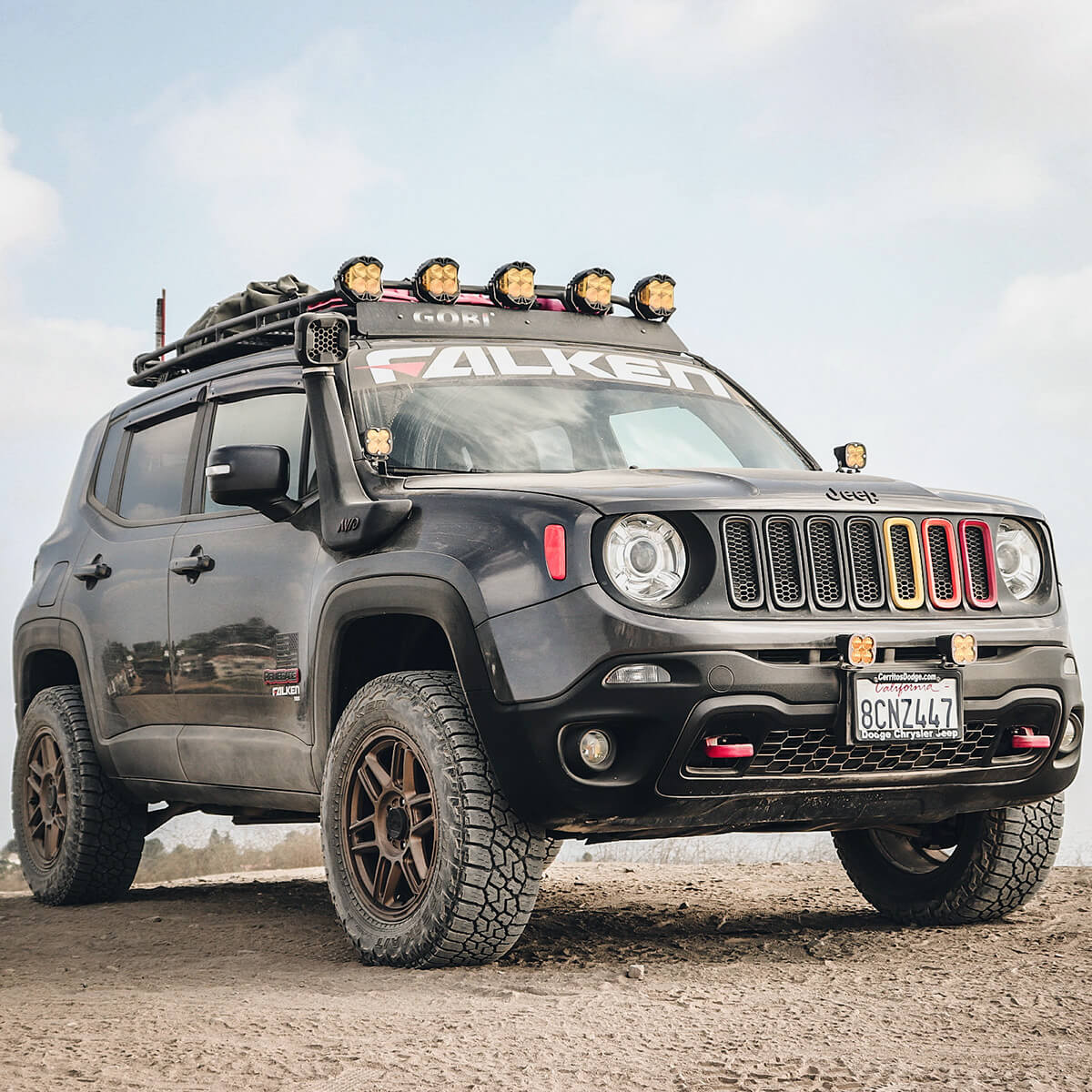 What are your future plans about this vehicle?
– Unfortunately we have traded in and gone to a bigger sized vehicle
Jeep Wrangler JL rubicon 4xe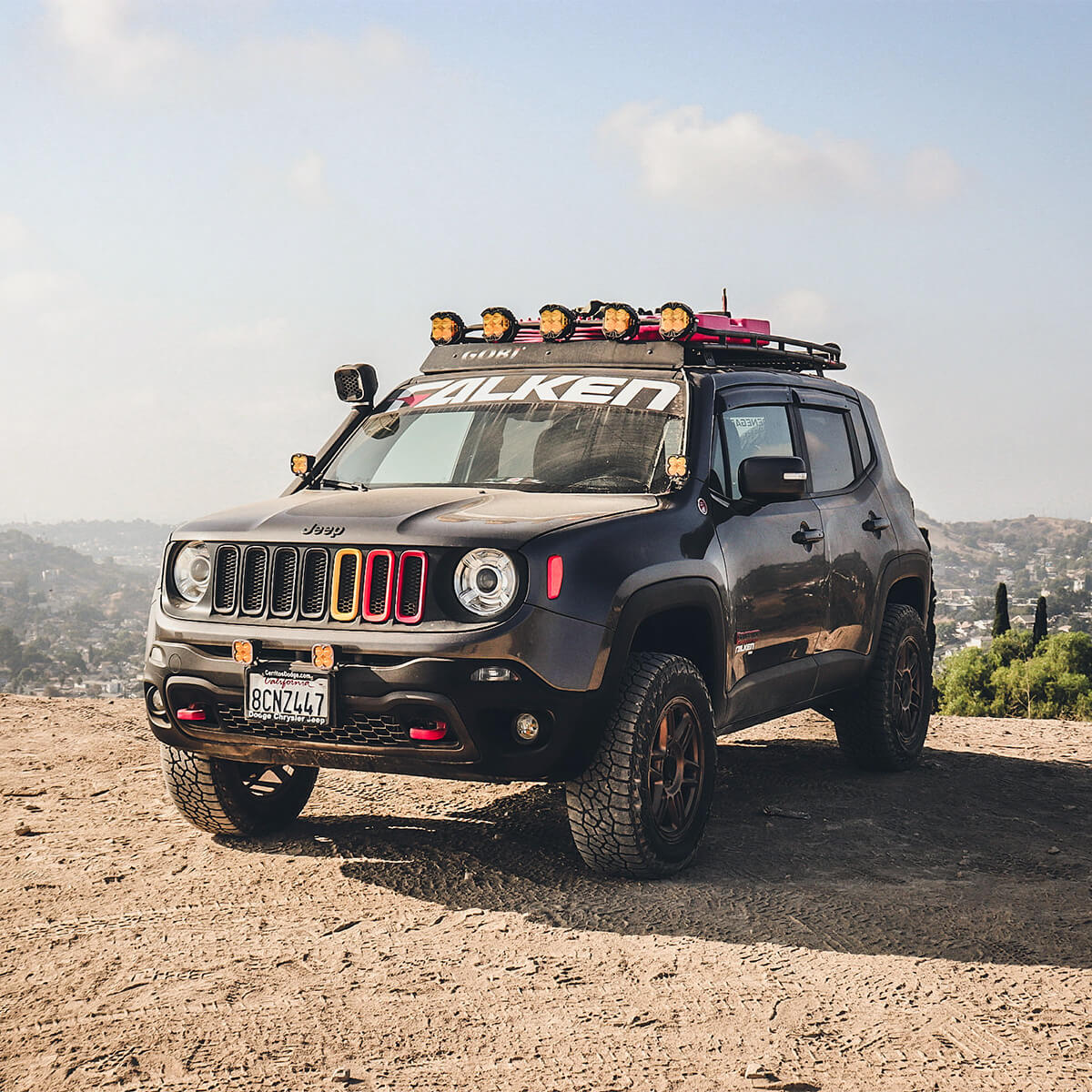 Anything else you would like to share about your vehicle or about the off-roading in general?
– It has been a great vehicle and it never gave us any problems would highly recommend for a beginner or intro rig to off-road.
Watch the progress and find out more about this Jeep Renegade project by visiting the Instagram profile of the owner: @voltage4xe!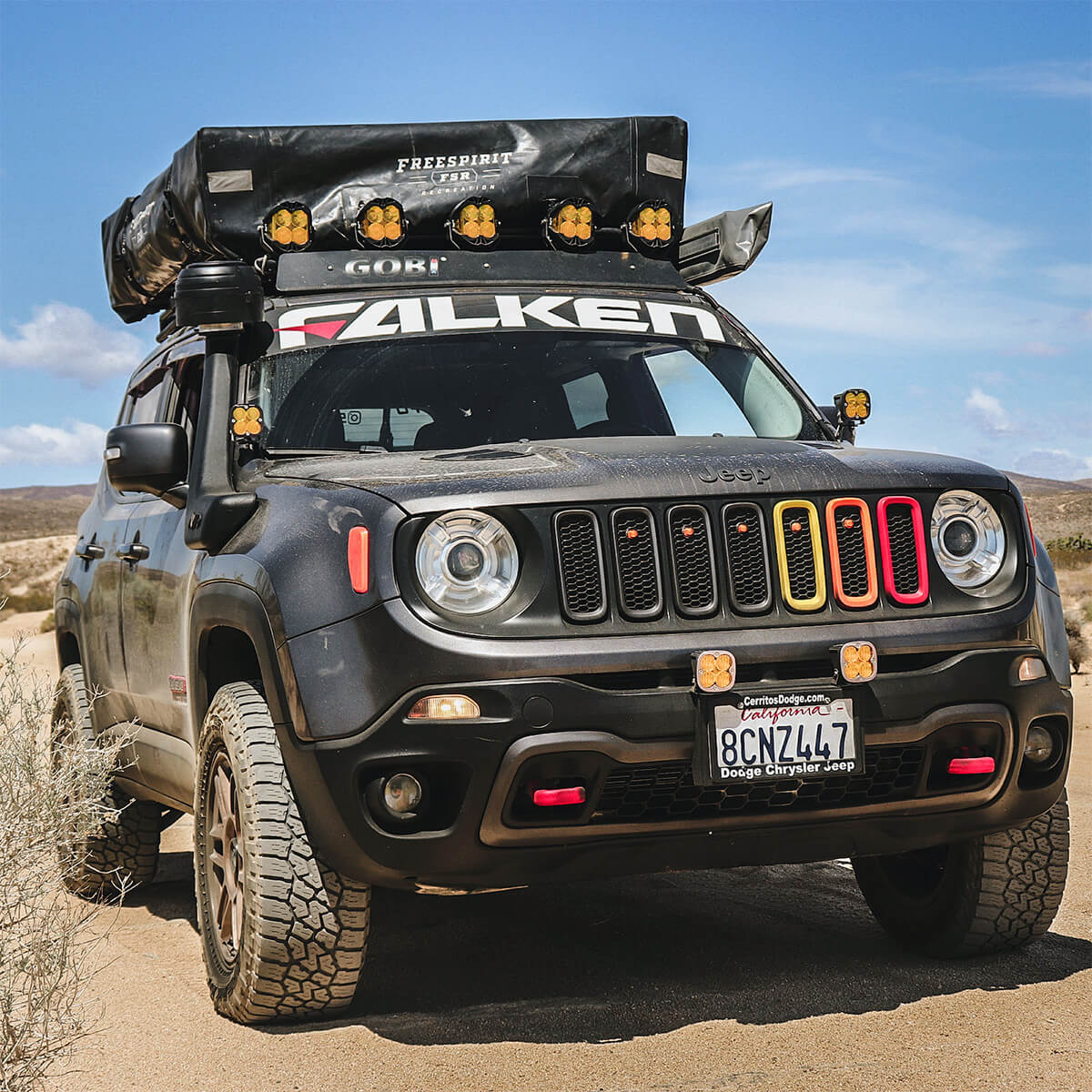 Related Parts & Mods
– Inspired by this Jeep Renegade build and looking to prepare your own crossover for off-road adventures? Some parts used on this vehicle were sourced from custom shops or custom made, but our team has put together a list of products and accessories available online that may help you to achieve similar results:
Lift Kit
Wheels
Roof Rack
Roof Top Tent
Exterior
Lights
*Before ordering any part or accessory, it is recommended that you verify its fitment with a qualified professional and/or seller. We are not responsible for fitment or other issues that may arise from using the products featured on our website.
Stay tuned for more project reviews on Offroadium.com – Follow us on social media, and share this write-up if you enjoyed reading it!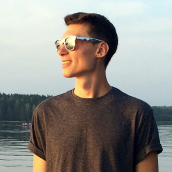 Matt Grabli
Matt brings over a decade of automotive expertise to his role as staff writer and editor at Offroadium.com. With an enduring passion for the off-road vehicles and adventures, he is devoted to creating interesting content that equips 4x4 enthusiasts with the knowledge to improve their rigs.