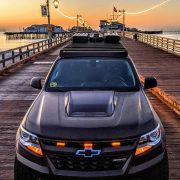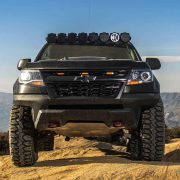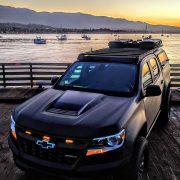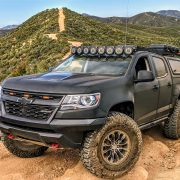 View Gallery
Some may say that the bigger the truck the better. It is actually true in most cases, especially if you use your rig for hauling cargo or towing heavy trailers. But it's not the case if you want to crawl rocks and explore the wilderness and still have enough space in your truck bed to spend the night. That is why Ryan from Santa Barbara, CA chose the 2018 Chevy Colorado ZR2 for his overland adventures.
The second-generation Colorado is a mid-size pickup truck that offers surprisingly good maneuverability and car-like handling. The owner chose the ZR2 trim level right from the factory that includes beefed-up lifted suspension, fender flares, improved approach and departure angles, and electronically controlled locking differential for improved off-road capabilities, so he wouldn't need to do anything in this regard. Instead, Ryan focused his attention on upgrading the truck's exterior and cargo bed space to make room for all of his gear, supplies, and himself to sleep in comfort.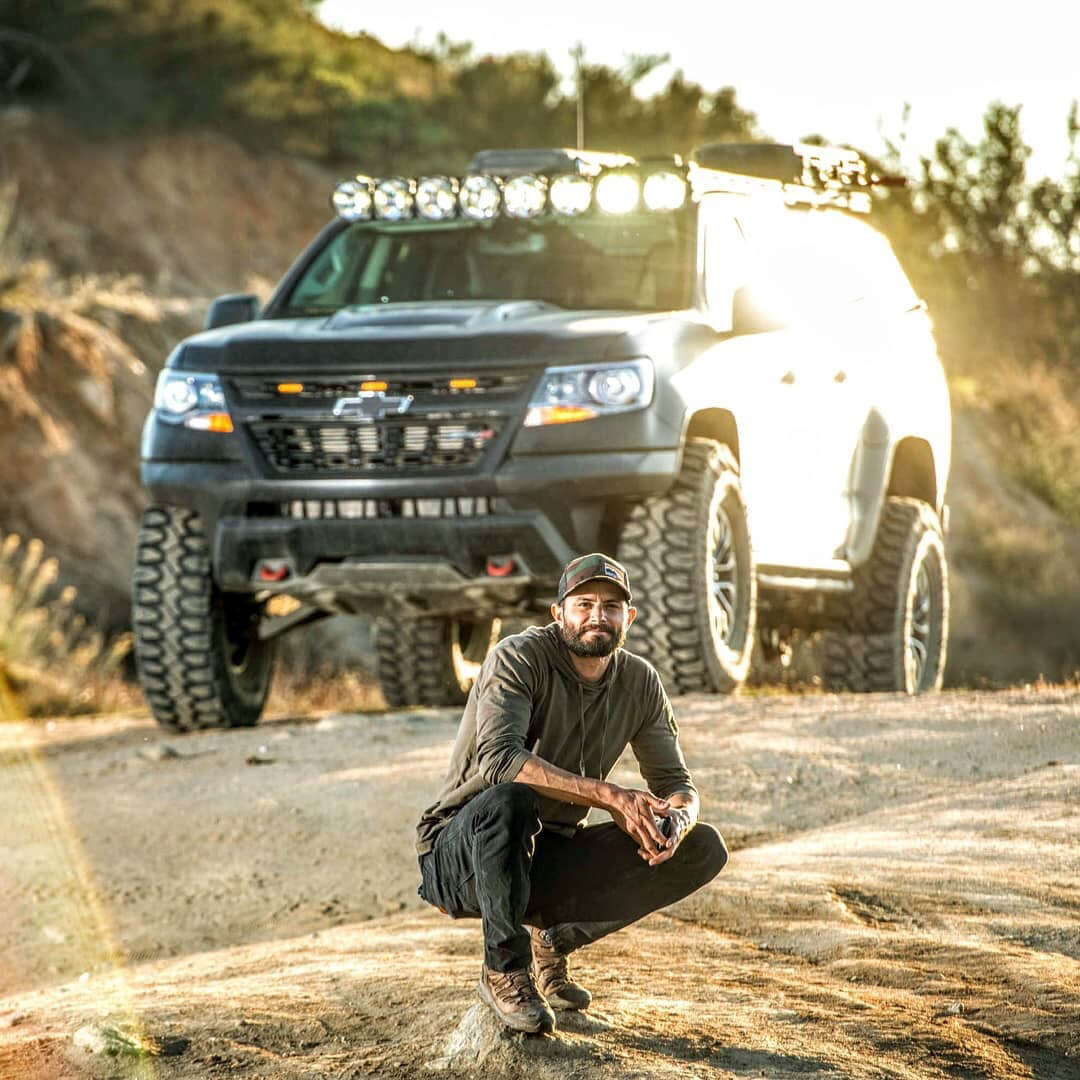 The rig is powered by a 2.8-liter turbo diesel, which is uncommon for trucks in this segment. This powerplant can easily pull a heavy load if needed, tow more than most of the rivals while offering very good fuel mileage. And at the end of the day, you take a comfortable ride back home. We decided to reach out to Ryan and talk about the modifications done to his truck.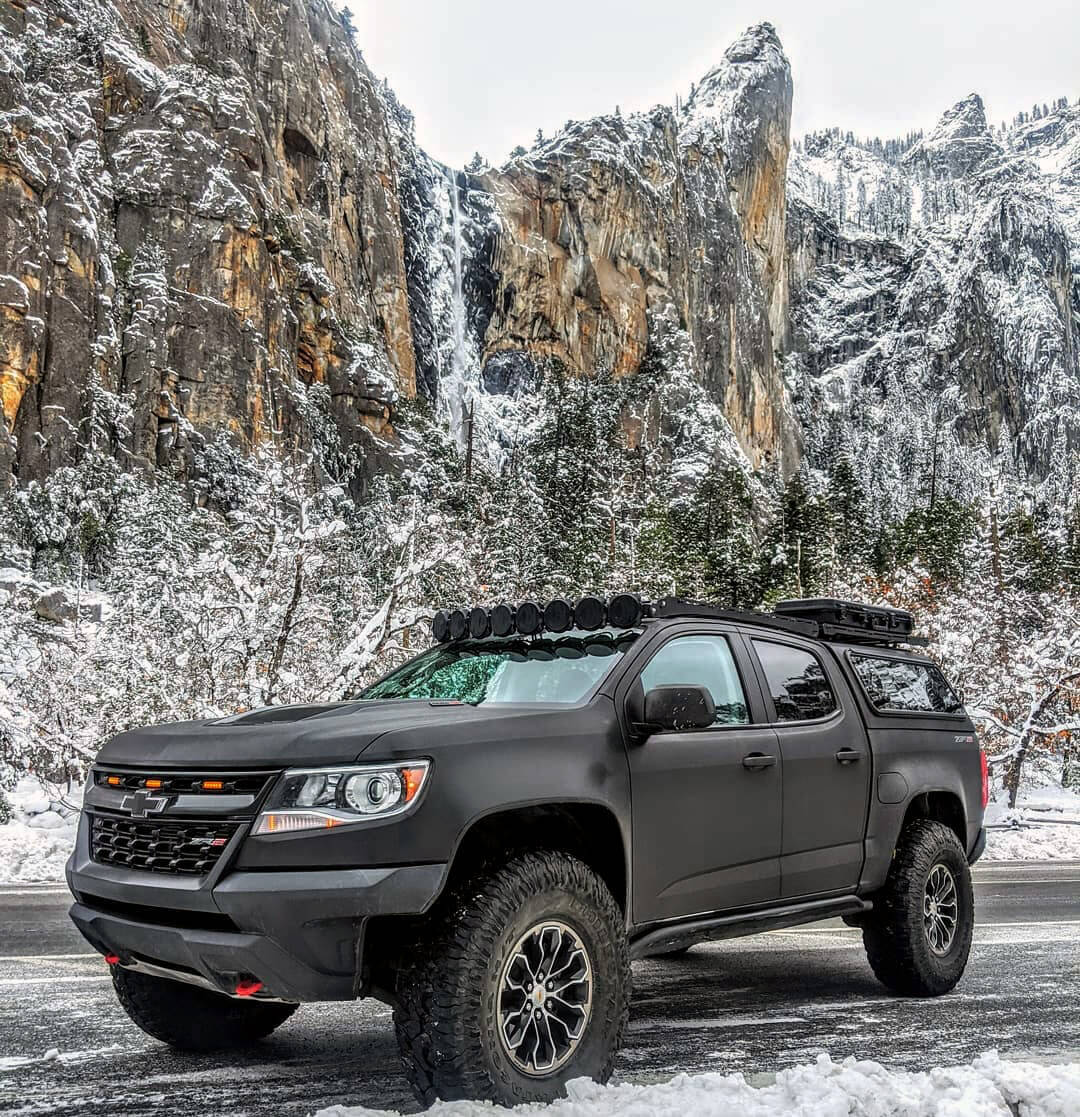 Many will be surprised that despite the aggressive looks the stock ZR2 suspension was left untouched, which allowed retaining the factory warranty.
"My biggest modification is chopping my fender wells to fit the 37×12.5 tires"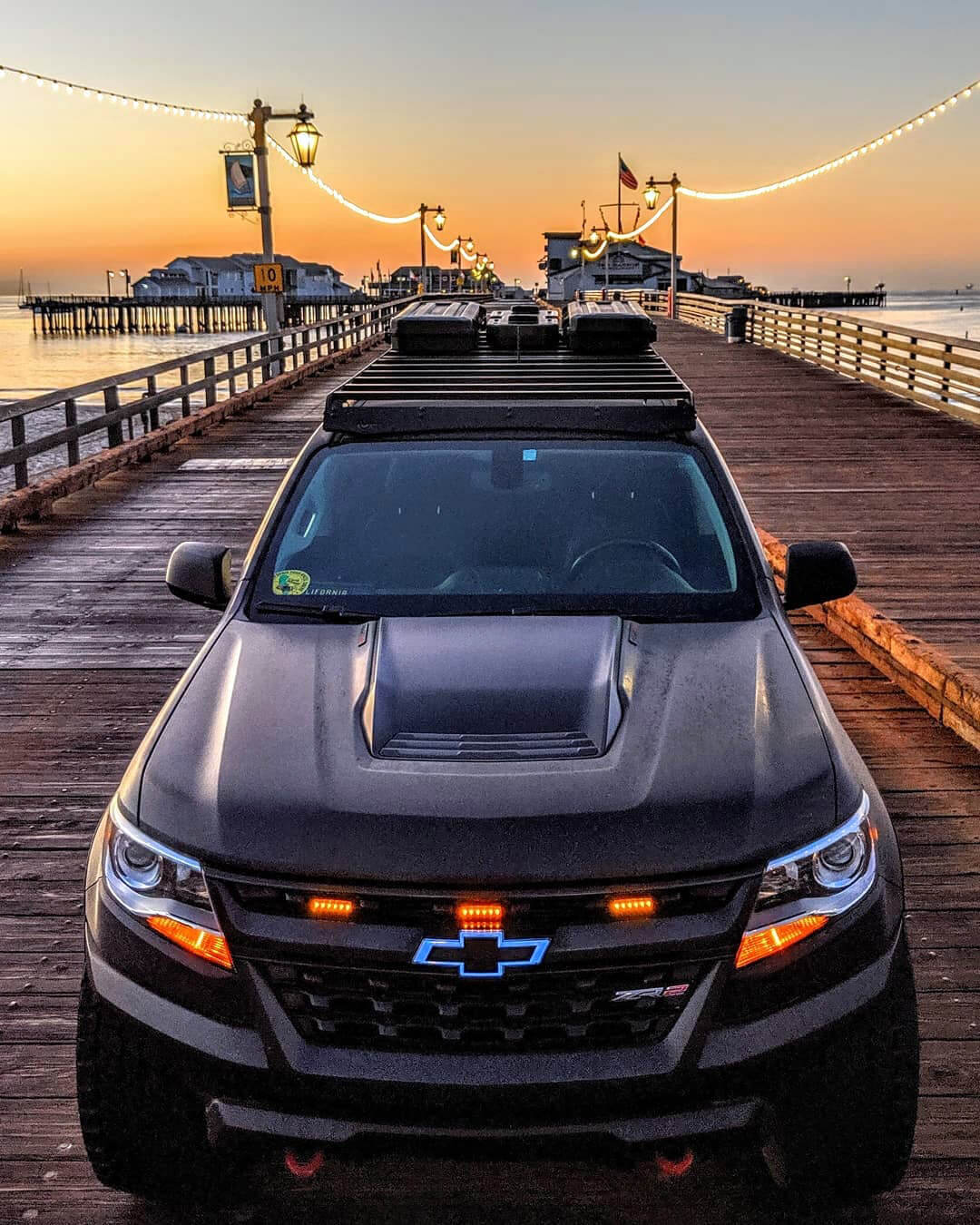 After taking a closer look at the truck you immediately notice that it's covered with subtle flat black brushed metal vinyl wrap by 3M that gives extra points to the visual appeal. On the back, you will find the ARE V-series camper shell with windows, and Prinsu cab & camper shell racks. KC Pro6 Light pod bar is mounted to the rack using the custom brackets.
Plano gun cases were installed on top of the camper shell to carry all recovery gear and tools needed on the trail. Between those, sits a 5-gallon water tank that has an attachment for a showerhead.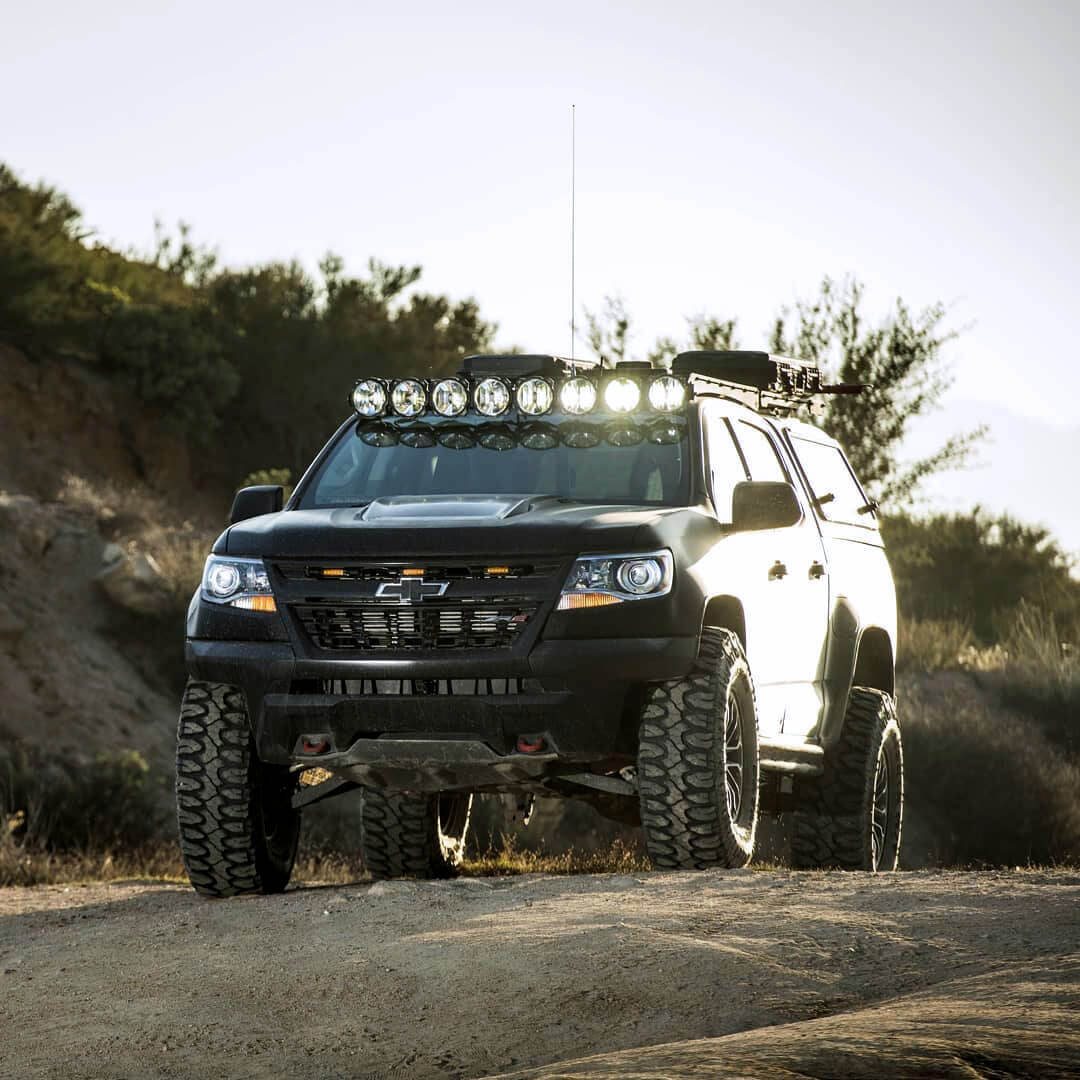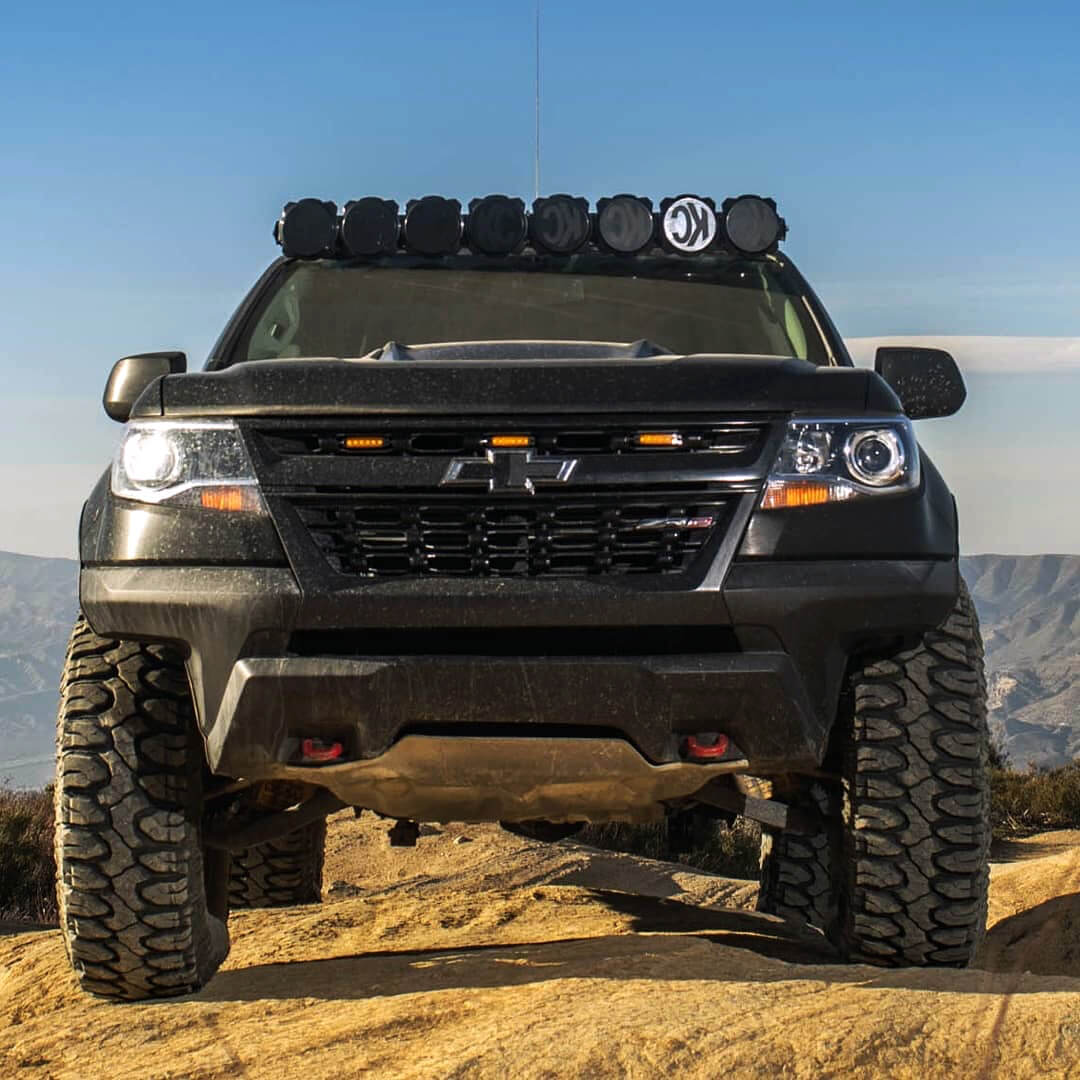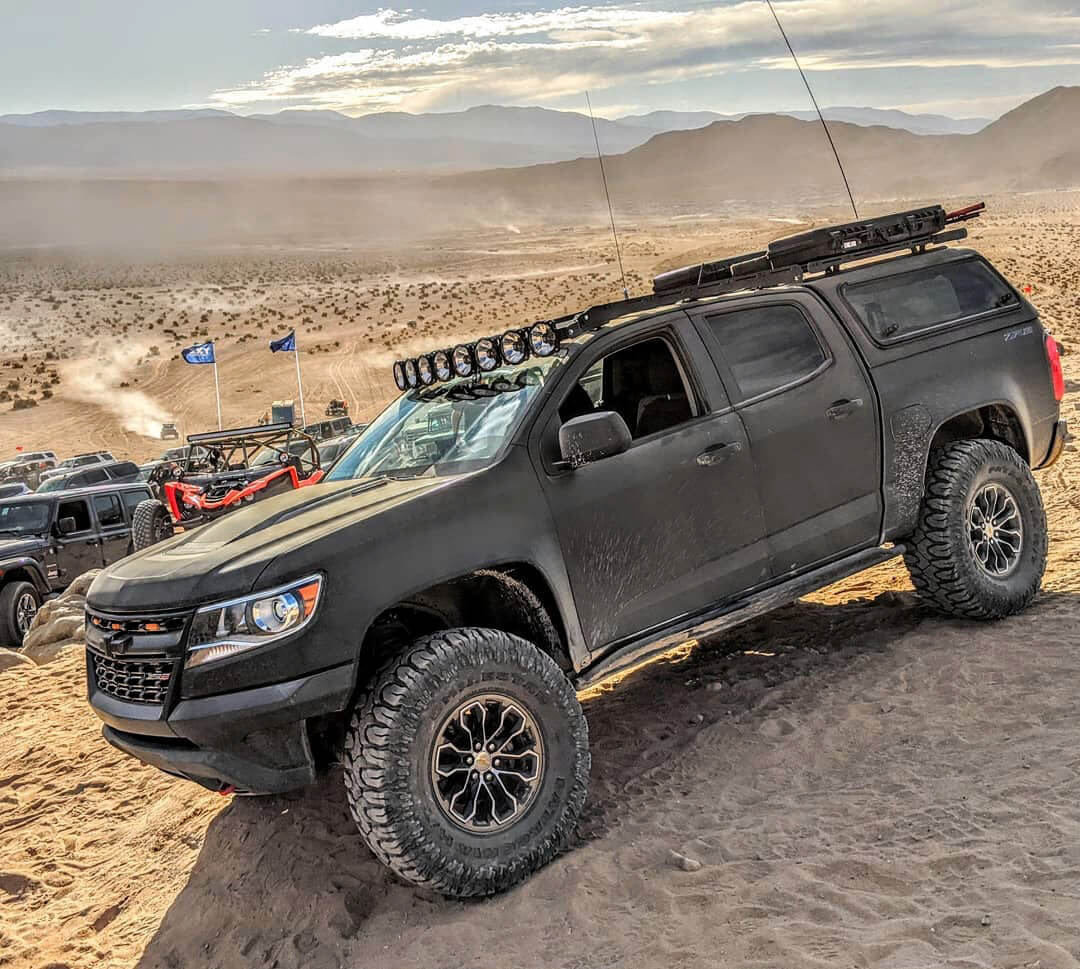 Rugged radio was generous enough to hook Ryan up with their badass antenna that he connected to a Yaesu FTM-400DR/XDR radio. For the infotainment center, he switched out the stock 8-in screen for a full-on tablet made by Phoenix. Trigger 6 shooter wireless switch system controls the auxiliary power.
"For my sleeping arrangements, I set up the topper EZ lift from my truck bed to my camper shell and built a platform to sleep on so I could keep storage underneath"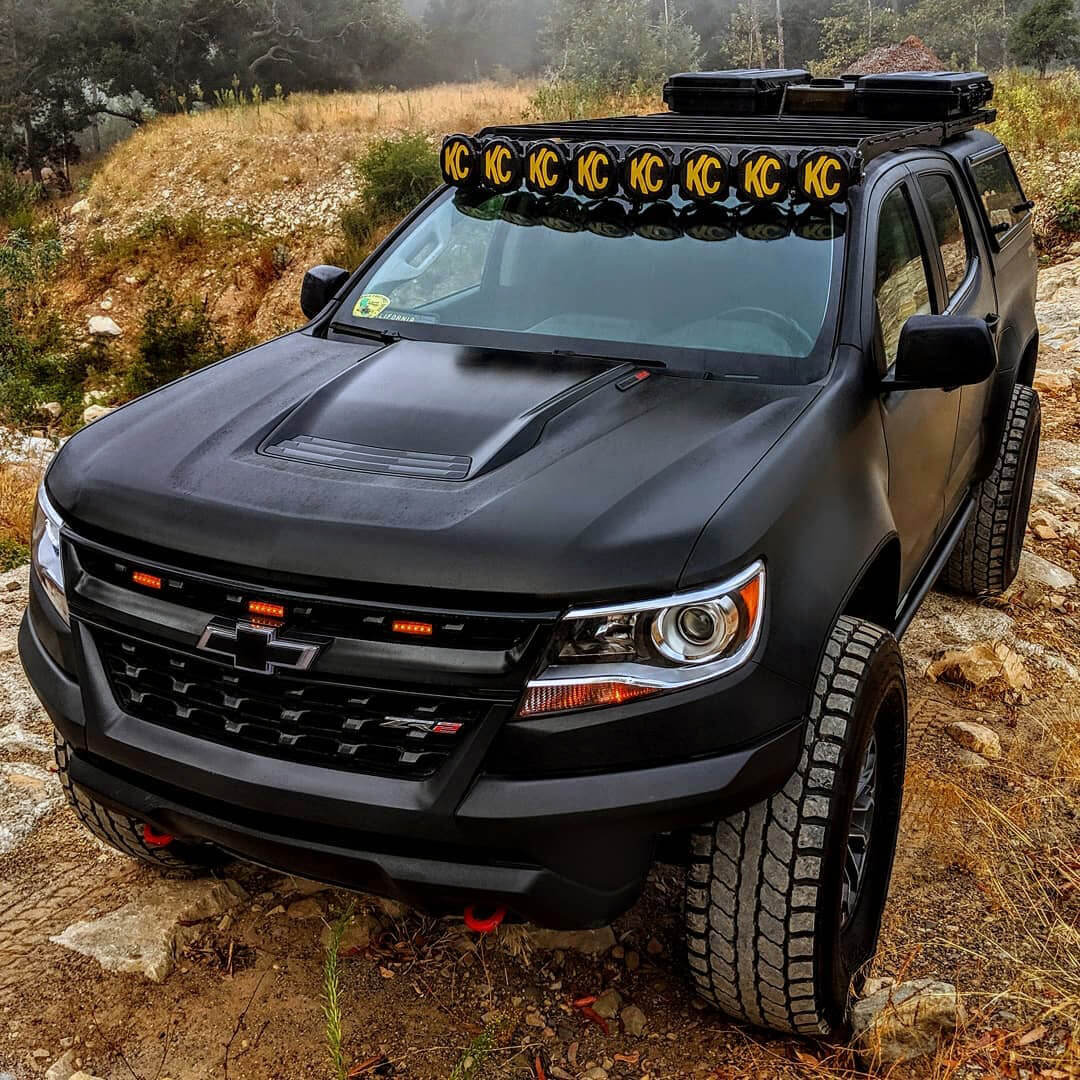 "Under the hood, I installed a dual compressor ARB air system to make inflating my huge tires a lot easier. The compressor is mounted to a 589 Fab bracket. I also have rear axle shock skids from 589 Fab along with their steel drive shaft that I honestly think should be the first modification for any Colorado or Canyon." – says Ryan.
"I'm running 37×12.5 milestar Patagonias at about 10 to 12 PSI off road and 37 on road"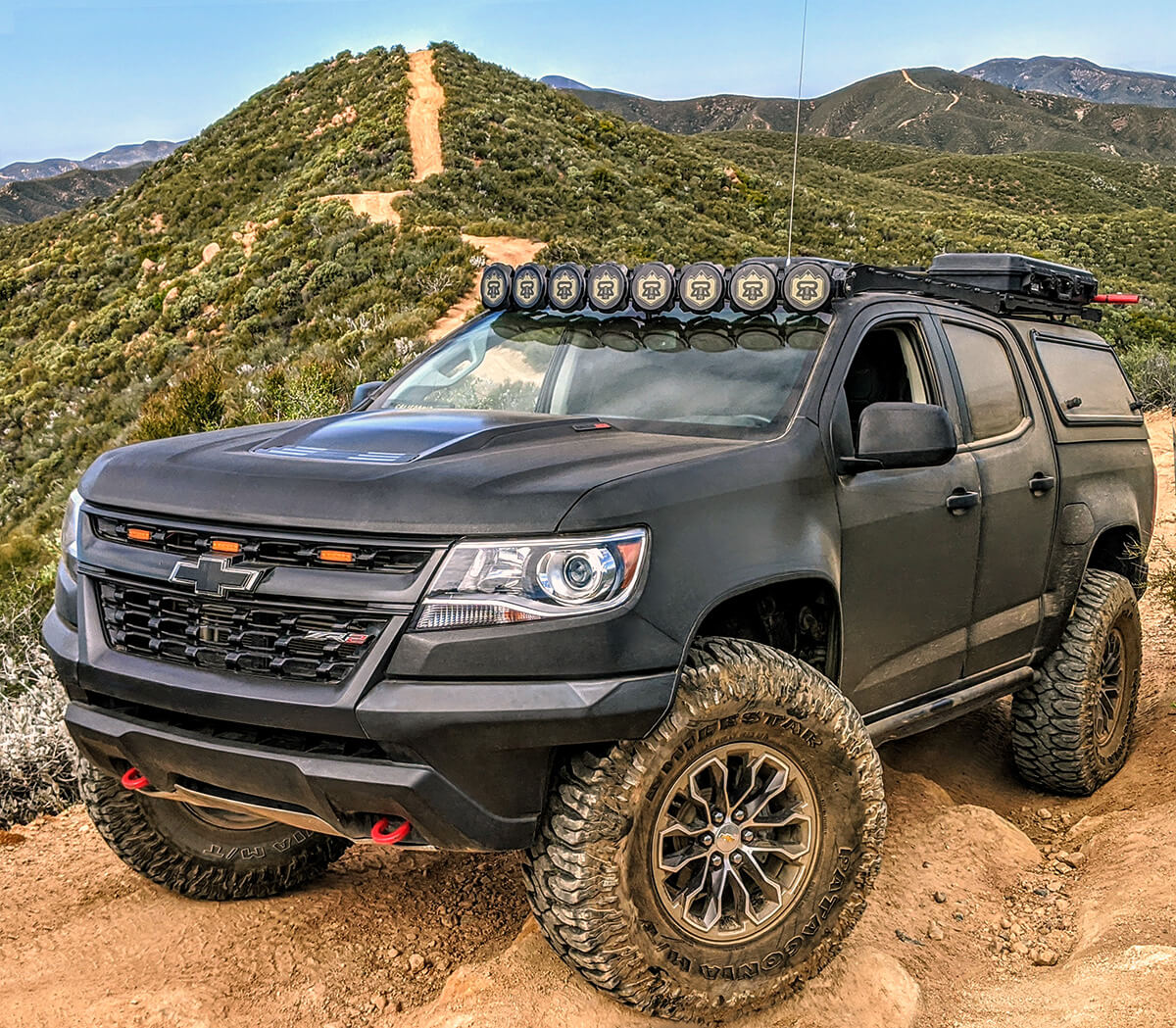 How did you become interested in off-roading?
From my buddy Jesse Lee who now races in the ultra 4 circuit IG: @Jleeracing
Why did you choose this particular model for your project?
– I've always been a Chevy guy and when they came out with the diesel for a midsize truck I was totally on board.
What do you love about your vehicle?
– That it's still under warranty from not messing with the suspension.
Is it your daily or a weekend ride?
– Daily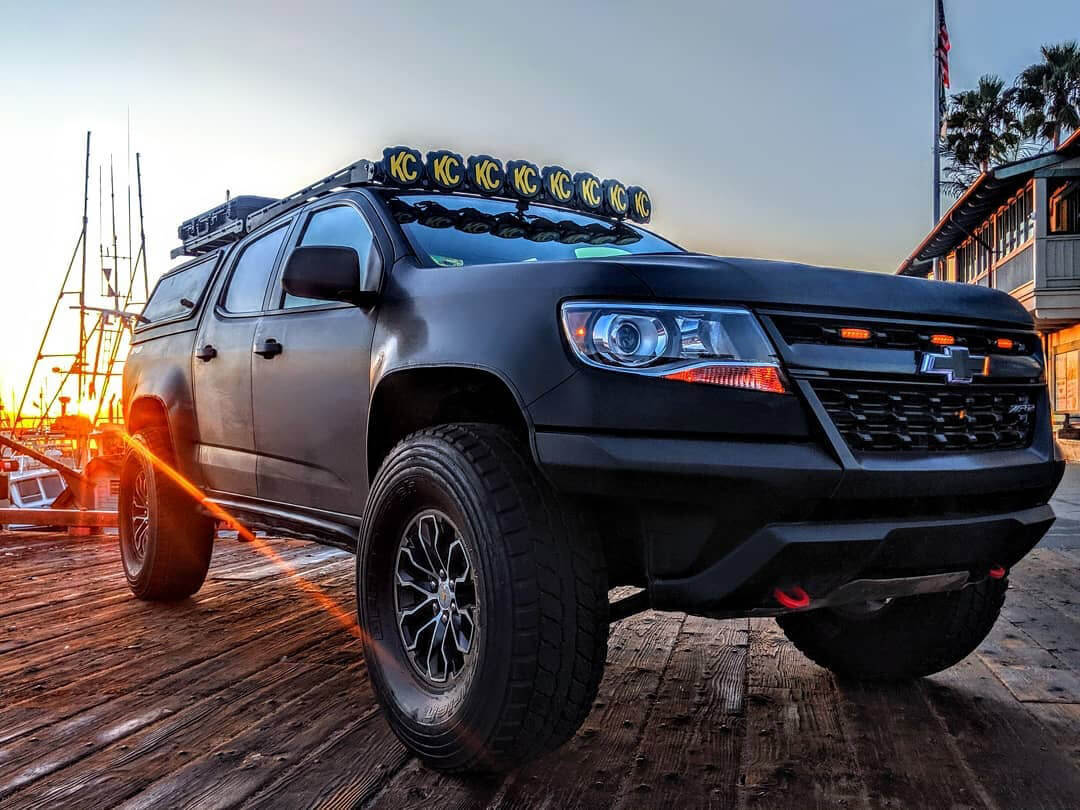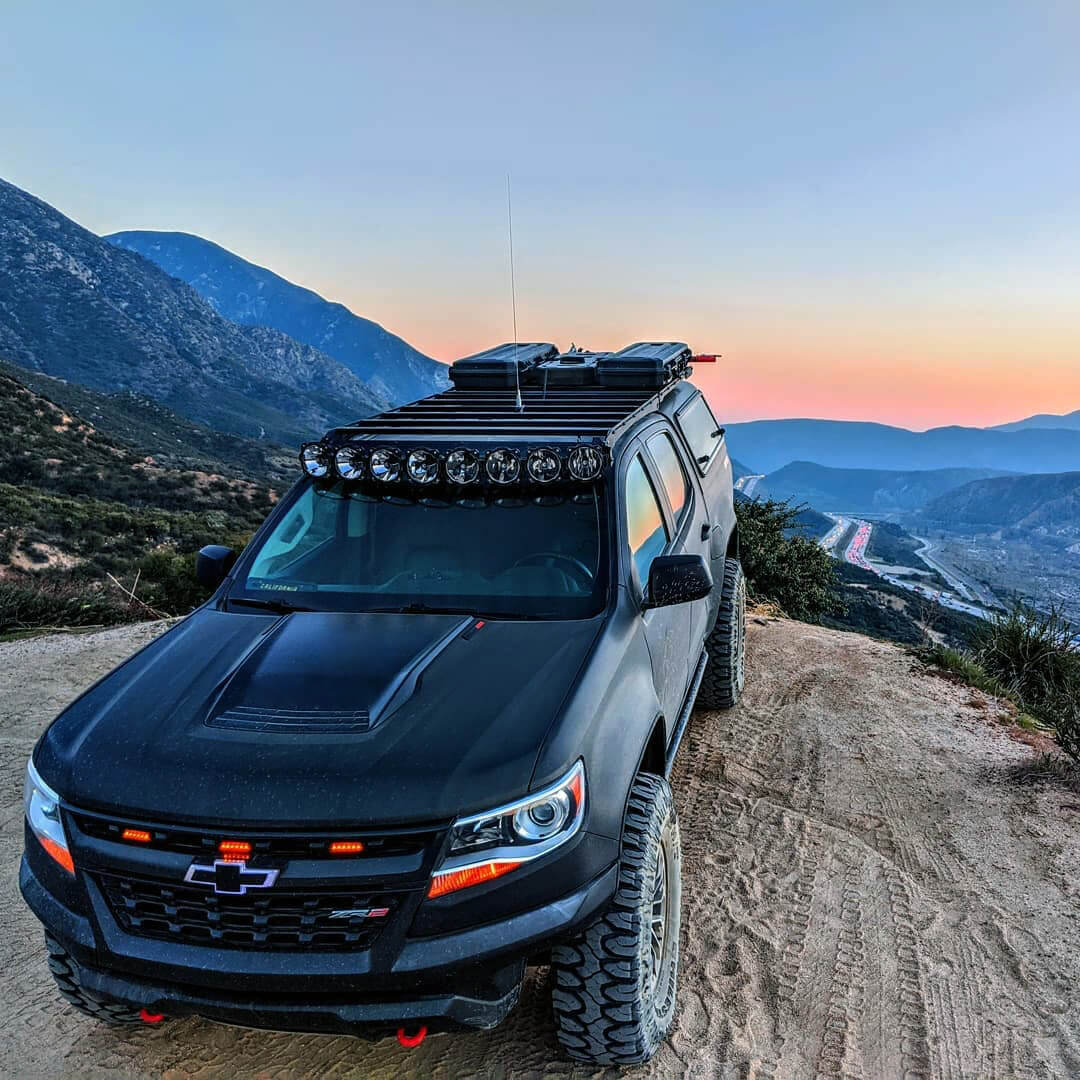 Do you take it off-road? If so, where and how often?
– As often as I can. Sometimes I take the long road home up and over the mountain just so I can get some dirt on the rubber.
What are your future plans for this vehicle?
– I want to regear and beef up the axles.
Anything else you would like to share about your vehicle or about the off-roading in general?
– It's all about having fun!
Watch the progress and find out more about this Chevy Colorado overland project by visiting the Instagram profile of the owner: @readyrig4x4!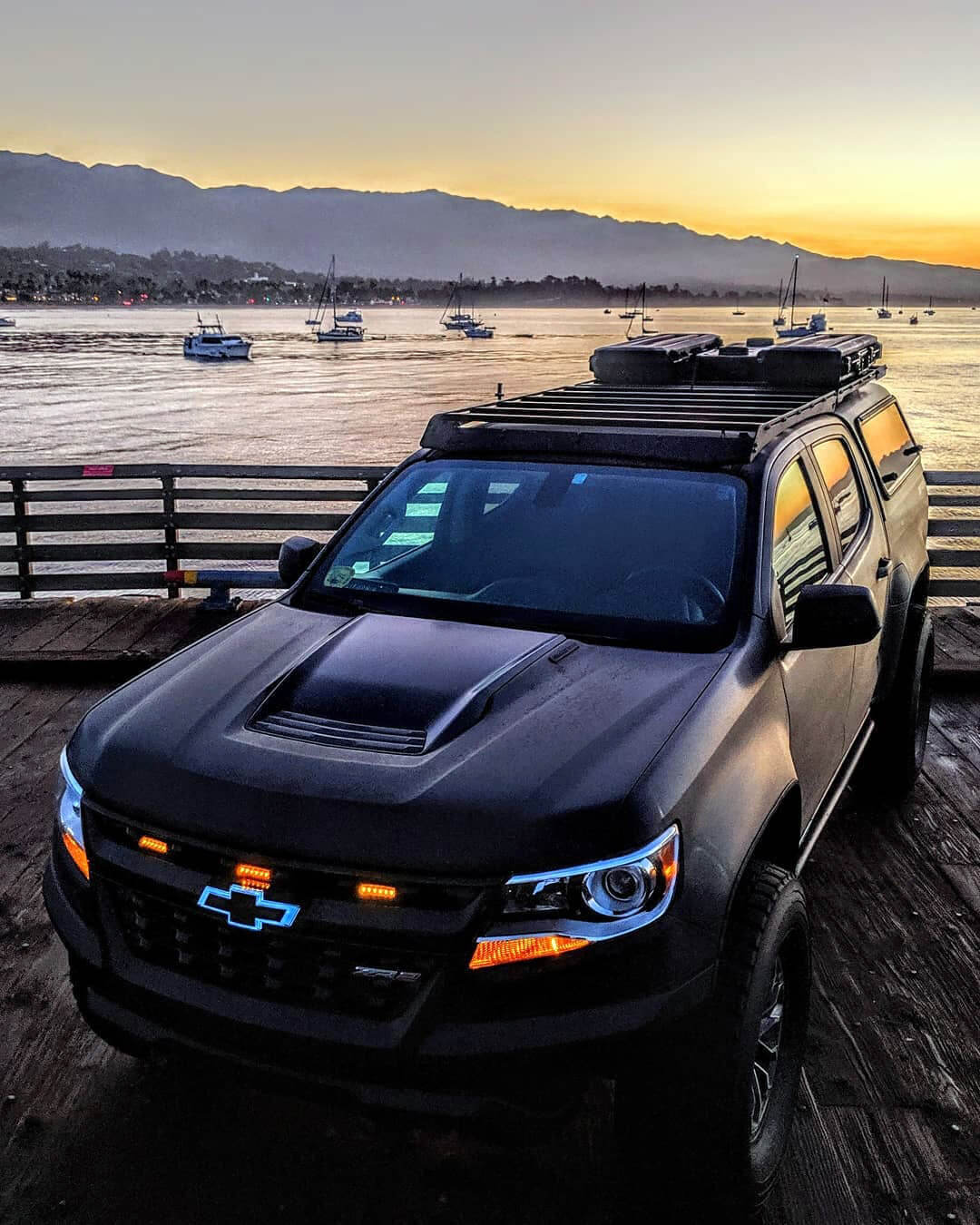 Related Parts & Mods
– Inspired by this Chevy Colorado build and looking to prepare your own truck for off-road adventures? Some parts used on this vehicle were sourced from custom shops or custom made, but our team has put together a list of products and accessories available online that may help you to achieve similar results:
Wheels
Lights
Roof Rack
Awning
Recovery
*Before ordering any part or accessory, it is recommended that you verify its fitment with a qualified professional and/or seller. We are not responsible for fitment or other issues that may arise from using the products featured on our website.
Stay tuned for more project reviews on Offroadium.com – Follow us on social media, and share this write up if you enjoyed reading it!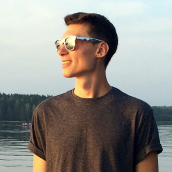 Matt Grabli
Automotive journalist and technical writer at Offroadium.com with more than 10 years of experience in the sphere of aftermarket parts and 4×4 vehicle modifications. Passionate about off-roading, outdoor adventures, and an active lifestyle.