Toyota 4 Runner Trail Edition Facts + Off Road Build Review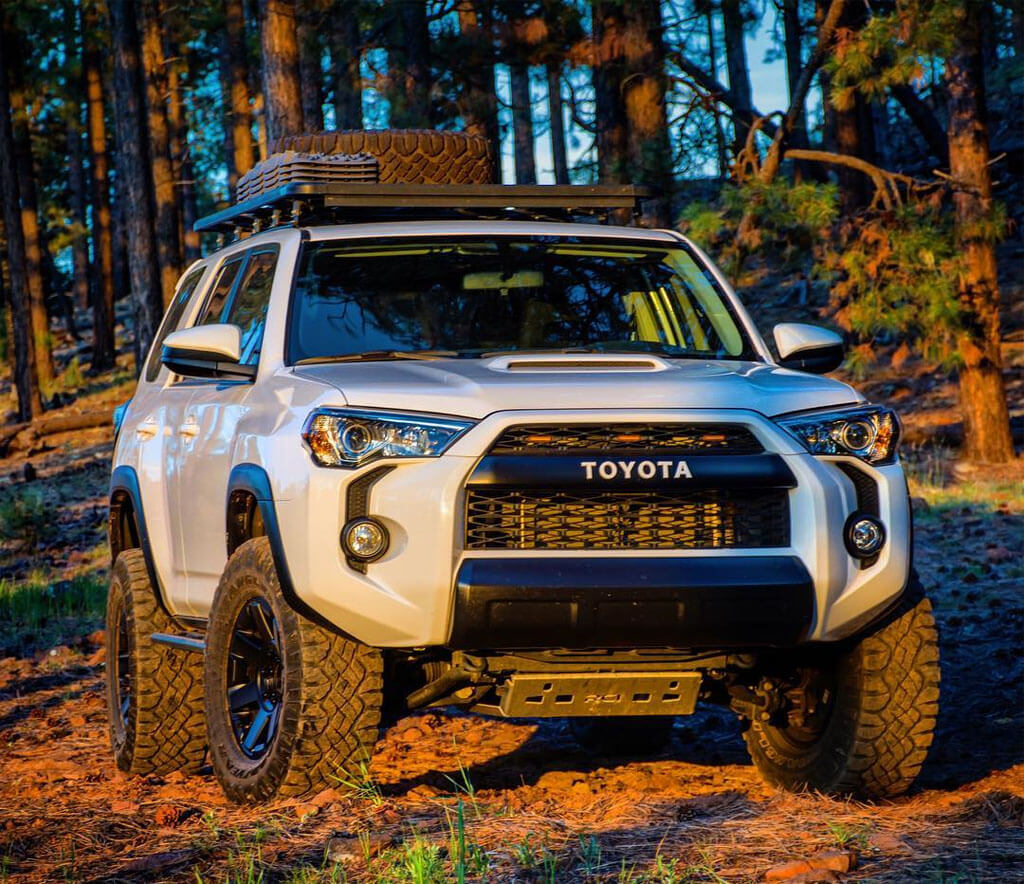 The rugged Toyota 4Runner has long been a popular choice for off-road enthusiasts and outdoor adventurers. But with the new Trail edition, Toyota has taken the 4Runner's capabilities to the next level. In this article, we'll explore what makes the Trail edition stand out.
We'll review the key specs and features that improve its performance on dirt, rocks, and trails. We'll hear from a 4 Runner Trail owner who has customized his SUV for recreational off-roading. And we'll compare the Trail to other trims in the 4Runner lineup so you can decide if this specialized edition is worth the investment for your next off-road rig. With its locking center differential, all-terrain tires, and upgraded suspension, the 4Runner Trail edition is ready to take you places most SUVs can't.
Toyota 4Runner Trail Edition is the special off-road trim level of the Four Runner (more simple than a TRD Off-Road and TRD PRO) with part-time 4WD system, A-TRAC but no rear locker.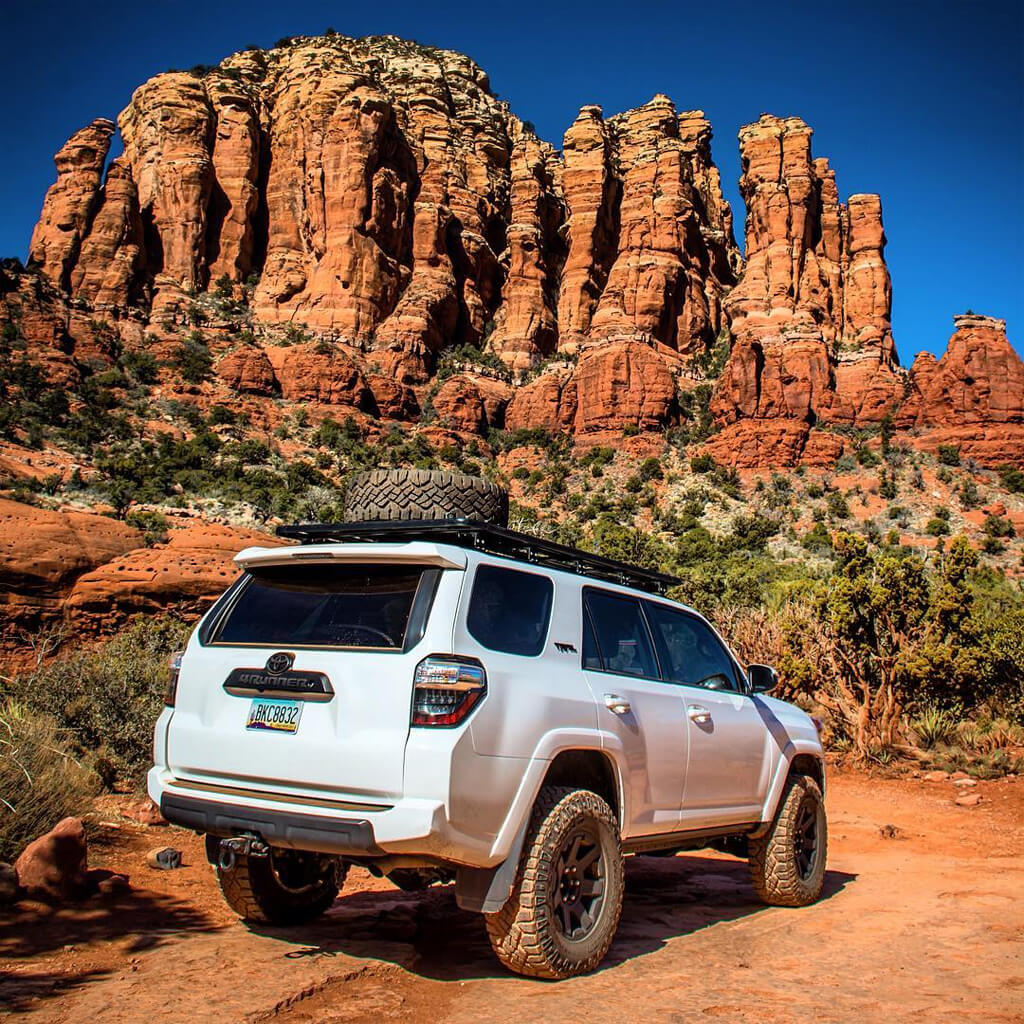 Overview of the Toyota 4Runner Trail Special Edition
What is the Toyota 4 Runner Trail Edition?
The Toyota 4Runner Trail Edition is a relatively new addition to the 4Runner lineup that first debuted for the 2020 model year. It slots between the SR5 and TRD Off-Road trims and brings enhanced off-road capabilities to the popular midsize SUV.
Toyota added the Trail Edition after seeing growing demand from 4Runner owners who wanted extra off-road performance without going all the way up to the tricked-out TRD Pro model. It gives buyers an option for solid off-road chops at a more affordable price point than the Pro.
What sets the Trail Edition apart from other 4Runner models?
So what sets the Trail Edition apart from other 4Runers? The key upgrades are:
All-terrain tires with rugged tread for off-road grip
Upgraded suspension with thicker anti-roll bars to improve wheel articulation
Multi-Terrain Select and Crawl Control for optimizing traction and throttle control on different surfaces
Skid plate to protect underbody components from rocks and debris
Lower price compared to TRD PRO
Who is the Trail Edition designed for?
The Trail Edition is aimed squarely at outdoor enthusiasts who want to explore off the beaten path. It's for 4Runner owners who actually utilize the SUV's off-road capabilities and need enhanced traction and clearance for adventures away from paved roads.
Pros and cons of the Trail Edition
Pros of the Trail Edition are its improved off-road performance and protection versus lower trims, while retaining good value. Drawbacks are that it lacks some of the luxury features of higher trims and remains focused on capability over comfort. But for those who crave ruggedness over refinement, the Trail Edition hits a sweet spot.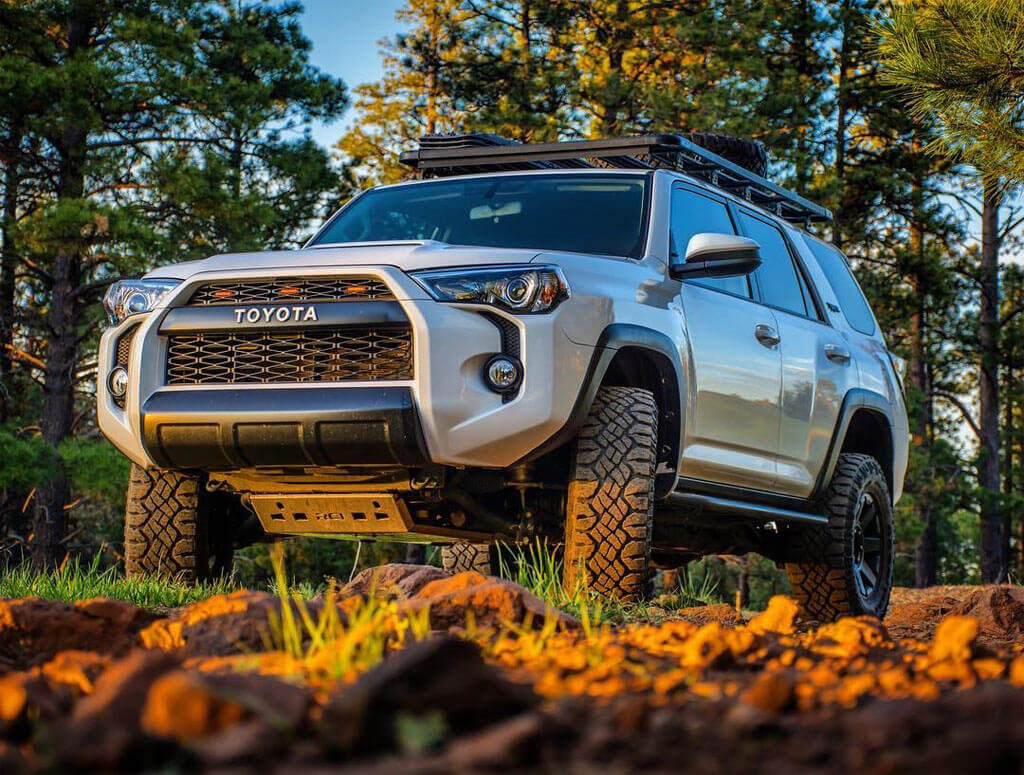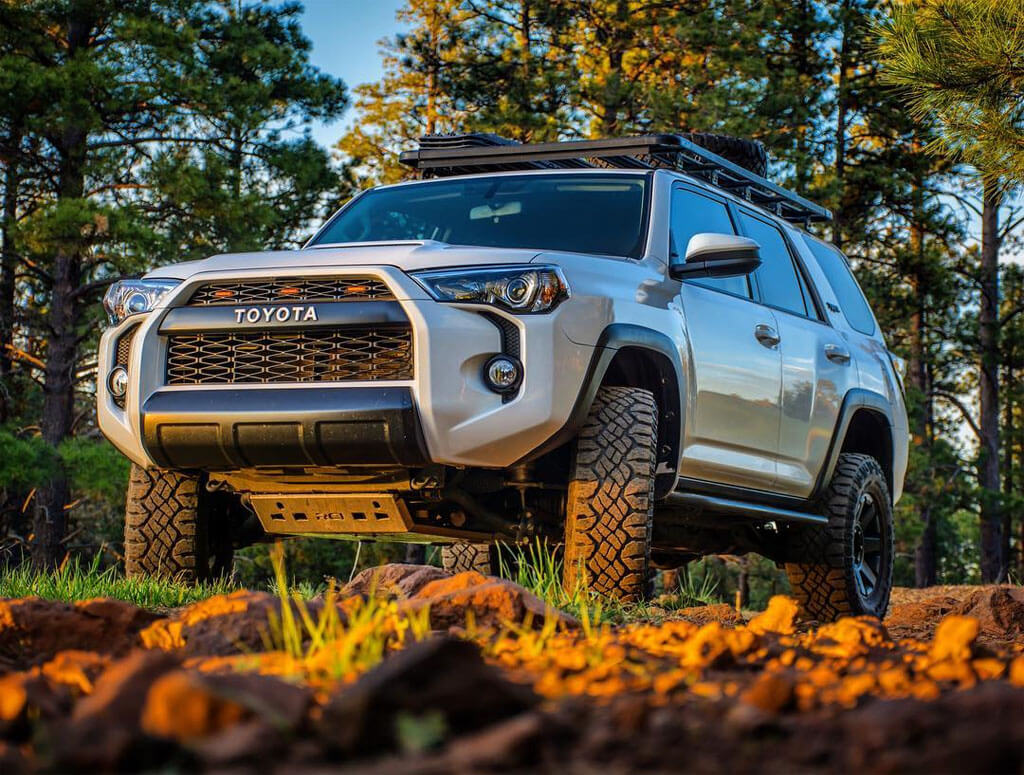 Features of the Toyota 4Runner Trail Edition
Exterior Features
On the outside, the 4Runner Trail Special Edition stands out with its standard roof rack, unique 17-inch alloy wheels, and Yakima Megawarrior roof basket. The grille is also distinct with dark gray accents. Upgraded all-terrain Nitto Terra Grappler tires provide increased traction on loose terrain.
To protect the underbody while off-roading, the Trail Edition comes equipped with a 1/4-inch aluminum skid plate. Additional exterior features include fog lights, front and rear parking sonar, and a power rear liftgate.
Interior Features
Inside the cabin, the Trail Edition includes SofTex synthetic leather seating for easy cleaning after muddy adventures. The front seats are heated, while the driver's seat has 8-way power adjustability. Automatic climate control and a 9-speaker audio system also come standard.
For hauling gear, a sliding rear cargo deck and AC power outlet in the cargo area are included. There is plentiful room thanks to the 4Runner's cavernous interior and split-folding rear seats.
Safety Features
Toyota equips the 4Runner Trail Edition with a robust suite of active safety tech. This includes pre-collision braking with pedestrian detection, lane departure alert, automatic high beams, and dynamic radar cruise control. Further driving aids like traction and stability control, multi-terrain ABS, and hill start assist ensure stability on slippery surfaces.
Passive safety measures include a total of 8 airbags, 3-point seatbelts for all positions, and lower anchors and tethers for securing child seats.
Technology Features
At the center of the dash is an 8-inch touchscreen infotainment system with Apple CarPlay and Android Auto integration. The Trail Edition also features in-vehicle WiFi capability, USB media ports, hands-free phone operation, and integrated streaming apps like Spotify. Additional tech goodies include a power moonroof, dual-zone automatic climate control, and rear parking sonar.
Comparison of the Trail Edition to other Trims
Differences between the 2022 Toyota 4Runner Trail Special Edition and the SR5
The SR5 is the base 4Runner model, so the Trail Edition adds a some amount of off-road capability and features. Key differences include:
Engine and transmission are the same 4.0L V6 and 5-speed auto on both models
Both have rear-wheel drive standard, with optional 4WD system with A-TRAC
Fuel economy is identical at 16/19/17 mpg city/highway/combined
Trail Edition adds unique 17″ dark gray wheels and all-terrain tires vs. 17″ alloy wheels on SR5
Trail Edition has blacked out emblems, SR5 does not
Interior fabric on Trail Edition has unique tan accent stitching
Trail Edition includes cargo cooler and all-weather floor liners, not on SR5
Trail Edition has sliding rear deck, SR5 does not unless optioned
Both models come equipped with Toyota Safety Sense-P and 8 airbags
Options like running boards and navigation are available on both versions
In summary, the Trail Edition adds more off-road focused wheels/tires, unique styling cues, and some extra storage/utility features over the SR5. But the two share the same core powertrain, capability, and safety tech. The Trail Edition brings added trail-readiness to the 4Runner formula.
Differences between the Trail Edition and the Limited
The Limited is the most luxurious 4Runner trim aimed at comfort and refinement. Compared to the Trail Edition:
Limited has full-time 4WD system, Trail Edition is part-time 4WD
Limited has X-REAS sport tuned suspension, Trail Edition does not
Both get 16/19/17 mpg fuel economy
Limited has 20″ wheels, Trail Edition has 17″ dark gray wheels with all-terrain tires
Limited has color-keyed bumpers and rocker panels, Trail Edition has blacked out overlays
Limited interior is leather, Trail Edition is fabric with unique stitching
Limited has heated/ventilated front seats, Trail Edition seats are not heated or ventilated
Limited has premium JBL audio with more speakers, Trail Edition has standard audio
Trail Edition includes cargo cooler and floor liners, not on Limited
Safety tech and options like moonroof are similar
In summary, the Limited is more luxurious and refined while the Trail Edition is oriented toward off-road use. The Limited has more comfort features while the Trail Edition has more utility add-ons. Depending on priorities, one may be willing to sacrifice luxury for trail prowess or vice versa when choosing.
Differences between the Trail Edition and the TRD Pro
The TRD Pro is the ultimate 4Runner for off-roading. Versus the Trail Edition:
Both have part-time 4WD system with A-TRAC, same fuel economy
TRD Pro has higher ground clearance and upgraded FOX shocks
TRD Pro has unique front grille, hood scoop and exterior color options
Trail Edition has 17″ dark gray wheels, TRD Pro has 17″ matte black wheels
TRD Pro interior accents include red stitching and TRD emblems
Trail Edition has cargo cooler and floor liners, TRD Pro does not
Audio and tech features are similar on both models
Safety equipment like TSS-P, airbags identical on both
Running boards, navigation offered as options on both
In summary, the TRD Pro is engineered for more extreme off-roading with its suspension upgrades while the Trail Edition offers light trail enhancements. Exterior and interior styling is more aggressive on the TRD Pro as well. The Trail Edition focuses more on utility and value. For serious rock crawling, the TRD Pro is better equipped. – Based on 2021 Toyota 4Runner Sales Brochure.
How does the Trail Edition compare to other SUVs in its class?
The midsize SUV segment offers a variety of choices for shoppers, but few can match the 4Runner Trail Edition's blend of off-road grit and daily driving comfort.
Compared to rivals like the Jeep Grand Cherokee, Ford Edge, and Honda Passport, the 4Runner Trail stands out with its body-on-frame construction, rugged suspension, and advanced off-road tech like the Multi-Terrain Select system. These give it an edge for serious off-pavement use versus most competitors' unibody crossover designs.
The Grand Cherokee and Passport do offer legit off-road trims in the Trailhawk and TrailSport respectively. But the 4Runner Trail still surpasses them for all-out trail capability thanks to things like its off-road crawl mode and low-range gearing.
For interior accommodations, the 4Runner Trail Edition holds its own with roomy seating for five, Toyota's reputation for reliability, and standard features like a power driver's seat and dual-zone climate control. But competitors like the Edge, Grand Cherokee and Passport offer nicer cabin materials and a more car-like ride for road driving.
Shoppers who want comfort or luxury should look elsewhere. But for maximizing off-road performance while still functioning as a daily driver, the 4Runner Trail Edition is hard to beat in the midsize segment. It blends just enough creature comforts with serious trail chops.
Expert's Opinion
As an automotive journalist who's reviewed hundreds of off-road vehicles over the years, I can confidently say that 4Runners have always been some of the most capable off-road SUVs around. You could fairly call them the top dogs when it comes to off-pavement prowess. These are solid all-around off-roaders that work great for beginners who keep them close to stock, as well as hardcore enthusiasts looking to push the boundaries of what's possible.
In my opinion, the Trail Edition is going to be the better choice for that "close to stock" category of 4Runner owners who aren't really interested in a sophisticated FOX suspension available on TRD PRO. Between the all-terrain tires and other goodies, the Trail Edition offers easy integration of aftermarket accessories at your own taste and budget, be it a simple leveling kit or a custom long travel unit to rival the factory TRD PRO edition.
While you can certainly push a Trail Edition even farther with a lift kit, skid plates or other upgrades, I think most weekend warrior types will be thrilled with its capabilities straight out of the box. For those who want to play in the dirt without spending a forune, the Trail Edition 4Runner is a very compelling package. – Matt Grabli, chief Editor at Offroadium.com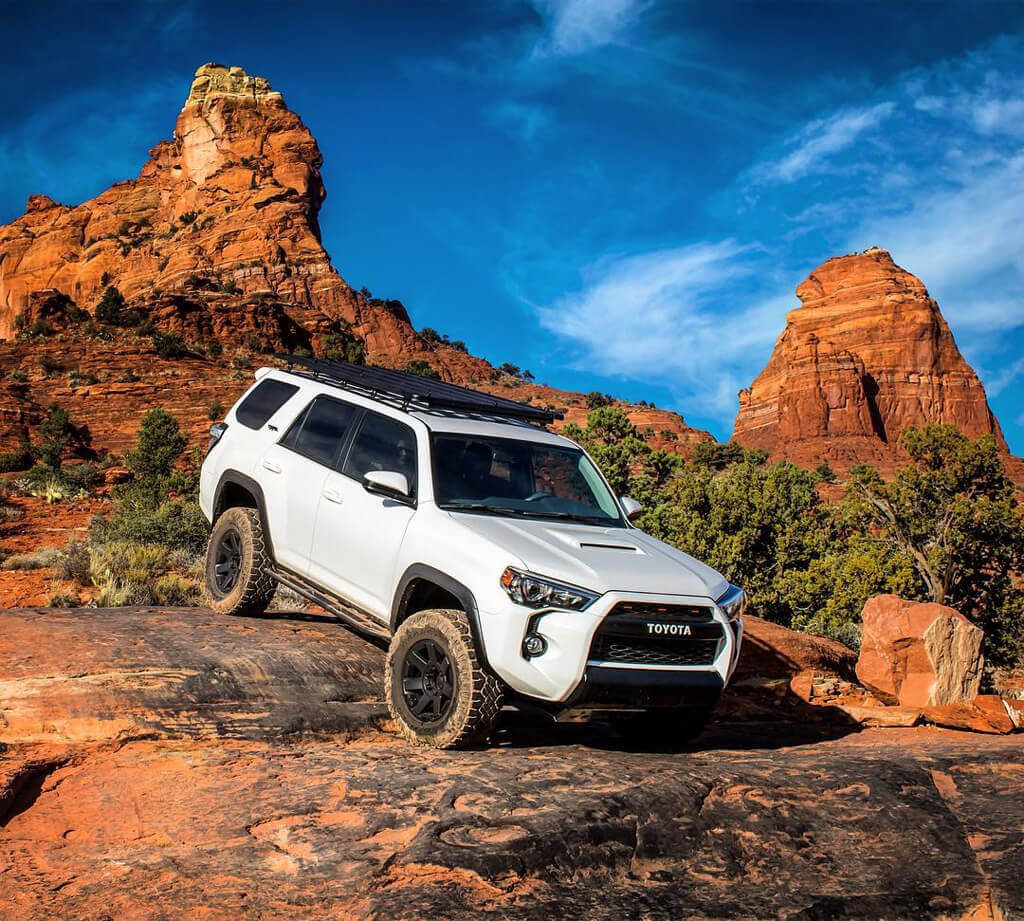 White 4Runner Trail Edition Overland Build + Interview with the Owner
Overlanding and vehicle assisted off-road travels have always attracted adventurers as they allow them to get deeper in the wild and enjoy untouched nature. Many SUVs and trucks that we see on the internet are rocking tons of gear and overlanding equipment worth some crazy amounts of money. A good adventure vehicle doesn't have to be loaded with all possible mods and tweaks, as long as it simply satisfies the needs of the owner, and makes travels more convenient.
This 2015 Toyota 4Runner Trail Edition with the nickname StormRunner isn't packed with loads of gear and extreme mods, however, it serves the role of an ultimate adventure mobile for its owner Josh from Flagstaff, AZ, and features some cool functional upgrades that are worth taking a closer look.
Suspension Lift
The StormRunner is equipped with a Toytec Ultimate Lift to improve the ground clearance and give more room for larger mud tires Goodyear Duratrac sized at 285/70R17.
Rims
If you're not a 4Runner guy and don't know factory equipment specifications, you may be surprised by the fact, that good-looking rims on this rig are stock. Powder-Coated Trail edition rims look beefier thanks to the 1.25″ Wheel Spacers by SpiderTrax, and properly sized M/T tires.
Roof Rack
The low profile roof rack is Eezi-Awn K9 2.2M and it helps Josh to pack just about anything on top of his StormRunner for the next adventure, whether it's kayaks, bags or any other gear.
Skid Plates
RCI Aluminum Skid Plates and StormRunner Designs custom rock sliders take care of the rocker panel protection on the trails and give a convenient leg up for the passengers.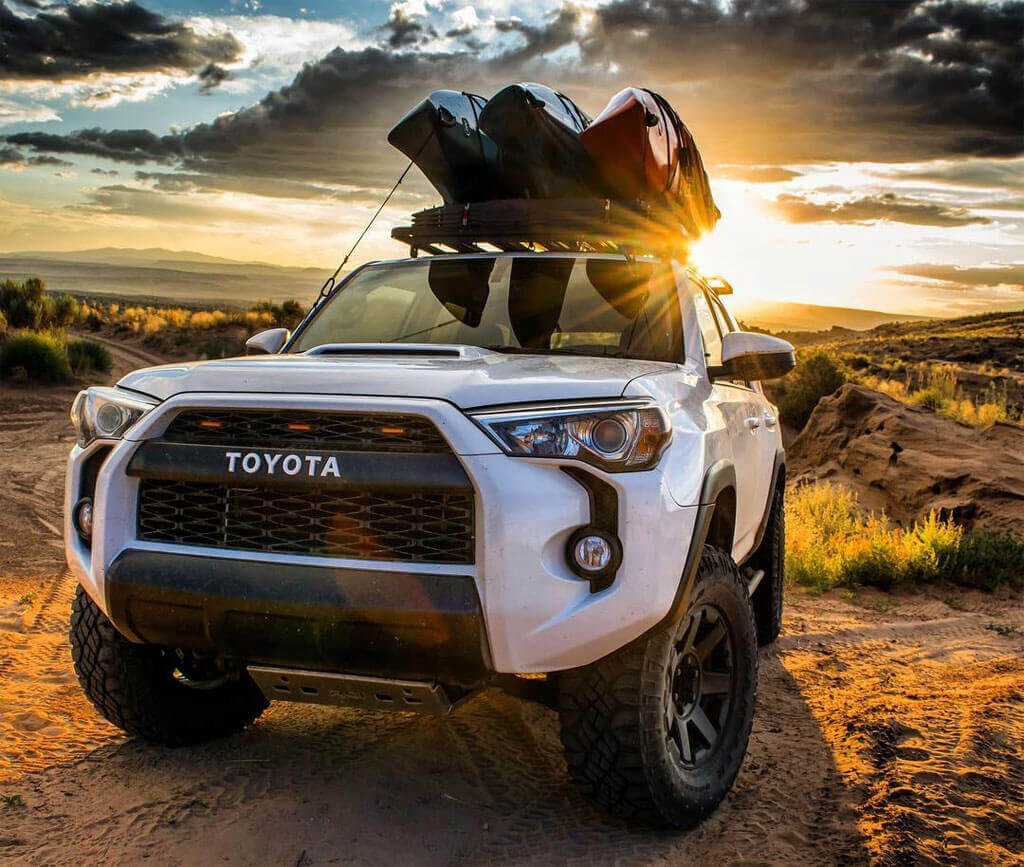 I decided to arrange the further piece of this post in a simple interview manner to let Josh speak with his own words and share his experience of owning this beautiful Toyota 4 Runner.
What inspired you to build the StormRunner?
– Previous Builds. I did a Stormtrooper themed VW Passat W8 and off-road I have built up a Jeep TJ, Dodge Dakota, and Jeep KJ. StormRunner is a blend of those builds and new stuff that I find I need as I travel.
Main purpose of your vehicle?
– Overlanding, recreational offroading, daily driving
How often do you take it offroad?
– Weekly
What are your plans on future mods?
– Travel! Travel is definitely the most important mod to me and as I travel I find things that could make life more enjoyable on the road or make the 4Runner more capable off-road. Next I will likely be looking at an awning and building my own on vehicle water system.
Who would you like to mention or thank for the help on your project?
– Just my wife who puts up with my long weekends in the garage building things for the truck or installing things on the truck. And every now and then when I could really use an extra pair of hands she will come help me.
Anything else you would like to tell us about your vehicle?
– Just a suggestion to other overlanders: Build your truck for YOUR needs. You don't have to have a Roof-Top Tent and 22 Lightbars to have an "overland" vehicle. Go out and explore and decide on what would make your life more enjoyable while out and focus on those things. The goal for me is for my 4Runner to deliver me to amazing places and for it to be comfortable and enjoyable in getting there. The 4Runner is an amazing platform for that.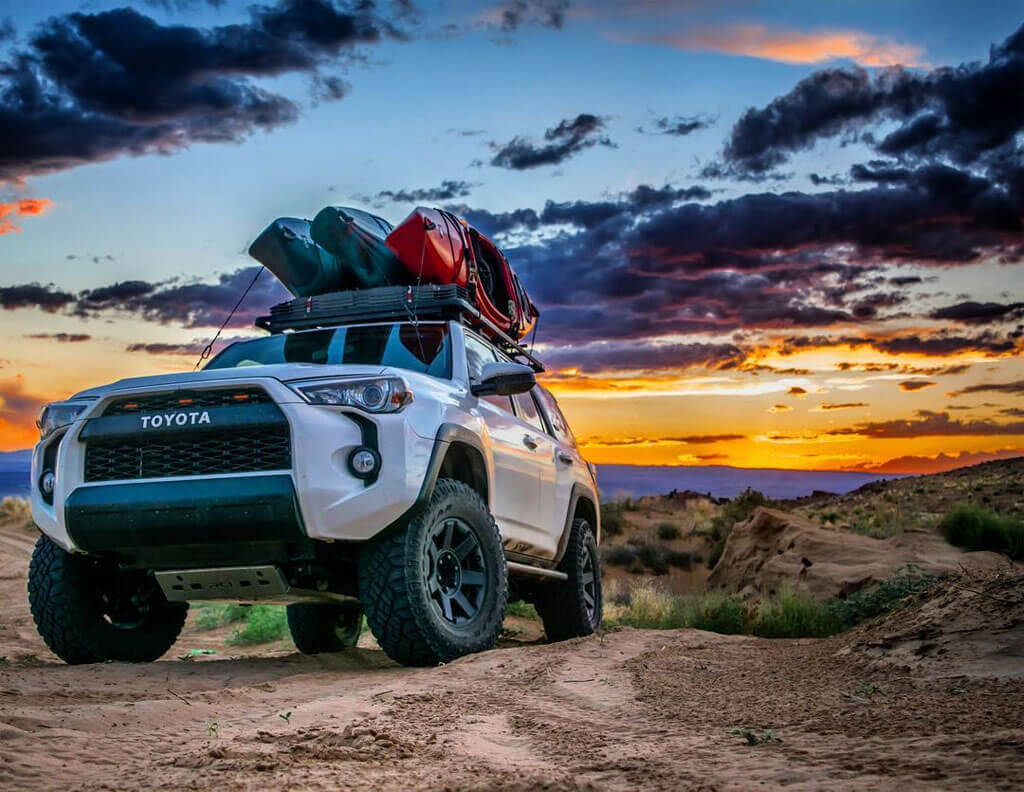 MODS & UPGRADES
RCI Aluminum Skid Plates
TRD Pro Grill
TREDPro Traction Boards
Ellis Precision Shift Knobs
StormRunner Designs Custom Drawer System
TRAIL Badges (Shapeways)
Odyssey Group 31 Battery
PelfreyBilt Battery Cage
Blue Sea 12-Circuit Auxiliary Fuse
BlockPelfreyBilt Fuse Panel
ARB 50Q Fridge
Painted Bumper Valences
Grand General 77650 Grill Lights
Interior LED Light Conversion
Differential Breather Re-Locate
Fog Light Independent Control
Sharkfin Antenna Delete
Dipped Fender Flares
Toyota 4Runner Trail Edition Specs (2022)
Engine and Transmission
4.0L V6 engine
5-speed Electronically Controlled automatic transmission with intelligence (ECT-i) andsequential shift mode
270 horsepower with 278 lb.-ft of torque
Fuel Economy
MPG City/Hwy: 16/19
Wheels and Tires
17″ silver aluminum Wheels
Dimensions
Wheelbase (in.): 109.8
Length, Overall (in.): 190.2
Width, Max w/o mirrors (in.): 75.8
Height, Overall (in.): 71.5
Other Features
4-wheel drive
ABS and driveline Traction control
Dual-stage driver and passenger seat-mounted side airbagsToyota Safety Sense P (TSS-P) and Star Safety System
Available Yakima LoadWarrior cargo basket
Available sliding rear cargo tray
Available 40-qt premium accessory cooler with tie-downs
Towing Capacity
Production years
2010, 2011, 2012, 2013, 2014, 2015, 2016, 2017, 2018, 2019, 2020, 2021, 2022.
Toyota 2023 line up no longer offers this trim, yet it may return for 2024/2025 thanks to it's popularity.
Colors
*Please note that these specs may vary depending on the specific model and options chosen.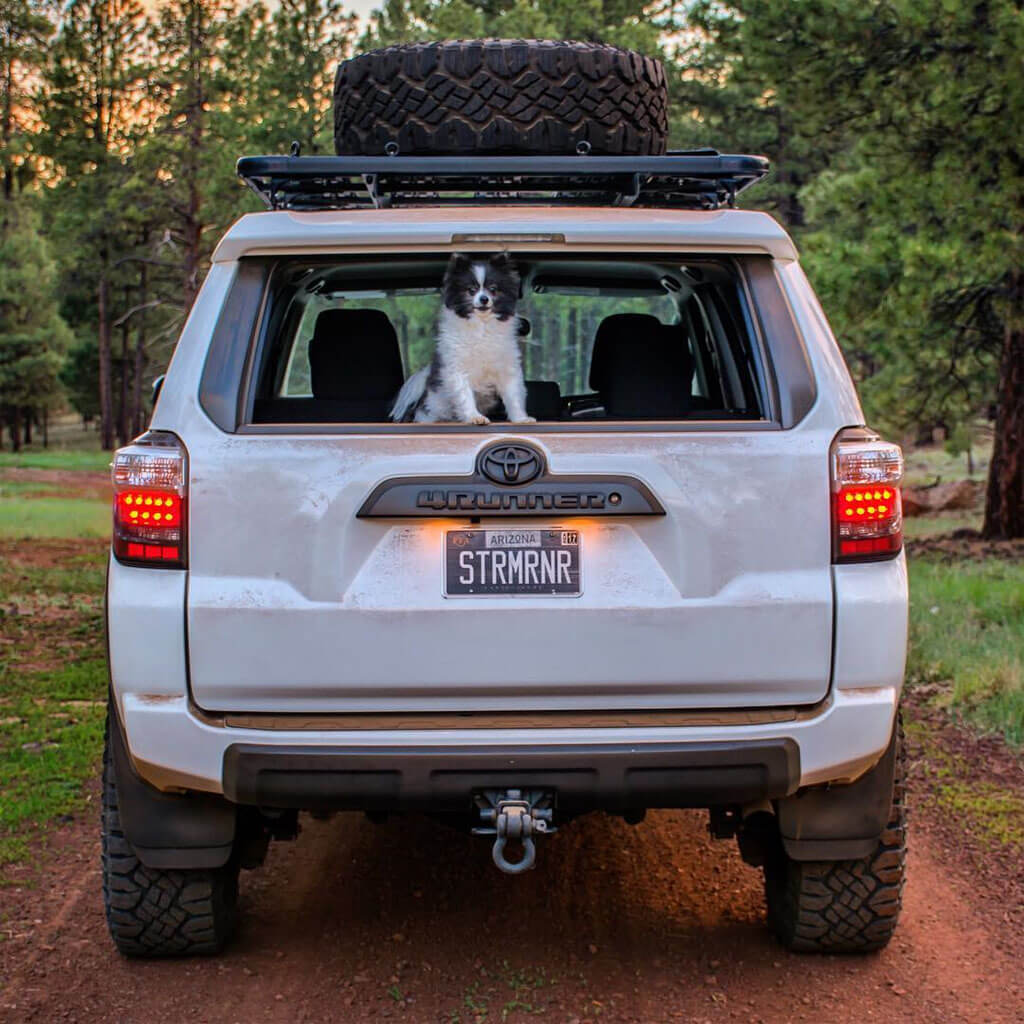 Key Takeaways
The 4Runner Trail Edition slots between the SR5 and TRD Pro models with enhanced off-road capabilities for a moderate price.
Key upgrades include all-terrain tires, wheel, bumper, upgraded suspension, underbody protection, and advanced traction tech.
Compared to other midsize SUVs, the 4Runner Trail stands out with body-on-frame design, rugged suspension, and legit off-road features.
For light to moderate off-roading, the Trail Edition removes the need for many aftermarket upgrades thanks to its factory boosts.
The Trail Edition hits a sweet spot between family SUV comfort and hardcore rock-crawling prowess.
Conclusion
The Toyota 4Runner Trail Edition hits the bullseye for enthusiasts seeking an affordable off-road rig. It takes the 4Runner's legendary bouldering skills to the next level without breaking the bank. For weekend warriors who don't need a hardcore rock crawler, the Trail Edition's blend of enhanced traction, protection, and tech make it a well-rounded package ready for adventures right off the dealer lot. If you're craving a 4 Runner built for taking the path less traveled, be sure to test drive the Trail Edition. And check back on Offroadium.com as we continue reviewing 4Runner builds and upgrades to push your Toyota to its limits.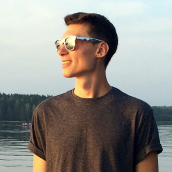 Matt Grabli
Matt brings over a decade of automotive expertise to his role as staff writer and editor at Offroadium.com. With an enduring passion for the off-road vehicles and adventures, he is devoted to creating interesting content that equips 4x4 enthusiasts with the knowledge to improve their rigs.