Toyota 4Runner Off-road Build – The First Aid for Escaping the Pavement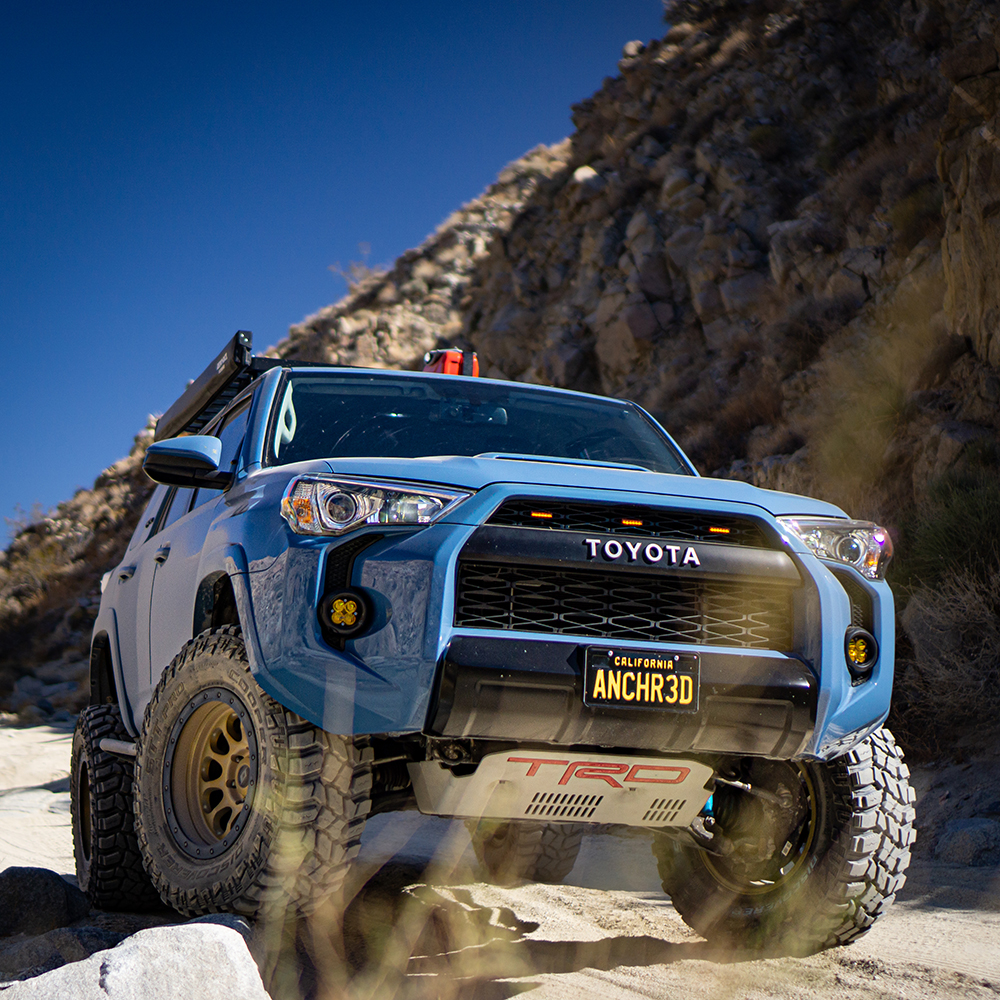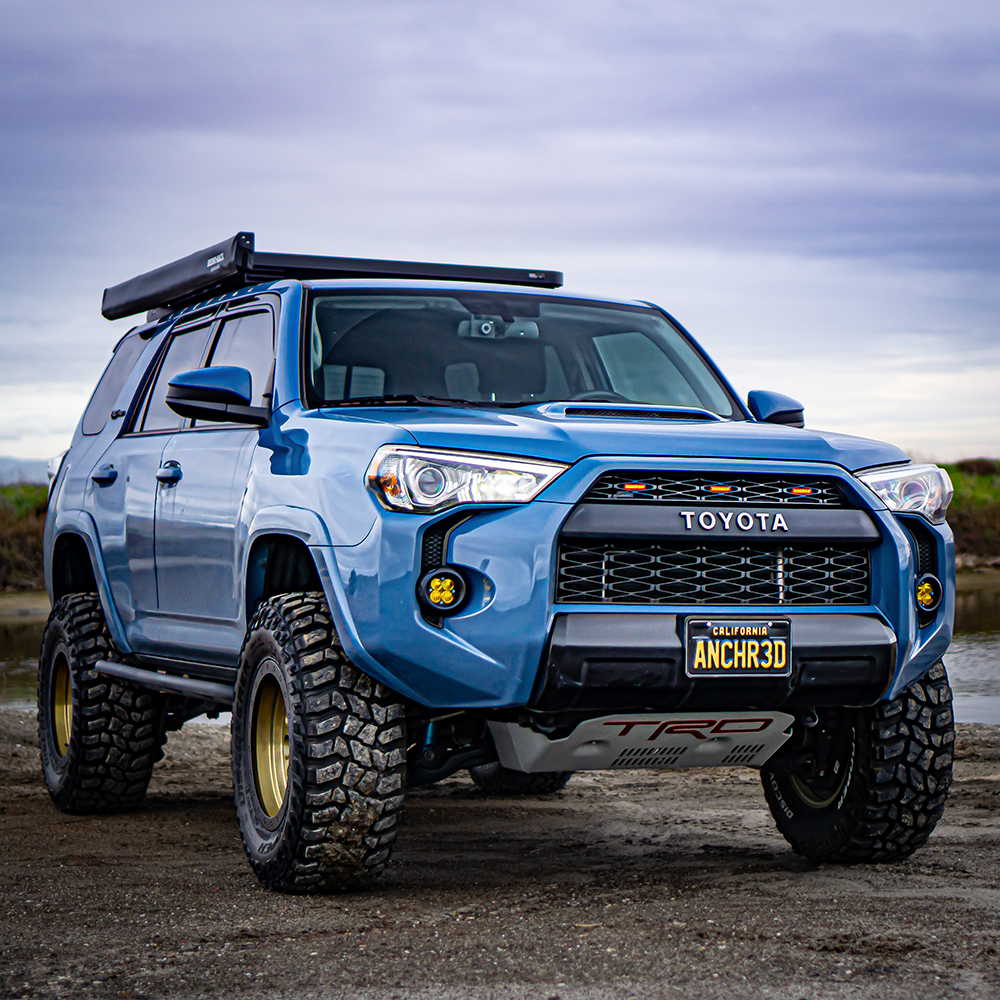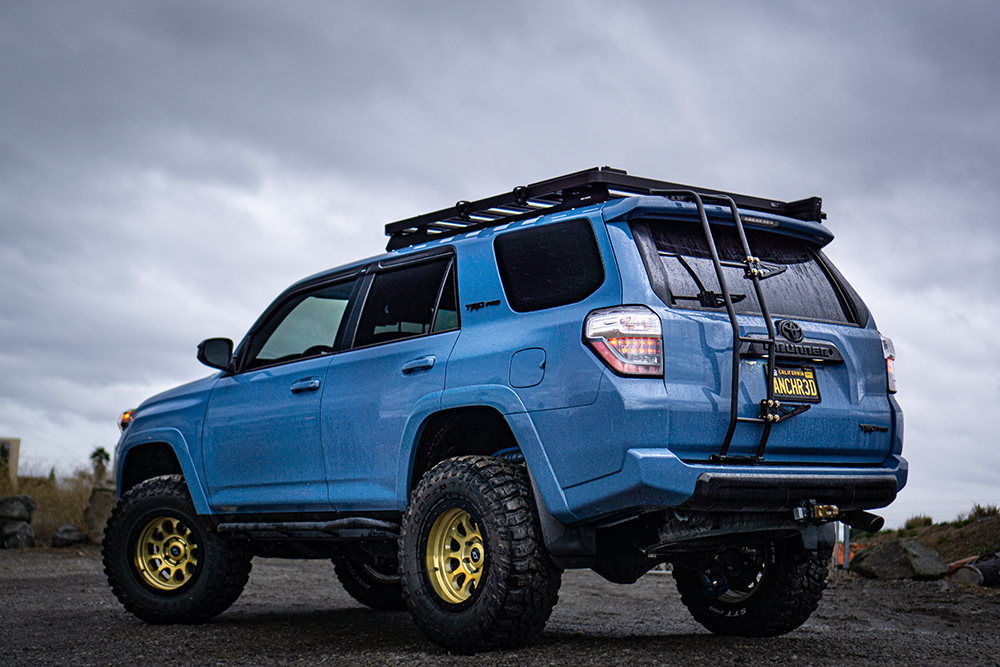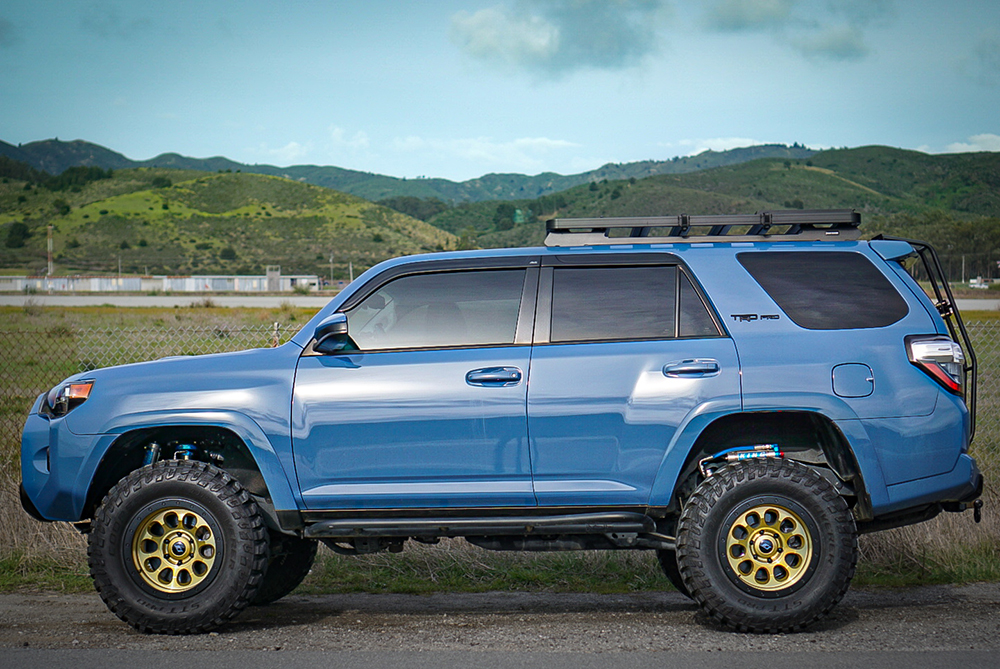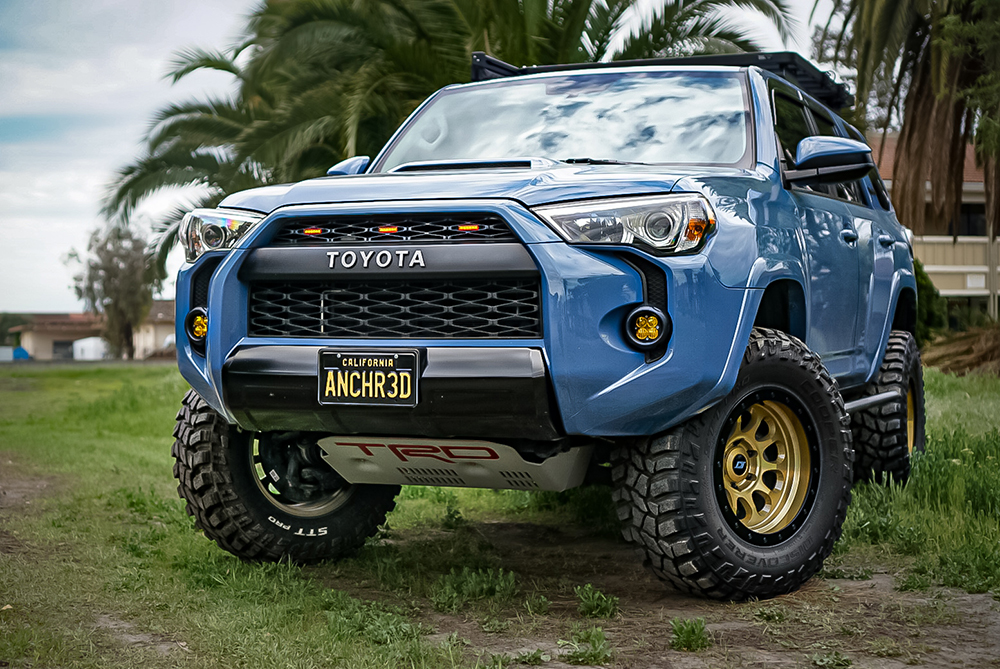 View Gallery
Toyota 4Runner needs no introduction, as it's probably one of the most iconic modern-day SUVs for adventurers and fans of the overland-style travels. Its 5th generation turned out to be extremely successful thanks to the remarkable off-road characteristics, famous Toyota reliability, and of course, the design, which still looks pretty fresh, even though the last major facelift was done back in 2014.
The rig that you see on the pictures is owned and modified by Steve from San Jose, CA, who was kind enough to talk with us and provide the full insight at the mods and upgrades done to his SUV.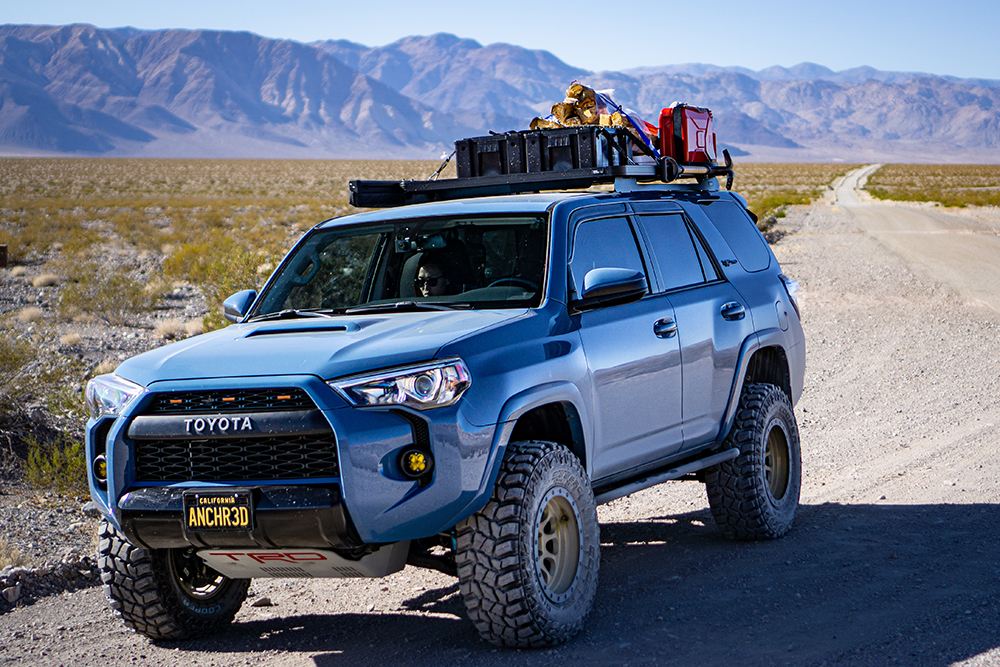 Like many of us, he inherited the love to off-roading from his father, who happened to own a 4Runner back in the day too. It's no wonder that when the time came, he decided to get the modern version of the same model and make it a little better suited for his future off-road adventures.
"I grew up in the backseat of my dad's 4Runner. That thing gave us some great memories as a family, so it just kind of stuck" – says Steve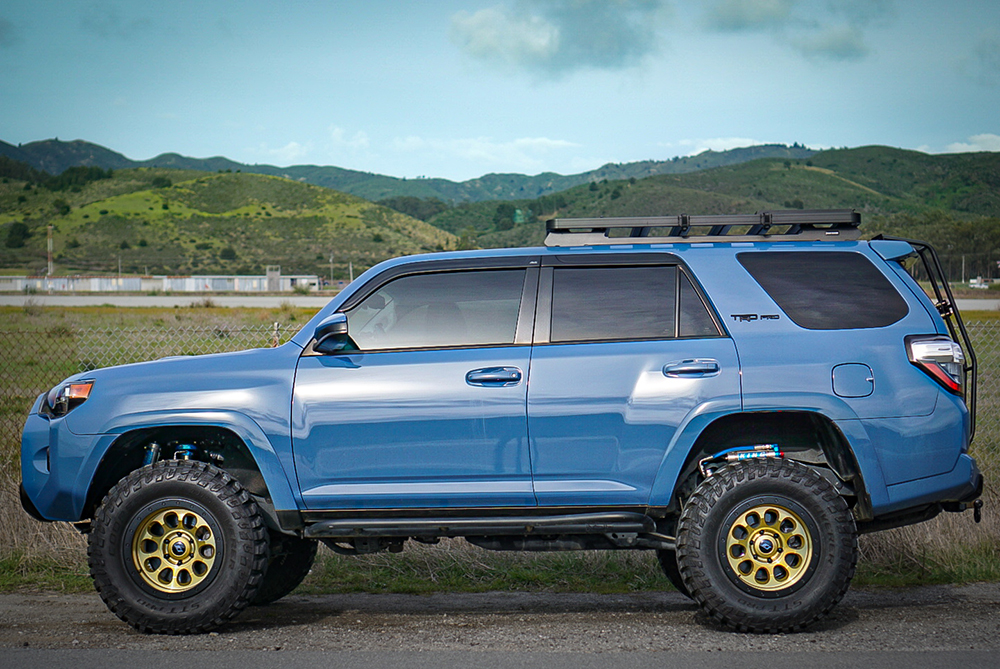 How did you become interested in off-roading?
– I've always been interested in a vehicle that could go off road and take you places you couldn't get with a regular car. Driving is too often associated with a daily chore rather than one of the most awesome freedoms we have: mobility. Being able to escape the pavement once in a while just makes driving that much more fun.
What inspired you to choose this modification style?
– My main goal with this truck was to keep it simple as much as possible while improving its overall capability and looks. It was nice to know how little I had to do to achieve this as a stock 4runner is already a beautiful rig.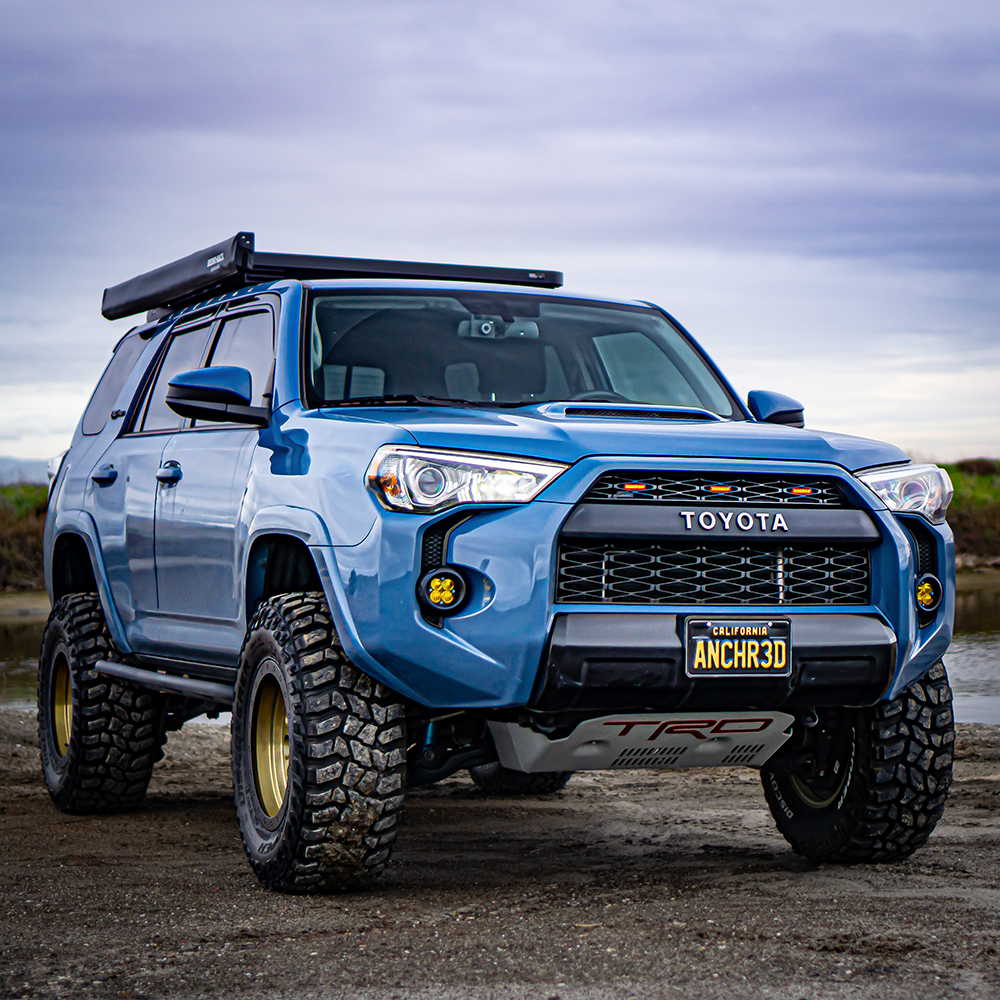 What challenges did you face while putting it together?
The justification for spending so much money (haha)!
What do you love about your vehicle?
Where it can take me, how it looks, and how amazing this shade of blue is!
Is it your daily or a weekend ride?
Daily.
Do you take it off road? If so, where and how often?
Yes. About every 2-3 months, work willing.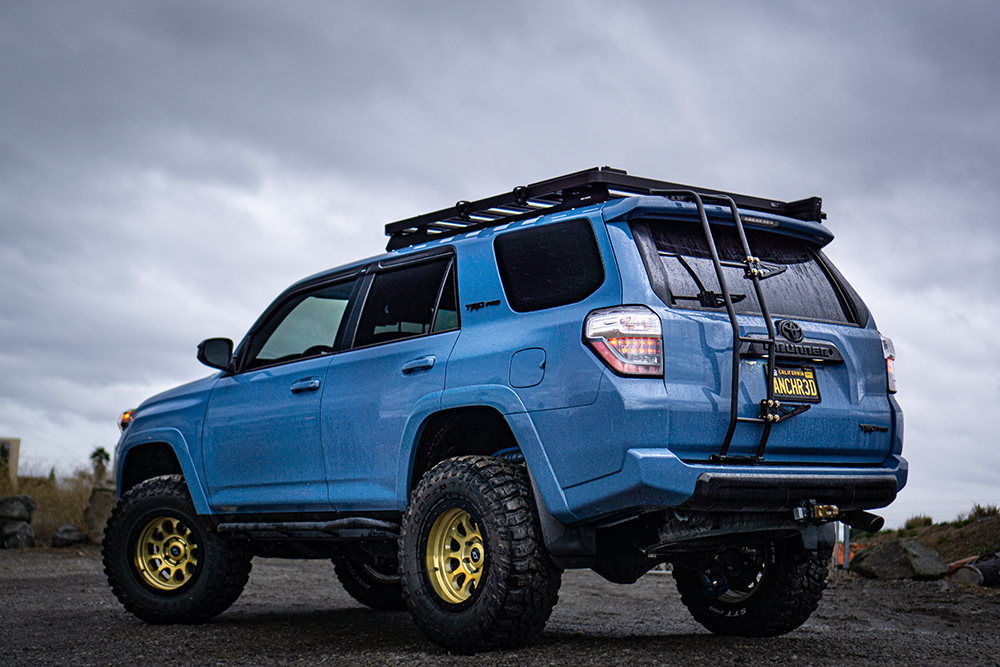 "Toyota 4Runner TRD Off Road has made its way into the list of 5 Best Modern Off Road SUVs and proudly scored 129.5 points overall according our evaluation tests".
2018 Toyota 4Runner TRD Pro 4.0 liter V6 – Specs
Lift height and suspension modifications
KING 2.5 OEM Performance shocks (extended travel; with adjusters) set to about 3″ of lift in the rear and 2.5″ in the front
Dobinsons 701 rear coils
Timbren Industries Active Rear Bump Stops
Durobumps front bump stops
Wheel specs
Stealth Custom Series Ray 10 in brushed gold – 17×9 (-38mm)
Cooper STT Pro LT295/70r17
Exterior mods
Front Runner Outfitters 3/4 roof rack
Gobi ladder
Rhino Rack Sunseeker 2.0 awning
RSG Offroad sliders
Baja Designs Squadron Sport fog lights
Interior mods
ICS Fab dash mount
Pioneer AVH-NEX4400 with wireless Apple CarPlay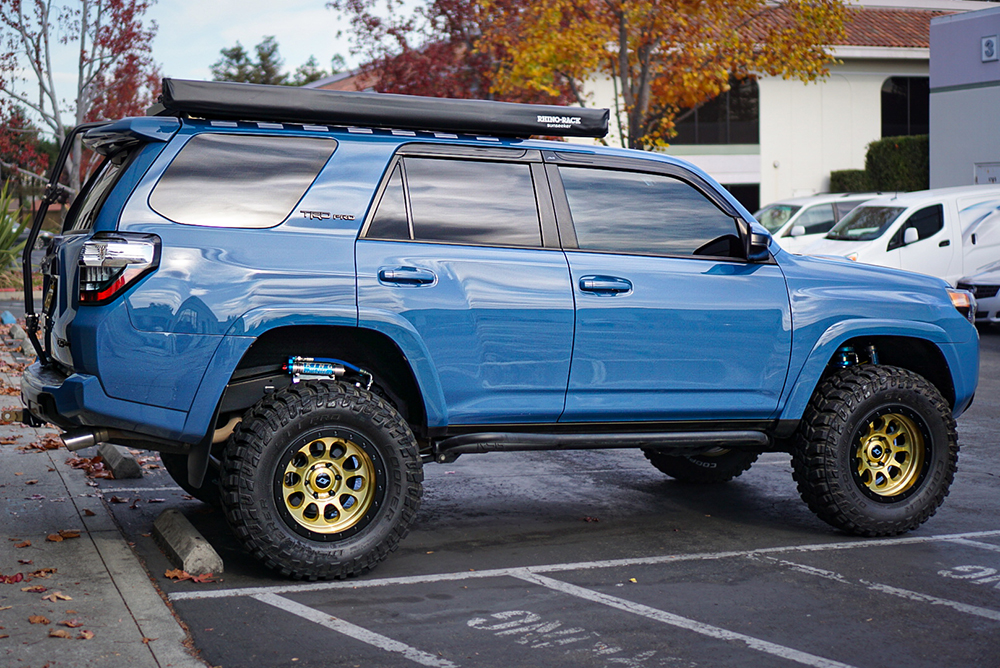 What are your future plans about this vehicle?
Interior organization (i.g., drawer system, sleeping platform) as well as better exterior lighting.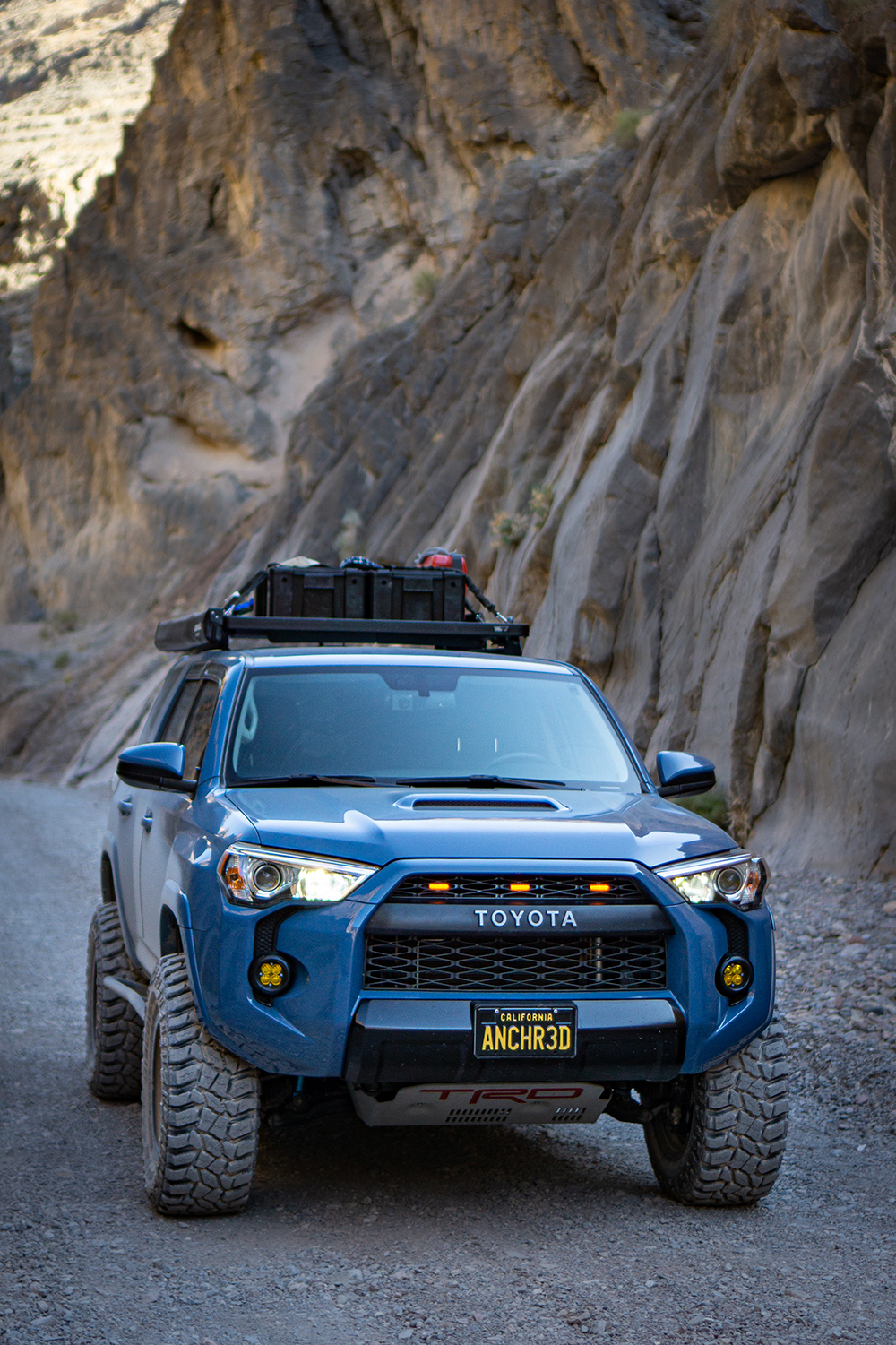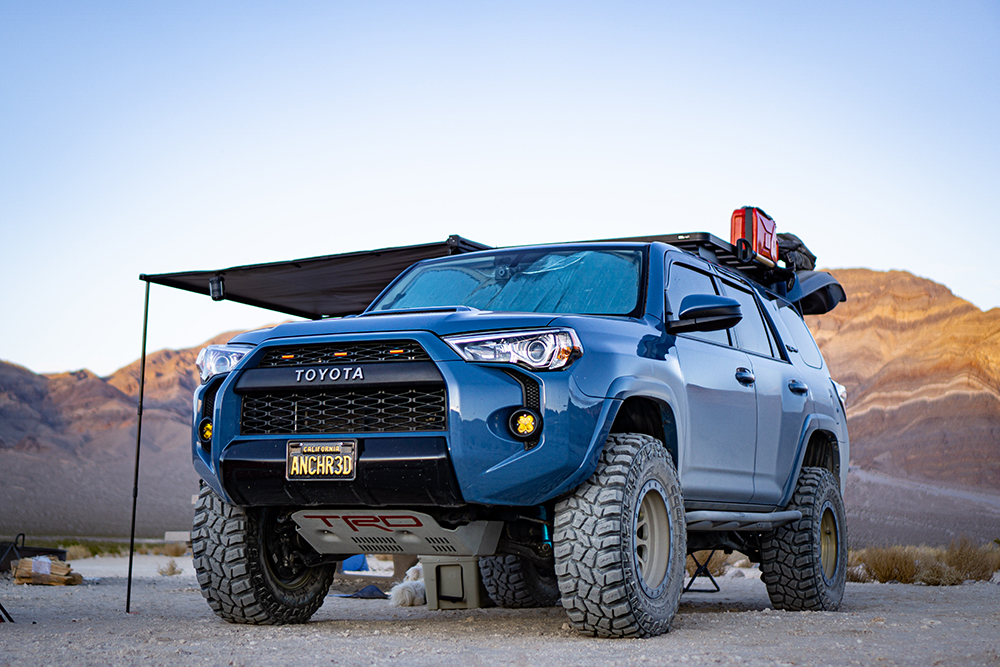 Watch the progress and find out more about this Toyota 4Runner project by visiting the Instagram profile of the owner: @anchr3d!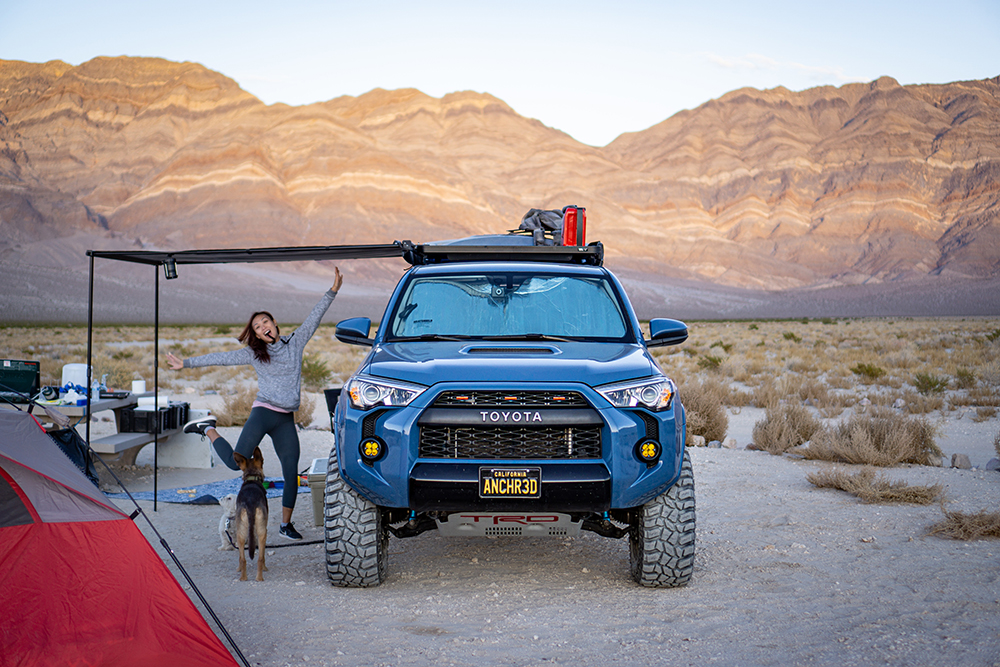 Related Parts & Mods
– Inspired by this Toyota 4Runner build and looking to prepare your own SUV for off-road adventures? Some parts used on this vehicle were sourced from custom shops or custom made, but our team has put together a list of products and accessories available online that may help you to achieve similar results:
Lift Kit
Wheels
Roof Rack
Awning
LED Lights
*Before ordering any part or accessory, it is recommended that you verify its fitment with a qualified professional and/or seller. We are not responsible for fitment or other issues that may arise from using the products featured on our website.
Stay tuned for more project reviews on Offroadium.com – Follow us on social media and share this write up if you enjoyed reading it!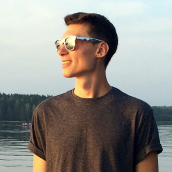 Matt Grabli
Matt brings over a decade of automotive expertise to his role as staff writer and editor at Offroadium.com. With an enduring passion for the off-road vehicles and adventures, he is devoted to creating interesting content that equips 4x4 enthusiasts with the knowledge to improve their rigs.