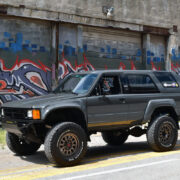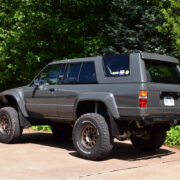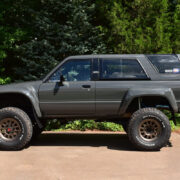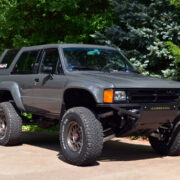 View Gallery
Most modern SUVs look sleek and sporty with little to none to do with offroading, but back in the day, when the first generation of the 4Runner had hit the U.S. market, sport utility vehicles were rough around the edges, rugged, and gritty. Today, while still in production, the 4Runner is one of the longest-running Toyota's nameplates. Many believe the 4Runner has set the standard for style and functionality in SUV class. It managed to remain true to its nature and mostly retain its original, pickup-truck-like character that we first saw in 1984.
The model was introduced to please pickup truck fans who would like to have more utility with the bed covered with a fiberglass canopy and more space for people with the back bench seat. It had a 4-wheel-drive and a solid front axle. But most of all people were intrigued by a super reliable 22RE inline-4 engine. Two years later, the truck was updated with independent front suspension. The first-generation Toyota 4Runner can handle anything you throw at it – sand, snow, mud, or rocks. It is comfortable when driving on the road and very capable when it comes to offroading.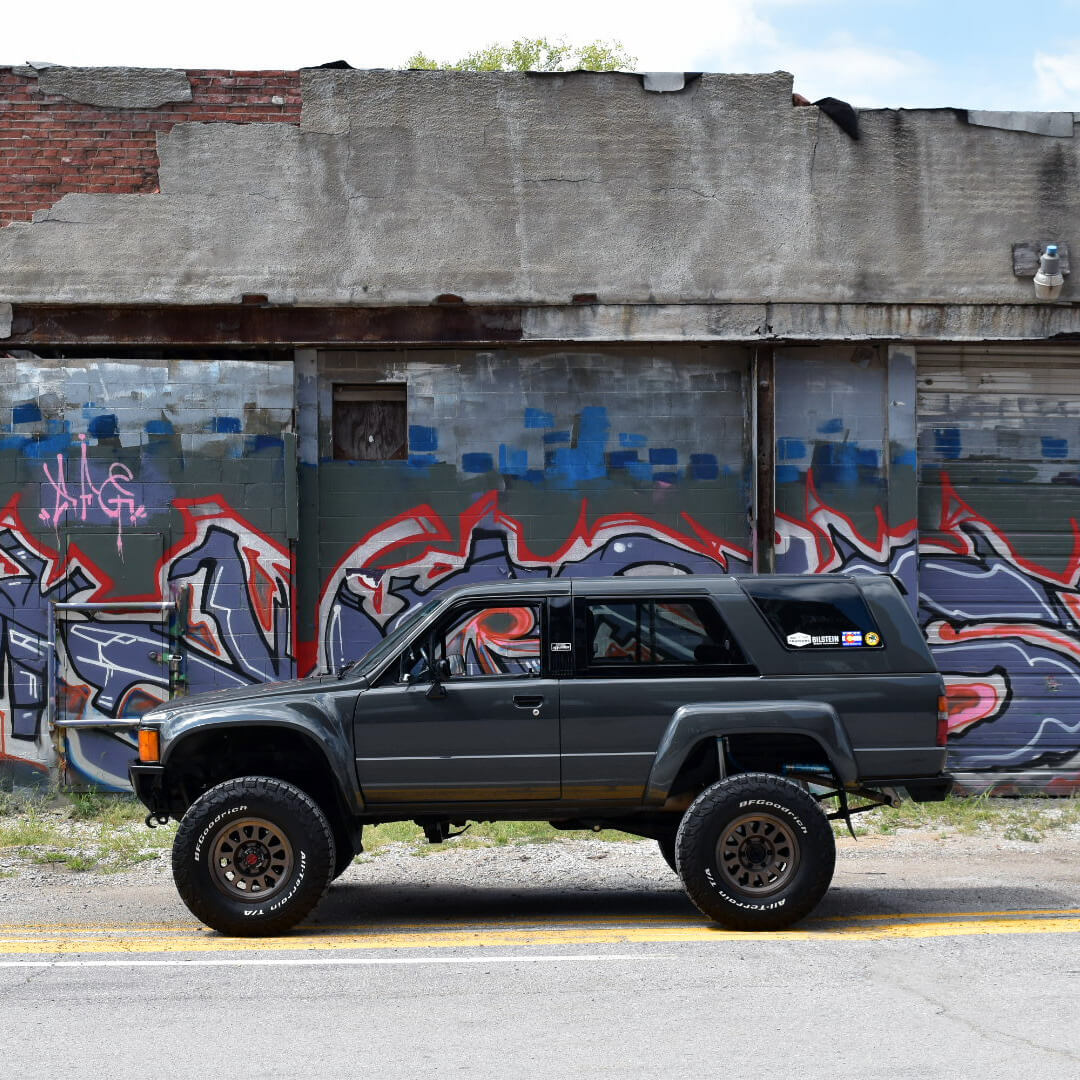 The story of this impressive lifted 1988 Toyota 4Runner build began in August 2018 when Garrett H. From Oklahoma received a call from a neighbor who was set to move offering his non-running 1-gen 4Runner for just $500. It was a no-brainer for Garrett, and he jumped into this opportunity knowing he would have to work his @ss off to make the truck look and feel as good as new and even better. Now we see the result of the months spent inside the garage fabricating, fitting, adjusting, and upgrading. Check out the interview with Garret who told us what he had to do to make this awesome vehicle shine again.
"1-gen 4Runner for just $500 – It was a no-brainer for Garrett, and he jumped into this opportunity knowing he would have to work his @ss off to make the truck look and feel as good as new and even better"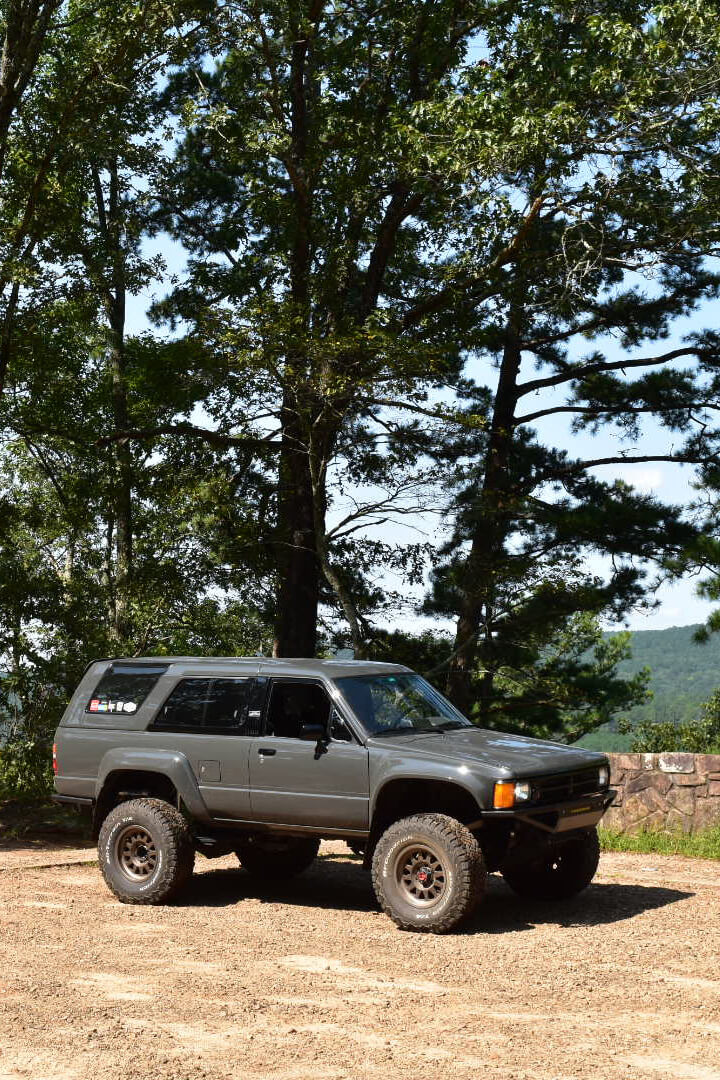 How did you become interested in off-roading?
– My parents would take my brother and I exploring around Colorado and in the San Juan's 20+ years ago in the '92 Land Cruiser that I continue to drive to this day.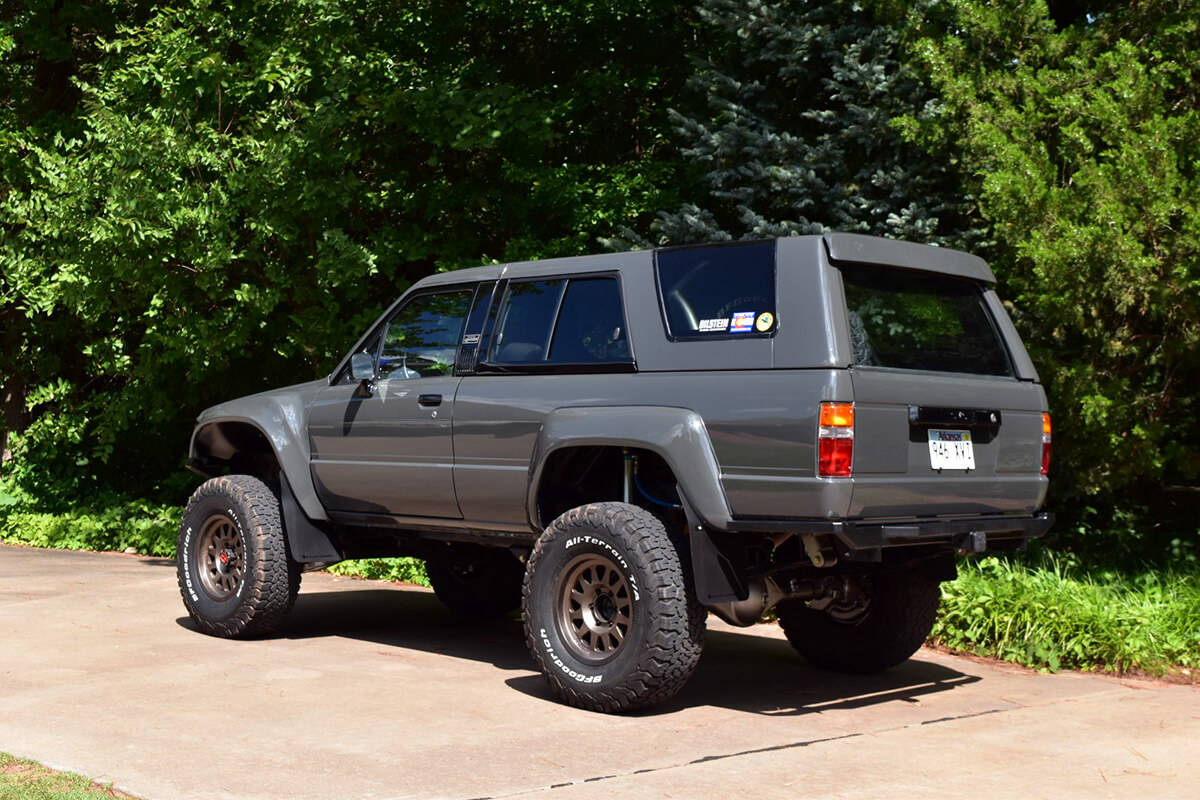 Why did you choose this particular model for your project?
– A couple of years ago I was approached by a neighbor, who was moving into a gated neighborhood, asking if I had any interest in buying it or helping him get it running so he could sell it. I paid $500 for it with 203.5k miles on it.
What inspired you to choose this modification style?
– Coming from a large heavy 80 series Toyota Land Cruiser, I wanted something a little quicker and more fun to drive.
What challenges did you face while putting it together?
– A ton but the most stressful part was building this while finishing my final semester of classes and dealing with shipping delays from Covid-19. I really went to work on it around the end of March 2020. I had an immovable start date at a new job in a different state the first week of July. I don't think I've ever worked harder in my life on something but knowing it had to be done meant I was putting in 80+ hour weeks nonstop.
What do you love about your vehicle?
– It's something that inspires and builds stoke for others to go out and build stuff. There's nothing inherently difficult with it other than just getting started and committing to the project, learning from mistakes, pushing yourself to do the best work possible.
Is it your daily or a weekend ride?
– Yes, I daily drive it. It gets twice the fuel economy of my 80 series Land Cruiser with 430k miles on it. I've put about 7k miles on it in the past 5 months.
Do you take it off-road? If so, where and how often?
– I haven't had a lot of time to take it out yet with starting a new full-time job and a move, but I've taken it down to the Ozarks a couple of times and SW MO. I've got a trip planned for Little Sahara at the end of January and then out to Utah this spring.
SPECS – 1988 TOYOTA 4RUNNER
Engine specs, modifications
– Nothing fancy. Just an all original 22RE and 5 speed manual. It took a little bit of work to get it running, but other than that and a little bit of preventative maintenance it's been very dependable.
Lift height and suspension modifications
– Nothing fancy. Just a 2" ish lift with a +3.5" LT kit up front and a fully custom LT rear set up with Chevy 63s, 4th gen 4runner rear axle with Nitro 4.88 gears and LSD, and custom tuned 14" travel King 2.0 remote reservoir shocks with compression adjusters mounted outboard the frame with custom mounts.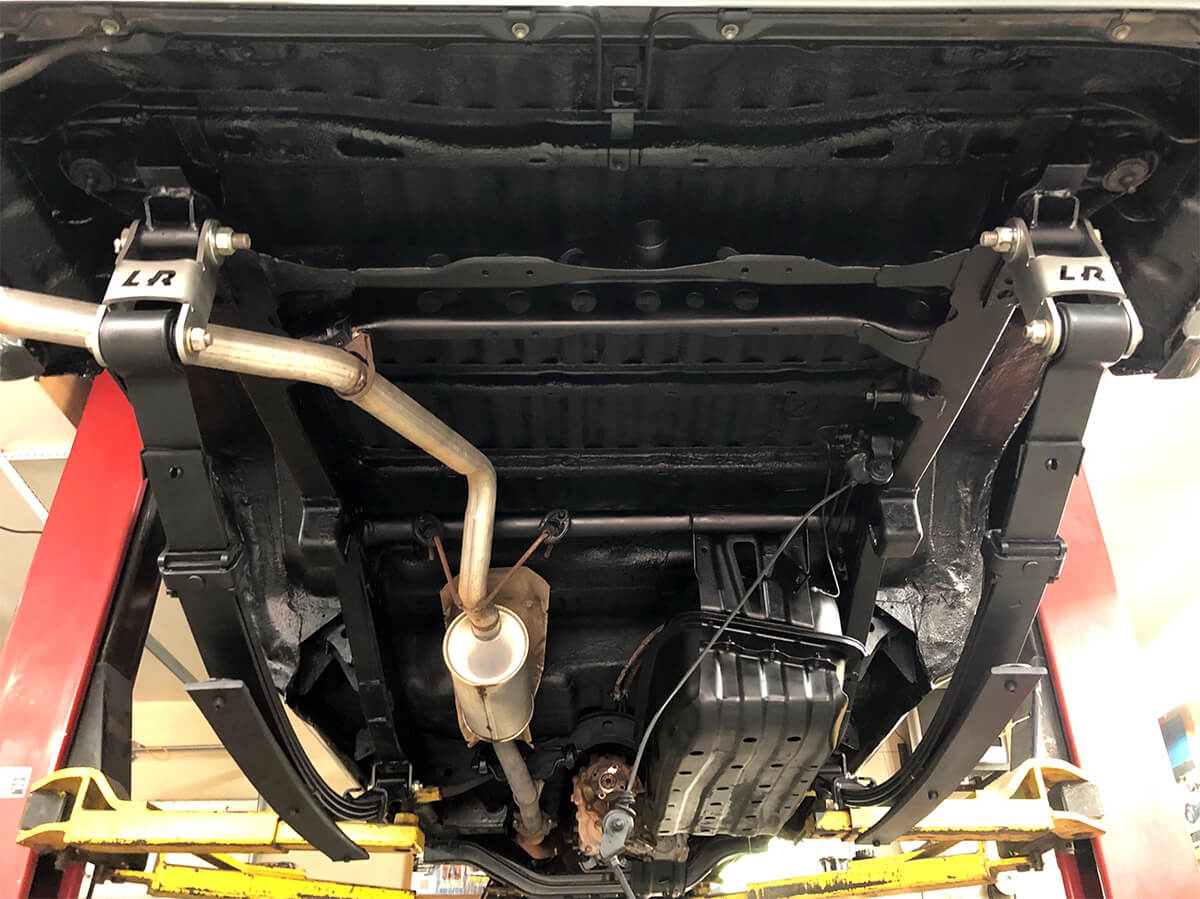 Wheel specs
– 16 X 8" 0 offset Method 704s
Exterior
– There are a lot of exterior modifications that I did ranging from subtle to wild. More of the wild stuff includes custom front and rear bumpers that I built, Advanced Fiberglass Concepts front fenders, Hannemann rear flares, ~3" rear quarter panel chop and wheel well raise, full glass out respray in Ferrari Grigio Scuro.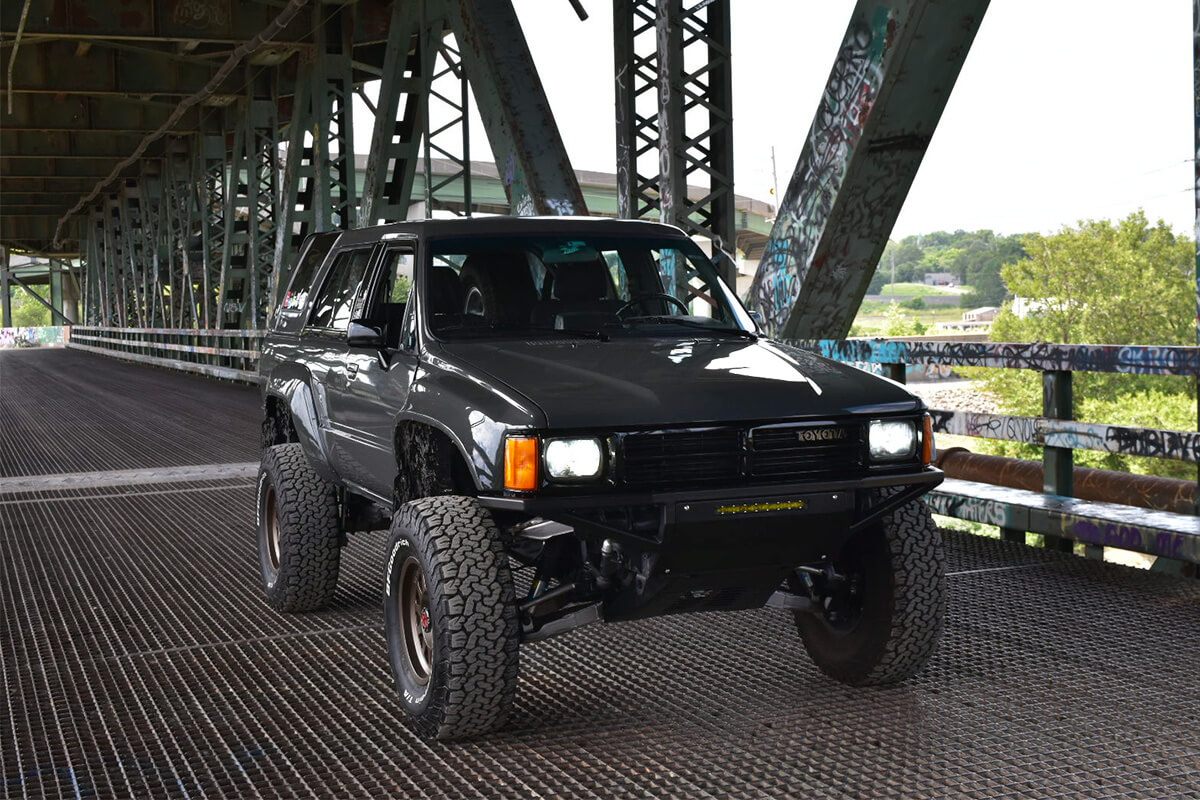 Interior
– The interior has been reworked significantly to freshen it up without varying too far from its original design. I swapped in 2016 Ford Police interceptor sedan front seats and had the rear seats reupholstered to match the fabric and pattern of the fronts. The driver's is 6 way power adjustable, and I modified the passenger seat to tilt and slide forwards like the original seat. I also swapped out the cheap single din aftermarket HU a PO had swapped in for a Pioneer with apple carplay. I covered every body panel in 80mil Noico sound deadener and threw in a full brand new carpet set from ACC. I also CNC cut ABS interior panels to replace the non existent and torn up original ones.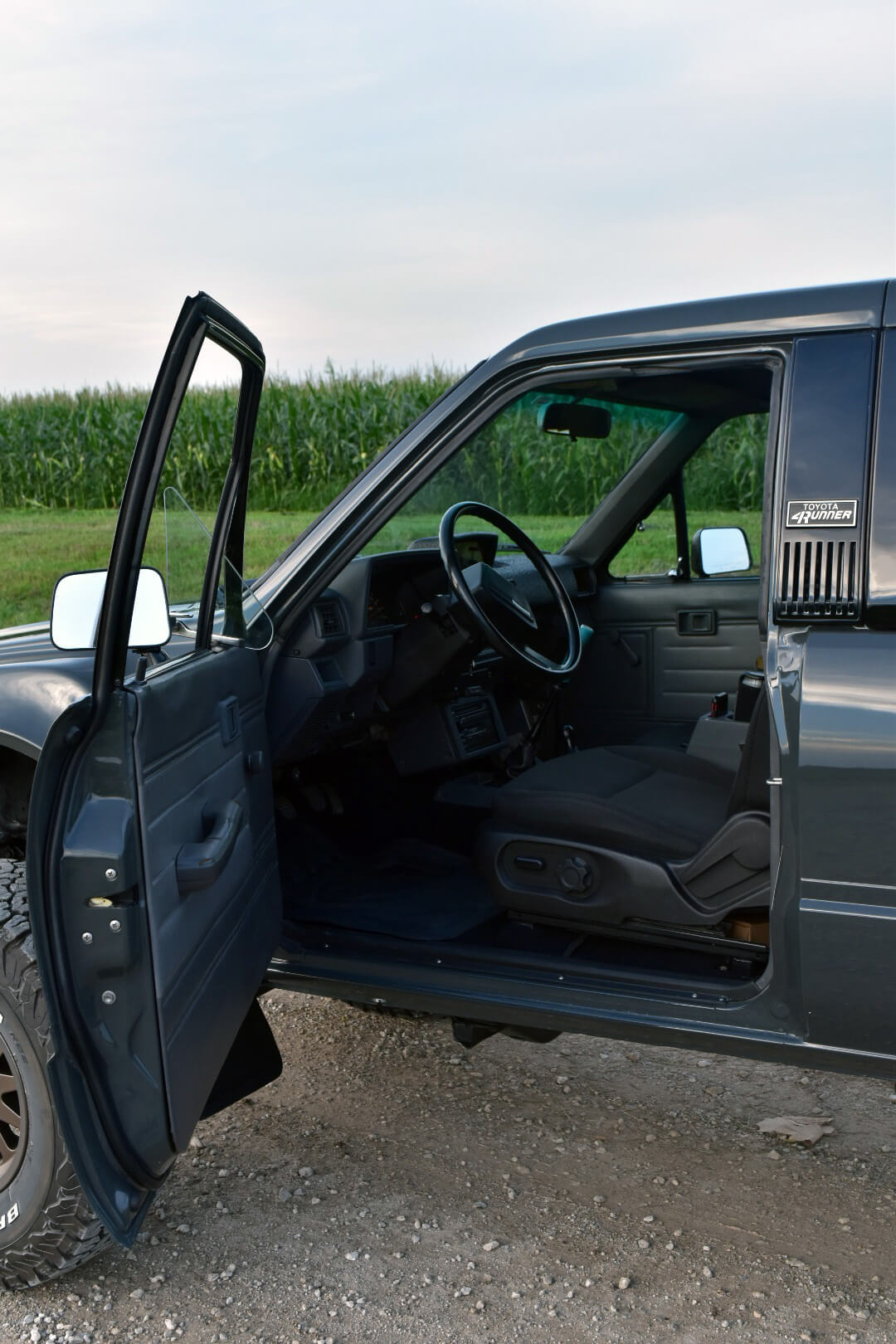 What are your future plans about this vehicle?
– I'm working on my own coilover conversion and boxed control arms. I would also like to 1UZ swap it once the 22RE requires more work or I get tired of it. I have also started work on a poptop tamper too for it, but I keep changing my mind on how I want that to end up so that'll be in awhile.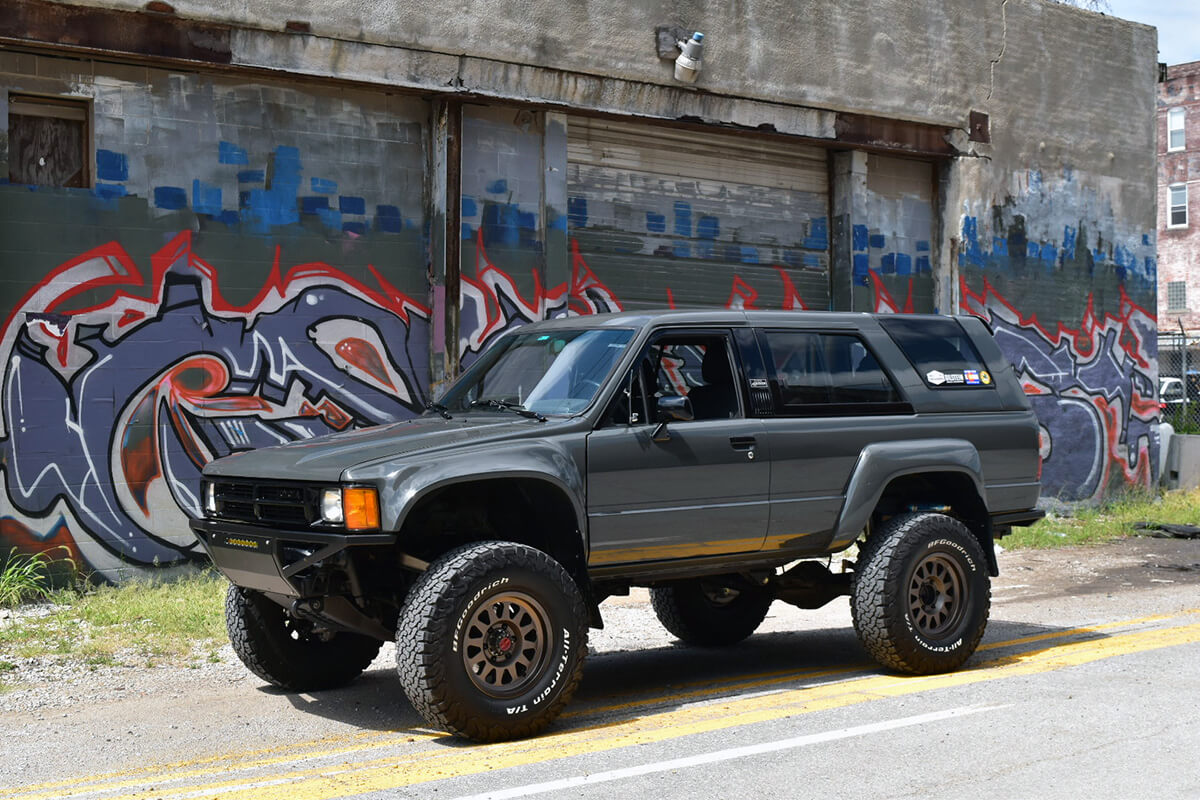 Watch the progress and find out more about this Toyota 4Runner project by visiting the Instagram profile of the owner: @therallyrunner!
Stay tuned for more project reviews on Offroadium.com – Follow us on social media, and share this write up if you enjoyed reading it!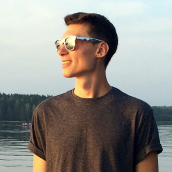 Matt Grabli
Matt brings over a decade of automotive expertise to his role as staff writer and editor at Offroadium.com. With an enduring passion for the off-road vehicles and adventures, he is devoted to creating interesting content that equips 4x4 enthusiasts with the knowledge to improve their rigs.