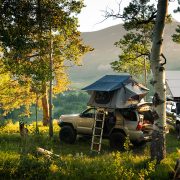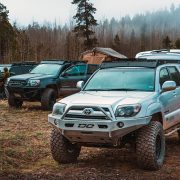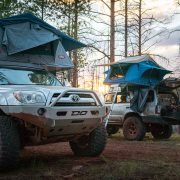 View Gallery
The Toyota 4Runner is a mid-size SUV known for its reliability and outstanding off-road capabilities. It is one of the longest-lasting vehicle nameplates in the U.S. with an almost 4-decade production run. Toyota's philosophy about this model remains the same: keep it off-road-worthy, good-looking, and built to last.
The vehicle is a part of the fourth generation of 4Runners receiving a powerful 4.7-liter V8 engine that offers an added punch, performs flawlessly, provides smooth rides on the highway, and allows for trouble-free extreme rock crawling, which was exactly what its owner, Will from Colorado, needed.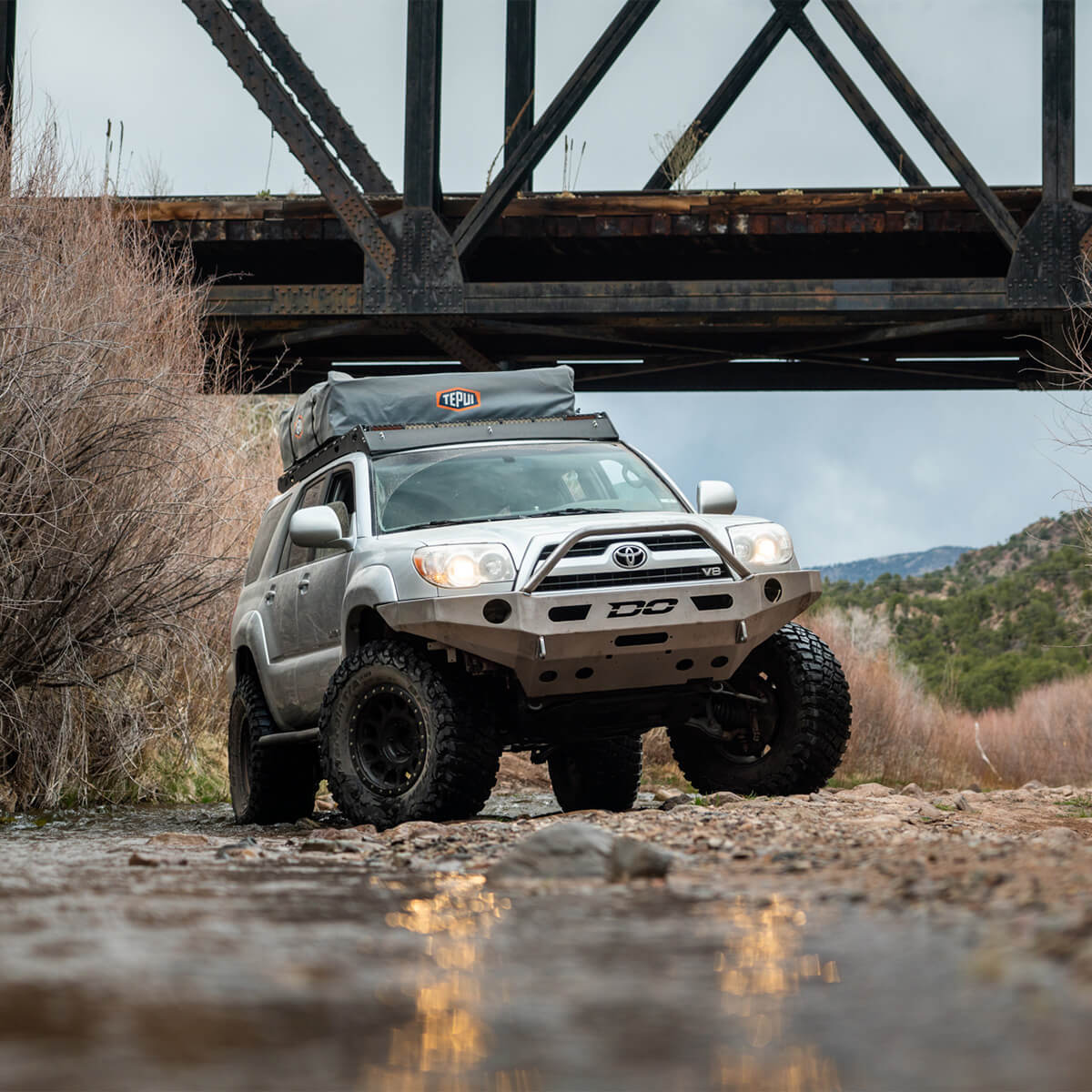 He had some experience using the previous generation and was stoked to receive a great deal on slightly damaged 4-gen 4Runner receiving a perfect template for his off-roading project. A body-color-matched custom Demello front bumper greatly increasing the approach angle when compared with the stock unit became the centerpiece of the exterior instantly grabbing attention.
Will and his friends had to put some elbow grease into the project to fit 17×9 Method NV305 wheels and 315/70/17 BFG KM3 tires with 34″ diameter into the wheel wells having only 2" of suspension lift with Dobinsons MRR coilovers and Rear Shocks and SPC Upper Control Arms.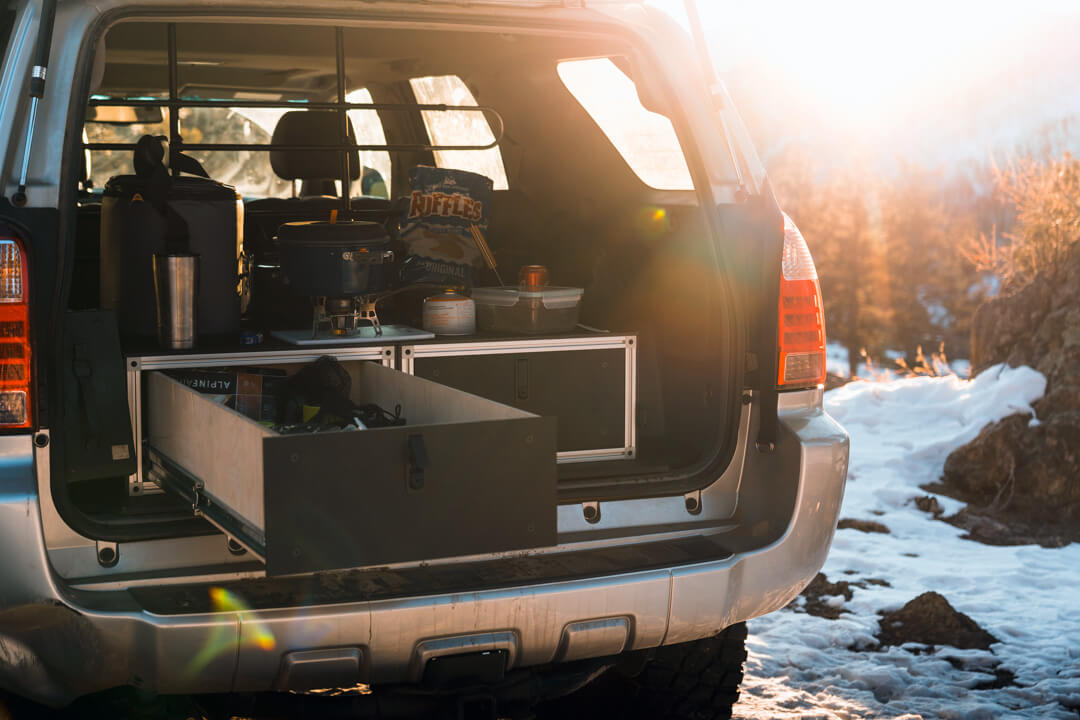 The biggest blessing anyone can have is getting to do what you love for a living, and Will one of the few people who could turn his passion into a business. Currently, he owns and operates a company designing and manufacturing custom roof racks and other accessories for off-roading.
And of course, he packed his rig with his own products for ultimate testing. The Tepui roof tent and a solar panel sit snugly on his own Sherpa Equipment Co. Princeton roof rack. The 4Runner's cargo area now looks well-organized and tidy with the baseplate and drawer system. The only thing that the rig is missing, is a fridge that will allow for even longer summer trips. Will says it is coming soon and will be installed in the place of the bigger portion of the rear seat.
"Currently, he owns and operates a company designing and manufacturing custom roof racks and other accessories for off-roading"
How did you become interested in off-roading?
– I found off-roading when I was a kid. My parents were a part of a Jeep club back then and we would spend our summers traveling from Texas to Colorado with the Club to experience the mountains. Later on, I was involved with a group doing more extreme rock crawling and racing in King of the Hammers. Most of my passion for wheeling etc. has come from that time period.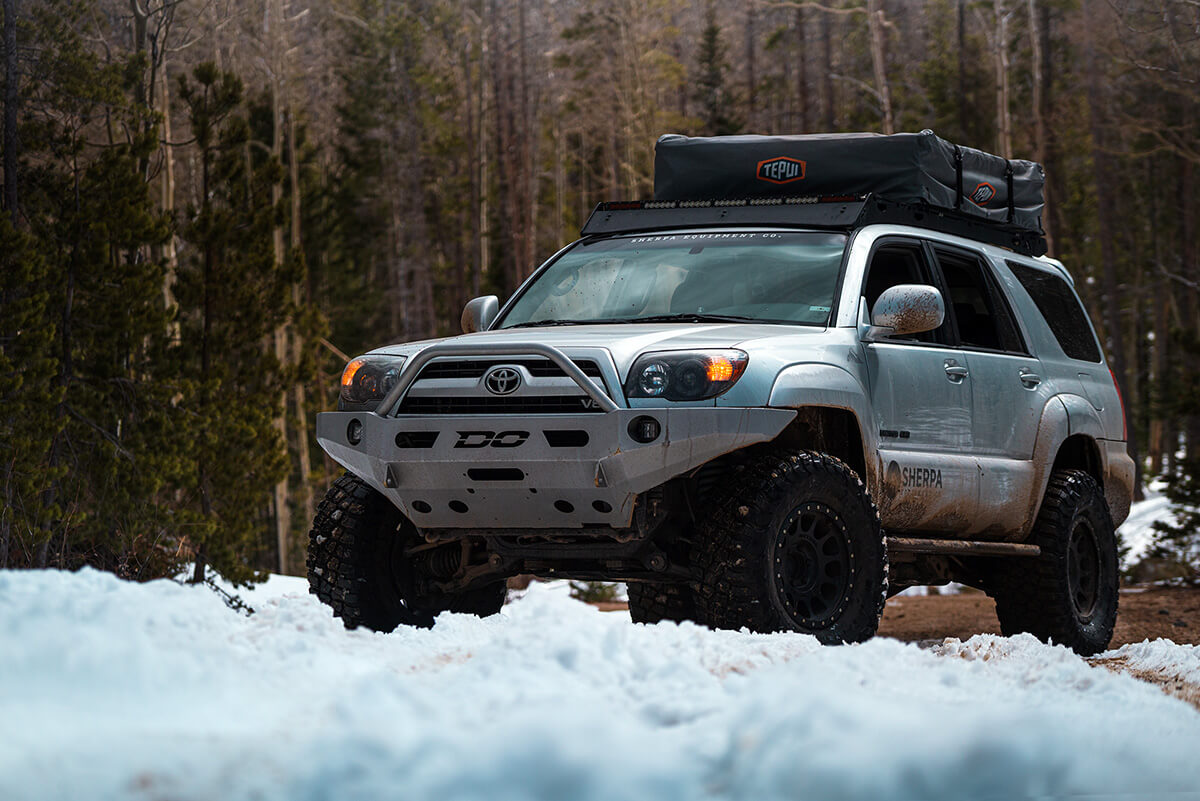 Why did you choose this particular model for your project?
– I chose the 04 Limited 4Runner after owning a 02 that was extremely reliable but lacked in everything else. I was moving towards more long-distance travel and needed something that had a little more power for gear and equipment. The truck also packs in little things like 9 JBL speakers and seat warmers.
I got a great deal on the truck at an auto auction because it was missing a front bumper and had 5 hail dings. I had also made the decision to get a dog and the little bit of extra space was quite welcome. It also helped our business connect with a small but growing market segment. People are slowly moving up to 4th and 5th gens from the 3rd.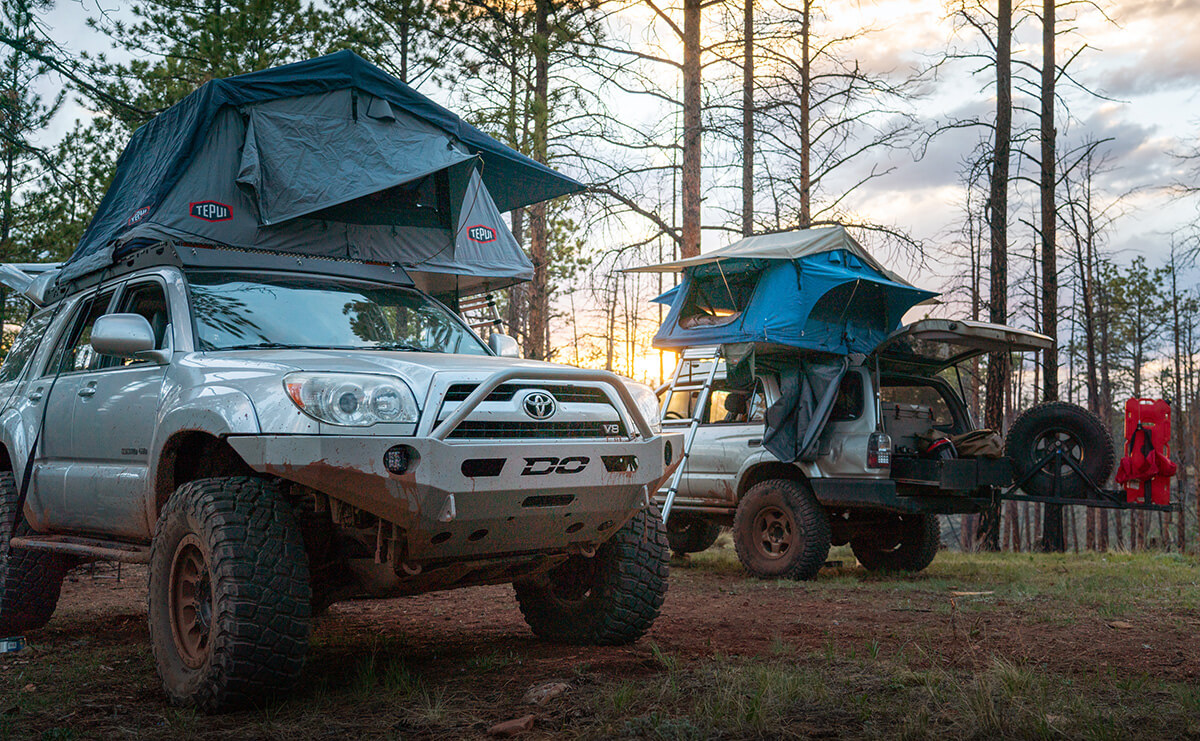 What inspired you to choose this modification style?
– I wanted to find a balance between harder wheeling and "overlanding". I chose to pair bigger more aggressive tires with very little lift to keep the truck as low as possible. But I also wanted to be able to live out of the truck on long trips as needed. I just don't believe in letting it sit in a parking lot and I want to use it to knock out some of the hardest trails in Colorado and Utah.
"I wanted to find a balance between harder wheeling and "overlanding""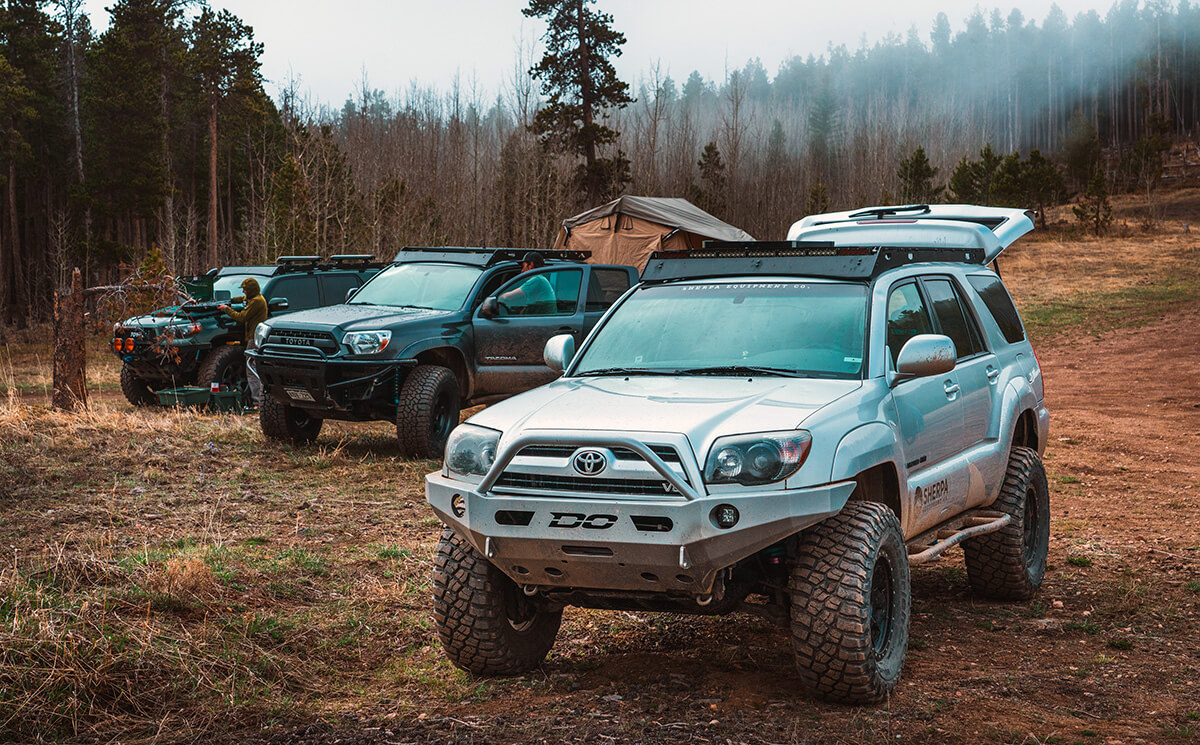 What challenges did you face while putting it together?
– Fitting the tires was a huge task and I am grateful to have so many friends who helped make it happen. Up to this point people thought you needed to slap on large body lifts in order to clear a 35″ tire and I wanted to prove them wrong. There was a lot of tucking and trimming that went into fitting them, but I couldn't be happier with the final result.
What do you love about your vehicle?
– I love the power and how well it all just works when it's on the trail. It's hard to quantify but I feel like it just plain works and does exactly what I need it to.
If I had to pick something else I would say the little interior comforts like the drawer system and camera quick release.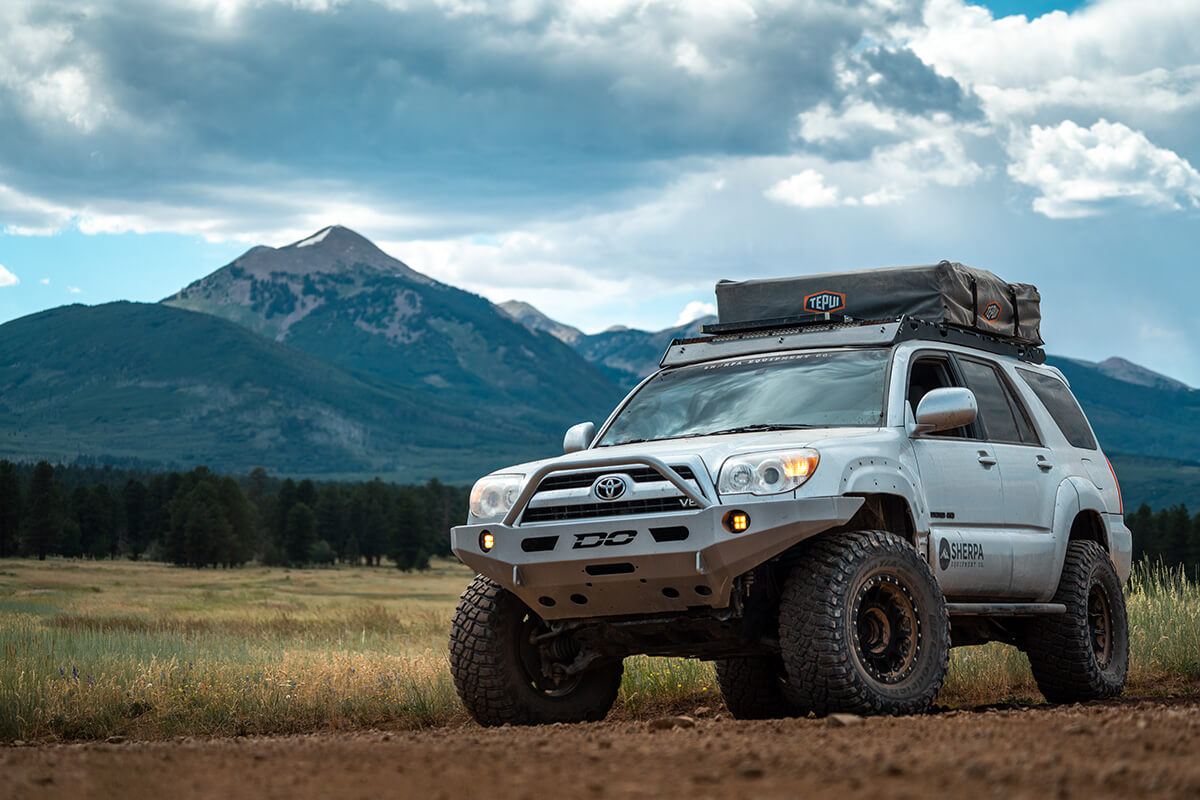 Is it your daily or a weekend ride?
– It is primarily my adventure vehicle for the time being. I do have a car that is better suited to economy driving. But when the mountains call the truck answers.
Do you take it off road? If so, where and how often?
– YES!!! The mountains of Colorado and rock canyons of Utah. ~2 good trips a month. I don't get out as much as I used to.
What are your future plans about this vehicle?
– More aggressive suspension, building a custom high clearance rear bumper, continue building out the kitchen/drawer area, water tank, etc.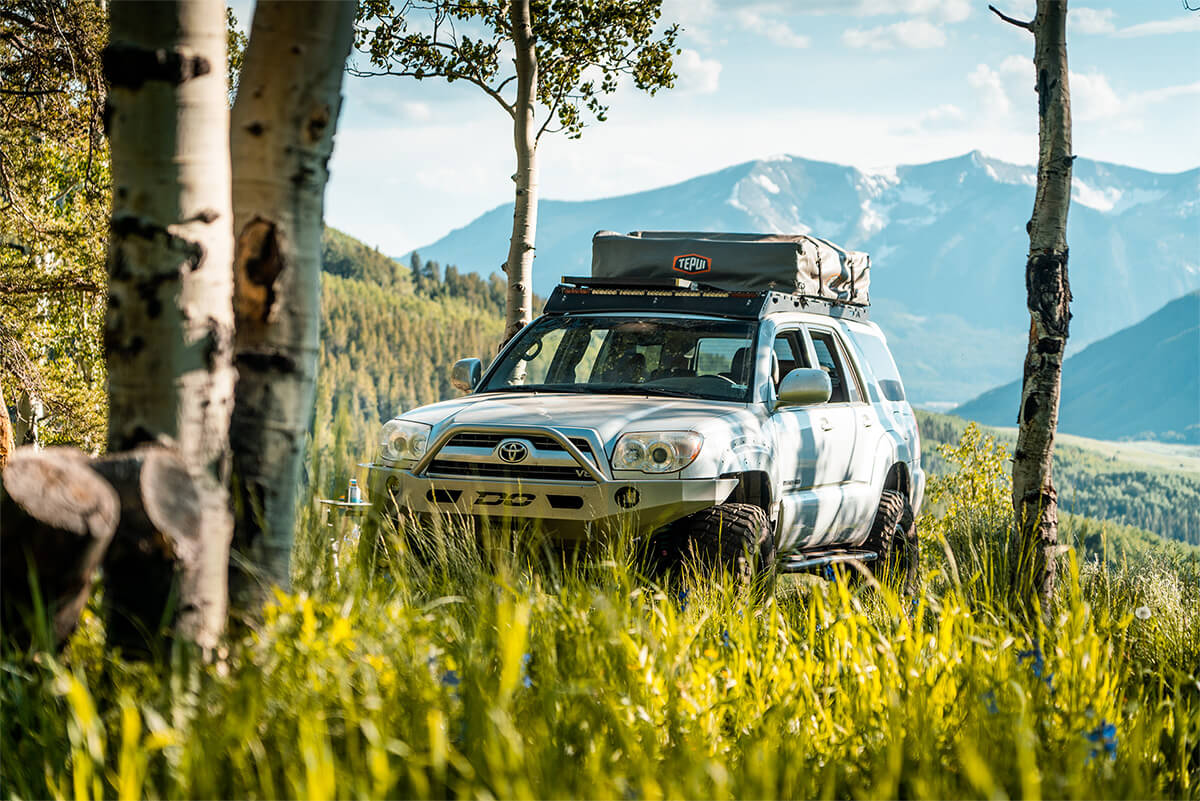 Anything else you would like to share about off-roading in general?
– Don't be afraid to get outdoors and have an adventure with whatever vehicle you have. You don't need fancy suspension and expensive light bars to have a good time and find your own sense of adventure. The industry has become so focused on money and outward appearances that it takes away from the enjoyment of it all. Also, be safe and stay on the trail when out exploring. Don't be afraid to admit you don't know what you're doing and go educate yourself on proper trail use.
"You don't need fancy suspension and expensive light bars to have a good time and find your own sense of adventure"
4th Gen 2004 Toyota 4Runner 4.7L VVTI V8 – Specs
Lift
~2″ of Lift,
– Dobinsons MRR Coilovers and Rear Shocks
– SPC Upper Control Arms
Wheels
– 17×9″ Method NV305 w/ 4.75 backspacing and 0 offset
Tires
– 315/70/17 BFG KM3 (34″ Tire)
Exterior
– Sherpa Equipment Co. Princeton Roof Rack
– Demello Front Bumper
– Custom Sliders
– Tepui RTT
– Solar Panel
– Maxtrax or Sherpa Adapt Plate
Interior
– Sherpa Equipment Co. Baseplate and Drawer System
– Molle Panels for Drawer System
– Camera Quick Release and HAM Radio Mount
– HAM Radio
– Fridge (Soon)
– 60% Rear Seat Delete (Soon)
Watch the progress and find out more about this Toyota 4Runner project by visiting the Instagram profile of the owner: @wp_oliver!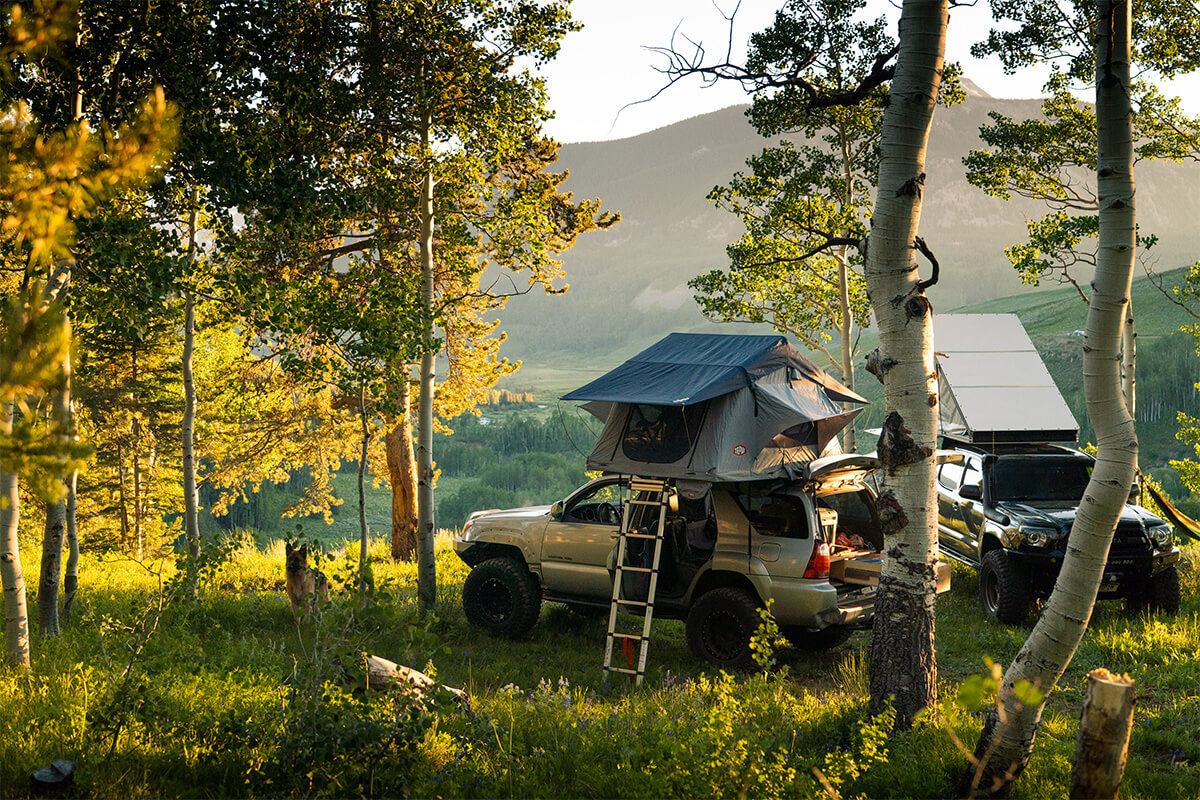 Related Parts & Mods
– Inspired by this Toyota 4Runner build and looking to prepare your own SUV for off-road adventures? Some parts used on this vehicle were sourced from custom shops or custom made, but our team has put together a list of products and accessories available online that may help you to achieve similar results:
Suspension
Wheels
Roof Top Tent
Awning
Storage
*Before ordering any part or accessory, it is recommended that you verify its fitment with a qualified professional and/or seller. We are not responsible for fitment or other issues that may arise from using the products featured on our website.
Stay tuned for more project reviews on Offroadium.com – Follow us on social media, and share this write up if you enjoyed reading it!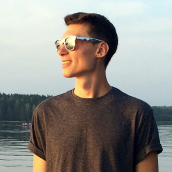 Matt Grabli
Matt brings over a decade of automotive expertise to his role as staff writer and editor at Offroadium.com. With an enduring passion for the off-road vehicles and adventures, he is devoted to creating interesting content that equips 4x4 enthusiasts with the knowledge to improve their rigs.