1995 Toyota Land Cruiser 80 – The Unique Overlanding Pre-Runner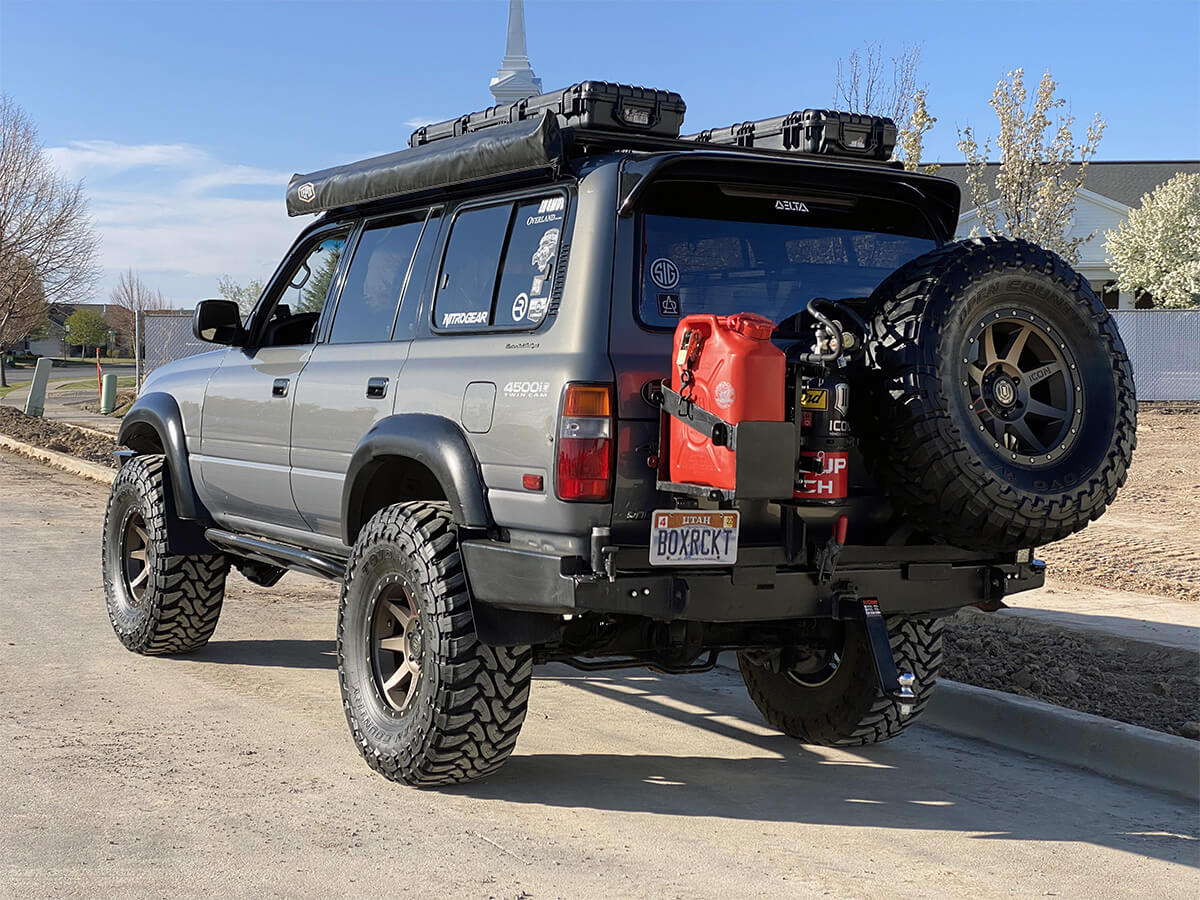 There are a few good reasons why Toyota has managed to sell millions of Land Cruisers worldwide over the years since this nameplate has been introduced to the market. It is reliable, quality-built, comfortable, and capable of tackling the most challenging terrain even in its factory form.
The FJ80 series remained in production from 1990 to 1997. The model is regarded by many as one of the most powerful and capable Land Cruisers of all time. The company was constantly working on adding new features and improving off-road capabilities resulting in the near-perfect 1995 version.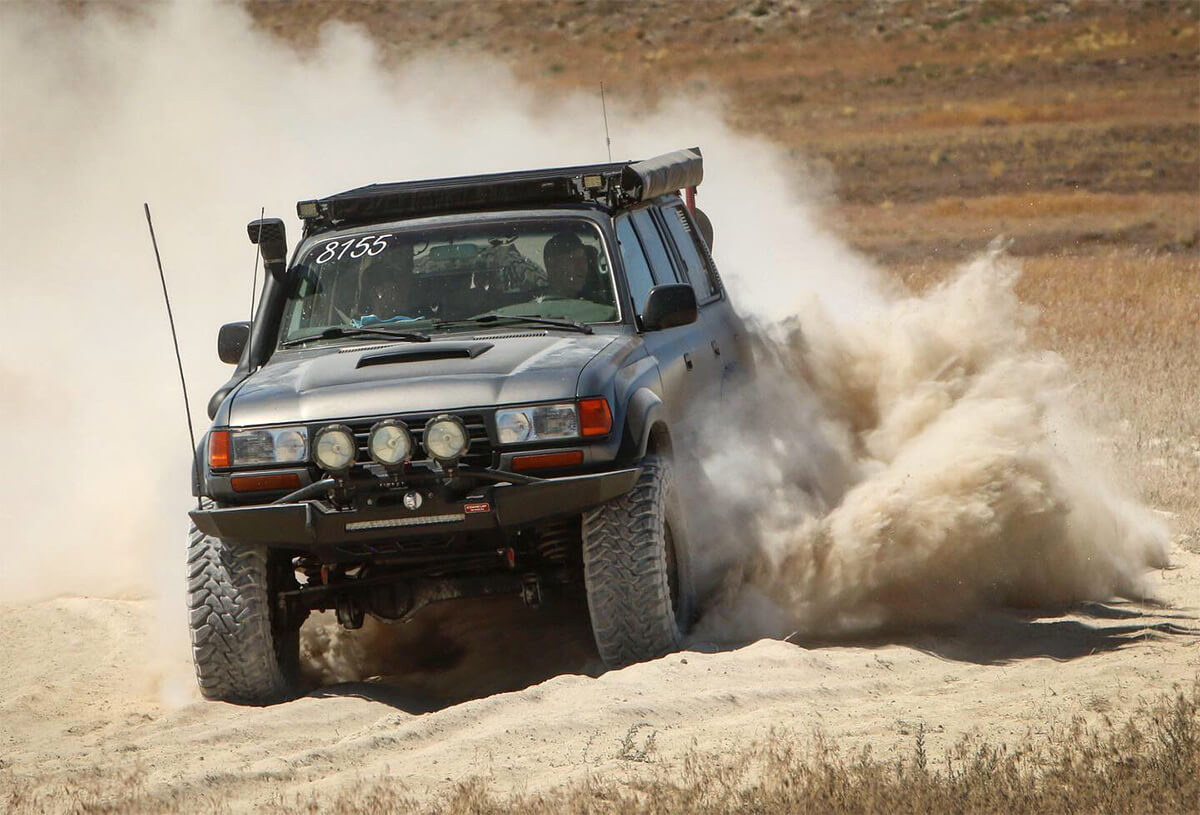 We met Adam Tolman from Syracuse, Utah, the owner of the 1995 Toyota Land Cruiser FZJ80, arguably the most expertly built overlanding/pre-running/rock-climbing rig we have ever seen. He bought this vehicle in December 2014 and has been improving it ever since using his experience in off-road racing and participation in the Baja 1000.
"Slinky long-travel springs and Icon shocks makes high-speed off-roading smooth and fun"
The rig was essentially built for multi-day camping trips for Adam's big family. He built the camping trailer and many other accessories from scratch. His suspension setup based on Slinky long-travel springs and Icon shocks makes high-speed off-roading smooth and fun while also allowing him to successfully climb rocks when he feels like it. Read one of the most detailed and informative interviews we have ever taken with a guy who clearly knows what he is doing.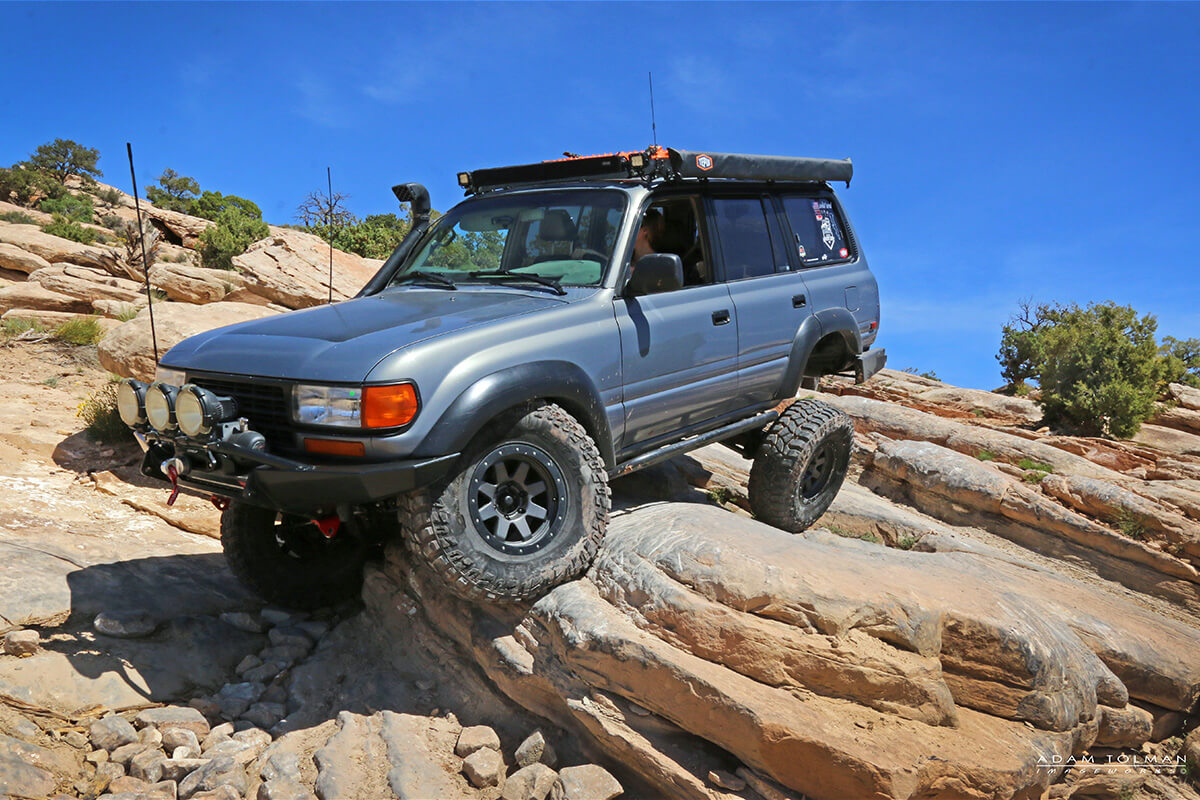 How did you become interested in off-roading?
– Grew up driving off-road to go hunting with my dad. In high school a couple friends had FJ40 Land Cruisers and we played what we called "Cruiser games" in them. Cruiser games was basically chasing each other around town in the cruisers and playing tag by tapping the other vehicle with the bumper. Sometimes the taps were pretty hard. Good thing the cruisers were tough! That got me into cruisers and I've been hooked for 30+ years now.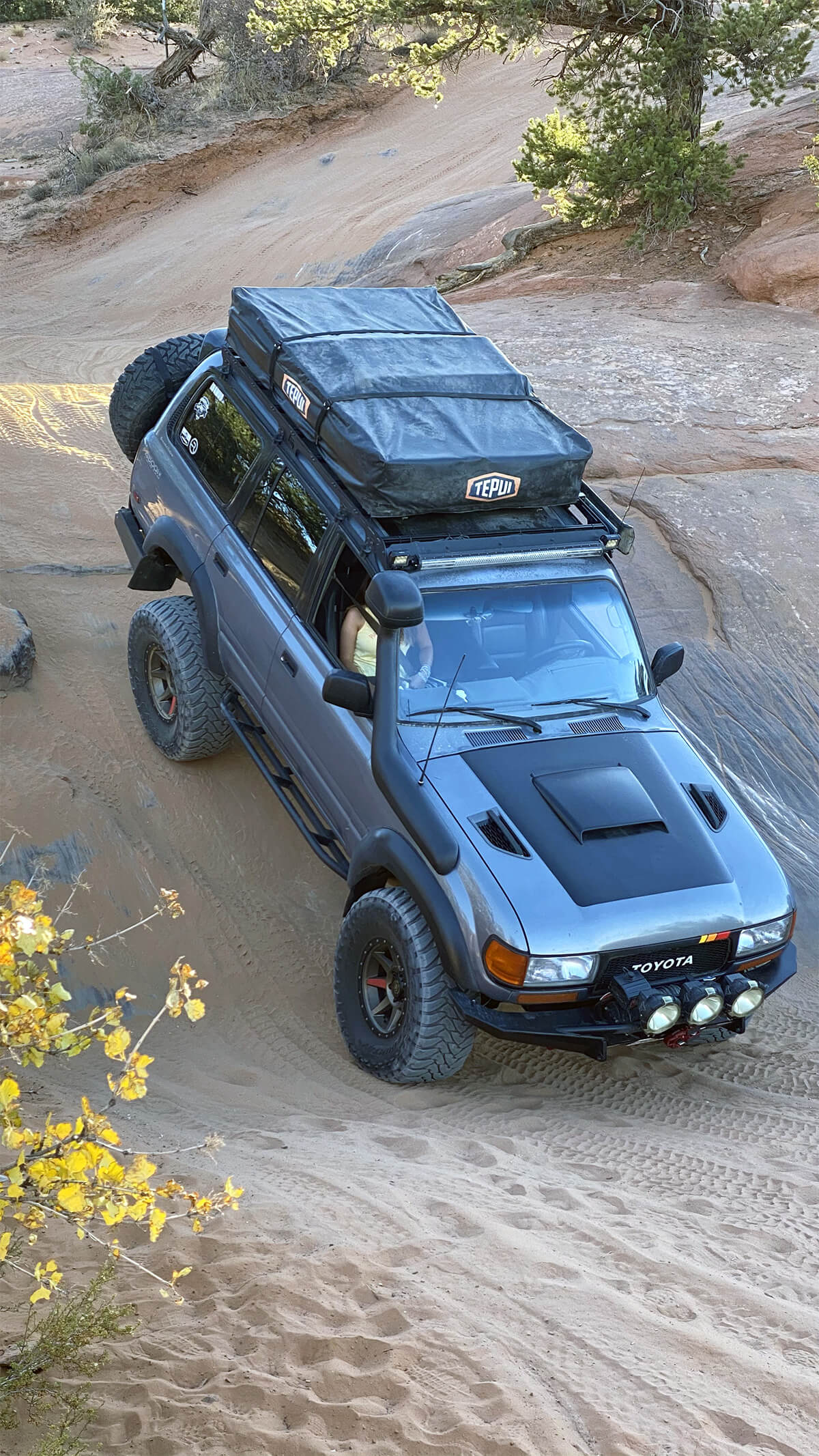 Why did you choose this particular model for your project?
– I started out with an FJ40 and have had a few Toyota pickups and a Tacoma but off-roading has always been a family thing and I needed something larger as our family grew and the 80 series Land Cruiser was perfect because it fit our family of 6 and was capable enough to handle any type of off-roading we wanted to do.
What inspired you to choose this modification style?
– This 80 is built more as an "over landing" type setup. It's built this way because most of the time we do multi-day trips with a different campsite location each night. I took a lot of ideas from many Australian touring setups and also just from years of figuring out what worked for us and the things we needed.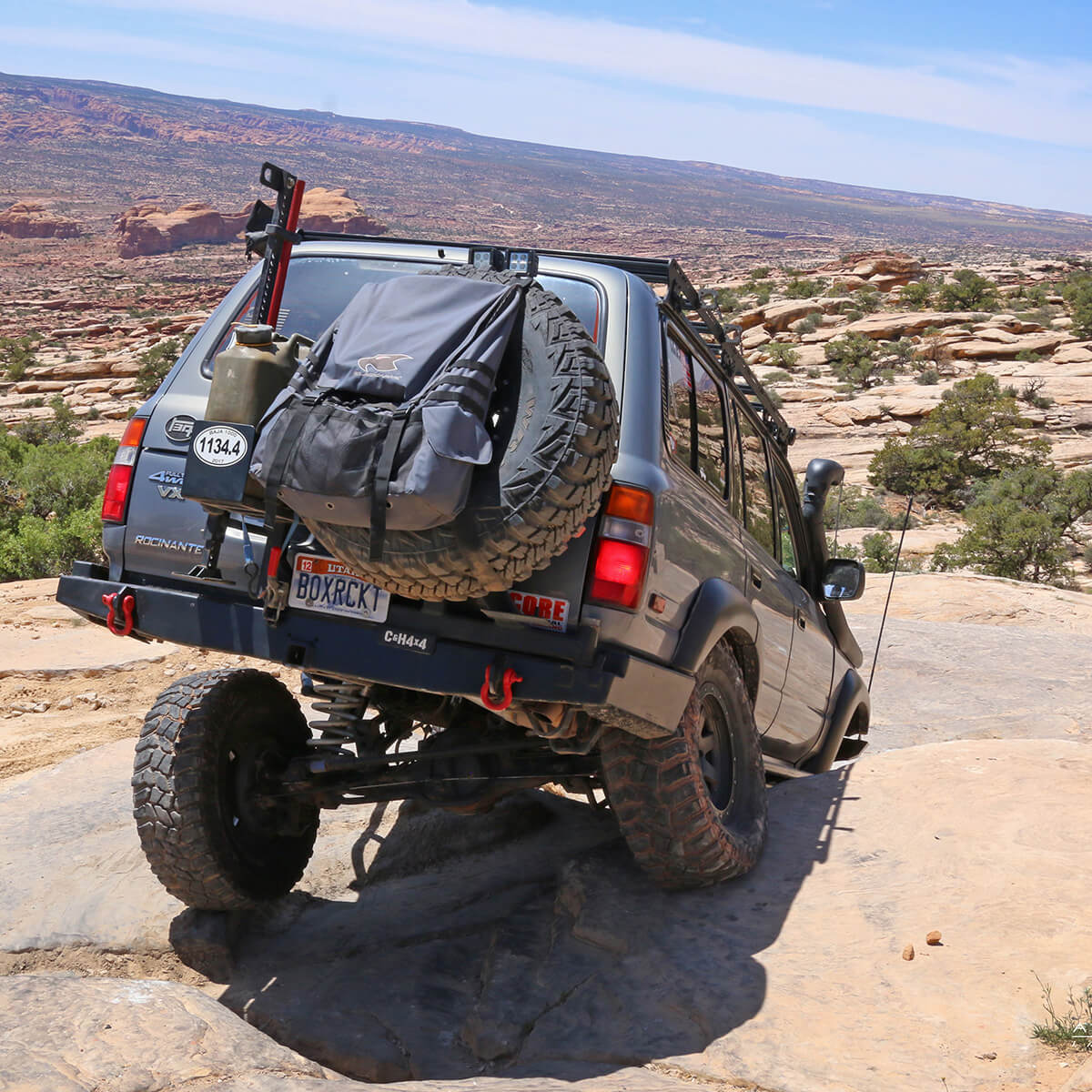 What challenges did you face while putting it together?
– Cost is always the biggest challenge. It can get expensive to build custom vehicles and Land Cruisers can be one of the more expensive in terms of parts etc.
Other challenges have been getting a suspension setup that is properly set up for a heavy truck but is also flexy for rock crawling and capable of high speeds offroad. I really wanted a rig that was an overlanding prerunner. The 80 series isn't really thought of as a prerunner type vehicle but I think I've built one as close to it as you can while keeping it road legal.
What do you love about your vehicle?
– I love the 80 series because it's incredibly capable with front, rear and center diff locks. It's very comfortable and has plenty of room. It's a really versatile platform that can get built out to tackle any type of off-roading.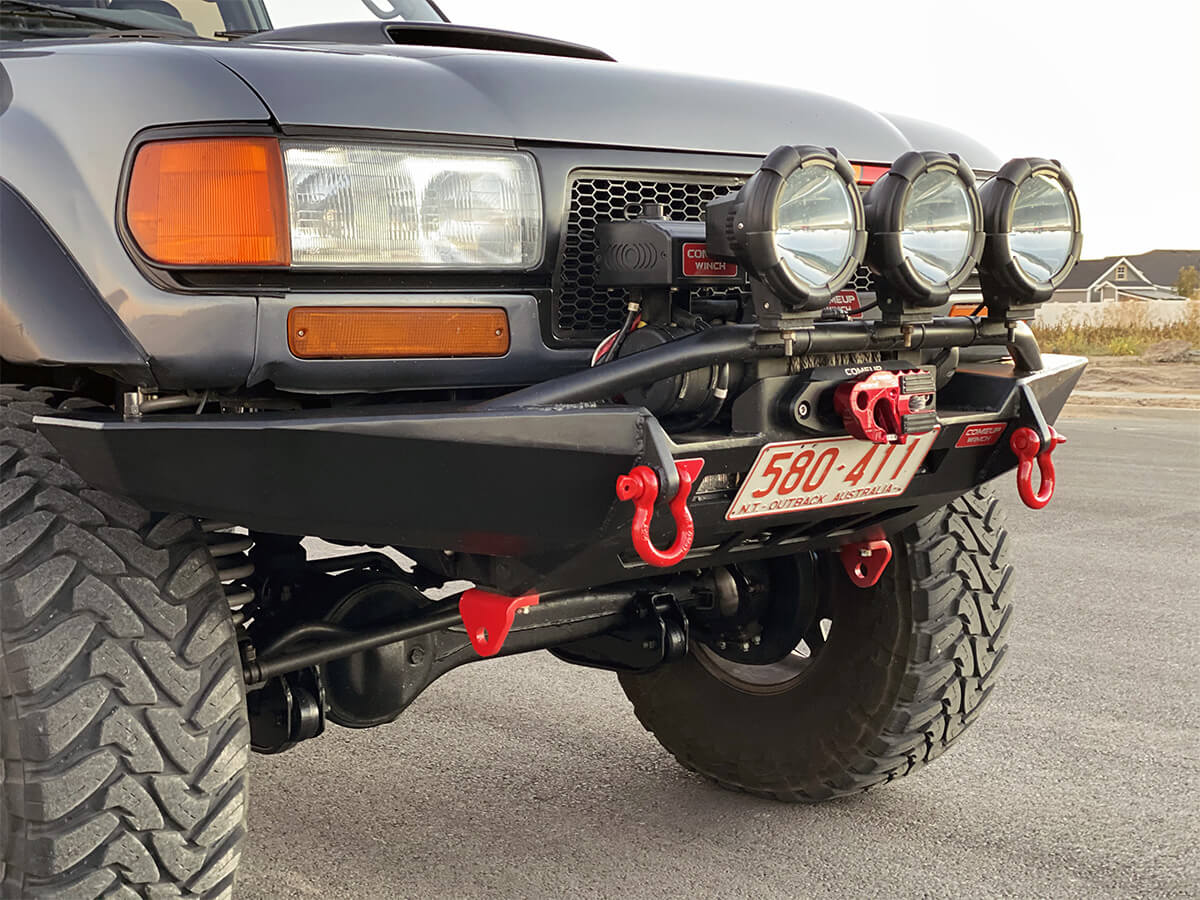 Is it your daily or a weekend ride?
– My 80 is a daily driver and I love it.
Do you take it off-road? If so, where and how often?
– I take it Offroad as often as possible. Usually, I manage about 1 multi-day trip a month with a few day trips mixed in.
1995 Toyota Land Cruiser FZJ80 Specs
Engine specs, modifications
– It's powered by 4.5L 1FZ-FE with 293k miles on the original motor. No modifications to any engine internals. The Head gasket has been replaced and the fan clutch has been upgraded. Otherwise, it's 100% stock.
Lift height and suspension modifications
– Slinky Long Travel Stage5 HD Suspension
– 75mm HD dual-rate Slinky coil springs.
– Slinky/Icon 2.5 Remote reservoir, dual bypass adjustable shocks. 12" travel in the front, 14" travel in the rear.
– OEM front radius arms with Slee off-road caster plates.
– Adjustable front panhard.
– Slinky front sway bar spacers and custom front sway bar disconnects.
– Blackhawk HD lower rear suspension links.
– Blackhawk HD adjustable upper rear suspension links.
– Custom raised rear panhard bracket.
– LCP Severe Duty swaybar links.
– Blackhawk 30mm rear swaybar.
– Timbren AO Bumpstops.
– Extended brake lines.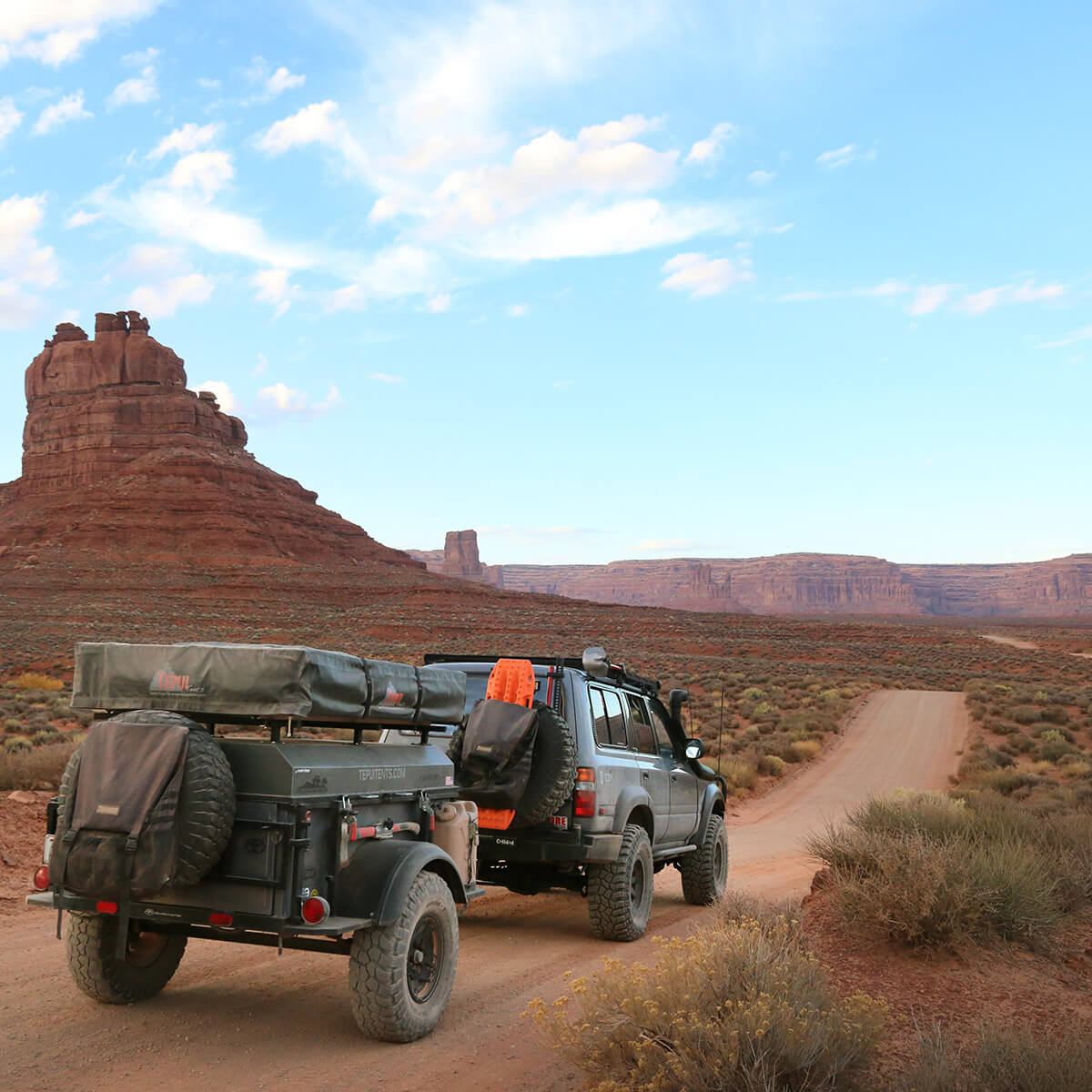 Wheel specs
– Icon 17×8.5" Rebounds, 0 offset
– 37×13.50" Toyo Open Country MTs
– Spidertrax 1.5" wheel spacers
Exterior mods
– Homemade front and rear bumpers, rear dual swingouts.
– Modified Trail-Gear Sliders.
– Snorkel with OEM precleaner.
– Prinsu roof rack
– ComeUp Winch- Seal Gen2 9.5rs
– Custom hood scoop and hood vents
– 40" LED light bar (rack mounted)
– 2x 9" LED/Laser off-road lights (bumper mounted).
– OEM Replica roof spoiler/wind deflector.
– Custom front grill.
– LED headlights.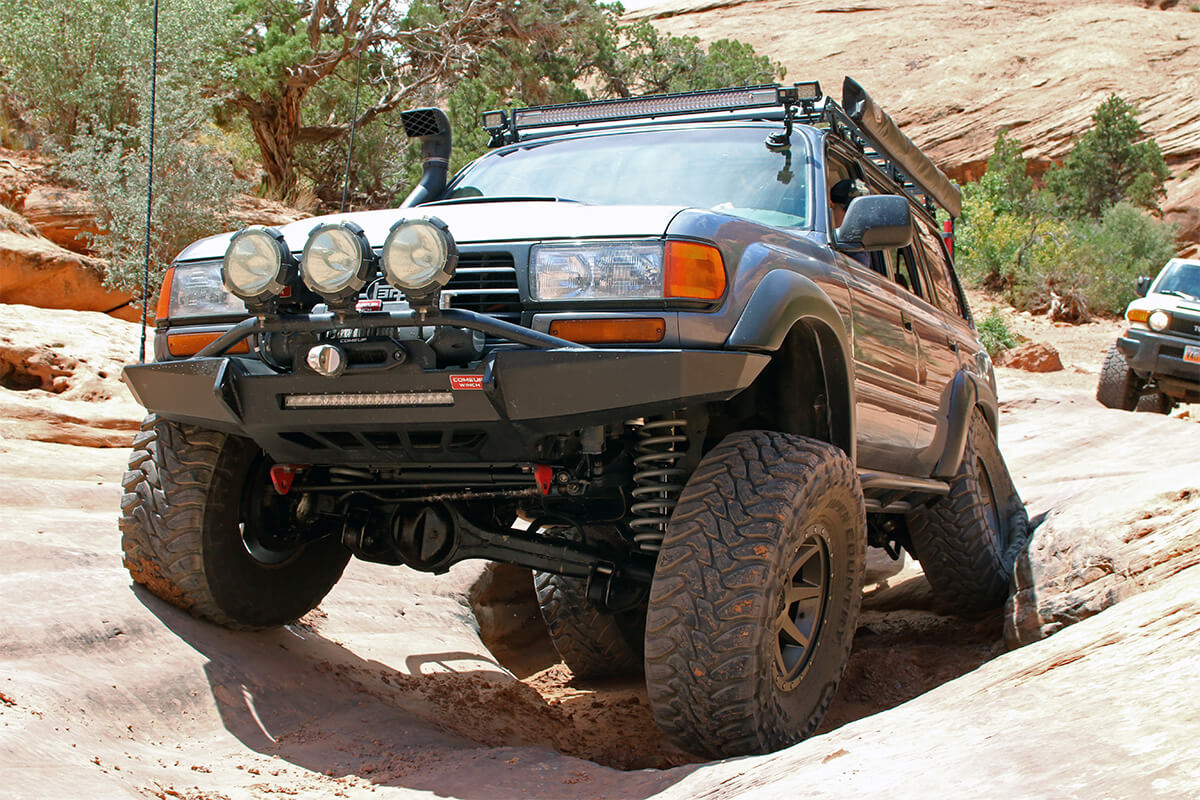 Interior mods
– VW Jetta heated leather bucket seat swap.
– LSeat leather replacement on rear seats.
– Delta Vehicle Systems center console and shifter console.
– Pioneer touch screen head unit with Apple CarPlay.
– 6x 7" Rockford Fozgate speakers.
– Goose-Gear rear drawers.
– Custom rear "attic" rack.
– Clearview Easy Slide- Slide and Drop fridge Slide.
– Snomaster Dual Zone Fridge.
– LED interior lighting.
– 9" Overhead video screen for rear passengers.
– Kenwood HAM radio.
– Uniden CB radio.
– Custom tailgate storage.
All other mods
– Hudd-Expo low profile crossmember and skid plate.
– Front Axle moved forward 1.25".
– Nitro 4.88 gears.
– OEM Toyota electric locking differentials f/r.
– Nitro chromoly front axles/birfs.
– EBC slotted/dimpled brake rotors.
– Hawk Performance brake pads.
– Extended Diff Breathers.
– Steering gearbox upgraded to Land Cruiser 105 series sector shaft.
– Portable CO2 tank onboard air.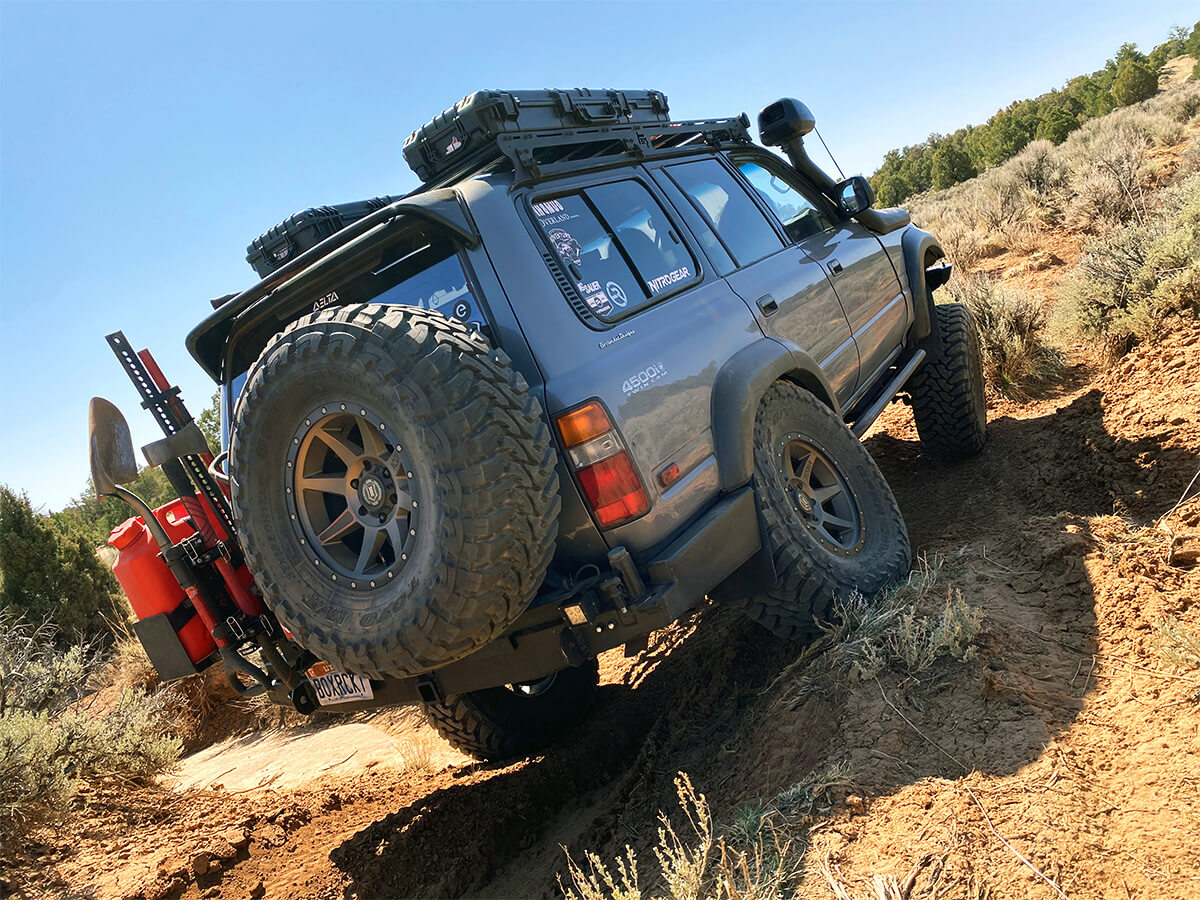 What are your future plans about this vehicle?
– Future plans for the 80 are pretty minor since I've got it to a point where I'm really happy with it. But I will probably add some tcase crawler gears. I also have plans to replace the carpet and add some sound deadening and insulation to the interior. Eventually it might get repainted.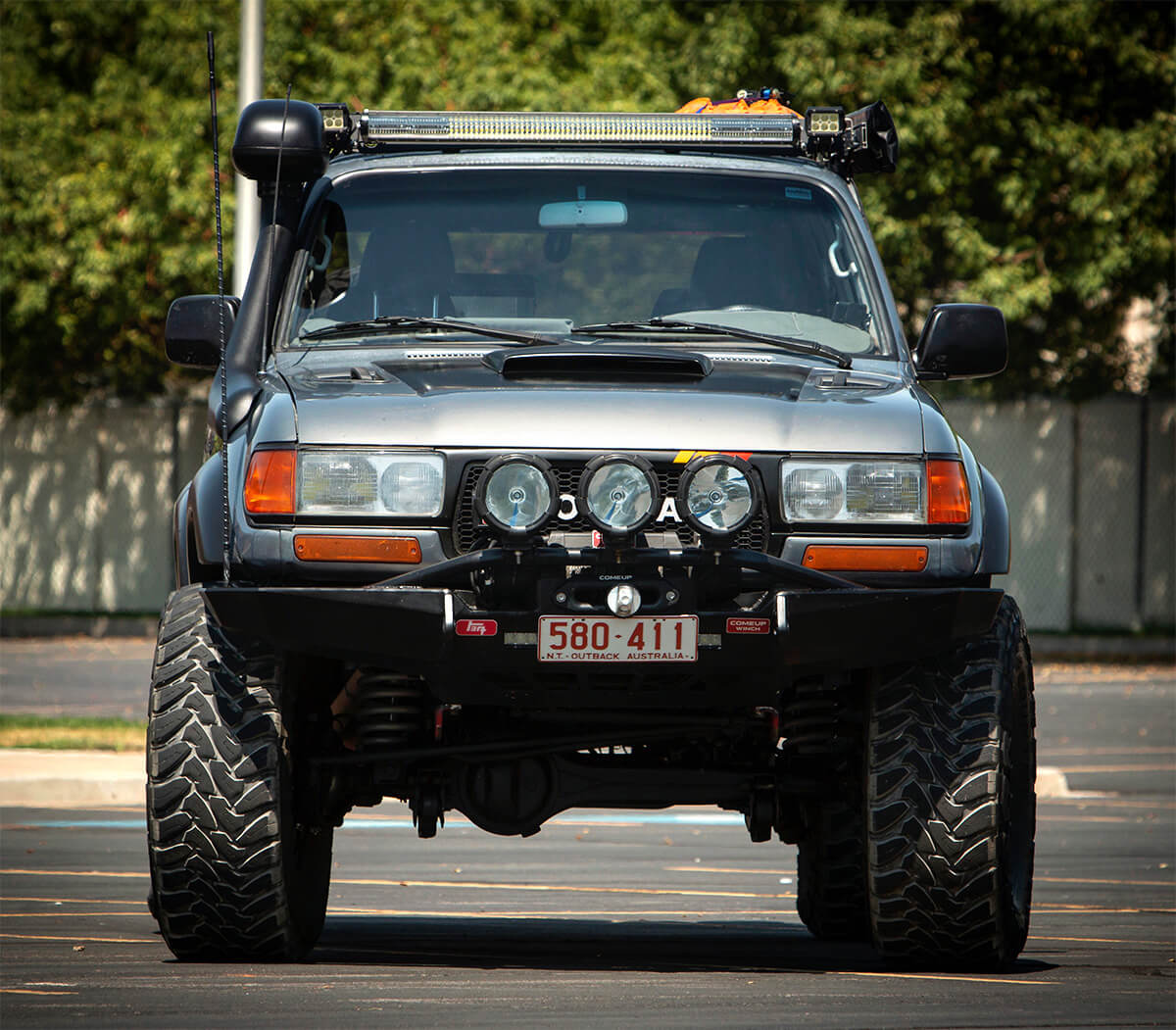 Anything else you would like to share about your vehicle or about the off-roading in general?
– I've spent time over the years doing all kinds of off-roading. I did a lot of rock crawling with my FJ40 and minitrucks. I still enjoy some of the hardcore stuff from time to time but I have really enjoyed exploring new places for the past several years. Exploration is generally less difficult off-road but it's not uncommon to encounter difficult situations or obstacles when finding new places.
I've been lucky to even have some experience with off-road racing. I've been participating in off-road racing with a group of friends for almost a decade now. Most of the time I'm just part of the support group but I've had some time as a co-driver during the Baja 1000. That is a pretty awesome experience and everyone should try to experience it at least once!
Watch the progress and find out more about this Toyota Land Cruiser 80 project by visiting the Instagram profile of the owner: @adam_tolman!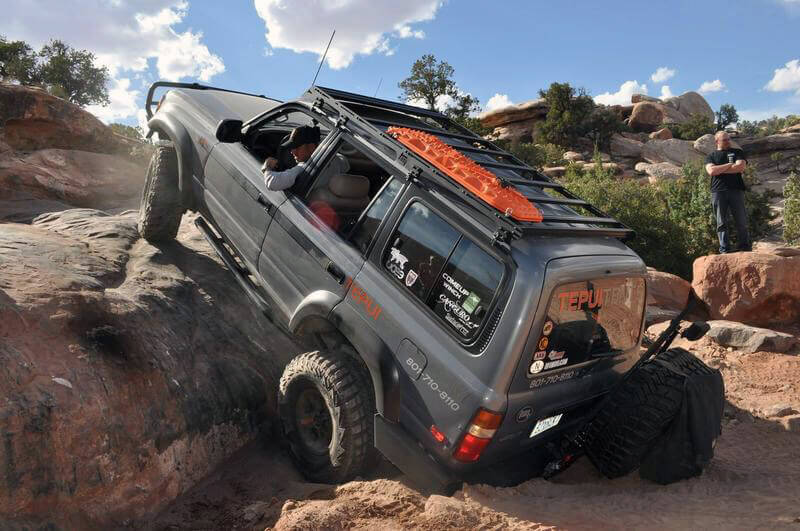 Related Parts & Mods
– Inspired by this Toyota Land Cruiser build and looking to prepare your own SUV for off-road adventures? Some parts used on this vehicle were sourced from custom shops or custom made, but our team has put together a list of products and accessories available online that may help you to achieve similar results:
Wheels
Roof rack
Roof Top Tent
Awning
Lights
*Before ordering any part or accessory, it is recommended that you verify its fitment with a qualified professional and/or seller. We are not responsible for fitment or other issues that may arise from using the products featured on our website.
Stay tuned for more project reviews on Offroadium.com – Follow us on social media, and share this write-up if you enjoyed reading it!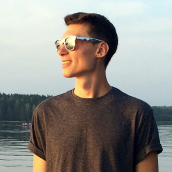 Matt Grabli
Matt brings over a decade of automotive expertise to his role as staff writer and editor at Offroadium.com. With an enduring passion for the off-road vehicles and adventures, he is devoted to creating interesting content that equips 4x4 enthusiasts with the knowledge to improve their rigs.