Lifted Subaru Outback Battlewagon with Huge Off-road Wheels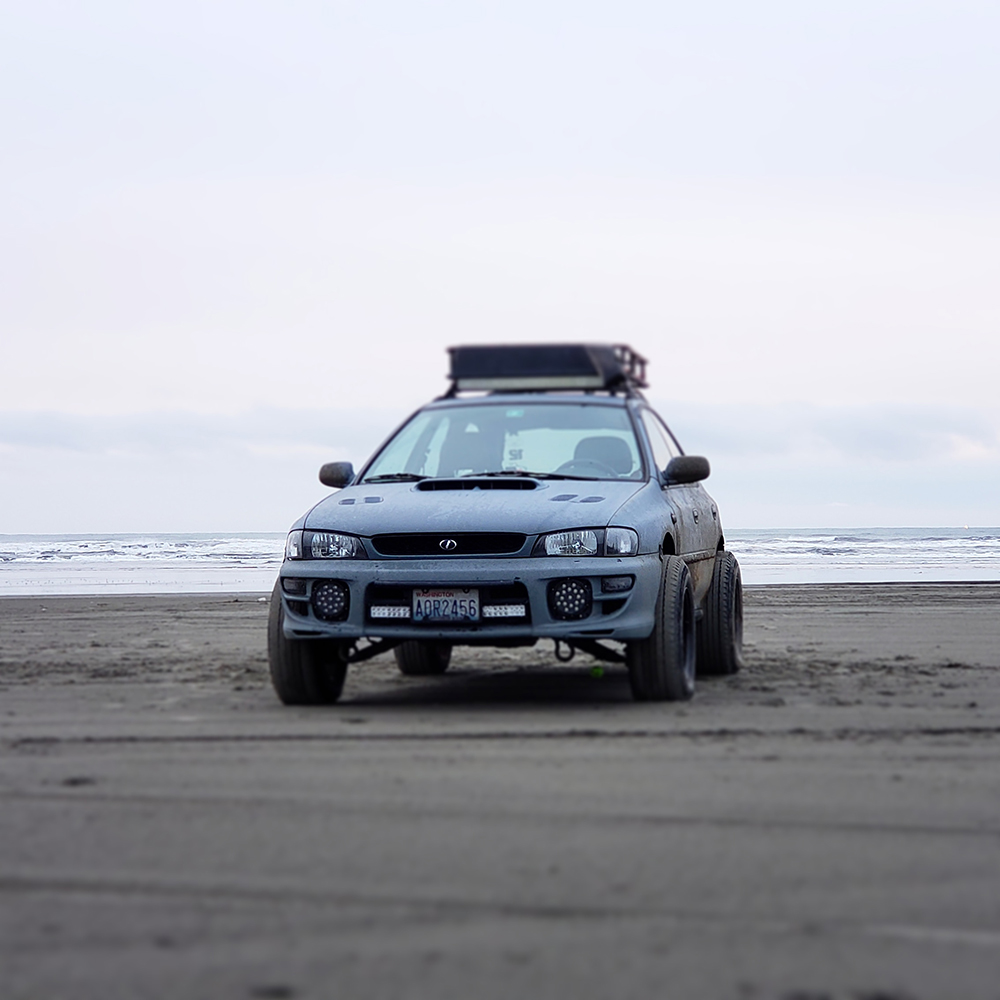 The first-generation Subaru Impreza was very successful in Rally racing during the 90s thanks to the 2-door B22 STi equipped with a powerful 2.2L turbocharged engine and highly capable all-wheel-drive system. It was nearly unbeatable on gravel and dirt roads throughout the world, which forged the Subaru's reputation of a reliable and versatile vehicle for any road conditions.
The first-gen Subaru Outback was basically an Impreza Wagon with a factory off-road package, the same drivetrain, and a slightly lifted suspension. It was offered with optional equipment, such as a gauge pack installed on top of the dashboard, with a digital compass, outside temperature and barometer or altimeter, all of which were common only for the big 4x4s. With all this in mind, it's safe to assume that it's marketing success has influenced the look of popular today Subaru Crosstrek and Subaru Impreza models that are widely used for recreational off-roading.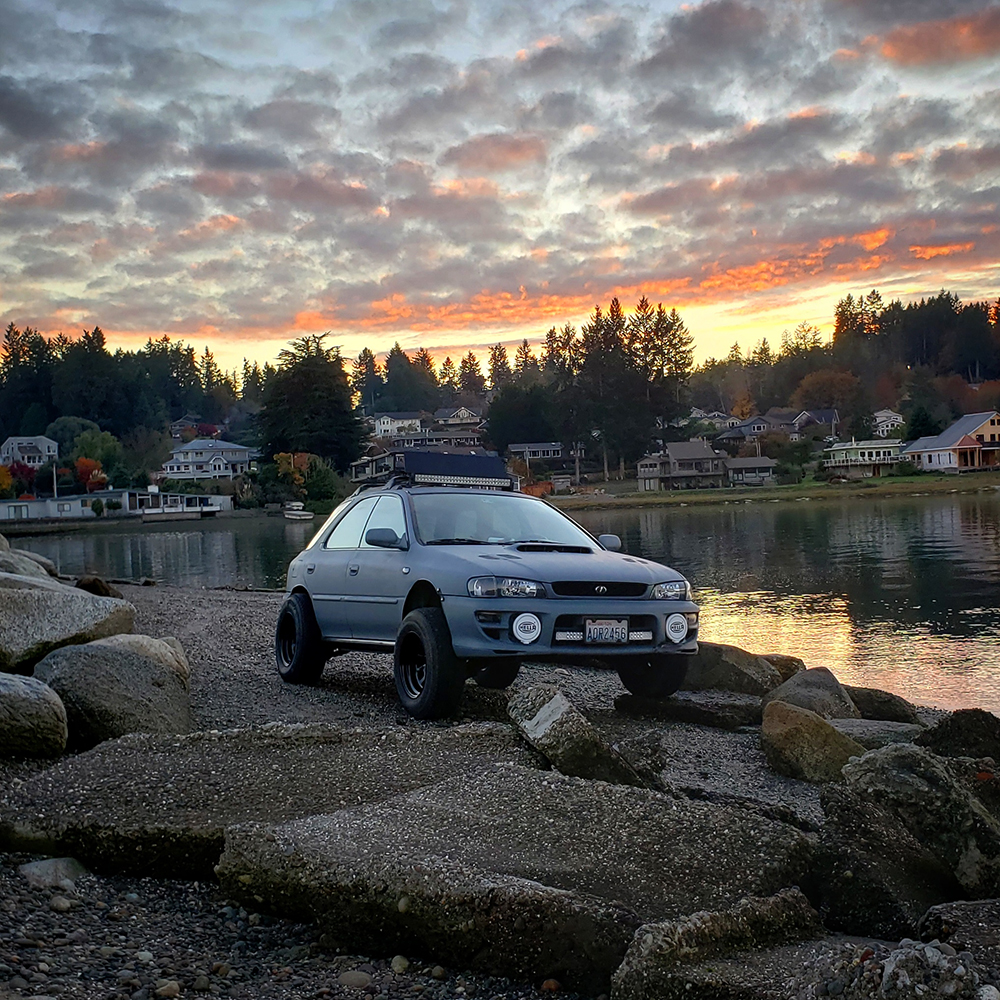 While the Subaru AWD system is perfect for rugged terrain, there are some structural elements that limit off-road capabilities of this car, such as the modest space in the wheel-wells, long overhangs, and relatively low clearance. The owner of this badass lifted Subaru Outback decided to go beyond that and modify it to tackle even the most extreme trails.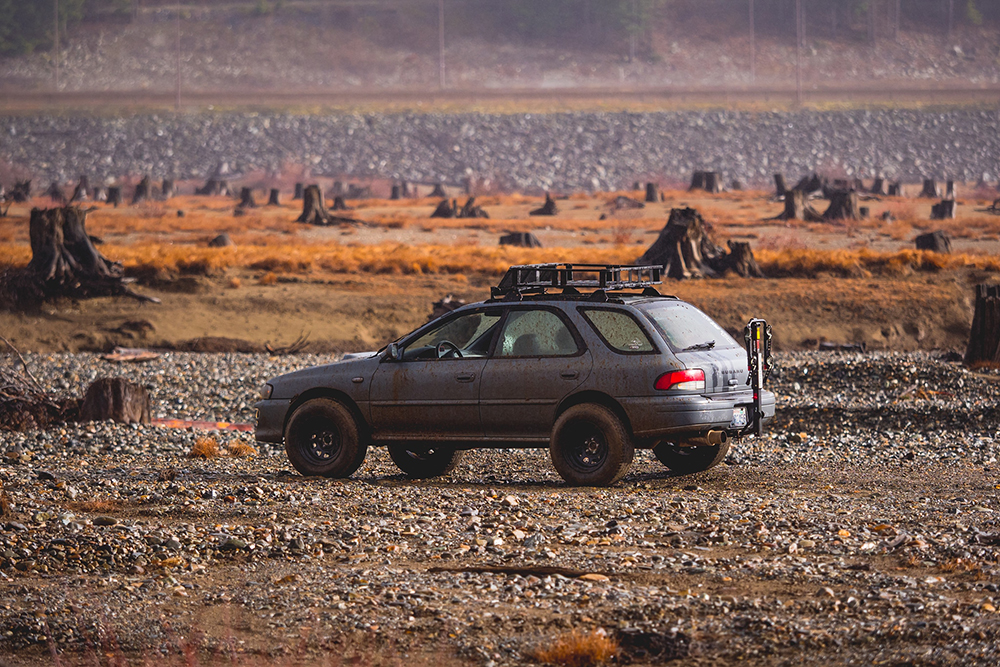 We reached out to the owner directly to find out more details about his awesome Subaru Outback battlewagon project.
What are the engine specs & modifications?
2.2 litre ej22 from a 1997 Subaru Legacy. Installed by my dad and I in his garage. Aftermarket cone air filter, custom exhaust.
What are the lift height and suspension modifications?
Overall I have almost 4 inches of lift using the struts and springs from a 2004 Forester XT, and custom strut and trailing arm spacers I made.
Wheels
The wheels I'm running are 15×8 Trailmaster TM5's with a 3.75 backspace and a 5×4.5 bolt pattern. I'm using 1″ wheel adapters to fit the Jeep style wheels. The tires are 225 /75r15 Nexen Rodian HT that I got for $20 on Craigslist from a Jeep Cherokee.
Exterior mods
Roof basket I made out of my daughter's old Ikea loft bed! 2.5RS front bumper cover, JDM taillights, led rood light bar, led fog lights, led driving lights. Bike carrier. Lots of cutting and modifying of the wheel openings to fit the tires.
Interior mods
Tablet running Torque app from obd2 sensor to keep track of engine vitals.
Any other things you would like to mention?
I keep a compressor, a full toolbox, and all my camping gear in the back at all times, just in case!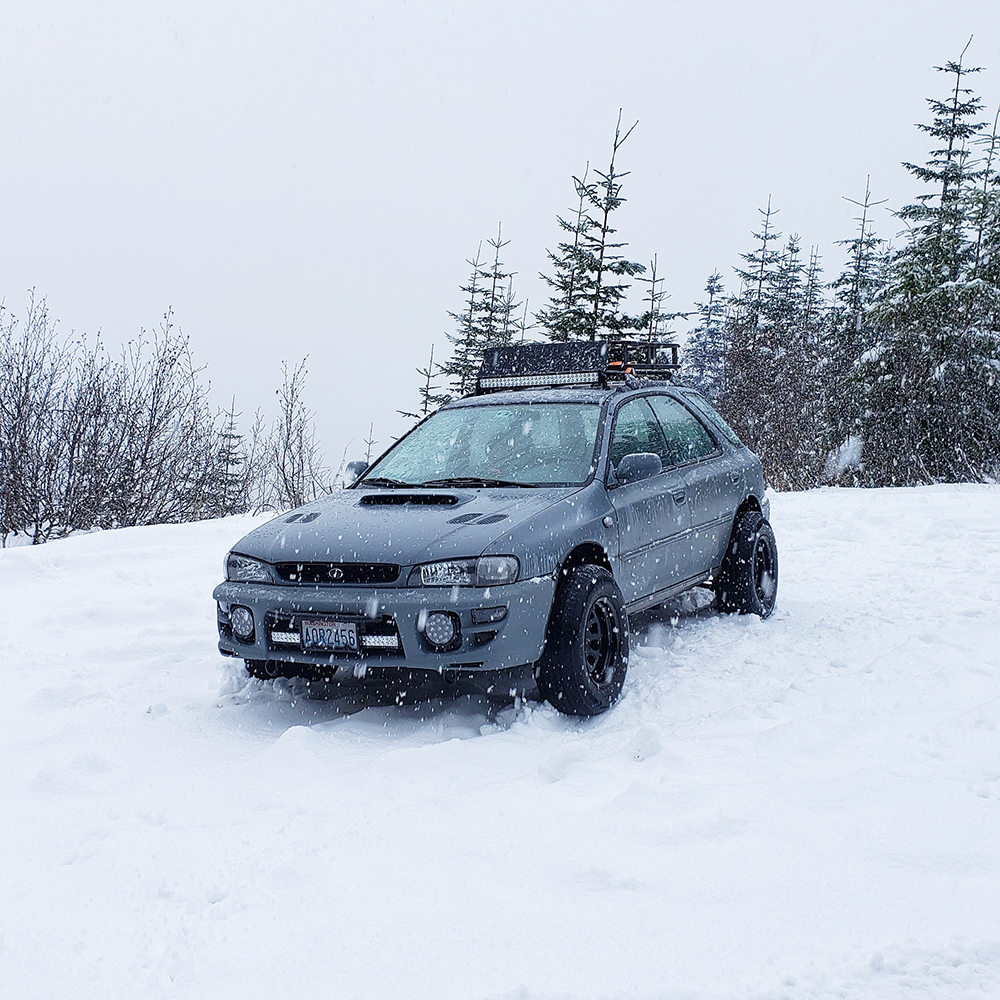 How did you become interested in off-roading?
As I've gotten older, the stresses of everyday life made me really enjoy spending time with my dog outdoors, away from society. The PNW has so many beautiful places to explore, from the water to the mountains and I wanted to see it all!
Why did you choose this particular model for your project?
The lifted wagon has been in my family since 1998. My brother bought it slightly used, and I got it from him when I had kids. I was a huge fan of Colin McRae and his WRC dominance in the 90s, and I have always loved the way the 1st Gen Impreza looked as a rally car.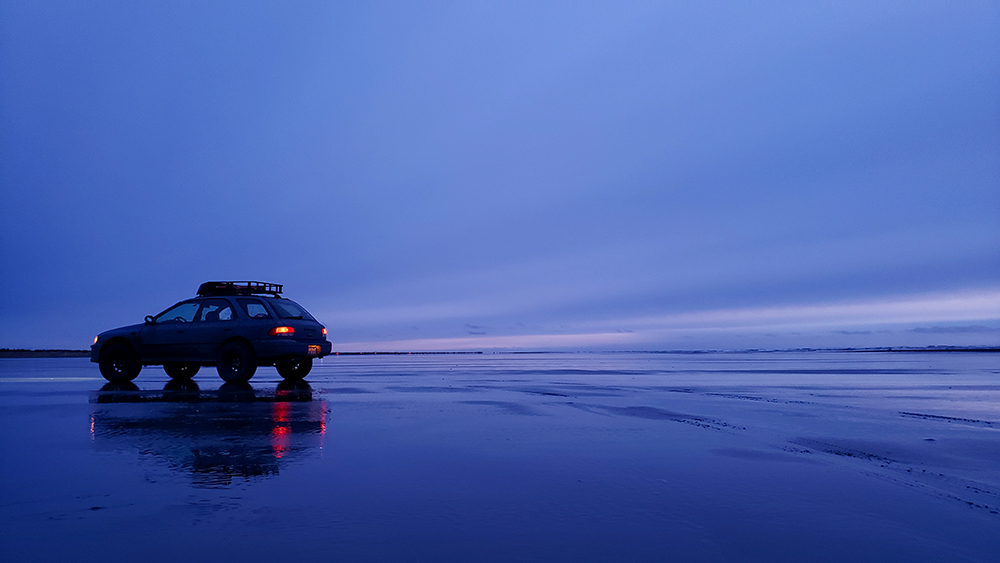 What challenges did you face while putting it together?
Getting the tires to fit was a bit of a challenge. The rears wouldn't even go on without some cutting, and the front rubs before full lock. It's very drivable, but not perfect. It's a sacrifice I'm willing to make to look awesome.
What do you love about your vehicle?
I really love the stance. It's exactly the look I was going for! But generally, I just love being able to go explore the planet. It's also a 5 speed manual, which is fun!
Is it your daily or a weekend ride?
It used to be my daily, but unfortunately it was in an accident and totaled a few years ago. I bought a new daily, bought the Subaru back for $200 and put a few bucks and some hard work into making it what it is now. At some point, I've turned every nut and bolt on this car, inside and out!
Do you take it off road? If so, where and how often?
Absolutely! I go off road as much as possible. I try to go wheeling at least a couple times a month. I like finding new places to explore, but Mt. Rainier National Park is fun. There's also something great about driving on the Ocean beaches on the Washington coast.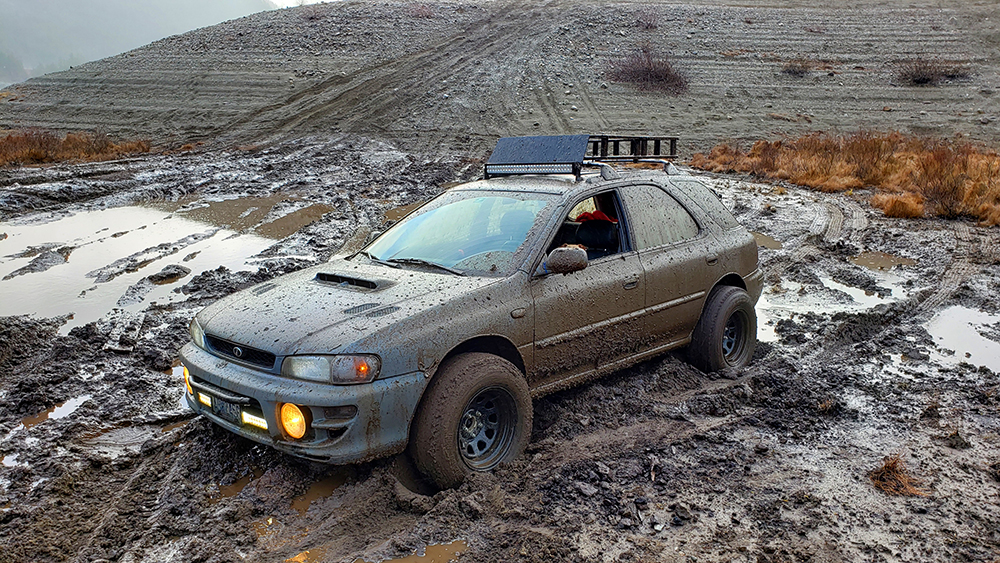 What are your future plans about this vehicle?
Too much to list! I'm just getting started. New AT tires, a winch, a rooftop tent, and hopefully, a new color scheme for the car soon. Oh, and definitely a satellite communicator like the Garmin Inreach mini so I don't get stranded. The car is 23 years old after all.
Anything else you would like to share about your vehicle or about the off-roading in general?
Being new to four wheeling, I thought I would get some flack for driving the Scoutback off road from the more serious, veteran Jeep drivers and such, but it has been quite the opposite! I get tons of smiles, waves, and thumbs up from the people I see out there and it's awesome! I've never had a bad interaction on the trails!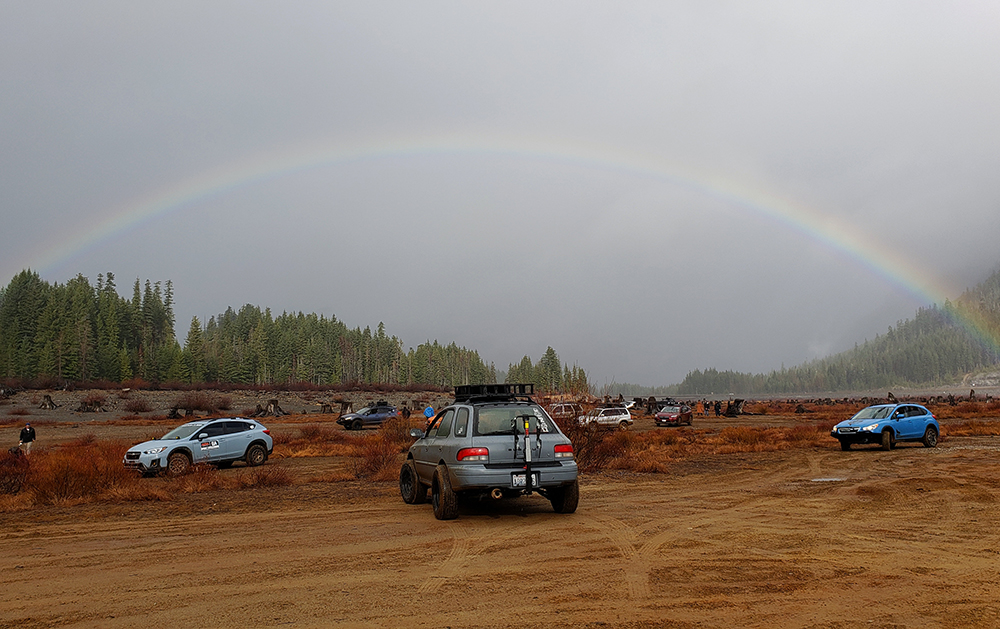 SPECS
1997 Subaru Outback Sport AWD
2.2L ej22 from a 1997 Subaru Legacy
Aftermarket cone air filter
custom exhaust
4 inch lift using the struts and springs from a 2004 Forester XT, and custom strut and trailing arm spacers
15×8 Trailmaster TM5's with a 3.75 backspace and a 5×4.5 bolt pattern, 1″ wheel adapters to fit the Jeep style wheels
Tires 225 /75r15 Nexen Rodian HT
Roof basket, Bike carrier
2.5RS front bumper cover
JDM taillights, led rood light bar, led fog lights, led driving lights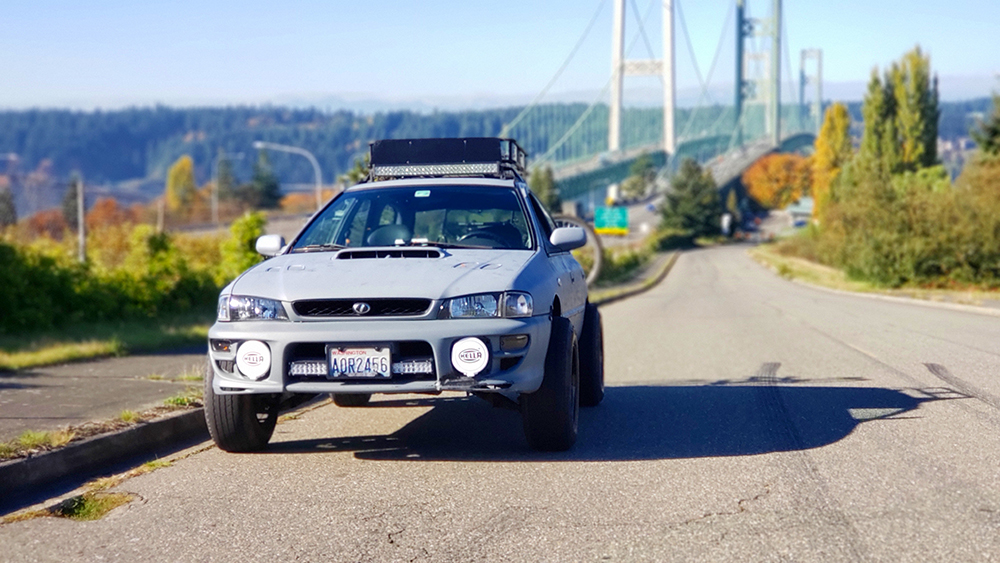 Watch the progress and find out more about this Subaru Outback off-road car project by visiting the Instagram profile of the owner: @scoutback_adventures!
Stay tuned for more project reviews on Offroadium.com – Follow us on social media and share this write up if you enjoyed reading it using the share buttons below!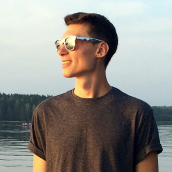 Matt Grabli
Automotive journalist and technical writer at Offroadium.com with more than 10 years of experience in the sphere of aftermarket parts and 4×4 vehicle modifications. Passionate about off-roading, outdoor adventures, and an active lifestyle.