Coolest Lifted Cars With Off Road Mods – Sedans, Hatchbacks & Wagons + FAQ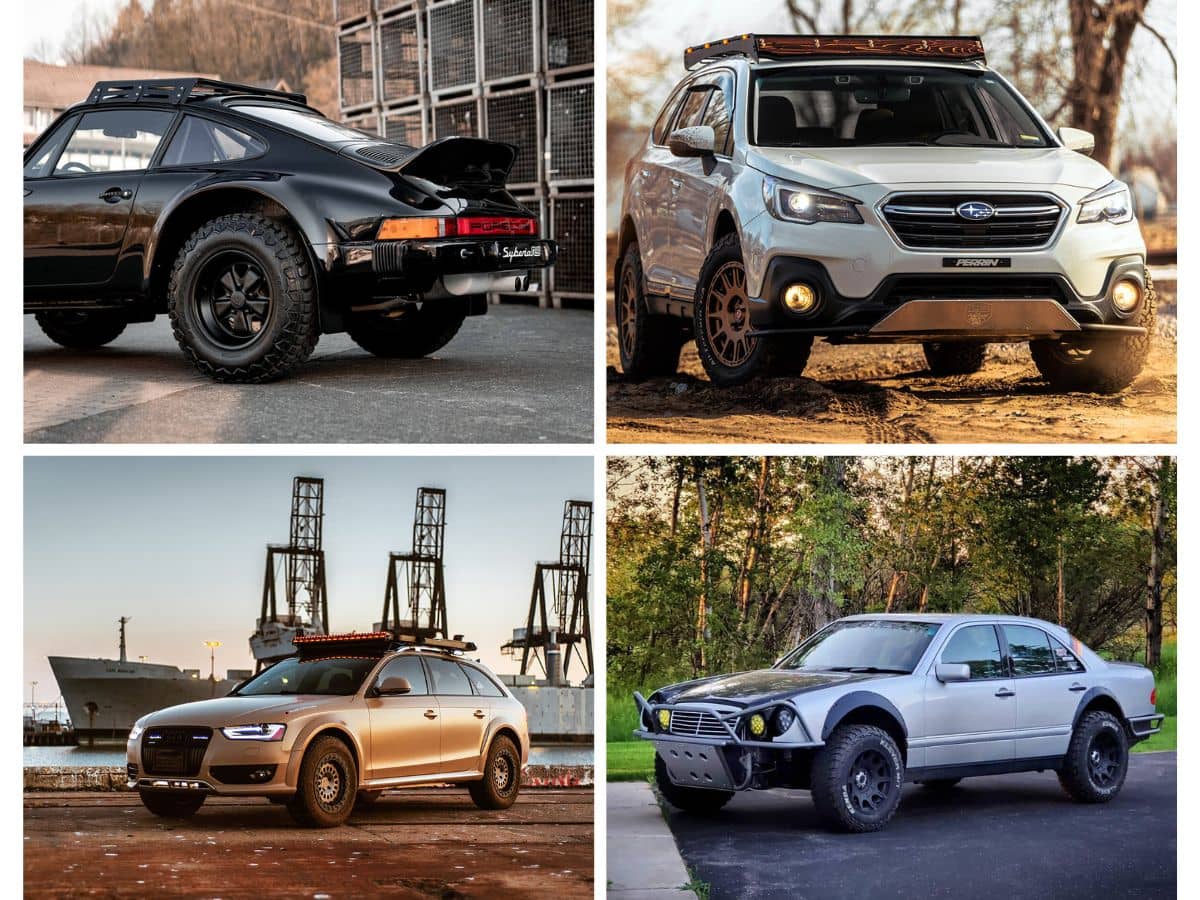 Off-roading has long been the domain of burly, high-riding trucks, SUVs, and 4x4s, their bold profiles suggestive of the rugged adventures they promise. However, a growing fraction of the automotive community is shaking up the scene by proving that off-road exploration is not an exclusive activity for big rigs.
The concept of modifying regular passenger cars — think your typical sedan, hatchback, or wagon — for off-road duty might initially seem like an automotive sacrilege. But to the brave hearts embracing this trend, it becomes evident that pretty much any car with four wheels and a lift can tackle local forest trails. These folks are redefining off-roading as we know it, proving that it's not always about the size, but the spirit that turns the wheel.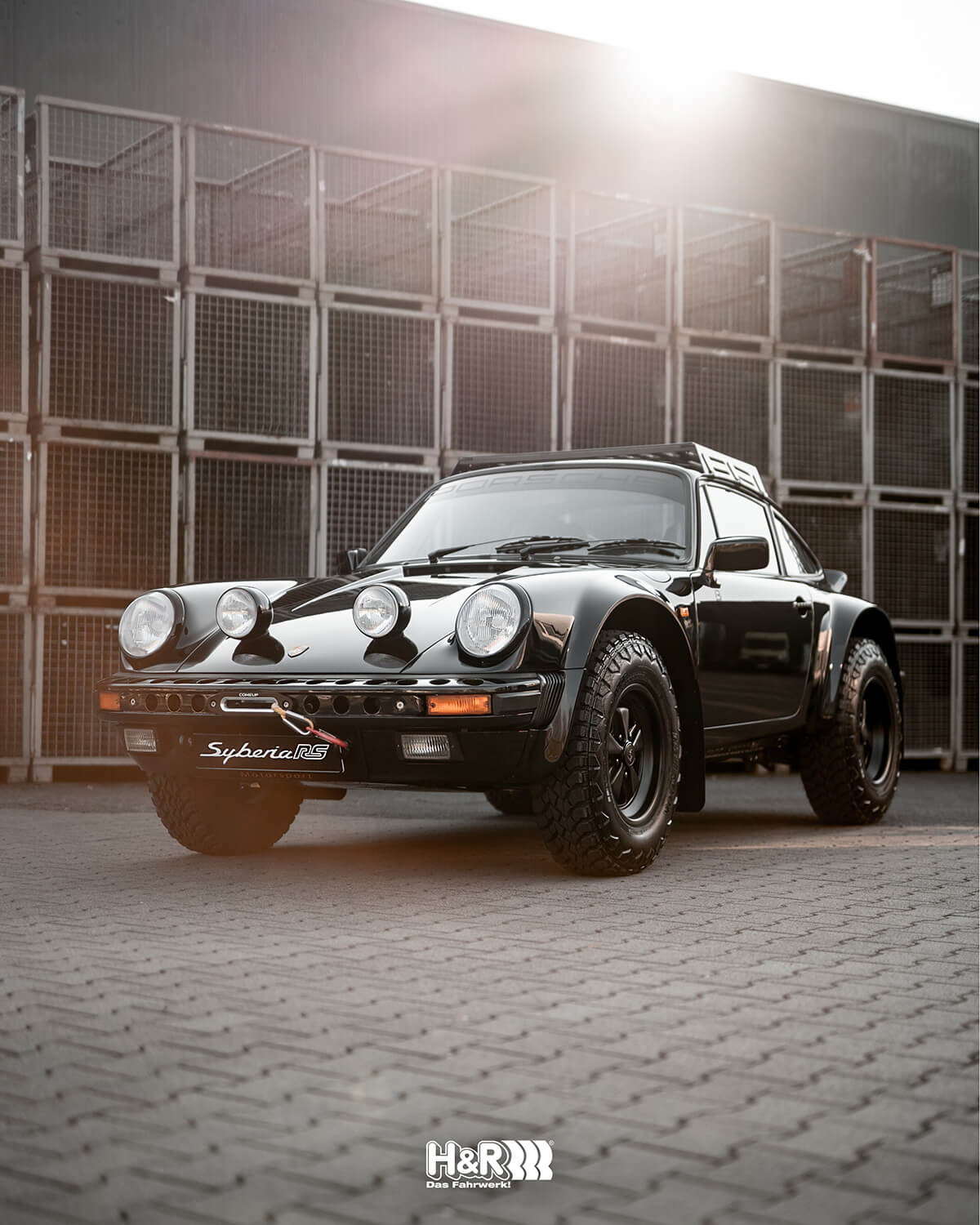 Though still a niche segment of the vast off-roading community, the trend of lifting regular passenger vehicles has seen growth in recent years. Social media platforms and online forums are abuzz with proud owners showcasing their modified Subaru Legacies, lifted Honda Civics, and jacked-up VW Golfs, making outrageous ideas come true. Indeed, these lifted street cars are turning heads, and more importantly, proving their mettle on the trails…to a certain point of course.
"There's a certain novelty and satisfaction to taking a car that was never intended for off-road use and tweaking it until it can confidently traverse rocks, mud, and steep inclines. Perhaps it's the thrill of challenging the norm or the joy of DIY garage projects, but this trend is certainly finding its followers".
Out Top 5 Chart of Best Lifted Cars of all Types
Throughout the years we've featured a lot of lifted cars and battlewagons, designed for off-roading, camping, off-road racing and overlanding. All of them feature big and small suspension modifications, off-road wheels and body armor to withstand the punishment of the trails.
#1 Hatchbacks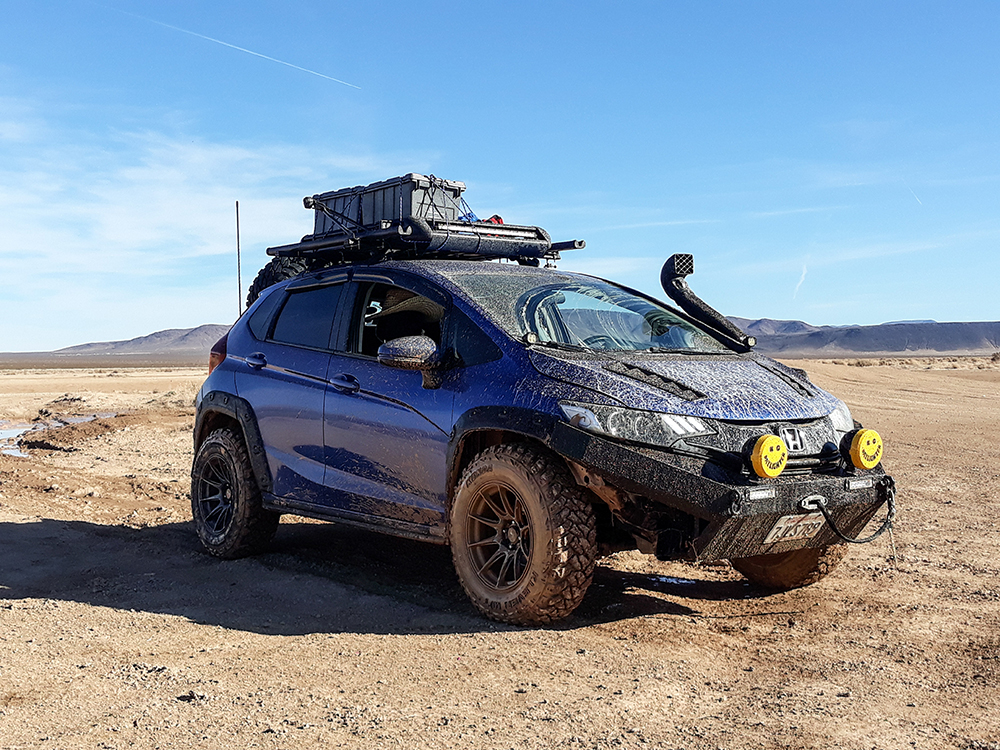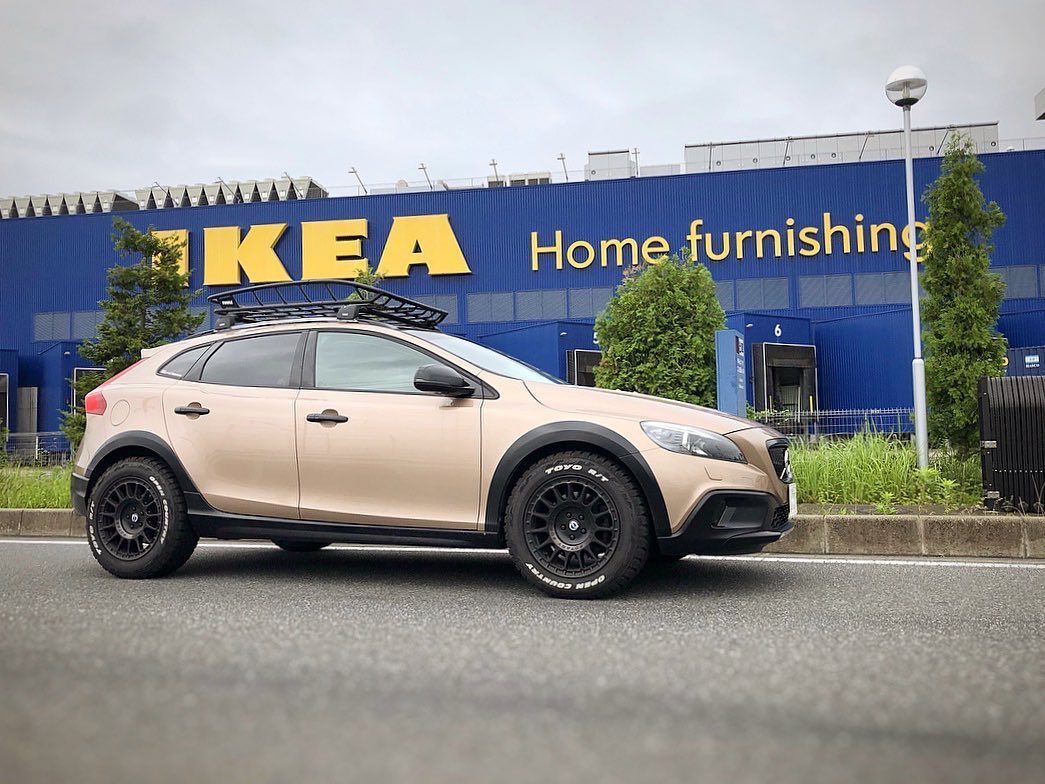 #2 Sedans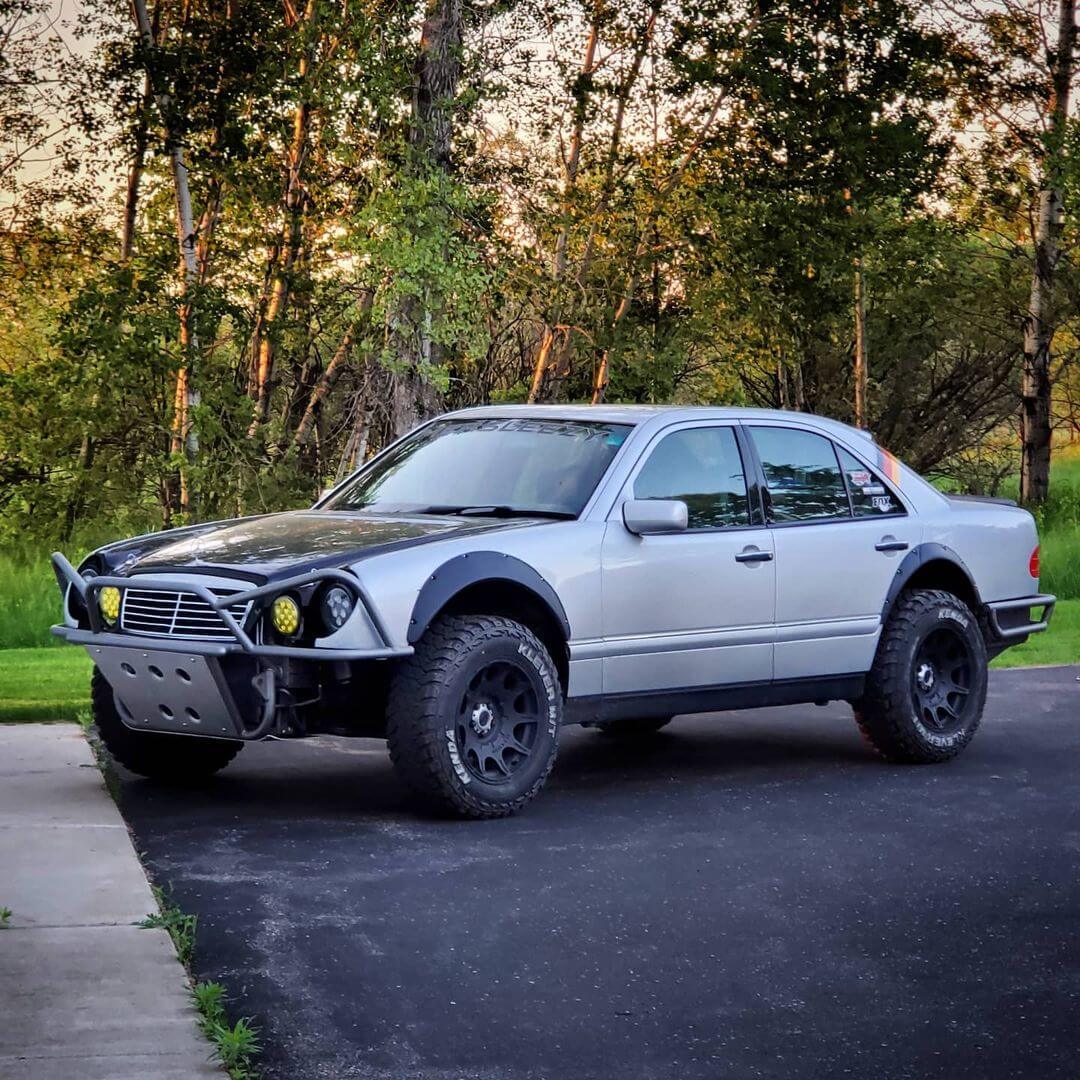 #3 Station Wagons, Estates & Battlewagons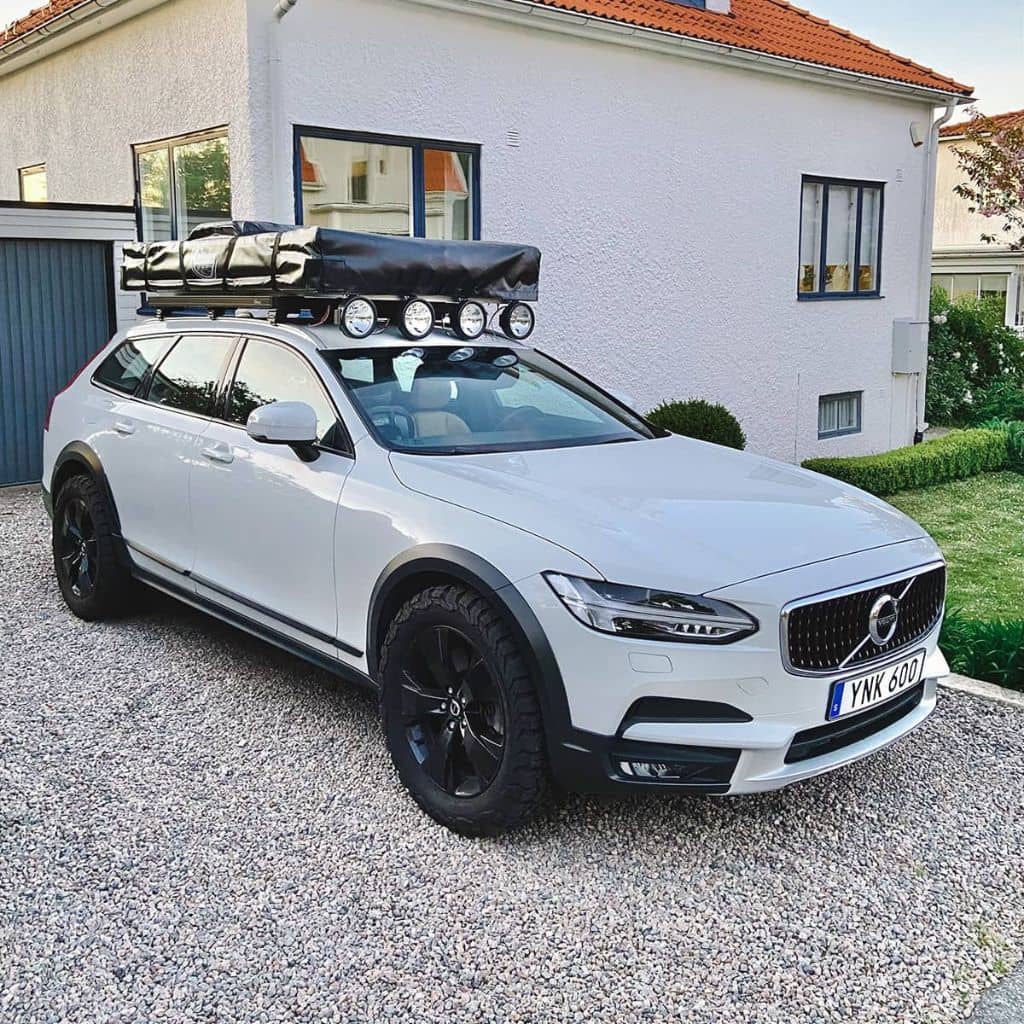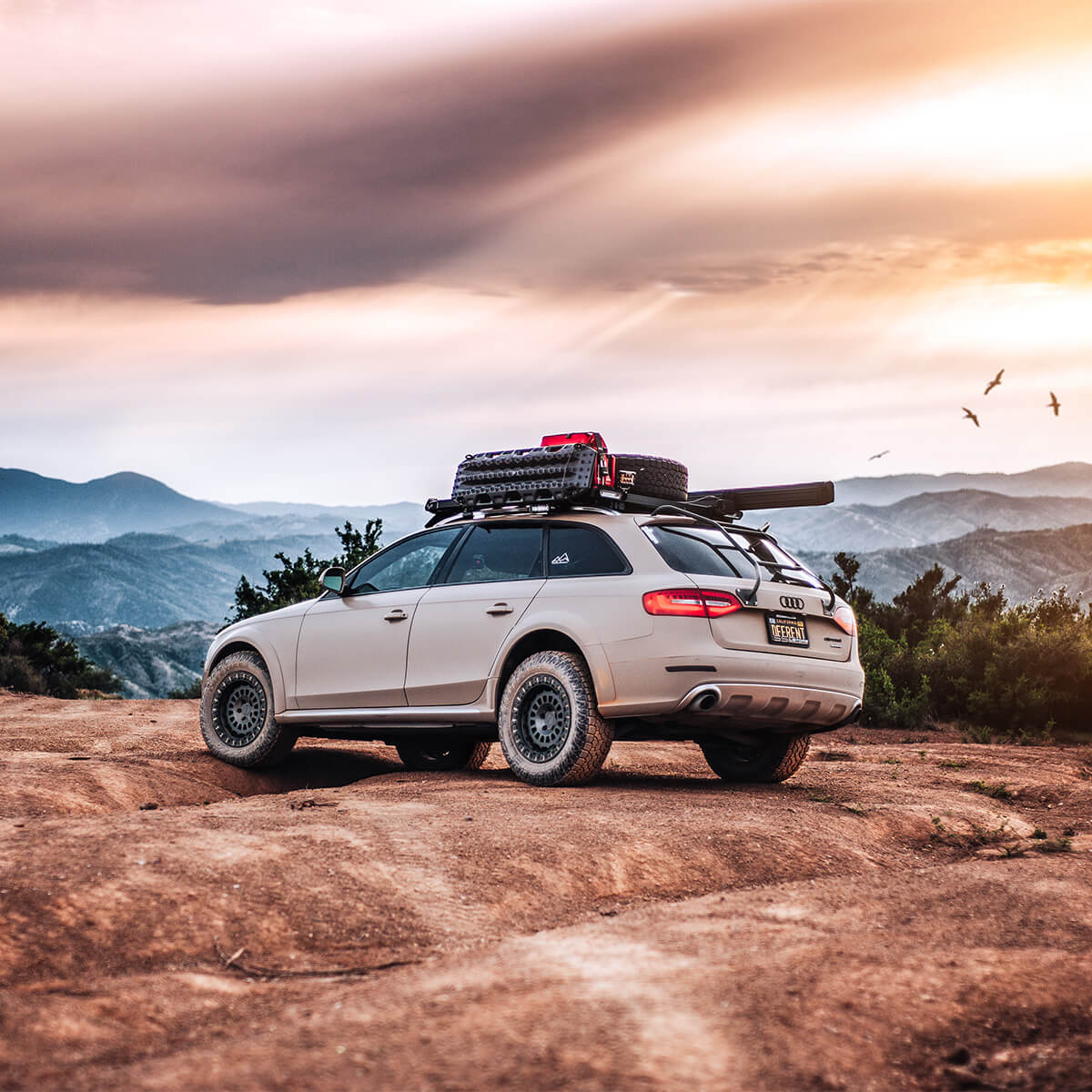 #4 CUV and Urban Crossovers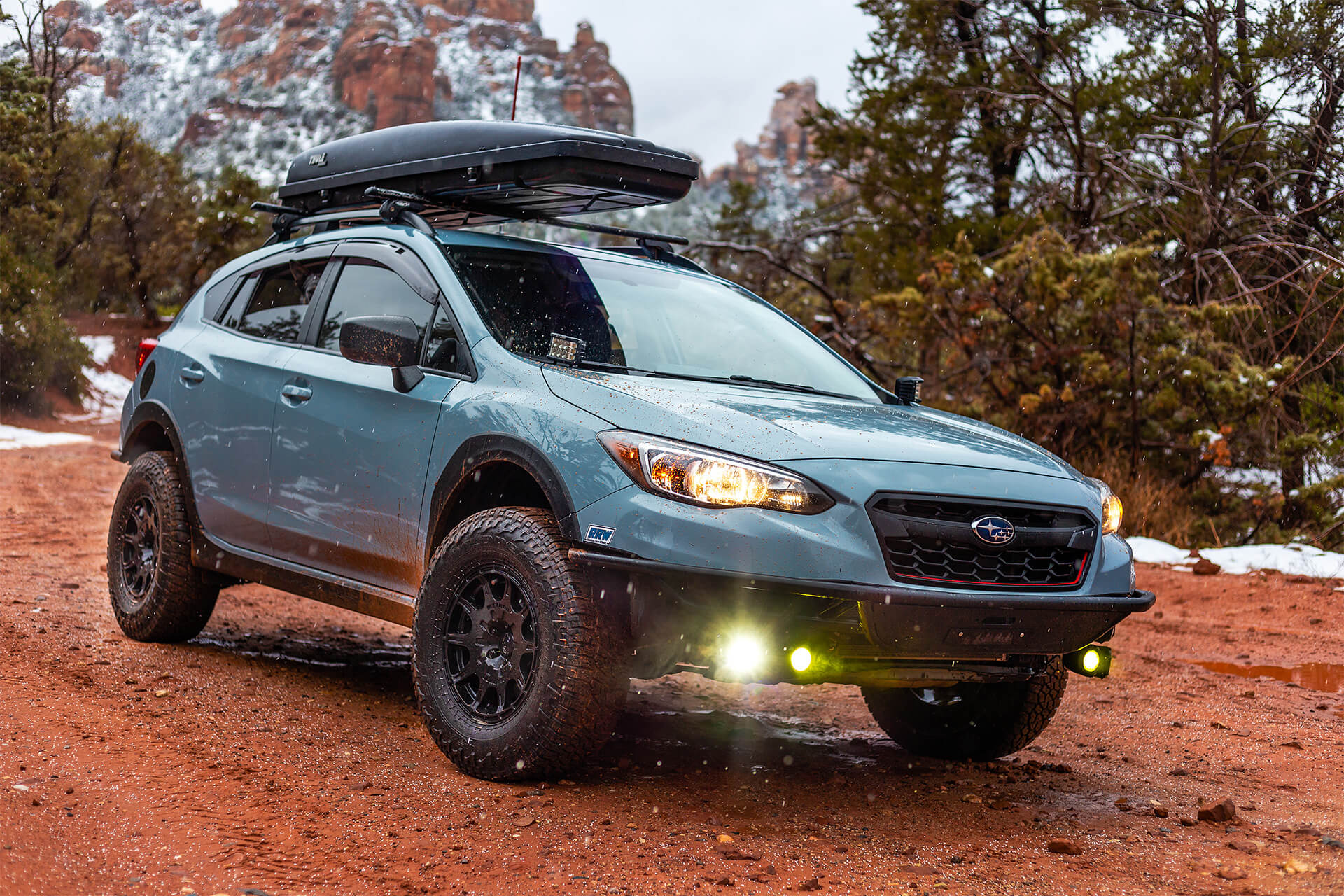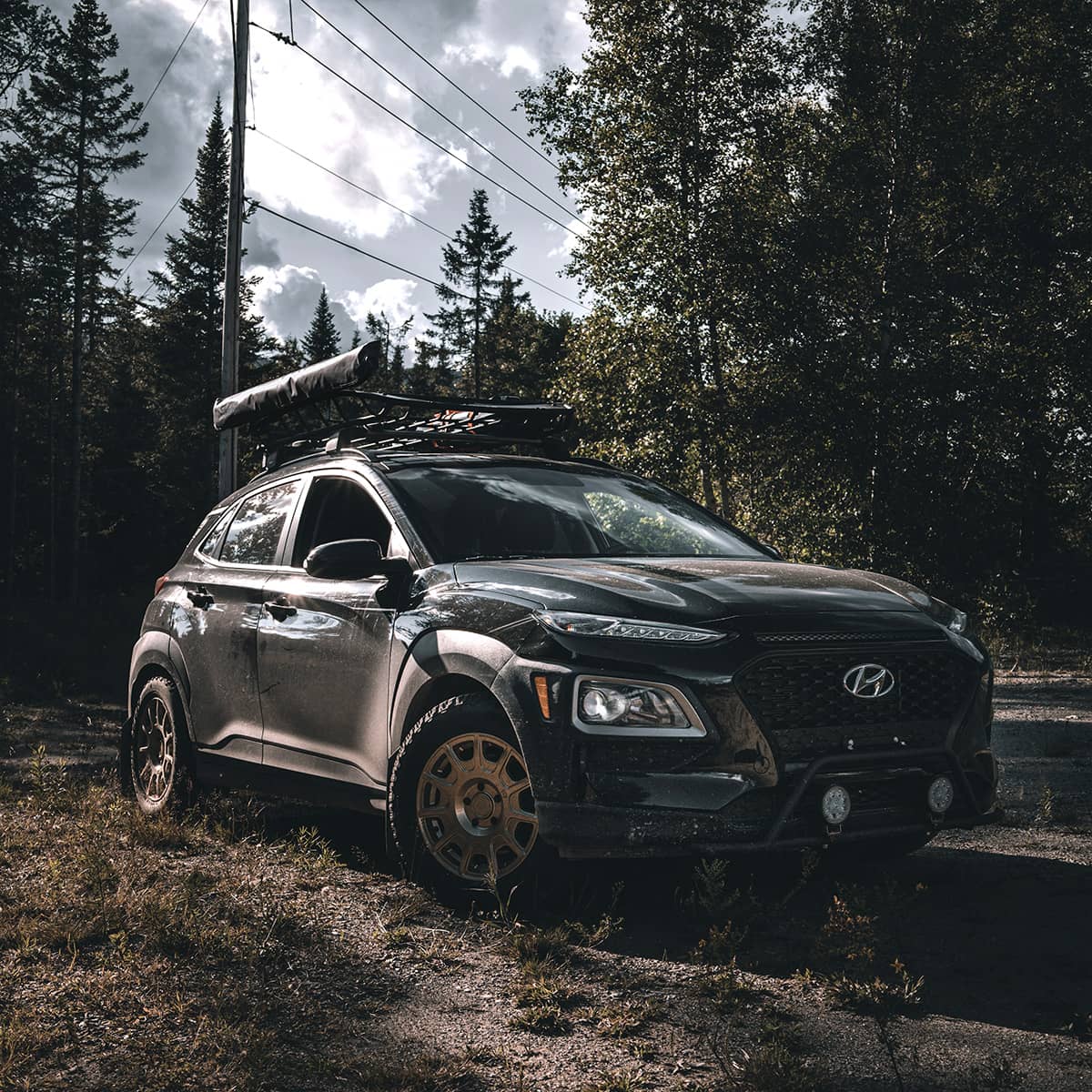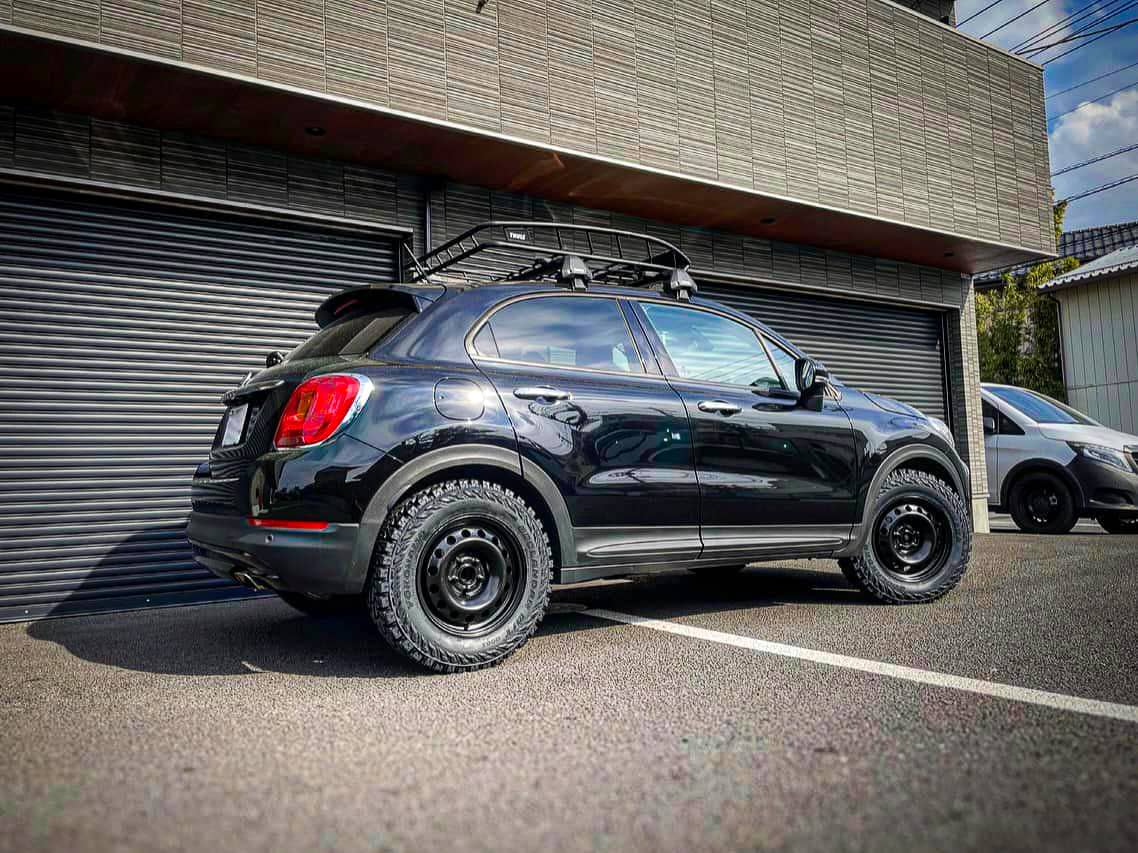 #5 Lifted Sports Cars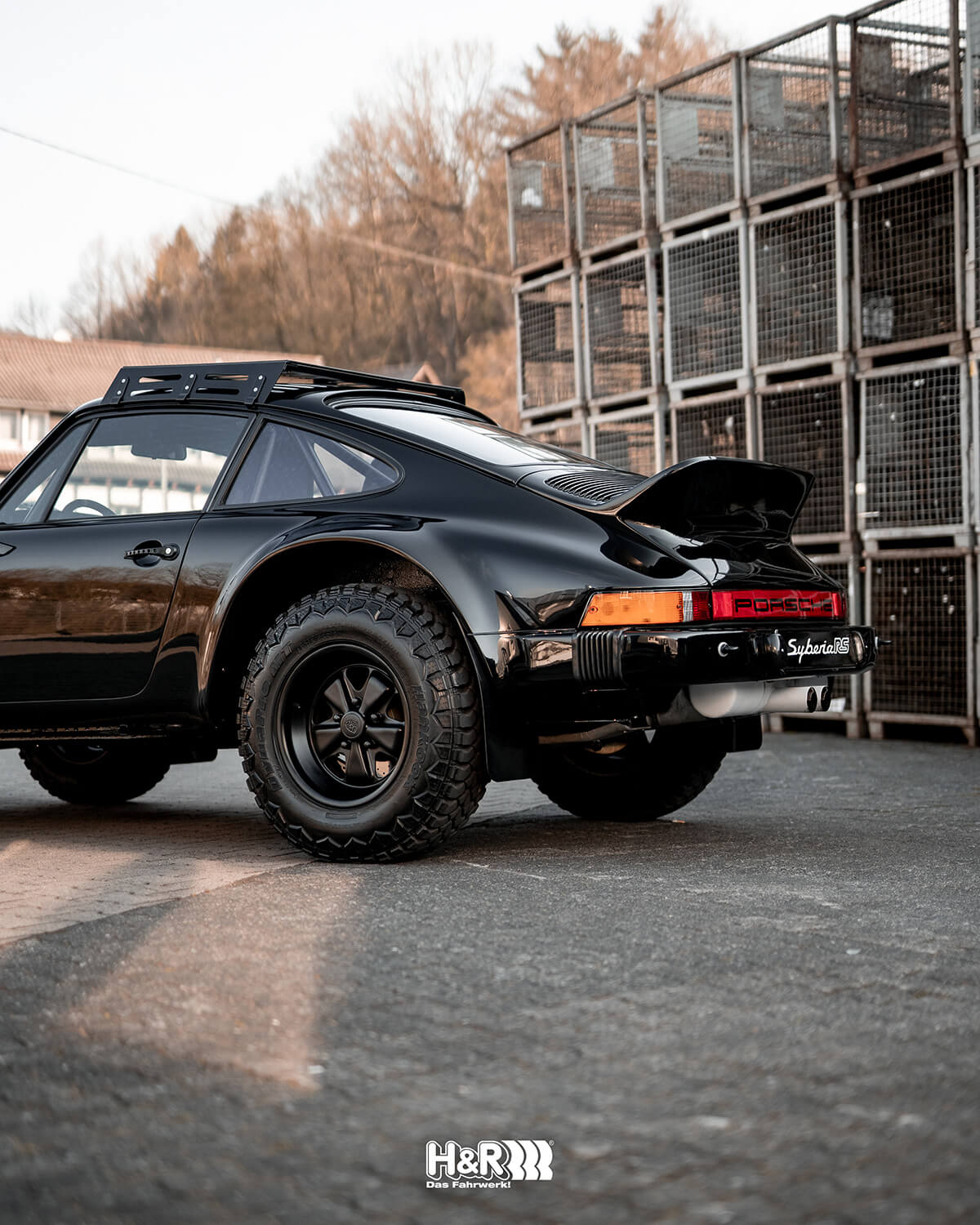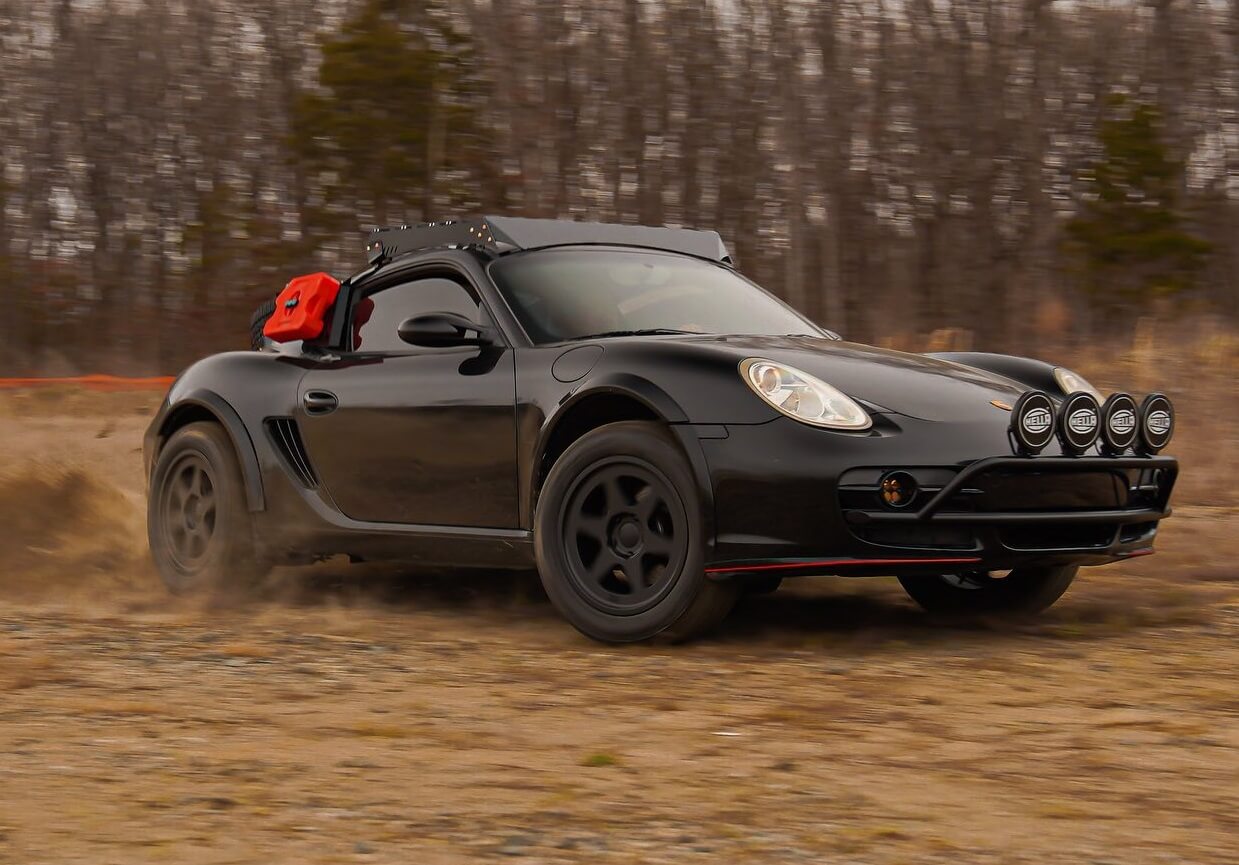 Historical Perspective
Before we deep dive into the gritty details of lifting regular passenger cars, it's worthwhile to take a trip down memory lane to understand how this trend got its wheels turning in the first place.
Motorsports Roots
In the roaring 70s and 80s, a revolution was brewing in the world of motorsports. The concept of rally racing was rapidly gaining ground, thrusting a new type of vehicle into the spotlight — the AWD rally car.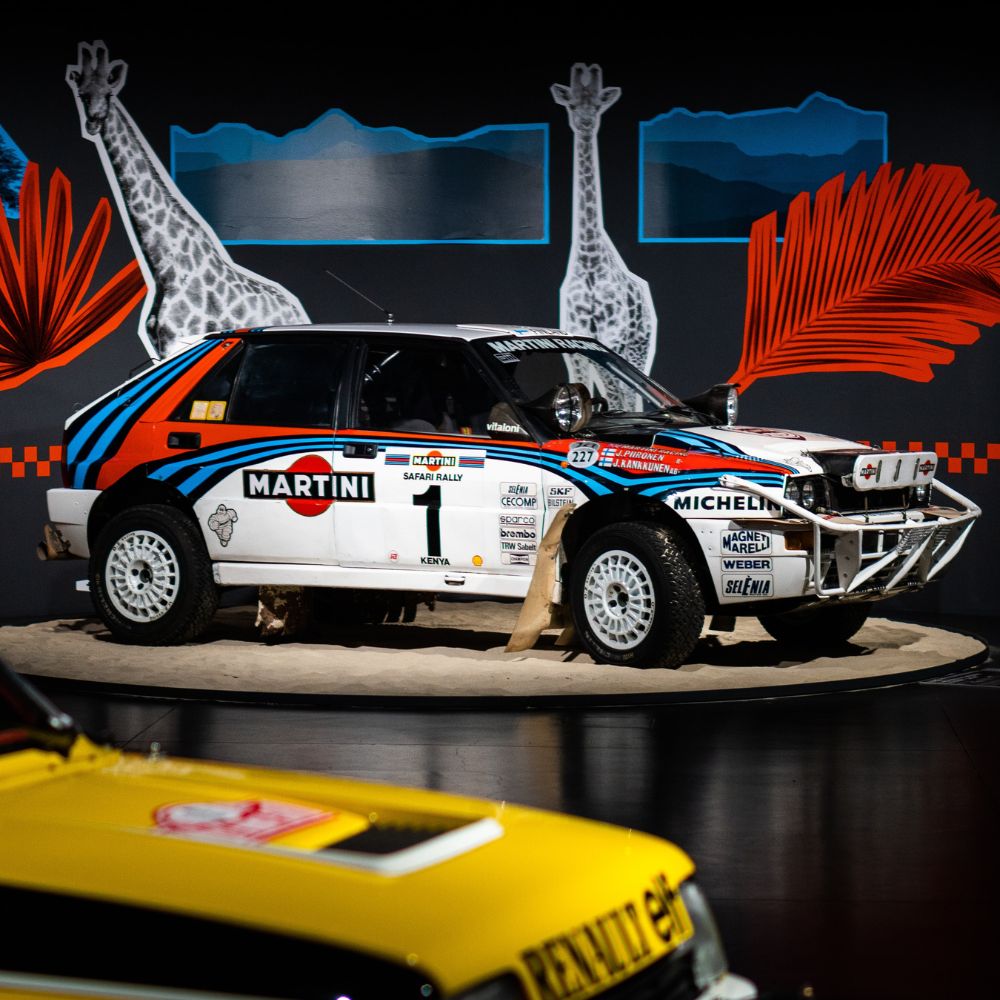 These machines were nimble, quick, and rugged enough to tackle various terrains at breakneck speeds, which helped them to pave the way for the evolution of the ordinary passenger car into a competent off-roader.
Subaru
Subaru Leone, introduced in the early 70s, is widely credited as the first mass-produced car to offer a four-wheel-drive system, previously a feature confined to trucks and utility vehicles. This compact car, unassuming as it looked, would mark the beginning of Subaru's legacy in crafting vehicles that blend everyday usability with off-road capability which later evolved intoImpreza, Crosstrek and Outback models.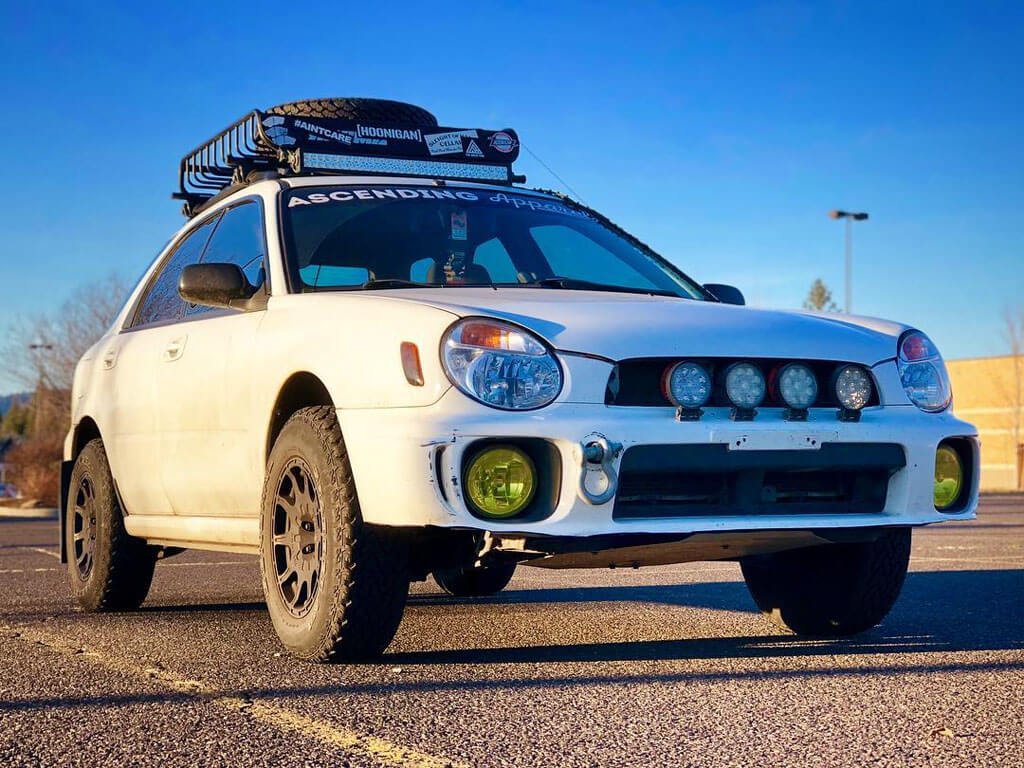 Audi Quattro
Meanwhile, over in the German camp, Audi was making waves with the introduction of the legendary Quattro in the 1980s. The Quattro's innovative AWD system was a game-changer in the realm of motorsports, propelling Audi to countless victories in the World Rally Championship. It proved that with the right engineering, a regular-looking passenger car could tackle off-road trails just as well as it could carve corners on the asphalt.
AMC Eagle
In the same era, America had its contender too — the AMC Eagle, often hailed as the original crossover. The Eagle was essentially a regular passenger car that sat higher off the ground, thanks to its innovative 4×4 system. It may not have garnered the same fame as the Subaru or Audi in rally circuits, but it certainly played a pivotal role in demonstrating to the American public that regular cars could venture off the beaten path too.
These pivotal models from Subaru, Audi, and AMC blazed a trail for what would eventually evolve into the trend of lifting regular passenger cars for off-roading. They challenged the norms of what a passenger car could do, and in the process, laid the groundwork for the audacious modifications we see in today's lifted hatchbacks and sedans.
Can you go offroading in a stock car without a lift?
The short answer is: yes, you absolutely can go off-roading in a stock car without a lift. However, the extent and enjoyment of your off-road exploits will largely depend on the terrain and your vehicle's inherent capabilities.
First off, it's important to understand that not all off-roading is created equal. If we're talking about light trail runs or dirt roads, a stock car, particularly those with AWD or 4WD, may handle it surprisingly well. Vehicles with decent ground clearance, like AWD station wagons and crossovers, can also handle mild off-road jaunts. However, if the trail becomes more demanding with deep ruts, steep inclines, rocks, and heavy mud, that's where a stock car might struggle.
Without the increased ground clearance from a lift, your vehicle is more likely to suffer underbody damage from rocks or debris. You'll also risk getting hung up on obstacles that a lifted vehicle would simply stride over. Moreover, stock cars generally have regular all-season road tires that might not provide enough grip on slippery surfaces like mud or loose sand.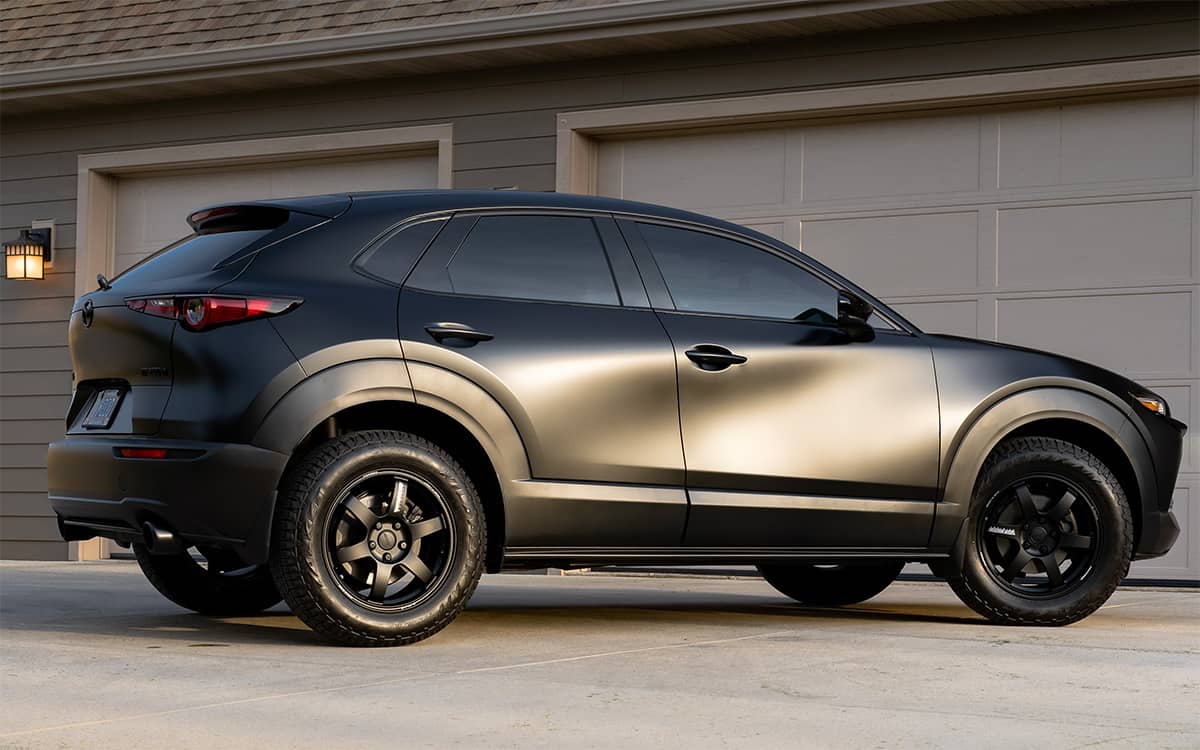 Off-roading in a stock car isn't impossible, but it's akin to walking a tightrope. You'll need to be cautious, choose your trails wisely, and understand the limitations of your vehicle.
If you find yourself regularly venturing off the beaten path, then investing in off-road modifications, such as a lift kit and off-road tires, would be worthwhile to ensure your adventures are both enjoyable and safe. As the saying goes, "It's better to have it and not need it, than need it and not have it." Especially when "it" could be the difference between a thrilling day on the trails or an unexpected call to a tow truck.
Why do you need to lift a car?
Off-roading is more than just a weekend getaway; it's a test of mettle and machine against the raw, unforgiving challenges of nature. You're contending with two major elements that can turn any drive into a wild ride: A. the inconsistent road surface, and B. surfaces with low traction (dirt/mud/sand/snow).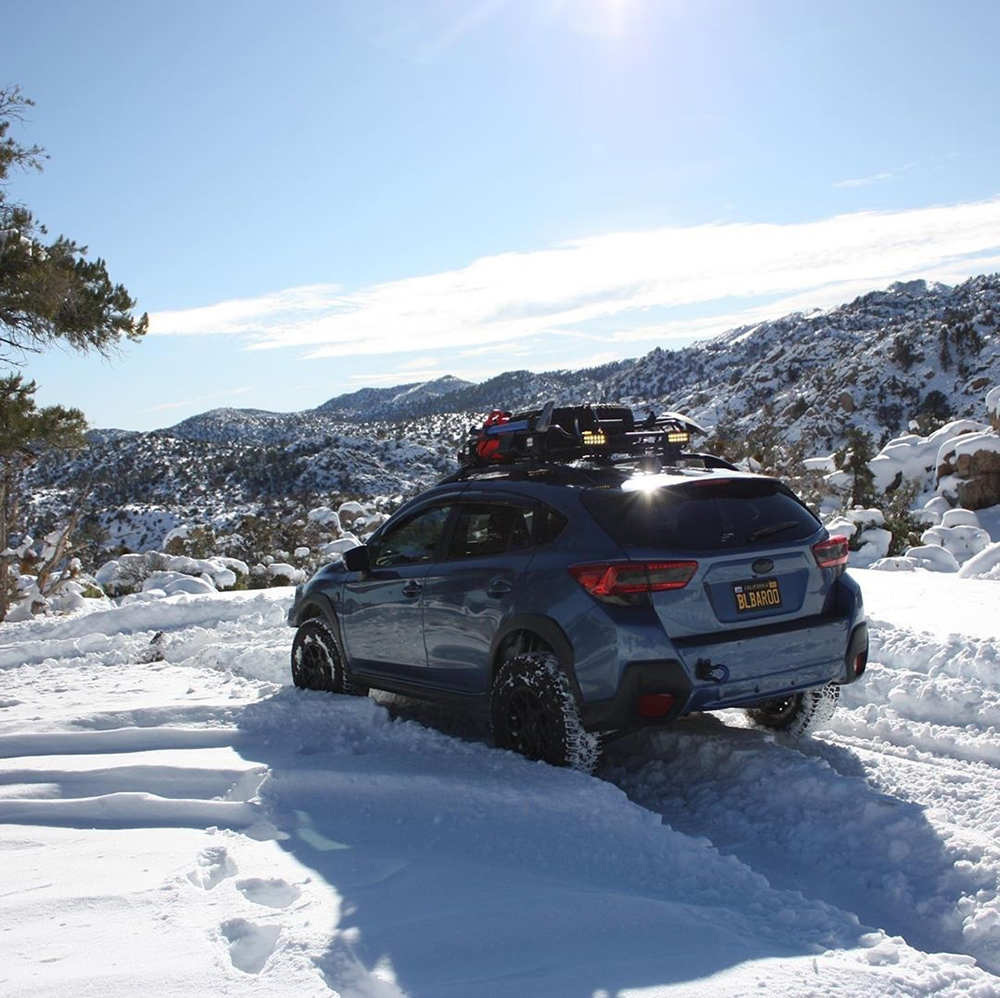 Navigating the labyrinth of bumps, holes, or deep tracks is like an impromptu roller coaster ride, throwing your vehicle up, down and around with every passing meter. This is where lifting your car plays a pivotal role.
"A lifted car, with its increased ground clearance, allows you to overcome these obstacles without scraping your undercarriage or getting stuck".
On the other hand, you'll often find yourself wrestling with surfaces like mud, dirt, sand, or snow, where traction is as elusive as a four-leaf clover on a windy day. This is where the right set of tires come into play. Investing in tires with deep treads and a compound that can grip onto these slippery surfaces is crucial in conquering these challenging terrains. In the world of off-roading, your car's lift and tires aren't just upgrades — they're survival tools.
"Another simple trick – improve the overall wheel size to maximize the wheel/ground contact patch. Fitting your car with oversized tires that wouldn't fit on stock suspension is another good reason to lift your car".
The Anatomy of a Lifted Car
Strut Spacers
Lifting a car is no small feat; it requires careful planning, a good understanding of your vehicle's mechanics, and of course, the right parts. The most common method of achieving that desired extra height is through the use of strut spacers.
These nifty components are installed on top of your vehicle's struts, effectively raising the body of the car without altering the suspension geometry drastically.
"The most common method of achieving that desired extra height is through the use of strut spacers".
If you're a hands-on, DIY enthusiast, you can opt to fabricate these spacers yourself. While it requires a fair amount of technical knowledge and tool prowess, there's a certain satisfaction that comes from knowing you've personally contributed to your car's transformation.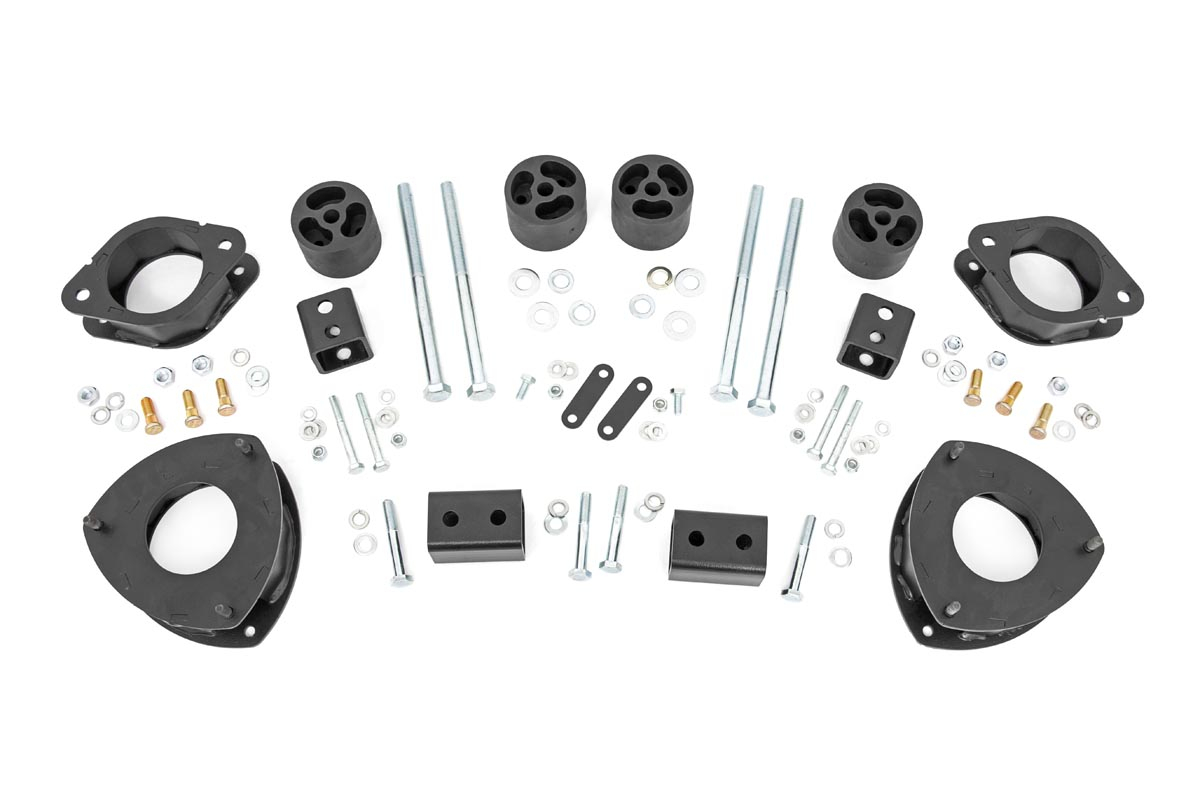 Of course, if DIY isn't your cup of tea or you're looking for a surefire fit, you can always purchase a ready-made lift kit designed specifically for your vehicle model. These kits typically come with all the hardware you need for a hassle-free installation.
How high can a car be lifted with strut spacers?
Lift spacers range in height from about ½" up to 3-4" inches. 1" or 2" lift spacers are the most common because they provide needed space in the wheel wells to install larger tires and don't do drastic changes to the suspension geometry. Keep in mind that bigger the bigger spacer will put more stress on the suspension components and will increase the wear.
"Lift spacers range in height from about ½" up to 3-4" inches".
What cars can you put a lift kit on?
Strut spacer lift kits can be installed on a wide variety of vehicles, particularly modern unibody cars where the body and chassis are integrated into one structure. These include a large proportion of today's sedans, hatchbacks, and crossovers — from compact commuters like Honda Civics to AWD wagons like Subaru Outback.
"Strut spacer lift kits can be installed on pretty much any unibody car, SUV or crossover".
However, there is a notable exception to this rule: old body-on-frame sedans like the Ford Crown Victoria. For these vehicles, which have a separate body and frame, a body lift would be required. A body lift kit uses a set of spacers to elevate the body off the frame, providing the desired increase in ground clearance.
Custom Suspension
However, lifting your car isn't always as simple as just adding spacers. Depending on the height you're aiming for and the off-road performance you desire, you may need to consider upgrading other suspension components.
"Depending on the height you're aiming for and the off-road performance you desire, you may need to consider upgrading other suspension components".
For example, longer shocks and springs can provide increased wheel travel, which is crucial when tackling rough terrains. Upgraded control arms can help maintain proper wheel alignment, which often gets thrown out of whack when you lift a vehicle.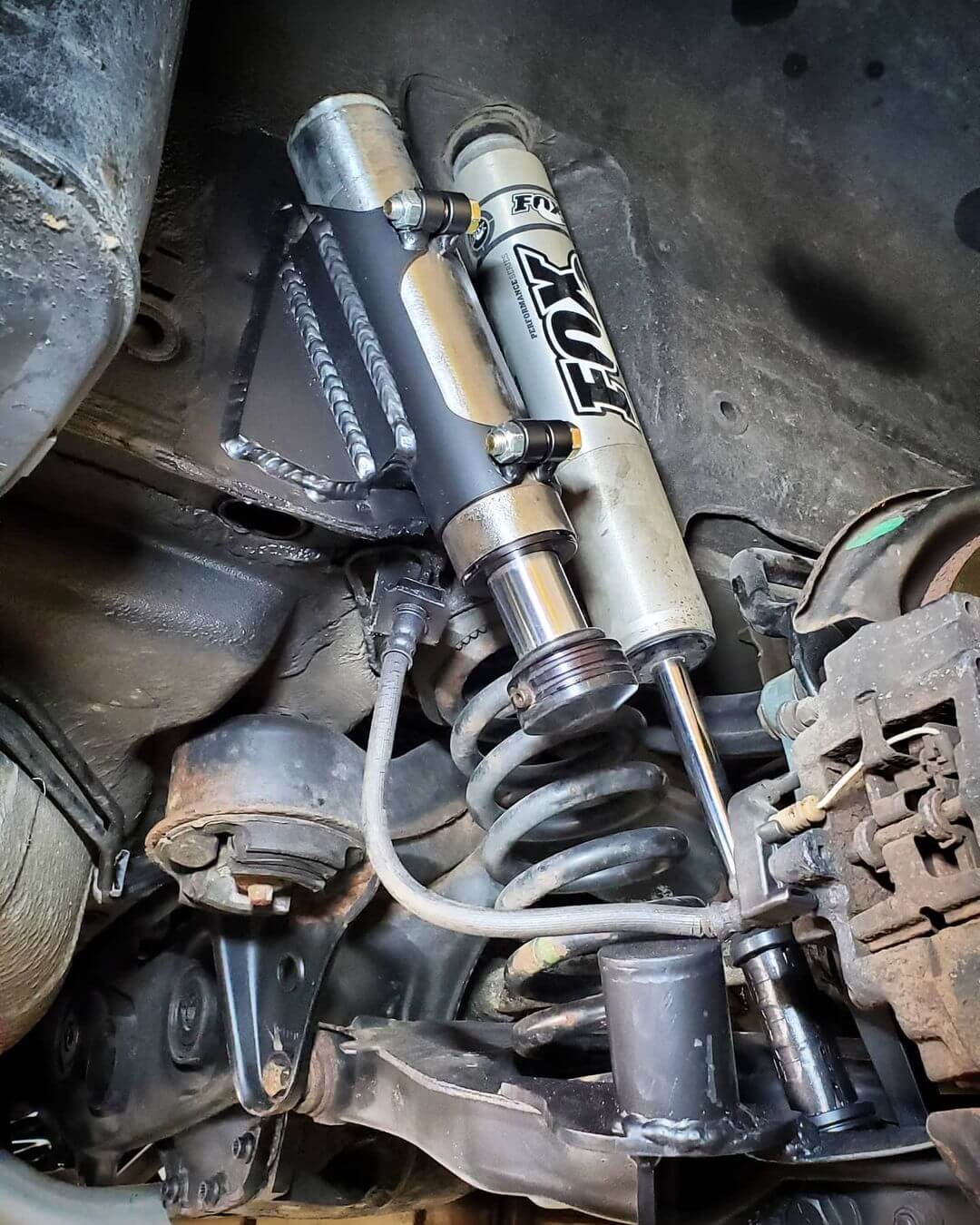 And let's not forget about components like longer sway bar links, adjustable track bars, and extended brake lines. Each plays a crucial role in ensuring your lifted ride not only performs well off-road but is also safe to drive.
The Beast Mode: Car Body on Top of a Lifted 4×4 Truck Frame
For the truly adventurous souls in the off-roading community, those who laugh in the face of convention and have a mad streak of mechanical creativity, there is indeed a rather radical option: marrying the body of a regular passenger car with the robust frame of a 4×4 truck.
"marrying the body of a regular passenger car with the robust frame of a 4×4 truck".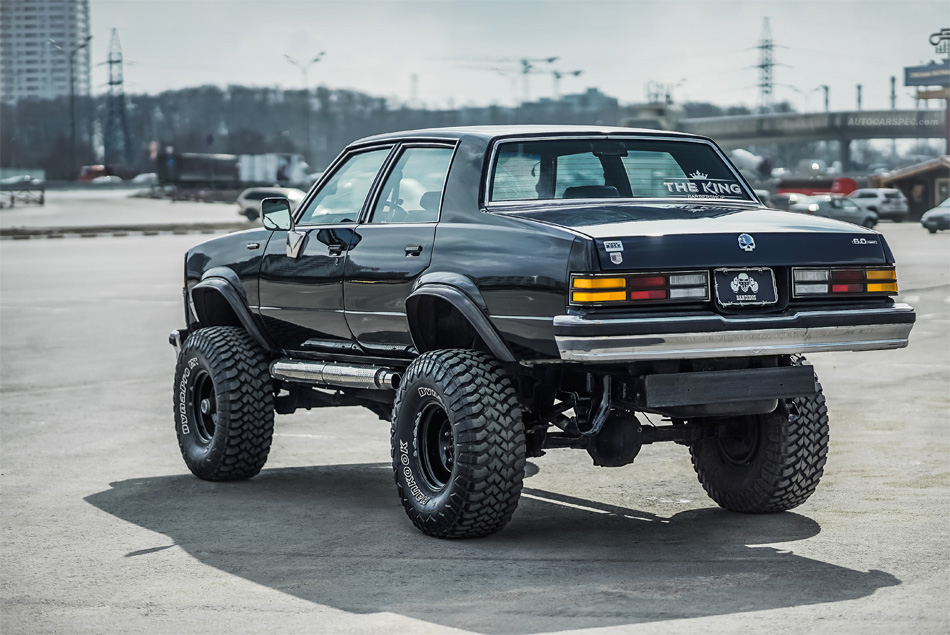 This Frankenstein-esque fusion, while quite labor-intensive and technically challenging, has the potential to birth a truly unique beast that marries the comfort and style of a passenger car with the raw, trail-taming prowess of a truck.
Imagine taking a sleek sedan or a spunky hatchback and infusing it with the heart and bones of a 4×4 beast. The result would be an off-road warrior that could tackle gnarly trails while turning heads and raising eyebrows in equal measure.
This approach is not just about creating a capable off-roader, but about crafting a one-of-a-kind ride that serves as the reflection of your off-roading passion and technical ingenuity.
Is lift bad for a car?
Lifting a car can be a game-changer for off-road enthusiasts, opening up a world of new terrains to explore. However, it's important to note that lifting a vehicle does alter its factory-designed geometry and behavior, which can have some negative impacts if not done correctly or if the vehicle is not properly maintained afterwards.
"it's important to note that lifting a vehicle does alter its factory-designed geometry and behavior, which can have some negative impacts if not done correctly or if the vehicle is not properly maintained".
Firstly, lifting a car can change the vehicle's center of gravity, making it higher and potentially more prone to rollovers if driven aggressively, especially around corners.
Additionally, it can affect the vehicle's suspension and alignment, leading to uneven tire wear and potentially shorter lifespan for components like bushings, shocks, and CV joints due to them operating at steeper angles. This means you might find yourself replacing these parts more frequently than you would with a non-lifted car.
Moreover, if the lift is done improperly or with low-quality components, it can result in poor ride quality, diminished handling, and even potential safety risks. It's also worth noting that a lifted vehicle may experience a decrease in fuel efficiency due to increased wind resistance.
"The majority of these drawbacks, can be mitigated with a well-executed lift kit done by professionals".
Body Armor
Just as a knight wouldn't venture into a battle without his armor, a responsible off-roader shouldn't hit the trails without a suitable set of body armor for their vehicle.
"Body armor, in the context of off-roading, typically refers to protective add-ons such as skid plates, bull bars, rock sliders, and differential guards".
These additions serve to protect your vehicle's vulnerable areas — including the engine, fuel tank, and differentials — from potential damage caused by rocks, fallen branches, or other obstacles that might be encountered off the beaten path.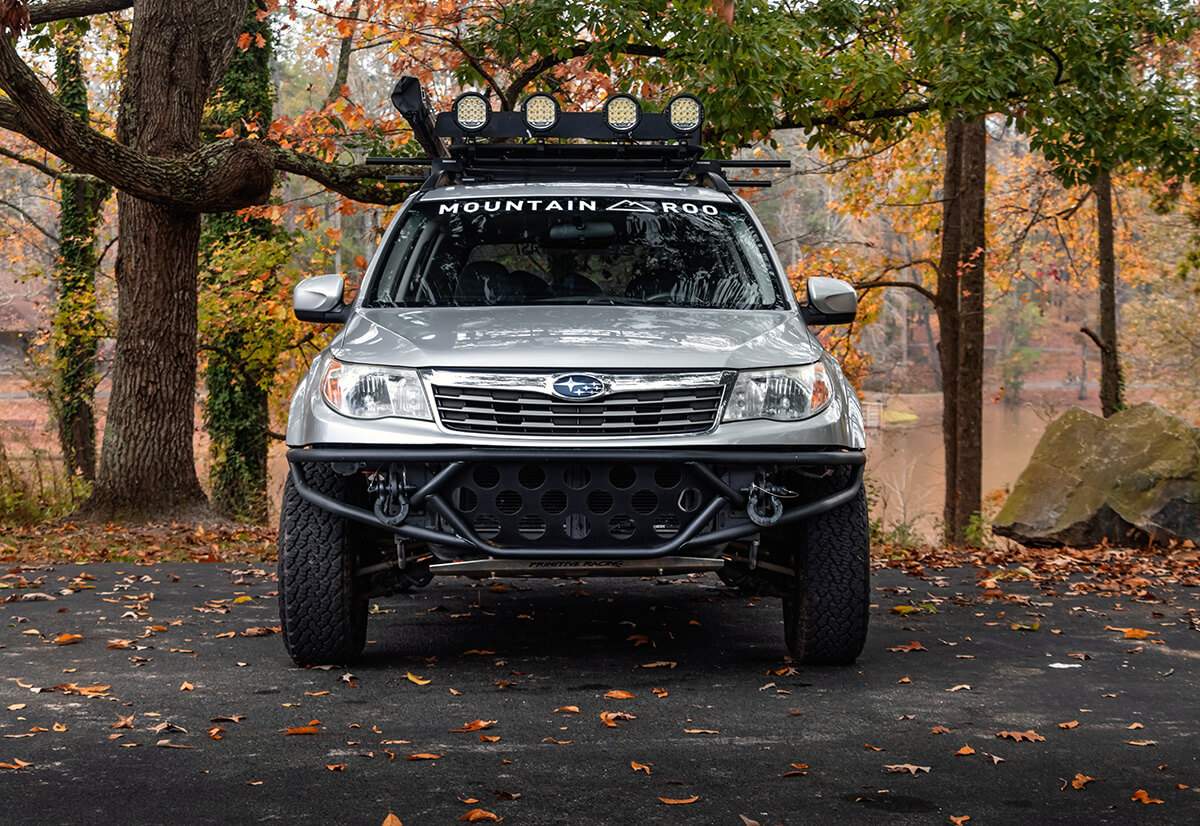 Recovery Gear
Now, let's talk about recovery gear. No matter how well-prepared you are, or how judiciously you've chosen your trails, there's always the chance of getting stuck. That's where recovery gear comes into play.
A basic recovery kit should include items like a shovel, a tow strap or a recovery strap, D-rings, and a jack suitable for off-road use (a high-lift jack or an inflatable exhaust jack, for instance).
More advanced gear could include traction boards, a winch, or even a ground anchor if you often go solo. Remember, each piece of recovery gear you carry is a lifeline, capable of turning a potential disaster into a minor setback.
Know Your Limits
Knowing the limits of your vehicle is perhaps the most crucial aspect of off-roading, particularly when you're driving a lifted regular car as opposed to a dedicated 4×4.
Each vehicle, whether it's a lifted sedan or a stock crossover, has its own set of capabilities and thresholds that determine what it can handle when the pavement ends.
While lifting a regular car can definitely increase its off-road capabilities, it won't magically transform a hatchback into a Jeep Wrangler.
Attempting to tackle serious trails with a vehicle not designed for such extreme conditions can result in underbody damage, mechanical failures, or worse, getting stranded in a remote location. Even with the best recovery gear at hand, extricating a stuck vehicle can be a time-consuming and strenuous process, not to mention the potential damage to the environment.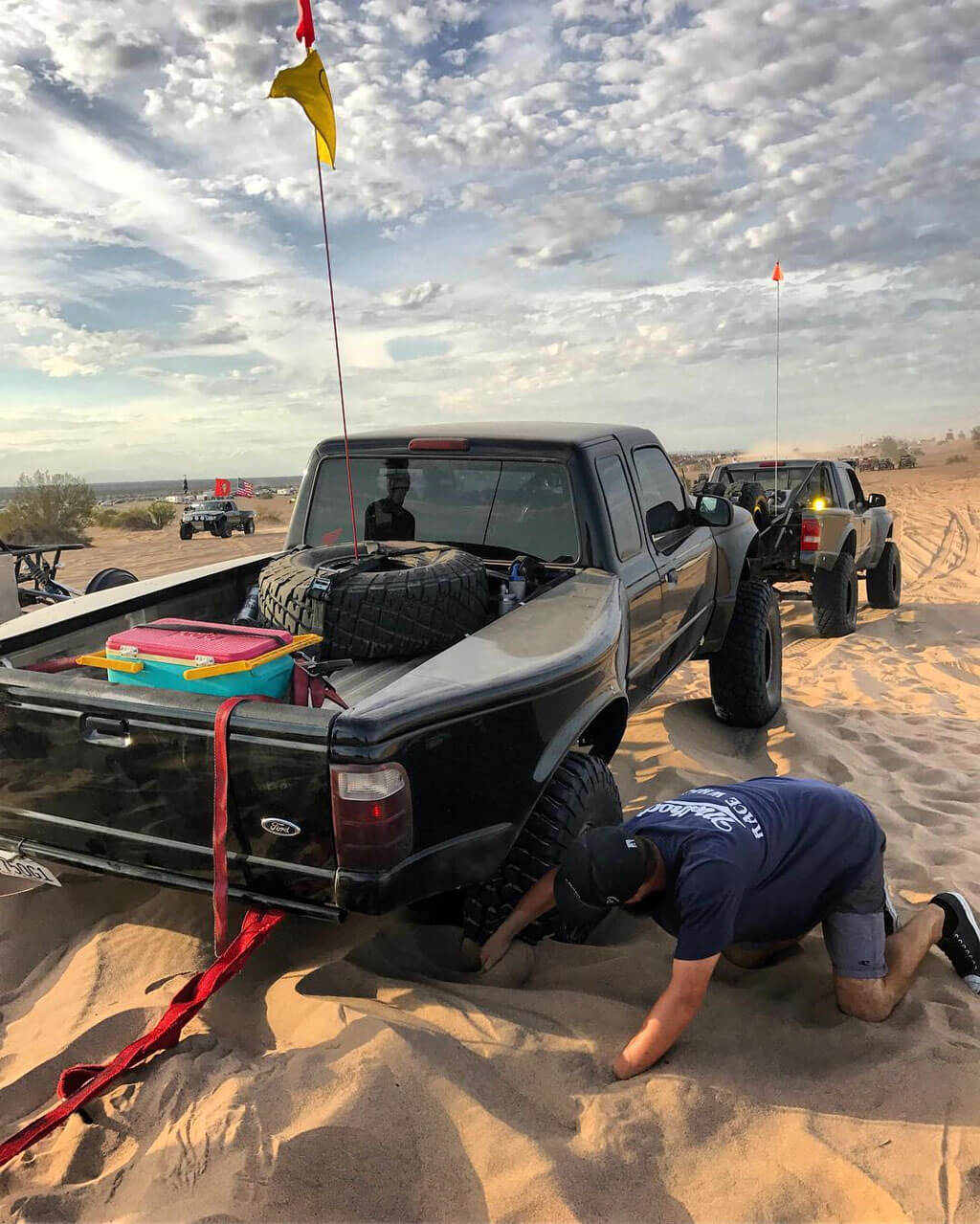 So, it's important to choose your off-road adventures wisely. Start with light trails and gradually increase the challenge as you get to know how your vehicle performs in different conditions.
Conclusion
From exploring the origins of lifting regular passenger vehicles for off-roading to delving into the intricacies of strut spacers and body lifts, we've traversed a fascinating journey through the world of automotive modification.
It's clear that elevating a car beyond its stock stature, whether it's a unibody model or a body-on-frame classic, offers a thrilling new perspective on the wilderness and opens up a world of off-roading potential.
"Lifting a car isn't for everyone, but for those who dare, the reward lies not just at the end of the trail, but in every moment of the journey".
However, this modification isn't without its challenges. Each lifted vehicle is a complex blend of artistry, engineering, and a bit of audacity, requiring a careful balance of technical prowess and a deep respect for the wild terrains it aims to conquer.
The decision to lift a car, to install spacers, or to embark on a daring body-on-frame swap, must be taken with a solid understanding of the potential risks and rewards.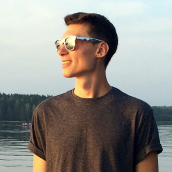 Matt Grabli
Automotive journalist and technical writer at Offroadium.com with more than 10 years of experience in the sphere of aftermarket parts and 4×4 vehicle modifications. Passionate about off-roading, outdoor adventures, and an active lifestyle.