Coolest AWD Off road Station Wagons for Overland Adventures & Daily Grind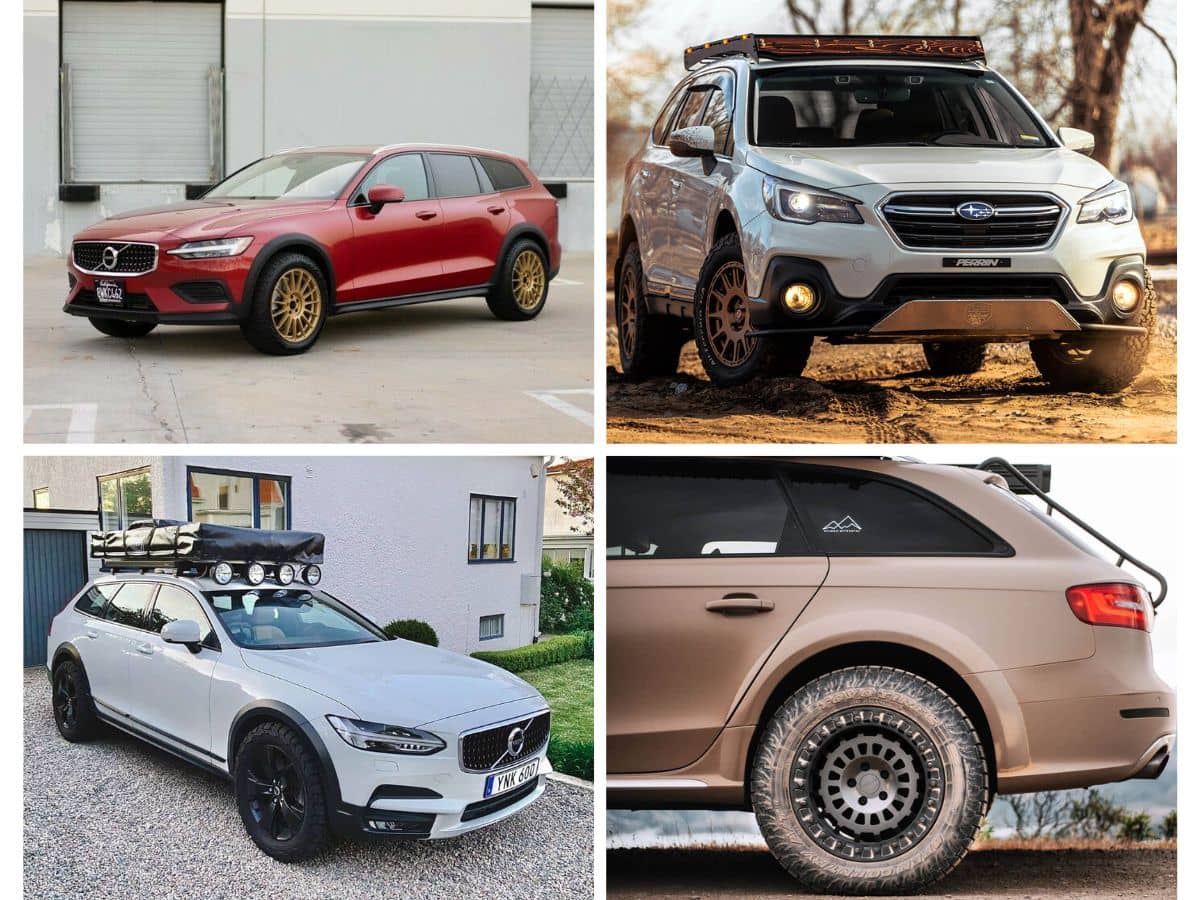 Station wagons as a vehicle class might seem a bit old-fashioned, especially with the popularity of crossovers booming in recent years, but don't be fooled. Even though crossovers are dominating the roads, station wagons still have something cool to make you want to drive them.
It's no secret that people usually see crossovers as more off-road-capable vehicles but some of them aren't even equipped with AWD. Wagons might not look as tough as their crossover counterparts, but they offer pretty much the same set of features which makes them a worthy option to consider.
Throughout the years we featured a lot of cool projects, providing in-depth look at their AWD systems and aftermarket mods that improve their capabilities (check out or Builds section for more). So today we'll share our Top 6 list of all time best Station Wagon off-road projects.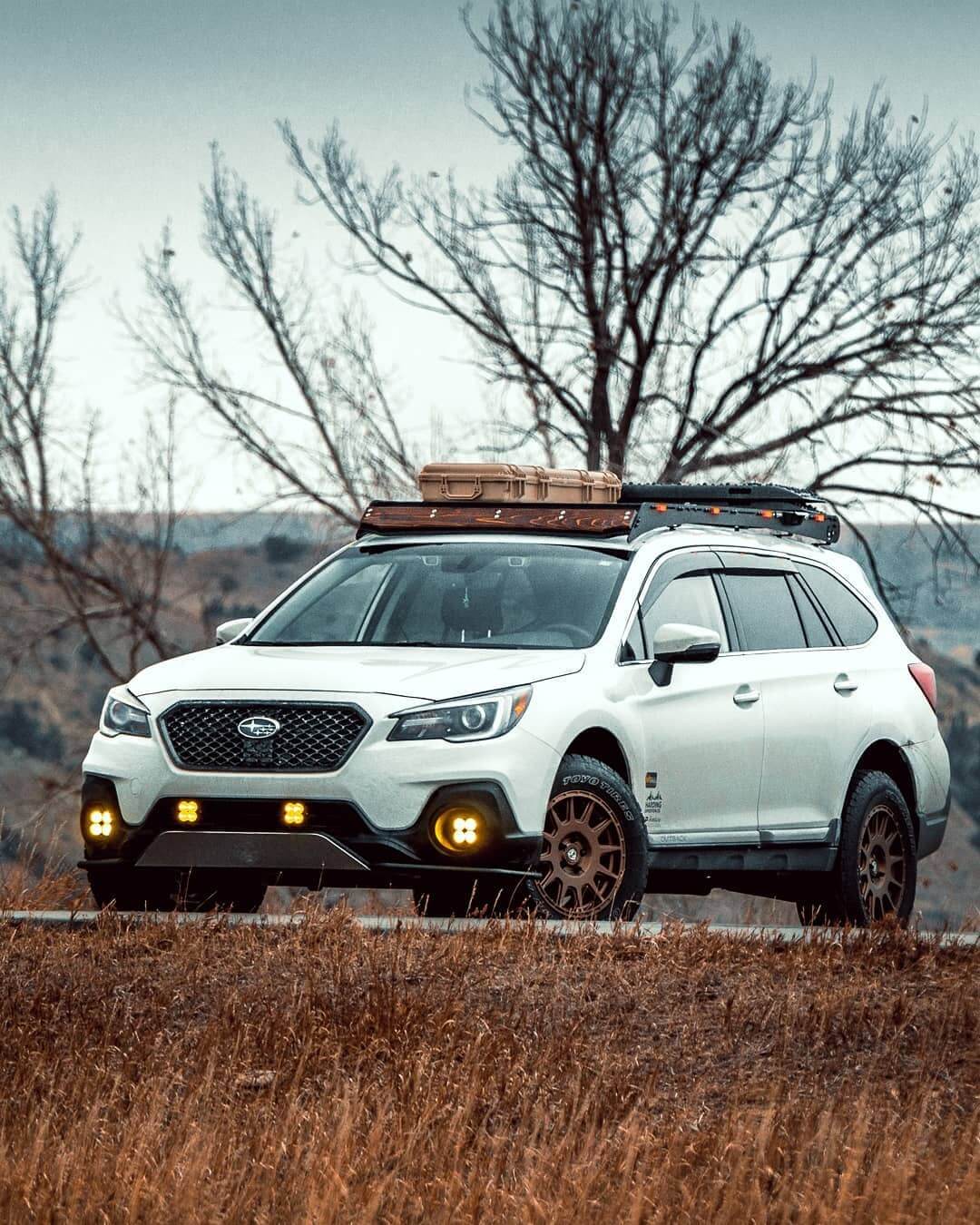 Quick summary
As you may have guessed, the main competitors in our list are the station wagons from Subaru, Audi and Volvo…because well, they have the optimal set of features required for an off-road vehicle.
Best overall: Subaru Outback
Best style: Audi A4 Allroad
Best money can buy: Volvo V90 Cross Country
TOP 6 Lifted Offroad Station Wagons
#6 Volvo XC70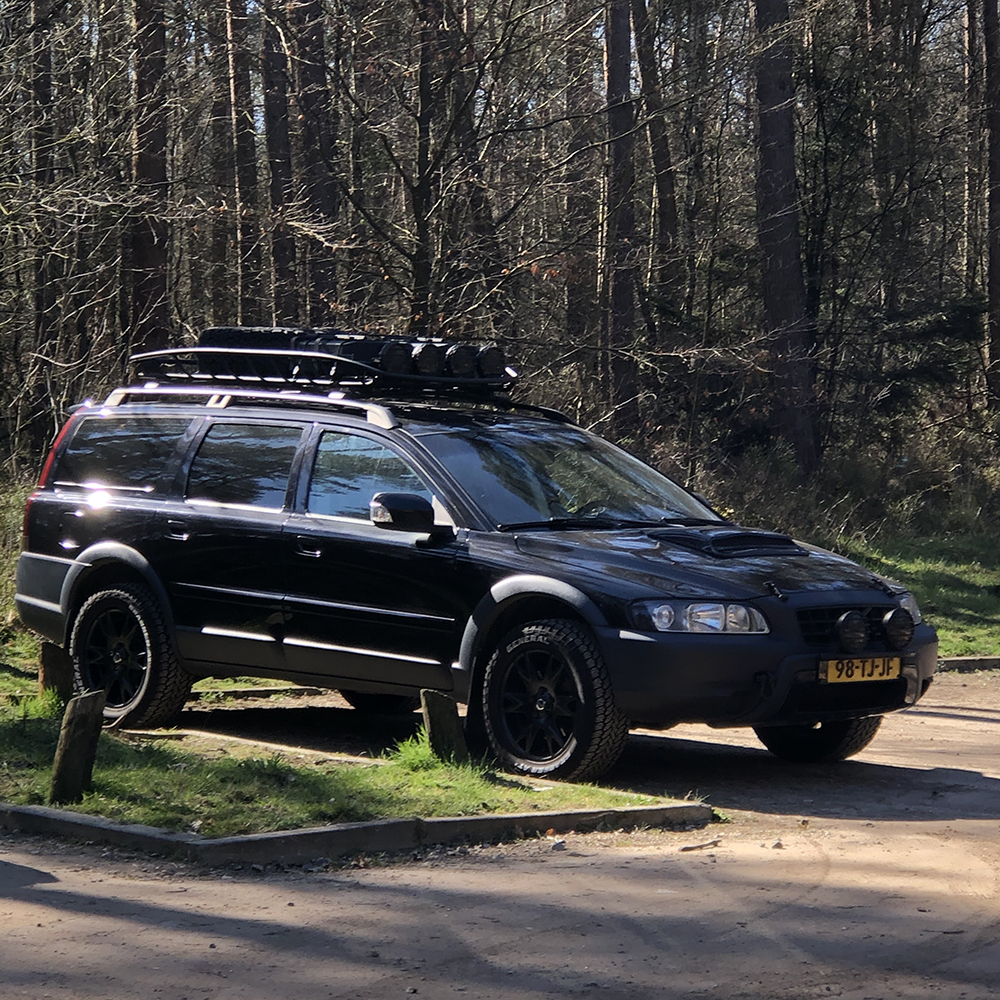 The Volvo XC70's off-road readiness is attributed to its upgrades suspension with a Tema4x4 Complete Lift Kit 30mm and subframe spacers, which increase ground clearance and foster an aggressive aesthetic. OEM Volvo Oreander 17" wheels and 235/55/17 General Grabber AT3 All-Terrain tires provide improved traction on diverse terrains.
Essential exterior alterations include a Kut-snake hood scoop, Thule Canyon XT Cargo Basket, Front-Runner spare-tire holder, and HELLA 500FF Series Driving Lamp Kit, Multi, 6″ on the rally-bar and roof rack. Interior modifications comprise a Volvo R leather instrumental panel and R design steering wheel, enhancing the XC70's off-road performance and visual appeal.
Things we love about this model: It's the 90s-early 2000s biggest rival of Subaru Outback, which has plenty of cool features making it a perfect off-road station wagon.
Some Downsides: The age takes the toll on these cars.
Factory ground Clearance: 8.2"
Lift: 1"
Wheel size installed: 235/55/17
Availability of aftermarket upgrades: There aren't many solutions available for these cars, but you can still find some lift kits and protection upgrades for these wagons.
Read more about this project in our special feature: Lifted Volvo XC70 Cross Country With Off road Enhancements from the Netherlands
#5 Volvo V60 Cross Country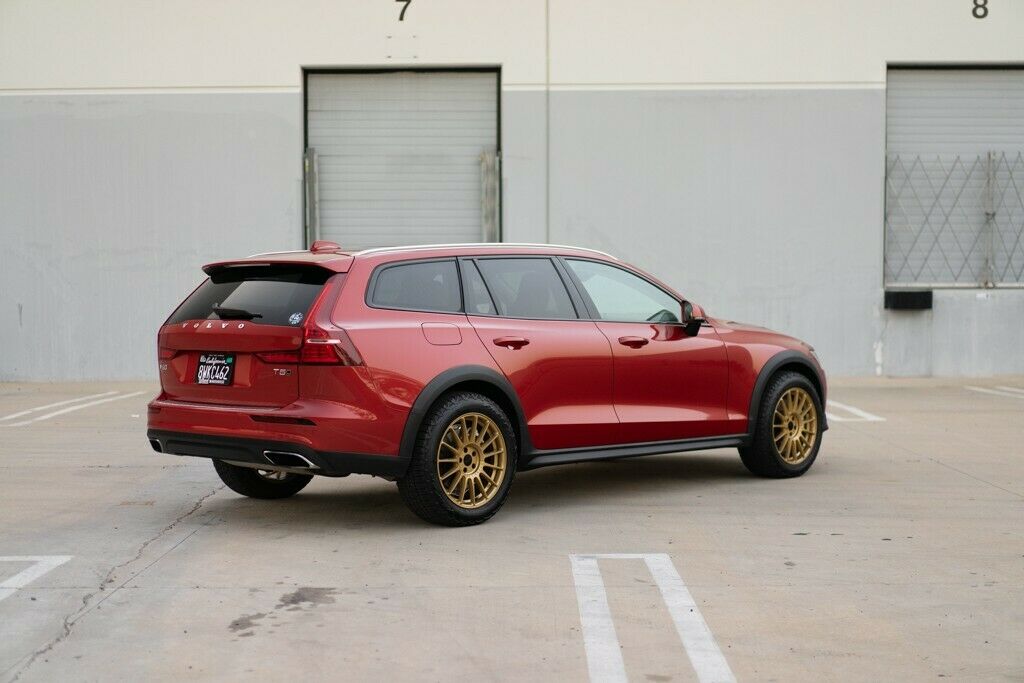 The off-road capabilities of this lifted Volvo V60 Cross Country are further enhanced by the key modifications done by its owner. One of the significant changes is the installation of TSW Paddock wheels and Falken WildPeak A/T Trail tires, which are designed to improve traction off the pavement. These tires offer excellent traction in both wet and dry conditions while also being quiet on the road, thus adding to the versatility of this wagon.
Things we love about this station wagon: Style, elegant design and uniqueness.
Some Downsides: This car is not designed for serious off-roading, therefore, has its limits. Just like the Allroad and V90, owners may think twice before taking a risk of damaging it on the trails.
Ground Clearance: 8.3"
Wheel size installed: 235/55/18
Availability of aftermarket upgrades: Non-model specific universal add-ons.
Read more about this project in our special feature: Adventure Wagon – Volvo V60 Cross Country With Off-road Wheels
#4 Subaru Impreza Wagon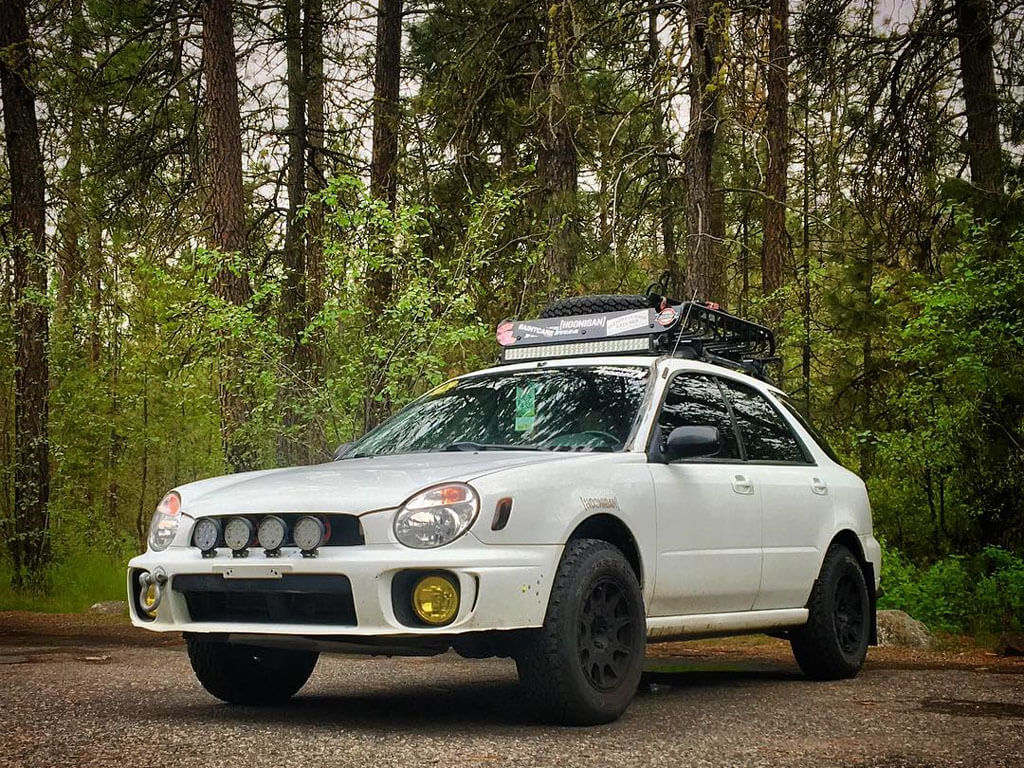 The vehicle's off-road abilities were further augmented by installing larger 15-inch Method Race Wheels 502 VT-SPEC wheels paired with 205/75/15 General Grabber tires, facilitated by the improved clearance and slightly trimmed bumpers. The vehicle is also fitted with a custom skid plate made from a street sign, providing additional underbody protection.
Other enhancements include a YAKIMA LoadWarrior roof basket with an LED light bar, interior modifications like a CB radio and PA speaker, and the removal of the rear seats and trunk liner for extra space. These collective modifications have transformed the Subaru Impreza Wagon into a high-performing, uniquely equipped off-road adventure machine.
Things we love about this model: Absolute best wagon to choose for a budget build. All you need to do is to install a spacer lift or Forester springs to bump up the clearance and fit oversized wheels. Most likely, you will not be afraid to damage it on the trails, which is quite a big deal in off-roading.
Some Downsides: It's not a looker and a little bit outdated, but the off-road potential is still there.
Factory Ground Clearance: 6.1"
Lift: 3″
Wheel size installed: 205/75/15
Availability of aftermarket upgrades: The huge aftermarket support it's one of the strongest things about the Subaru community. Pretty much everything for these cars can be bought online or requested to be custom fab on the forums.
Read more about this project in our special feature: Lifted Impreza Hatchback – 3 Tips on How to Build it Right
#3 Volvo V90 Cross Country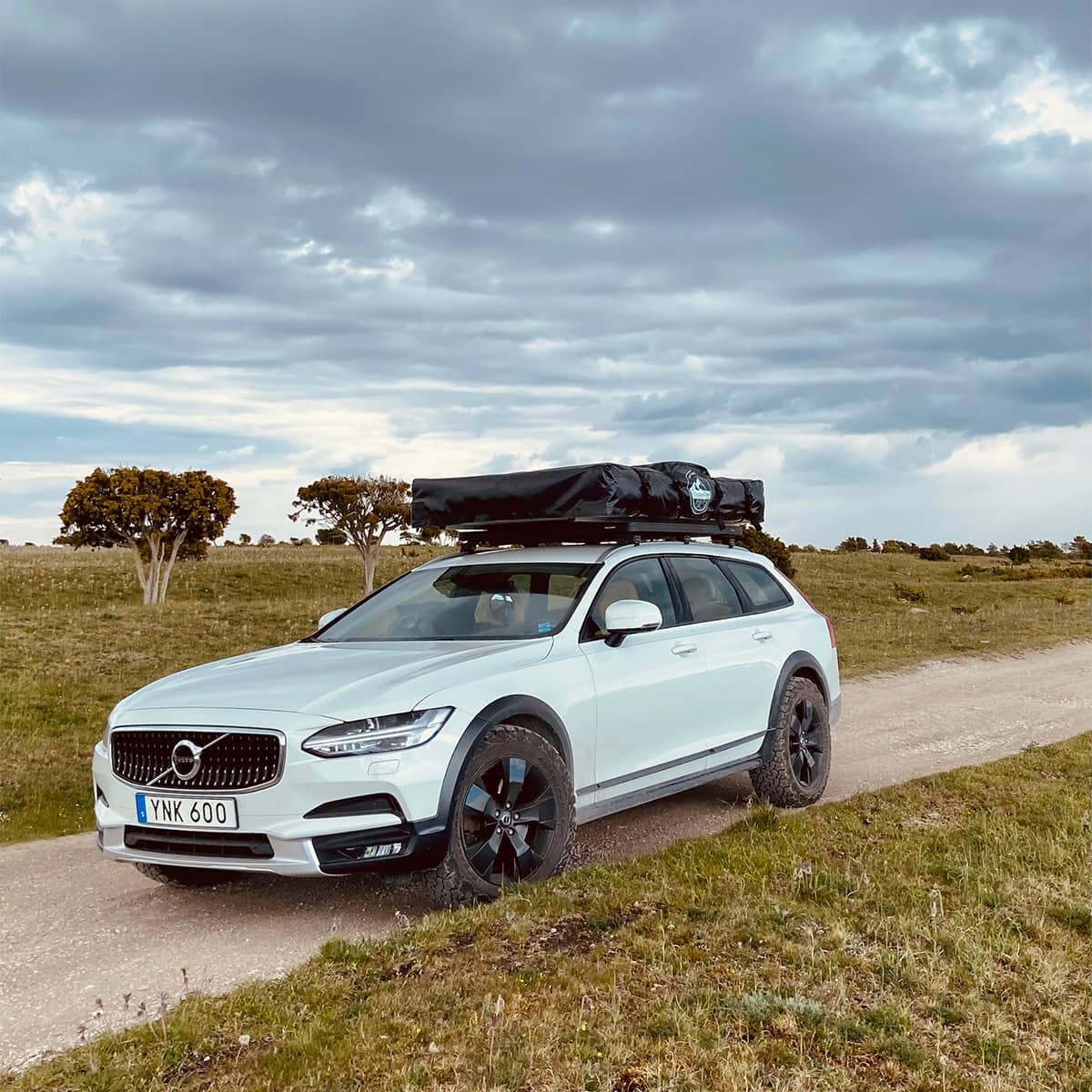 The V90 Cross Country featured here includes several key off-road modifications. The rear suspension has been lifted 20mm using a BSR spacer to maximize ground clearance, vital for rough terrains. Additionally, the vehicle has been equipped with a set of slightly oversized off-road tires with aggressive tread for superior traction. These modifications significantly improve the vehicle's off-roading capabilities while maintaining its original aesthetic appeal.
The "Off-road drive mode" provides high ground clearance, light steering, enhanced all-wheel drive, and an activated low-speed control function with hill descent control. This setup enhances engine braking, enabling the vehicle to adjust its speed on steep inclines using only the accelerator pedal, eliminating the need for the foot brake. Other modifications include a Front Runner Slimline II Roof Platform and an Outdoordays Safari 180 Rooftop Tent, contributing to the vehicle's appeal for outdoor adventures and camping trips.
Things we love about this wagon: The V90 looks absolutely awesome with the lift and beefy tires that only compliment it's flawless design. Another cool part is the huge cargo area that will allow you to arrange sleeping space or an advanced overland-style drawer system. The wheel wells will accept some really big tires!
Some Downsides: The car is expensive, and many would be afraid to damage it.
Ground Clearance: 8.3"
Wheel size installed: 255/55R18
Lift: ⅓"
Availability of aftermarket upgrades: Just like with the Audi, there are no ready-made solutions on the market to bump up the off-road performance of these cars, so you have to be creative and to turn it into an off-road machine. But with all capabilities and sizes of the V90 CC, you can't just slap on some A/Ts on it and call it a day!
Read more about this project in our special feature: Lifted 2018 Volvo V90 Cross Country With Off-road Mods from Sweden
#2 Audi Allroad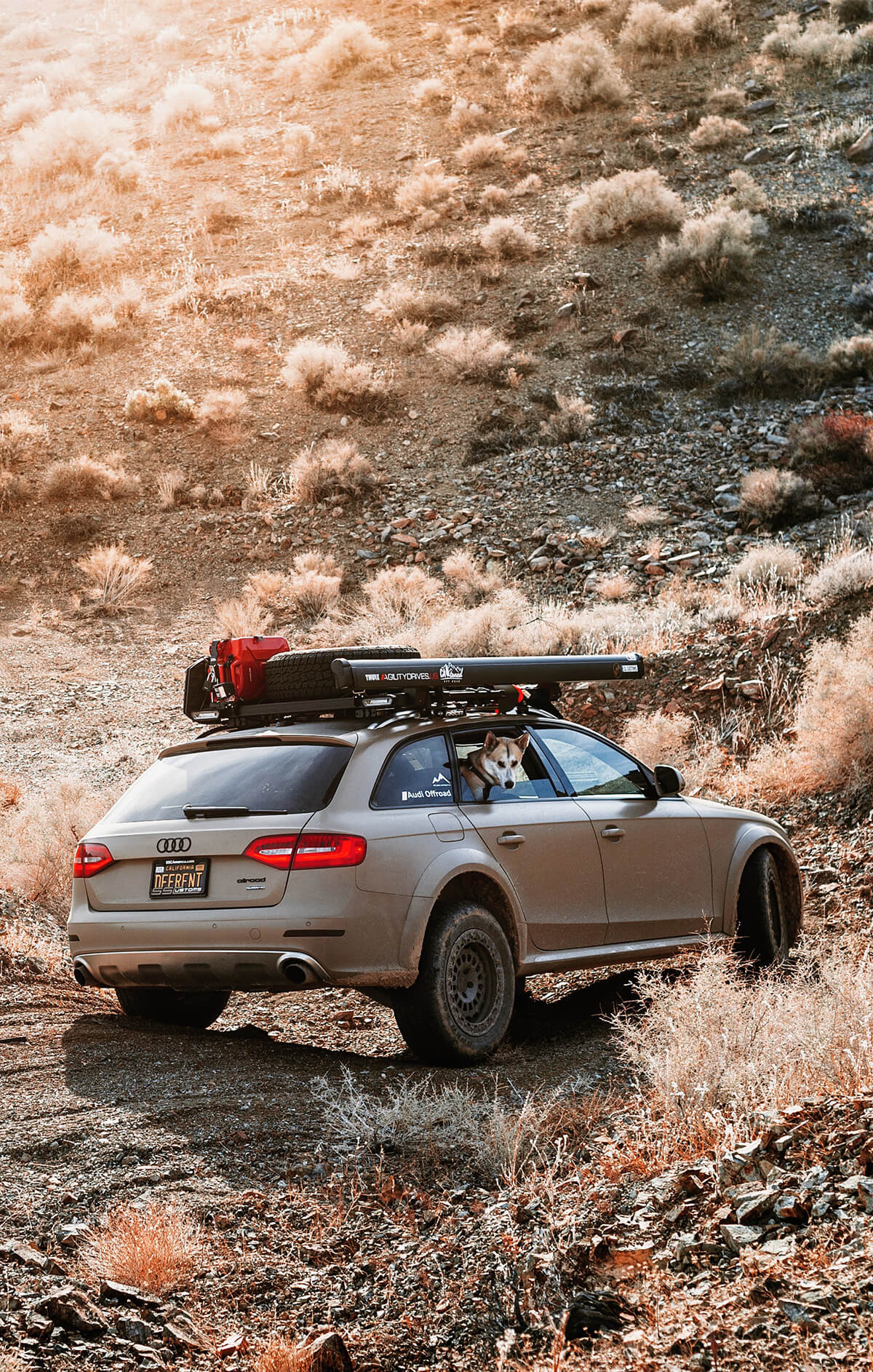 The key modifications made to the Audi A4 Allroad involved a lot of custom upgrades to increase the ground clearance from the original 7 inches to impressive 12 inches at the rear and 9.5 inches at the front, enabling easier navigation through off-road obstacles. The engine underwent APR stage 2 tuning, along with the installation of downpipes, intake, and upgraded Turbo for enhanced power and performance.
"What really sets this german station wagon apart from the rest is the aggressive set of wheels which combines custom forged Rotiform CCV-OR 17-inch wheels and massive (for this kind of car) 235/65/17 A/T tires, providing increased stability and traction on uneven terrains".
Despite the challenges faced during the modification process, such as the high cost of Audi parts and the sensitivity of Audi's electrical system, the owner managed to complete the project, mainly through sponsorships. With future plans to lift the car even further and make additional upgrades to the suspension and engine, this Audi Allroad project represents a continuous evolution towards better off-road capabilities and aesthetic refinement.
Things we love about this model: The iconic Avant station wagon looks absolutely great with those off-road wheels. Very capable Quattro AWD system with torque vectoring and ESC.
Some Downsides: There isn't much space in the wheel wells of the Allroad which limits the wheel travel and the tire size (In our opinion it's a pretty important parameter for an off-road vehicle). You would need to do much more suspension modifications to reach desired ground clearance compared to the more simple Subaru wagons.
Ground Clearance: 7.1"
Wheel size installed: 235/65/17
Lift: 2.5-4"
Availability of aftermarket upgrades: There aren't many off-road upgrades available for this model, so you have to be really creative to prepare your car for safe wheeling. This may be a pleasant challenge for some creative minds.
Read more about this project in our special feature: One Of a Kind Lifted Audi A4 B8 Allroad Overland Project
#1 Subaru Outback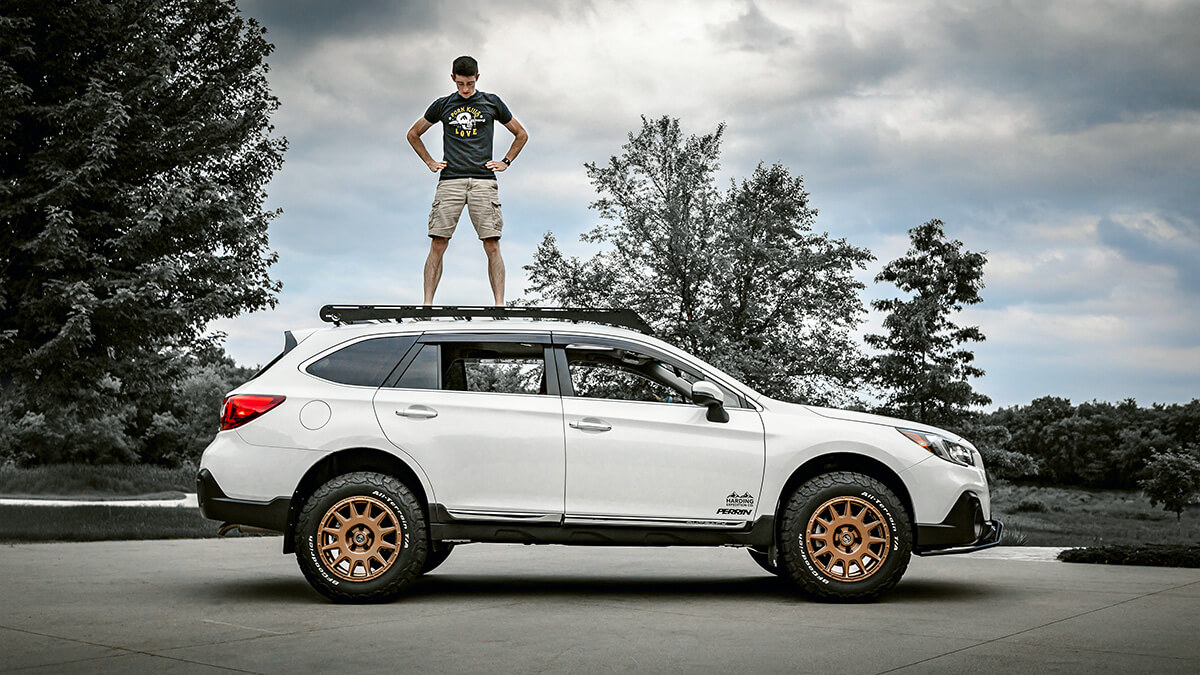 These modifications include LP Aventure suspension lift, protection additions, a roof rack for gear and the spare tire, and lighting upgrades. The result is an exceptional overland-style Outback that excels in both daily driving and weekend trips, blending the comfort of a station wagon with the resilience of an SUV.
The inspiration for the project came from Luke's own outdoor interests and his previous experiences with Subaru vehicles, particularly the 3.6R model's unique features that seemingly made people retain them longer.
Despite being his only car and therefore a daily driver, Luke takes his modified Subaru off-road, ensuring responsible usage on trails. Specific upgrades mentioned in the article include the YAKIMA, LockNLoad Platform Roof Rack, Thule Tepui Foothill Low-Profile Rooftop Tent, DANCHEL OUTDOOR 6.5×9.8ft, Rhino-Rack Batwing Awning 270, and Baja Designs XL R80 LED lights.
Things we love about this model: Subaru's famous symmetric all wheel drive coupled with X-Mode and All Terrain tires make this station wagon nearly unstoppable on rough terrain.
Some Downsides: Not really a down side, but people who prefer being different, may consider Outback a mainstream choice.
Ground Clearance: 8.7" (It's taller than a Rav4, even before the lift)
Wheel size installed: 245/65/17
Lift: 2"
Availability of aftermarket upgrades: thanks to the wide support in the off-road community, there is plenty of modifications available for the Outback including lift kits, body armor, roof racks and other accessories.
Read more about this project in our special feature: Lifted 2019 Subaru Outback With Overland-Style Mods & Upgrades
Why we chose the Outback as an Absolute best?
"This car allows you to gain biggest ground clearance and install biggest tires with minimal modifications".
Preparing Your AWD Station Wagon for the Off-roading
Your station wagon might be a road warrior, but it needs some additional upgrades to morph into an off-roading beast. The first thing on the checklist is a lift kit.
Lift Kits
By raising the vehicle's ride height, a lift kit not only enhances the wagon's ground clearance but also improves the approach, departure, and break-over angles. It enables your vehicle to clamber over rocks, traverse rutted trails, and navigate steep inclines without scraping the underbelly. It's important to remember, however, that you'll need to balance this added height with your wagon's inherently lower center of gravity. This will ensure that you maintain your wagon's innate stability while enhancing its off-road capabilities.
Wheels
Next up are the tires. Standard road tires are designed for smooth tarmac and won't fare well on muddy trails, rocky terrains, or sandy dunes. Instead, swap them out for oversized all-terrain (A/T) or mud-terrain (M/T) tires. A/T tires are the jack-of-all-trades, providing a decent balance between on-road comfort and off-road performance. They have a more aggressive tread pattern than regular road tires and can handle a wide range of off-road conditions. M/T tires, on the other hand, are for the extreme adventurers. These tires have even larger treads and wider spaces in between to grip rocky terrain and dig into mud or sand, allowing for superior traction in challenging conditions.
Protection
Finally, consider body protection for your wagon, especially if you plan to conquer wild and rugged trails. Fitting your vehicle with protective gear like skid plates and rocker guards can save your wagon from the potential damage inflicted by unexpected obstacles or rough terrains. Skid plates shield your vehicle's undercarriage components, including the engine and the exhaust system, from the beating they might take when going over rocks or stumps. Rocker guards, meanwhile, protect the sides and under-door areas from rocky outcrops and debris. These mods might not improve your performance, but they'll undoubtedly help your wagon withstand the rigors of off-roading and keep it looking good in the process.
FAQ
Can a station wagon handle tough off-road conditions?
– While they may not appear as rugged as their SUV and crossover counterparts, with the right modifications, many station wagons, especially those equipped with all-wheel drive, can handle a variety of off-road conditions.
What kind of station wagon is best for off-roading?
Typically, a station wagon with an all-wheel-drive system and enough room for modification (like adding lift kits and larger tires) would be a good candidate for off-roading. Models from Subaru, Volvo, and Audi are often touted for their off-road capabilities.
Do I need to modify my station wagon to take it off-roading?
While it's possible to take a stock station wagon off-roading, modifications such as lifting the vehicle for added ground clearance, installing all-terrain or mud-terrain tires for better traction, and adding body protection can greatly improve its off-road performance and durability.
What are the benefits of using a station wagon for off-roading over an SUV or crossover?
Station wagons often have a lower center of gravity, which can provide better stability on uneven surfaces. They also tend to offer more cargo space, making them a great option for longer trips requiring extra gear. With the right modifications, a station wagon can become a unique and capable off-road machine.
Are there downsides to using a station wagon for off-roading?
Station wagons may initially have lower ground clearance compared to many SUVs and crossovers, requiring modifications like lift kits for serious off-road use. Also, because they are less commonly used for off-roading, finding off-road gear designed specifically for your wagon model may be more challenging.
Can off-roading damage my station wagon?
Any vehicle taken off-roading can potentially sustain damage, especially when tackling rough terrains or without proper protection. That's why it's important to consider modifications like skid plates and rocker guards to protect your station wagon's undercarriage and body.
Conclusion
In conclusion, vehicle modification for off-road capabilities is a blend of technical know-how, passion for adventure, and an understanding of a vehicle's unique attributes. By leveraging on lift kits, switching tire types, and customizing the interior, an average vehicle can be transformed into a formidable off-road machine. Ready to take the plunge? Dive into our comprehensive guide on lift kits and understand the differences between A/T and M/T tires on our website, Offroadium.com. Don't miss out on viewing our full list of captivating off-road car projects that will inspire your next adventure!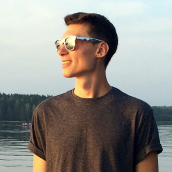 Matt Grabli
Automotive journalist and technical writer at Offroadium.com with more than 10 years of experience in the sphere of aftermarket parts and 4×4 vehicle modifications. Passionate about off-roading, outdoor adventures, and an active lifestyle.