When everyone around you wants to make their rides lower and sportier-looking, but you want to stand out and do something different, why not go up instead of down? Gene Pascua from San Francisco, California, a member of the local Audi club did exactly that.
He had to opt for custom fabrication to increase the ground clearance of his 2015 Audi Allroad wagon. This A4-based model is known for its versatility offering excellent handling, comfortable, luxurious interior with all modern amenities, great safety features, and decent all wheel drive capabilities.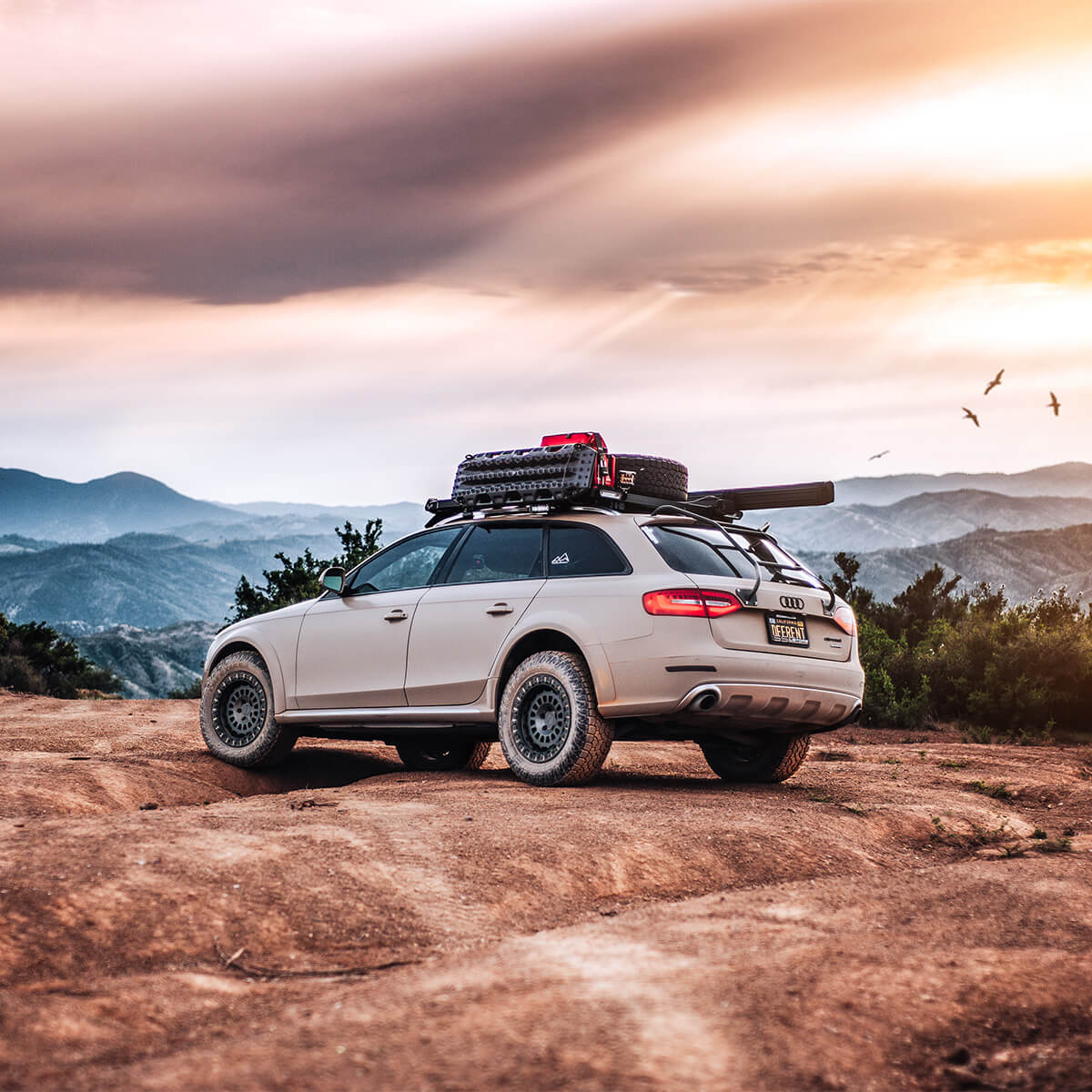 With plenty of cargo room inside for your pets, gear, and supplies, which can be easily expanded with roof and rear hatch racks, the Allroad combines the all-terrain capability of a typical crossover SUV with sporty handling of a station wagon. Thanks to a lower center of gravity the Audi Allroad seems to hug the road better than an SUV, which is perfect when you use it as your daily driver. If you love camping, don't mind getting dirty while going to remote locations on roads less traveled or desert trails, exploring wooded areas and even testing your driving skills on rough terrain while enjoying the plush interior of a fine German car at the same time, then the Audi Allroad is the answer.
" the Allroad combines the all-terrain capability of a typical crossover SUV with sporty handling of a station wagon"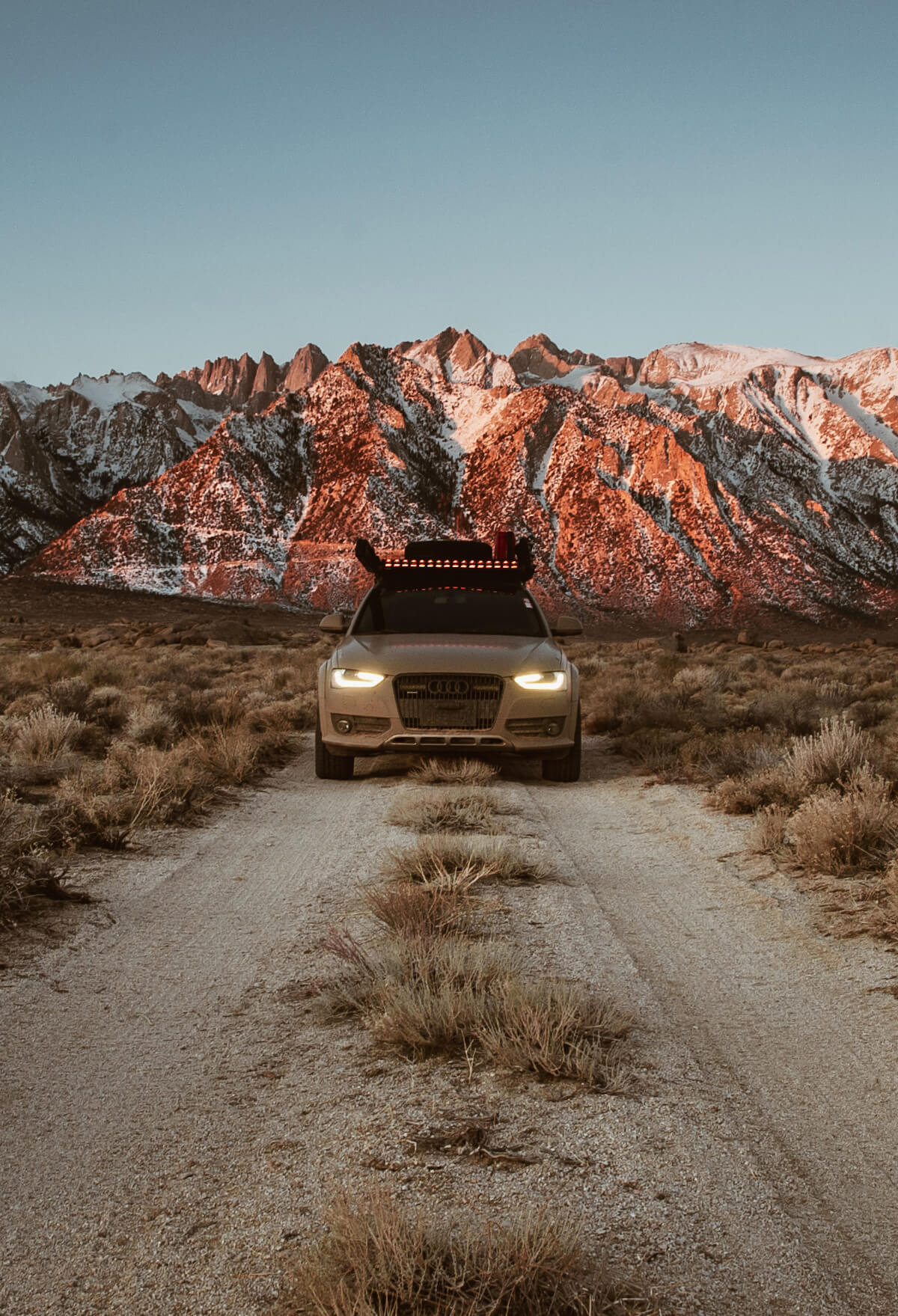 How did you become interested in off-roading?
– I've always had 4Runners and always loved playing in the dirt. My last 4Runner was a 2003 V8 before I shifted to Audi's.
Why did you choose this particular model for your project?
– I didn't pick the allroad for this build. I really wanted to upgrade my Audi A4 to the Allroad for more cargo room for having two dogs.
What inspired you to choose this modification style?
– I belong to an Audi club and the typical modification in the group was to lower it. I wasn't about that life and decided to lift it so I can go camping and tackle some terrain.
"the typical modification in the group was to lower it. I wasn't about that life and decided to lift it"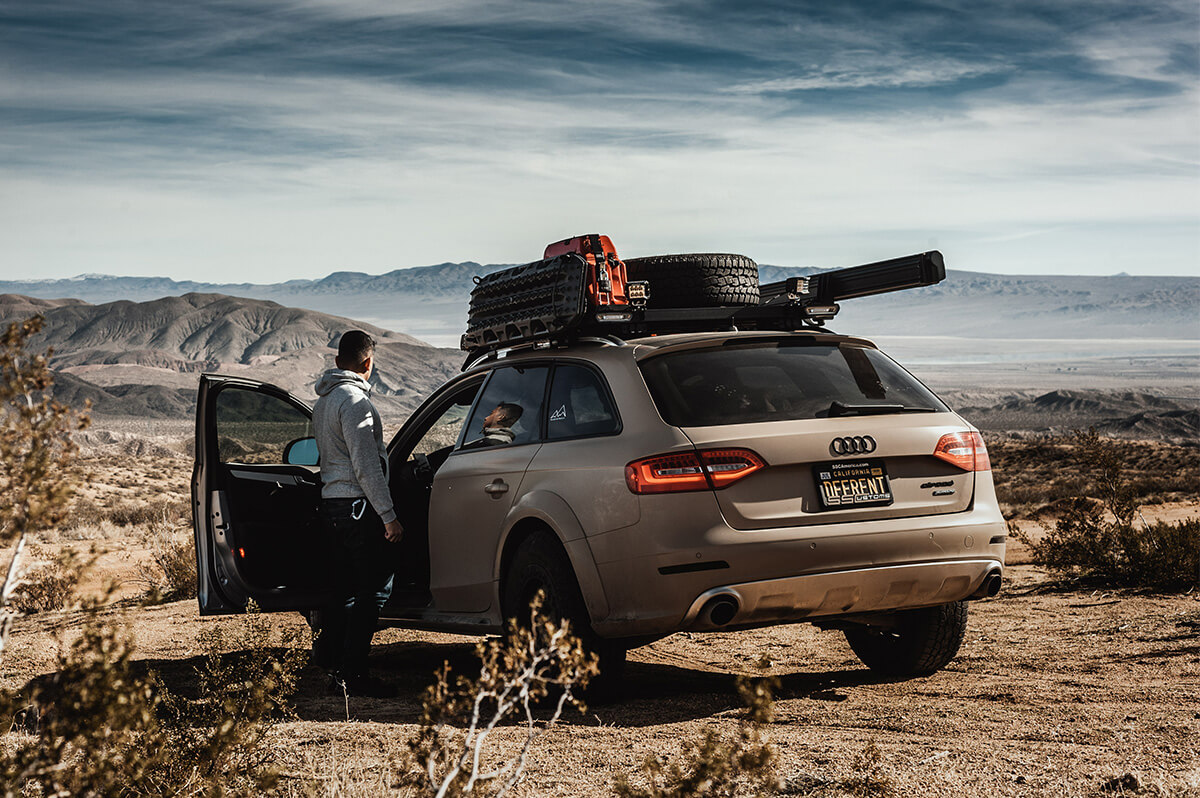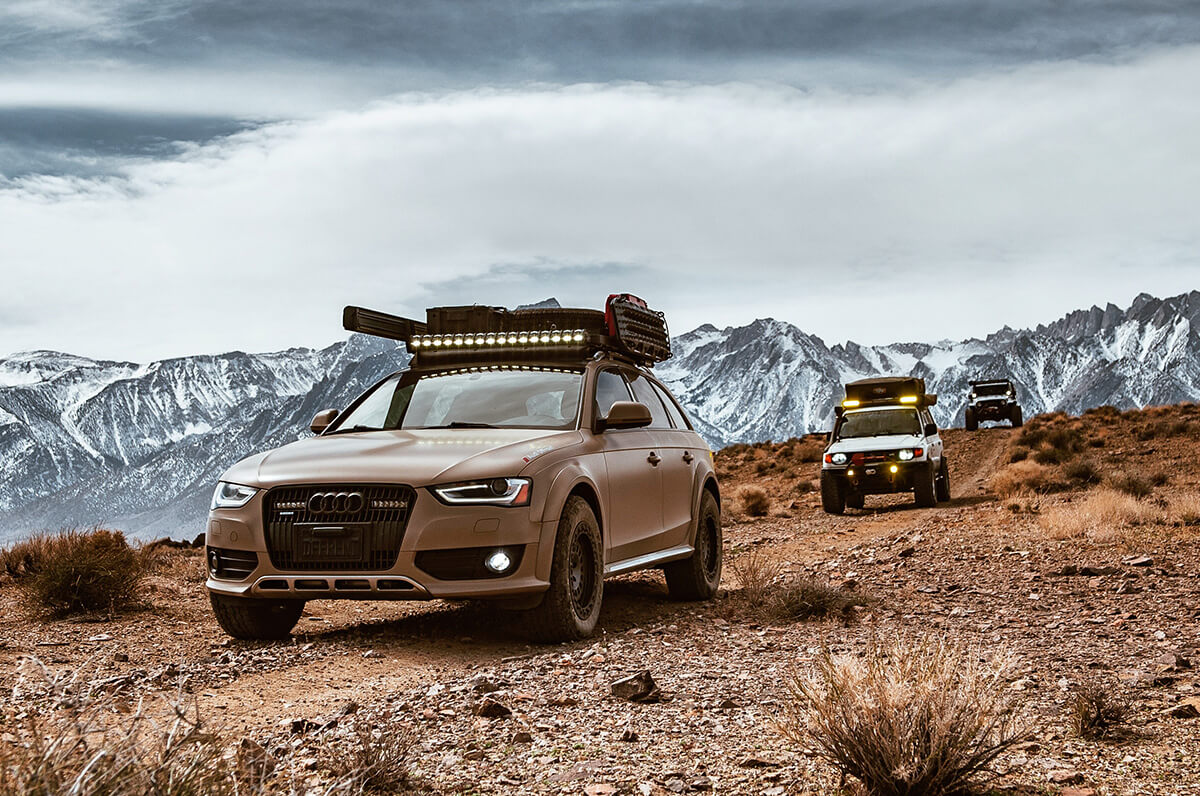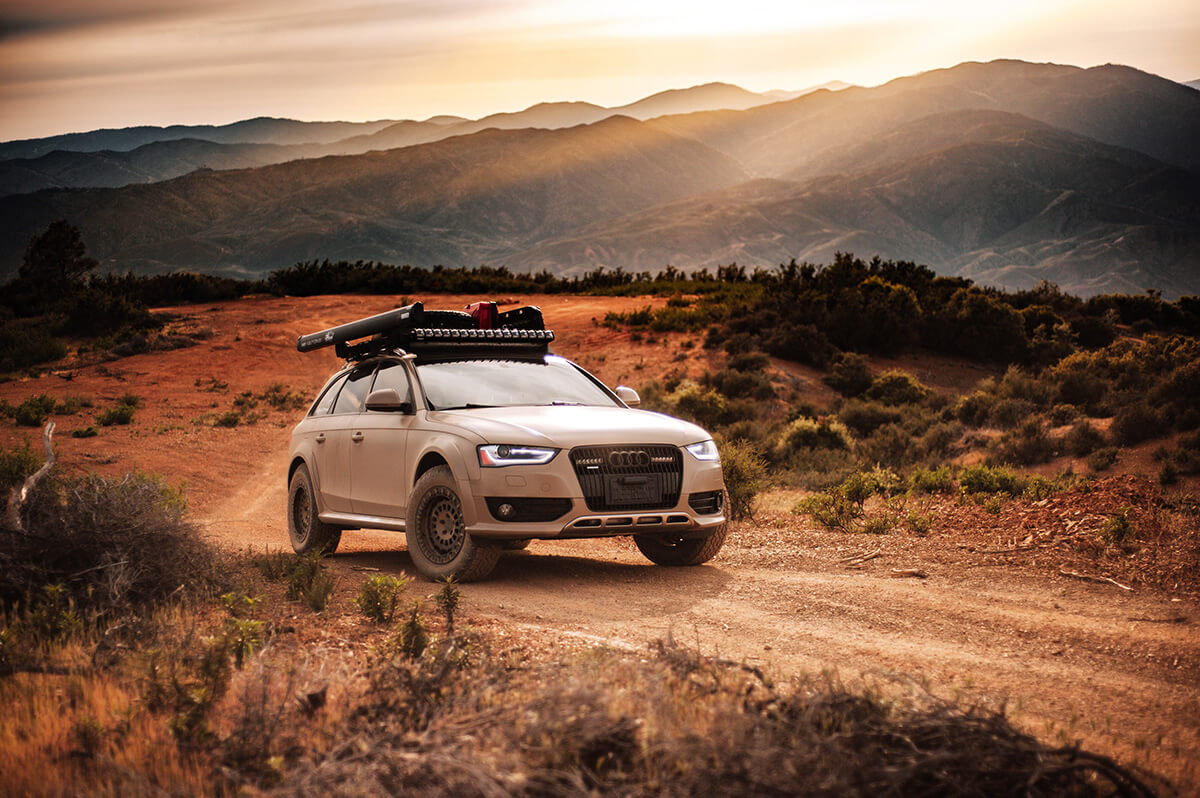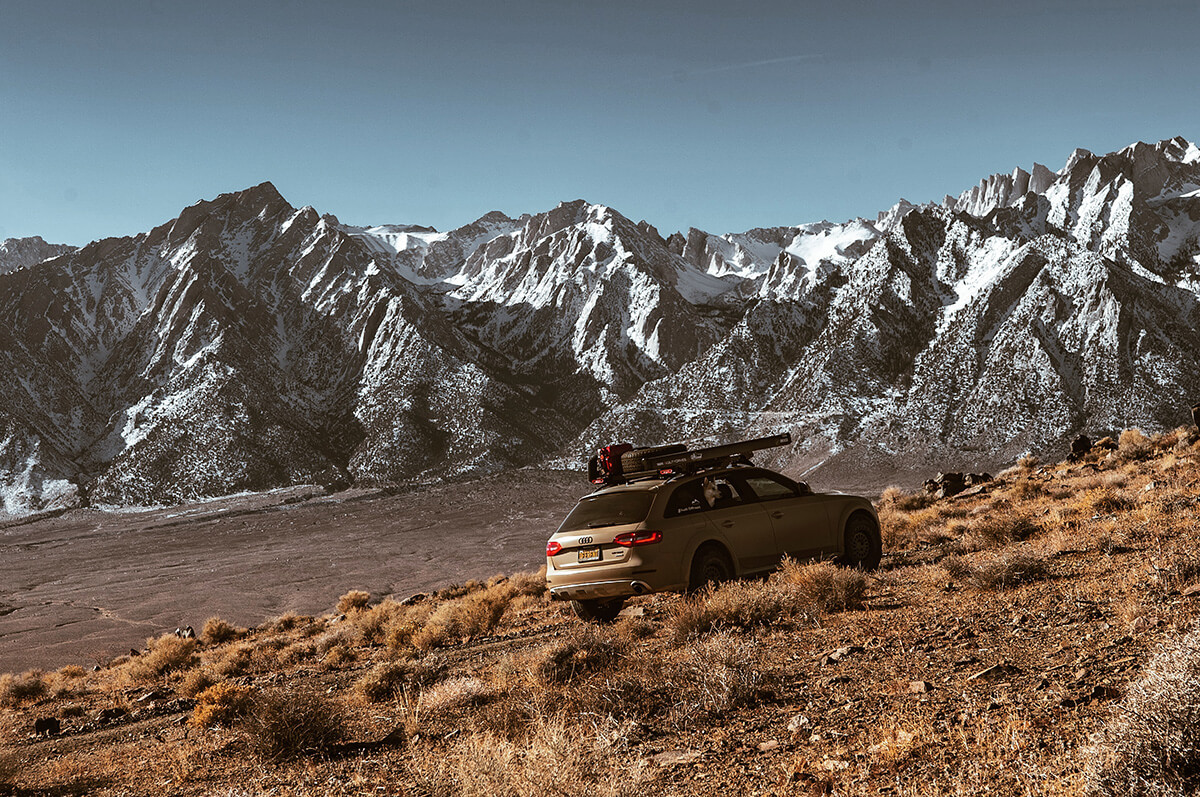 What challenges did you face while putting it together?
– Money. Audi isn't cheap and there aren't any readily available parts to just buy and lift it. I had to rely on my skillsets to get sponsored. The build is 90% sponsored, most of the budgeting either went into installs or maintenance. The other part is the electrical components of the Audi system since its a bit sensitive and not typically built for the additional electrical systems that have been added.
What do you love about your vehicle?
– That it's an eye catcher and it stands out.
Is it your daily or a weekend ride?
– Daily. I plan on getting a daily someday though.
Do you take it off road? If so, where and how often?
– Yes and as often as I can go with friends.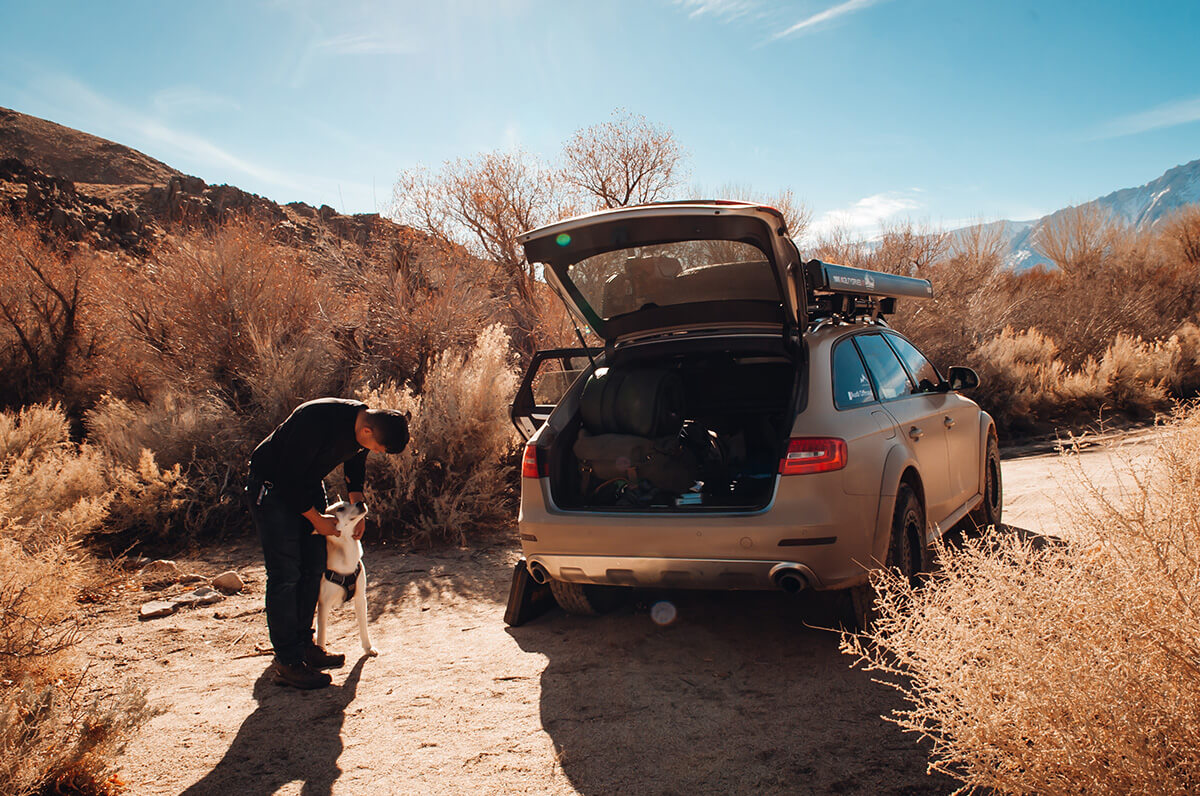 Engine specs, modifications
– APR stage 2 tuning
– Downpipes and intake
– 330hp turbo
– Flexfuel
Lift height and suspension modifications
– Fabricated lift springs and suspension. Stock was 7″ clearance to 12″ clearance in rear and 9.5 clearance in front.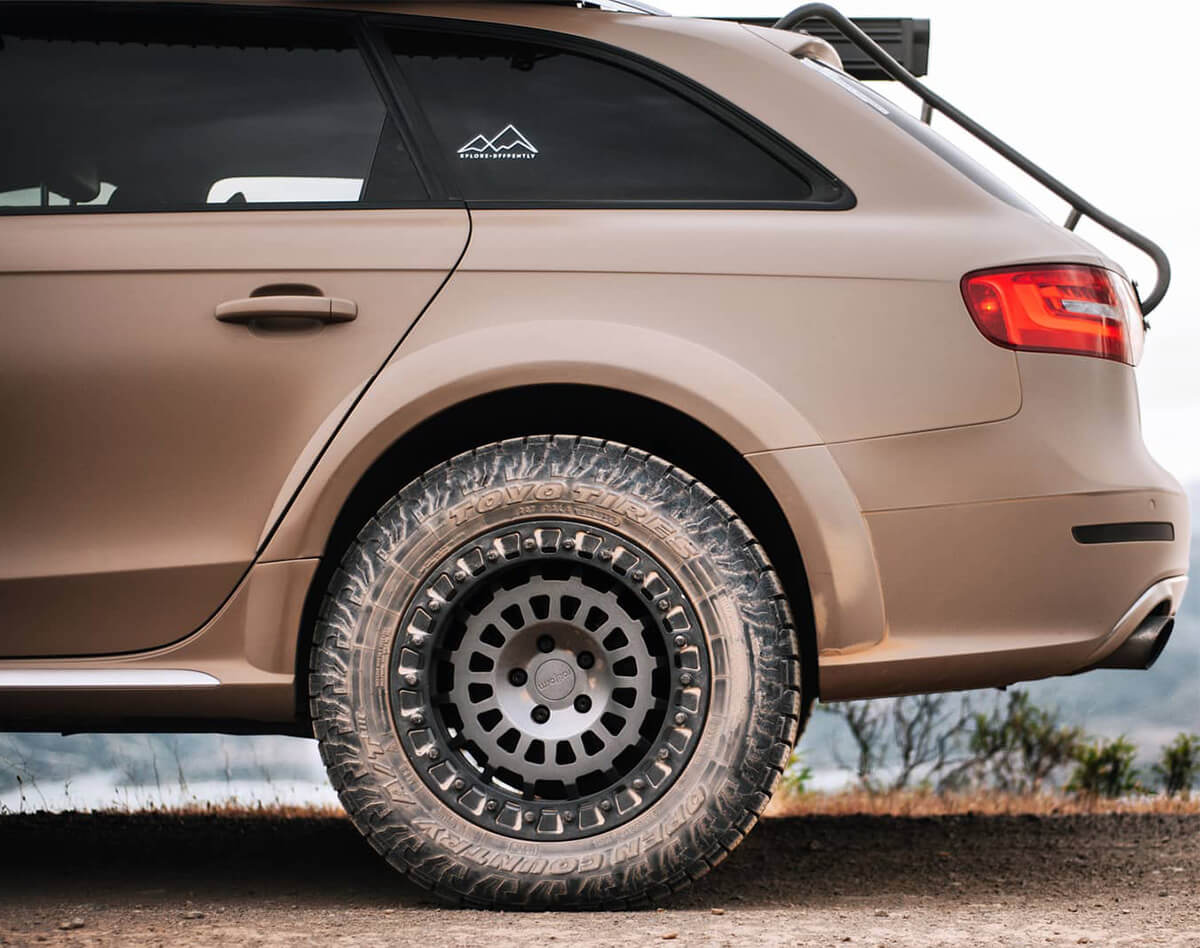 Wheel specs
– Custom forge rotiform ccv-or 17″. They had to make a small version for me since they're normally 20″+ tires are 235/65
Exterior mods
– 13 rigid industry lights(not all are installed yet)
– Front Runner Outfitters roof rack Slim Line 1
– Kpmf satin stealth tundra vinyl wrap by SS Customs and many more to be done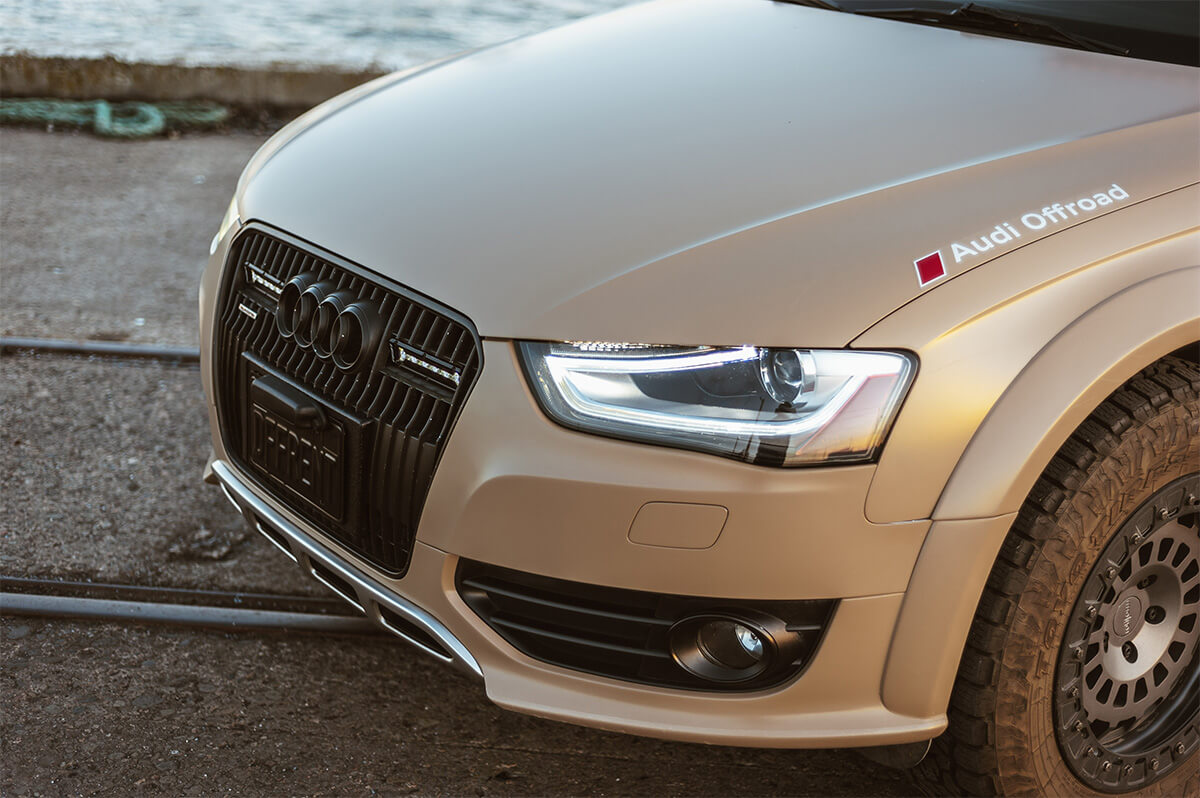 Interior mods
– Interior is all stock for now, besides some minor aesthetic additions like red console knobs and a black forest industry shift knob.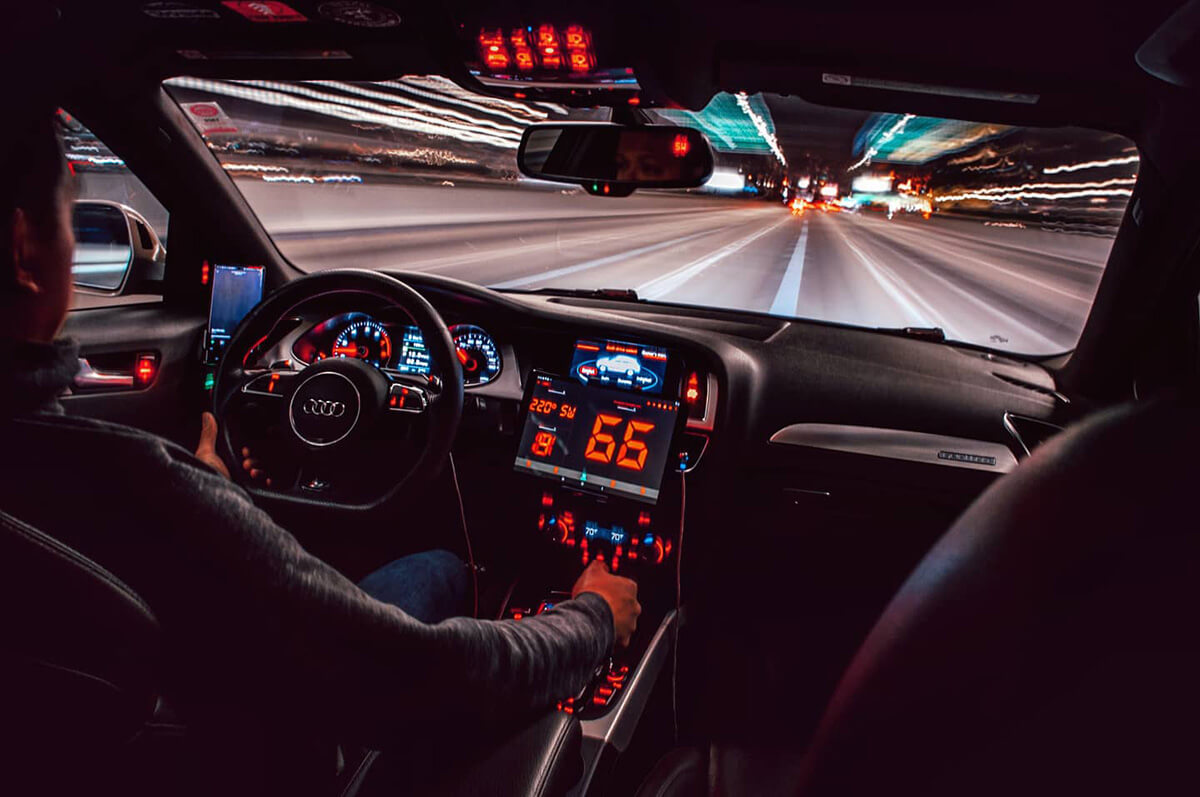 What are your future plans about this vehicle?
– More lift and a few additional upgrades to suspension and to the engine and look.
Watch the progress and find out more about this Audi Allroad project by visiting the Instagram profile of the owner: @dffrent_allroad!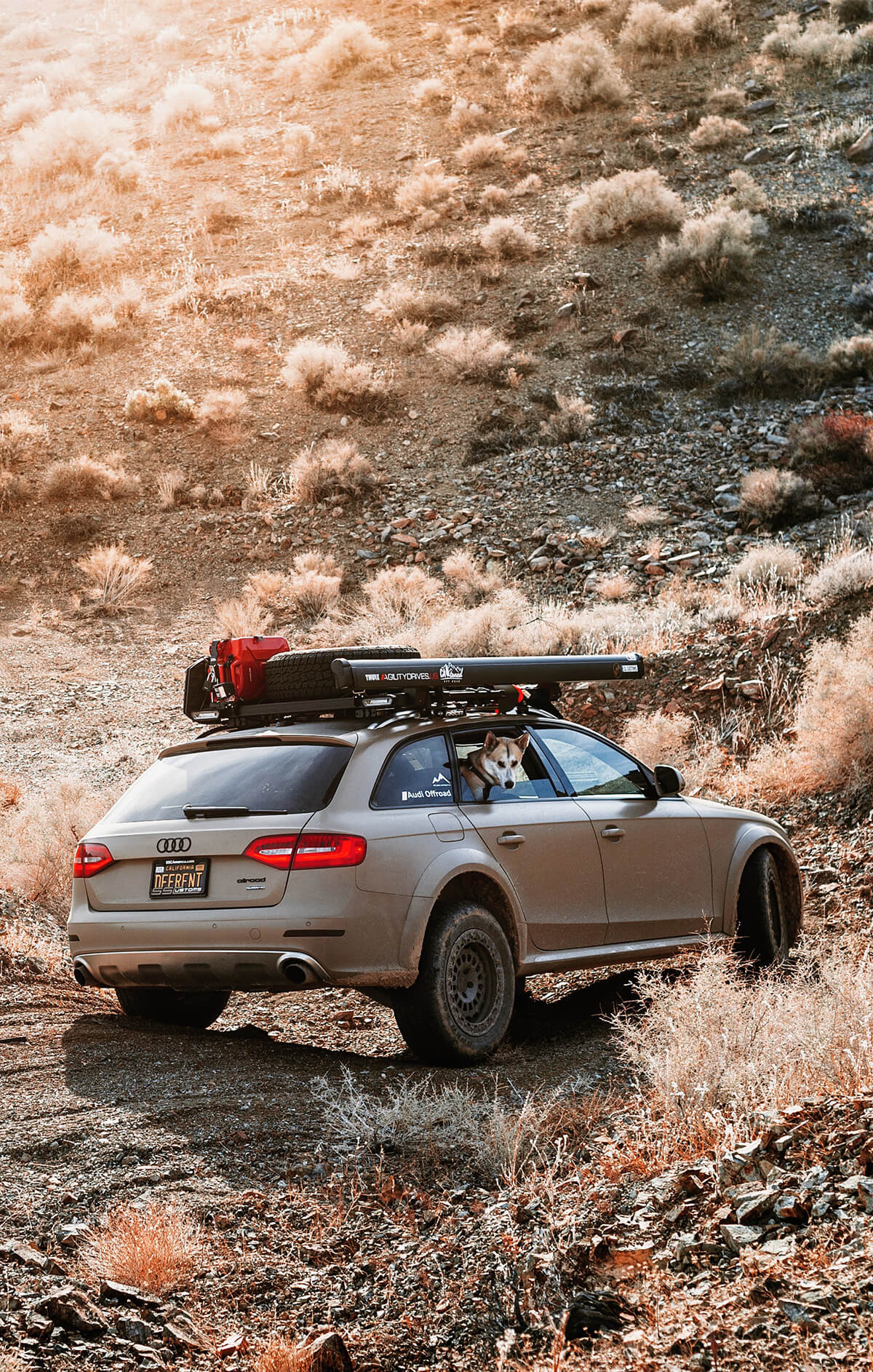 Related Parts & Mods
– Inspired by this Audi A4 Allroad build and looking to prepare your own wagon for off-road adventures? Some parts used on this vehicle were sourced from custom shops or custom made, but our team has put together a list of products and accessories available online that may help you to achieve similar results:
Lift Kit
Roof Rack
Awning
Roof Top Tent
LED Lights
*Before ordering any part or accessory, it is recommended that you verify its fitment with a qualified professional and/or seller. We are not responsible for fitment or other issues that may arise from using the products featured on our website.
Stay tuned for more project reviews on Offroadium.com – Follow us on social media, and share this write up if you enjoyed reading it!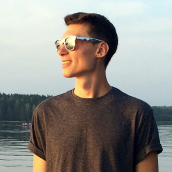 Matt Grabli
Automotive journalist and technical writer at Offroadium.com with more than 10 years of experience in the sphere of aftermarket parts and 4×4 vehicle modifications. Passionate about off-roading, outdoor adventures, and an active lifestyle.