Lifted 2019 Subaru Outback With Overland-Style Mods & Upgrades




View Gallery
Lifted 2019 Subaru Outback With Overland-Style Mods & Upgrades
If you love the outdoors and like to go camping and exploring the wilderness without going too crazy and extreme, you probably don't need a bulletproof offroader with a solid roll cage and long travel suspension. To go on weekend trips knowing that the car is capable to take you there safely and use the vehicle as a daily driver enjoying comfort during the weekdays, you may want to take a closer look at the fifth-generation Subaru Outback. This crossover has the shape and driving style of a station wagon smoothly combined with the off-road capabilities of an SUV.
We met Luke from Rochester, Minnesota, who chose the Touring version of the 2019 Subaru Outback as a project vehicle for his recreational activities. The modification style was dictated by his priorities and driving habits.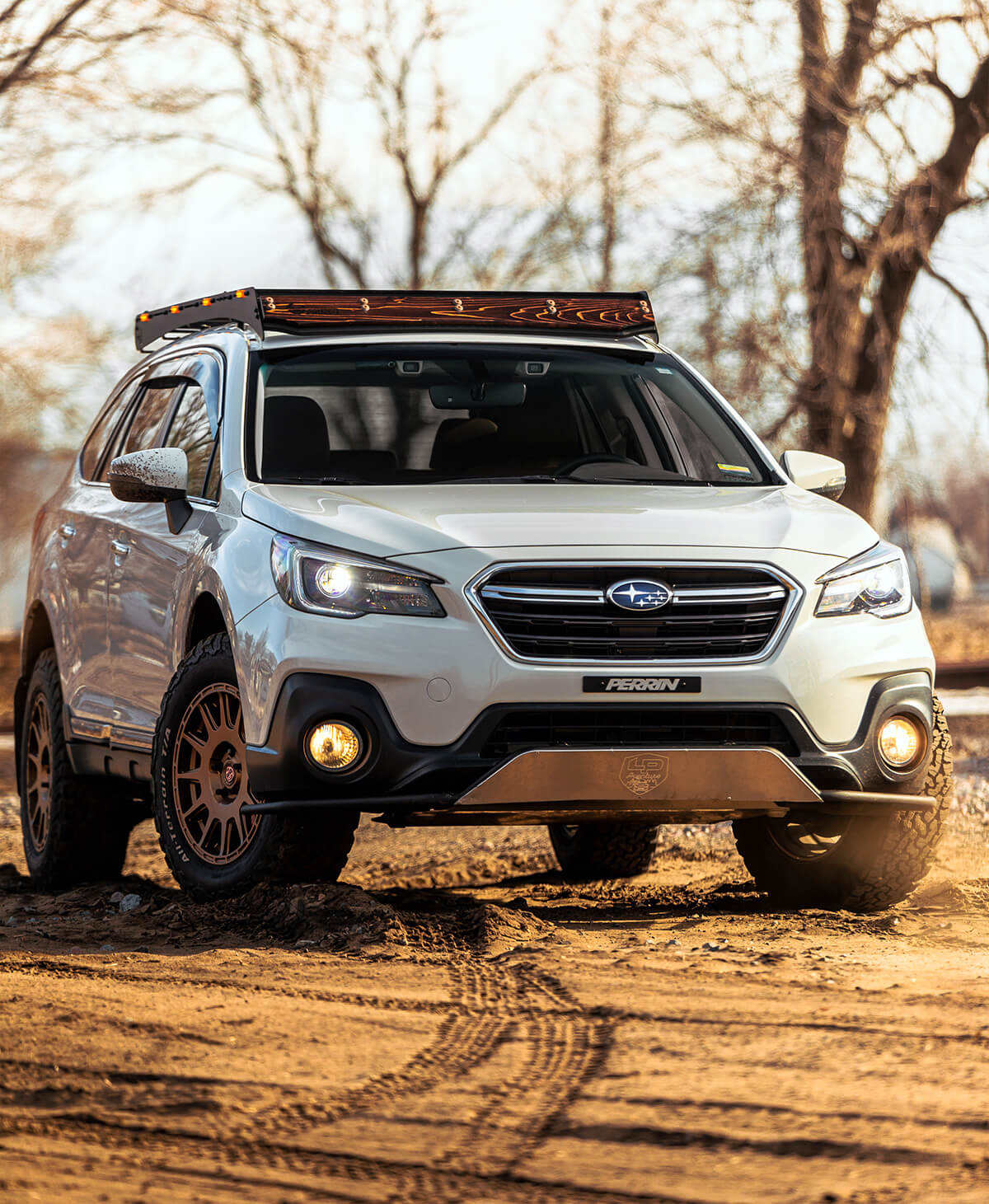 He did everything that was necessary to prepare the rig for year-round offroading, added suspension lift (even though the stock setup offered substantial ground clearance), protection, a roof rack for gear and the spare tire, and lighting upgrades. The end result looks great and screams confidence in your ability to go anywhere and do anything.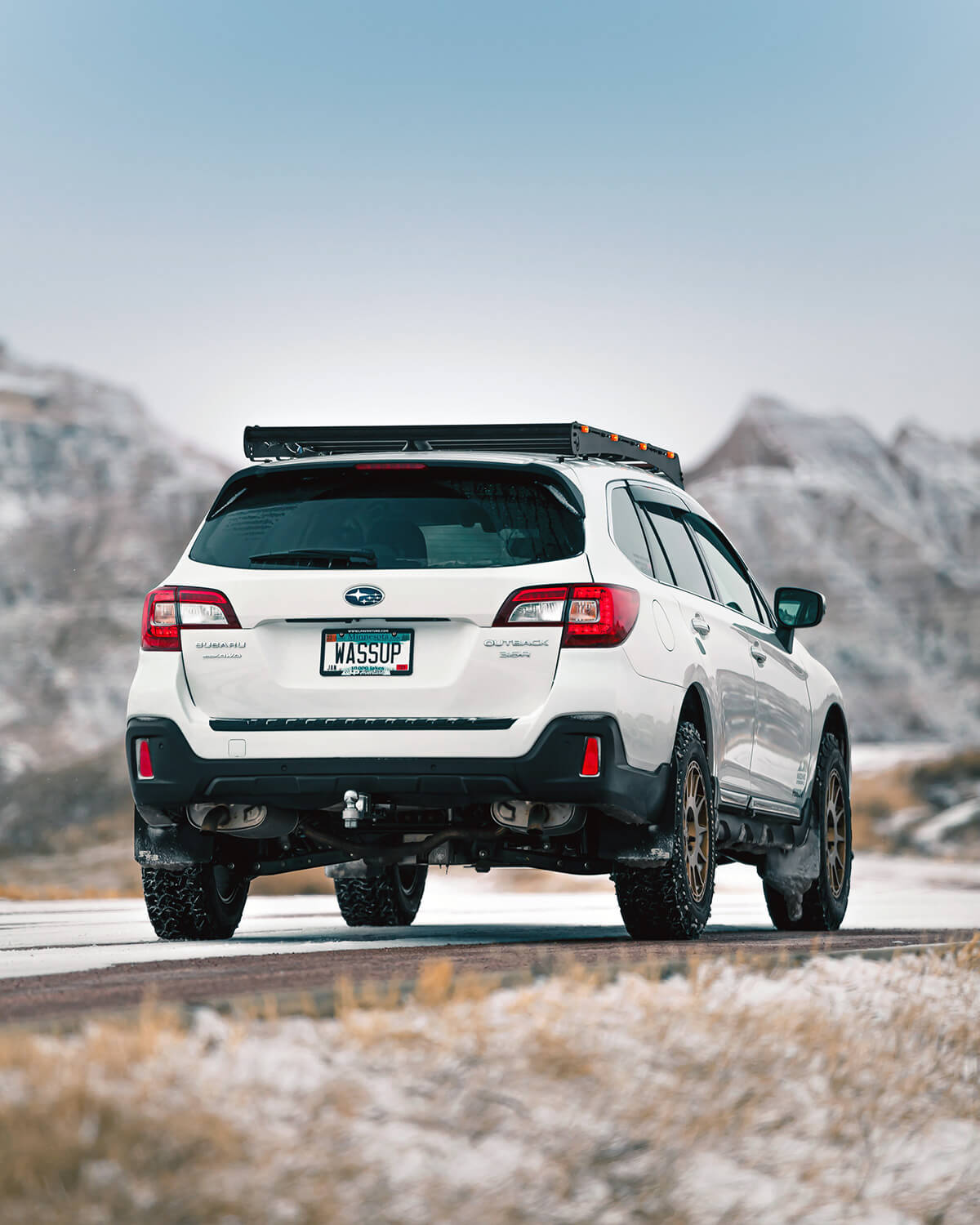 How did you become interested in off-roading?
– I grew up doing wilderness high-adventure trips with my dad, granddad, and uncles in the Boundary Waters Canoe Area Wilderness and the fun and challenges we had exploring out there stuck with me. Now, having a camera, nicer hiking shoes, and a very capable vehicle give me plenty of reason and ability to get out and explore places I've never seen before (and that most people will never see in their lifetime).
"Now, having a camera, nicer hiking shoes, and a very capable vehicle gives me plenty of reason and ability to get out and explore places I've never seen before (and that most people will never see in their lifetime)."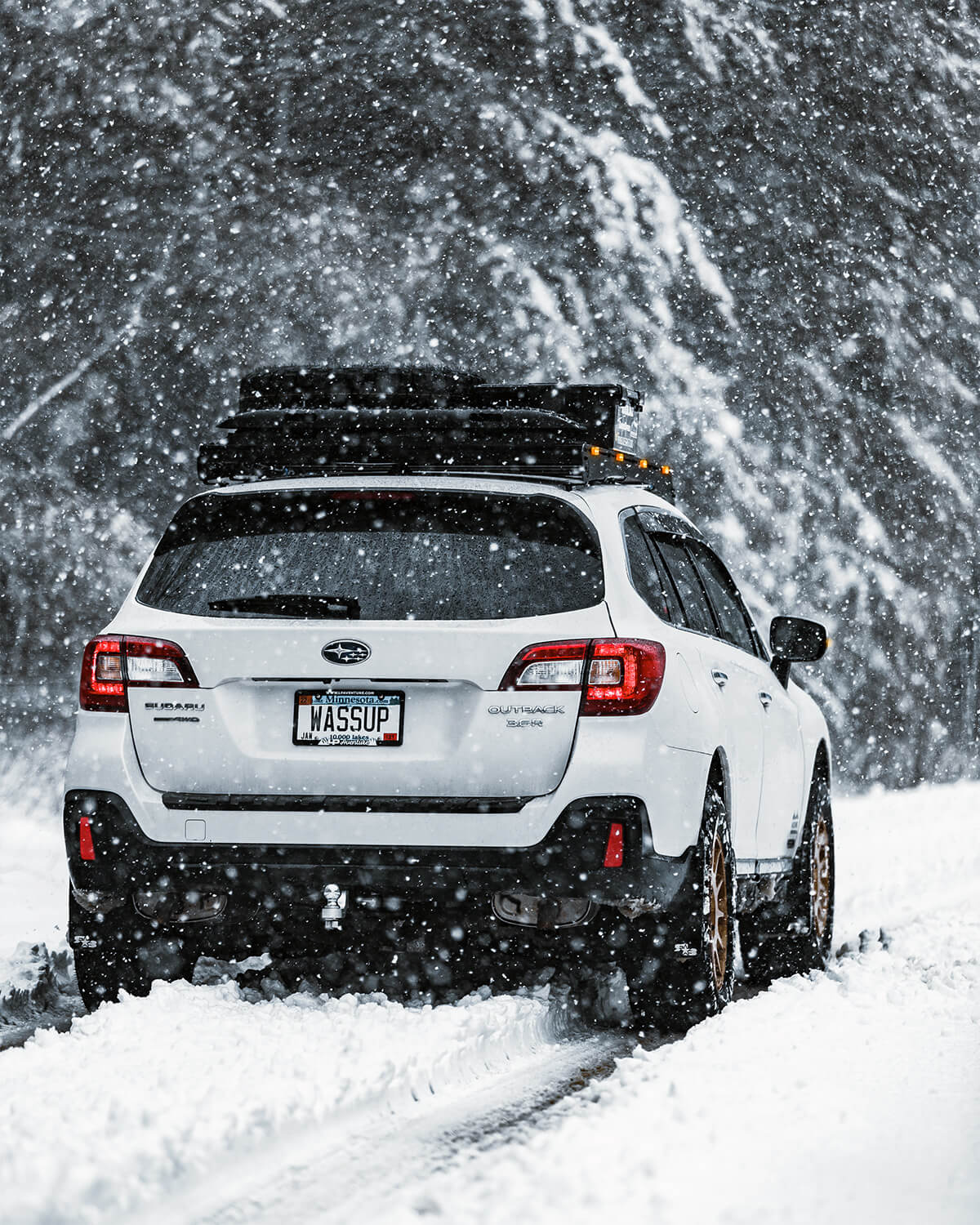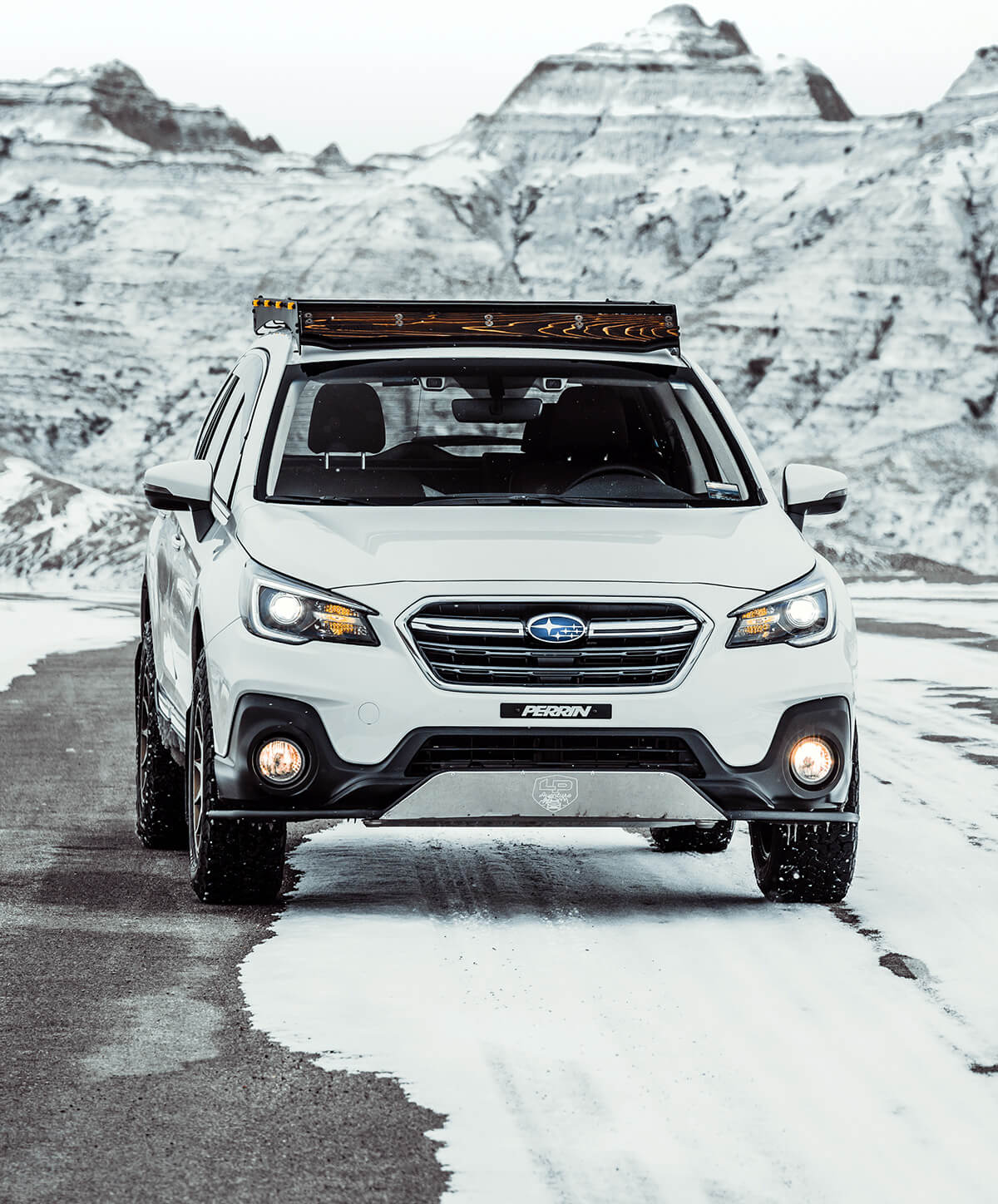 Why did you choose this particular model for your project?
– I had a little old 1998 Subaru Legacy GT that I had bought off Facebook a year and a half before getting my Outback. The Legacy was the first Subaru I've ever driven and its prowess in the snow made me fall in love with winter, and the symmetrical all-wheel drive system, for the first time in my life. I was the 7th owner of that Legacy and it was on its second engine by time I got it (the most recent one dropped in was the EJ25). It had its own issues and trying to work through those and modify it on my own grew my appreciation for the way the car was designed. When this car finally died on me, I knew I wanted another Subaru, but wanted to stay away from the EJ25 engine. I knew I wanted something with ground clearance, and I knew Subaru made a bigger six-cylinder engine, so I looked into those. I noticed very few of the 3.6R models showed up on used car sites so I figured there had to be something special to those that made people hang on to them for so long, so I pulled the trigger and got one to call my own.
What inspired you to choose this modification style?
– The pictures of the LP Aventure project cars that I stumbled across on google while looking at Outbacks.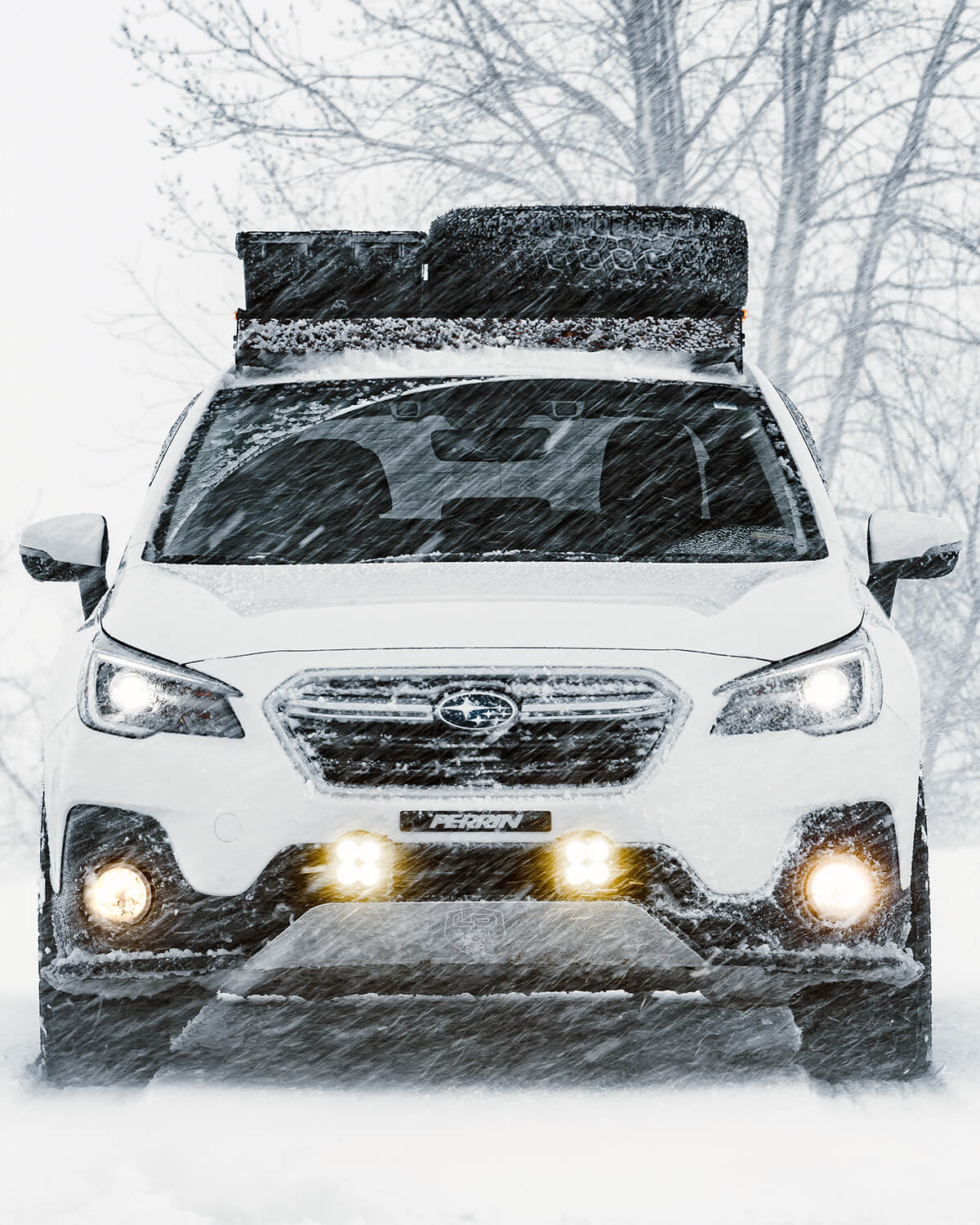 What challenges did you face while putting it together?
– I had the front bumper guard, skid plates, and lift all installed at a local shop, but the roof rack I did myself. The rack required removing the factory roof rails, which itself required removing the headliner of the vehicle. I had never done something like this before and there are ZERO YouTube videos on how to do it (mine is now the first and only one to cover this process, as far as I know). Teaching myself how to remove the headliner without breaking anything, and memorizing how to put it all back together properly, was my greatest challenge of the build. I even got lucky enough to over-tighten one of the rack mounting bolts and earned myself a trip to the hardware store for a thread tap. Good times. But so worth it.
What do you love about your vehicle?
– Bronze wheels on a white car. End of discussion. No seriously, those LP1 wheels and the lush brown leather interior make it a dream come true for me. I also love the roof rack because I, as someone who loves trying and making new things, can build virtually anything imaginable on that rack. My Subaru lets me see the world like never before.
Is it your daily or a weekend ride?
– Oh you better believe it's my daily. It's the only car I have so I do my best to keep things reasonable and responsible while I'm out on the trails.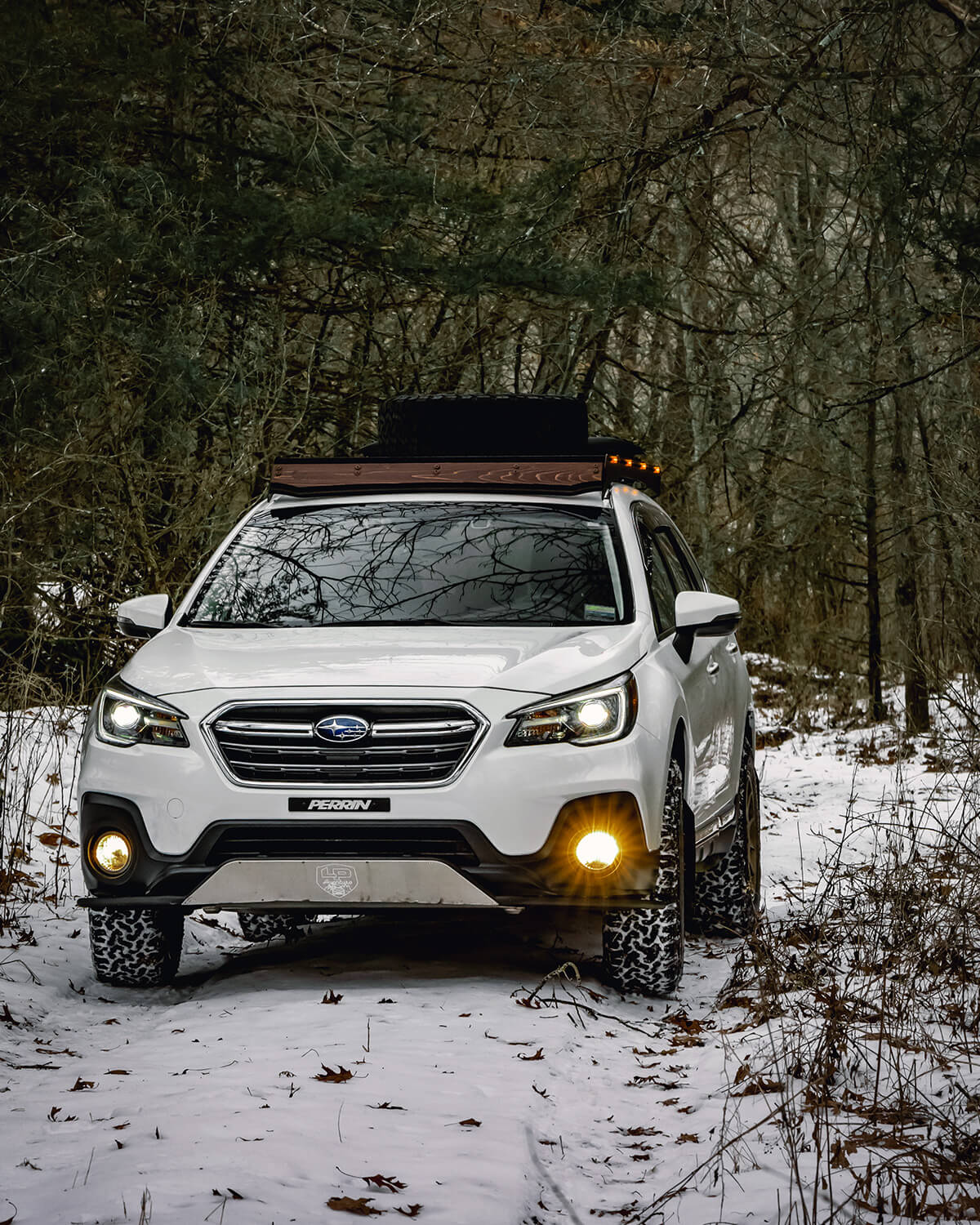 Do you take it off road? If so, where and how often?
– Nope, never. (shh that's a lie) I don't go out crazy often, but when I do, my favorite place to go is up north in Minnesota up past Ely, along the North Shore to visit Lake Superior, the state parks, and to explore more of the double-rut trails through Superior National Forest one little bit at a time.
Lift height and suspension modifications
– 2″ lift kit from LP Aventure
Wheels
– Rims: 17×7.5 +35 LP1 wheels in bronze from LP Aventure
– Lugs: Gorilla Automotive Forged Steel Racing Lug Nuts (Black Chrome Open Ended)
– Tires: 245/65/17 BF Goodrich KO2 on the front and 245/65/17 Toyo Tires Open Country AT3 on the back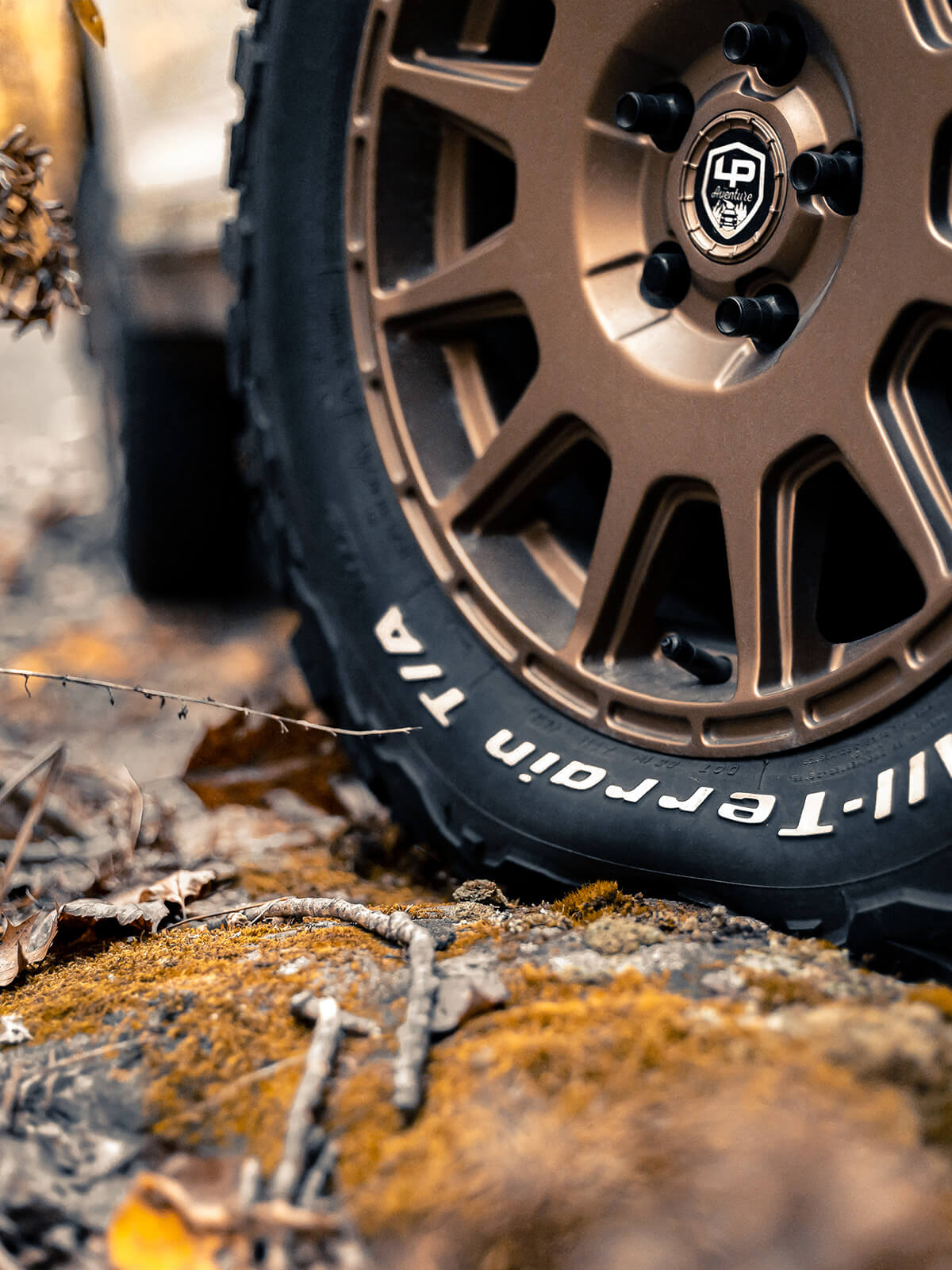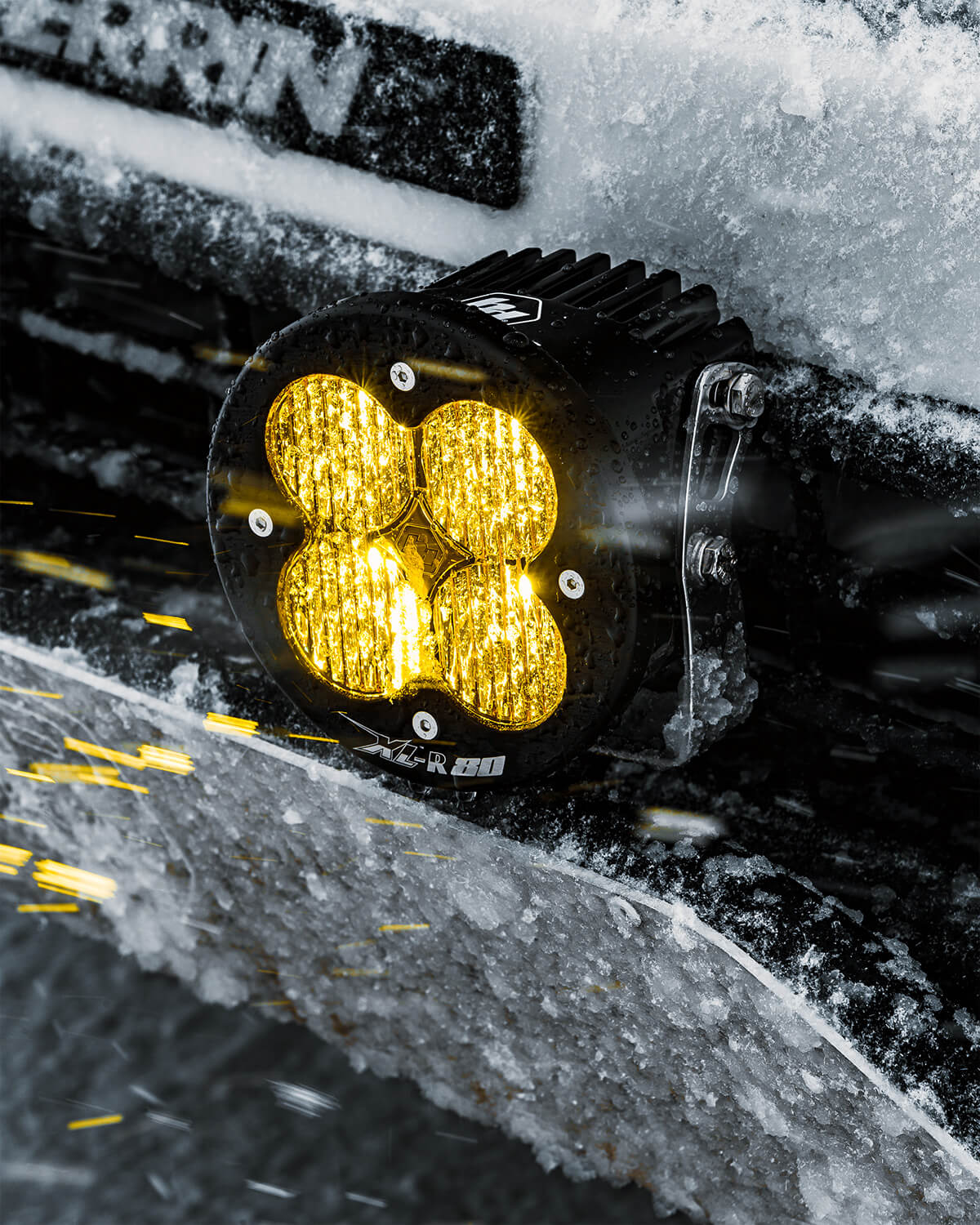 Interior
– Luno Life Signature Air Mattress
Other
Protection (all from LP Aventure): front bumper guard, full front skid plate, rear diff skid plate, and rear subframe guards
Give me beauty, give me function:
– Prinsu Design Studio modular roof rack with handmade and laser engraved red cedar wind fairing
– rack side-marker amber safety lights
– independent Baja Designs XL-R 80 amber wide/cornering fog lights (9500lm 80W each)
– TorkLiftCentral EcoHitch receiver with 2″ drop aluminum bar hitch
– Rokblokz regular length mudflaps
– IRIS Weathertight 41 quart roof box (for firewood, hiking/running shoes, or cold food storage during winter)
– Diode Dynamics tail-as-turn conversion kit
– LED reverse and plate light swap
– Perrin Performance front plate delete
– Aesthetic dents courtesy of northern Minnesota trails.
Recovery:
– ARB 30′ kinetic strap, soft shackle
– Gear America hitch-mounted D-ring
– XBull 3rd gen recovery boards
– Rhino air-down gauge
– Viair 88P compressor
Survival:
– Melaleuca first aid kit
– 2.5Gal Ice Mountain water tank
– Kelty Lightyear 20degree down sleeping bag
– MSR SimmerLite backpacking stove and fuel
– Headlamp with extra batteries
– Paracord
– Smaller tactical rope
– 6×8 and 8×10 tarps
– Extra pair of socks and pants
– Cutco Clip Point Outdoor Knife
– Three extra multi-tools
– Extra non-perishable food packed per trip
– North Face expedition parka
– Two fleece blankets (plus a spare down blanket during winter)
– Two Midland two-way radios with NOAA weather scan for severe weather scenarios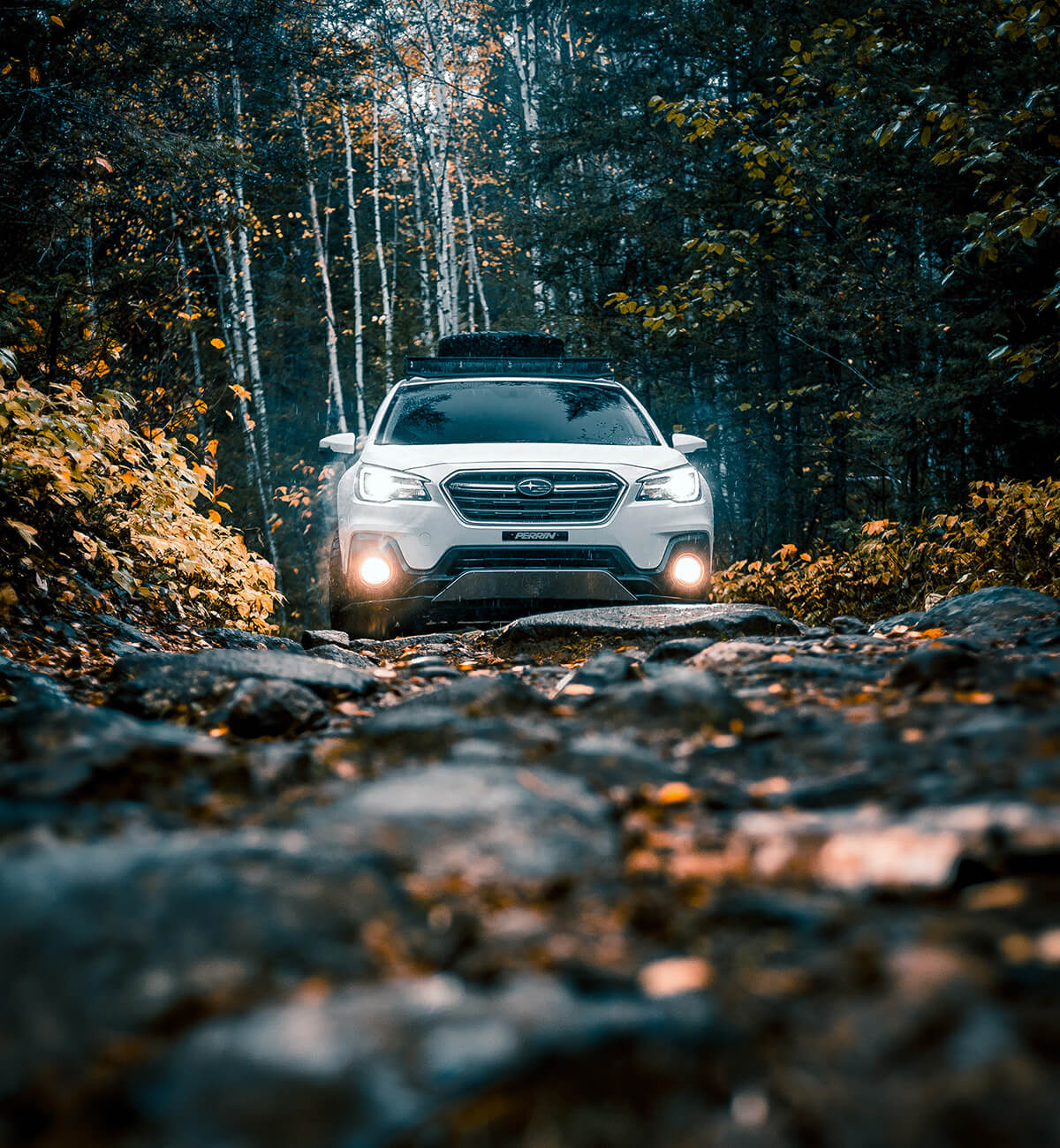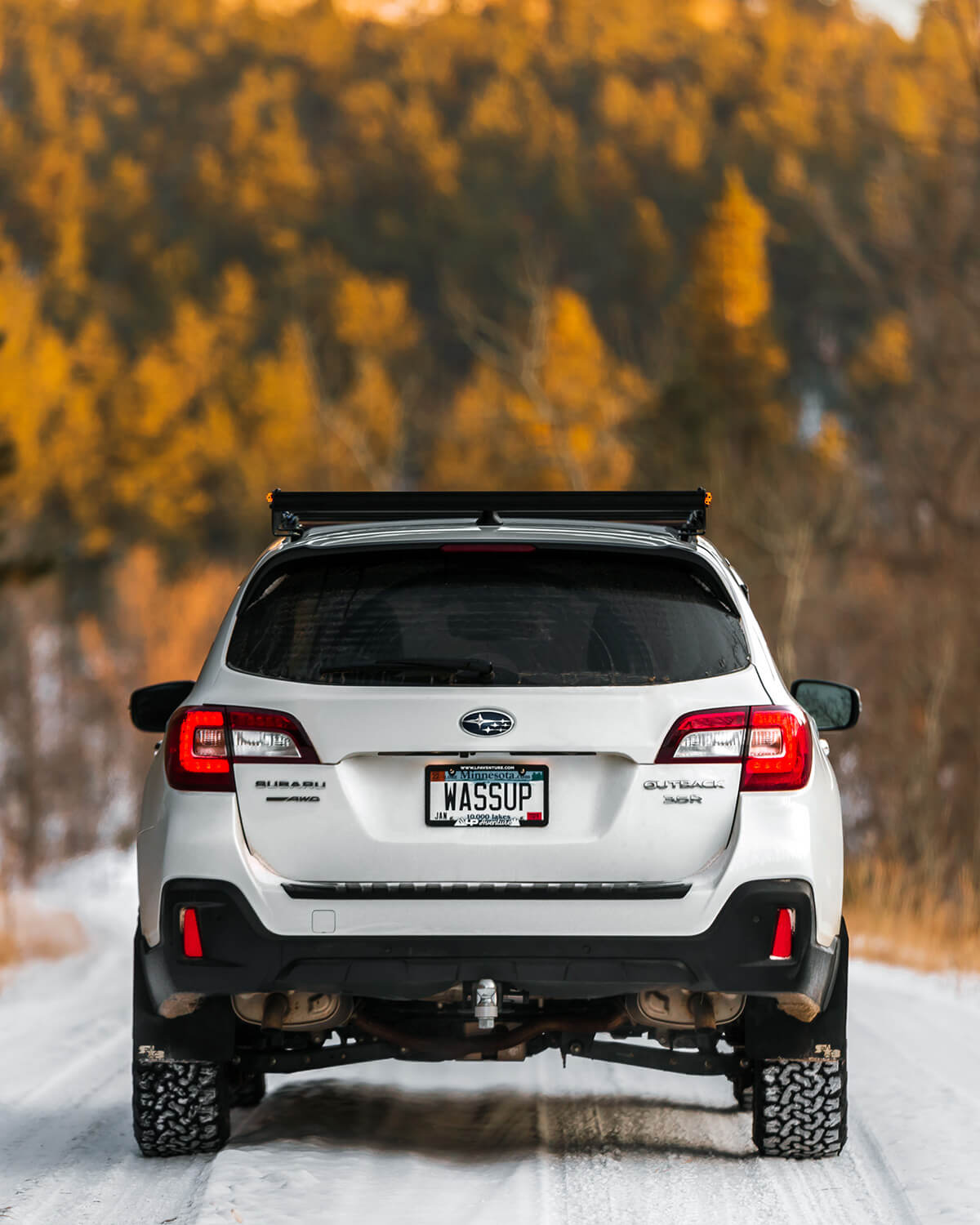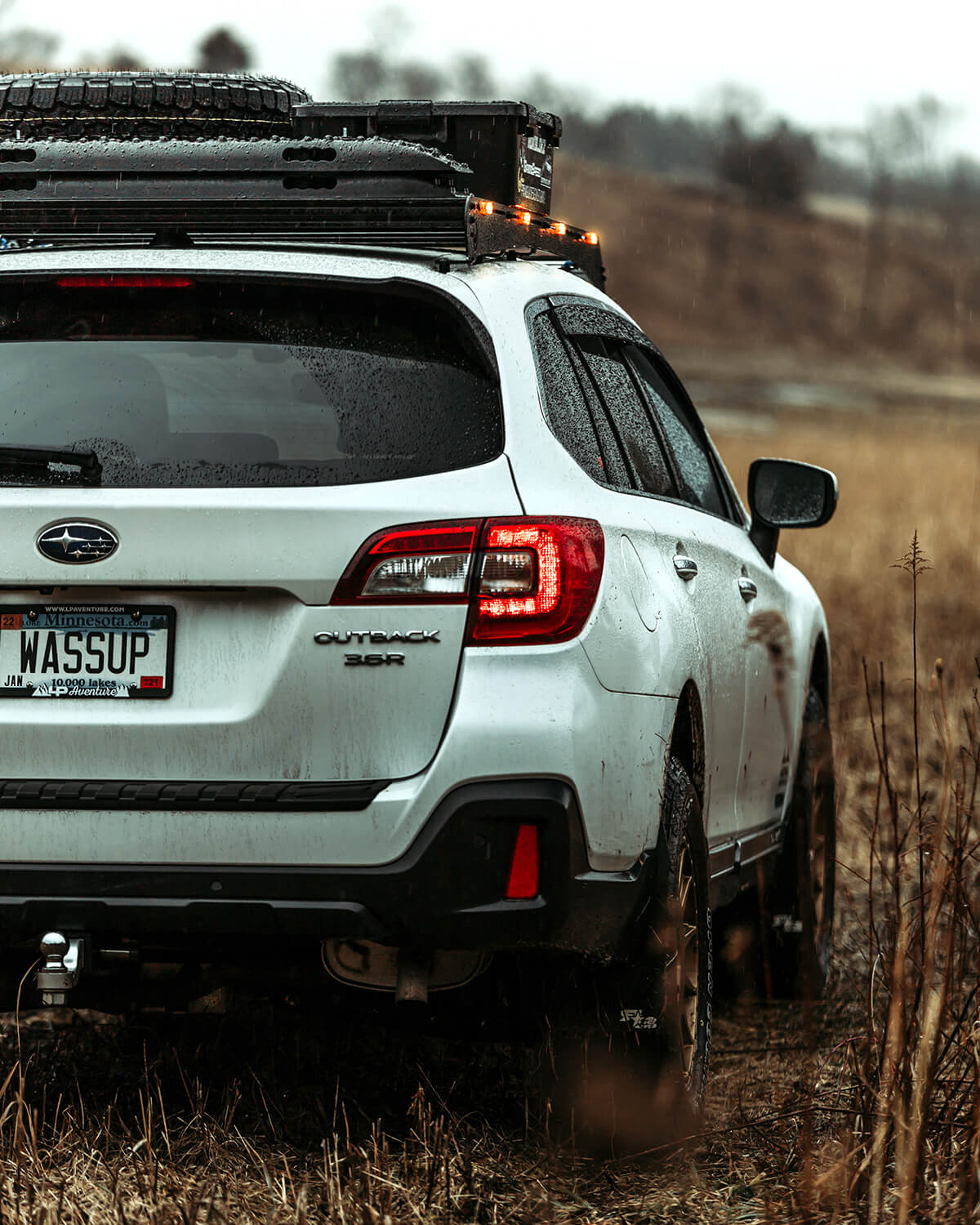 What are your future plans about this vehicle?
– I'm very happy with where the vehicle sits right now and the only plan I have for the immediate future is to relocate my Baja fogs to the factory fog spots in the front bumper. Down the road, I'll probably get a lightbar for the roof and one for the bumper guard, but I still haven't landed on a reasonably priced light with a nice DRL feature that I like so that probably won't happen for a while. Beyond that, I've thought about making my own hail protection shields that would be integrated into the roof rack, but the use cases for those are so slim that it wouldn't be worth the hassle (it's fun to think through how I'd build it though!).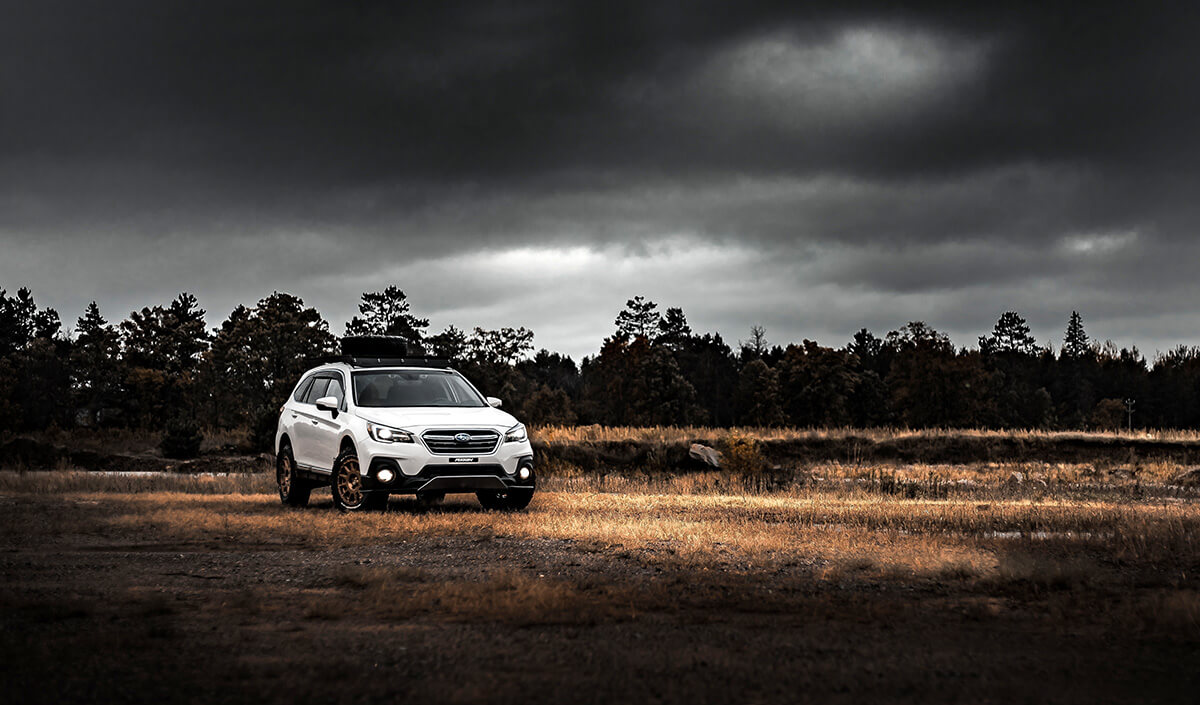 Anything else you would like to share about your vehicle or about the off-roading in general?
– I think most people getting into off-roading think it's supposed to be super hardcore, and I think that's where most of those people get themselves into trouble. Don't try going somewhere with your vehicle that could be unsafe or dangerous, especially if you have a hesitation about it, and absolutely not if you don't have a solid backup plan or two. Just get out there, try something new, push your limits, push the limits of your vehicle, but keep it reasonable, responsible, and respectable. Nobody wants to pull you out of a lake because you thought it'd look cool to drive through it.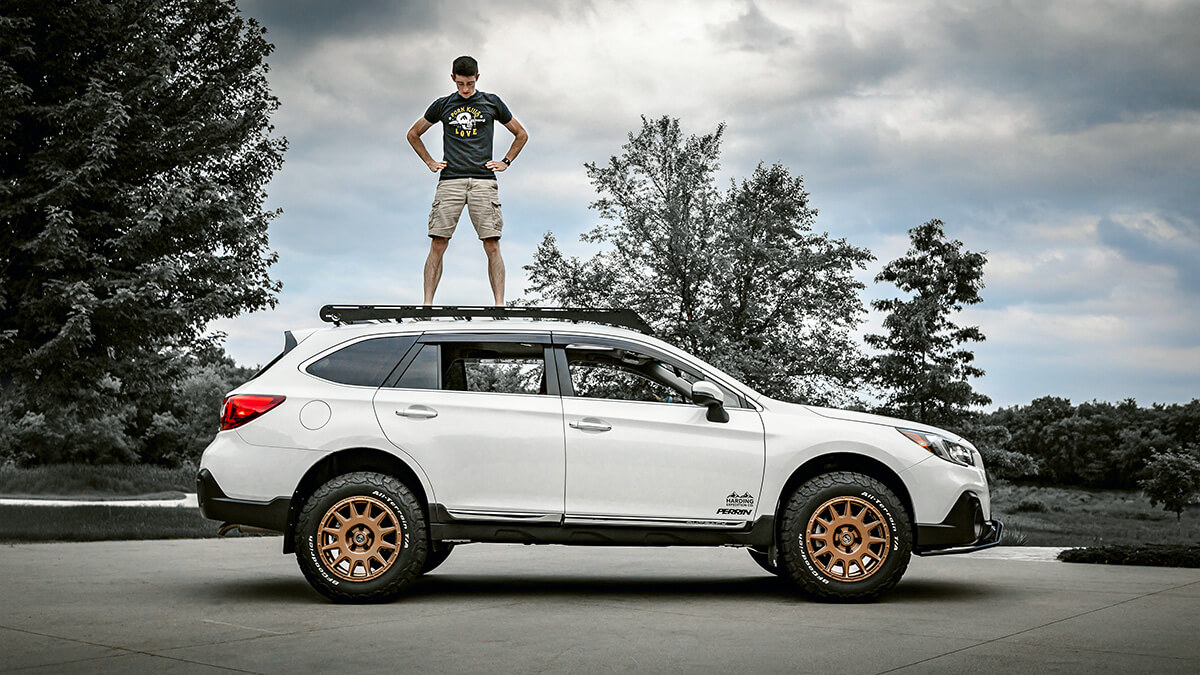 Watch the progress and find out more about this Subaru Outback project by visiting the Instagram profile of the owner: @mnoutback!
Stay tuned for more project reviews on Offroadium.com – Follow us on social media, and share this write up if you enjoyed reading it!
Matt Grabli
Automotive journalist and technical writer at Offroadium.com with more than 10 years of experience in the sphere of aftermarket parts and 4×4 vehicle modifications. Passionate about off-roading, outdoor adventures, and an active lifestyle.