With their unmistakable design, Volvo station wagons were a major hit among family-minded individuals who wanted safety first. Even though their market placement has shifted towards the premium segment during the last two decades, they still remain extremely versatile and capable even when it comes to light off-roading.
Volvo V90 Cross Country is the successor of the famous XC70 Cross Country that was released back in early 2000s and competed with Subaru Outback in a completely new market segment of off-road capable station wagons.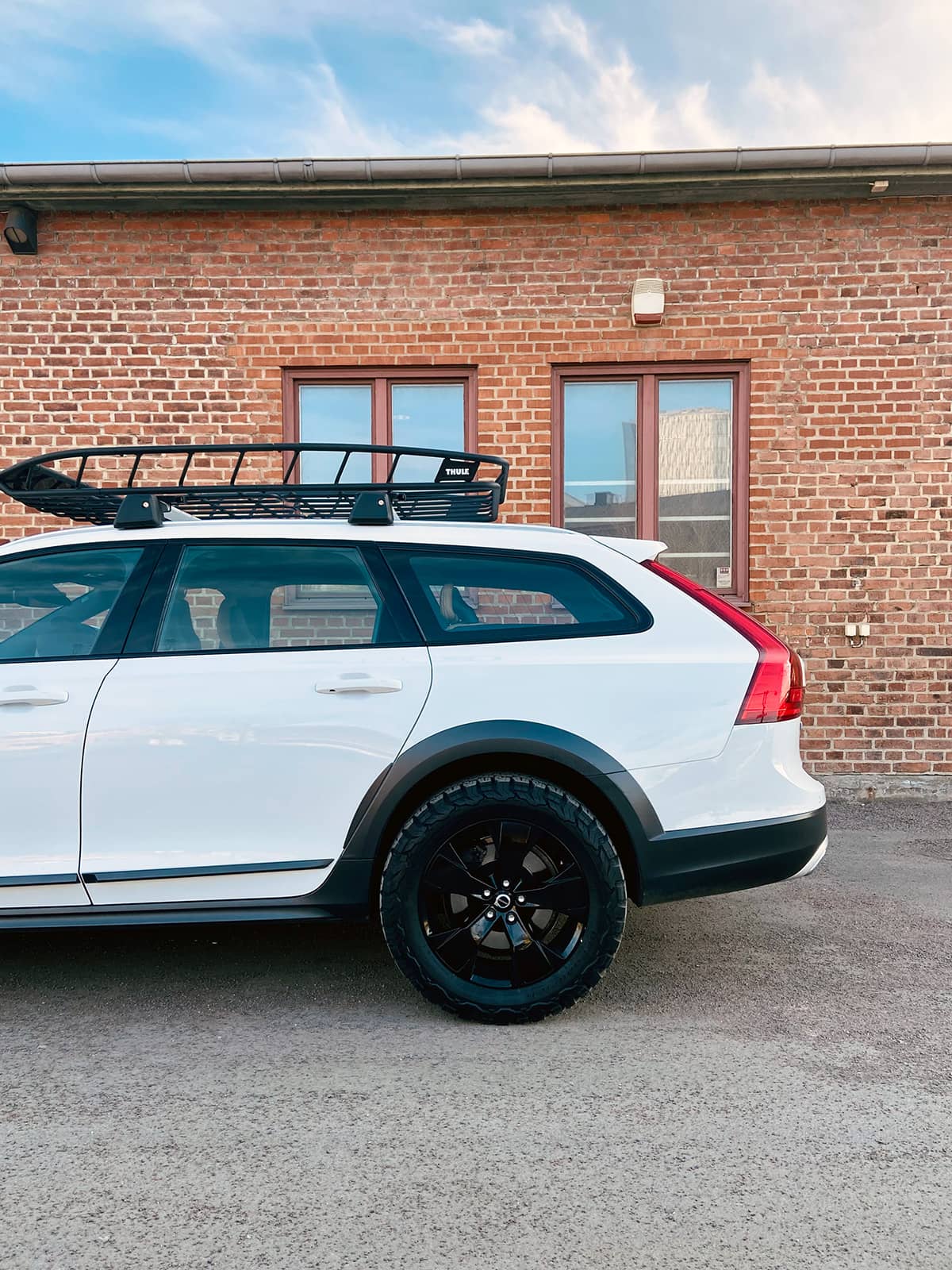 As you can guess from the name, it became bigger and more luxurious as it inherited more features from the S90 sedan with an addition of protective body panels, and slightly taller ground clearance.
Even though the V90 Cross Country has pretty big front and rear overhangs that limit its off-road capabilities, the "Off-road mode" with electronic differential locking and reworked suspension allow this vehicle to show pretty nice results on dirt and snow.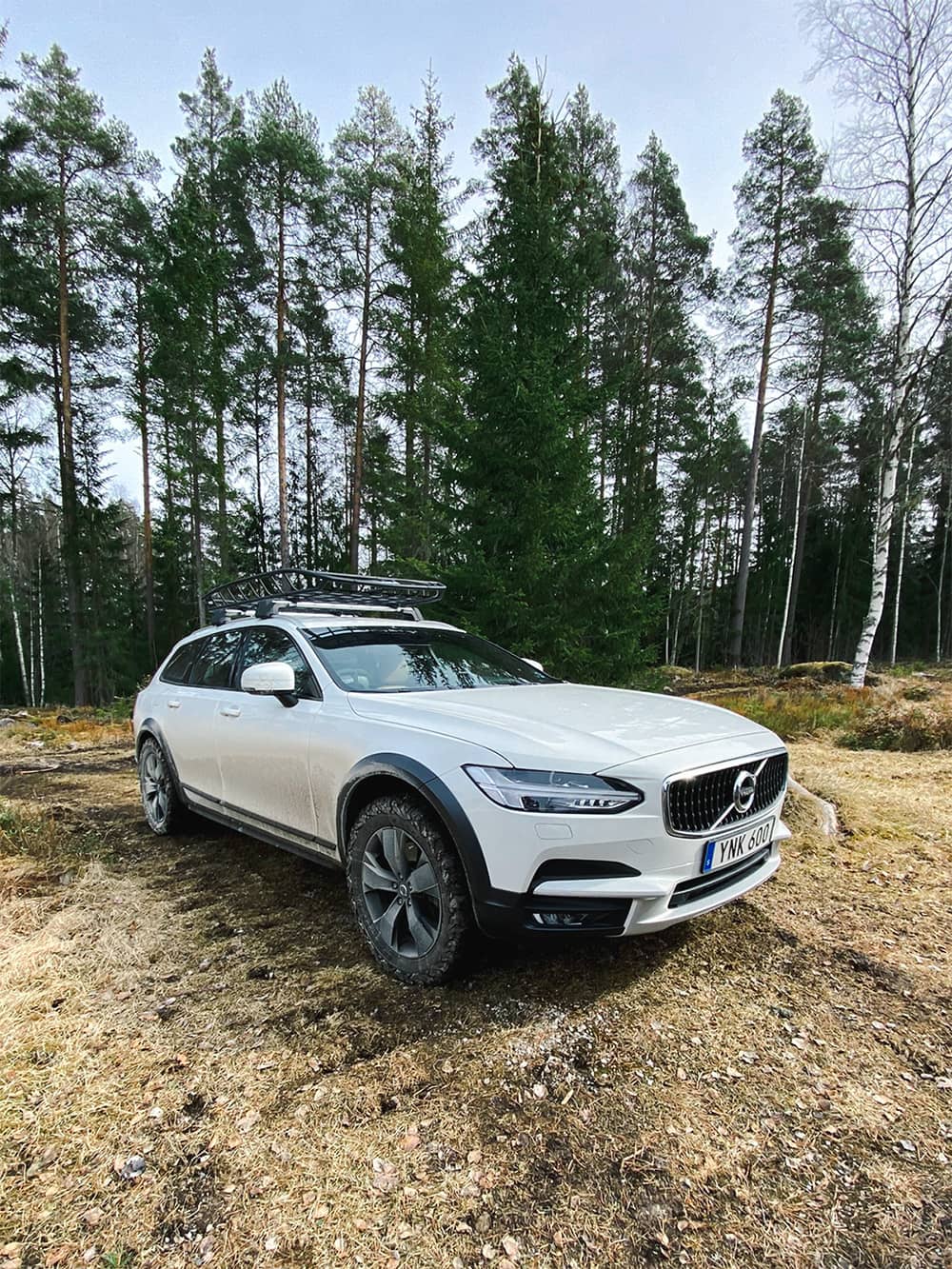 "The Off-road drive mode provides high ground clearance, light steering, enhanced all-wheel drive and activated low speed control function with hill descent control. This provides enhanced engine braking, which makes it possible to increase or reduce the speed of the car on steep hills by using only the accelerator pedal, without using the foot brake" – VolvoCars Manual
The owner of this great-looking Volvo V90 Cross Country, Niklas Palm from Gothenburg, Sweden, decided to improve the off-road capabilities of his station wagon by installing a set of slightly oversized off-road tires with aggressive thread and a lift kit to maximize the ground clearance, so much needed on rough terrain.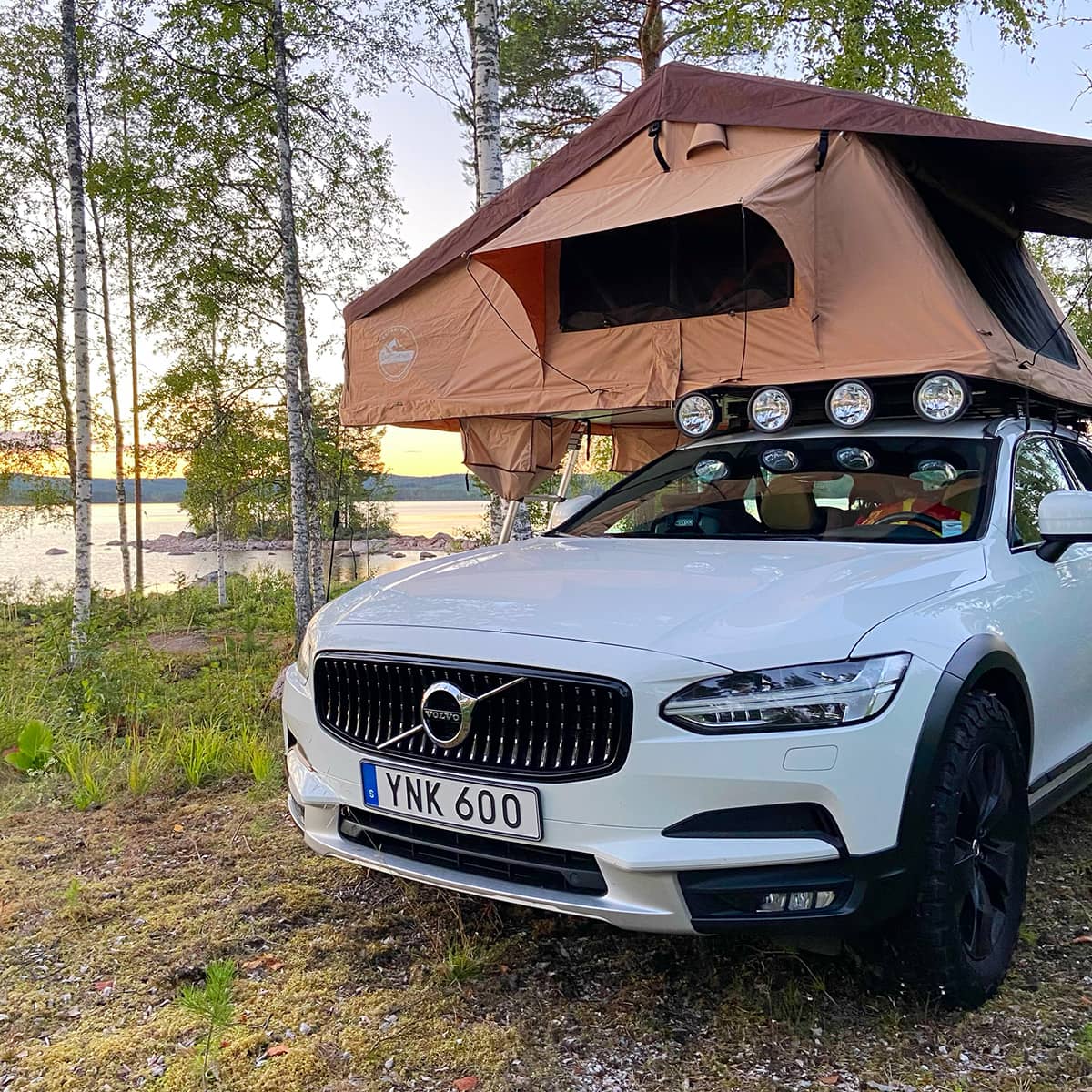 The Interview
How did you become interested in off-roading?
– My dad had an amazing Jeep Wrangler TJ 4.0 with lift kit and 33" mud terrain tires when i was a kid, that was the coolest thing in the world going to various offroad events around sweden.
Why did you choose this particular model for your project?
– Working at Volvo I've had two previous V90 Cross Country as a company car, it's an amazing car that more people must experience. Such a solid car. But since I couldn't modify the company cars I started to list down all the things I wanted to do in my phone, and when the opportunity came to have a Polestar 2 as a company car, I realized this also opened up the possibility to buy a used V90 cross country to build my dream overland specced perfect Volvo.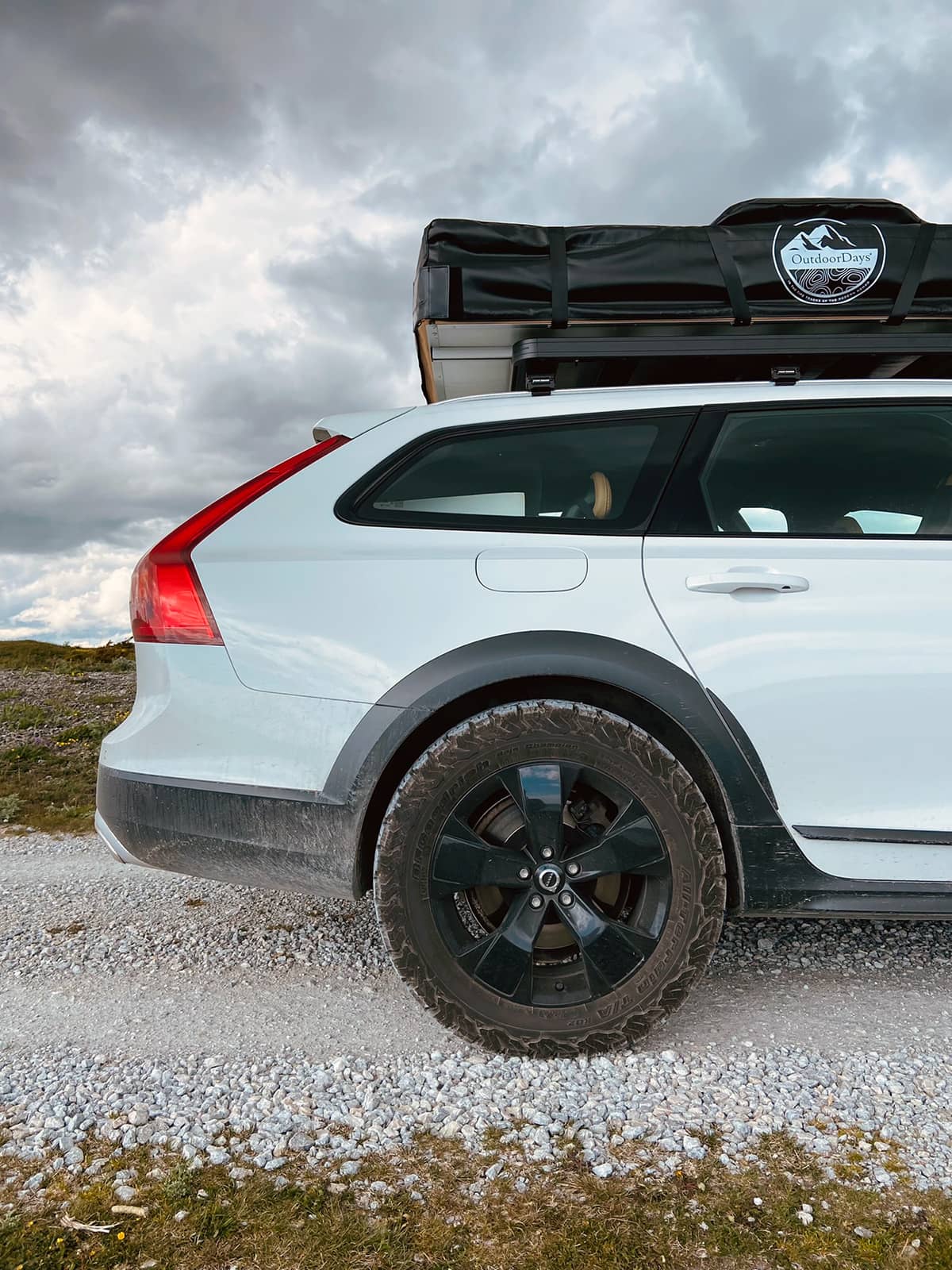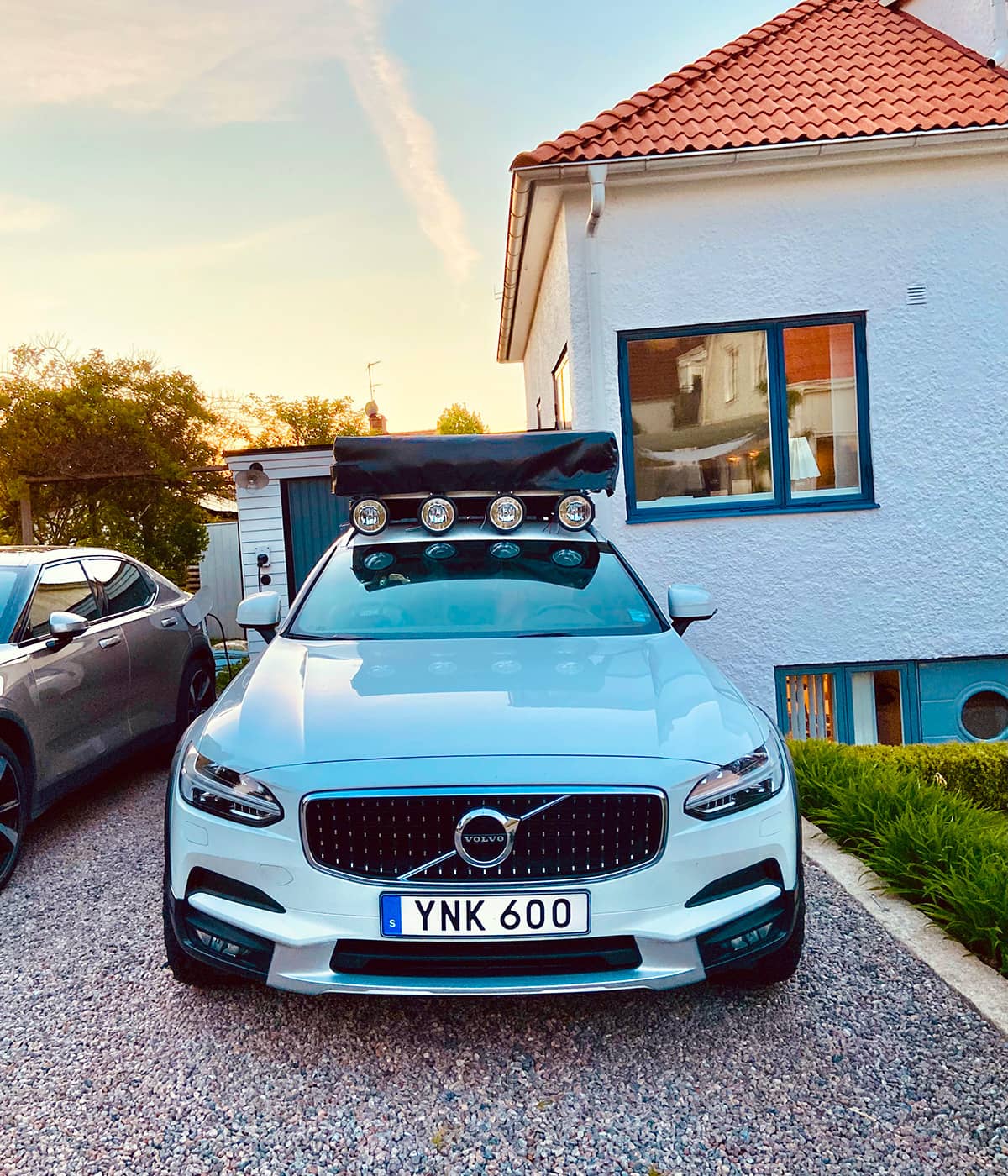 What inspired you to start an overland vehicle build?
– I wanted the car to have an OEM+ look and keep it classy, just like the base car.
What challenges did you face while putting it together?
– Wheel-size.com was such a good tool that made me confident on how big tires I could pull off and still use the car daily. Now I have realized I can actually go slightly bigger for the next phase 🙂
What do you love about your Volvo?
– All of it. Very solid, reliable and so good looking. I had a Porsche 997 but the number of people that comment on this at gas stations is beyond what I ever thought with a Volvo.
Is it your daily or a weekend ride?
– Daily commuter!
Do you take it off road? If so, where and how often?
– Not more than bad roads yet sadly.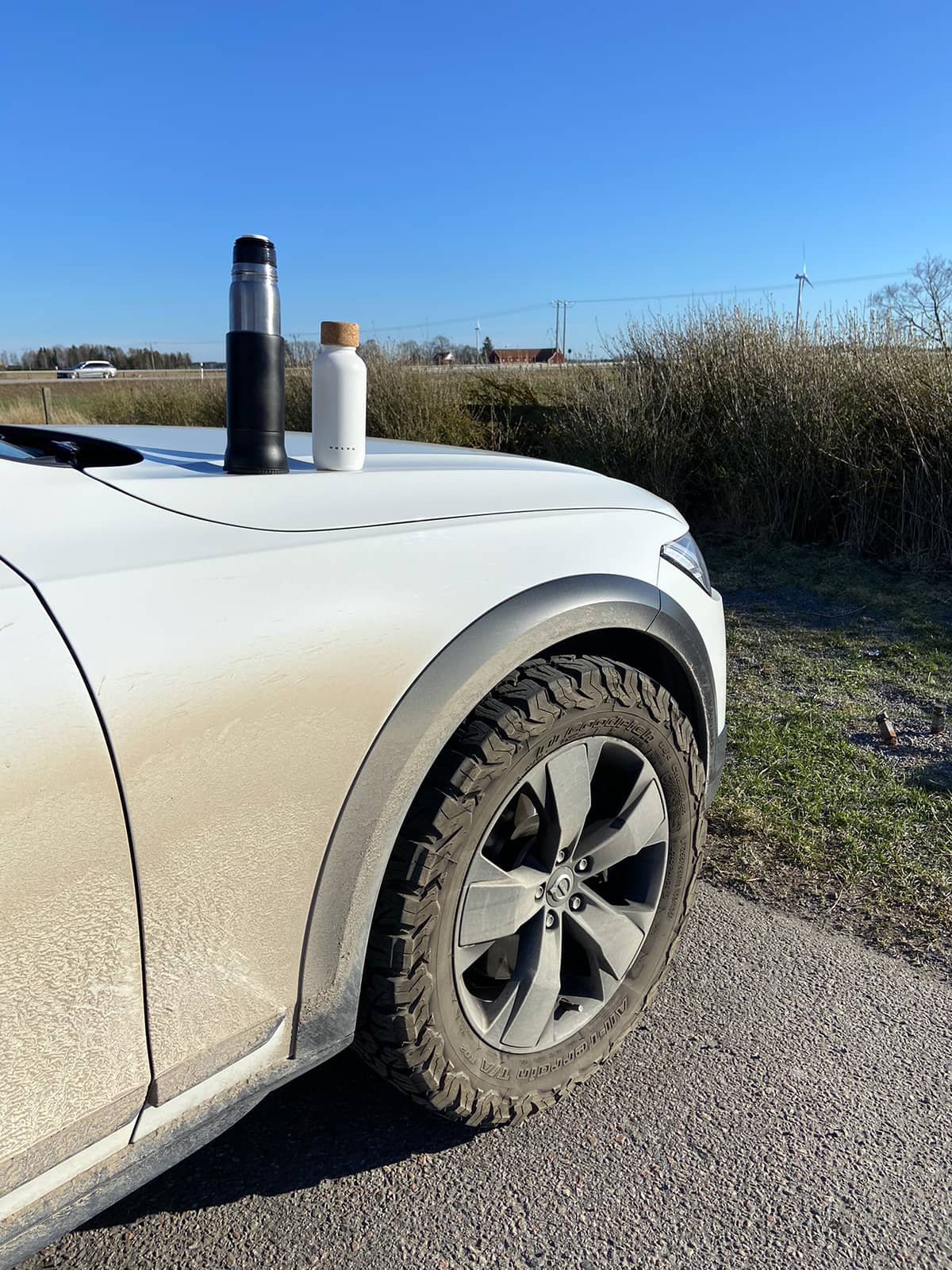 2018 VOLVO V90 D4 CROSS COUNTRY SPECS & OFF-ROAD MODS
Engine
D4 Turbo Diesel 4 cyl 2.0 190hp 400NM
Lift & suspension modifications
Rear suspension lifted 20 mm with BSR spacer
Wheels & Tires
255/55R18" BFGoodrich All-Terrain T/A KO2
7.5×18 OEM Volvo XC40 rims painted in gloss black
10 mm H&R spacers front
15 mm H&R spacers rear
Exterior
Front Runner Roof Platform
Outdoordays Safari 180 Roof Tent
DIY water containers on the sides
Glossy black grille frame
4 Extra Lights under roof tent
Interior
Airplane rails mounted on the load floor to hold DYI IKEA Camp kitchen
R-Design Pedals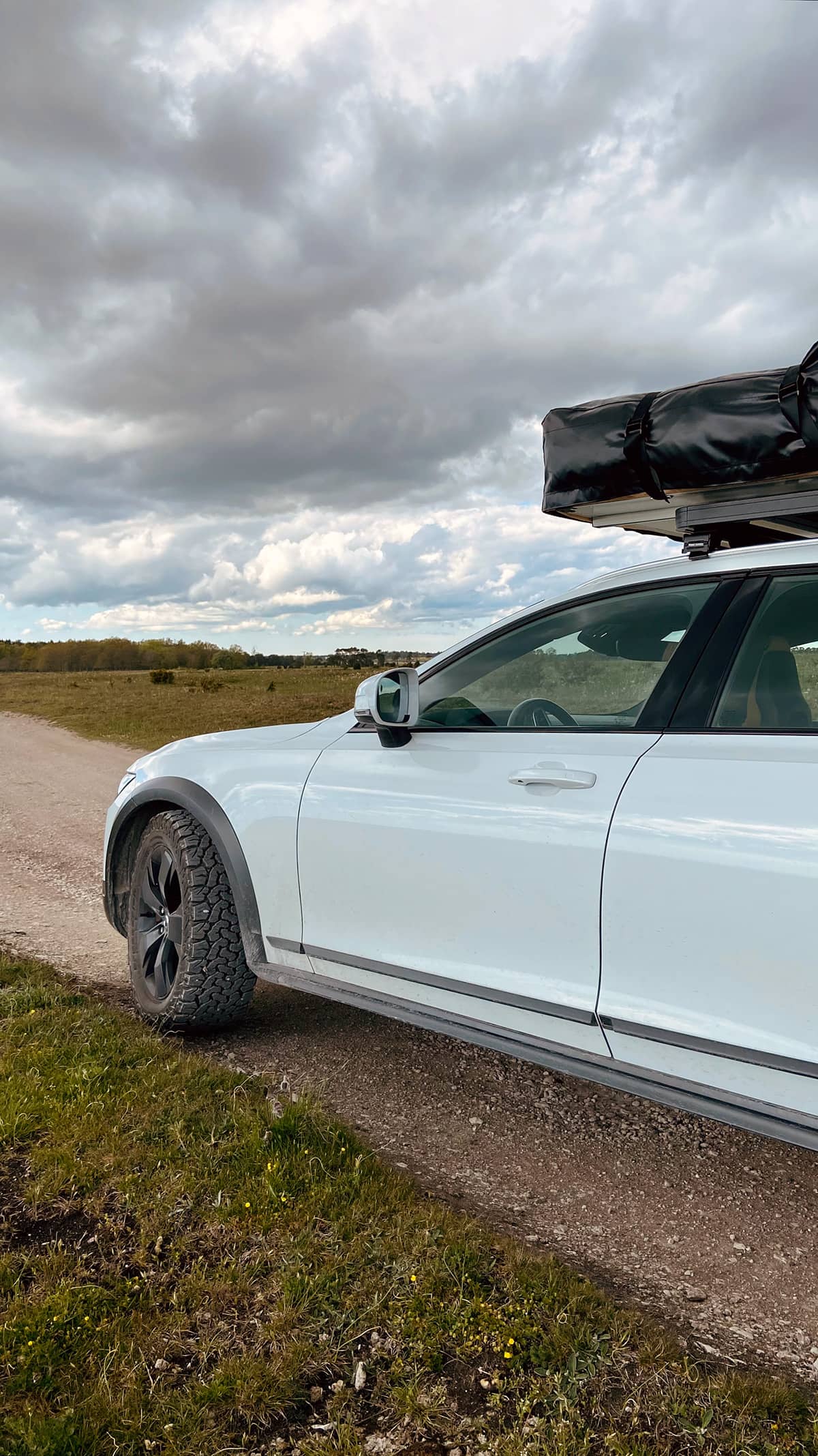 What are your future plans about your car?
– There is a 25 mm all around lift kit and 17" Ford S-Max steel wheels waiting in the garage. This will allow for 245/65R17" tires that are 12 mm taller than the current setup.
Watch the progress and find out more about this Volvo V90 project by visiting the Instagram profile of the owner: @korsland_!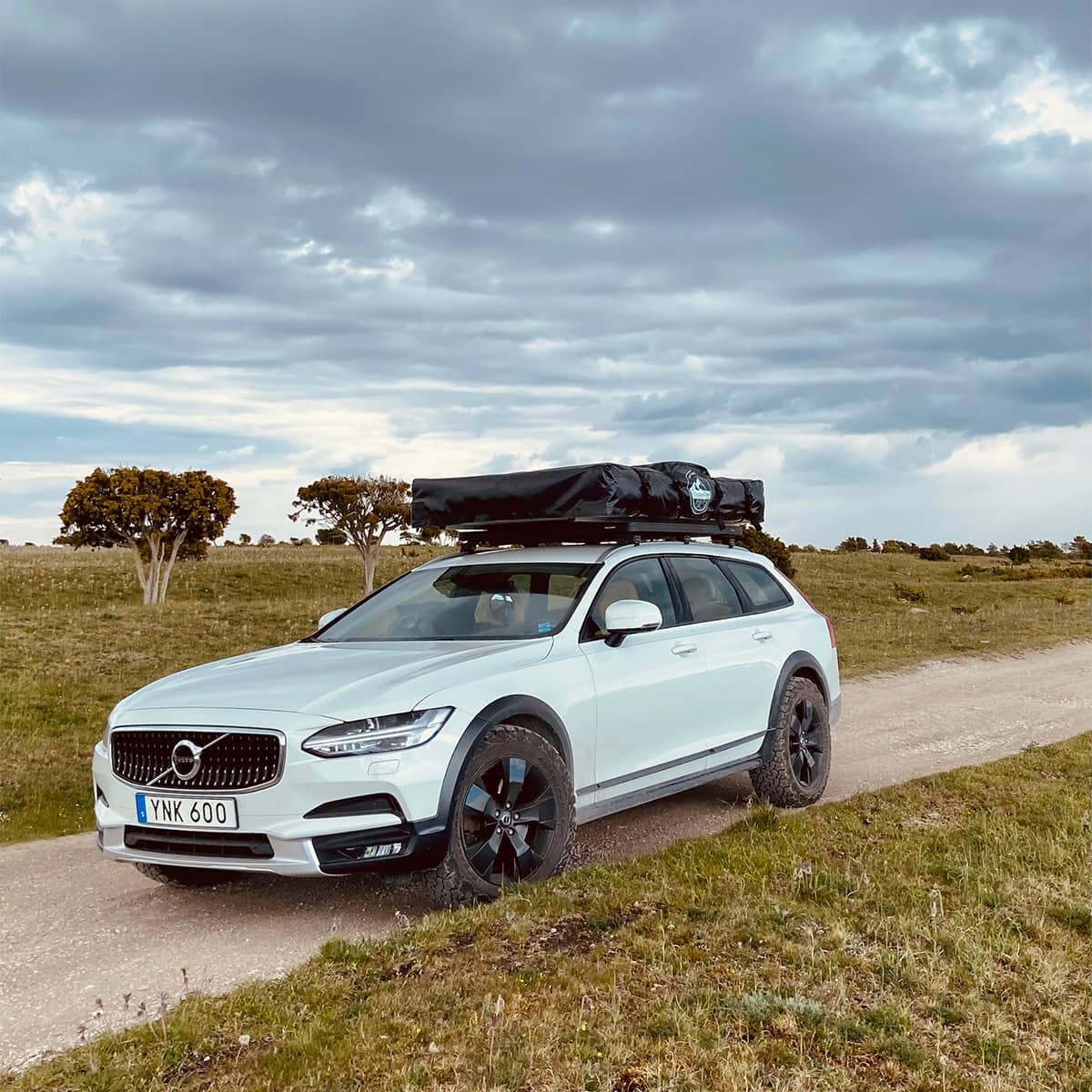 Related Parts & Mods
– Inspired by this Volvo V90 build and looking to prepare your own car for off-road adventures? Some parts used on this vehicle were sourced from custom shops or custom made, but our team has put together a list of products and accessories available online that may help you to achieve similar results:
Wheels
Roof Rack
or
Roof Top Tent
Awning
Lights
*Before ordering any part or accessory, it is recommended that you verify its fitment with a qualified professional and/or seller. We are not responsible for fitment or other issues that may arise from using the products featured on our website.
Stay tuned for more project reviews on Offroadium.com – Follow us on social media, and share this write-up if you enjoyed reading it!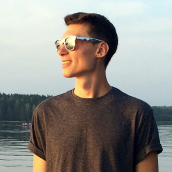 Matt Grabli
Matt brings over a decade of automotive expertise to his role as staff writer and editor at Offroadium.com. With an enduring passion for the off-road vehicles and adventures, he is devoted to creating interesting content that equips 4x4 enthusiasts with the knowledge to improve their rigs.