Lifted Volvo V40 Cross Country With Heico Sportiv Mods & Off-road Wheels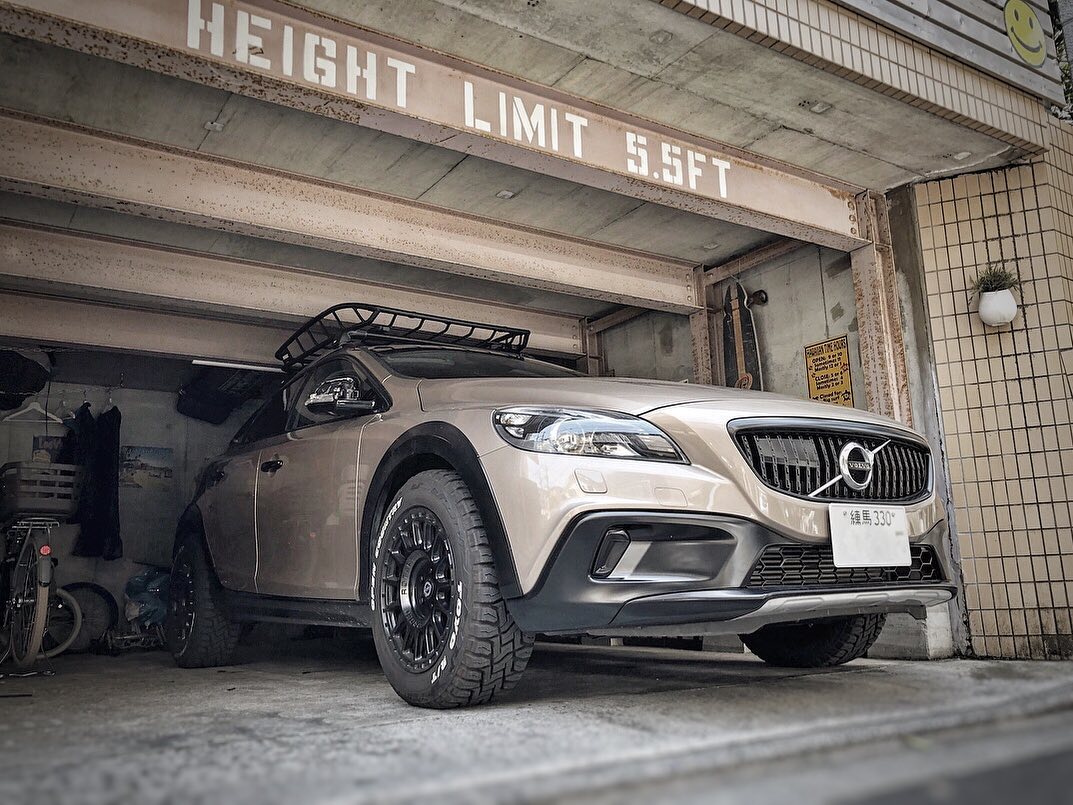 The Volvo V40 Cross Country is a compact front-wheel drive hatchback produced by the Swedish car manufacturer for the European and global markets. What makes the Cross Country model different from a regular V40 are the protective body panels, bigger wheels and tires, and increased ground clearance.
Its T4 and T5 variants feature Haldex Gen-5 All Wheel Drive as an option, along with hill descent control, which makes it capable of driving through difficult road conditions. Its size and overall design make it similar to the popular among off-road enthusiasts Subaru Crosstrek.
"In this review, we'll take a look at the lifted Volvo V40 Cross Country modified by RDBase Japan for one of their clients."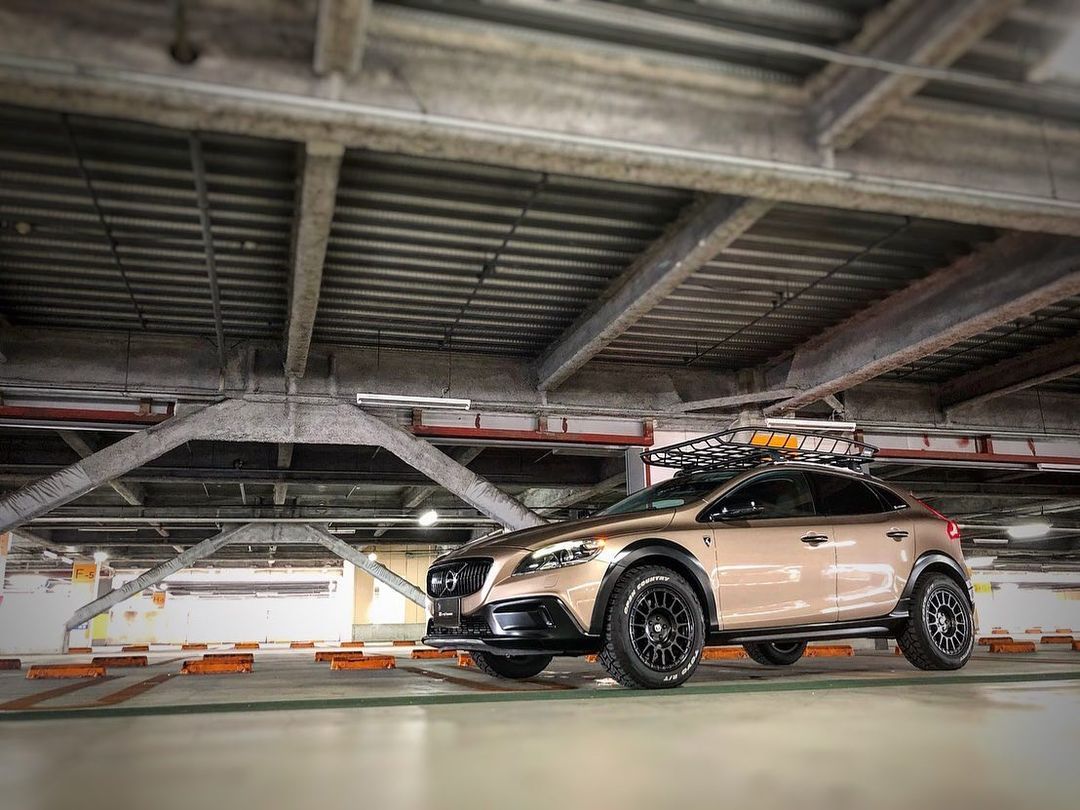 The first thing you'll notice about the V40 Cross Country is the rugged off-road inspired design by Heico Sportiv that features black plastic fender flares to protect the body from dirt and debris. It's certainly no shrinking violet; with its aggressive off-road wheels and plastic fender flares, it's clear that this car is not only good on paved roads.
The body panels are also beefier than those found on the regular V40, which helps to give it an air of ruggedness. And while some might find the overall look to be a bit too busy, we think it's just right. It's not overdone like some other crossovers on the market but still has enough personality to stand out from the crowd.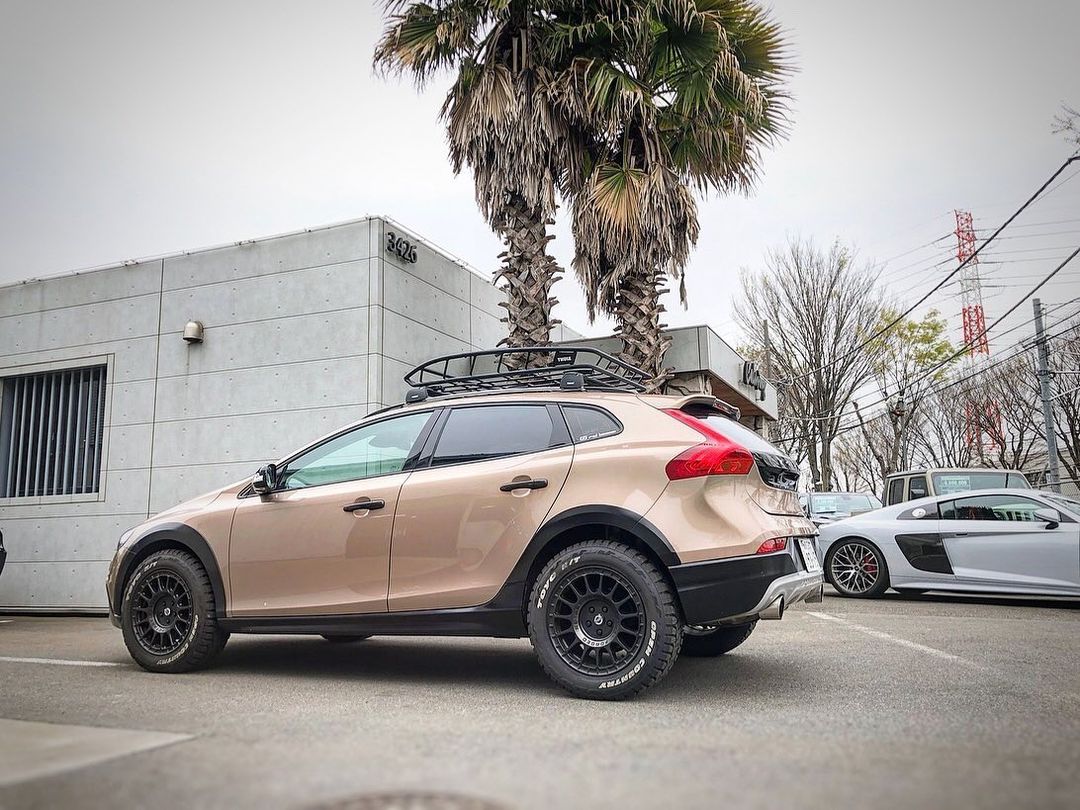 As far as features go, this V40 Cross Country is equipped with 17" BlackRhino Sandstorm SUV rims wrapped in beefy Toyo Open Country All-terrain tires. Thule cargo basket sits on top of the car and offers to load it up with gear for the next camping trip out in the wild.
SPECS – VOLVO V40 Cross Country Heico SPORTIV
Wheels: 17" BlackRhino Sandstorm
Tires: Toyo Open Country All-terrain
Gear: Thule Canyon Cargo basket
Fender Flares: Heico Sportiv
If you're looking for a stylish hatchback that's packed with features and performs well both on and off-road, yet don't want to stick with mainstream models like Subaru Crosstrek, then you should definitely consider the Volvo V40 Cross Country crossover.
Watch the progress and find out more about this Volvo V40 Cross Country project by visiting the Instagram profile of the owner: @hirotaka_kanemoto!
Related Parts & Mods
– Inspired by this Volvo V40 Cross Country build and looking to prepare your own crossover for off-road adventures? Some parts used on this vehicle were sourced from custom shops or custom made, but our team has put together a list of products and accessories available online that may help you to achieve similar results:
Lift Kit
Wheels
Universal Fender Flares
Roof Rack
Awning
Roof Top Tent
Off-Road Lights
*Before ordering any part or accessory, it is recommended that you verify its fitment with a qualified professional and/or seller. We are not responsible for fitment or other issues that may arise from using the products featured on our website.
Stay tuned for more project reviews on Offroadium.com – Follow us on social media, and share this write-up if you enjoyed reading it!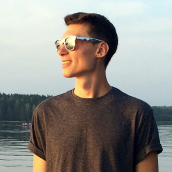 Matt Grabli
Matt brings over a decade of automotive expertise to his role as staff writer and editor at Offroadium.com. With an enduring passion for the off-road vehicles and adventures, he is devoted to creating interesting content that equips 4x4 enthusiasts with the knowledge to improve their rigs.