Lifted Impreza Hatchback – 3 Tips on How to Build it Right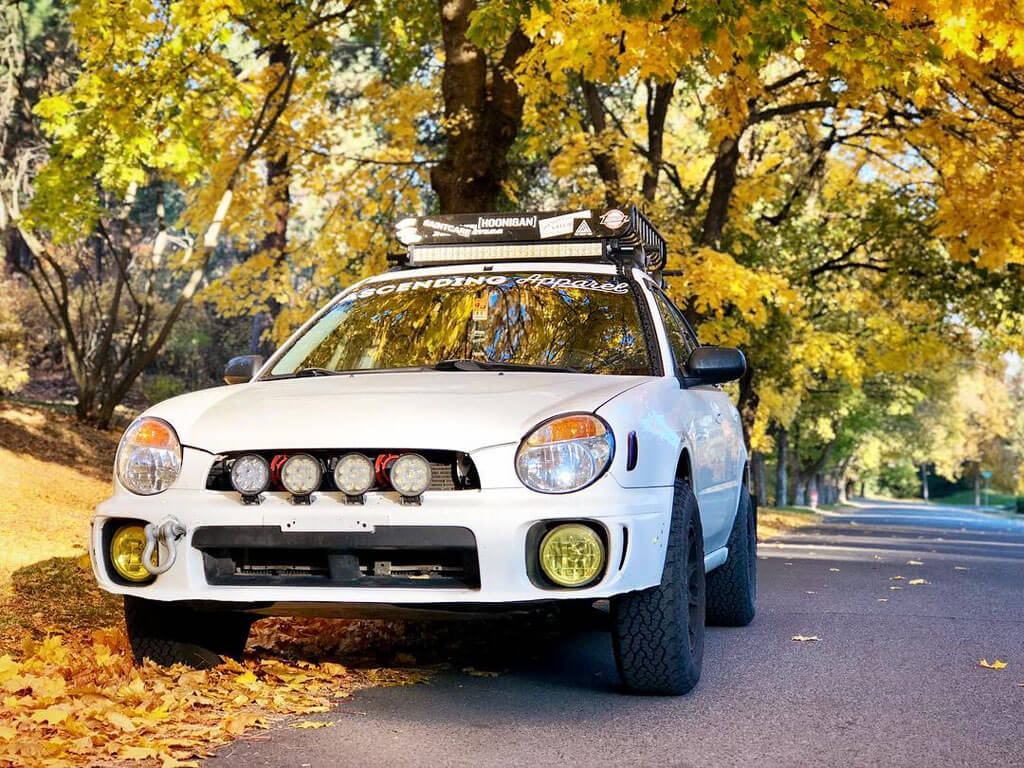 Today on our review we have an awesome lifted Impreza Hatchback owned by Ryan Miller from Spokane, Washington. From the first look at the pictures of his car, you realize that it must be very fun to drive. Improved clearance and larger off-road tires with grippy thread open up a lot of new roads and possibilities to enjoy driving.
Thanks to the famous four-wheel drive system and capable boxer engines Subaru has developed a huge following throughout the world. Successful rally racing career has popularized Impreza models to the maximum. Nearly any local car meet gathers dozens of Subies modified to beat anyone on the road, but some of their owners just don't want sticking with concrete roads, and why not doing so?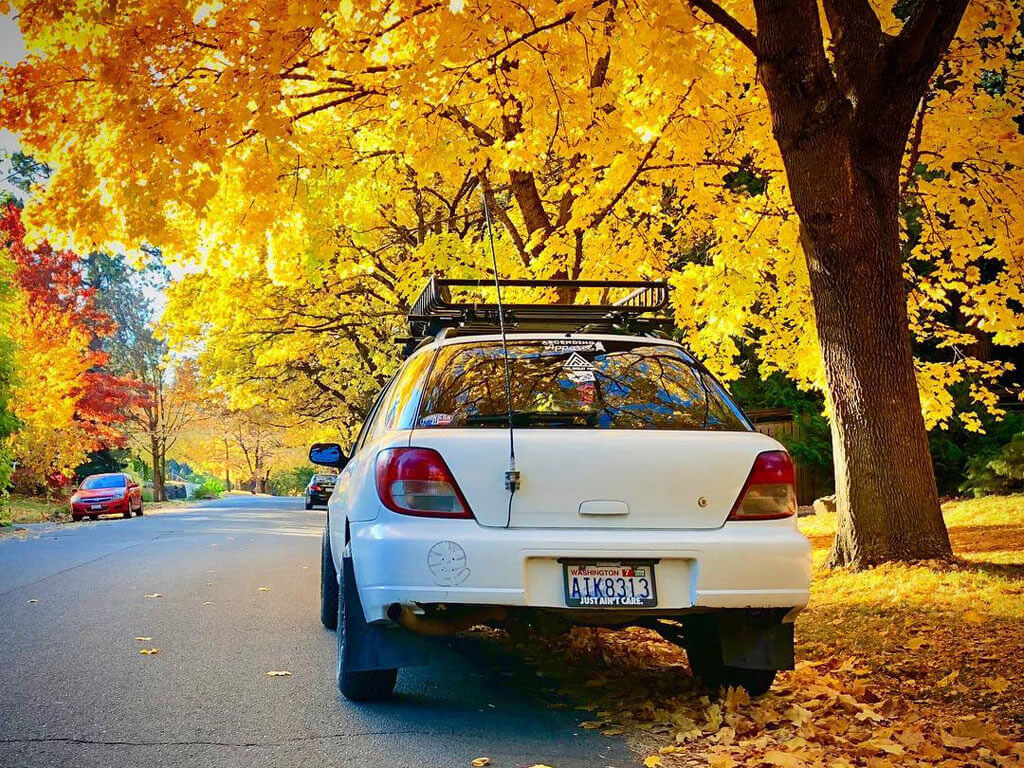 These cars feature some of the most advanced all-wheel-drive systems, that help to tear through the muddy trails or deep snow with ease. Low clearance, you may say…but is it really a problem when you have even some basic technical skills and a bunch of internet resources to back you up?
"This lifted Subaru Impreza Hatchback was my first car and up until a few months ago my only car. After looking into the limited amount of useful mods that can be done to an n/a Impreza, I decided on a lift because it seemed like the simplest and easiest way to make the car more fun without spending a ton of money. I started with 1998 Outback suspension, which gave me about a 2.5 inch lift, but I switched to Forester suspension to get a little more lift along with a little more stiffness, and I was able to find the Forester suspension for only $100. Where I live, lowering Subaru's seems to be the most popular way to go, but I wanted to stand out from the crowd and decided to go up instead of down. Lifting the Impreza also adds a great deal of utility to an already useful car, and has allowed me to explore the many backroads around the Eastern Washington and Northern Idaho area" – says Ryan.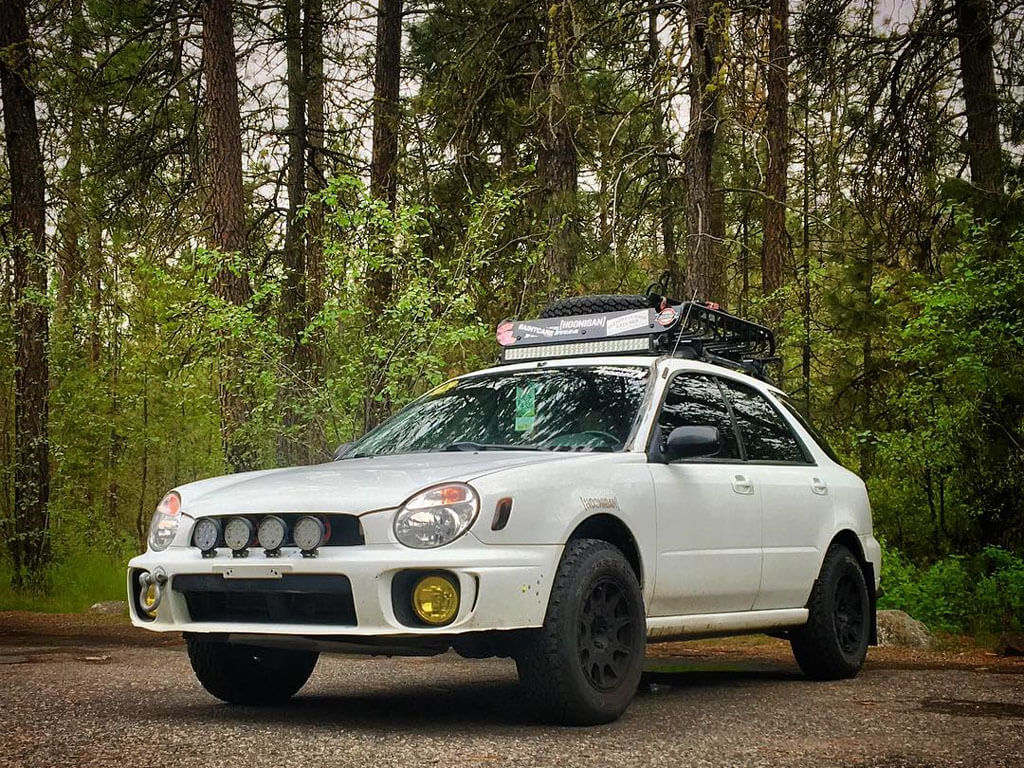 SUSPENSION
This 2003 lifted Subaru Impreza 2.5ts Station Wagon is powered by a bone stock naturally aspirated 2.5L flat four (non WRX).
The suspension modifications feature 2004 Subaru Forester suspension (struts and springs) with 3/4 inch spacers from Primitive Racing, 1999 Subaru Outback trailing arm brackets, rear camber bolts, and rear sway bar delete, which gives a bit over 3 inches of lift in total.
WHEELS
Improved clearance and slightly trimmed bumpers allowed installing bigger tires, so Ryan fitted his car with 15 inch Method MR502 rally wheels paired with 205/75/15 General Grabber tires.
If you were wondering if there any sort of a skid plate for additional protection from the bottom and where can you buy one, than you're right, but getting one for your own Impreza would be a problem, as the one used on Ryan's car is a very unique limited edition, custom made out of a street sign.
OFF-ROAD GOODIES
Yakima Loadwarrior roof basket equipped with bright LED lightbar and trucker mud flaps really add up to the stunning overland off-road style of this Subaru Impreza with a lift.
Among the interior mods, you will find a must-have for any offroad enthusiast and overlander CB radio with a PA speaker hidden under the front bumper. The rear seats and trunk liner has all been removed.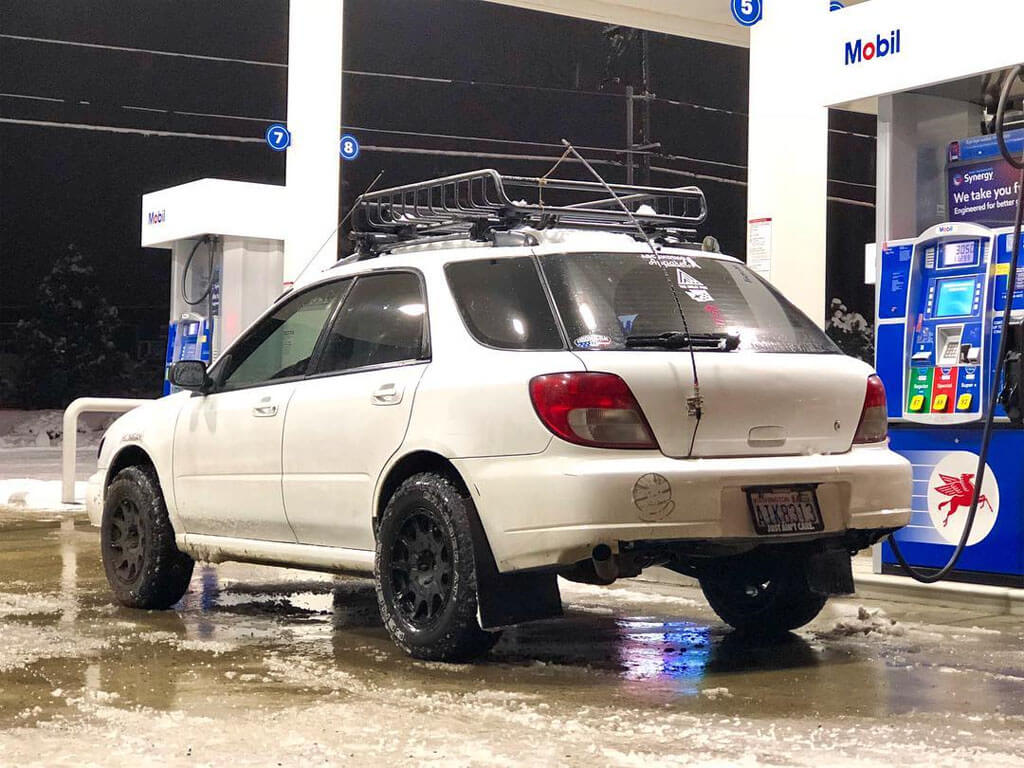 – Who would you like to mention or thank for the help on your project?
– Everyone that has helped me along the way with this never-ending project!
– Anything else that you would like to tell us about your awesome lifted Impreza?
– I know Subaru doesn't exactly have a great reputation when it comes to reliability, but my Impreza is almost at 200,000 miles and has never given me any real trouble besides basic maintenance needs. If anyone is thinking about getting a cheap car that does well off road and in the snow, but is smaller than an SUV, then an older Impreza with a nice lift is the way to go in my opinion. I might only be getting around 16 miles per gallon with the roof rack and all-terrain tires, but the fun I have in this car definitely makes up for that!
| Vehicle: | 2003 Subaru Impreza TS |
| --- | --- |
| Engine: | Flat 2.5L Naturally Aspirated |
| Suspension lift: | 3" |
| Wheels: | Method MR502 Rally Wheels |
| Tires: | General Grabber 205/75/15 |
– View Recommended Lift Kits For Subaru Impreza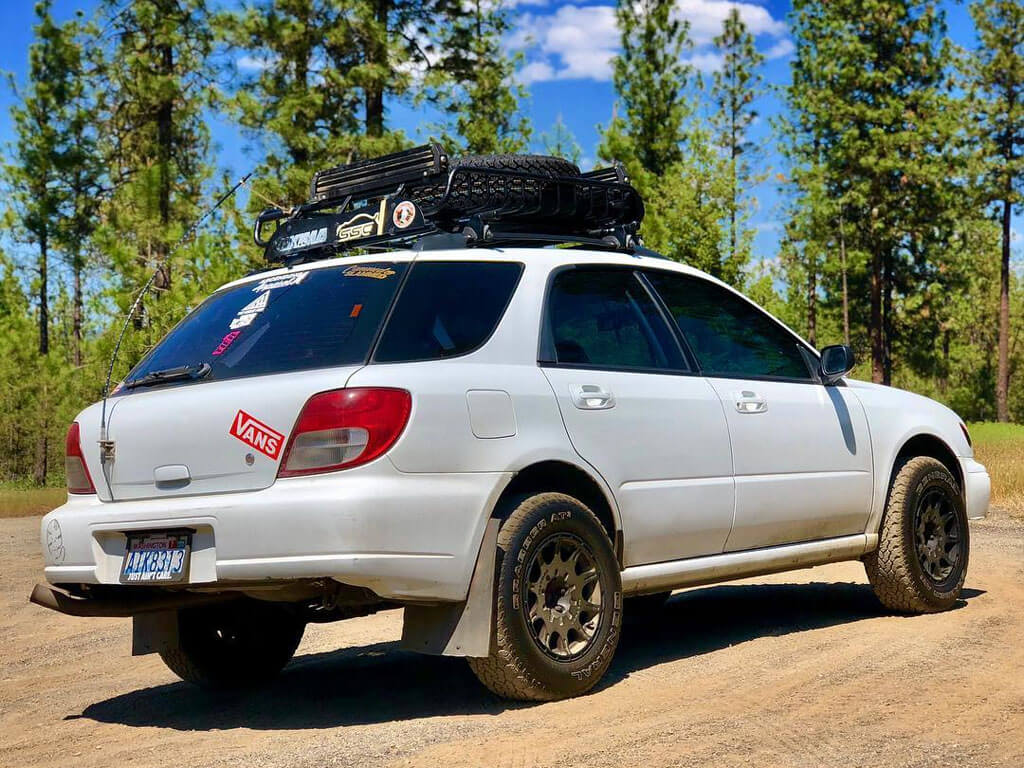 Related Parts & Mods
– Inspired by this Subaru Impreza WRX build and looking to prepare your own car for off-road adventures? Some parts used on this vehicle were sourced from custom shops or custom made, but our team has put together a list of products and accessories available online that may help you to achieve similar results:
Lift Kit
Wheels
Roof Rack
Roof Top Tent
Awning
Lights
*Before ordering any part or accessory, it is recommended that you verify its fitment with a qualified professional and/or seller. We are not responsible for fitment or other issues that may arise from using the products featured on our website.
Stay tuned for more project reviews on Offroadium.com – Follow us on social media, and share this write-up if you enjoyed reading it!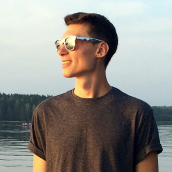 Matt Grabli
Automotive journalist and technical writer at Offroadium.com with more than 10 years of experience in the sphere of aftermarket parts and 4×4 vehicle modifications. Passionate about off-roading, outdoor adventures, and an active lifestyle.